Air Fryer Chin chin is a healthy twist to a very popular African snack. This crunchy treat is popular around the holidays especially Christmas. Traditionally Chin chin is deep fried. However in the quest for a healthier way of eating, some people bake it in the oven and like most things baked, it can be air fried. If you've been wondering how to do so, this is just for you!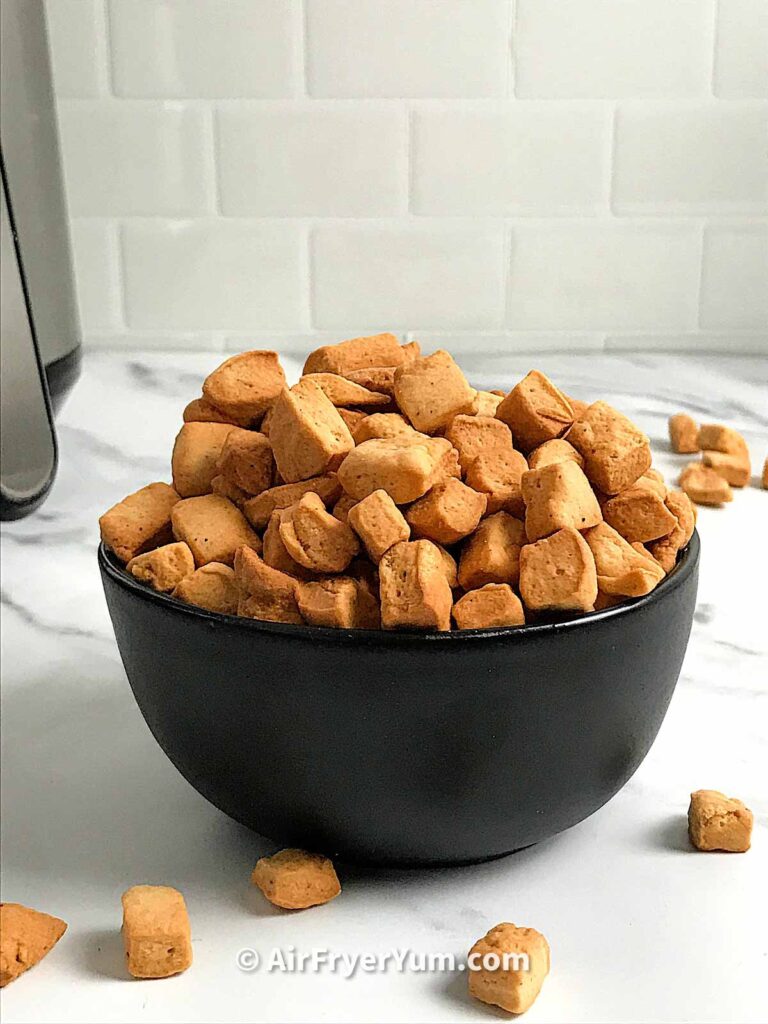 Air fryer Chin Chin Recipe
Chin chin is similar to Ghanaian chips. The major difference being the addition of onions and garlic to the dough, making Ghanaian chin chin more of a savory snack.
This is a truly crowd pleasing snack you can't get enough of. You keep stretching out your hands and digging in for more.
What type of Air fryer do I use?
This will depend on your size of your family. I highly recommend Air fryers with larger squarish baskets from 5.8 quarts upwards in volume.
The Gourmia, Instant Pot Vortex or the Cosori Air fryer fall within that criteria. If you have space for it the Ninja Foodi 2 basket air fryer will definitely help you air fry any food in less time because of it's dual capacity.
However any air fryer should work. If you are using a smaller one like this Dash Compact Air fryer, you will need to air fry the chin chin in smaller batches.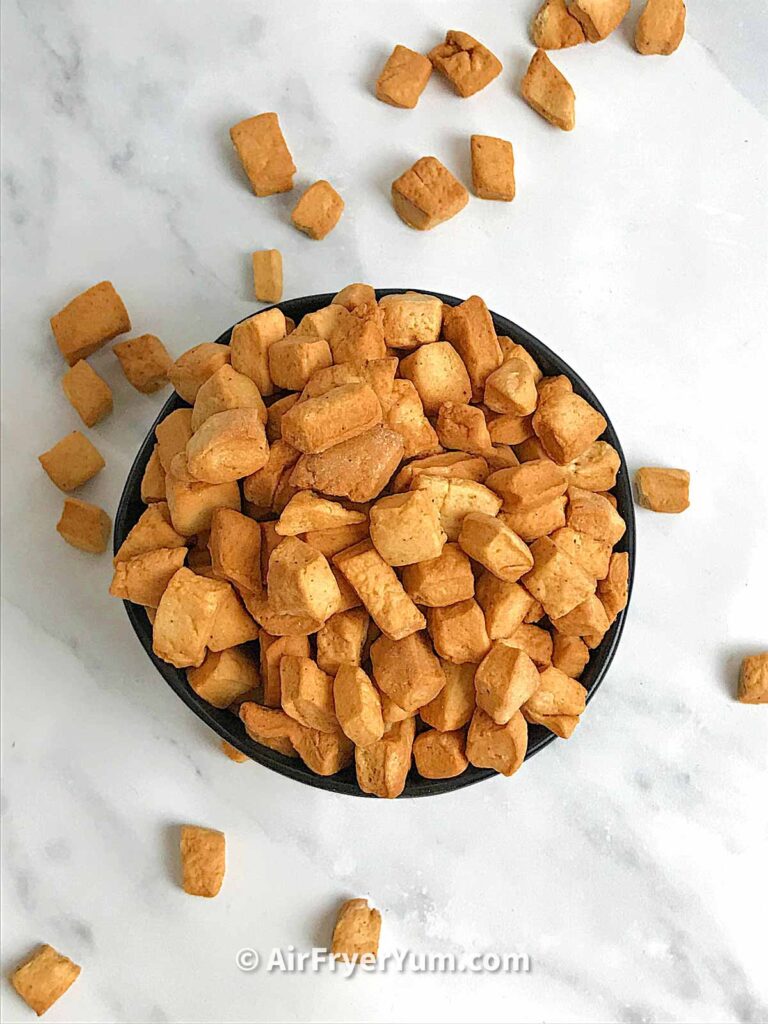 Ingredients needed to make Air fryer Chin chin
You will need the same ingredients needed to make traditional chin chin except the oil for deep frying of course.
Flour
Sugar
Baking powder
Salt
Nutmeg
Butter
Milk
Egg
How to make Chin chin in the Air fryer.
Mix ingredients together to make the dough.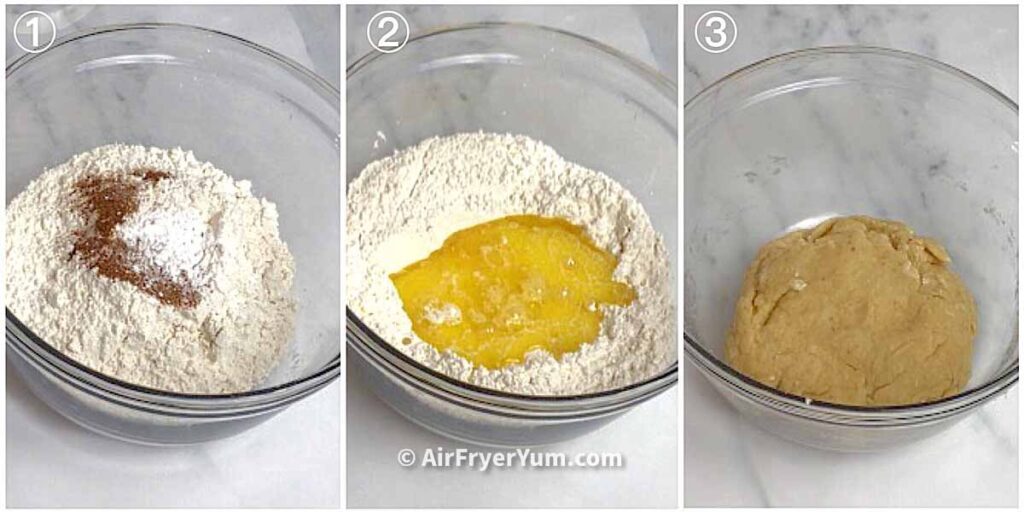 Roll out dough and cut into desired shapes you can do this bu using a knife, pizza cutter or pasta machine.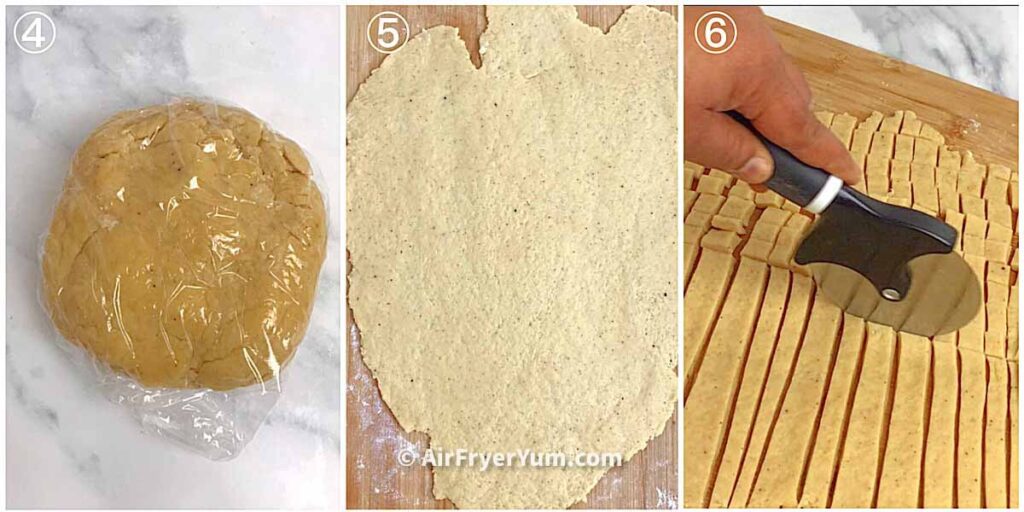 Transfer shaped dough into air fryer and air fryer!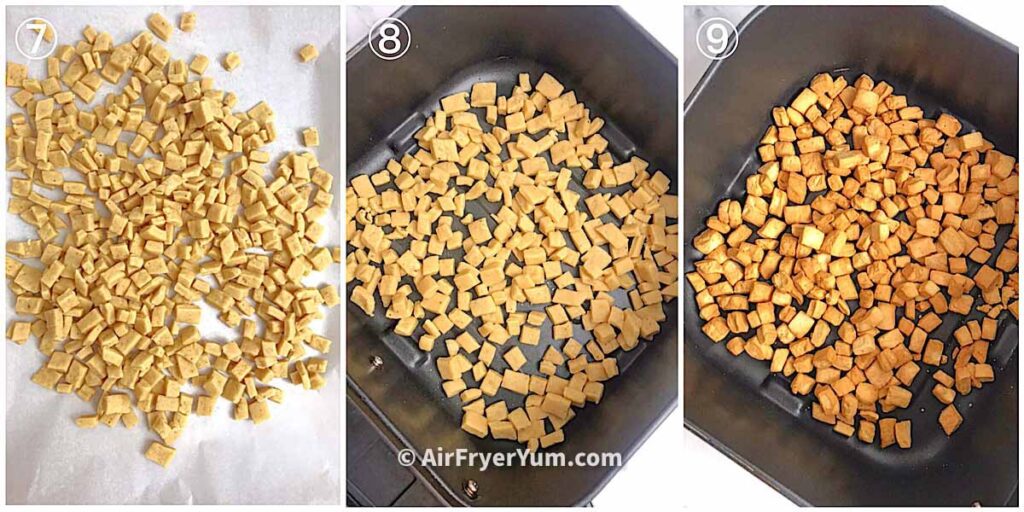 Air fryer chin chin Recipe Variations
This is the air fried version of your Classic Chin chin Recipe. There are various ways to enjoy chin chin which will be listed below
Coconut Chin Chin
This recipe is traditionally made by swapping out the milk in this recipe with coconut milk. and deep frying in coconut oil. This enhances the flavor profile.
To make coconut chin chin in the air fryer, swap out half the butter used in this recipe with coconut oil, swap out the milk with coconut milk and air fry! If you want it even more coconutty, add some coconut flavor to the mix.
Chocolate Chin Chin
Chocolate lovers are not left out of the fun! To make chocolate chin chin in the air fryer, swap out 2 Tablespoons of flour in this recipe with cocoa powder. Add a teaspoon of vanilla extract and leave out the nutmeg.
Mix the ingredients to form a ball of dough. Roll out and cut to desired shape and air fry.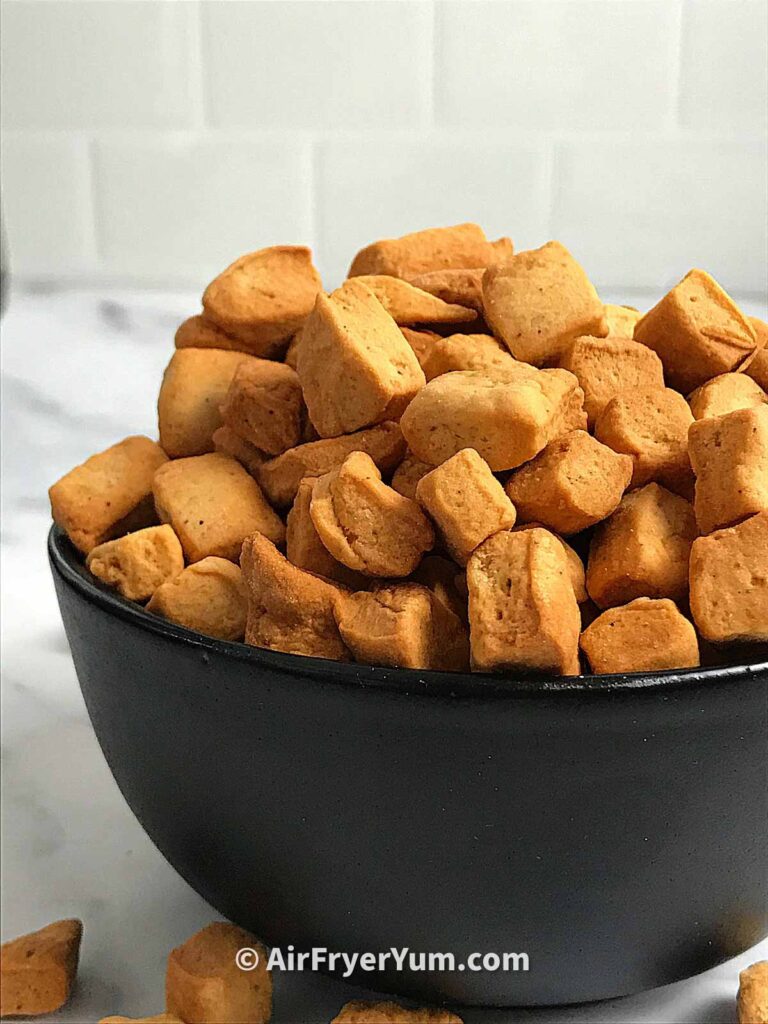 Vegan Chin Chin
Do you have egg allergies or you are eating plant based foods only. This recipe can easily be adapted to suite your needs and here is exactly how you can do it.
Use Plant based butter like margarine, swap out milk for a plant based milk like almond milk or coconut milk. Leave out the egg and swap it out with ¼ of water or ¼ cup more of the plant based milk used.
Sugar free Air fryer Chin chin
You can make your chin chin sugar free by using honey or sugar free sweeteners like Monkfruit-Erythritol blend. Simply swap out the sugar with the sweetener of choice.
If using honey and the dough seems too sticky, you may need to adjust the consistency with a little bit more flour. The Monkfruit- Erythritol blend swaps out 1:1 with the sugar.
Cinnamon Sugar Chin Chin
You guessed right. Swap out the sugar in this recipe for brown sugar and the nutmeg for cinnamon. Follow the steps and air fry.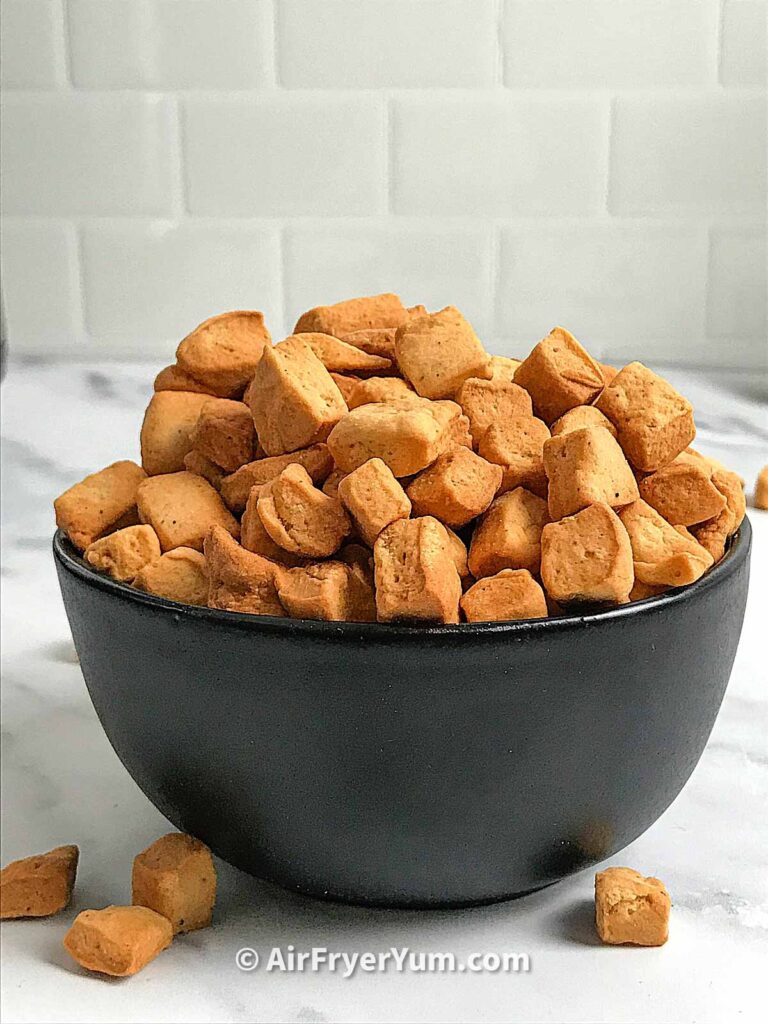 Tips for Success
Don't over crowd the air fryer basket: Let the dough sit in a single layer. This is a very important tip when using an air fryer because the air fryer cooks by hot air circulation. If you want crispy air fried foods this is a key tip to keep in mind.
Shake the basket: You need to shake the basket at 5 mins intervals when making Air fryer chin chin to keep the bits separate and to ensure even browning.
Remove the basket insert: Some air fryers have a removable basket insert like the Gourmia Air fryer. I prefer to remove the insert when I air fry certain foods like chin chin and nuts. If yours isn't removable, don't worry it would still work with the insert on.
To Spray or not to Spray: I have tried both methods and they worked perfectly well. If you want absolutely no oil then air fryer the chin chin without using the oil spray. If you want a bit of oil, lightly spray the dough in the air fryer.
Preheating the Air fryer: Read your air fryer manual instructions. If your manual says to preheat the air fryer go ahead and do so. I didn't preheat my Gourmia air fryer. However when making a second batch right after the first batch you would need to cook at a shorter time since your air fryer would have been preheated while cooking the first batch.
Don't have an air fryer yet?
If you don't have an air fryer just yet, don't worry I am here to help. Besides Air frying, you can also deep fry or bake this crunchy snack by following the steps below.
Bake it: Transfer the cut up chin chin dough pieces to a baking sheet and bake at 350 degrees F for 30 mins making sure to stir the chin chin every 10 mins and also to rotate the pan half way through the baking time.
Deep fry it: This is the traditional method. Simply dump the cut up chin chin dough into hot oil and fry till golden brown. Takes about 12-15 mins to get to your desired color.
Other Air fryer recipes to try
Air fryer Bacon: Did you know the air fryer makes the crispiest bacon with less mess? You've got to try it!
Air fryer Meat Pie: Yes you can. These hand pies are baked to perfection in the air fryer.
Air fryer Frozen foods: We love making things from scratch in our air fryer however cooking frozen foods is a winner too.
Found this recipe helpful leave me a comment about it or any recipe idea you would love Air fryer 'yummed' and don't forget to share with family and friends.
Xoxo!
Looking for more air fryer recipes? Follow along on Instagram, and Pinterest for updates and don't forget to Subscribe to my YouTube Channel for weekly videos.
Loving your air fryer? Join other air fryer buddies at our Free Easy Air fryer Recipes Group on Facebook to share ideas and master your air fryer!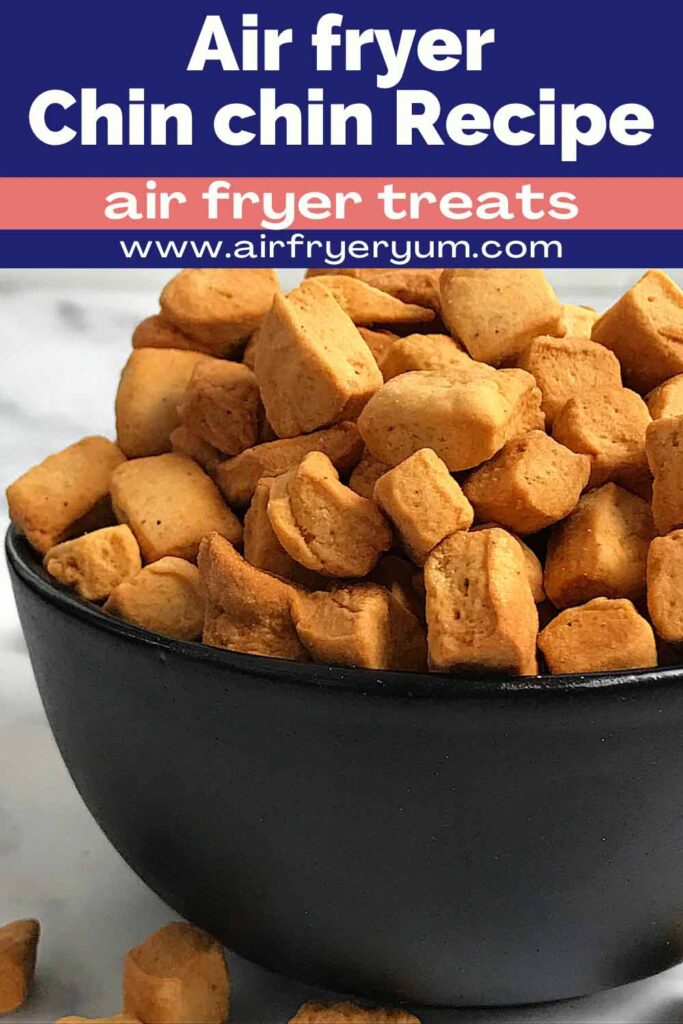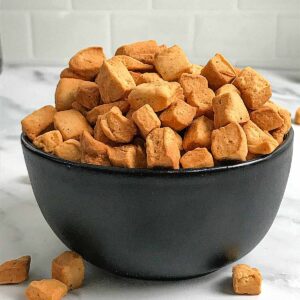 Air fryer Chin chin
Air Fryer Chin chin is a healthy twist to a very popular African snack. This crunchy treat is popular around the holidays especially Christmas. Traditionally Chin chin is deep fried. However in the quest for a healthier way of eating, we are making it in the air fryer.
Ingredients
280

g

all purpose flour

90

g

granulated sugar

¼

cup

salted butter

melted

½

teaspoon

baking powder

½

teaspoon

ground nutmeg

1

large egg

¼

cup

milk
Instructions
Mix sugar flour and nutmeg in a bowl

Add the melted butter, milk and beaten egg into dry mixture

Mix to form a dough

Let dough rest for about 5 minutes

On a lightly floured surface, roll out dough with a rolling pin, cut into strips first horizontally then vertically with a knife or pizza wheel.

Divide dough into 2 batches.

Arrange first batch in the basket of the air fryer and air fry at 350 F for 15-18 minutes

Repeat for the other batches
Notes
This recipe makes about 3 cups of chin chin. Want more? Double or triple the recipe.
For vegan chin chin, Use plant based milk, swap the butter for margarine and the egg for ¼ cup of water or plant based milk. See blog post above for more variations of this recipe.
Don't have an air fryer yet? You can make this in the oven or deep fry. See blog post for details.
The amount of flour in this recipe should be enough  to prevent the dough from being sticky. If you find  it sticky add more flour a little at a time.
Nutrition
Calories:
234
kcal
Carbohydrates:
38.6
g
Protein:
4.7
g
Fat:
6.9
g
Cholesterol:
39
mg
Sodium:
54
mg
Potassium:
84
mg
Fiber:
1
g
Sugar:
11.8
g
Calcium:
33
mg
Iron:
2
mg
Nutrition Disclaimer
Nutritional information is an estimate and may change based on products used. Please read our Nutrition disclaimer page.
Subscribe to my YouTube Channel
Subscribe to Air Fryer Yum on YouTube for more detailed videos! Remember to click the bell icon to get notified when I upload new videos.
Save this Recipe for later!
Follow @AirFryerYum on Pinterest!