Hey friend!
I'm Chichi and it's so nice to meet you on the web. Welcome to Air Fryer Yum where we share yummy air fryer recipes for everyone.
I would say it took us (my family) a while to jump on the Air fryer wagon, but when we eventually did, it didn't take us long to get blown away by the endless recipe possibilities that can be made in our air fryer.
Since we started this air frying journey, we've been honored to have been featured in quite a number of reputable online magazines such as Pioneer Woman, Glamour, Parade and New York Times to mention a few.
Air fryer Recipes
We created this website to share our love for our air fryers and all the amazing recipes we are making with You! Hope you find our recipes and air fryer resources helpful.
At AirFryerYum.com, there is something for everyone from beginners to advanced Air fryer buddies. We believe it's only fair and nice that everyone experiences the joy of air frying.
You would find a wide range of recipes here from Everyday Recipes to Keto Air Fryer Recipes, Air Fryer Appetizers, Frozen foods, Air fryer desserts and lots more.
New? Start here
Want to share our recipes?
That makes us super happy that you found our recipes so helpful you want to share. However we would love you to share the links to our recipes properly.
Please do not copy and paste or share screenshots of our recipes. Besides the fact that it's a copyright infringement, you are robbing us of hours of hard work and we know that's definitely not your intention.
The best way to share our recipes or any blogger's recipe, is to share the link to their recipes so that others can find them too and that will expand their reach.
How to reach us.
Have a question about a recipe? We'd love to hear all about it. Please ask your recipe related questions in the comment section of the recipe so others can benefit from your questions and our responses. Need to make other enquiries please contact us.
Happy Air frying!
Why not follow us for updates! We'd love that!
---
Are You Just Getting Started in the Air fryer world? We've got you!
Below are a few accessories and resources to get your started on the right foot!
Tools and Accessories
Our Resident Air fryers: These air fryers are more than just kitchen appliances. They are family. They work daily to provide all the yummy recipes you love here at Air Fryer Yum!
Other Air fryer brands we recommend
Other accessories

Kitchen tongs
Parchment paper
Baking pans
Silicon muffin cups
Mixing bowls
Mini skillet
Aluminum foil
*** Shop our Amazon Air fryer Store front for all your Air fryer needs! ***
Spices and seasonings
Garlic powder
Onion powder
Oregano
Dried parsley
Paprika
Black pepper
Jerk seasoning
The Jump to Recipe button
Some recipes may require some extra tips and tricks. We include these and answers to common frequently asked questions in the body of the blog post so you get all the information you need to get a recipe right on your first attempt.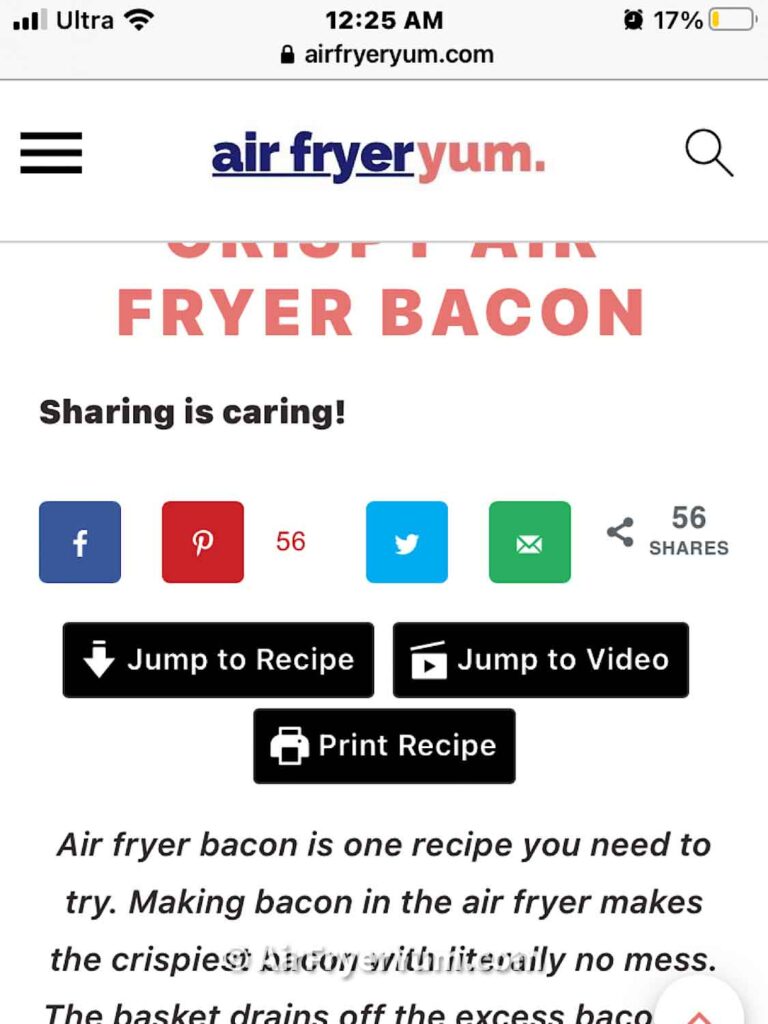 If you are in a hurry, or you'd rather not go through these helpful tips, that's where the Jump to recipe button comes in.

The Jump to recipe button is located at the top of each blog post. Click it and it will take you straight to the recipe card at the bottom of the post.
Not to worry, you can always scroll back up to read any thing you might have missed.
Air fryer Resources
Should you use foil in the air fryer
Air fryer frequently asked questions
Videos
If you are a visual learner, we have video recipes as well. You can subscribe to our YouTube channel and hit the notification bell so you never miss our new videos.
Thank you!
I want to seize this opportunity to thank each and everyone of you, my amazing online family for visiting our virtual kitchen daily. Your comments, feedback, emails, shares and continuous support is what makes Air Fryer Yum possible.
I want you to know you are appreciated and it doesn't go unnoticed. You are the real MVPs and I pray the Lord blesses you in all aspects of your lives as He has so richly blessed us. Thank you!