Can you bake cinnamon roll bunnies in air fryer appliances? Oh yes! These Air Fryer Cinnamon Roll Bunnies are the perfect fun Easter breakfast! When it comes to kicking off Easter morning with a sweet treat, using your air fryer is a simple way to make that happen. Pair these with a side dish of bacon, sausages or eggs and you'll be set for an epic holiday feast.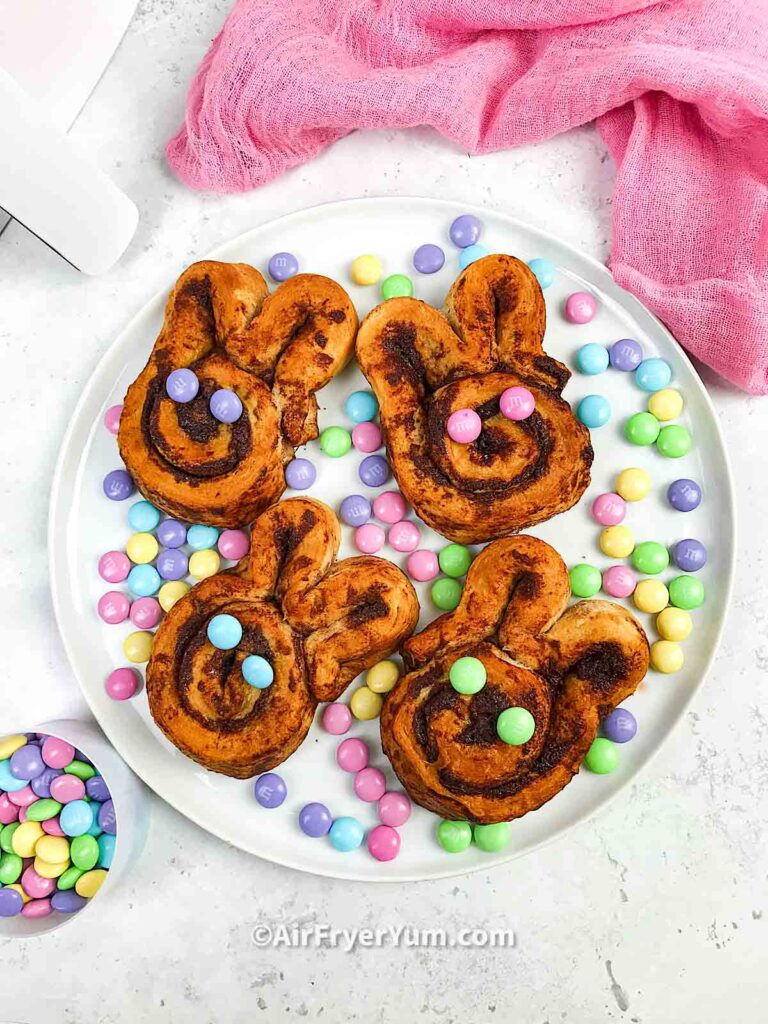 Air fryer cinnamon roll bunnies Recipe
Refrigerated cinnamon rolls or bread dough makes this bunny breakfast idea really easy. In fact, it just might be the best way to cook canned cinnamon rolls ever!
With minimal effort and just two ingredient you get a really stellar and festive delicious dish in less than 10 mins. The kids will LOVE the creativity and would be more than happy to help with making these air fryer cinnamon roll bunnies and of course gobbling them up as soon as it's ready!
The air fryer gives the cinnamon roll dough the perfect outer texture with the smooth and fluffy middle that we've all grown to crave. Top each bite with a drizzle of glaze, and these are sure to be a fun new Easter breakfast tradition.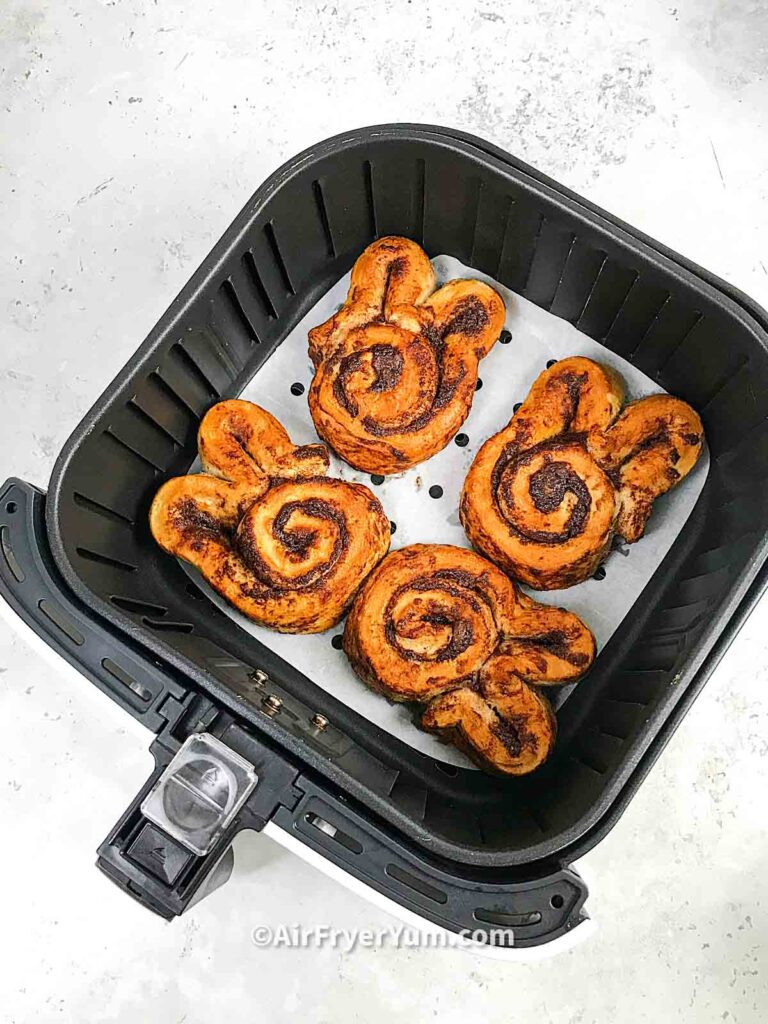 Why you'll love this recipe / why it works
Baking Cinnamon rolls bunnies in the air fryer are the perfect way to make this breakfast favorite! You love these because
You need Minimal ingredients!
It's a perfect Easter-themed treat anyone would love.
It requires Simple clean-up once it's eaten!
Related: Air fryer Cinnamon rolls, Cinnamon crescent rolls in air fryer.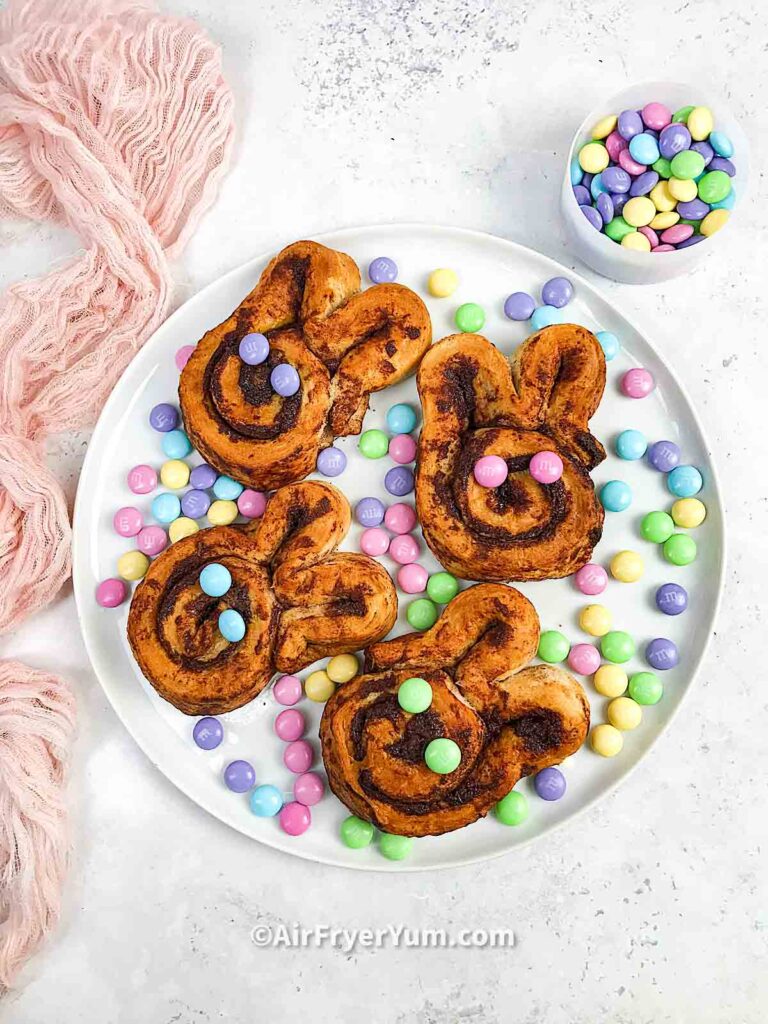 Best canned cinnamon roll brand for this recipe
I love Pillsbury canned cinnamon rolls however it didn't quite work out for this recipe when I was trying to unroll the rolls. They were tightly packed and almost stuck together. The other two listed below were the ones that worked for me because the rolls were easily separated and unrolled.
Signature select (ACME store brand)
Annie's cinnamon rolls
Ingredients
Recommend canned cinnamon rolls
Easter themed m and ms
Substitutions
You can use home made bread dough or store bought refrigerated bread though. Canned croissants sheets will work as well but you will need to fill and roll with cinnamon sugar and butter then cut it into individual rolls before you can make the cinnamon roll bunnies.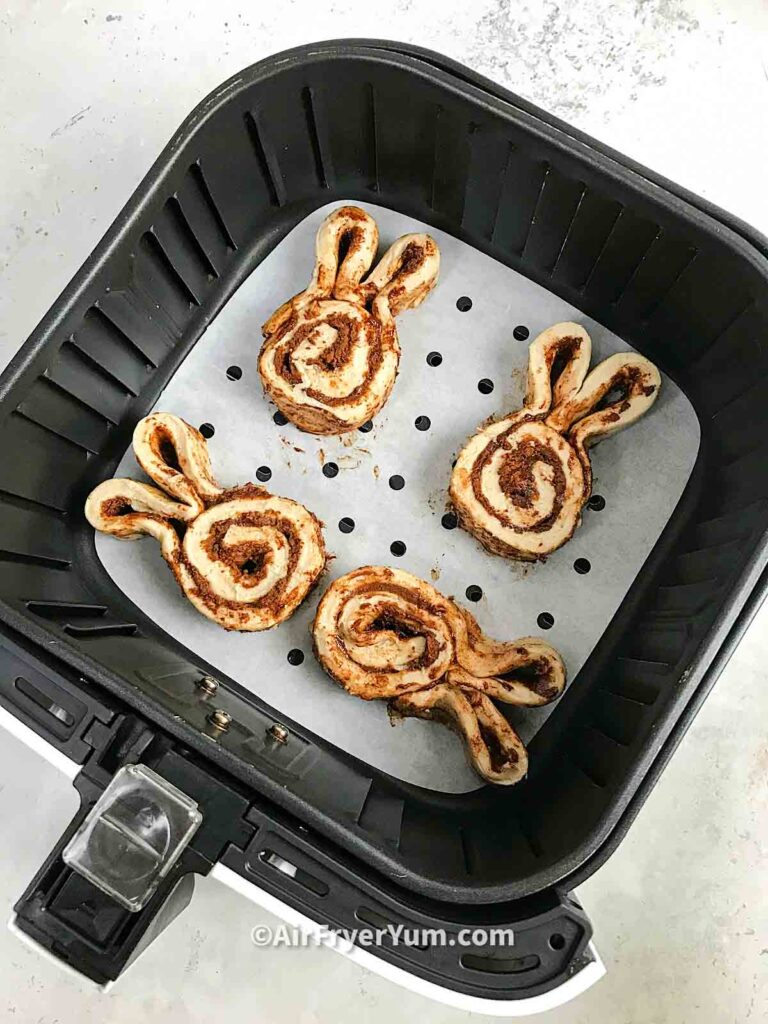 How to make cinnamon roll bunnies in air fryer
This is an overview of the recipe with step by step photos. Scroll down to end of post for a printable recipe card with the amount of ingredients and full recipe instructions.
Open the can of refrigerated dough, gently unroll the dough half way through. The unrolled strip should be long enough to form a letter m for the bunny ears. Pinch the middle of the m shaped dough then pinch the end onto the rest of the cinnamon roll (representing the head)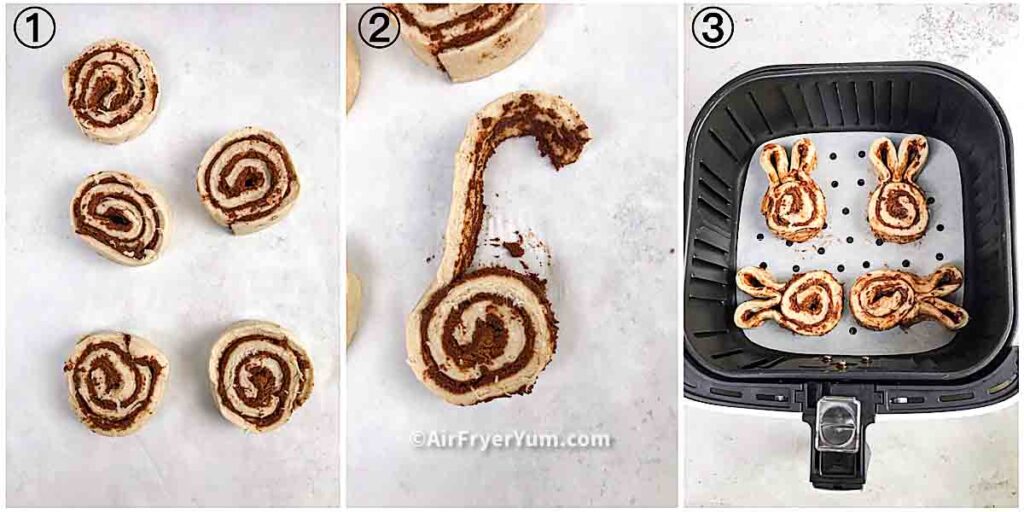 Repeat for the rest of the dough. Place in a parchment paper lined air fryer basket and bake for 330 F for 6 mins, then flip over and bake for another 2 mins. Fell free to cook for longer if yours isn't cooked through at this point.
Spread glaze on the rolls and serve immediately. Top with Easter m & ms if serving as a dessert.
How long does it take to air fry a cinnamon roll?
The timing can vary based on the size of the cinnamon roll, how crowded the air fryer basket is and the temperature it's being cooked at but a good estimate is going to be between 8-10 minutes of time.
Once the top of the rolls starts to turn golden-brown, that's your cue that they're ready to be taken out to start the cooling process.
How to store and reheat
If you're fortunate to have leftover cinnamon rolls, this just means that you'll get to enjoy that flavor again! Store any leftovers in an airtight container and keep them in the fridge. They'll stay good for 1-2 days.
To reheat, you can pop them in the microwave for a few seconds, and they'll soften and warm right up!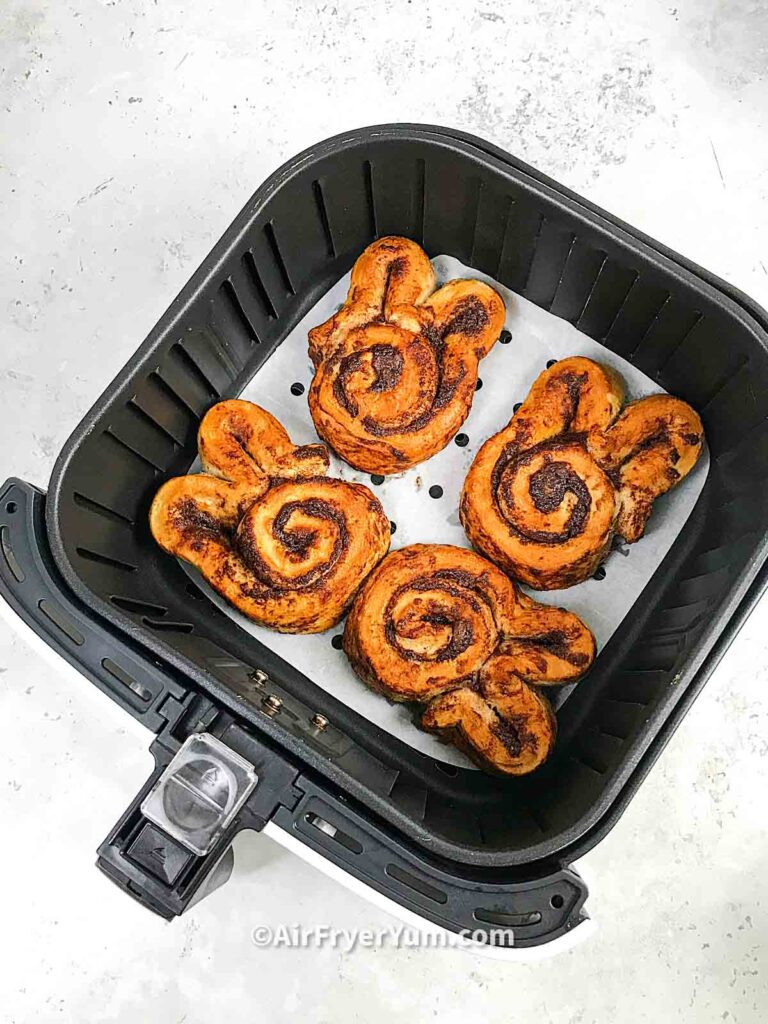 Air frying Tips
To soften the frosting that comes with the can of cinnamon rolls, hold it in your hands for a little bit. The warmth of your hands will soften up the frosting to easily be drizzled over the top.
To make a simple glaze, combine some vanilla, powdered sugar, and milk, and whisk. This is a simple way to add a tiny bit of sweetness by making a homemade glaze instead.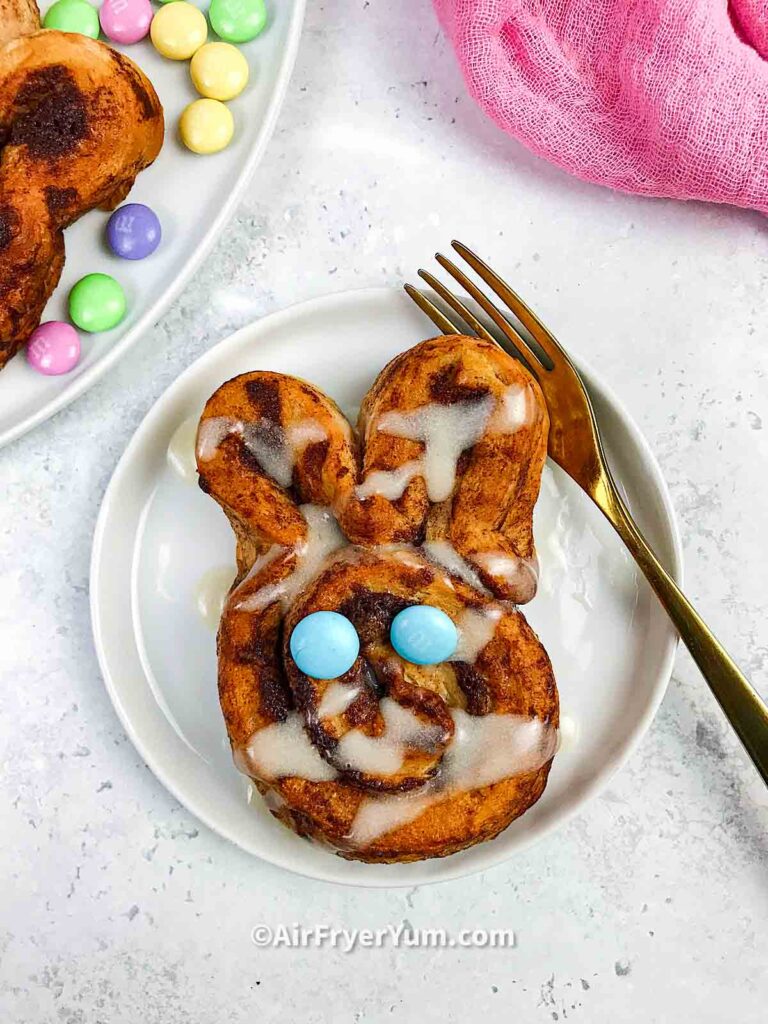 Frequently asked questions
Should cinnamon rolls touch while cooking?
For this bunny cinnamon roll recipe, you don't want them touching, and you don't want to overcrowd the air fryer basket!
How do you moisten dry cinnamon rolls?
If you find that the leftover cinnamon rolls are dried out, just put a microwave-safe cup with water in with your cinnamon rolls and reheat for 30 seconds. This will add moisture to them, and they'll be moist again!
If you try this recipe, show it off on Instagram! Be sure to Follow and Tag @Airfryeryumblog on Instagram and use the hashtag #airfryeryumblog so we can see your recreations!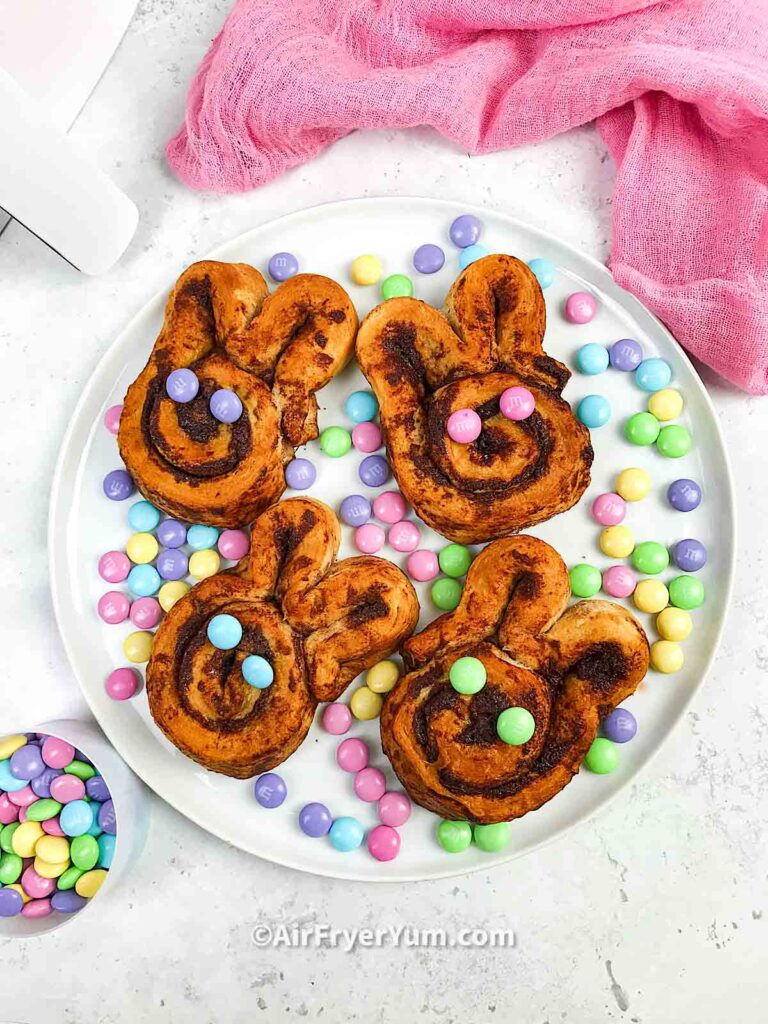 Did you find this recipe helpful? Leave me a comment about it or any recipe idea you would love Air fryer 'yummed' and don't forget to share with family and friends.
Happy Air frying!
Love it? Pin it! Then follow Air Fryer Yum on Pinterest for more deliciousness!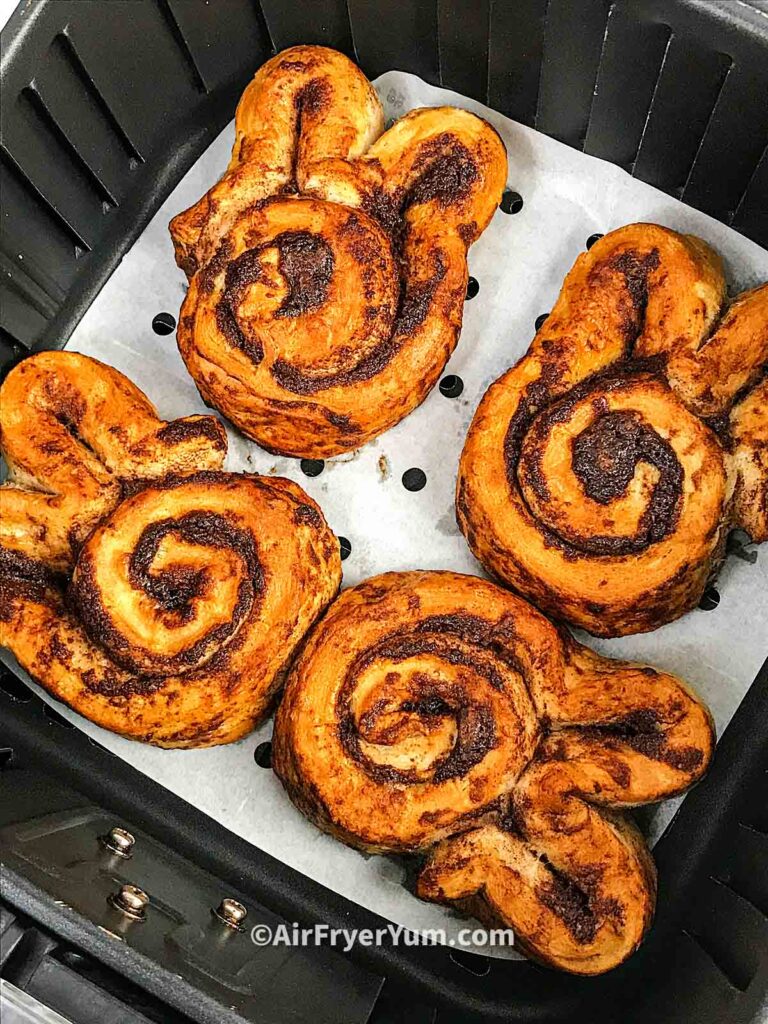 Looking for more air fryer recipes? Sign up for our yummy newsletter and Follow along on Facebook, Instagram, Pinterest and Tiktok for updates. Remember to Subscribe to my YouTube Channel for weekly videos.
Loving your air fryer much? Join other Air Fryer Buddies in our exclusive free Easy Air Fryer Recipes Group on Facebook!
New to the world of Air frying? We've got you covered. Check out our helpful >>> Air fryer Resources!
Shop all air fryers and air fryer accessories at our Amazon store.
Air Fryer Yum's Pro Tip! Air fryer temperatures may vary depending on size, make and model. When making a recipe for the first time, start with less time, check for doneness then add more time as needed.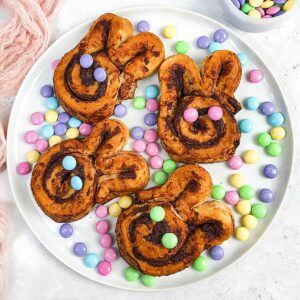 Air fryer Cinnamon roll bunnies
Can you bake cinnamon roll bunnies in air fryer appliances? Oh yes! These Air Fryer Cinnamon Roll Bunnies are the perfect fun Easter breakfast! When it comes to kicking off Easter morning with a sweet treat, using your air fryer is a simple way to make that happen.
Equipment
Cosori Air fryer

Perforated Parchment paper

Cookie spatula
Ingredients
1

Can

Refrigerated Cinnamon rolls

( store brands are great)

¼

cup

glaze

¼

cup

Easter themed m and ms
Instructions
Open can of refrigerated cinnamon rolls to reveal the dough. Remove the icing cup and set it aside.

Place the rolls on a parchment paper lined surface. Gently unroll the cinnamon rolls half way through (it should be long enough to create an 'M' for the bunny ears)

Create an 'M' shape with unrolled part of the rolls for the bunny ears. Pinch the middle and gently pinch the lose end to the cinnamon roll (head of the bunny)

Set temperature to 330°F / 165°C and cook for 6 mins then flip with the cookie spatula and cook for 2 more minutes. Add more time if yours isn't cooked through at this point.

Spread the icing on the rolls and serve immediately.

Serve with Easter themed m & ms if serving these as a dessert.
Video
Notes
Use perforated parchment paper for easy of flipping and to remove the need to spray some oil on the basket
Flip the cinnamon rolls over in the last 2 minutes of cook time to ensure the underside cooks as well.
Air fryers cook definitely it's ok to cook for more or less time than indicated in the recipe if you need to start checking at 6 minute if making it for the first time.
If you find that sugar glaze that comes in the can difficult to spread, pop it into the microwave without the metal lid and nuke for 2 to 5 seconds to soften it to a spreadable consistency ​
Nutrition
Serving:
5
g
Calories:
220
kcal
Nutrition Disclaimer
Nutritional information is an estimate and may change based on products used. Please read our Nutrition disclaimer page.
Subscribe to my YouTube Channel
Subscribe to Air Fryer Yum on YouTube for more detailed videos! Remember to click the bell icon to get notified when I upload new videos.
Save this Recipe for later!
Follow @AirFryerYum on Pinterest!
Did you make this air fryer recipe? Awesome! Please rate it by clicking the stars ⭐️⭐️⭐️⭐️⭐️ when you leave a comment below. If you loved it please share the link to this recipe with family and friends and in you favorite Facebook group.