Air fryer frozen mozzarella sticks! Your appetizer game just got an upgrade with this hack. I love to cook frozen foods in my air fryer and these Mozzarella cheese sticks are no different. It's easy to make and gets ready in less than 8 minutes.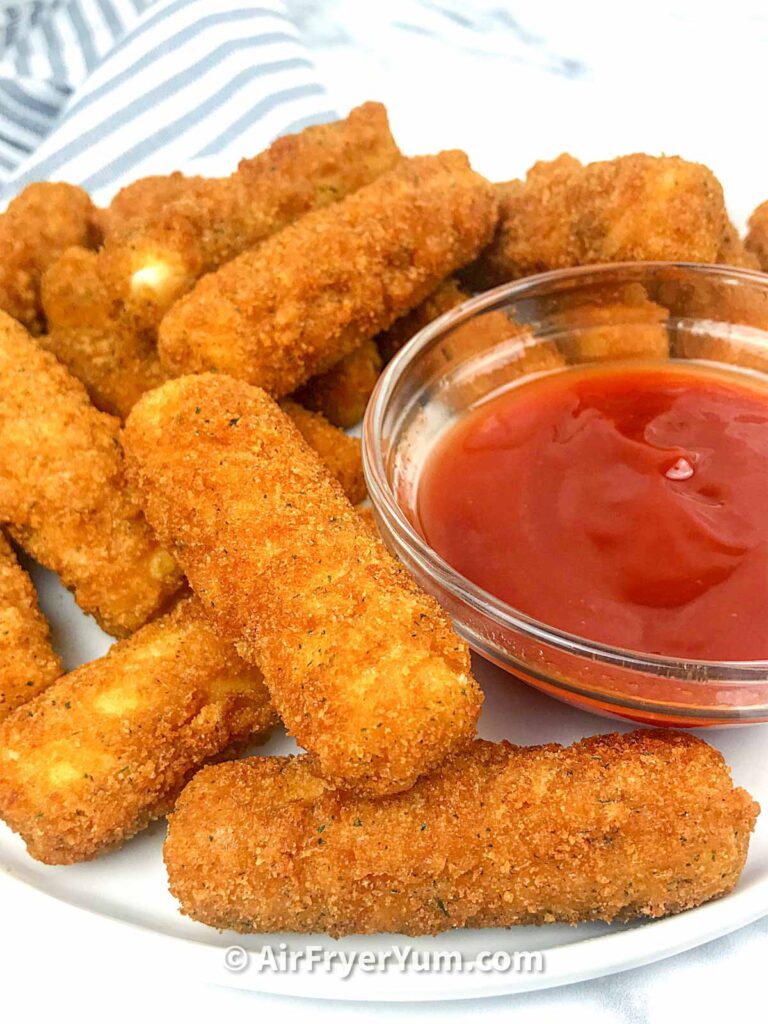 Frozen Cheese Sticks in Air fryer
I am not going to go on and on about how I love my air fryer and how it has been one of the worthy investments I have made in my kitchen.
These cheese sticks serve as the perfect appetizer or snack. My kids love it my picky eater included. Sometimes I make these from scratch, however I try to have a bag or two of the frozen mozzarella sticks as a back up for when I don't have time to make it from scratch.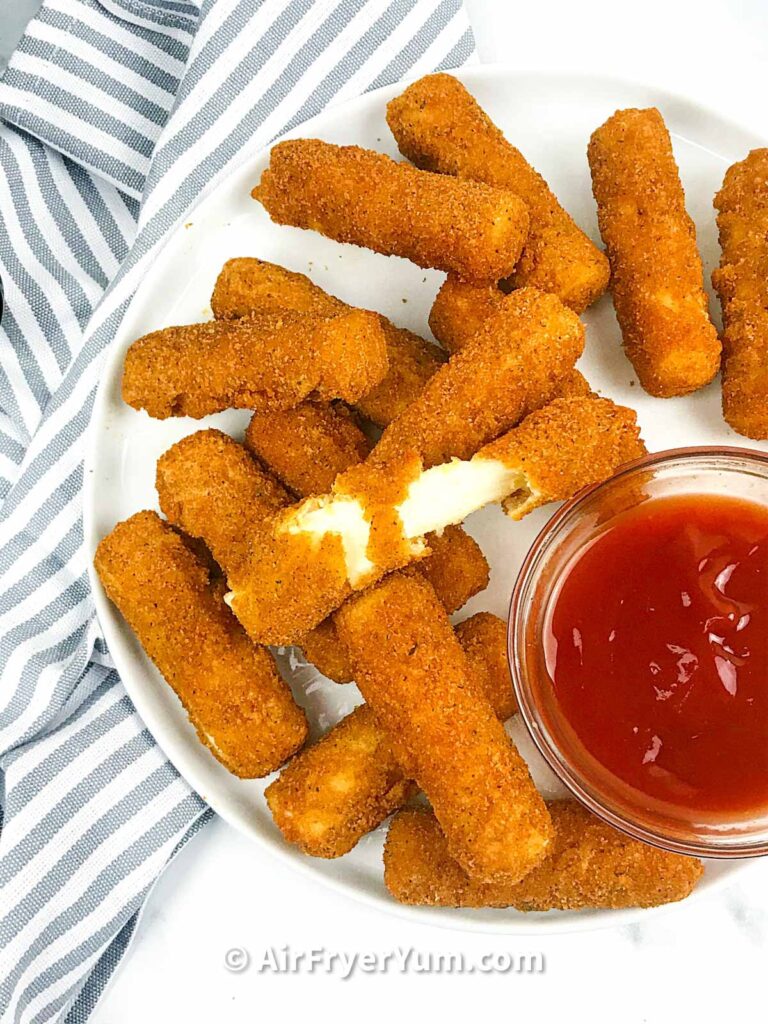 What you need!
Since this is not a from scratch recipe, all you need is your air fryer and frozen mozzarella cheese sticks.
How do you air fry Frozen Mozzarella Sticks
Easy peasy in just 3 steps: Get the frozen cheese sticks, place 8 pieces in the air fryer basket. Air fryer for 6 - 8 minutes.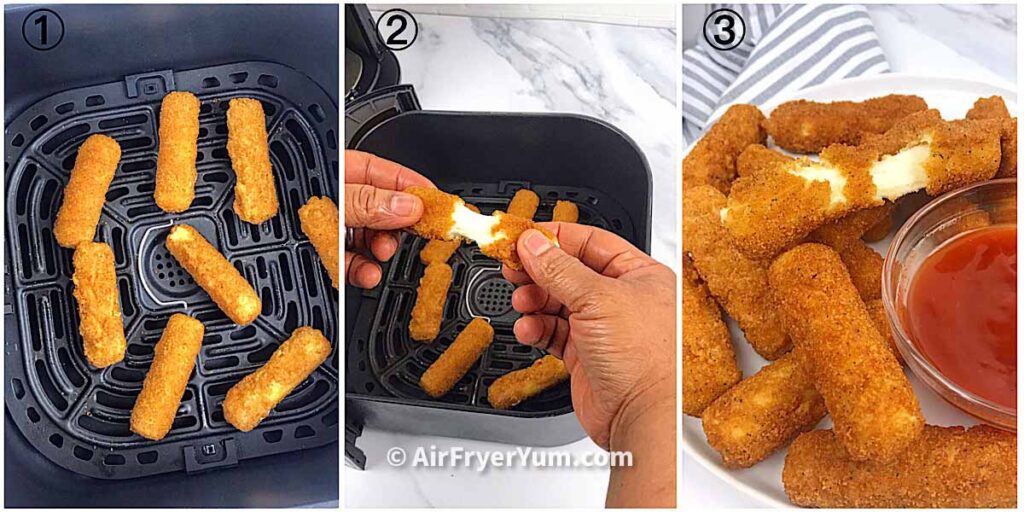 How to Store and Reheat Air fryer Mozzarella Sticks
We typically make just enough for the family therefore we hardly have left overs. However on the rare occasions that we do, we store in a ziplock bag in the fridge for up to 2 days. It actually can stay a day longer but the kids never let it ha ha.
Reheating
You can reheat it in the air fryer for 3-4 minutes at 360 F. Alternatively pop it into the microwave and microwave at 15 seconds intervals for about 1 minute. To prevent it from getting soggy, put it in a paper towel lined microwave safe plate. The paper towel will help absorb the moisture as it reheats.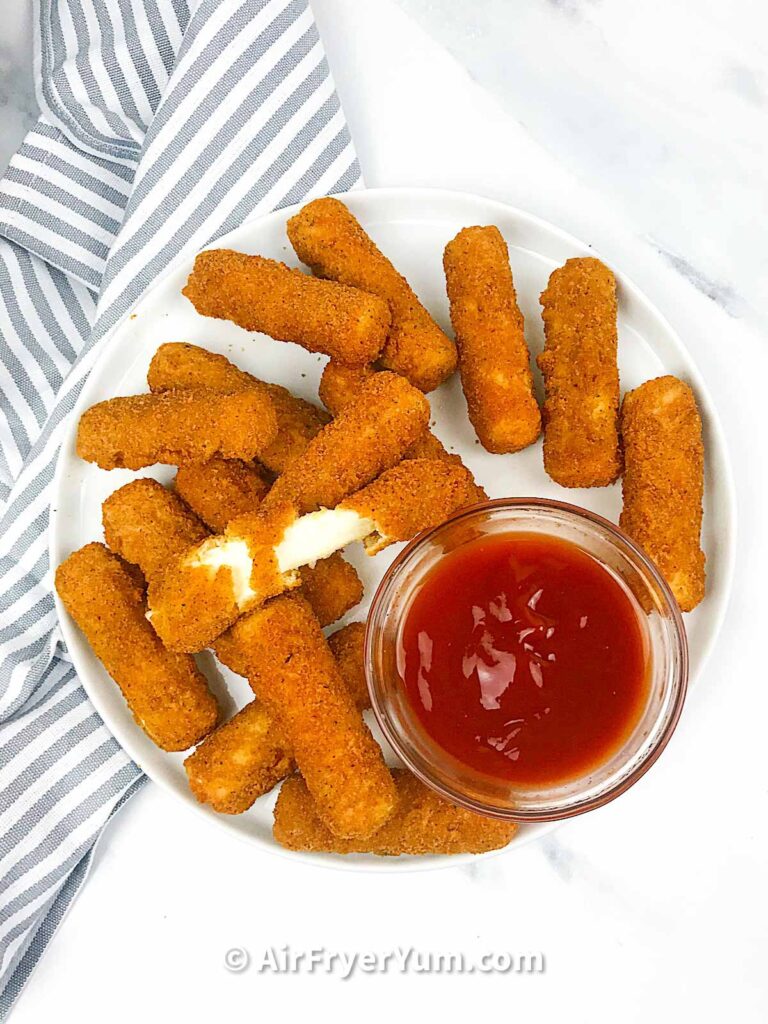 Tips for success.
Don't over crowd the basket: The mozzarella cheese sticks can burst if cooked for too long and and cooking it on high temperature. I cook mine at 360 F.
To Preheat or not to: I do not preheat my air fryer to make these appetizers. However subsequent batches cook faster because the air fryer has been preheated from cooking the first batch.
Patience is a virtue: When the frozen cheese sticks are done, let it rest for about a minute or two as the cheese may burn your tongue because it's super hot.
No need to thaw: You can cook frozen mozzarella sticks without thawing. Simply go from freezer to air fryer basket.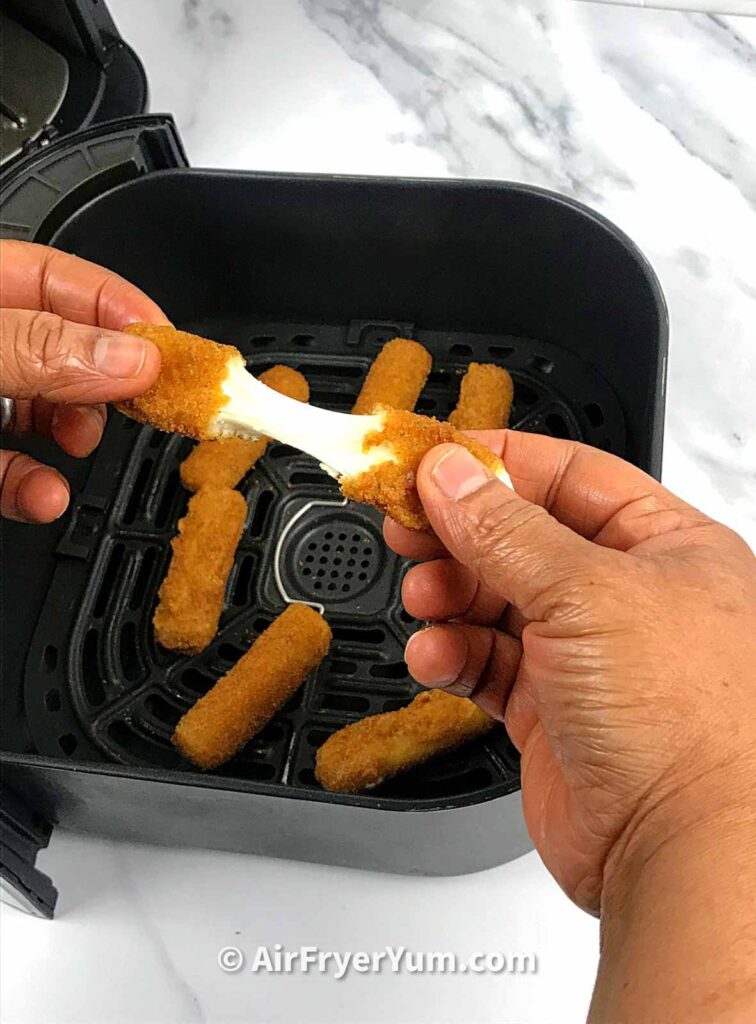 Air Fryers we recommend
More Air fryer Recipes
Air Fryer Chin chin: This easy snack will keep you on your toes digging for more.
Have you tried making meatballs from scratch in your air fryer? You need to give it a try and while you are at it, check out my other air fryer appetizers and chicken recipes.
FAQs
How long do you air fry frozen mozzarella sticks?
I cook frozen mozzarella sticks for 6 - 8 minutes at 360 degrees F
Are air fryer mozzarella sticks keto?
The air fryer cheese sticks used in this recipe are not Keto. However you can make mozzarella sticks with keto friendly breading like a mix of almond flour and pork rinds
How do you keep Mozzarella sticks from exploding?
Do not overcook them. If you do, the cheese would leak out.
Did you find this recipe helpful? Leave me a comment about it or any recipe idea you would love Air fryer 'yummed' and don't forget to share with family and friends.
Happy Air frying!
Looking for more air fryer recipes? Follow along on Facebook, Instagram, and Pinterest for updates and don't forget to Subscribe to my YouTube Channel for weekly videos.
Loving your air fryer much? Join other Air Fryer Buddies in our exclusive free Easy Air Fryer Recipes Group on Facebook!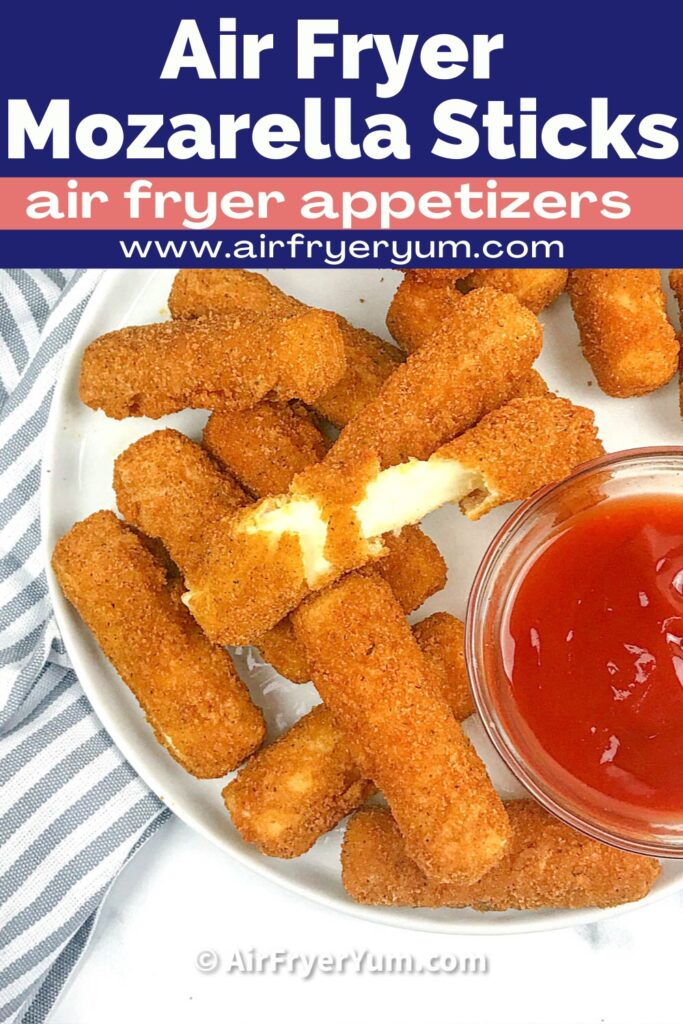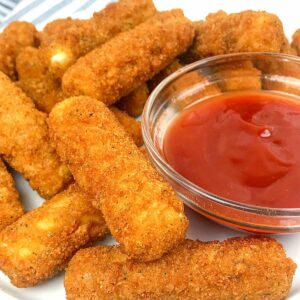 Air fryer frozen mozzarella sticks
Air fryer frozen mozzarella sticks! Your appetizer game just got an upgrade with this hack. I love to cook frozen foods in my air fryer and these Mozzarella cheese sticks are no different. It's easy to make and gets ready in less than 8 minutes.
Ingredients
8

frozen mozzarella sticks
Instructions
Arrange frozen cheese sticks in the air fryer basket.

Set temperature to 360 F and timer to 7 minutes and start air frying. Shake basket or flip cheese sticks at 4 minutes.

When cooking cycle is complete, lightly press against the mozzarella sticks with your pair of tongs. If it's soft and the outside looks crispy and golden. You can take it out.

If you want it to cook for longer, cook for another minute. Cooking longer than 8 minutes has always resulted in leaking cheese sticks for me.
Notes
1. Air fryers differ. Always read the manual of your air fryer. If you preheat your air fryer, the mozzarella sticks will cook faster. Start checking at 6 minutes.
2. If you do not preheat your air fryer, bear in mind that your air fryer will be preheated after the first batch of cheese sticks which means subsequent batches will cook faster.
3. Over cooking will make the cheese leak out.
Nutrition
Serving:
2
Sticks
Calories:
120
kcal
Carbohydrates:
12
g
Protein:
8
g
Fat:
5
g
Saturated Fat:
3
g
Cholesterol:
10
mg
Sodium:
420
mg
Calcium:
160
mg
Nutrition Disclaimer
Nutritional information is an estimate and may change based on products used. Please read our Nutrition disclaimer page.
Subscribe to my YouTube Channel
Subscribe to Air Fryer Yum on YouTube for more detailed videos! Remember to click the bell icon to get notified when I upload new videos.
Save this Recipe for later!
Follow @AirFryerYum on Pinterest!