These juicy Air fryer meatballs are incredibly easy to make from scratch. A great way to whip up an easy dinner with no stress. Mix up the ground beef and the other ingredients, roll into balls and air fry.
Toss in your favorite pasta sauce to serve with spaghetti, serve as appetizers with your favorite dipping sauce or use it as a protein source for your salads. The options are endless with these juicy and succulent air fryer baked meatballs. Read along and learn exactly how I make them in easy steps.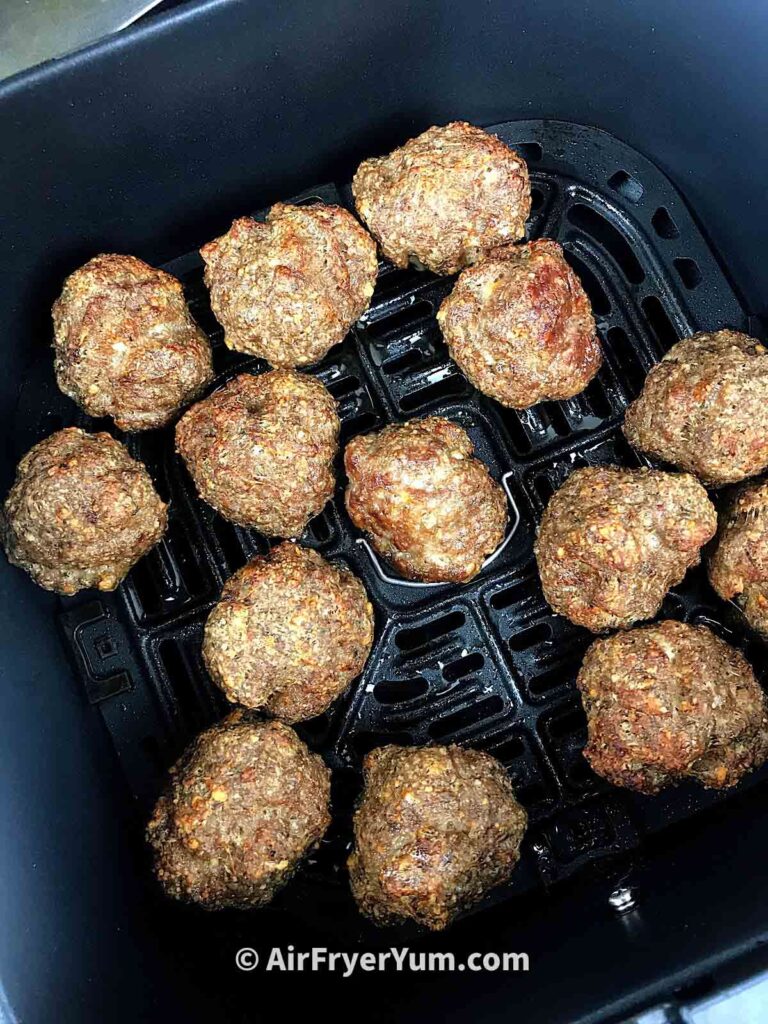 Easy Homemade juicy Air fryer meatballs from scratch!
These meatballs can be made for immediate use or frozen for later. Yes you can also cook frozen meatballs in your air fryer just in case you were wondering.
Honestly my air fryer is the most used kitchen equipment in my home right next to my blender and Cake mixer. I'm always in search of a recipe that can be adapted for the air fryer. So much so my oven is beginning to serve as a cupboard 🙂
You might think an air fryer would make dry meatballs. On the contrary these crowd pleasing appetizers are so juicy and yummy. Did I mention they get ready in 12 mins max.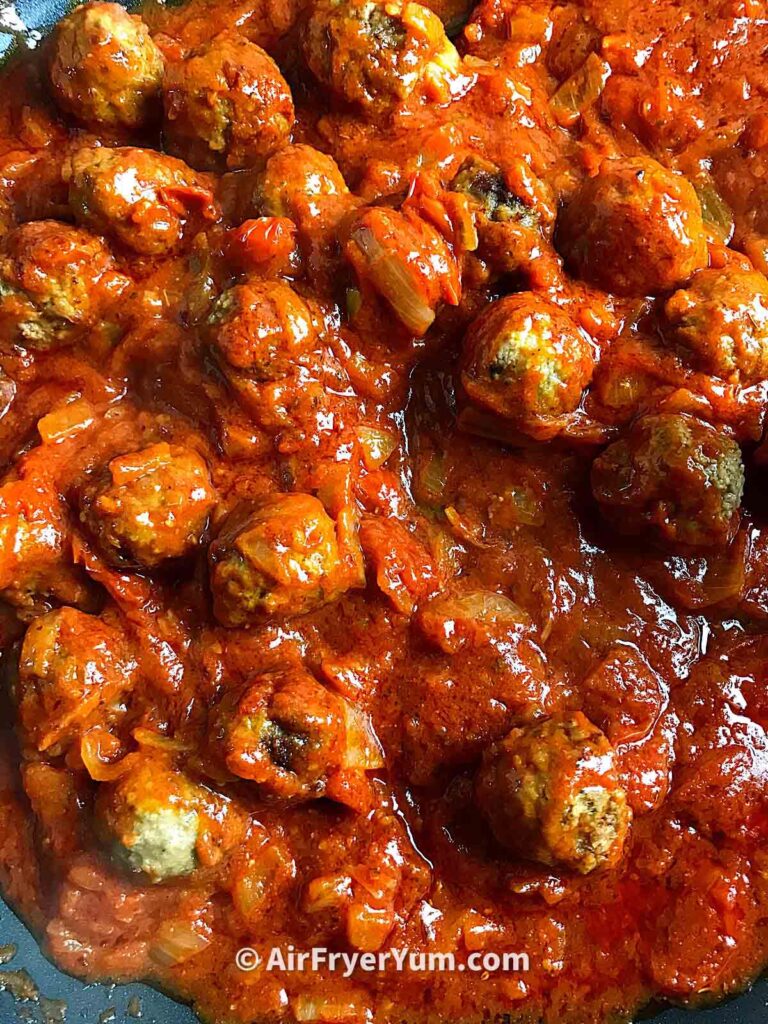 Ingredients needed to make these Air fryer meatballs appetizer recipe
Ground Meat: You can make meatballs with any meat you like. Ground beef, Pork, Chicken, or Turkey. I used Beef for this recipe. However you can also use a mix of ground beef and ground pork.
Adding flavor to your meatballs: Italian seasoning, Parmesan cheese, garlic powder, , Onion powder and Worcestershire sauce add a ton of flavor to this recipe.
Binders: Eggs, breadcrumbs, and oil bring all the ingredients together.
How to cook Air fryer Meatballs
Step 1-3; Gather the ingredients and mix to combine. Form even balls. I like to use my ice cream scoop for this, however, you can use a kitchen scale or eye ball it.
Step 4-6; Arrange uncooked meat balls in a single layer in your air fryer baskets and cook to perfection. Full recipe in the card at the bottom of the page. The international temp should be at least 165 F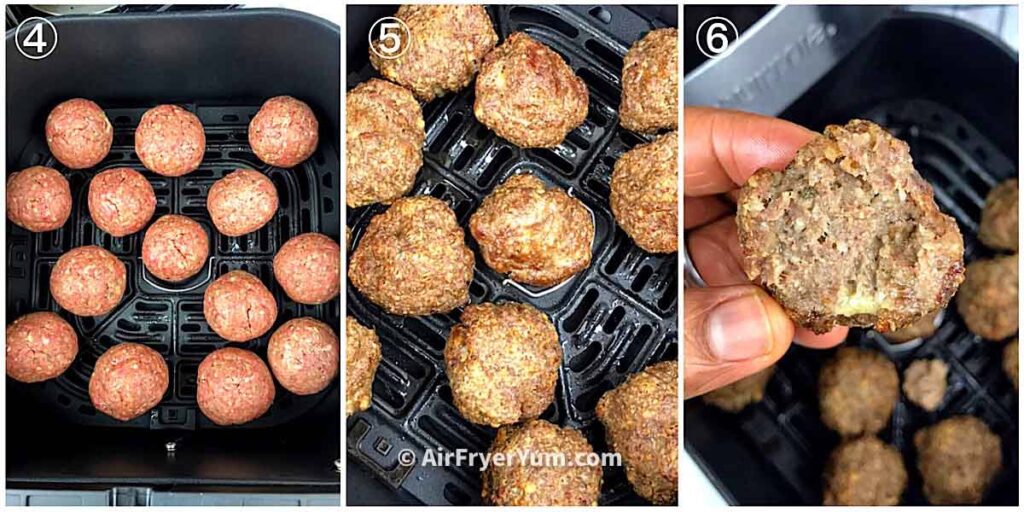 Best Dipping Sauces for meatballs
There are a variety of sauces that you can serve meatballs with. Start by asking your self what your favorite dipping sauce is. We often use marinara sauce however below are a list of others to try
How to serve
These juicy Air fryer meatballs are served the same way you would serve regular oven cooked or fried meatballs. Serve on its own as an appetizer or snack, use in Pasta sauce or Spaghetti and meatballs. These can also be used as a meat source in Salad.
Make ahead and How to store
Meatballs can be made up to 3 days ahead and stored in the refrigerator. Keep in an air tight container or freezer bag for when you are ready to use.
This batch can be doubled, cooked in batches, and then frozen for up to 2 months.
Leftovers can be stored in the refrigerator or freezer and reheated in the air fryer when ready to use.
Freezing meatballs
Yes you can freeze raw meatballs. When making a double batch, make one batch and freeze the uncooked batch for later.
To freeze uncooked raw batch, arrange on a parchment in a single layer on a paper lined baking sheet and freeze for up to 2 hrs.
Then transfer to a ziplock bag, seal, label and store in the freezer for up to 2 months. When you are ready to cook, no need to thaw, cook straight from frozen in the air fryer or oven.
How to freeze cooked or half cooked meatballs
If you are thinking of making these ahead to save time. Freezing half or full cooked meatballs may be the way to go. Here's how.
Cook the meatballs till fully cooked or half cooked in half the time stated in the recipe. Then let the meatballs cool completely.
Freeze cooked meatballs in a single layer on a parchment paper lined baking sheet for up to 2 hrs. Then transfer to a ziplock bags, label with dates and freeze for up to 2 months.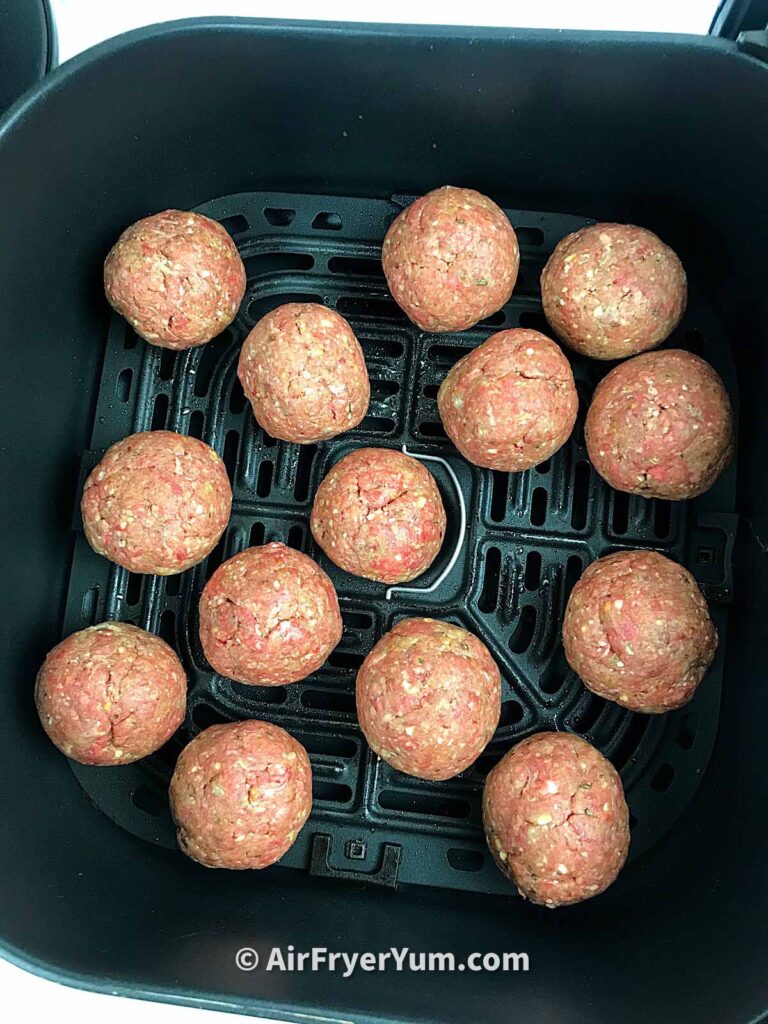 How to use meatballs in recipes
Meatball pizza. Use mini meatballs or cut the regular sized meatballs and use as a topping for your pizza
Air fryer meatball subs / sandwiches
In soup hello meatball soup
Meatball sauce. You should try out my air fryer meatballs in sauce recipe, so good. Is there nothing one can't make in the air fryer?
Have you tried meatball salads? They are so good.
Meatball skewers or kabobs
Tips for Success!
Don't overcrowd the basket to allow the hot air to circulate properly and cook the meatballs evenly.
Size of meatballs: Try your best to mold even sized meatballs. This will make the meatballs cook evenly and at the same time.
Shake the Air fryer basket half way through cooking time. You can also use a pair of tongs to flip them.
Use a Meat Thermometer if you have one. The meatballs are fully cooked when the internal temperature is at least 165 F.
Pack lightly: When molding the balls resist the urge to pack too tightly to prevent tough meatballs
Don't have an Air fryer just yet?
I've got you! Meatballs can be cooked on the stove top or in a conventional oven. Follow the instructions below.
Stove top frying: Mix ingredients together, then form the balls. Fry in oil till golden brown and cooked through. (Bear in mind that this method would defeat the reason why the air fryer was developed, oil less cooking.)
Bake in a Conventional Oven: Preheat oven to 400°F / 204°C. Arrange uncooked meatballs on a parchment paper lined baking sheet.
Bake in a preheated oven for 15 - 20 mins (depending on size) till golden brown or internal temperature is at least 165°F/ 74°C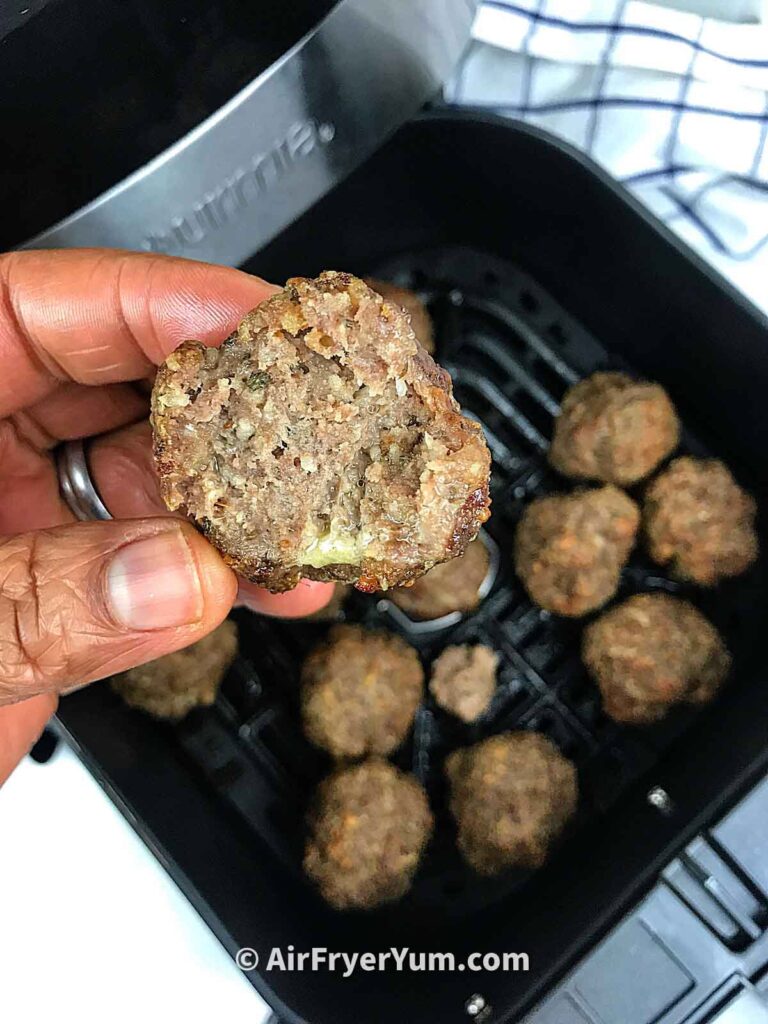 Frequently Asked Questions
Can I freeze raw meatballs?
Yes you can. Please see directions above.
How long can to freeze cooked meatballs.
Cooked meatballs can stay fresh in the freezer for up to 2 months.
Why are my meatballs tough?
Meatballs can be tough if yuu pack the ingredients too tightly when forming the meat balls. When forming meatballs, grease your palms lightly with oil and roll the meat gently between your palms to form the balls.
Is it better to bake or fry meatballs?
It so matter of personal preference. Both methods taste amazing. However if you wavy to cut down on fatty foods your best bet is to bake or air fry the meatballs because it will require less oil than deep or shallow frying.
We've got more air fryer appetizers
All our air fryer appetizers live here! Be sure to check them out!
Other Easy Air fryer recipes.
Looking for more from scratch recipes you can make in your air fryer? The recipes below will excite you.
Check out all our >>>Air fryer Recipes!
---
Have an air fryer idea you want 'yummed'? Leave me a comment below and I would get working on it. If it's possible, be sure I would create a recipe for it.
Loving your air fryer much? Join other Air Fryer Buddies in our exclusive free Easy Air Fryer Recipes Group on Facebook!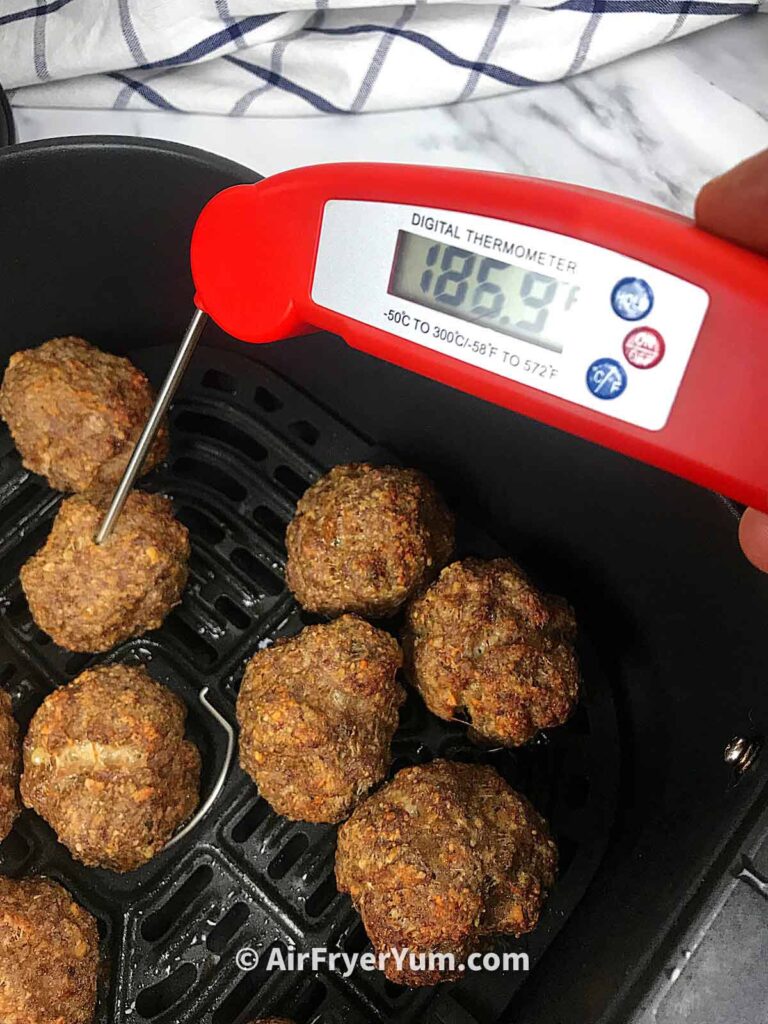 Found this recipe helpful? Leave me a comment about it or any recipe idea you would love Air fryer 'yummed' and don't forget to share with family and friends.
Xoxo!
Looking for more air fryer recipes? Follow along on Instagram, and Pinterest for updates and don't forget to Subscribe to my YouTube Channel for weekly videos.
New to the world of Air frying? We've got you covered. Check out our helpful>>> Air fryer Resources!
If you love baking, you'd love our beginner's guide to air fryer baking it walks you through how to bake in your air fryer in easy steps and it's free!
Love it? Pin it!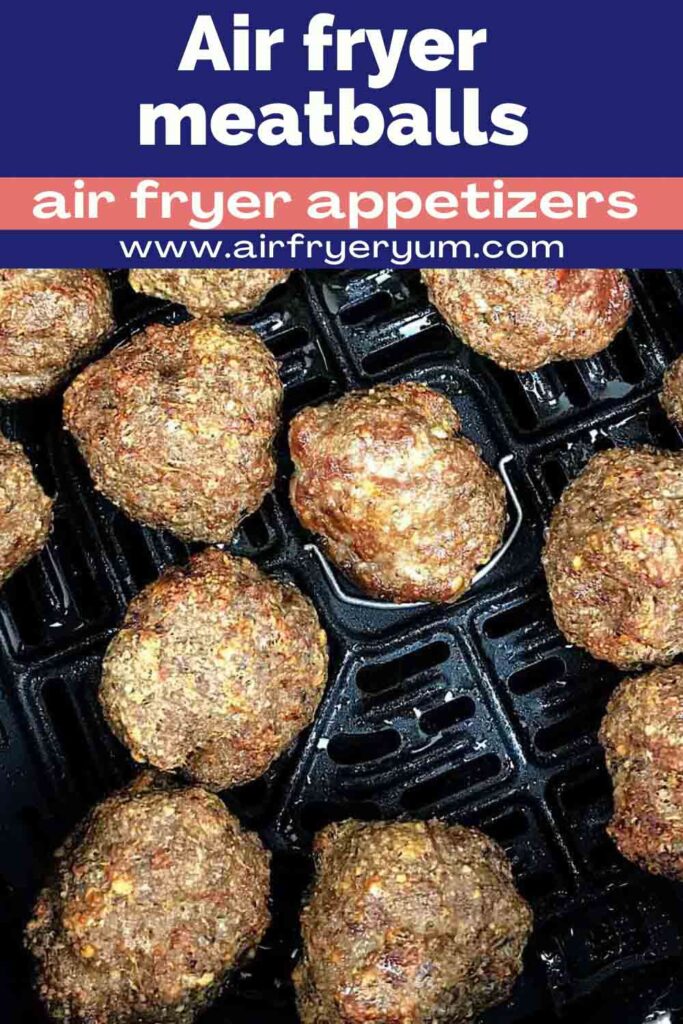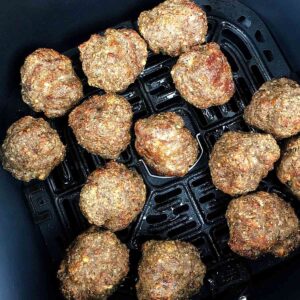 Juicy Air Fryer Meatballs
These juicy Air fryer meatballs are incredibly easy to make from scratch. A great way to whip up an easy dinner with no stress. Mix up the ground beef and the other ingredients, roll into balls and air fry. Toss in your favorite pasta sauce
Ingredients
1

lb

lean ground beef

(you can also use a mix of ground beef and pork)

½

Tablespoon

onion powder

2

teaspoons

Italian seasoning

2

teaspoons

chicken bouillon powder

½

teaspoon

garlic powder

2

Tablespoons

Worcestershire sauce

2

Tablespoons

oil

½

cup

Panko breadcrumbs

½

cup

Parmesan cheese

1

large

egg
Instructions
Mix all ingredients together in a bowl till combined.

Scoop out by 2 Tablespoonsful into the palm of your hands. Roll to form balls. Makes about 14 meatballs

Transfer uncooked meatballs into the air fryer basket. Cook at 400°F for 10 - 12 mins. The internal temperature should read at least 165°F on a meat thermometer.
Notes
I didn't preheat my air fryer  to make this recipe, however you might need to read the manual of your air fryer to know if your air fryer requires preheating.
Try to use a cookie scoop or measuring scale to get even meatballs so the can cook evenly.
Nutrition
Serving:
4
g
Calories:
391
kcal
Carbohydrates:
4.7
g
Protein:
42.2
g
Fat:
20.4
g
Saturated Fat:
6.6
g
Cholesterol:
159
mg
Sodium:
445
mg
Potassium:
485
mg
Fiber:
0.3
g
Sugar:
2.3
g
Calcium:
191
mg
Iron:
22
mg
Nutrition Disclaimer
Nutritional information is an estimate and may change based on products used. Please read our Nutrition disclaimer page.
Subscribe to my YouTube Channel
Subscribe to Air Fryer Yum on YouTube for more detailed videos! Remember to click the bell icon to get notified when I upload new videos.
Save this Recipe for later!
Follow @AirFryerYum on Pinterest!