Making real bacon bits or crumbles in the air fryer is super easy and quick. Air fryer bacon bits are my favorite additions to salads.
It's also perfect for mixing into your favorite dips or toppings for loaded potatoes, jalapeño poppers and lots more. If you've ever asked 'can you cook bacon bits in the air fryer?', this is for you and If you'd love to learn how to make this easy condiment, read along and find out how.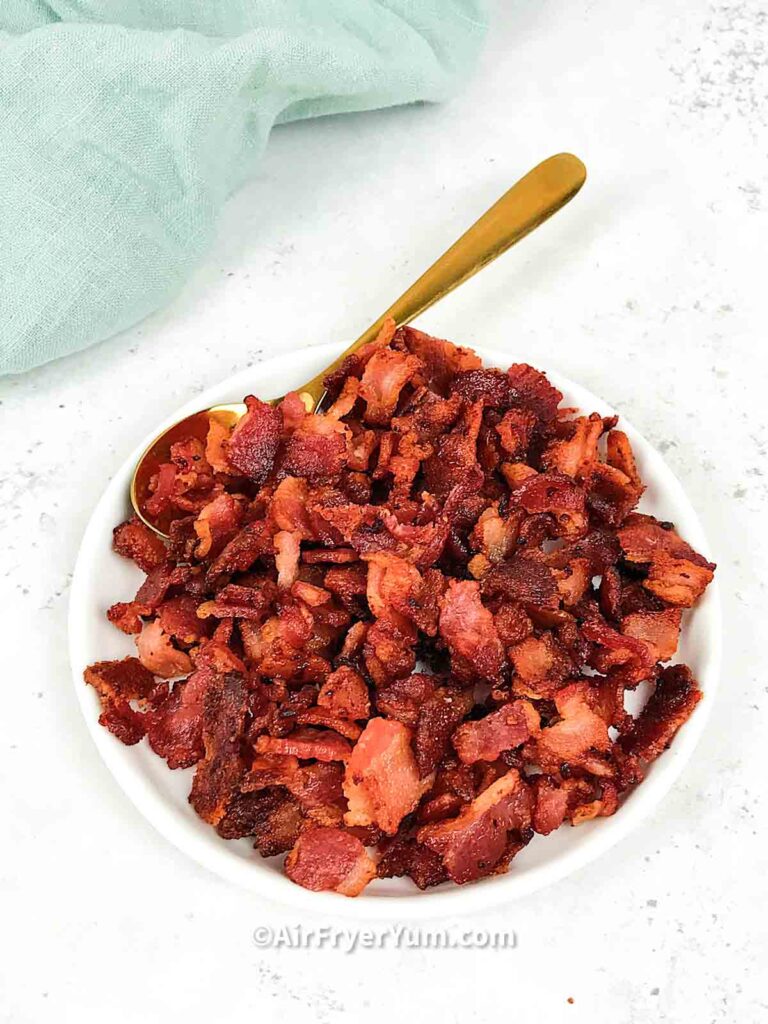 Air fryer bacon bits recipe
Bacon bits or bacon crumbles is one condiment you need to have around if you are an avid home cook!
Before ever making my own real bacon bits at home, Kirkland bacon crumbles was always in our refrigerator cos we add these to literally any thing edible yes from pasta, to salads, bacon grilled cheese, soups and more, we find that bacon bits are very versatile.
Bacon bits can be made on the stove top, oven or even the microwave. However my favorite way to make it is in my air fryer.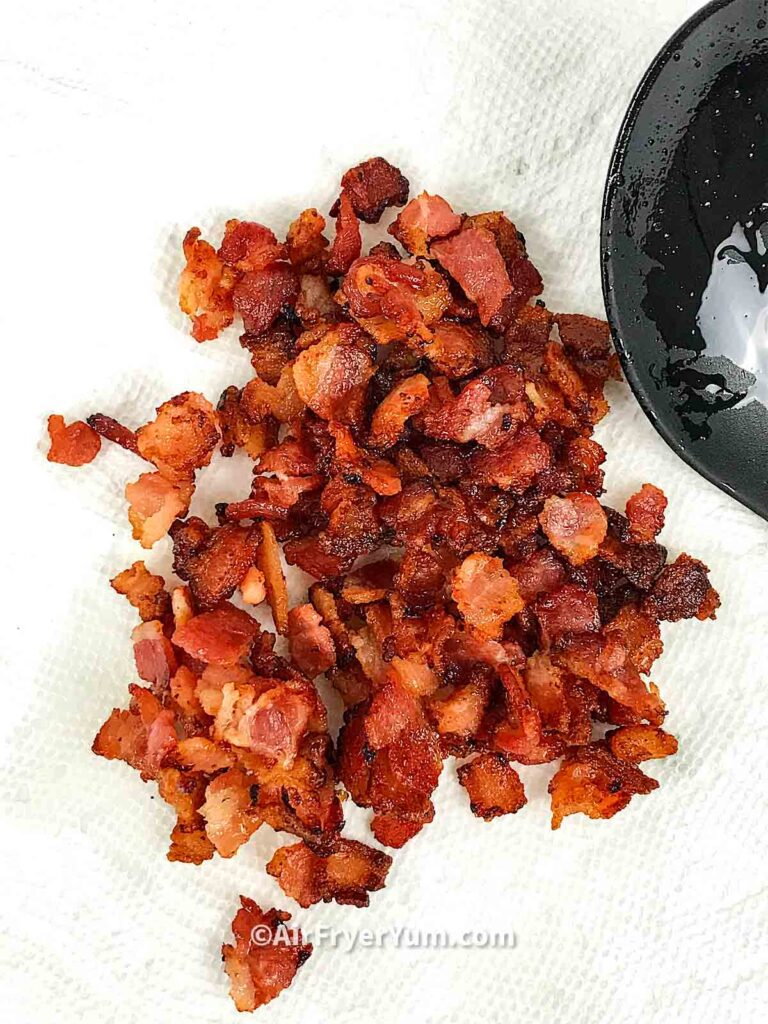 Why you should make bacon bits in the air fryer
Using bacon crumbles is a very convenient way to add bacon flavor to a dish without having to cook bacon from scratch.
It's quick and easy to make and makes minimal mess that's easy to clean.
You use real bacon and you get to choose the quality of bacon you use. Plus you know what's going into your food.
It's budget friendly to make your own bacon crumbles.
Related: air fryer green beans and bacon, air fryer loaded baked potato rounds, air fryer bacon wrapped jalapeño poppers.
Ingredients
Bacon
Bacon
Bacon
And more bacon!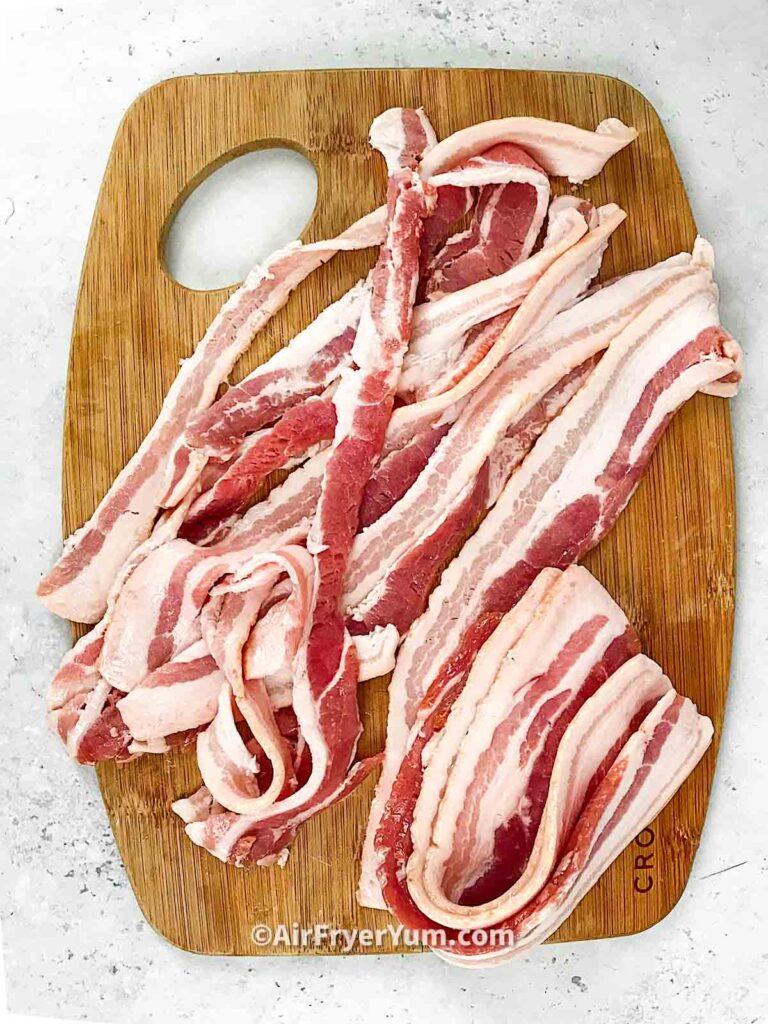 Tools used for this recipe
The links below may contain affiliate links. As an Amazon associate and affiliate to other merchants, this website may earn from qualifying purchases. Please read full disclosure here
How to cut bacon into bits.
Place the bacon slices on a cutting board.
Using a sharp knife, cut the bacon slices lengthwise then across into smaller pieces or "bits" of the desired size. However don't make it too small or it will fall through the air fryer basket and might burn easily.
Transfer to air fryer basket for air frying.
How long to cook bacon bits in the air fryer?
Depending on the thickness of the bacon and the size it's been cut, it can take anywhere from 6 to 8 mins for regular cut bacon and 10 to 12 mins for thick cut bacon in a non preheated air fryer at 400°F / 200°C.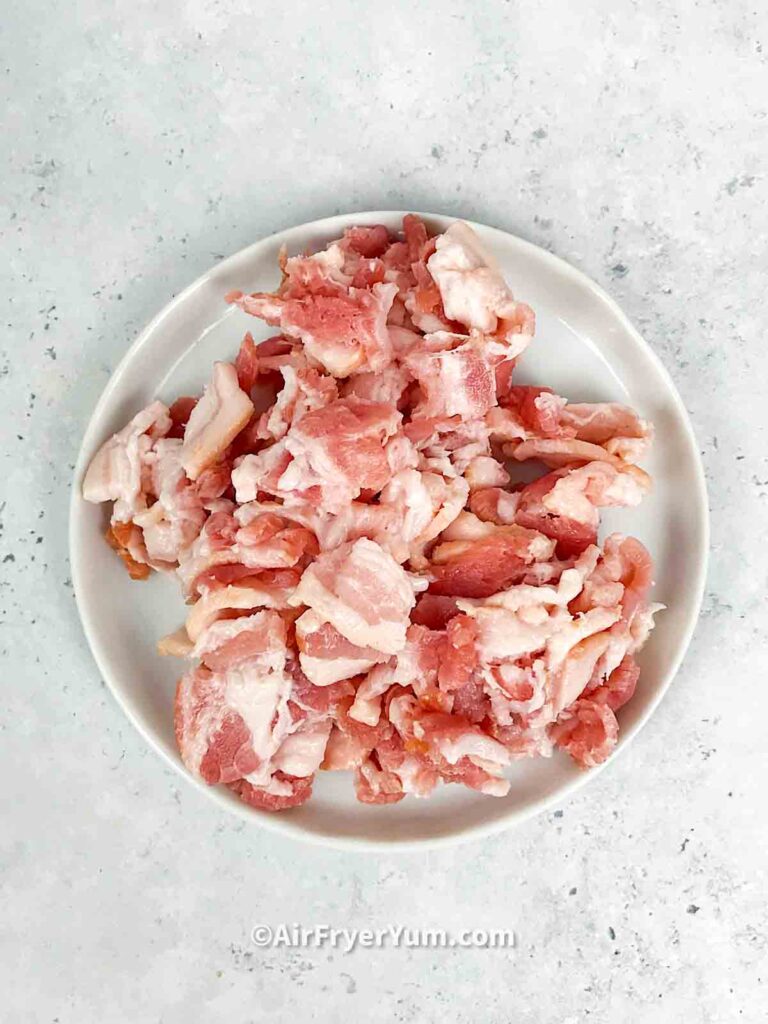 How to make air fryer bacon bits (Bacon crumbles)
This is an overview of the recipe with step by step photos. Scroll down to the end of this post for a printable recipe card with the amount of ingredients and full recipe instructions.
Method one: cut raw bacon into pieces following the instruction above, then place uncooked bacon bits in the air fryer basket. Cook at 400°F/200°C for 6 to 8 mins. Stirring half way through to ensure it doesn't burn.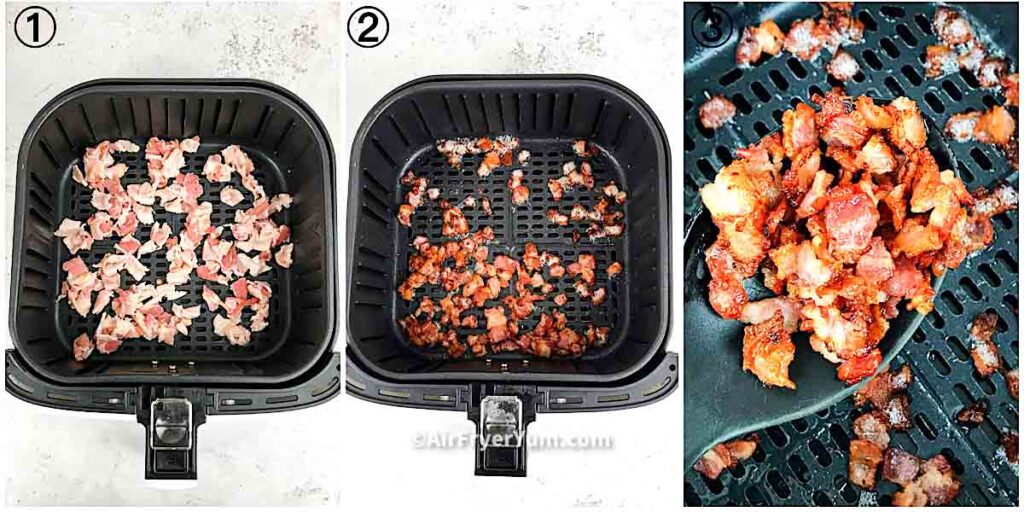 Method 2: Cut the bacon slices into two. Then place in the air fryer basket and cook bacon for 8 to 10 mins at 400°F / 200°C. Let it cool slightly then chop bacon into bits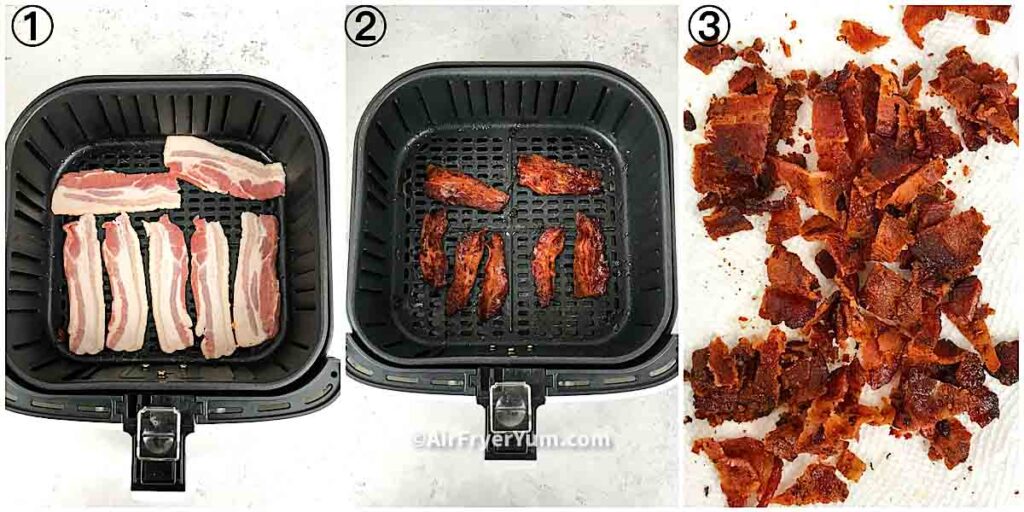 What to serve with and how to use bacon bits
Air fried Bacon bits can be used in salads like this easy Cobb salad recipe, it's used for toppings for loaded potato rounds, baked potatoes, jalapeño poppers. , soups, pasta and lots more.
These can be used as a filling for this air fryer bacon grilled cheese sandwich.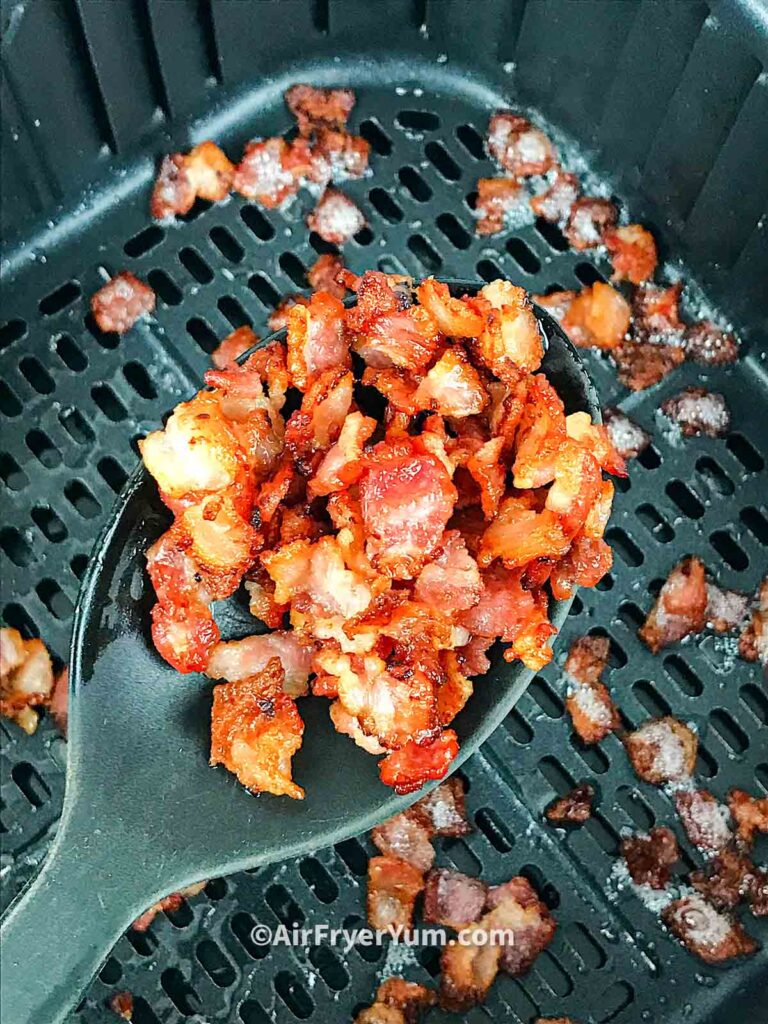 How to store
The good thing about this homemade air fryer bacon bits is that it can be made ahead and stores really well.
I like to let the bacon crumbles drain off excess fat on a paper towel lined plate and cool completely before transferring into a mason jar or ziplock bag.
Store in the refrigerator for up to 1 week and freeze for up to 2 months.
Air frying Tips
Do not preheat the air fryer
If the bacon is particularly hard to cut because it's slippery, you can try placing it in the freezer for a few minutes before cutting to make it easier to handle.
Use a sharp knife to make clean cuts through the bacon. A dull knife will require more effort and may result in uneven cuts.
Consider using kitchen scissors to cut the bacon into bits. This can be a quick and easy way to cut bacon, especially if you're working with a large quantity.
Use a spatula to stir the bits at least half way through.
Transfer cooked bacon crumbles to a paper towel lined plate to drain excess fat.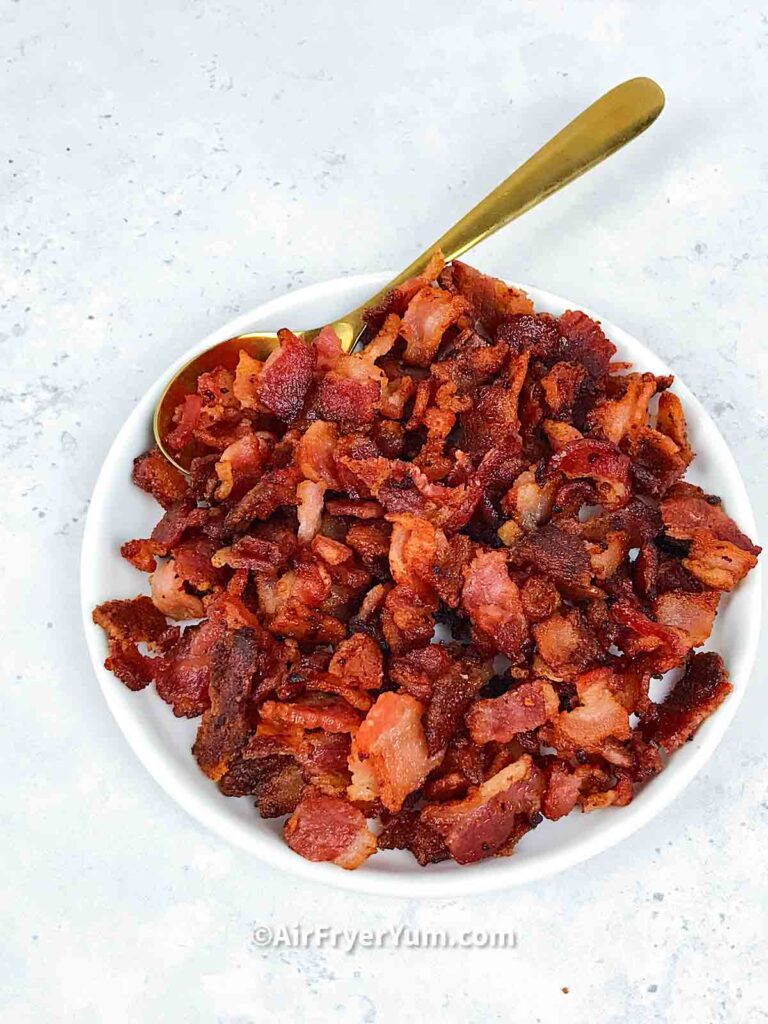 FAQs
Here you'll find answers to common questions about this recipe. If your question isn't answered, please leave us a comment below and we'll gladly answer them.
What are Bacon bits?
Bacon bits are small, diced pieces of bacon that are often used as a garnish or topping for salads, baked potatoes, and other dishes. They are typically made from pre-cooked bacon that has been diced and then dehydrated or fried until crisp
Are bacon bits made from real bacon?
Some brands of bacon bits are made from real bacon, while others are made from textured vegetable protein or other plant-based materials to provide a similar flavor and texture. Read the label to confirm which one you are getting.
How can you tell when bacon is cooked?
You can tell that bacon is cooked by the color, texture and internal temperature. Fully cooked bacon would bo longer be pink but brown and crispy. The texture is firm and crispy and the internal temperature would be at least 145°F / 63°C
Can you cook bacon bits in the air fryer?
Absolutely! bacon bits can be cooked in the air fryer and it's super easy too. Cut up the bacon into bits then air fry at 400°F / 200°C for 8 to 10 mins. Check out the recipe card below for full recipe instructions.
If you try this recipe, show it off on Instagram! Be sure to Follow and Tag @Airfryeryumblog on Instagram and use the hashtag #airfryeryumblog so we can see your recreations!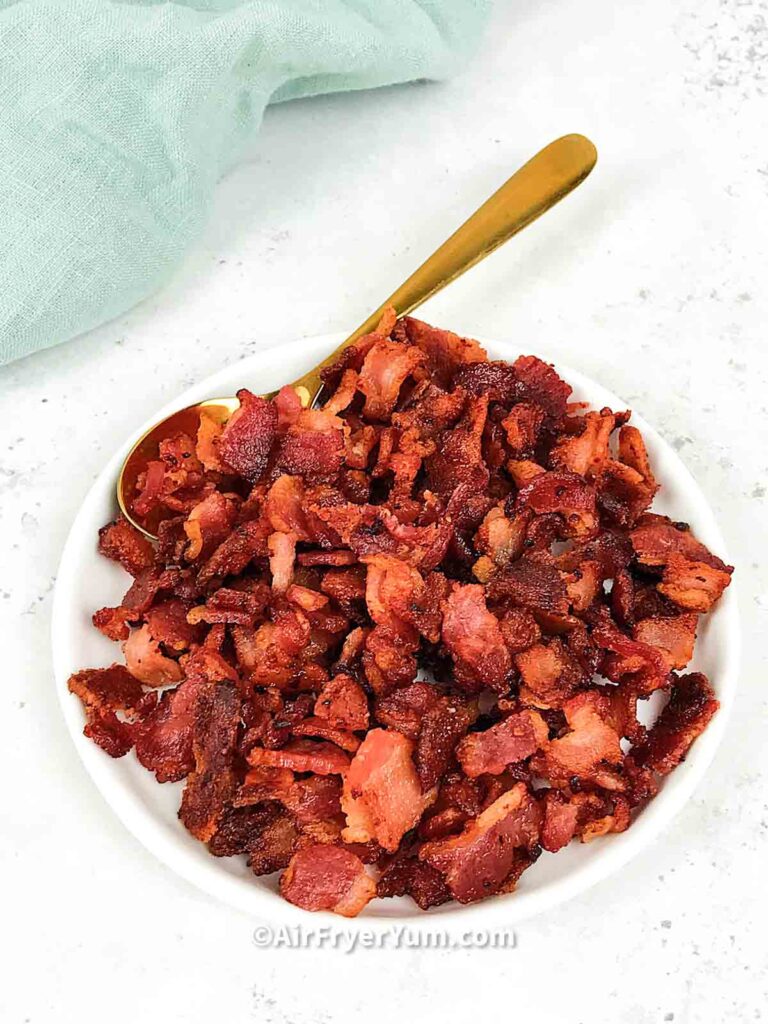 Did you find this recipe helpful? Leave me a comment about it or any recipe idea you would love Air fryer 'yummed' and don't forget to share with family and friends.
Happy Air frying!
Love it? Pin it! Then follow Air Fryer Yum on Pinterest for more deliciousness!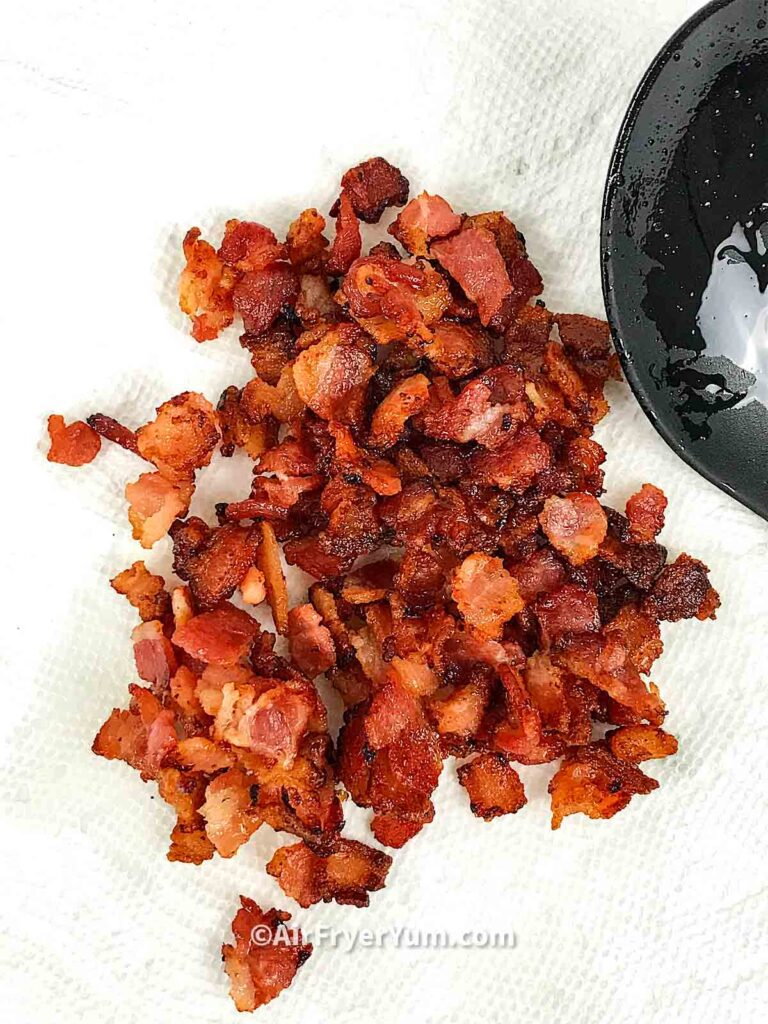 Looking for more air fryer recipes? Sign up for our yummy newsletter and Follow along on Facebook, Instagram, Pinterest and Tiktok for updates. Remember to Subscribe to my YouTube Channel for weekly videos.
Loving your air fryer much? Join other Air Fryer Buddies in our exclusive free Easy Air Fryer Recipes Group on Facebook!
New to the world of Air frying? We've got you covered. Check out our helpful >>> Air fryer Resources!
Shop all air fryers and air fryer accessories at our Amazon store.
Air Fryer Yum's Pro Tip! Air fryer temperatures may vary depending on size, make and model. When making a recipe for the first time, start with less time, check for doneness then add more time as needed.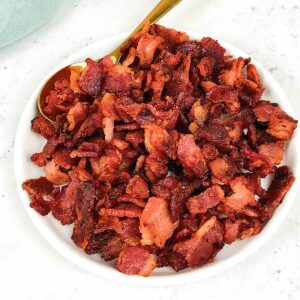 Air fryer bacon bits (bacon crumbles)
Making real bacon bits or crumbles in the air fryer is super easy and quick. Air fryer bacon bits are my favorite additions to salads. 
Instructions
Method 1
Cut bacon into strips, then into smaller bits. Transfer into air fryer basket and cook for 6 to 8 mins or until cooked through.

Remember to toss with a spatula half way through cooking time.
Method 2
Lay bacon strips in air fryer basket full or cut in half. A little overlapping is fine since the bacon would shrink while cooking.

Air fry at 400 F for 8 mins or until crispy. Cook for up to 10 mins if using thick cut bacon.
Notes
Air fryer temperatures and times may differ depending on manufacturer be sure to read your manual.
I do not preheat my air fryer. However when cooking another batch right after the first I start checking the bacon at 7 mins since the air fryer is now preheated.
Cut the bacon evenly to ensure that it cooks evenly.
Though bacon shrinks as it cooks, do not overcrowd the air fryer.
Nutrition
Calories:
71
kcal
Carbohydrates:
0.2
g
Protein:
2.2
g
Fat:
6.8
g
Saturated Fat:
2.3
g
Cholesterol:
12
mg
Sodium:
113
mg
Potassium:
34
mg
Calcium:
1
mg
Nutrition Disclaimer
Nutritional information is an estimate and may change based on products used. Please read our Nutrition disclaimer page.
Subscribe to my YouTube Channel
Subscribe to Air Fryer Yum on YouTube for more detailed videos! Remember to click the bell icon to get notified when I upload new videos.
Save this Recipe for later!
Follow @AirFryerYum on Pinterest!
Did you make this air fryer recipe? Awesome! Please rate it by clicking the stars ⭐️⭐️⭐️⭐️⭐️ when you leave a comment below. If you loved it please share the link to this recipe with family and friends and in you favorite Facebook group.