Bring your campfire foil packet dinners home with these easy air fryer hamburger hobo packets. Traditionally made on a grill or an oven you'd be pleasantly surprised how well foil packet meals cook in the air fryer.
You can enjoy a well seasoned meal of hamburgers, diced or cubed potatoes and carrots steamed to perfection in foil packets in the air fryer. Hassle free cooking with easy clean up, what's not to love? Interested in how to put this all together, read along and get all the tips.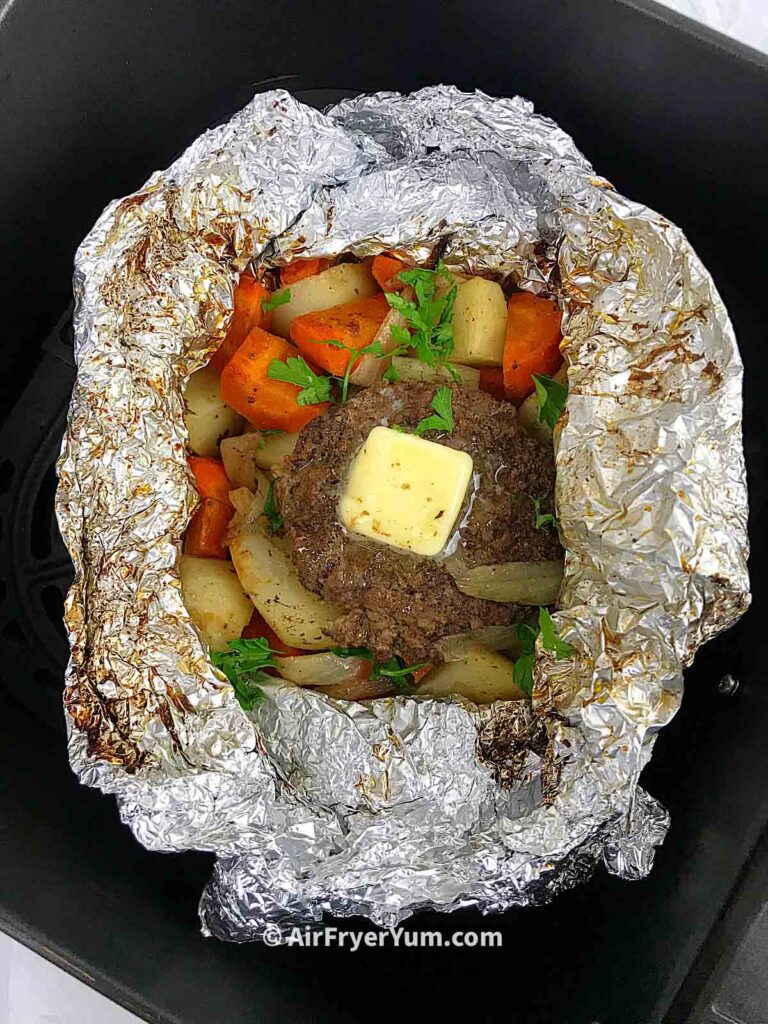 What are Hobo Packets or meals?
Hobo packets or dinners are meals made in a foil. It usually includes cut up meats, potatoes and vegetables wrapped in heavy duty aluminum and cooked over coals on a campfire. However these can also be made on the grill, in the oven or in the air fryer.
The kind of meats or seafood used would be according to your preference. Ground beef or chicken, hamburger patties, salmon patties, salmon or shrimps can be used.
You can also pick your preferred choice of veggies. In this recipe I used hamburgers, potatoes and carrots hence the name Air fryer Hamburger hobo packets.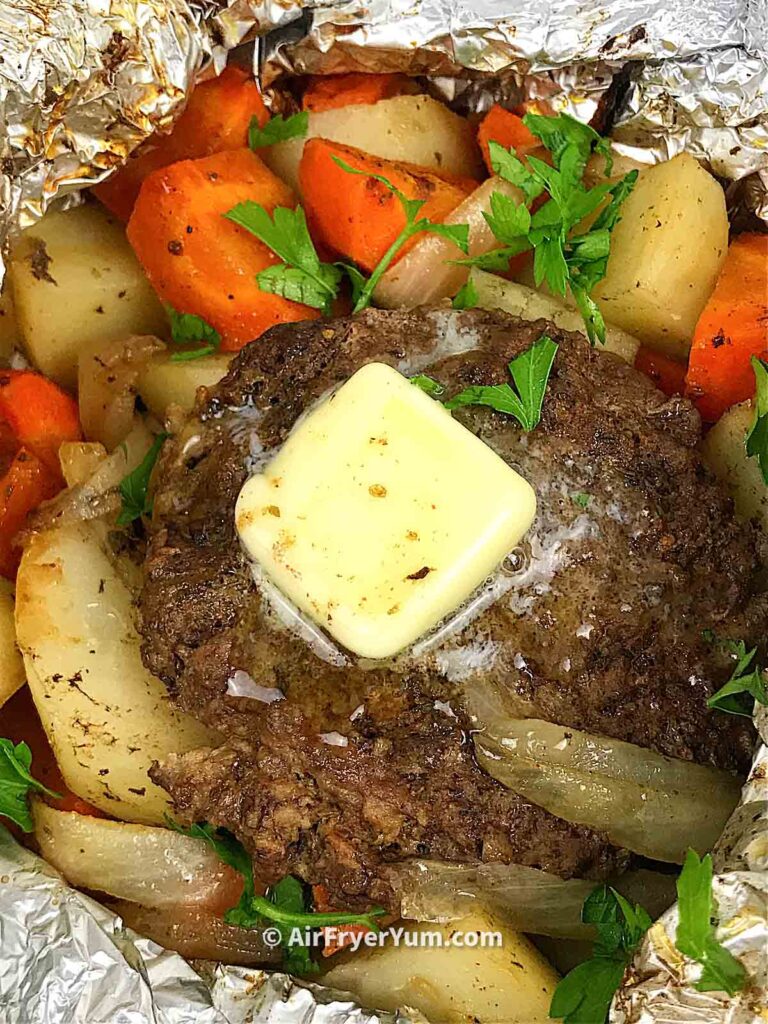 Why these Air fryer Hamburger hobo foil packets are so good
If you are looking for an easy hassle free dinner recipe, look no further as these foil packets check all the boxes.
Comes together pretty quickly
Easy to make
Ready in less than 30 minutes and oh so delicious.
No need to go out of your house or turn on the oven to make these.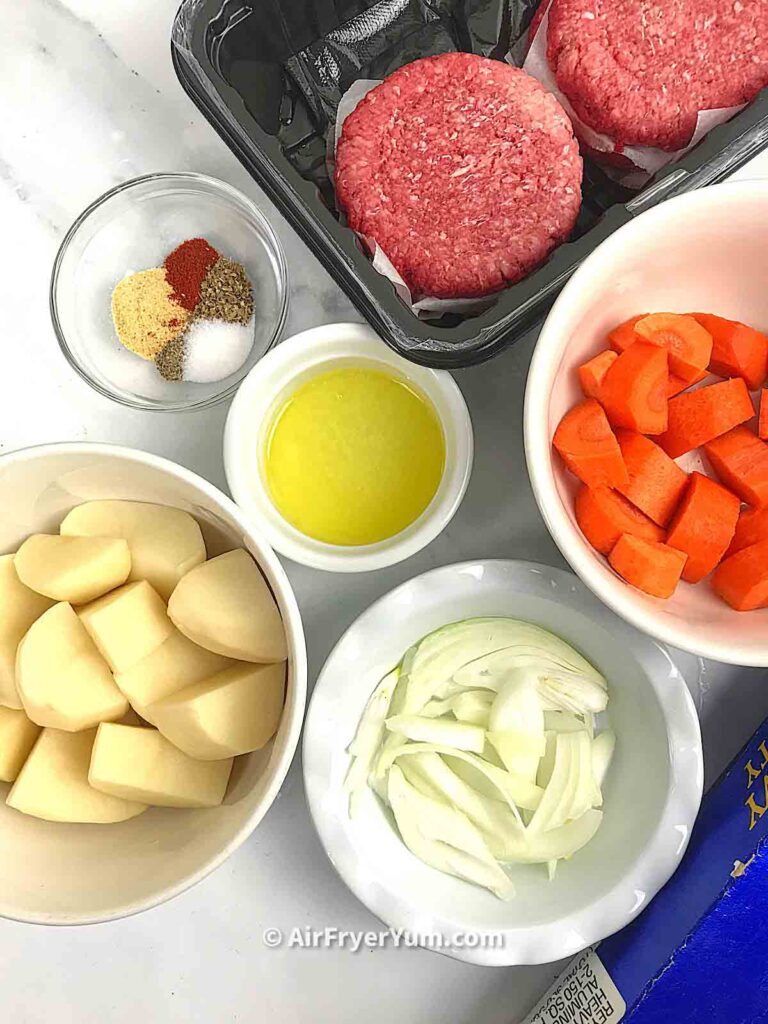 What you need to make this recipe
The ingredients you need for hobo dinners will depend on what contents you want in your foil packets. Today we are sharing our hamburger hobo packets meal and below are the ingredients and tools you will need to make this easy dinner recipe.
Ingredients
Hamburger patties
Potatoes (cubed or diced)
Carrots
Onions
Oil
Peas or any other veggies of choice.
Italian seasoning
Tools
Air fryer
Heavy duty aluminum foil
How to make Hamburger Hobo packets or meals in the air fryer.
First cut out two 12 by 18 inch heavy duty aluminum foil. I like to double my foil.
Season the hamburger patties. If using ground beef, season and form patties.
Mix the potato cubes, carrots, peas (if using) with seasoning and butter or oil.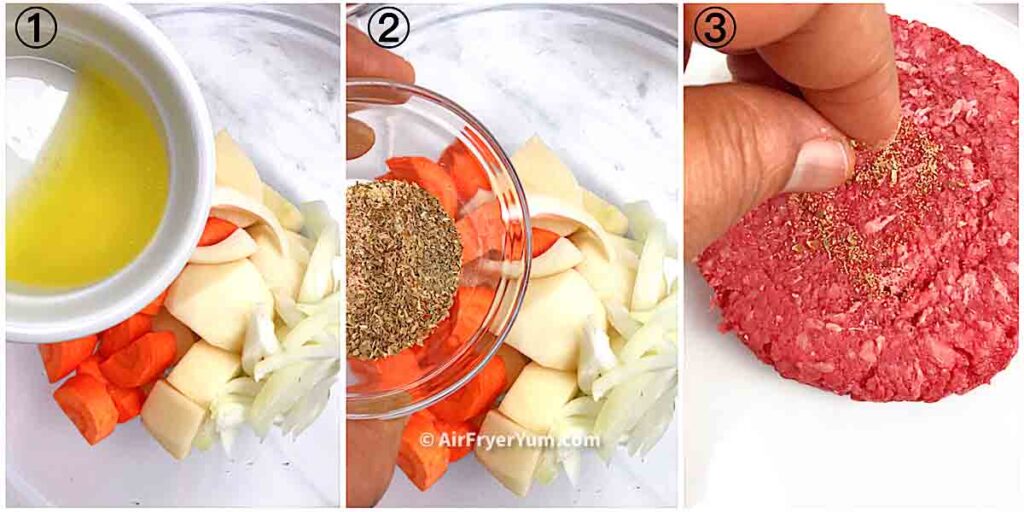 Transfer everything onto the foil sheets placing the hamburger on top of the pile.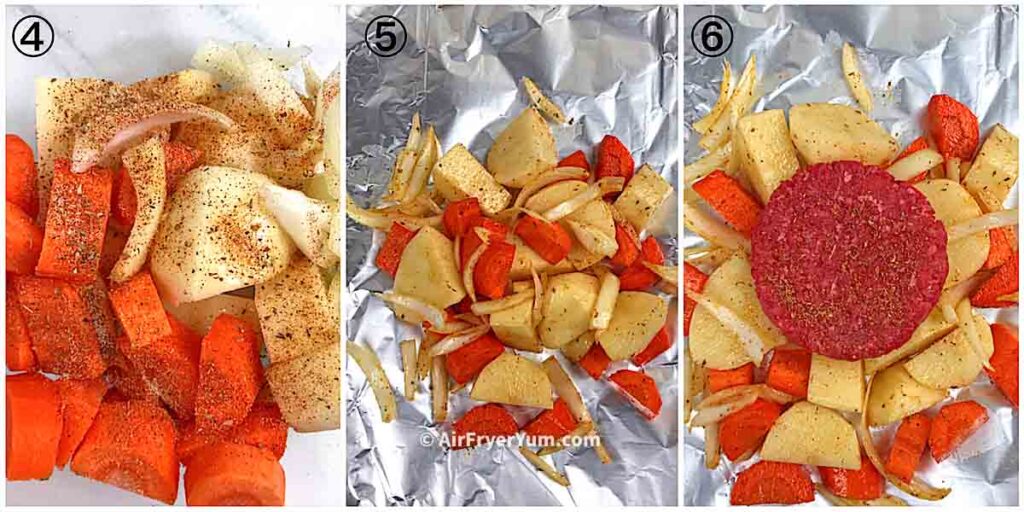 Seal foil and place in the air fryer seam side up. Cook for 20 - 25 mins.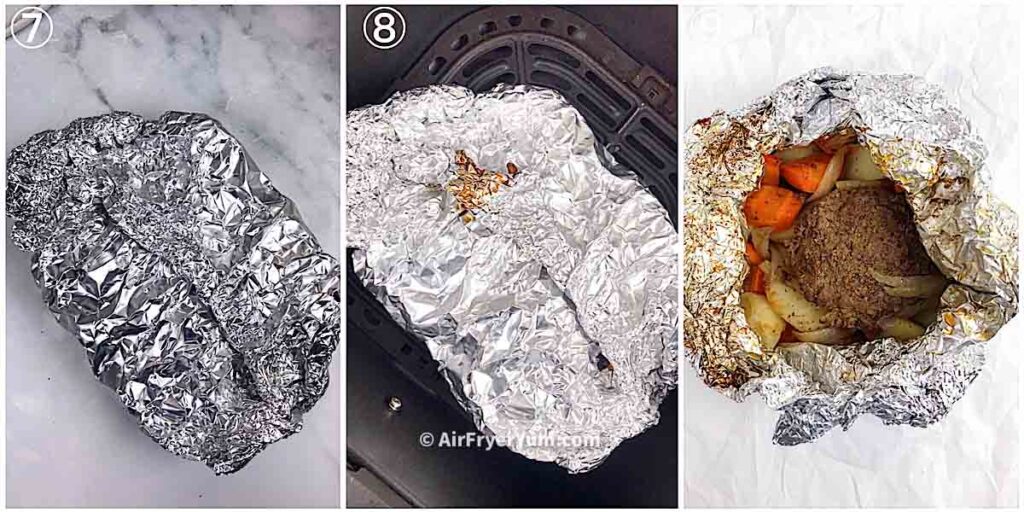 How to fold foil packets
Let me show exactly how I fold my foil packs in easy steps
First you place the foil sheets flat on the table
Place the veggies and meats in the middle of the foil
Bring two sides of the foil over the food and fold together twice to form a seal at the top. Next fold the other ends twice to create sealed edges and the foil packet is ready to be cooked. See this video for guidance.
How to open foil packs.
All you need to open your hobo packet it a knife. Run the knife on the top of the foil packet to create a slit. Widen with your fork and enjoy your meal.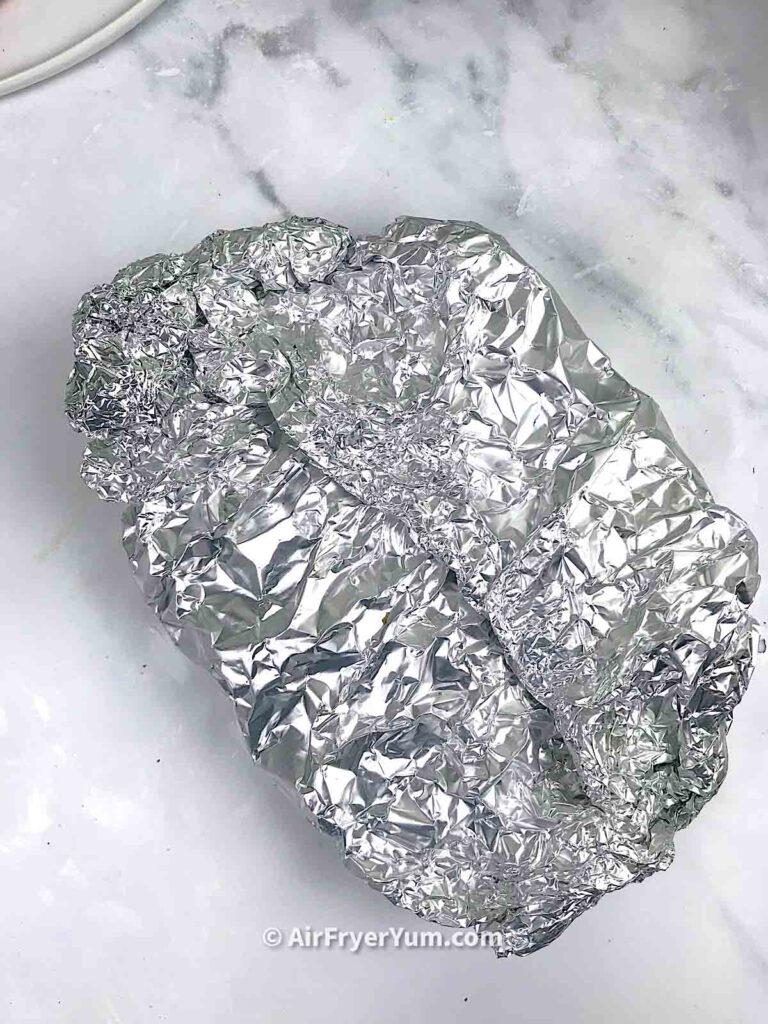 Can you put foil in an air fryer?
This question is asked often in my Facebook group and my response is usually to read your own air fryer manual to see if there is a mention not to use it.
If there isn't then it is left for you to use at your discretion. I use foil in my air fryer for various recipes like this hobo dinner or salmon in foil.
However one thing you must never do is place aluminum foil in the air fryer without any food on it. This could cause a fire because it will be lifted by the fan of the air fryer and could get stuck in the element. That's what actually causes the fire.
Is cooking with aluminum foil safe?
Though aluminum foil has been rumored to be unsafe for cooking. The reason being that it's a metal and that it can leach into good making it unsafe.
Ironically, aluminum can be found in air and water and is said to occur naturally in small amounts some foods like fruits, vegetables, meats and fish.
However irrespective of the presence of aluminum in these foods, it isn't considered unsafe because only a small amount of ingested aluminum is actually absorbed by the body. The rest is excreted from the body. You can read more about safety of aluminum in this article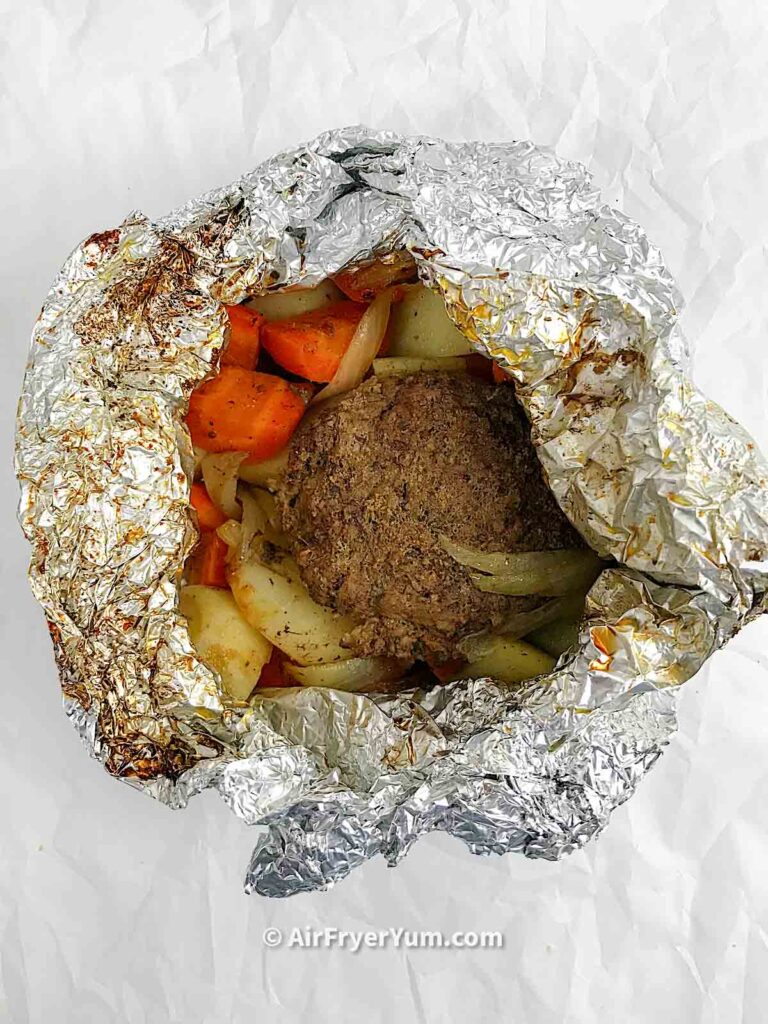 Tips
Light spray the foil with oil before placing the meats and veggies on it to prevent them from sticking when cooked.
Let the ingredients that may take longer to cook be are the area that has the most heat which in the air fryer is the top.
If you have a small air fryer you can cook the whole meal together in the air fryer basket layered with foil or not. then serve in foil when fully cooked.
Your Frequently asked questions answered
Can you put foil packets in the air fryer?
Yes you can put foil packets or foil plates in the air fryer. The foil packets are weighed down with food so will stay in place and not cause a fire hazard by flying around and getting stuck in the element of the air fryer.
Can you use aluminum foil in the Ninja foodi air fryer?
Yes you can use aluminum foil in the ninja foodi air fryer. Be sure to have food on it.
What temperature do you cook hobo meals at
Hobo meals can be cooked at various temperatures ranging from 350 - 400 hower I bake these at 400°F / 204°C for 25-30 mins.
Can you put a plate in the air fryer?
You can put aluminum plates or any oven safe plate that can fit in the air fryer.
Check out all our >>>Air fryer Recipes!
---
Did you find this recipe helpful? Leave me a comment about it or any recipe idea you would love Air fryer 'yummed' and don't forget to share with family and friends.
Happy Air frying!
---
Love it? Pin it!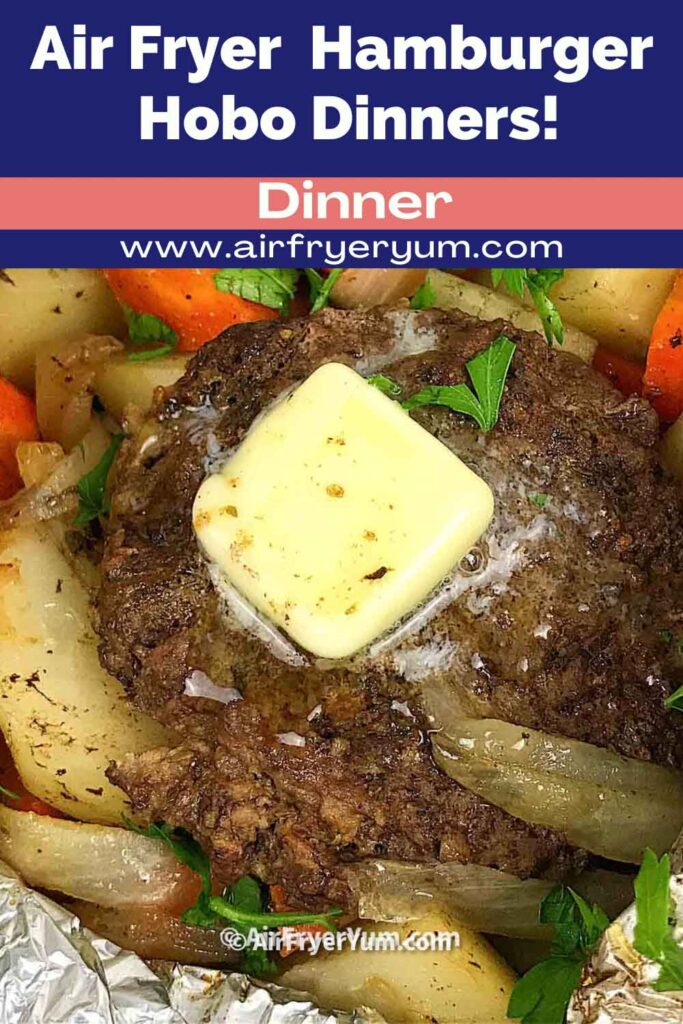 Looking for more air fryer recipes? Sign up for our yummy newsletter and Follow along on Facebook, Instagram, Pinterest and Tiktok for updates. Remember to Subscribe to my YouTube Channel for weekly videos.
Loving your air fryer much? Join other Air Fryer Buddies in our exclusive free Easy Air Fryer Recipes Group on Facebook!
New to the world of Air frying? We've got you covered. Check out our helpful>>> Air fryer Resources!
Shop all air fryers and air fryer accessories at our Amazon store.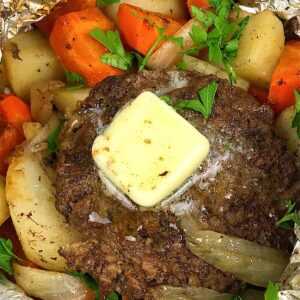 Air fryer Hobo packets with Hamburgers (Hobo dinners)
Bring your campfire foil packet dinners home with these easy air fryer hamburger hobo packets. Traditionally made on a grill or an oven you'd be pleasantly surprised how well foil packet meals cook in the air fryer. 
Equipment
Air fryer

Heavy duty aluminum foil

Mixing bowl

Kitchen tongs
Ingredients
2

medium

potatoes of choice

(cubed)

2

medium

carrots

(chopped)

2

hamburger patties

(Quarter pounders about 3 - 4 oz)

1

small onion

diced

½

teaspoon

garlic powder

1

teaspoon

salt

more to taste

½

teaspoon

paprika

¼

teaspoon

black pepper

¼

teaspoon

Cayenne

optional

2

teaspoons

oregano or Italian seasoning

2

Tablespoons

butter
Instructions
Grease two 12 by 18 inch foil with non stick spray or oil and brush.

Mix spice blend together. Sprinkle some seasoning generously on two sides of the hamburger patties.

Add melted butter and and rest of the seasoning to cubed potatoes, carrots, and onions.Mix to coat.

Divide into two greased foil sheets, place a hamburger patty on top of each one and seal.

Place foil packets in the air fryer basket

if both can't fit, cook individually.

Set temperature to 400°F / 204°F and cook for 25 mins gently flipping over in the last 5 mins using kitchen tongs.

Let it rest in the air fryer for 2 mins before bringing out to serve.
Notes
If using an air fryer oven, bake in the middle rack.
If your air fryer can't fit both foil packets, layer the basket with a sheet of foil, place all the ingredients directly on the foil in the air fryer basket and cook till fully cooked then serve in foil packets.
Nutrition
Serving:
1
Packet
Calories:
468
kcal
Carbohydrates:
49.9
g
Protein:
16
g
Fat:
23.8
g
Saturated Fat:
7.4
g
Cholesterol:
73
mg
Sodium:
1339
mg
Potassium:
1191
mg
Fiber:
6.1
g
Sugar:
6.1
g
Calcium:
87
mg
Iron:
3
mg
Nutrition Disclaimer
Nutritional information is an estimate and may change based on products used. Please read our Nutrition disclaimer page.
Subscribe to my YouTube Channel
Subscribe to Air Fryer Yum on YouTube for more detailed videos! Remember to click the bell icon to get notified when I upload new videos.
Save this Recipe for later!
Follow @AirFryerYum on Pinterest!