Can you bake cookies in an air fryer? This question was top on my list of questions when I heard air fryers are like counter top ovens. This guide will answer all your questions about baking cookies in the air fryer with tips to get the best out of it.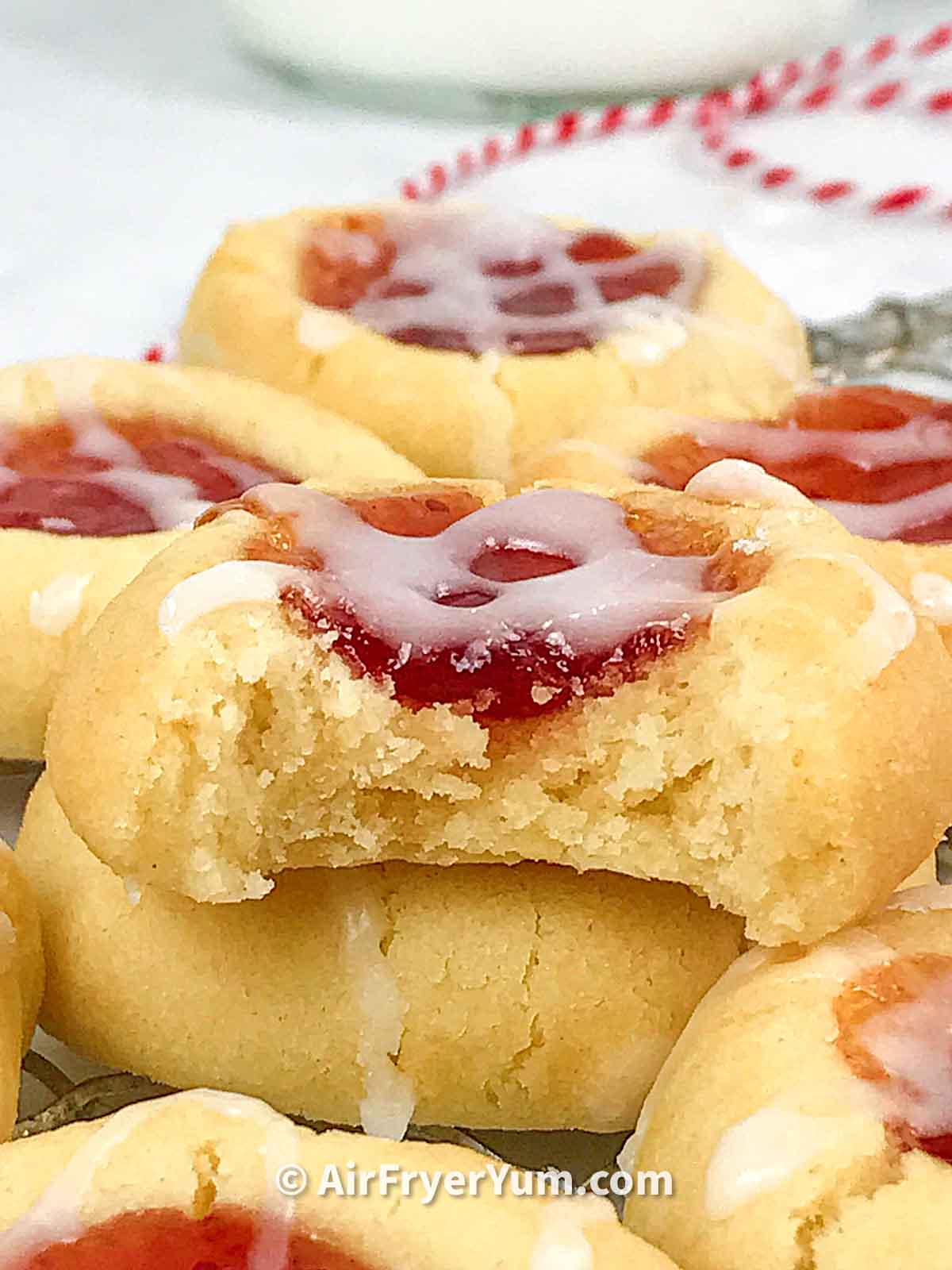 Can you bake in an air fryer?
The air fryer is like a mini oven. Recall those mini ovens and toaster ovens that have their cooking elements from the top and were used for baking. I knew we had one of those table top mini ovens in the early 90s when I was growing up and we sure made a lot of cakes in them.
Fast forward to the 2000s we are here talking about baking cookies and cakes in the air fryer!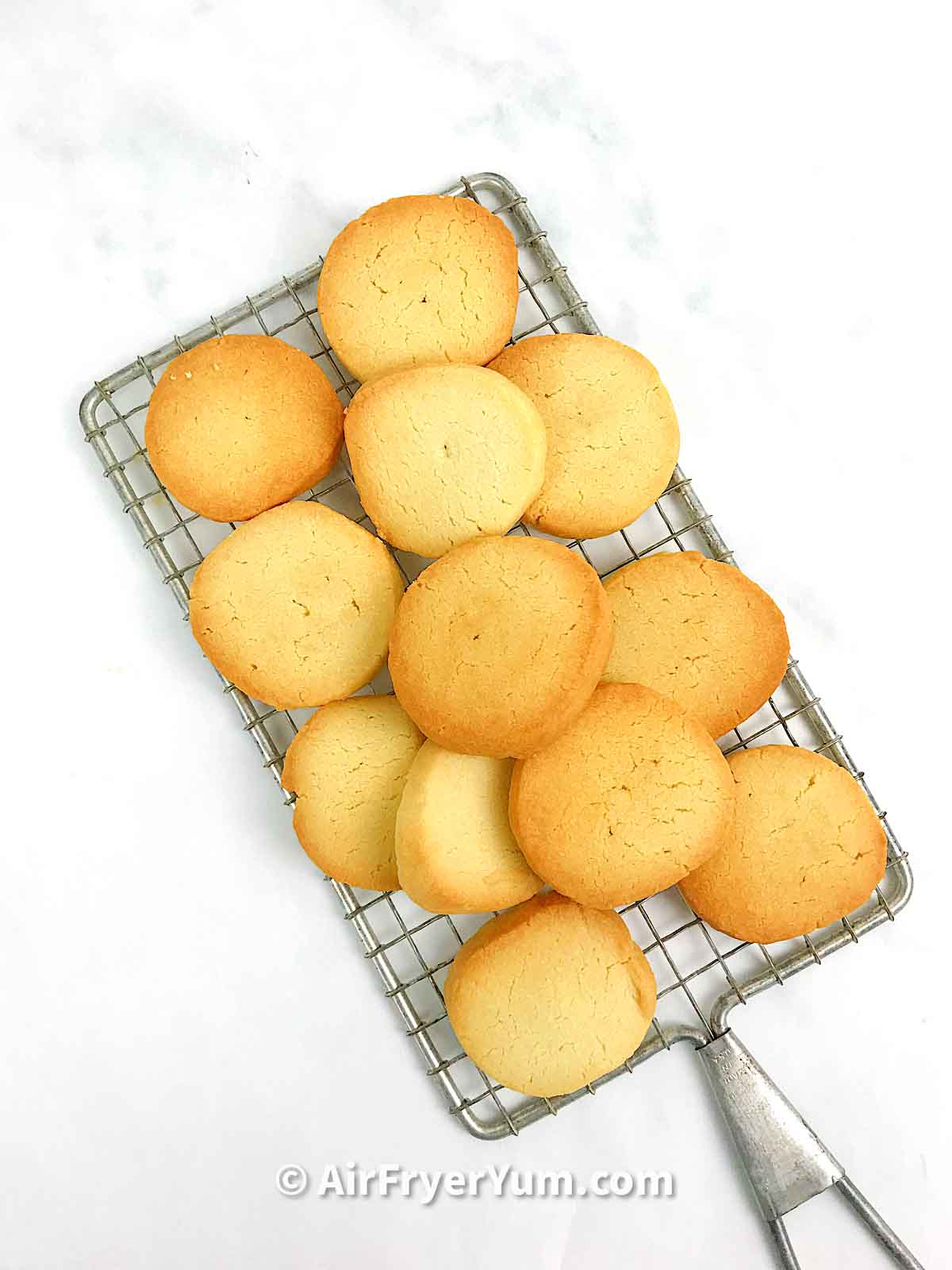 You may be wondering why people Bake cookies in the air fryer, or perhaps you are wondering if you should. Here are a few reasons why people bake in the air fryer.
It's faster: The air fryer cooks food super fast. The rapid air and heat circulation in a small enclosure gives the air fryer an edge over a conventional oven.
No need to turn on the oven: Who needs to turn on the oven in the hot summer months or in areas that have a warm climate all year round. The air fryer to the rescue.
Small quantities welcome: small batch cookies are best in the air fryer. With the event of air frying, turning on my oven for a tiny batch of cookies doesn't sound worth the trouble especially when I have a choice.
Related: Air fryer baking guide for beginners and pro users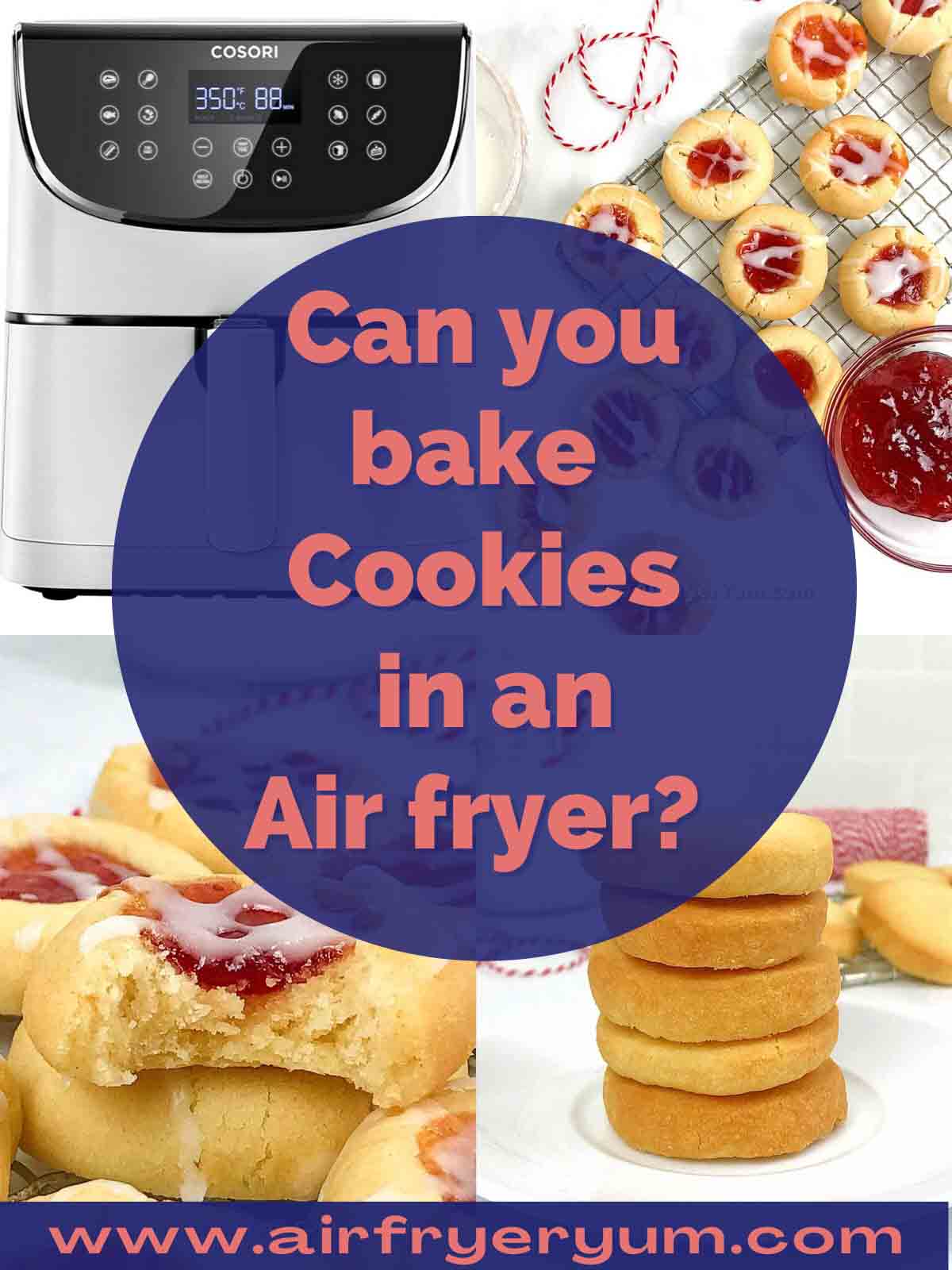 Baking cookies in air fryer appliances is not much different from baking in a conventional oven. There are a few tweaks you need to make and you'll become a pro!
Choose your favorite cookie recipe or a store bought pre made cookie dough. Cut into shape or scoop out dough depending on if you are making cut out cookies, drop cookies or chocolate chip cookies.
Divide the cookie dough as per number of serving of the recipe. Line air fryer basket with parchment paper. Place shaped cookie dough on parchment paper and bake.
Depending on the type of cookie I'm making, I bake my cookies between 330°F /. and 350°F / 180°C for 5 to 8 mins.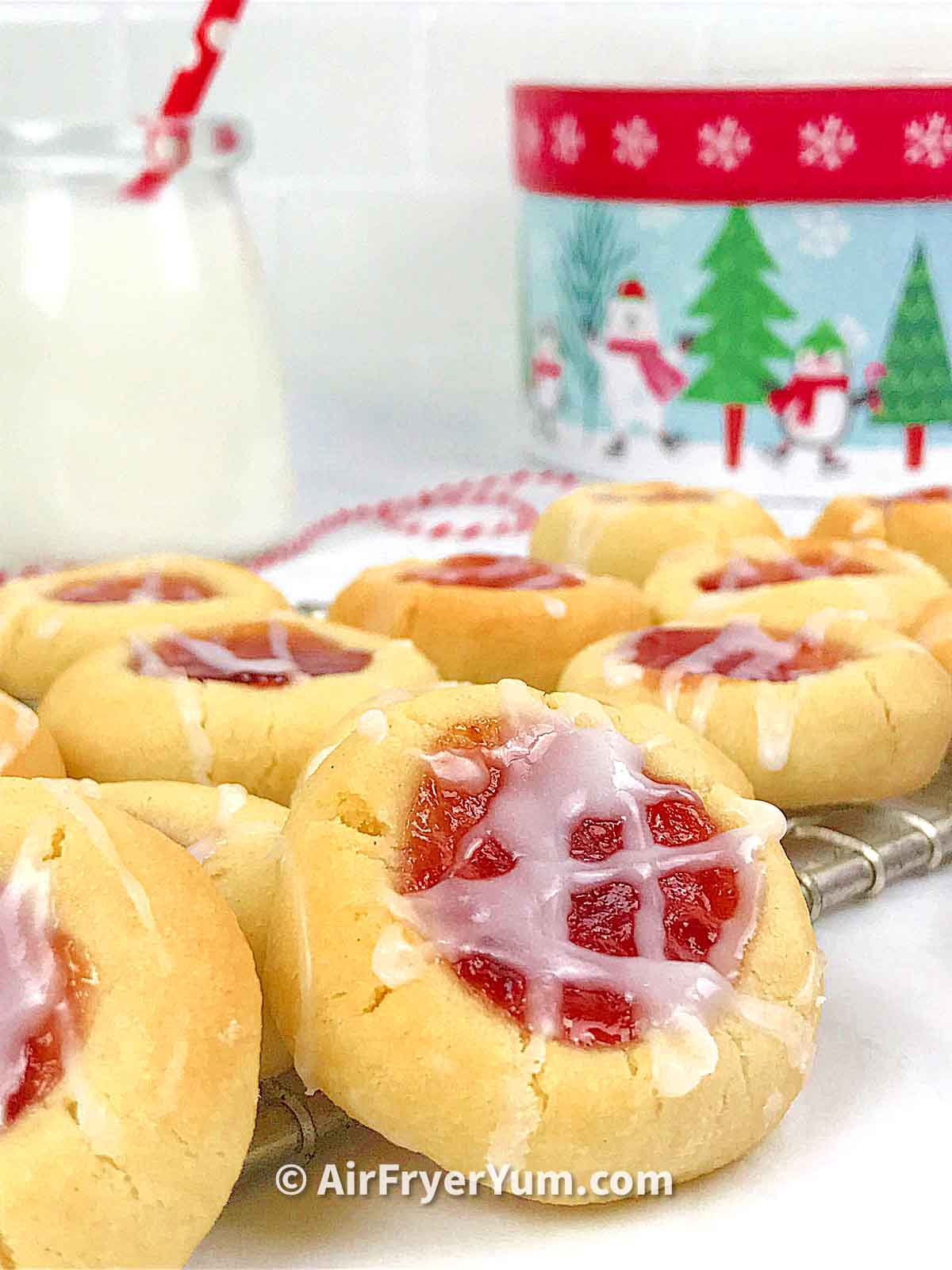 Using a lot of toppings: If you like chocolate chip cookies that have peeking chocolate chips on top, I'd reserve that for when the cookies are done. Since most air fryers cook from on top*, any topping on the cookies will Likely get burnt by the time the cookie is done. I learnt the hard way with my red velvet white chocolate chip cookies.
Not using parchment paper: Parchment paper or foil help to maintain the structure of these cookies so they don't go leaking out to the bottom of the air fryer. It also helps with easy clean up.
Bringing cookies out too early: Let the cookies cool a bit before bring them out of the air fryer.
Cooking at high temperatures: Since the heat comes from above in most air fryers and you are cooking in a small compartment, it's best to cook low and slow to prevent cookies from overcooking on the outside and being undercooked or runny in the middle.
*Cosori now has an air fryer that cooks from above and below, eliminating the need to flip foods!
Tips
Cut out cookies may need to be flipped over when slightly cooled so that the other side bakes as well. This is not the case in all cookies.
If you are baking in your air fryer for the first time, start at a lower temperature like 330°F and see how it bakes
If baking chocolate chip cookies do not put the extra chips on top of the cookies before baking. Put them on top right after the cookies bake.
Do not overcrowd the basket. Bake in batches if necessary.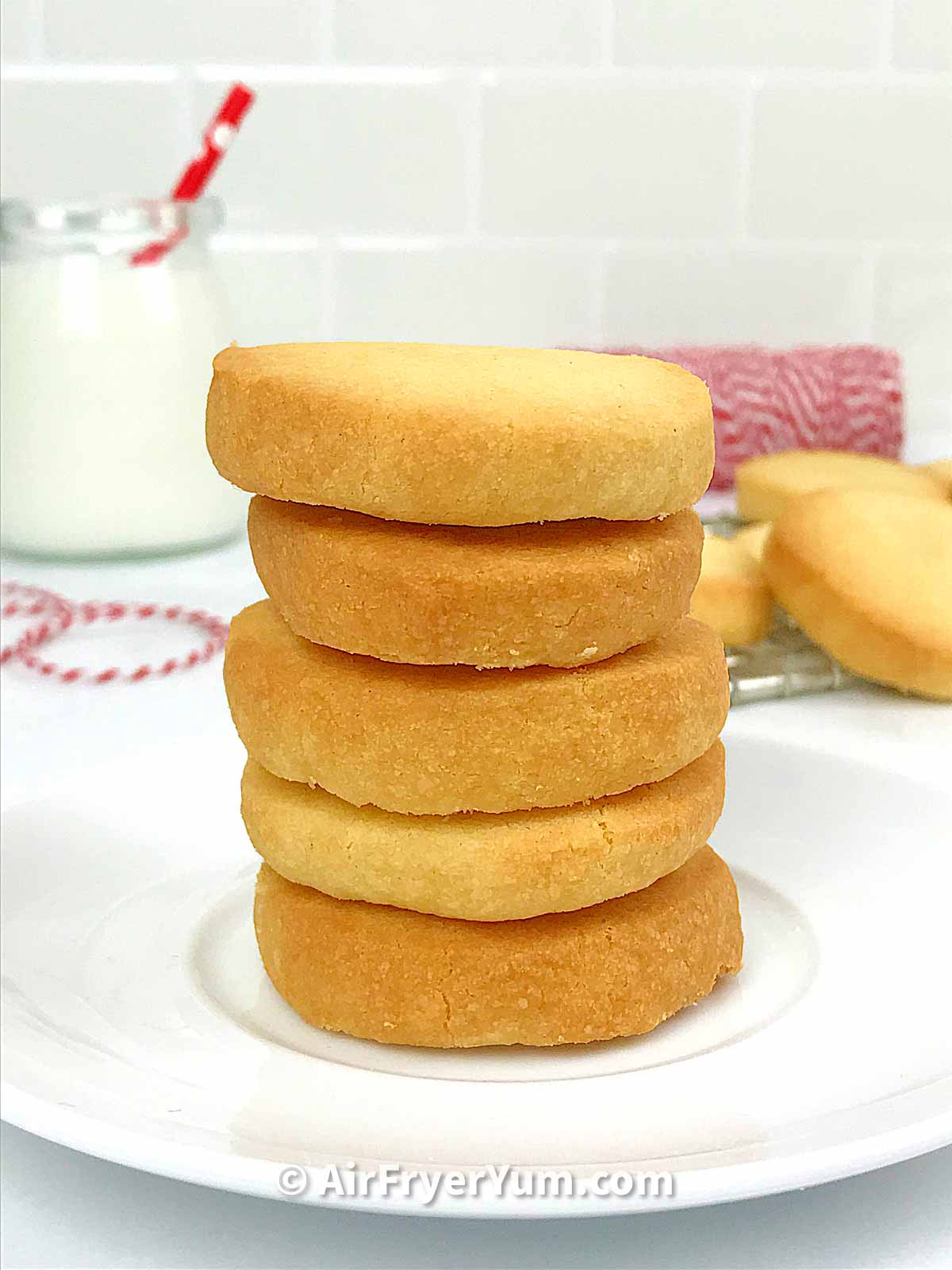 Are cookies better in the air fryer?
Cookies are great in the air fryer and not necessarily better than in the oven. Each method has its pros and cons.
What happens when you air fry a cookie?
You get a glass of warm milk and enjoy it with your loved ones. Yum!
Can I put aluminum foil in the air fryer?
Yes you can use aluminum foil in some air fryer models. However you need to read your manual to determine if your air fryer is one of them. One important thing to note is that if you do not preheat an air fryer with foil in it. It will fry around and get stuck in the element which can cause a fire.
Air fryer red velvet cake mix cookies
Air fryer thumbprint cookies
Air fryer shortbread cookies
Air fryer chocolate chip cookies
More air fryer dessert recipes
Air fryer banana bundt cake
How to make chocolate banana muffins in the air fryer
Air fryer cupcakes
Check out all our >>>Air fryer Recipes!
Did you find this recipe helpful? Leave me a comment about it or any recipe idea you would love Air fryer 'yummed' and don't forget to share with family and friends.
Happy Air frying!
Love it? Pin it!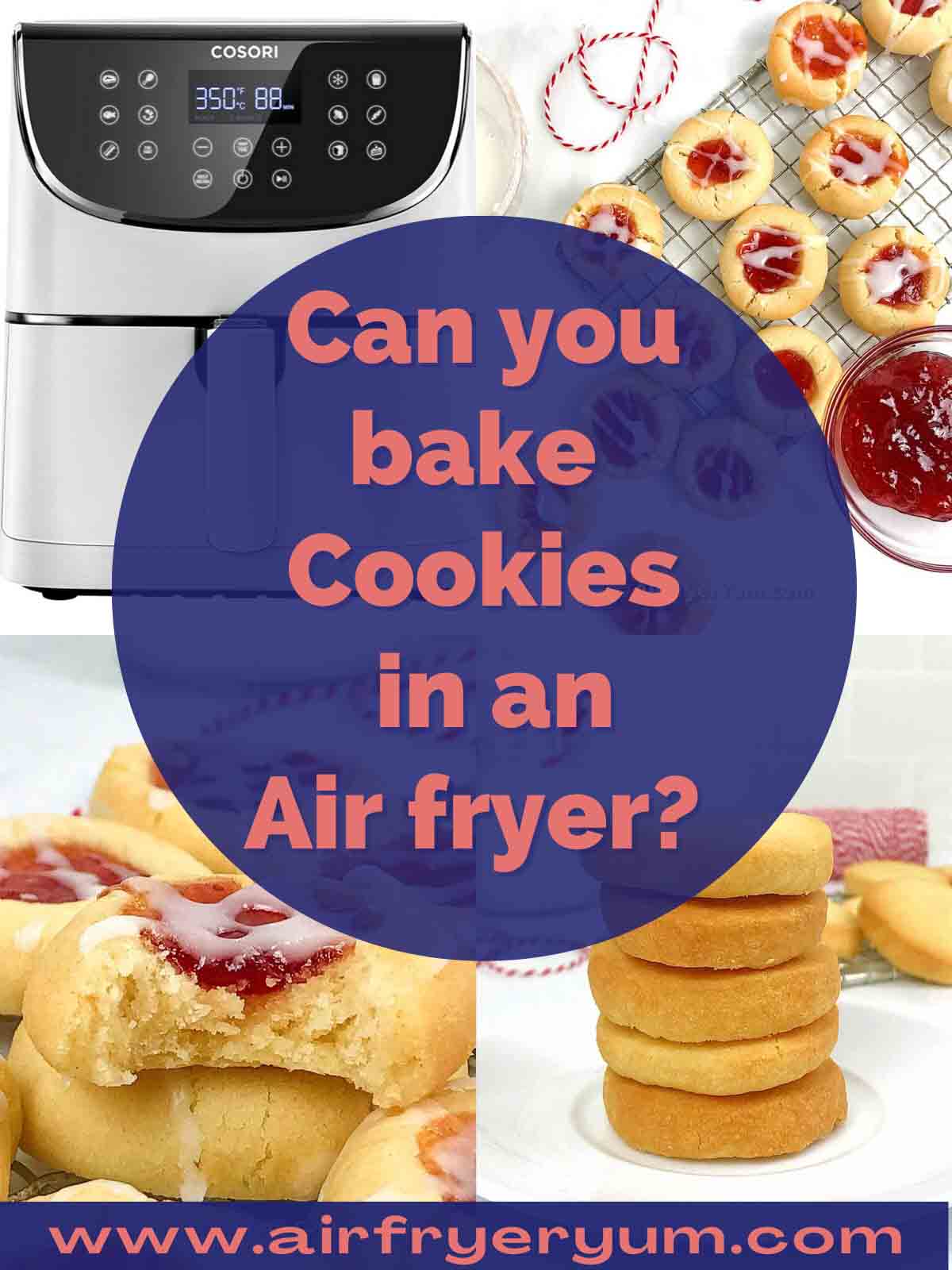 Looking for more air fryer guides and recipes? Sign up for our yummy newsletter and Follow along on Facebook, Instagram, Pinterest and Tiktok for updates. Remember to Subscribe to my YouTube Channel for weekly videos.
Loving your air fryer much? Join other Air Fryer Buddies in our exclusive free Easy Air Fryer Recipes Group on Facebook!
New to the world of Air frying? We've got you covered. Check out our helpful >>> Air fryer Resources!
Shop all air fryers and air fryer accessories at our Amazon store.