Though you can bake in your air fryer, it bakes differently from the traditional oven. In this air fryer baking guide, I will share tips and tricks, temperature and time adjustments that would help you explore another use for your air fryer besides cooking dinner and reheating leftovers. Have you wondered if you need special pans for your air fryer or if you can use aluminum or foil pans in it, then read along and get all the deets you are in the right place.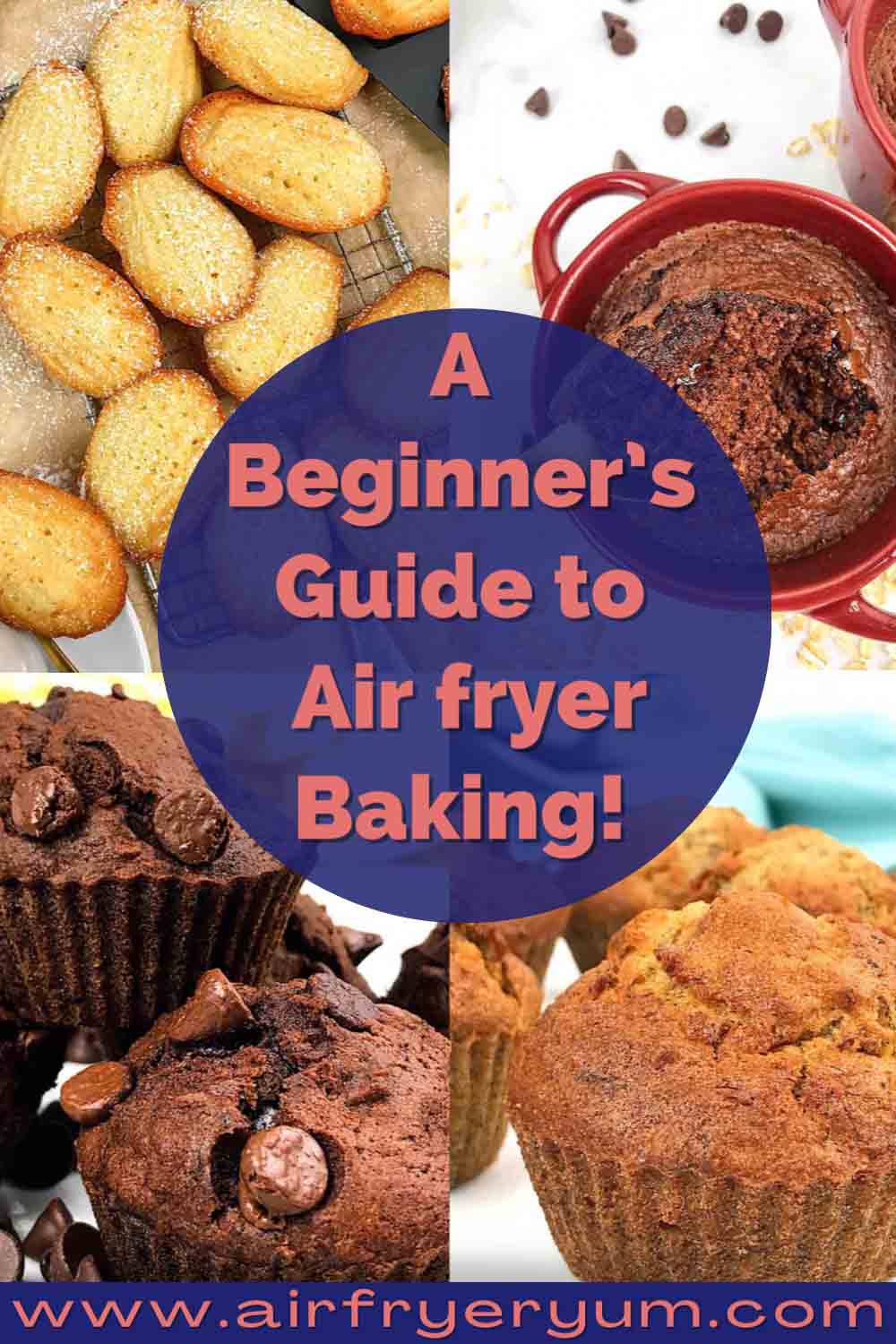 Baking in an air fryer
I have made quite a number of baked food in my air fryer both sweet and savory. Besides baked potatoes, you can also bake cookies and cakes right in there.
Baked goods tend to bake a little faster in the air fryer because of it's compact space and concentrated heat circulation.
Because of this you would need to reduce the temperature and time you would use in the oven when baking in the air fryer. This conventional oven to air fryer calculator is what I use as a guide for my recipes. You should check it out!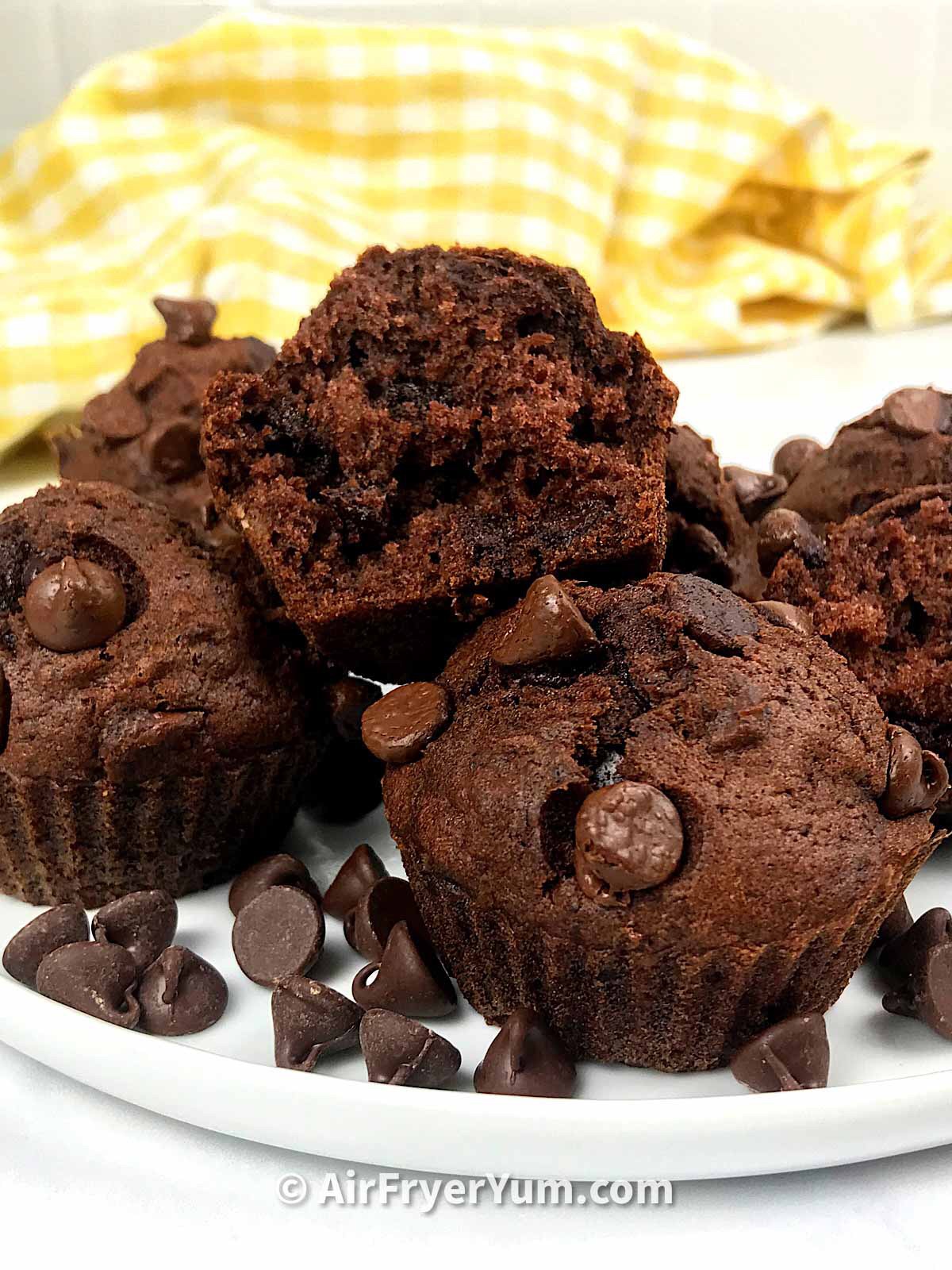 Do you need to Preheat the air fryer.
Personally I do not preheat my air fryer because I have found that I really don't need to. Besides the fact that my Gourmia air fryer doesn't need preheating, air fryers tend to heat up pretty quickly because of the size of the cooking section of the air fryer.
Air fryer cake pans
This section would talk about the best pans to use to bake in your air fryer. Basically whatever you can use in a conventional oven with respect to material, you can use it in your air fryer.
This means you can use aluminum pans, stoneware and higher quality heat resistant silicon as well. However, before choosing your cake pans, there are a few things you need to consider.
The size of the air fryer: The best size for basket type air fryer are 5 - 8 inch round or square cake pan or these 6 cup bundt pans
The depth of the air fryer: Choose a pan that isn't too deep or tall so that it's not hitting the top of the air fryer and touching the heating element.
The more shallow the pan, the faster the cake will bake.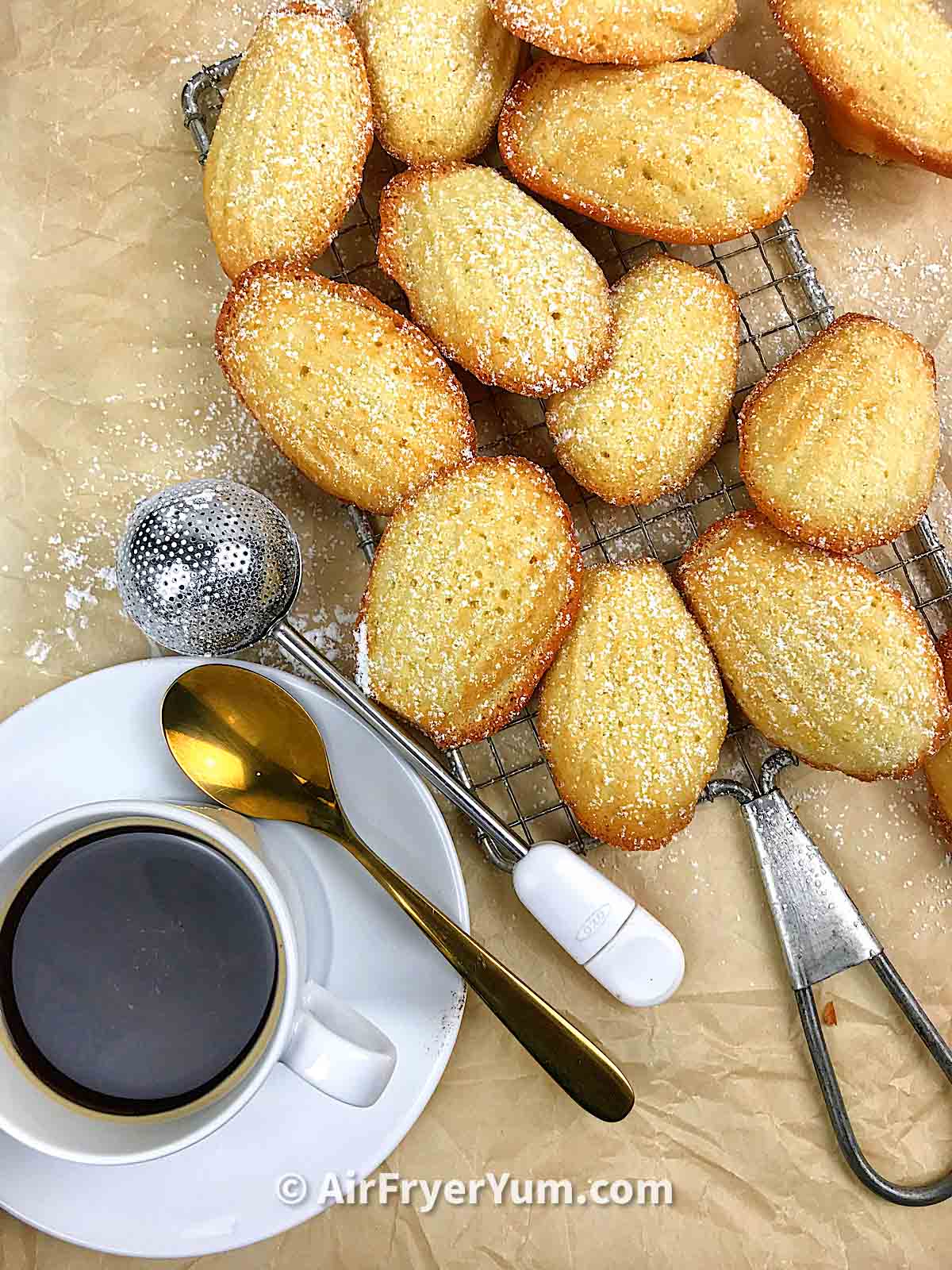 Besides baking pans, what else can be used in an air fryer?
Like I mentioned earlier, any container that can be used an oven can be used in an air fryer. If you don't have the right sizes of baking pans to use, oven safe glass dishes like Pyrex work well in the air fryers. Oven safe stoneware that fits in there is also a good choice.
How to grease a cake pan
Greasing a cake pan for air fryer baking isn't any different from baking in a conventional oven. There are 3 ways to do this.
Grease and flour the pan
Grease and line with parchment paper (just in case you are wondering if you can put parchment paper in the air fryer, you can and this guide will show you how to do so safely.
Use cake release also called cake goop. This is a mix of shortening, flour and some vegetable oil. It's sold in stores but you can easily make yours at home. I use a ratio of 1:1:½ (1 part Shortening, 1 part flour and ½ part vegetable oil) if using a cake release, you won't need to flour the pan after greasing it.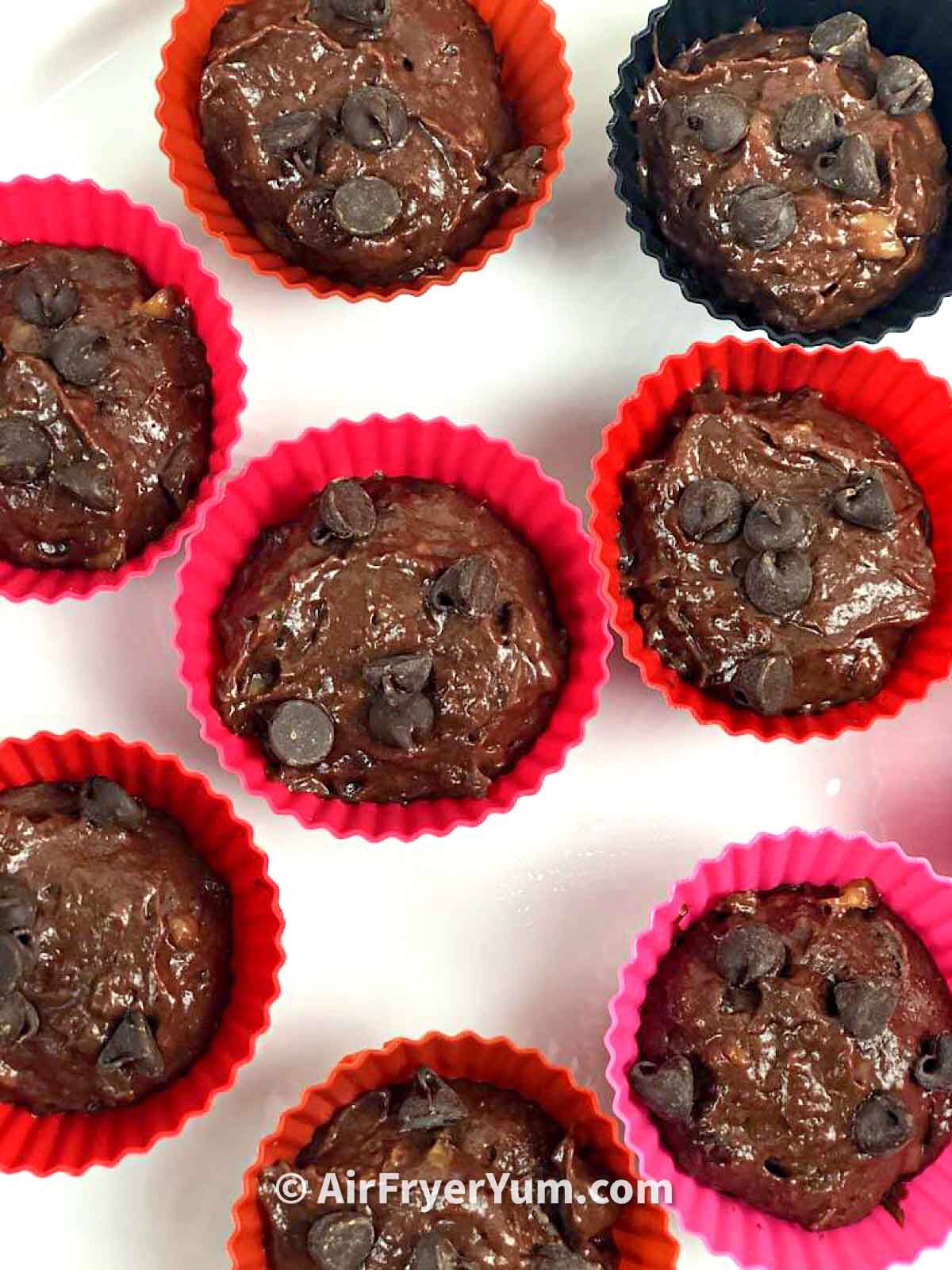 Air fryer baking
Air fryers are like mini convection ovens. They work by circulating hot air in the compartment and this helps food cook faster.
Cakes
Unlike conventional ovens where heat comes from the bottom, most air fryers heat from the top which can be a tricky situation for baked goods especially cakes.
To bake cakes effectively in an air fryer, you need to reduce the time so it cooks on low heat. This will help heat gradually get from the top to the bottom.
It will last help if the cake pans aren't more than 3 inches high. If what you have is a 4 inch high cake pan, try not to fill it up more than half way through if you can help it. (This is an exception for bundt cakes)
Another tip for baking cakes, if you notice the top of the cake is browning too quickly, pull out basket and cover tightly with a foil, giving a puffy room above the cake. This will reduce the rate at which it browns. The foil will also help to trap some heat in there to help the cake bake faster.
Cookies & Donuts
For Some other baked goods like some cookies, donuts and Madeleines, you get the opportunity to flip them to the other side so heat gets all around and it bakes evenly.
Related: >>>Can you put foil in the Air fryer? Get the deets.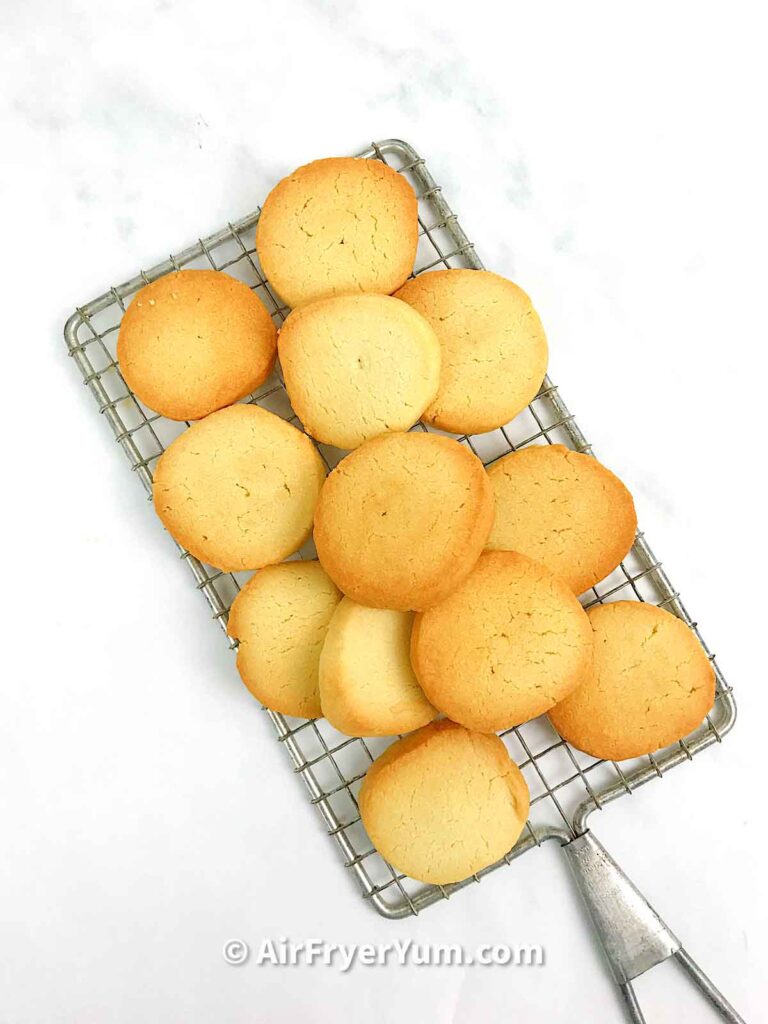 Baking with dark pans (dark coated pans)
Dark coated pans tend to absorb more and distribute heat faster. Because of this they tend bake faster than light colored pans. Some recipes may work better in dark pans than in light colored ones.
Recipes such as Pizza, darker pans tend to crisp up the pizza better. Cakes tend to brown more evenly in light colored pans.
However that is not to say you can't use dark coated pans to bake cakes. After all most air fryer baking accessories seem to be dark colored pans. When baking in these, I would recommend keeping a close eye on the cake so it doesn't over cook.
Temperature and Time
Most of my baking is done 330°F / 166°C for 12 - 15 mins. This also depends on the size of the batter and moisture in it. Just like in the oven, banana breads and bundt cakes tend to take a bit longer to bake than cupcakes, muffins and Madeleines. Expect to bake banana breads, banana cakes and bundt cakes for up to 30 mins at same temperature.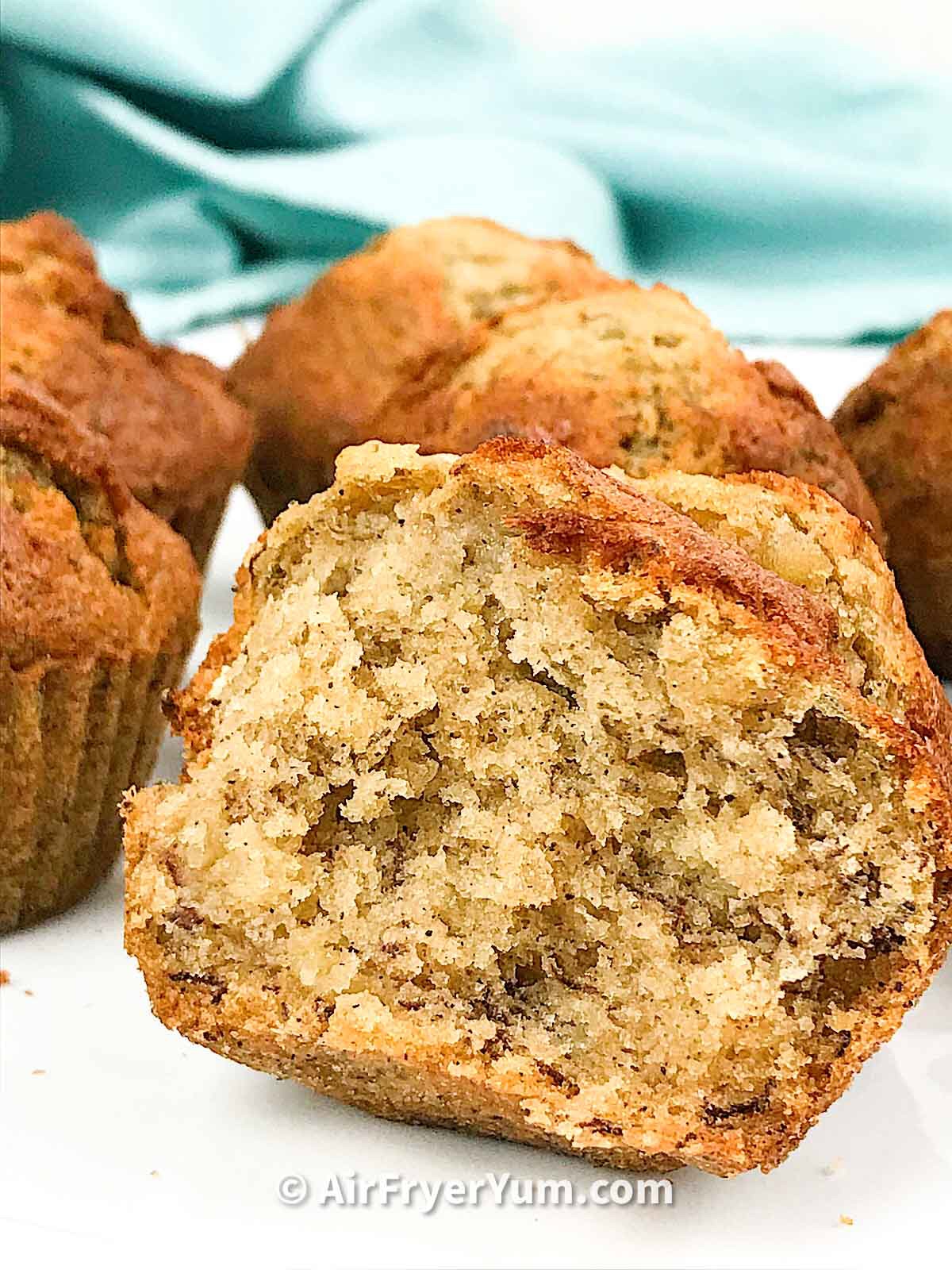 Recommended Accessories and tools
Most air fryers don't come with accessories, however you can get some online or convert the pans you already use at home as long as it can fit in your basket.
Baking pans: I recommend sizes 6, 7, 8 inches when choosing pans. Those are most likely to fit in your air fryer basket. If you have the oven type air fryers, then you might be able to get away with slightly bigger pans. You can use silicon, aluminum or foil cake pans.

Round or square cake pans for sponge cakes, pound cakes, brownies etc.
Springform pans for cheesecakes
Mini loaf pans for mini cakes and banana breads.
Bundt pans: For this I highly recommend this type of bundt pan over the cheaper one. They're both made by Nordic ware however, the more expensive one releases bundt cakes better. Even after greasing the cheaper bundt pan properly, it still tends to stick. There is also the instant pot brand which I haven't tried.

Cupcake molds: Except you have the cupcake molds that come in air fryer accessories kit, Standard cupcake pans won't fit in the air fryer basket, there is a walk around to that. I have a 6 cavity silicon cupcake mold which I cut into ⅔rds to make my own cupcake mold. Alternatively buy some individual silicon cupcakes liners like the ones I used for my chocolate banana bread muffin and banana bread muffins.
Donut molds: I bought regular silicon donut molds and cut them like I did with the cupcake molds. I also have this donut pan from instant pot.
Pizza pans: Air fryers have a pizza pan accessories that can be bought. I have these mini pizza pans for regular pizza. I would love these mini dip dish set for deep dish pizza. Those are 7 inch individual pizza pans and are perfect for air fryer baking. If yo'd like a slightly wider crisper pan for your air fryer pizza this instant pot vortex crisper pan should work.
Stoneware: If it fits in your air fryer basket and is oven safe, it's most likely to work well in your kitchen gadget. I used mini cocottes to make my baked oats recipes. I used the white ones for the classic baked oats recipe and the red for the chocolate baked oats recipe. Ramekins can also be used.
Glassware: Oven safe Pyrex dishes can be used. This glass load pan is a nice one to use.
Mini skillets: My 6 inch cast iron skillet fits nicely in my air fryer and I use it all the time for dips like this air fryer s'mores dip recipe. **If you don't have a mini skillet, you don't need to buy one just for your air fryer. Your cake pans will work just as well.
Other baking tools

Measuring spoons and cups
Kitchen mitts
Ball Whisks
Parchment paper to line cake pans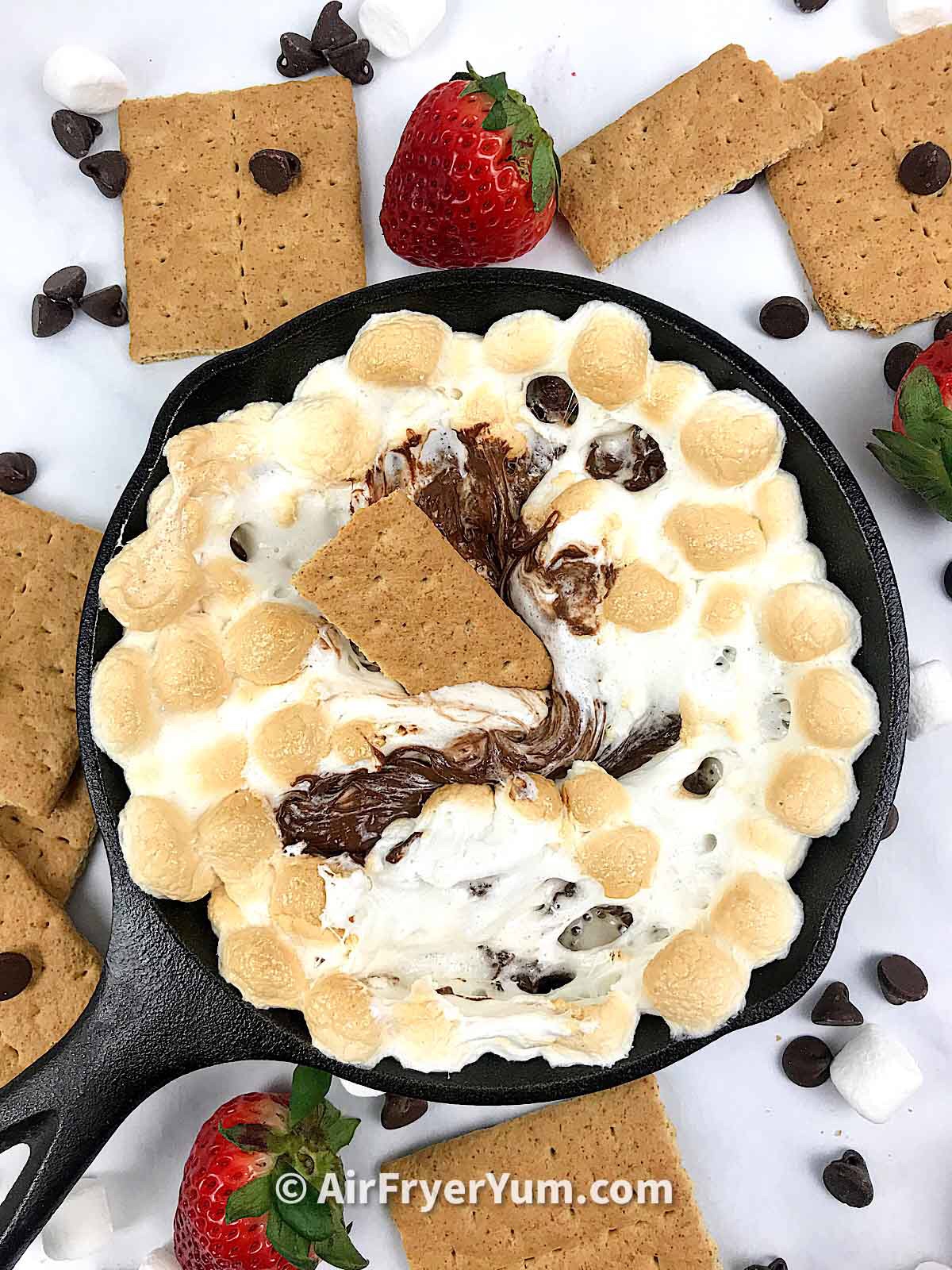 Baking in Oven style Air fryers
Using an air fryer oven is very similar to baking in a traditional convection oven or the conventional oven. Most oven style air fryers are big enough to fit bigger sized baking pans and dishes.
They also tend to bake at a slower rate than the basket type ovens because of the surface area they need to cover to heat up the space.
Air fryer baking Recipes
What can you bake in an air fryer? With accessories, there are many things you can bake in an air fryer. Even cheese cakes can be made in the air fryer.
Savory
Baked potatoes
Pizza
Sweet potatoes
Air fryer Mac and cheese
Sweets
Muffins
Bundt cakes
Sponge cakes
Chocolate chip cookies
Cupcakes
Donuts
Breads
Check out all our >>>Air fryer Recipes!
Tips for successful baking
Read your instructions manual as soon as you get your Gadget: Even if you are not ready to use it.All air fryers are different and are made by different manufacturers. Reading your manual helps you understand your specific type of air fryer better.
Preheating: My air fryer doesn't require preheating however I recommend preheating your oven style air fryer if you intend to bake with it because it has a larger space to heat up than the basket style. You can preheat your basket style air fryer as well if you choose.
Subsequent batches: Even if you choose not to preheat your air fryer, keep an eye on subsequent batches. Those would cook faster because the gadget got preheated during the previous batch.
Checking the cake: Depending on the size of your cake, you can check it after the first 8 minutes to ensure it doesn't fall.
Did you find this guide helpful? Leave me a comment about it or any questions you have about using your Air fryer. Remember to share with family and friends.
Happy Air frying!
---
Looking for more air fryer recipes? Follow along on Facebook, Instagram,Pinterest and TikTok for updates and don't forget to Subscribe to my YouTube Channel for weekly videos.
Loving your air fryer much? Join other Air Fryer Buddies in our exclusive free Easy Air Fryer Recipes Group on Facebook!
New to the world of Air frying? We've got you covered. Check out our helpful >>> Air fryer Resources!
Love it? Pin it!