Taco Tuesday has gotten even better with these Air fryer Taco shells! Did you know you could make hard taco shells in air fryer? Well this recipe made with corn tortillas is perfect for crisping up those shells in the Air fryer or oven.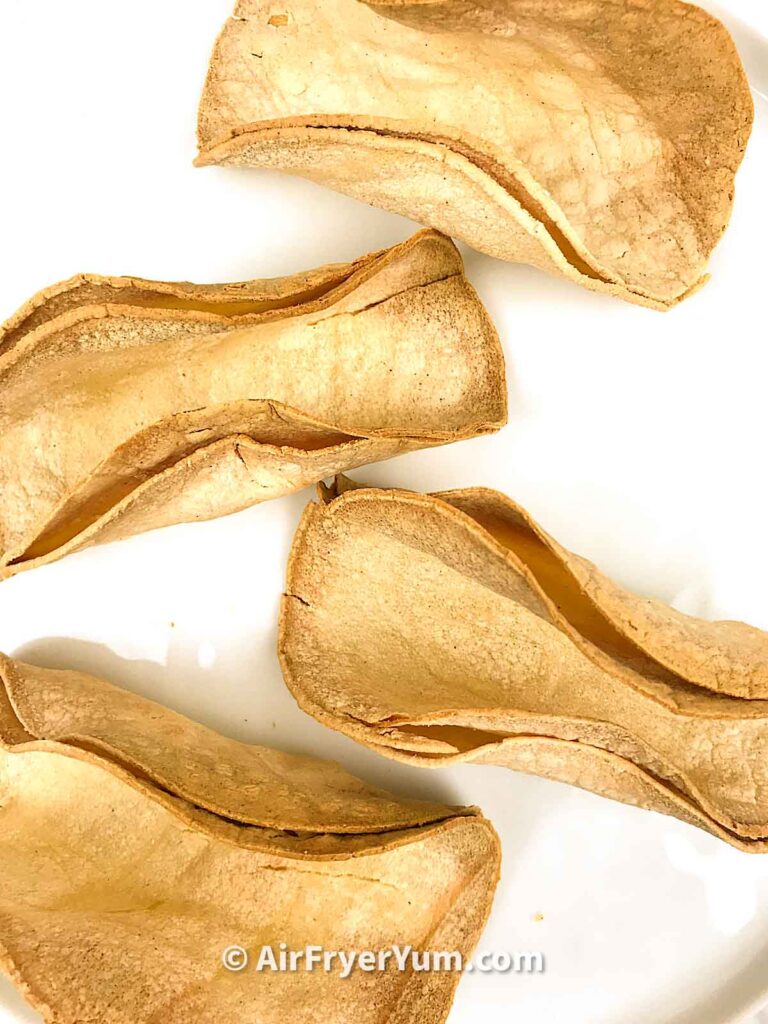 Homemade Air fryer Taco shells using corn tortillas
You may have run out of some of your store bought taco shells and you happen to have some corn tortillas in the house. The Air fryer makes taco shells in less than 8 mins. And does it pretty well. Hello Taco Tuesday!
What you need to make Hard Taco Shells in the Air fryer
Ingredients
Corn Tortillas: Corn tortillas are better when making hard taco shells as they crisp up better than flour tortillas.
Oil Spray: A little spritz of oil will help crisp up the tortillas in the air fryer.
Tools
If making without a mold, you will need

The Air fryer rack that comes with your gadget and aluminum foil.
If you don't have a rack, A loaf pan and foil will also work to keep the tortillas in shape as they cook.

If using an Air fryer taco shell mold you would need the mold.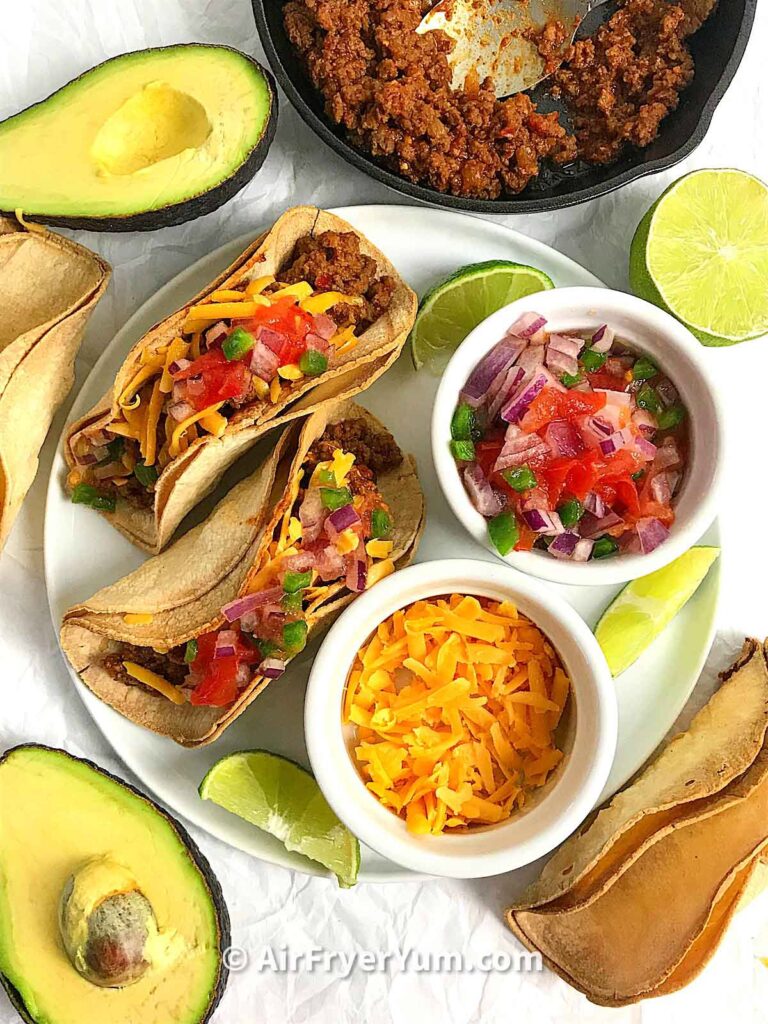 Can you put aluminum foil in an air fryer?
Yes you can, however there's a caveat. You can't put only the tin foil in the air fryer but you can put it with some food on it to keep it weighed down so it doesn't fly around in the air fryer and get stuck in the element.
How to make Hard shell Taco right in your air fryer
Using an Air fryer Taco shell mold
If using a taco air fryer mold, spray mold lightly with oil spray.
Warm the tortillas in the microwave to bring to room temperature and make them more pliable.
Spray tortillas on both sides with oil spray
Drape the tortillas on the mold and air fryer
Without a mold (see collage)
Crumple aluminum foil to form a cylindrical shape about 5 inch long
Place the crumpled foil on the rack leaving a space between each one.
Drape tortillas over foil.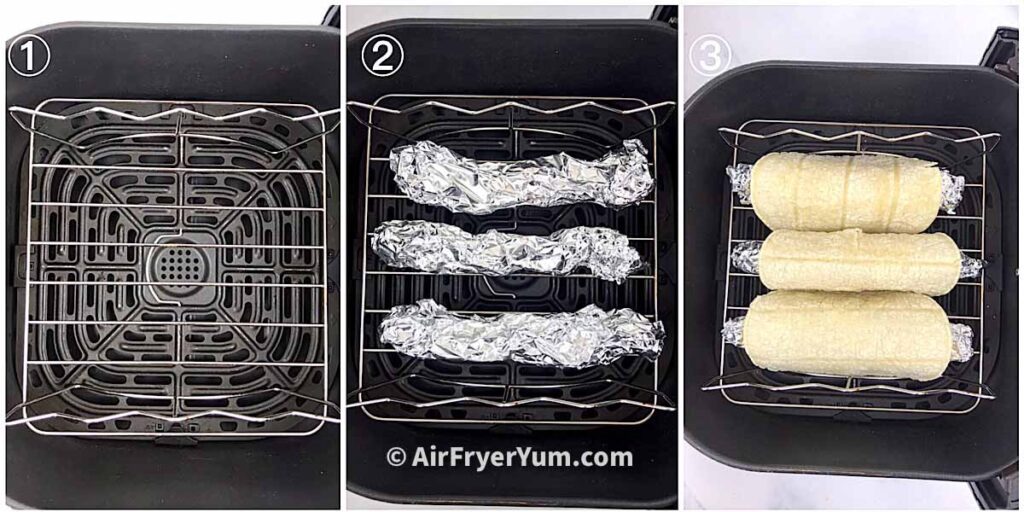 Air fryer till crispy. Let it cool then fill with taco filling.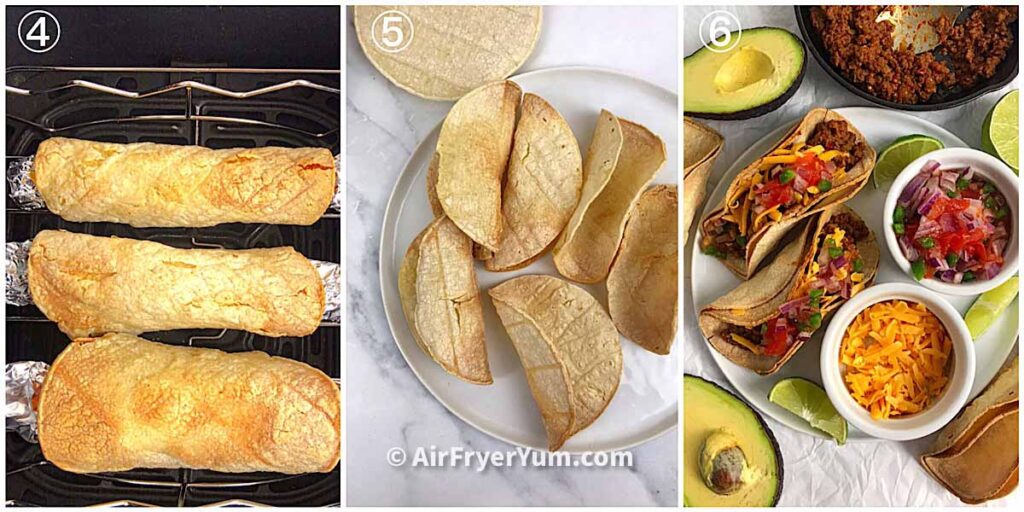 Oven method
Preheat oven to 375°F / 190°C
Warm tortillas on the microwave.
Wear an oven mitt and gently pull out the middle oven rack.
Drop the tortillas over the rack and bake for 8 mins. Let oven cool before taking it out.
Alternatively put the tortillas on the back of a muffin tin in between the cups and bake
What to put in taco shells
If you are wondering what to put in taco shells or how it's served, then relax and read on. There are a variety of options and I would list them below. This should also help if you want to know how to set up a taco bar.
Arrange the taco shells on a plate. Set up the table with bowls filled individually with the following.
Taco meat or fish
Pico de Gallo
Cheddar cheese
Avocado salsa
Avocado slices
Sour cream
Black Beans
Helpful tips
If tortillas are stored in the refrigerator, warm the corn tortillas in the microwave for about 15 seconds at 5 seconds intervals to make it pliable. This will prevent it from tearing when folding. If it was at room temperature on the counter, you should warm it up a bit for about 8 seconds. Warm tortillas are easier to bend.
Spray lightly with oil spray to help it crisp up faster.
The Air fryer with a pull out basket makes about 3 hard shell tacos at a time. You can actually make a mini taco bar for a family of 4 by making the shells in 3 batches cos it takes about 6 minutes per batch.
This recipe is a nice way to make taco shells ahead and store for later. If you don't intend to make ahead, you can fill soft corn tortillas and arrange them in such a way that they lean on each other for support. Then air fry.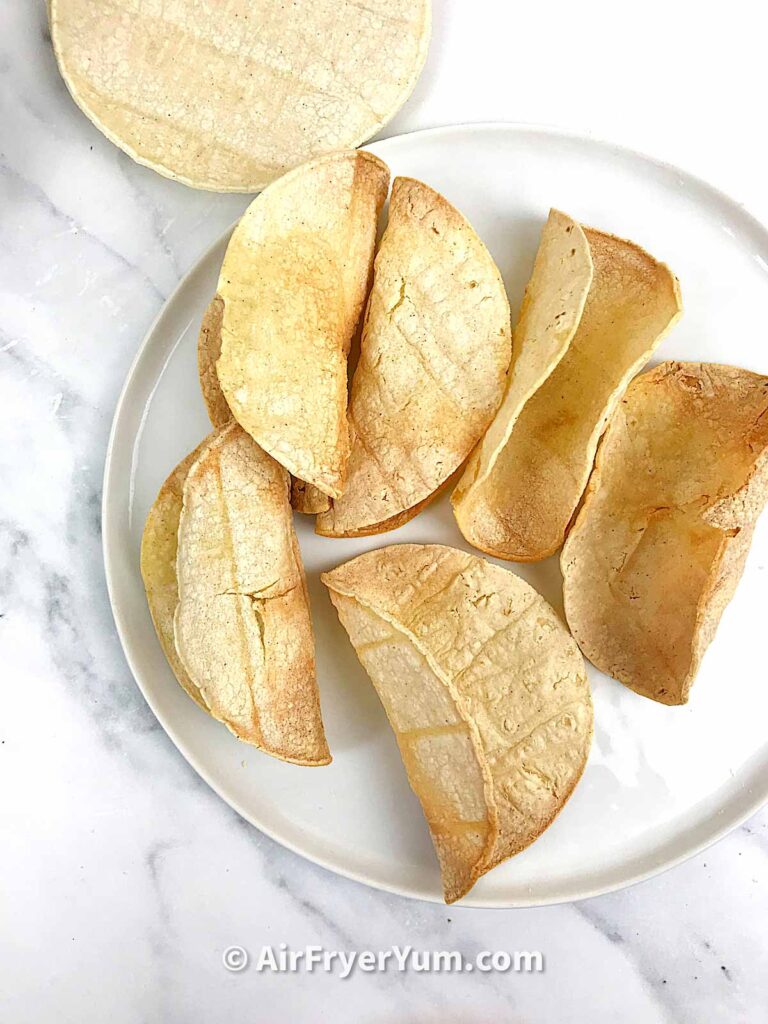 FAQs
What is the best oil for air frying taco shells
How do you keep taco shells crispy
How to make taco shells stand
More Air fryer recipes
Check out all our >>>Air fryer Recipes!
Did you find this recipe helpful? Leave me a comment about it or any recipe idea you would love Air fryer 'yummed' and don't forget to share with family and friends.
Happy Air frying!
---
Looking for more air fryer recipes? Follow along on Facebook, Instagram, and Pinterest for updates and don't forget to Subscribe to my YouTube Channel for weekly videos.
Loving your air fryer much? Join other Air Fryer Buddies in our exclusive free Easy Air Fryer Recipes Group on Facebook!
New to the world of Air frying? We've got you covered. Check out our helpful>>> Air fryer Resources!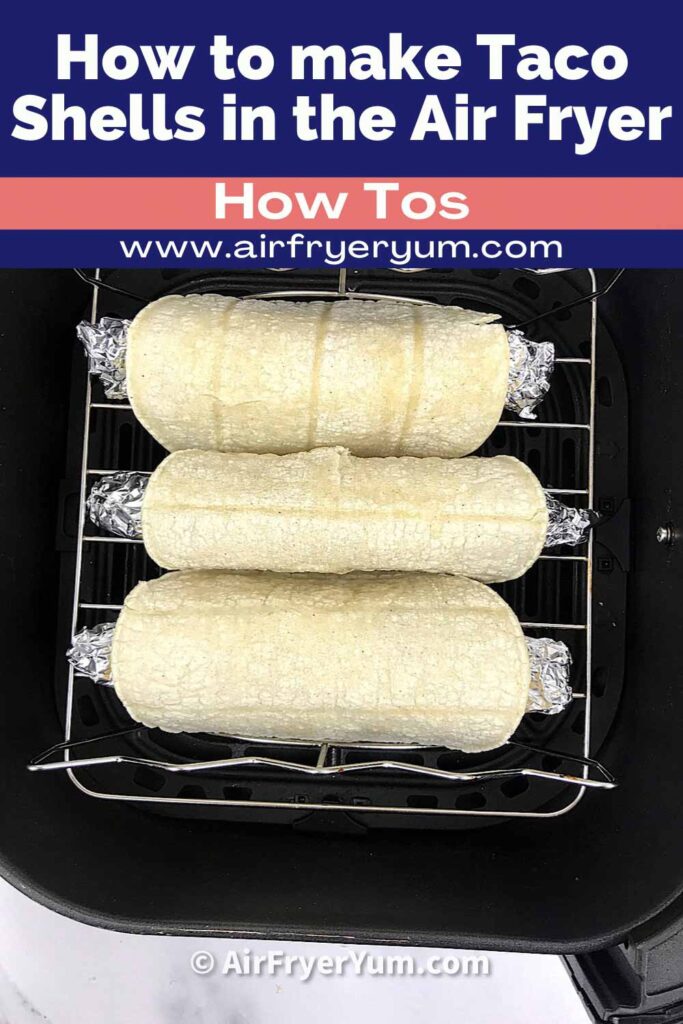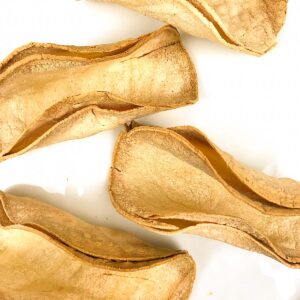 How to make Taco shells (Air fryer & Oven)
Taco Tuesday has gotten even better with these Air fryer Taco shells! Did you know you could make hard taco shells in air fryer? Well this recipe made with corn tortillas is perfect for crisping up those shells in the Air fryer or oven. 
Ingredients
1

Tablespoon

Oil

(I used my Air fryer oil spray)
Instructions
Warm tortillas in the microwave for about 8 seconds if already at room temp or up to 15 seconds if it was in the refrigerator.

Brush or spray the warm tortillas with oil on both sides.

Drape tortillas over store bought air fryer taco mold or homemade foil abs rack method.

Air fry at 400°F / 204°C for 5 to 6 mins

Let it cool completely before filling with all the taco goodies.
Notes
The shells stayed crisp for up to 1 week in a ziplock bag.
Nutrition
Nutrition Disclaimer
Nutritional information is an estimate and may change based on products used. Please read our Nutrition disclaimer page.
Subscribe to my YouTube Channel
Subscribe to Air Fryer Yum on YouTube for more detailed videos! Remember to click the bell icon to get notified when I upload new videos.
Save this Recipe for later!
Follow @AirFryerYum on Pinterest!