Just when you thought making fajitas couldn't get any easier, along comes this recipe for Air Fryer Chicken Fajitas! It's the perfect way to cook up all your fajita ingredients in one simple and easy-to-clean space. Who wouldn't want to have tender chicken and flavorful veggies, perfectly cooked time and time again? It's such a simple and yummy meal!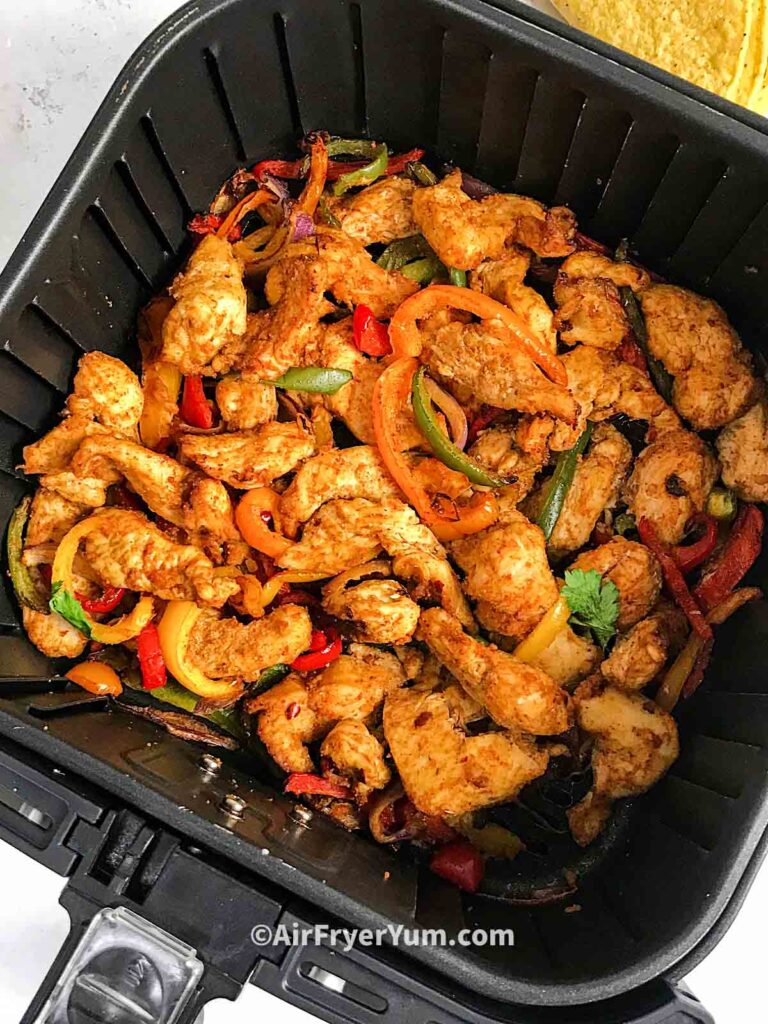 Quick and easy Air fryer Chicken fajitas recipe
Fajitas are such a delicious and hearty weeknight or weekend meal. It's a great way to add some health and protein easily into your daily diet, too. The juicy chicken paired with the thinly sliced veggies creates a powerful flavor combination time and time again.
Add the fajita seasoning to the mix, and you'll see why everyone in the house is going to come rushing to the table every time that this is on the dinner menu.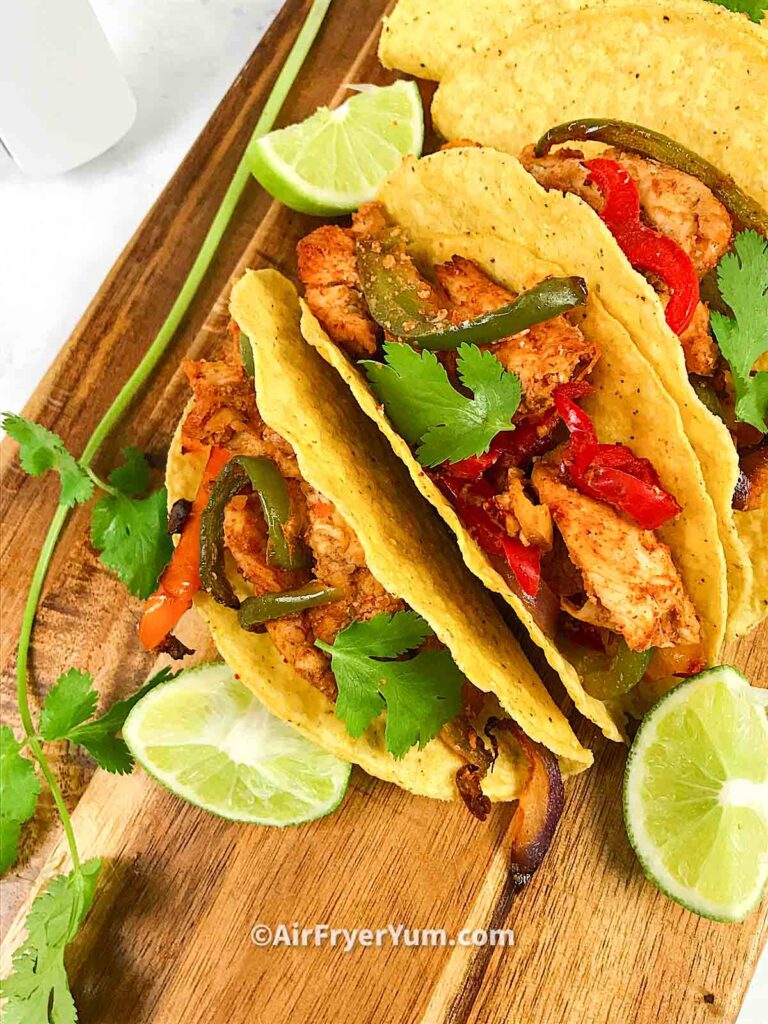 What is Fajitas?
Fajitas in Mexican or Tex mex cuisine simply refuse to strips of meats chicken or beef that have been mixed with onion and colorful bell peppers also cut in strips.
These are then well seasoned with fajitas seasoning and cooked to perfection on the stove top, grill, air fryer, oven or instant pot.
Why you'll love this recipe
An excellent new recipe to serve up on taco Tuesday
It's a simple recipe loaded with flavor
This fajita recipe makes more than enough to have leftovers the next day
It's excellent for a low carb recipe that's low in calories, too
Related: Air fryer jalapeño poppers, how to make taco shells in the air fryer, air fryer tacos po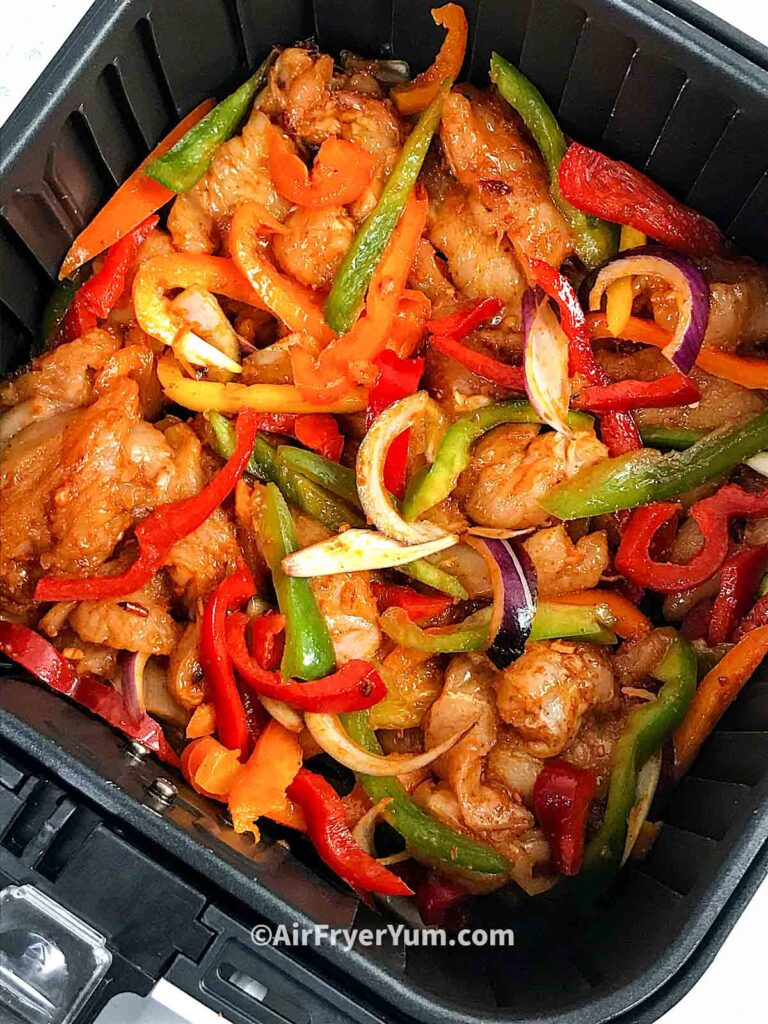 Ingredients
Chicken breast or boneless skinless chicken thighs
Oil
Fajitas seasoning
Red bell pepper
Green bell pepper
Orange or yellow
Onions
This recipe was made using the Cosori air fryer you can get yours here for 15% off with code AFY15 while supplies last.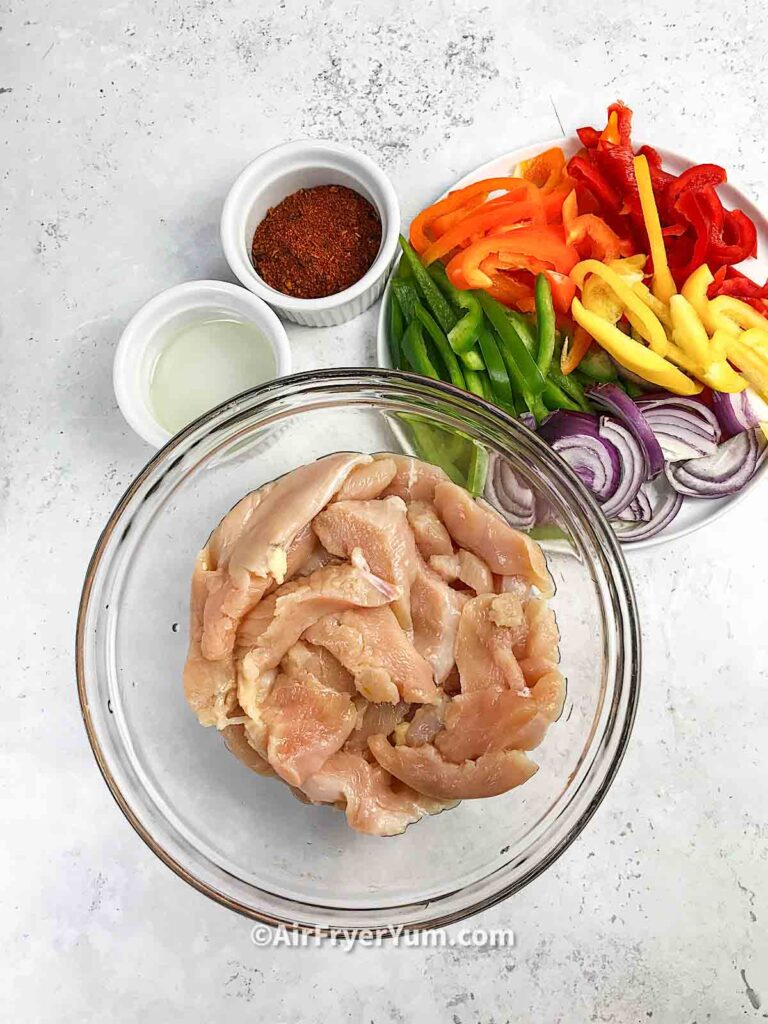 How long to cook chicken fajitas in the air fryer?
The length of time it takes to make any recipe in an air fryer is dependent on few factors which include air fryer brand, if the air fryer was preheated and the temperature the food is cooked.
This recipe was made in a non preheated air fryer and took only 15 mins at 390°F / 200°C. If cooking in a preheated air fryer, it will cook faster and if cooking at a lower temperature than 390°F / 200°C, it will take longer to cook
How to make chicken fajitas in the air fryer
This is an overview of the recipe with step by step photos. Scroll down to end of post for a printable recipe card with the amount of ingredients and full recipe instructions.
Season the chicken: Cut chicken into bite sized strips. Pat chicken strips dry, transfer to a clean bowl. Add the slices bell peppers and onion to the chicken.
Add the oil and fajitas seasoning to that chicken, peppers and onions. Toss to coat. Make sure everything is coated evenly.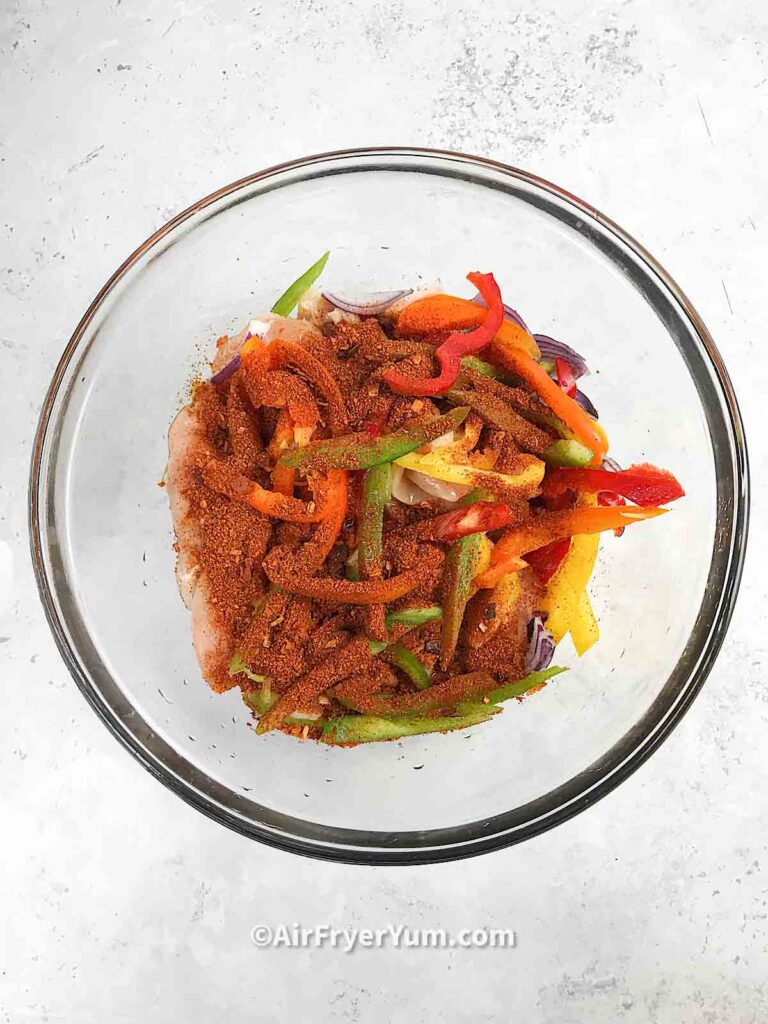 Air fry: Transfer seasoned chicken, peppers and onion mix into the air fryer basket.
Set temperature to 390°F / 200°C and cook for 15 mins. Remember to toss the chicken fajitas with a spatula half way through cooking time.
Let it rest for 2 mins in the air fryer before serving.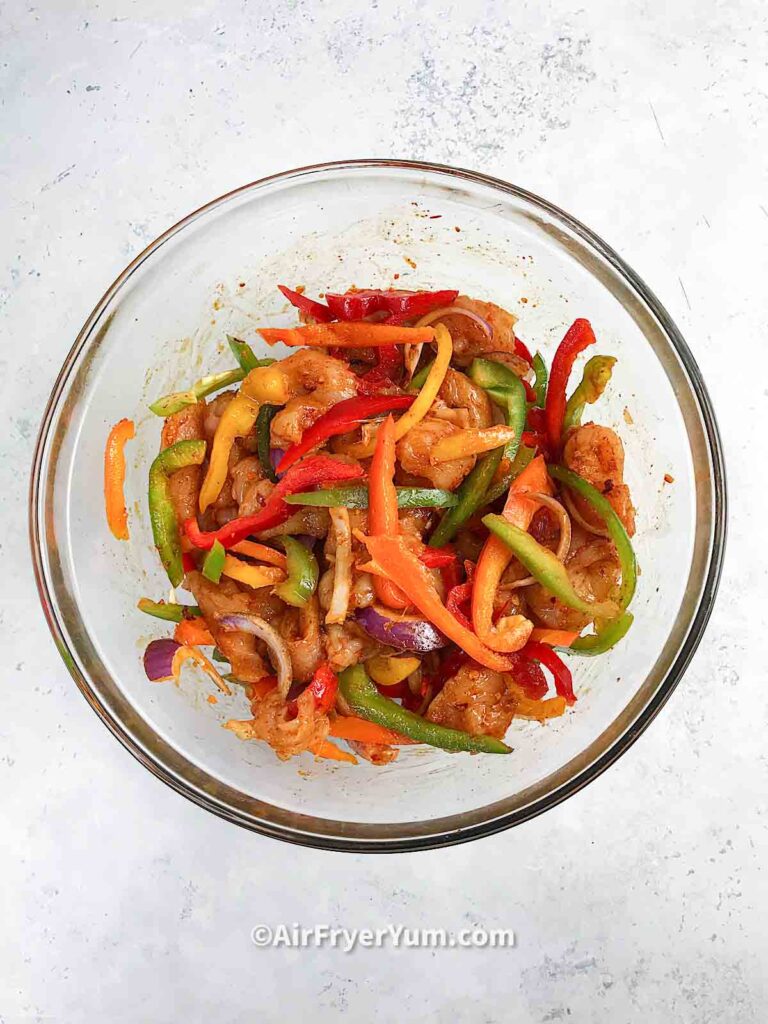 How to serve air fried chicken fajitas
Eating fajitas offers endless possibilities! You can serve the fajita mixture in a tortilla wrap or make a chicken fajita bowl as well to keep it lower in carbs.
The great thing about making fajitas in the air fryer is that you can then customize your own serving with fun toppings!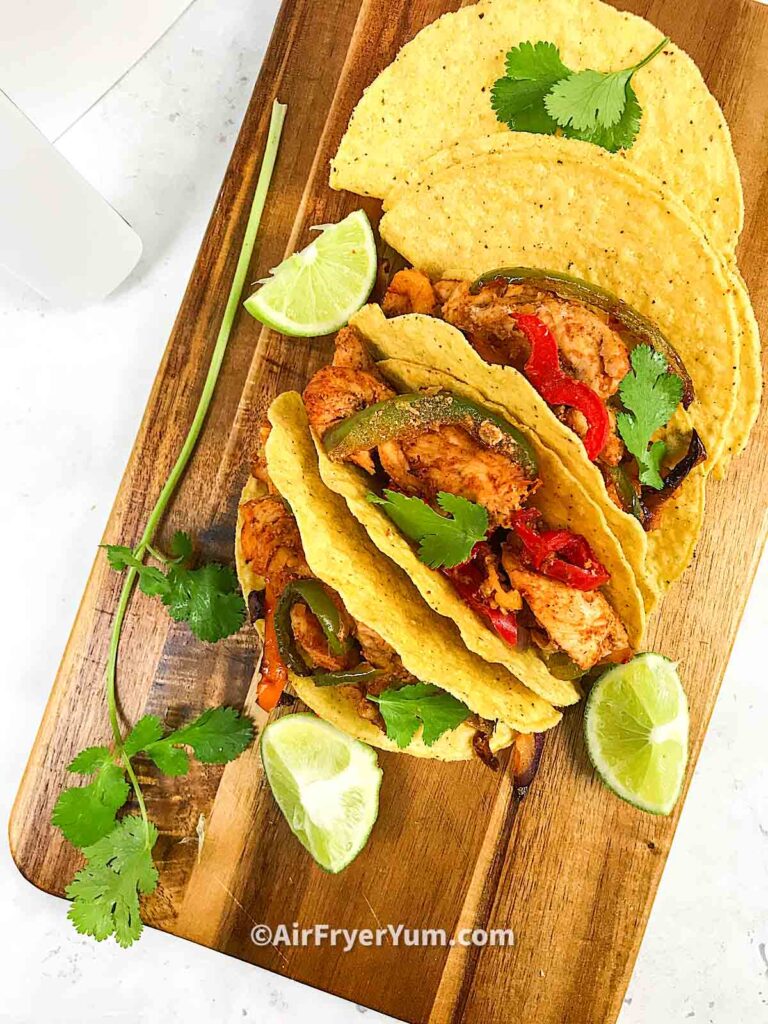 Storing and reheating Air fryer chicken fajitas
Storing leftover chicken fajitas is a breeze. Make sure to let the mixture cool down all the way and then add it to an airtight container with a lid. Keep it stored in the fridge and eat it within 2-3 days.
You can reheat fajita meat in the microwave or put it back into the air fryer as well.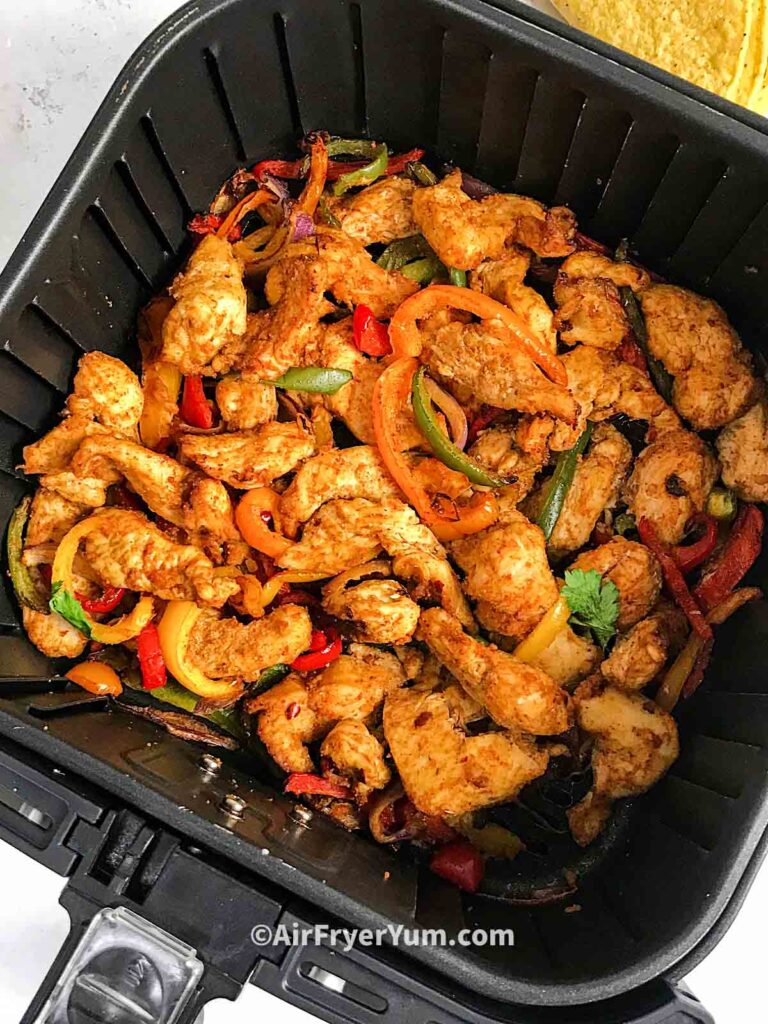 Air frying Tips
No need to preheat the air fryer for this recipe. If you do, it is likely to cook a couple of minutes faster than stated in the recipe.
While this easy fajita recipe is delicious as it's written, you can easily add in more veggies to change up the flavor. Peppers and onions are the most common vegetable additions, but there is always room for jalapenos and more.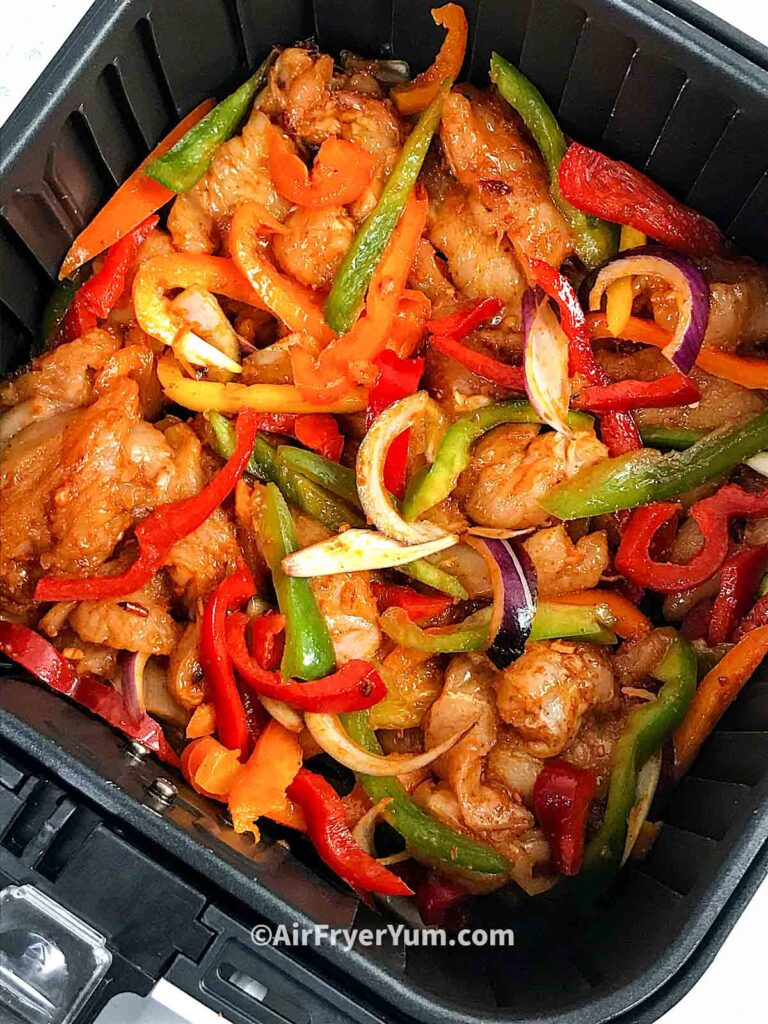 FAQs
What seasonings are in Fajitas?
This will vary depending on your likes and needs, but the most common seasonings that you'll find in fajitas are chili powder, garlic powder, and cumin.
Is Taco seasoning the same as Fajitas seasoning?
They're very similar, but taco seasoning tends to have oregano in it, which alters the flavor just a tad bit. This may not be true for all taco seasonings, but it is for some.
What is the difference between enchiladas and fajitas?
There is actually quite a difference between the two! Enchiladas are typically covered in a sauce and actually rolled tight with all the ingredients inside the tortilla while fajitas are cooked and then added to a shell, tortilla, or bowl.
If you try this recipe, show it off on Instagram! Be sure to Follow and Tag @Airfryeryumblog on Instagram and use the hashtag #airfryeryumblog so we can see your recreations!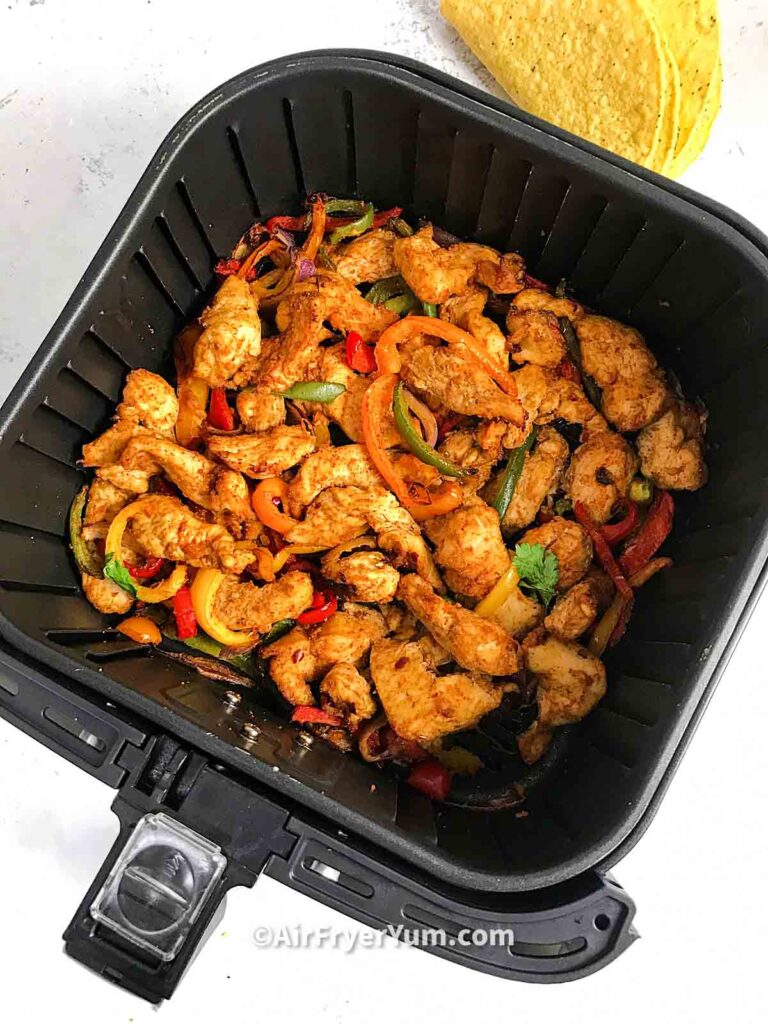 More Mexican air fryer recipes
How to make taco meat in the air fryer
Check out all our >>>Air fryer Recipes!
Did you find this recipe helpful? Leave me a comment about it or any recipe idea you would love Air fryer 'yummed' and don't forget to share with family and friends.
Happy Air frying!
Love it? Pin it! Then follow Air Fryer Yum on Pinterest for more deliciousness!
Looking for more air fryer recipes? Sign up for our yummy newsletter and Follow along on Facebook, Instagram, Pinterest and Tiktok for updates. Remember to Subscribe to my YouTube Channel for weekly videos.
Loving your air fryer much? Join other Air Fryer Buddies in our exclusive free Easy Air Fryer Recipes Group on Facebook!
New to the world of Air frying? We've got you covered. Check out our helpful >>> Air fryer Resources!
Shop all air fryers and air fryer accessories at our Amazon store.
Air Fryer Yum's Pro Tip! Air fryer temperatures may vary depending on size, make and model. When making a recipe for the first time, start with less time, check for doneness then add more time as needed.
Did you make this air fryer recipe? Awesome! Please rate it by clicking the stars ⭐️⭐️⭐️⭐️⭐️ when you leave a comment below. If you loved it please share the link to this recipe with family and friends and in you favorite Facebook group.