Air fryer popcorn is nice way to enjoy some healthy snack in your air fryer. Making popcorn in air fryer gives you the ability to make a variety of flavors. I will share how to make movie theatre and kettle corn variations while sharing my experience with this snack recipe.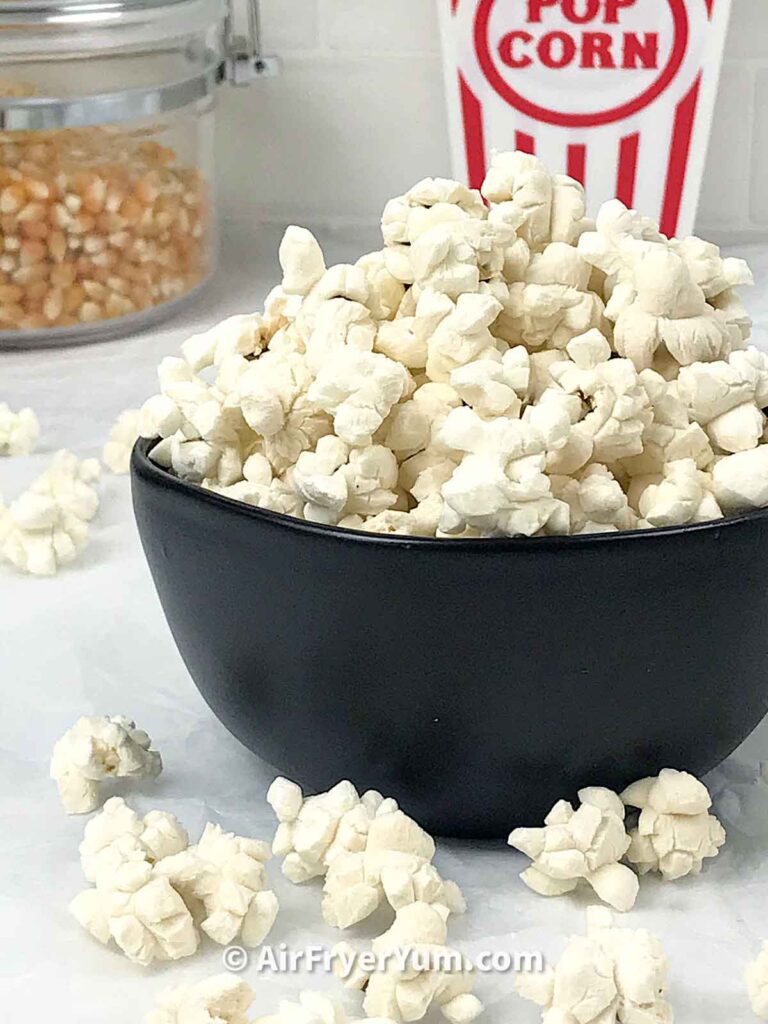 Popcorn in Air Fryer
This is probably one of the trickiest air fryer recipes. It took me a lot of trials to get it right. The first time I tried following a recipe I found on YouTube, it didn't work out as it showed on the video. My popcorn came out charred.
On a side note, are you subscribed to my YouTube channel yet? Please do if you aren't already thank you.
I didn't give up after that video I kept trying until someone suggested in a Facebook group to use aluminum foil in the air fryer basket.
Well today I am equipped with tips and happy to share them with you so you don't go through lots of burnt popcorn or un-popped kernels. Yes you can make popcorn in air fryer if you want to.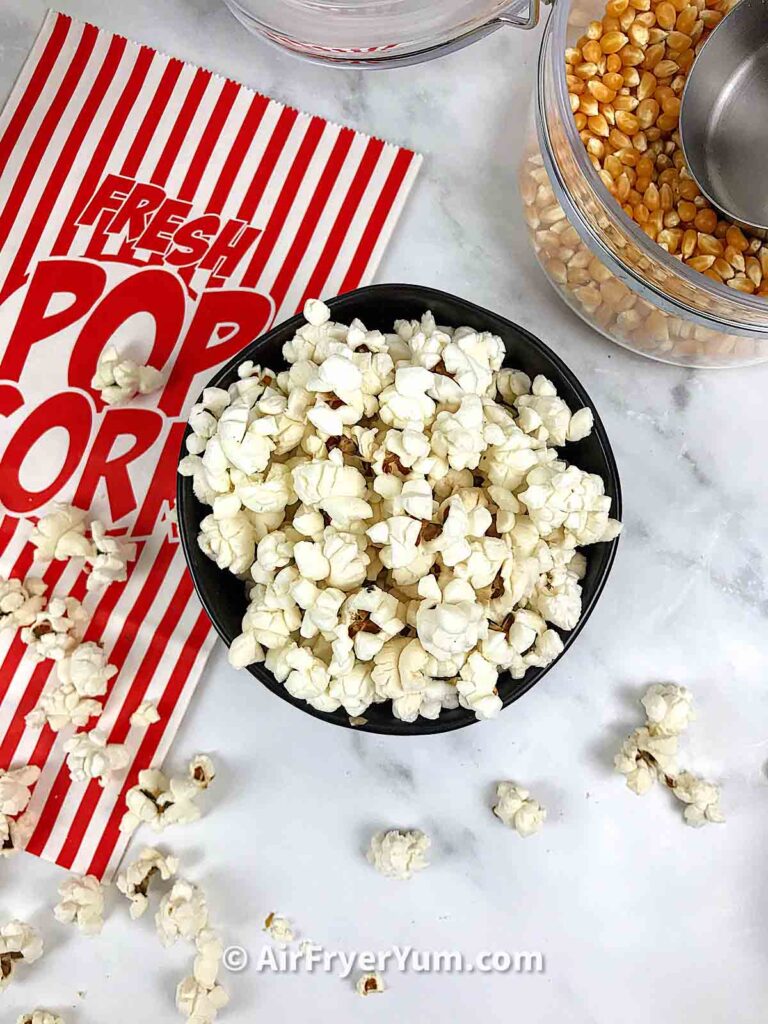 Related: Air fryer Vegetarian recipes
Why would I want to make it in my air fryer?
There are various reasons why people would want to make popcorn in the air fryer and even if this recipe caters to just a few air fryer buddies, I think it's worth all the time it took to perfect this recipe.
You live alone and don't need to make a lot of popcorn.
You are staying in an Airbnb for a short trip and there is an air fryer right there for you to use.
On a diet? And want to make a controlled portion so you don't overeat.
Are you college student and want a quick snack in you mini air fryer. This is for you.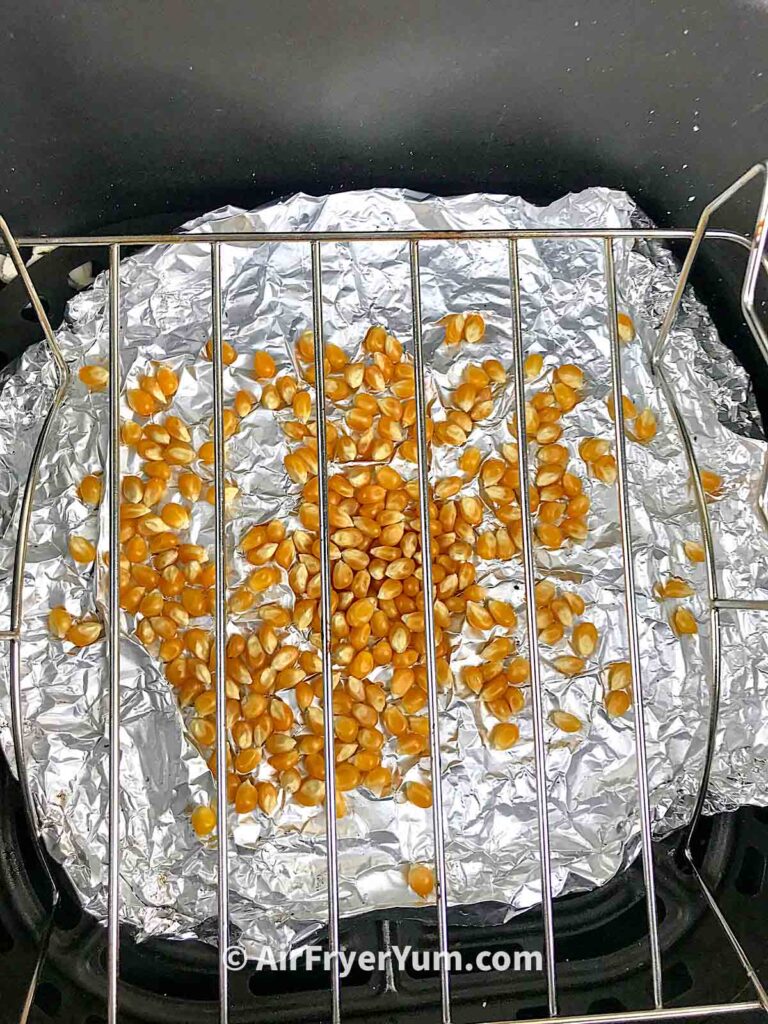 What you need
Tools:
Air Fryer: I used my Gourmia 6 qt air fryer for this recipe. It will work just as well in the Cosori and Ninja foodie air fryers.
Aluminum foil: You would also need foil to make air fryer popcorn. If you have been wondering if you can put foil in the air fryer, the answer is yes and air fryer popcorn is one of the recipes that you can use aluminum foil for.
Air fryer rack: This will hold the foil down and keep it from flying around while the corn pops.
Ingredients
Popcorn kernels
Oil (optional)
Popcorn seasoning

For movie theater popcorn: coconut oil, butter and salt
For kettle popcorn: butter or coconut oil, powdered sugar and salt.
How to make Air fryer Popcorn
Preheat air fryer at 400°F / 204°C for 2 mins
While air fryer is preheating, Mix oil and popcorn kernels together in a bowl. You can add a sprinkle of salt if you like.
Put a piece of aluminum foil in the air fryer basket. Add the kernels on the foil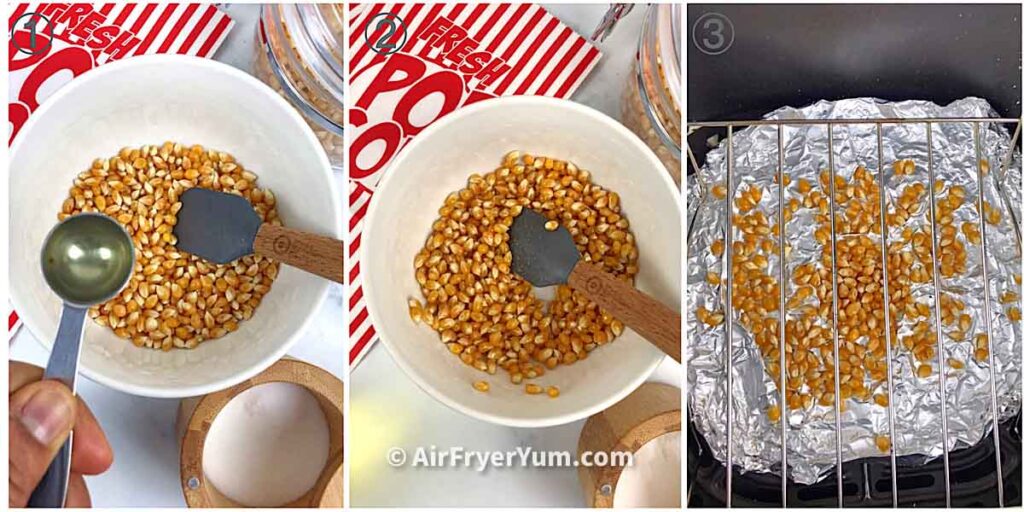 Air fryer. Next season with popcorn seasoning of choice.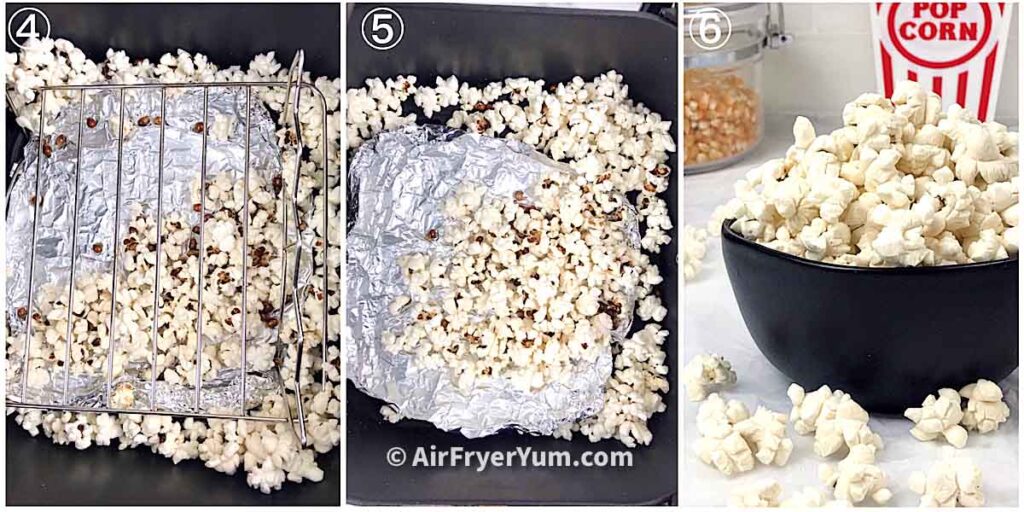 Variations
There are many ways to enjoy your air fried pop corn.
Make it Vegan or vegetarian.
You can leave out the butter or swap it out with vegan butter or coconut oil to keep it vegan or vegetarian.
Buttered movie theater popcorn
Make the popcorn in air fryer. Then melt the butter. Add some salt before tossing the popcorn in it. Some movie theater popcorn have a hint of yellow you can add a bit yellow food color or a tiny bit of Turmeric but I really don't find that necessary.
Kettle corn
Kettle corn is traditionally made by cooking oil, sugar, salt and corn kernels on the stovetop. To achieve that effect I air fried the popcorn, melted the butter, added the salt and sugar before tossing the popped corn in it.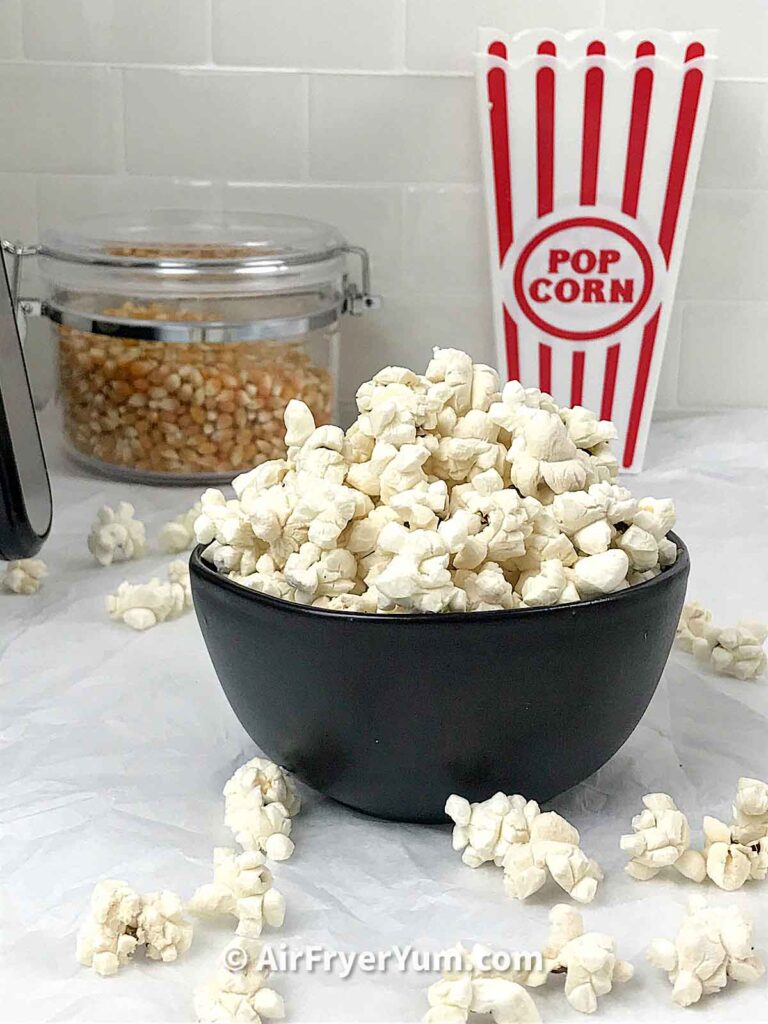 Do I need to preheat my air fryer?
Like I mentioned earlier making popcorn in the air fryer is a bit finicky so you would need to use this recipe and tips as a base to figure out what works in yours.
I tried making this recipe from preheating my air fryer and not preheating it. I am not sure I noticed much of a difference in time may be a minute's difference.
This could be because the air fryer will lose some heat during the time when the foil was put in that basket, the kernels put on it and the rack over it.
Also the air fryer heats up pretty fast so that could be the cause of the negligible time difference. However if you are trying this for the first time I would suggest you preheat the air fryer.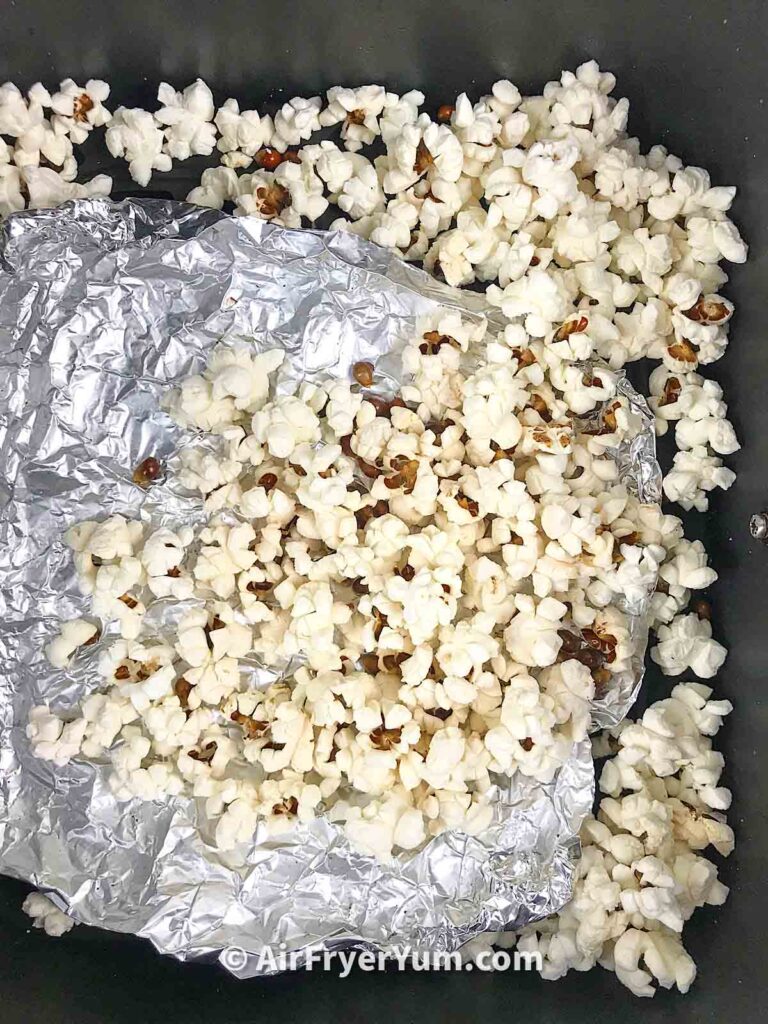 Helpful tips
Quantity: You might think that the bigger the air fryer basket, the more popcorn you can make. Unfortunately that is not the case. For some reason my air fryer can't seem to pop more than a quarter cup of kernels without leaving a lot of kernels un popped. In all my testing I found that the best portion that gets almost all kernels popped is a quarter cup. The image below shows half cup of kernels with almost half un popped. I tried to pop the un popped kernels after taking out the popped ones. It didn't work.
Oil: It helps the kernels pop better. I have tried without oil and it also popped however I found that I preferred using a little oil.
Use Aluminum Foil: I tried to make the popcorn without my air fryer basket insert like I usually when making air fryer chin chin and it didn't work. Using foil worked best in my air fryer.
Type of Air fryer: I don't think this recipe would work in the oven style Air fryer. I think the compact style of the air fryers with basket is important in this recipe. However if you are using a smaller air fryer than the 5.8 quart, consider reducing the cooking time.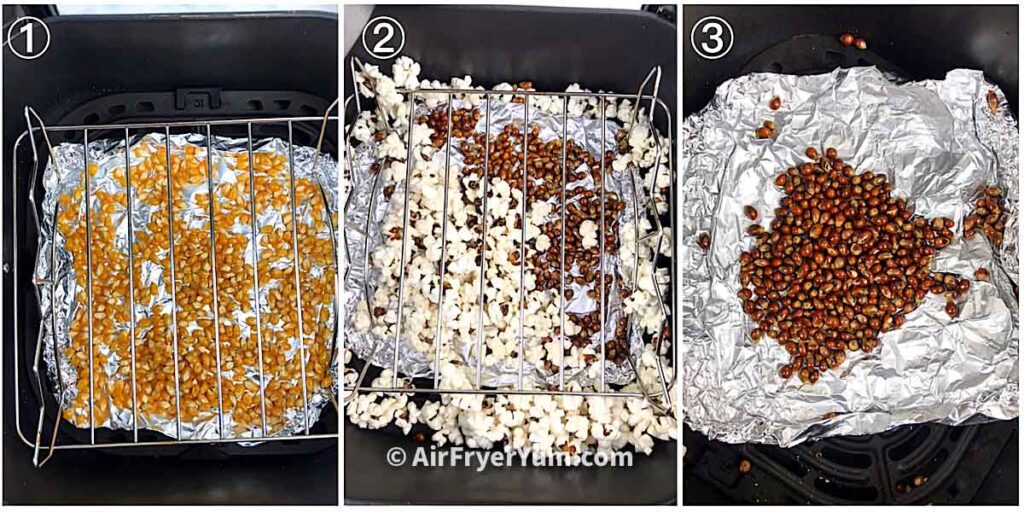 Your Frequently Asked Questions Answered
Is Popcorn Vegan or Vegetarian?
Popcorn is naturally vegan and vegetarian. However it's not if it's coated with butter or cheese. To make it fully vegan or vegetarian, use coconut oil, nutritional yeast as toppings.
How healthy is homemade popcorn?
It's as healthy as it can be because nothing beats homemade. You get to decide what goes into your snacks.
More Air fryer Snack Recipes
Other Air fryer recipes to try
Check out all our >>>Air fryer Recipes!
Did you find this recipe helpful? Leave me a comment about it or any recipe idea you would love Air fryer 'yummed' and don't forget to share with family and friends.
Happy Air frying!
---
Looking for more air fryer recipes? Follow along on Facebook, Instagram, and Pinterest for updates and don't forget to Subscribe to my YouTube Channel for weekly videos.
Loving your air fryer much? Join other Air Fryer Buddies in our exclusive free Easy Air Fryer Recipes Group on Facebook!
New to the world of Air frying? We've got you covered. Check out our helpful >>> Air fryer Resources!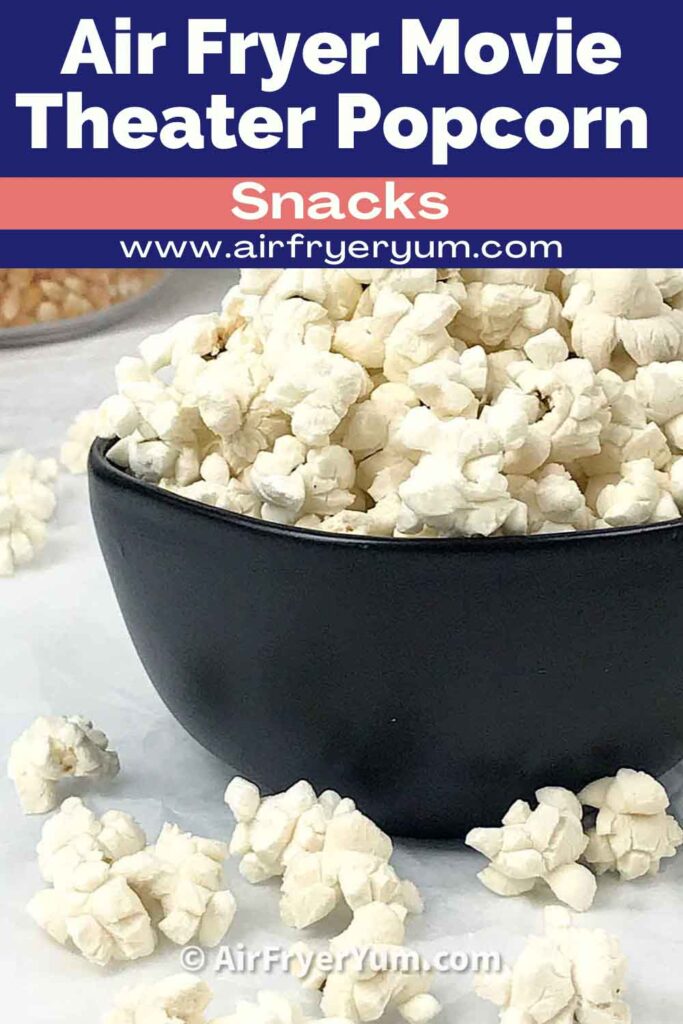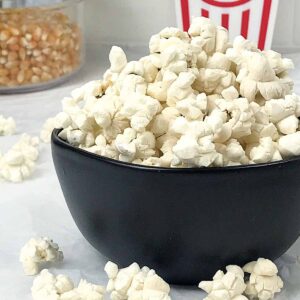 Air Fryer popcorn
Air fryer popcorn is nice way to enjoy some healthy snack in your air fryer. Making popcorn in air fryer gives you the ability to make a variety of flavors. I will share how to make movie theatre and kettle corn variations while sharing my experience with this snack recipe.
Equipment
Air fryer

Air fryer rack

Aluminum foil
Ingredients
¼

cup

popcorn Kernels

½

teaspoon

Oil
For movie Theater
1

Tablespoon

Salted butter

A

pinch of

salt
For Kettle corn
1

Teaspoon

Salted butter

2

teaspoons

Powdered sugar

A

Pinch of salt

(if you find that the salt in that butter isn't enough)
Instructions
Preheat air fryer to 400°F / 204°C for 2 mins

Mix oil with popcorn kernels.

Cut a piece of foil, pull out air fryer basket and lay it flat in the center of the basket. Make sure the piece of foil doesn't cover the whole basket to allow for heat and air circulation. Also be careful not to burn yourself since the basket will be hot. Use oven mitts.

Air fry Popcorn kernels at 400°F / 204°C for 9-10 mins. (If you do not preheat air fry for 12 mins)

Let the popping sound reduce before opening the air fryer.
Make the toppings
While the kernels are popping in the air fryer
Air Fryer Movie Theater Popcorn
Melt butter in the microwave.

Add a pinch of salt then toss popcorn in it and enjoy.
Air Fryer Kettle corn
Melt butter or coconut oil in the microwave.

Mix in powdered sugar and salt, then toss popcorn in the mix
Notes
Preheating the air fryer is optional. However I recommend you do so on your first try. If you decide not to or forget to, 2 extra minute to the cook time. 
The nutritional fact is based on the popped corn without the toppings
Nutrition
Serving:
1
g
Calories:
110
kcal
Carbohydrates:
26
g
Protein:
4
g
Fat:
1
g
Sodium:
10
mg
Potassium:
91
mg
Fiber:
5
g
Nutrition Disclaimer
Nutritional information is an estimate and may change based on products used. Please read our Nutrition disclaimer page.
Subscribe to my YouTube Channel
Subscribe to Air Fryer Yum on YouTube for more detailed videos! Remember to click the bell icon to get notified when I upload new videos.
Save this Recipe for later!
Follow @AirFryerYum on Pinterest!