These air fryer shortbread cookies are the perfect cookie recipe for all seasons! If you haven't tried baking up a batch of cookies in your air fryer then you are leaving a lot or deliciousness on the table these air fryer cookies are so easy to make. This small batch cookie recipe requires just 3 ingredients!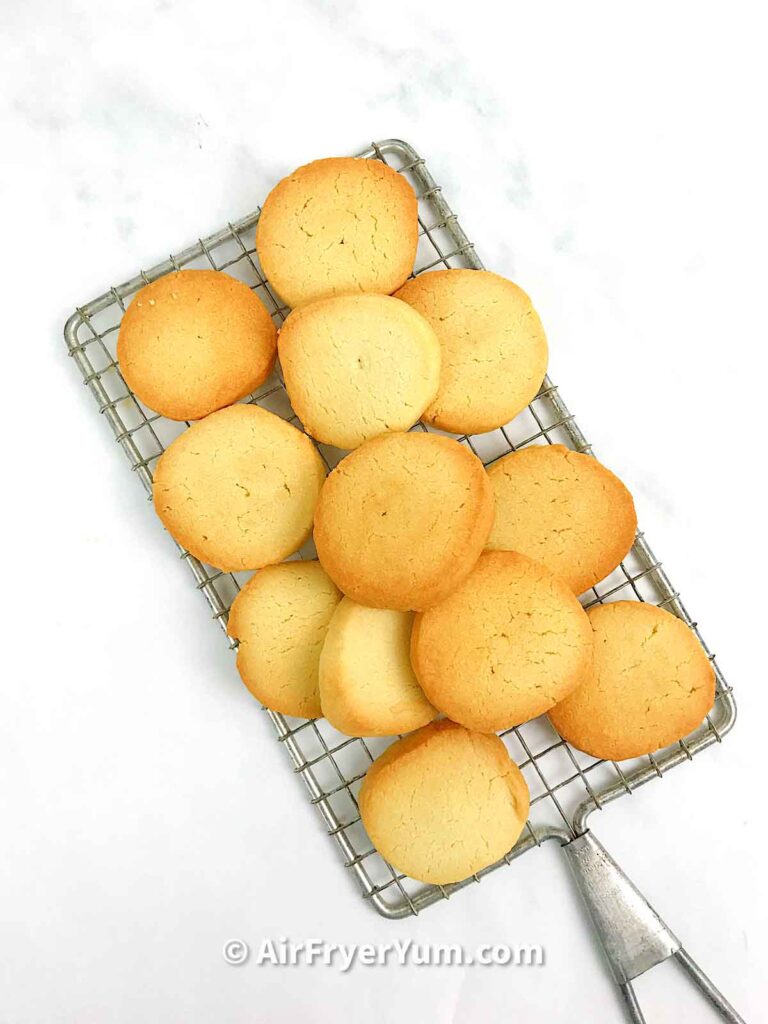 The Best Air fryer Shortbread cookies recipe!
I know you can use refrigerated cookie dough when making cookies! I do that as well. You can check out my recipe using refrigerated sugar cookie dough when you are done making these shortbread cookie rounds.
Shortbread cookies are synonymous with Christmas but I say let's make it all a year round. There's nothing wrong with bringing Christmas season along with us all year. That's my favorite season between lol.
What is Shortbread?
This is a type of cookie that originated from Scotland where it is actually called shortbread biscuits. It is usually made with one part sugar, 2 parts butter and 3 parts flour. Shortbread is traditionally served during Christmas and New year in Scotland.
The brand Walkers shortbread is very popular and the big tins are usually found at Costco from thanksgiving to around Christmas and they flies off the shelves just like the madeleines.
Why these shortbread cookies are so good.
I bet I don't need to tell you why these are so good because you probably know already, however I will tell you anyway. Just before I get right into it, you need to check out my lemon shortbread cookies, strawberry shortbread and thumbprint cookies also known as shortbread with strawberry jam. Did I tell you all these were made in the air fryer?
Now to why you should make these amazing cookies in the air fryer.
You need just 3 ingredients
This is a small batch cookie recipe which can easily be doubled or tripled. The reason for making small batch cookies is to help you with self control! (Makes only 12 cookies)
These air fryer shortbread cookies are easily adaptable to make a variety of flavors.
It is literally melt in your mouth delicious.
It's egg free and with a just a swap out of butter to vegan butter, it becomes a vegan treat.
Related: A beginner's guide to Air fryer baking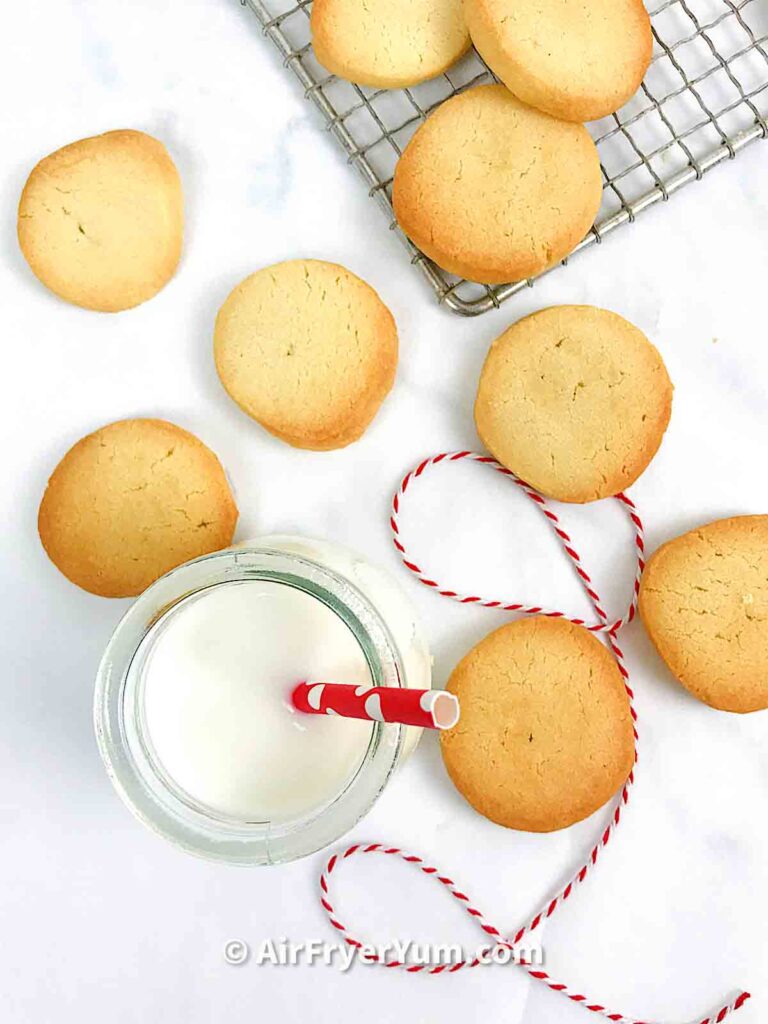 What you need! Ingredients & tools
Ingredients
Butter: This is essentially a butter cookie, therefore this is a very important ingredient which like I mentioned earlier can be swapped out for vegan butter if you are vegan. I love to use salted butter in my baking recipes. If you use unsalted butter, you would need to add some salt to the recipe. The rule of thumb is to add ¼ teaspoon salt per ½ cup unsalted butter.
Sugar: To get the melt in your mouth feel, powdered sugar is what I use and boy! It's soo good. If you don't have powdered sugar at home you can make your own or use regular granulated sugar.
Flour: I use all purpose flour for this recipe.
Cornstarch: Also called cornflour in the UK can be added to this recipe. It is said to make it more melt in your mouth. To be honest, I notice a difference in the melt in your mouth quality of shortbread when I use powdered sugar over granulated sugar irrespective of the use of cornstarch.
Tools
How do you make shortbread cookies from scratch in the air fryer.
Easy peasy! Lemon squeezey! This recipe requires no stress. All you need to do is mix and bake.
Cream the butter and sugar till light and fluffy, Mix in the flour.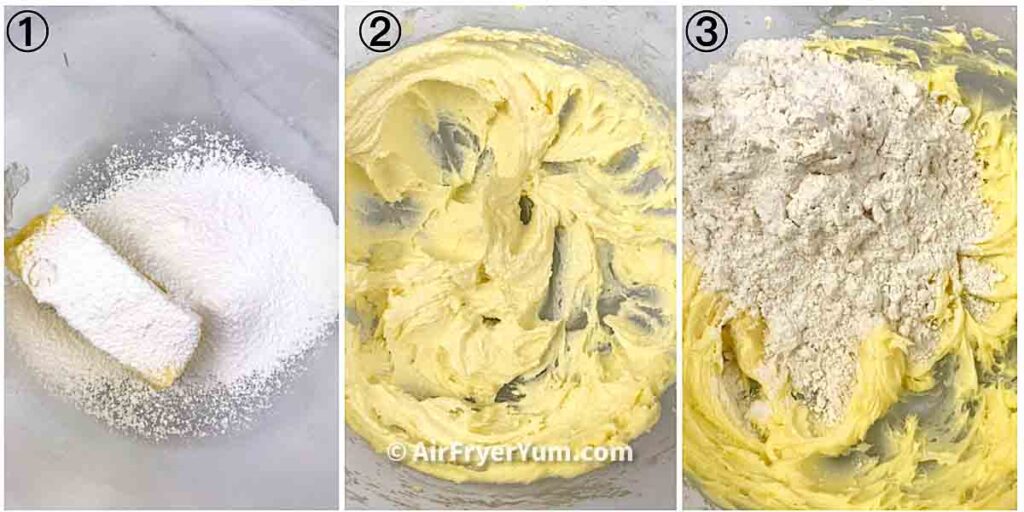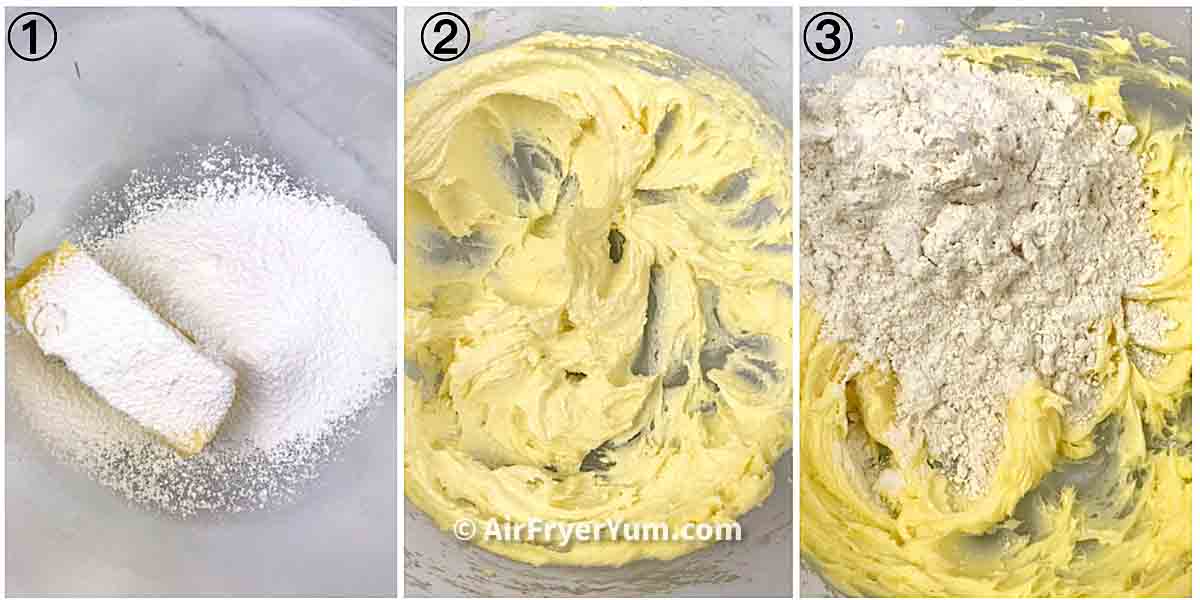 The batter will be crumbly at first. Use your hands and bring it together to form a ball. Roll into a log and wrap in plastic wrap.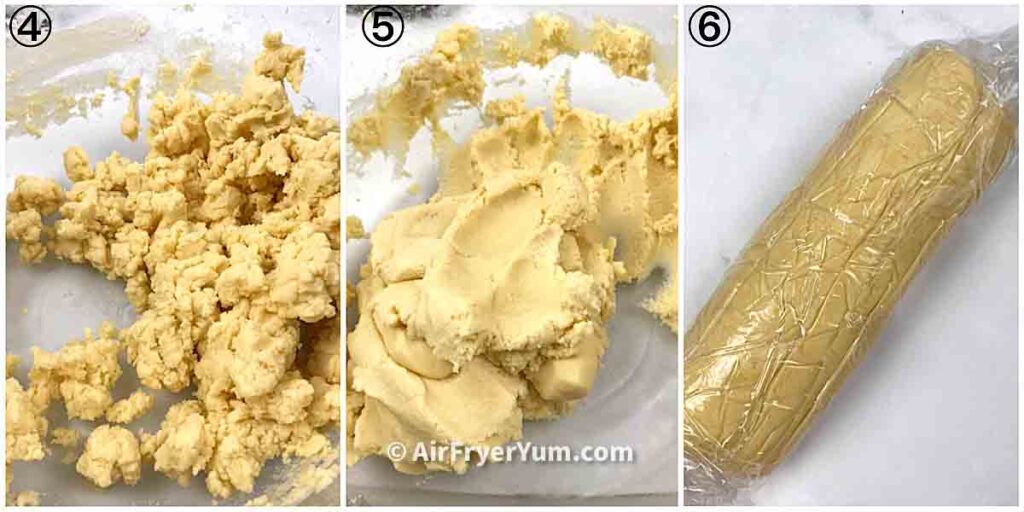 Refrigerate for up to an hour. Then get it out of the refrigerator remove the plastic wrap and slice into ½ inch discs and bake at 330°F for 8 to 10 mins.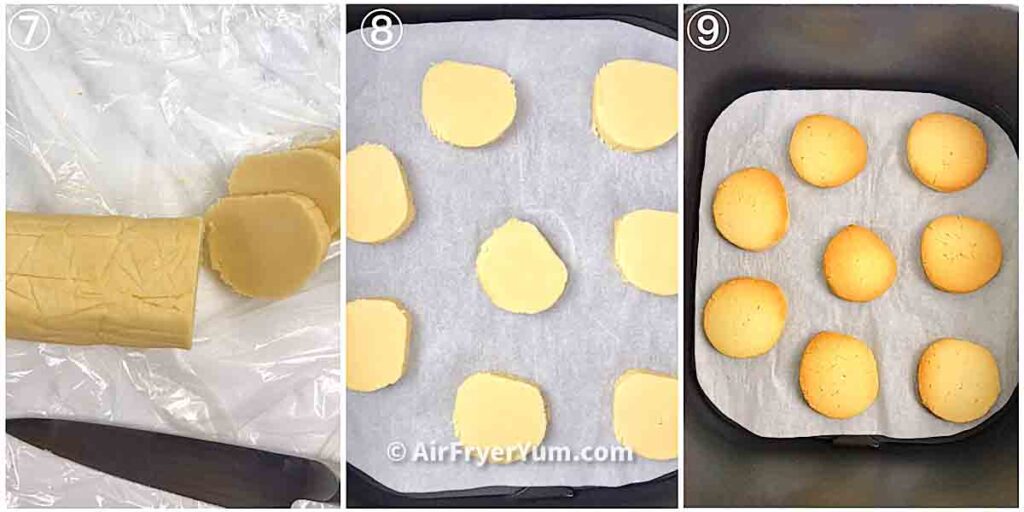 Make it in the oven
These delightful cookies can be made in the oven if you don't have an air fryer. Follow the steps below to make it in the oven.
Preheat the oven to 350°F / 177°C
Line a cookie sheet with parchment paper
Get the chilled dough, slice cookies and bake for 10 - 12 mins.
How to store
Homemade cookies can stay fresh for up to 5 days in an air tight container. There is no need to store in the refrigerator these shortbread cookies will stay well in a cookie jar on the counter.
After baking, transfer to a cookie rack and let it cool completely before storing in an air tight cookie jar.
Flavor variations
Lemon Shortbread cookies: Add lemon juice and zest to this batter.
Strawberry shortbread cookies: I use strawberry gelatin or freeze dried strawberries to make these.
Matcha shortbread cookies
Lavender
Earl grey!
Chocolate chip shortbread cookies
Tips to make the best air fryer shortbread cookies
Butter should be at room temperature.
Do not over mix or overwork the batter. It will look crumbly at first. Bring it together with your hands to form a ball.
If making cut out shortbread cookies, or slice and bake cookie, let it rest in the refrigerator to harden the butter a bit to help with rolling it out. This will also help keep the shape for slice and bake cookies.
The cookies will feel soft right after baking, don't be tempted to bake them further it would harden as it cools. Let it sit in the air fryer before getting them out gently using a cookie spatula.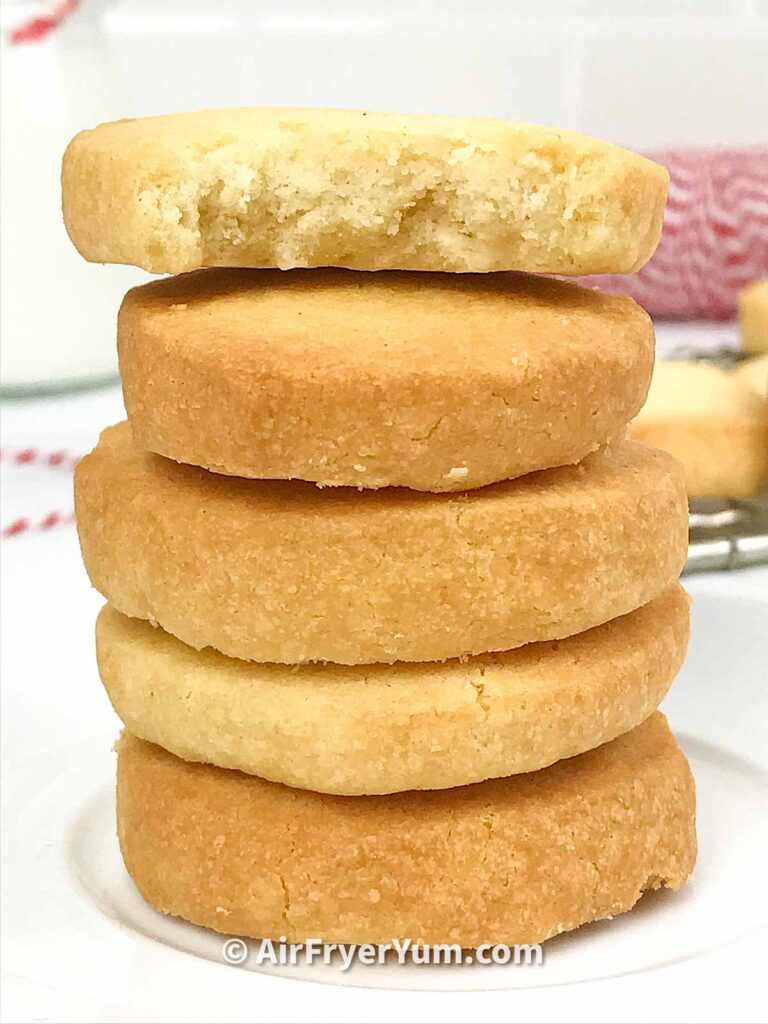 Your Frequently Asked Questions answered.
Can you bake cookies in air fryer?
Yes you can bake cookies in the air fryer and it's so good.
Why do you put the shortbread dough in the fridge before baking?
Putting the dough in the fridge helps rest the dough while hardening the butter. This makes it easier to roll out and cut into shapes or to slice and bake the dough. The only exception might be if making Walkers shortbread fingers copycat recipe.
Can you put parchment in air fryer?
You can put parchment paper in an air fryer however you can't put only the parchment paper in there, there has to be food on it to keep it from flying around. Please read my full guide on how to use it safely in the air fryer.
Love cookies? We've got more!
Air fryer chocolate chip cookies
Refrigerated sugar cookies in the air fryer.
S'mores cookies
Millionaires Shortbread cookies
All our air fryer desserts live here. Be sure to check them out cos we have a growing collection.
Check out all our >>>Air fryer Recipes!
Did you find this recipe helpful? Leave me a comment about it or any recipe idea you would love Air fryer 'yummed' and don't forget to share with family and friends.
Happy Air frying!
---
Looking for more air fryer recipes? Sign up for our yummy emails and follow along on Facebook, Instagram, Pinterest, and Tiktok for updates. Remember to Subscribe to our YouTube Channel for weekly videos.
Loving your air fryer much? Join other Air Fryer Buddies in our exclusive free Easy Air Fryer Recipes Group on Facebook!
New to the world of Air frying? We've got you covered. Check out our helpful>>> Air fryer Resources!
If you love baking, you'd love our beginner's guide to air fryer baking it walks you through how to bake in your air fryer.
Love it? Pin it!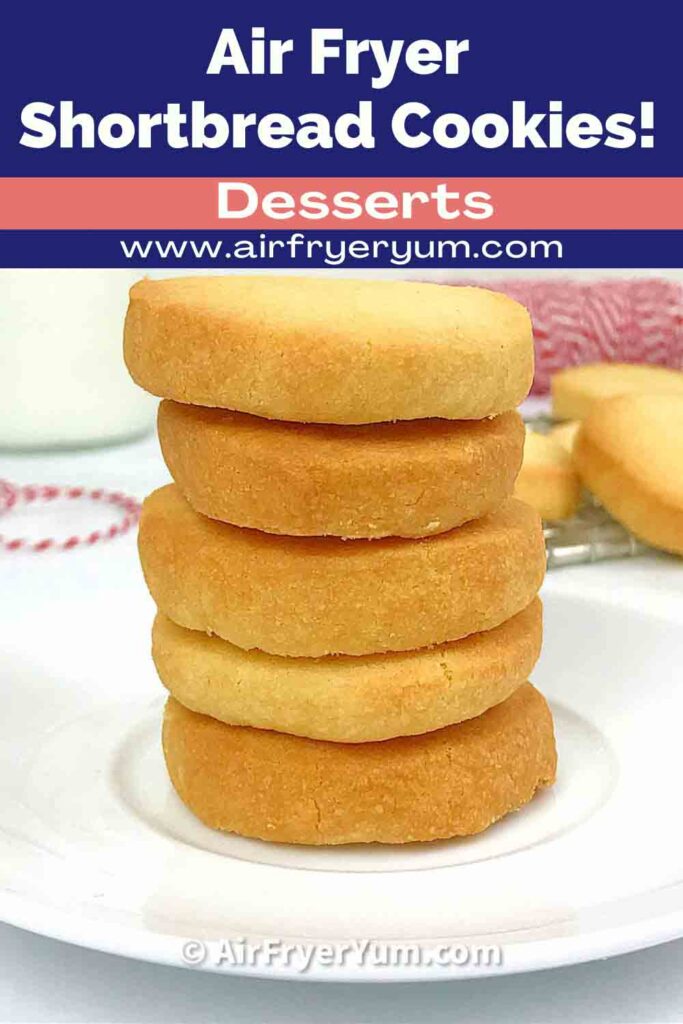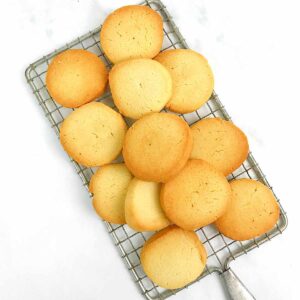 Air fryer Shortbread cookies (3 ingredients only)
These air fryer shortbread cookies is the perfect cookie recipe for all seasons! If you haven't tried baking up a batch of cookies in your air fryer then you are leaving a lot or deliciousness on the table these air fryer cookies are so easy to make. This small batch cookie recipe requires just 3 ingredients!
Ingredients
6

Tablespoons

Butter

¼

cup

powdered sugar

¾

cup + 2 Tablespoons

all purpose flour

(you can use gluten free flour that measures 1:1 with flour)
Instructions
Cream butter and sugar till light and fluffy

Add flour and mix to combine. The dough would be crumbly, do not over mix. Use your hands to bring the dough together to form a ball.

Roll dough into a log. Wrap tightly in cling film and refrigerate for 30 mins or up 2hrs if you are not in a hurry.

When ready to bake, get the dough from the fridge, unwrap the dough and slice into ½ inch round discs

Line air fryer basket with non perforated parchment paper making sure there is atleast 2 inches of room round to ensure proper heat and air circulation. You can read this post on how to put parchment paper in the air fryer.

Transfer cookies to the air fryer basket and bake at 330°F / 166°C for 8 to 10 mins. Let cookies cool slightly in the air fryer for about 5 mins before transferring to a cooling rack with a cookie lifter to cool completely.
How to store
Let cookies cool completely and store in an air tight container for up to 5 days
Notes
Butter should be at room temperature. 
These cookies were made in a non preheated air fryer. Adjust timing if you preheat yours.
You can dip these in melted chocolate for a more decadent treat.
This dough can be made up to 3 days ahead and stored in the refrigerator. it can be frozen for up to a month.
Nutrition
Serving:
3
Cookies
Calories:
282
kcal
Carbohydrates:
28.4
g
Protein:
3
g
Fat:
17.6
g
Saturated Fat:
11
g
Cholesterol:
46
mg
Sodium:
123
mg
Potassium:
34
mg
Fiber:
0.7
g
Sugar:
7.3
g
Calcium:
9
mg
Iron:
1
mg
NUTRITION DISCLAIMER
Nutritional information is an estimate and may change based on products used. Please note that nutritional data on this website should be considered estimates and used as a guide only. Under no circumstances will www.AirFryerYum.com be responsible for any loss or damage resulting from the use of this nutritional information. You are encouraged to use a nutritional calculator with the exact brands you are using to get the most accurate information for each recipe.
Subscribe to my YouTube Channel
Subscribe to Air Fryer Yum on YouTube for more detailed videos! Remember to click the bell icon to get notified when I upload new videos.
Save this Recipe for later!
Follow @AirFryerYum on Pinterest!