Air fryer Strawberry thumbprint cookies are simple classic shortbread jam cookies made in the air fryer. These small batch butter cookies are egg free, easy to make, and requires 3 ingredients for the cookie and an extra ingredient for the filling. These are probably what you already have in your pantry. If you are wondering how to make cookies in the air fryer, read along and find out how. Be sure to check out my air fryer shortbread cookie recipe.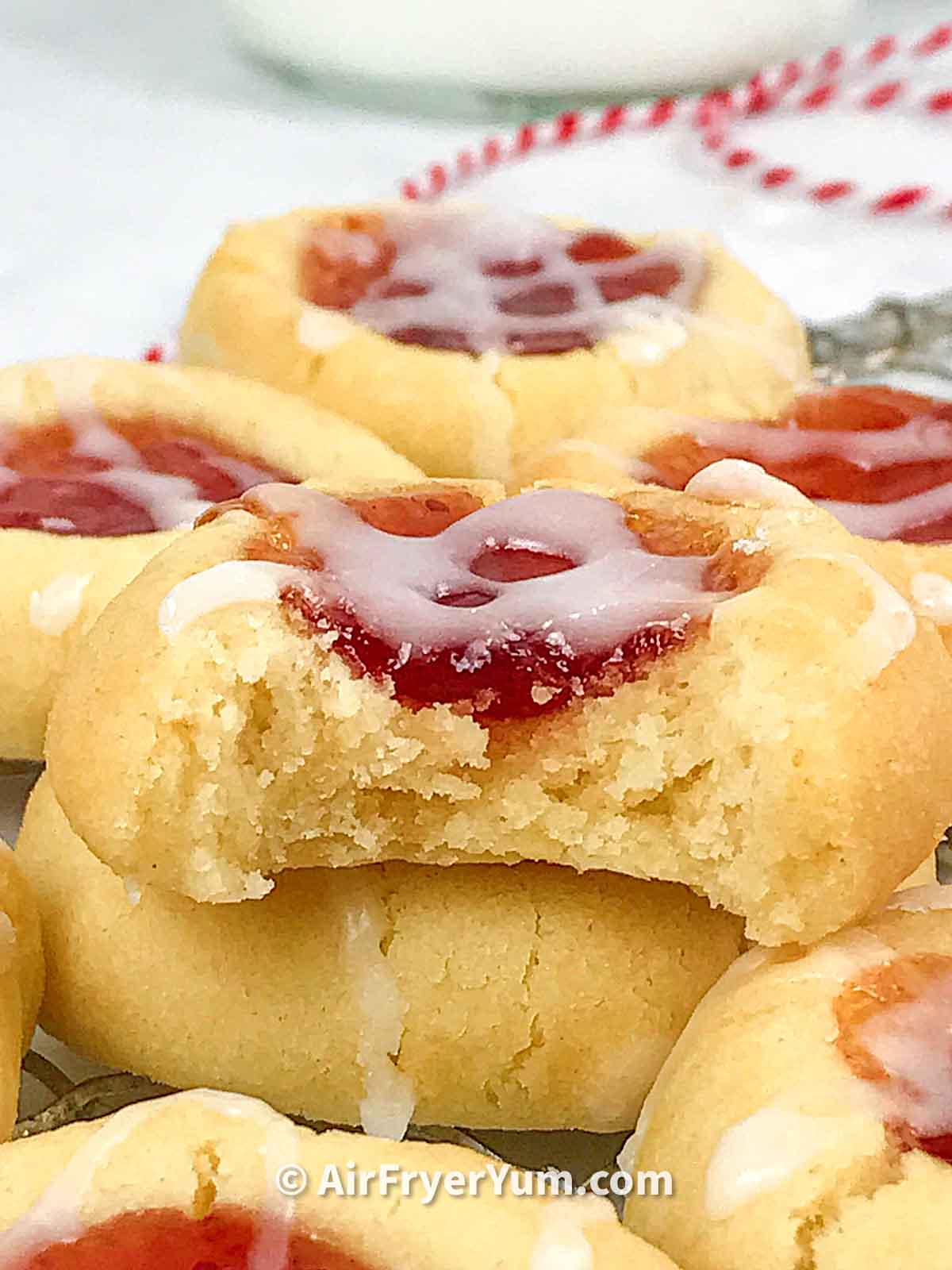 Thumbprint cookies are buttery cookies made with butter, flour, sugar and sometimes vanilla. It is shaped into small balls with a hollow made with the thumb hence the name thumbprints.
This cookie is said to have originated from Sweden where it is called Hallongrotta (raspberry cave) and is usually filled with raspberry jam. It is also known as jam drops in Australia.
Strawberry thumbprint cookies are very popular around Christmas well aren't all shortbread recipes! That is not to say you can't make these whenever you want. Now let me tell you exactly why these are so good.
These are small batch cookies which will help with portion control. You've gotta love these cookies.
Only 4 ingredients which you probably have in your pantry this minute.
These delicious shortbread jam cookies are not only pleasing to the eyes, they equally pleasing to the palate.
They are so easy to make so why not.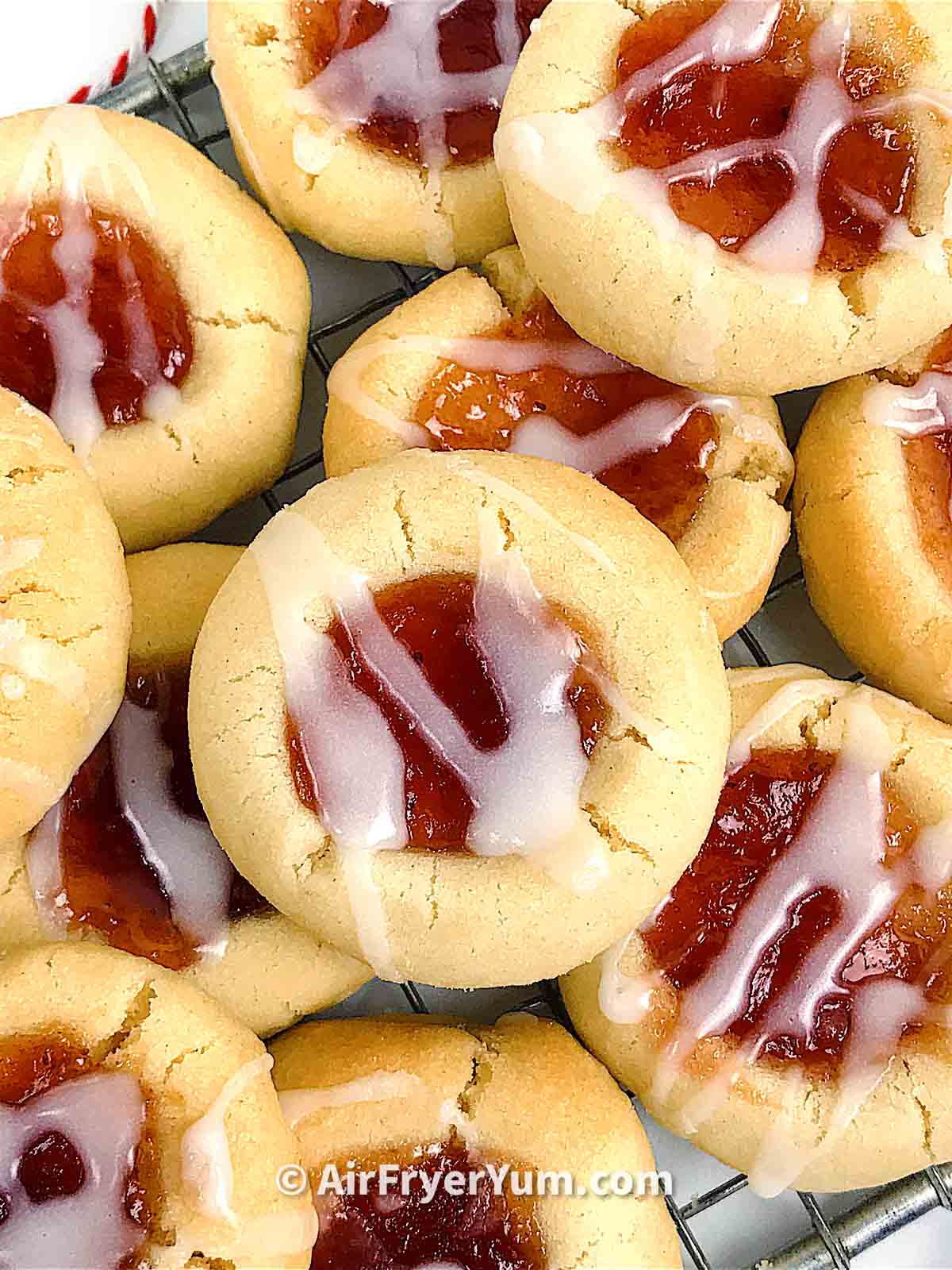 What you'll need, ingredients & tools
Ingredients
Butter: This is essentially a butter cookie, therefore this is a very important ingredient. The good news is you can swap it out for your favorite vegan butter if you are vegan. I love to use salted butter in my baking recipes. If you use unsalted butter, you would need to add some salt to the recipe. The rule of thumb is to add ¼ teaspoon salt per ½ cup unsalted butter.
Sugar: To get the melt in your mouth feel, powdered sugar is what I use and It's soo good. If you don't have powdered sugar at home you can make your own or use regular granulated sugar.
Flour: I use all purpose flour for this recipe. If gluten free, use your favorite gluten free flour that measures 1:1 with flour.
Cornstarch: Also called cornflour in the UK can be added to this recipe. It is said to make it more melt in your mouth. Using powdered sugar does this in my opinion. However if you want to use cornstarch, remove 2 tablespoons of flour from this recipe and replace it with cornstarch.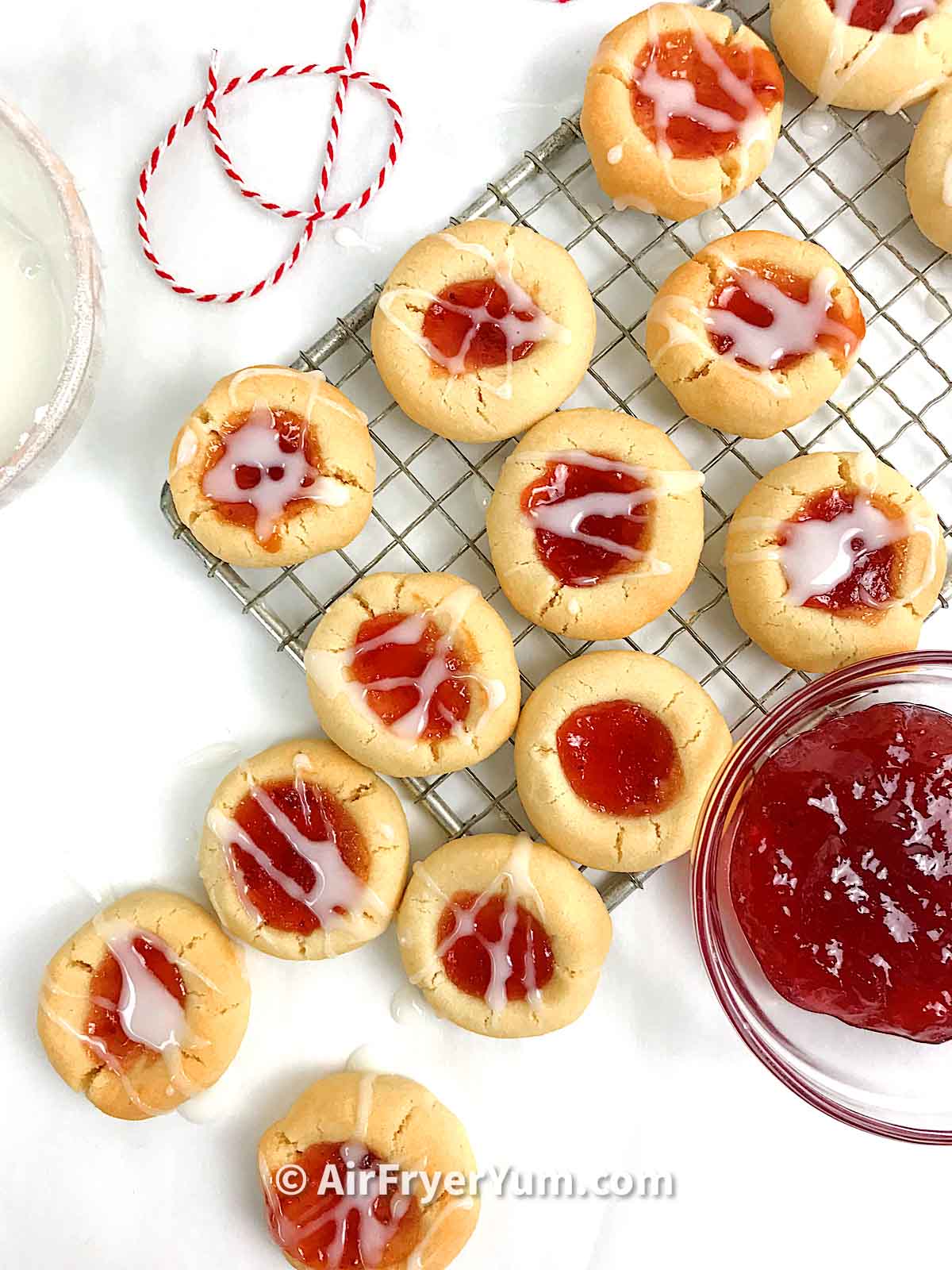 Tools
Now to fun part, let's make some thumbprint cookies. Full recipe and tips are in the printable recipe card at the bottom of this page.
Cream butter and sugar, add flour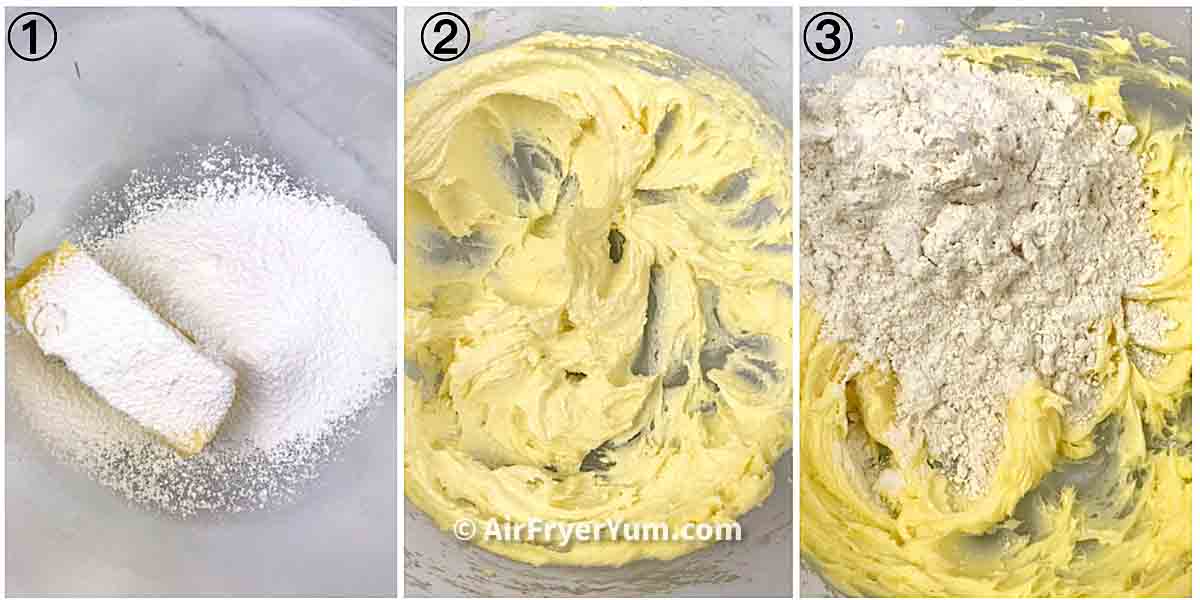 Mix to combine. Use hands to bring dough together to form a ball. Let dough rest in the fridge for 15 mins.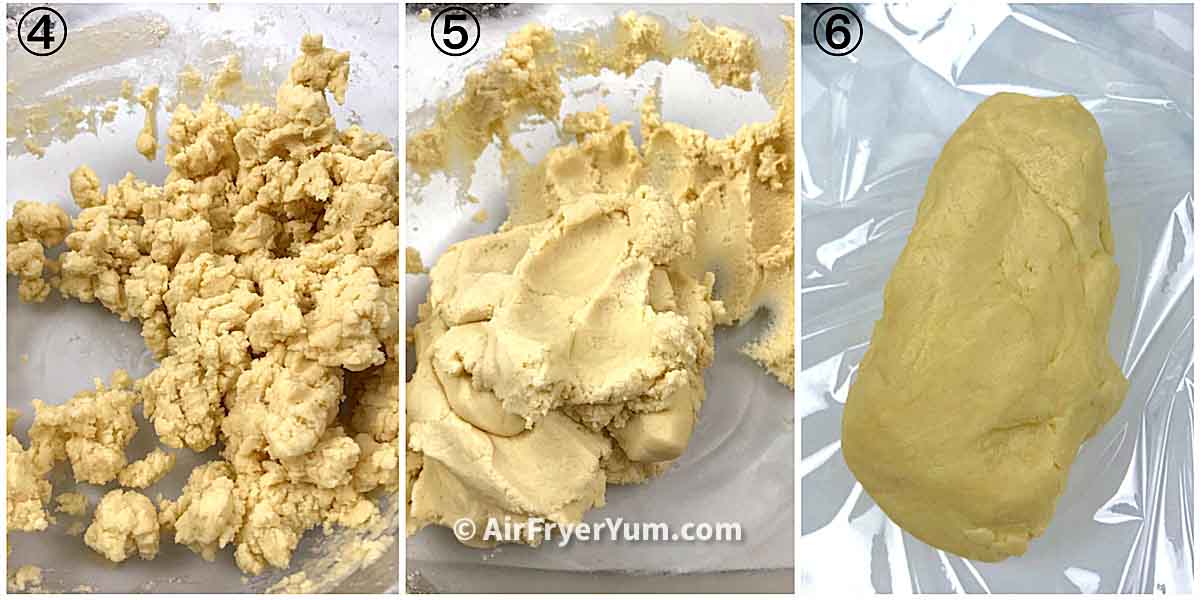 Bring out the dough, form 2 inch balls, make an indentation on each ball with your thumb. Pour ½ teaspoon jam into each indentation or thumbprint.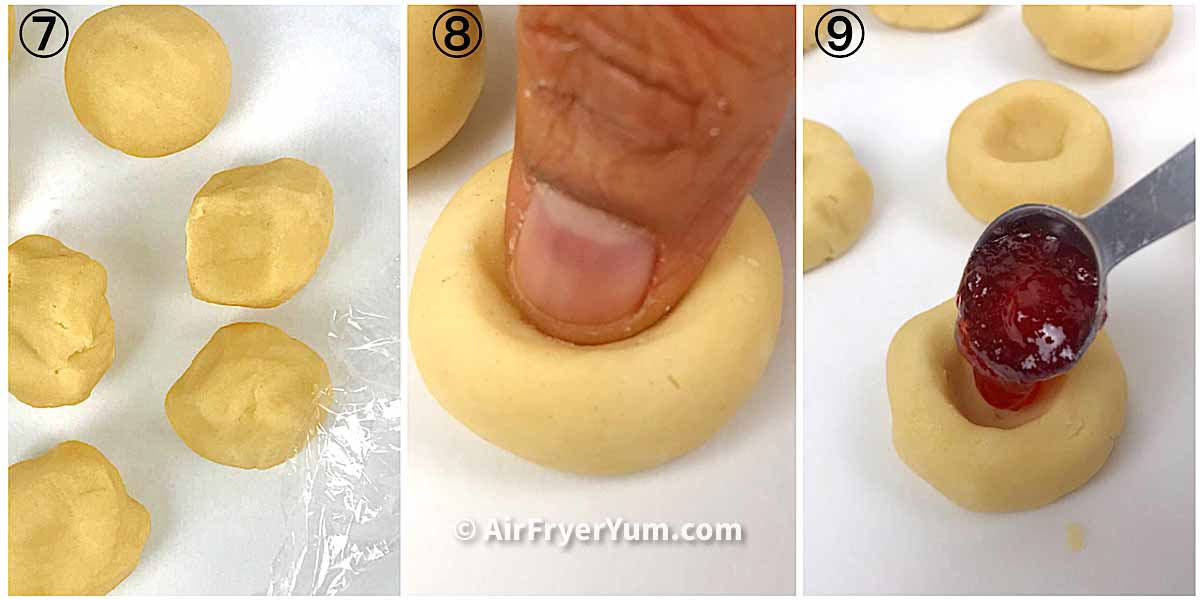 Bake in a parchment paper lined air fryer basket at 330°F / 166°C for 8 - 10 mins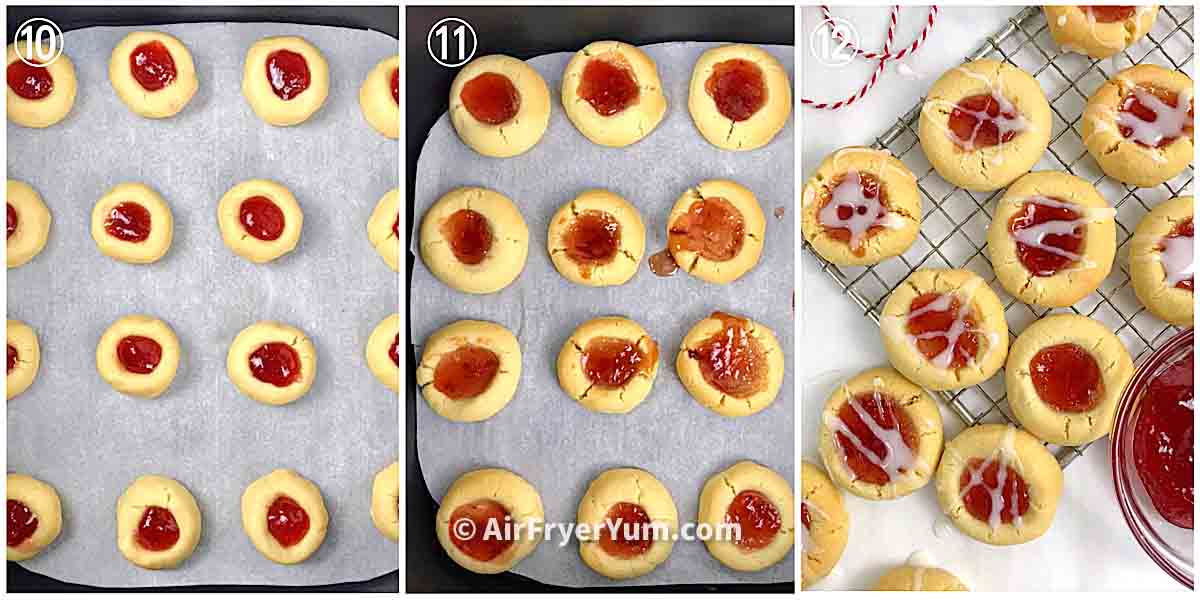 Make it in the oven
Shortbread jam cookies can also made in the oven if you don't have an air fryer just yet. The steps are listed below.
When ready to bake, preheat the oven to 350°F / 177°C and line baking sheet with parchment paper.
Place prepared and filled thumbprint dough in the baking tray and bake for 10-12 mins. Let it cool slightly on the baking sheet before transferring to cooling rack to cook completely.
How to make it vegan
This is already egg free and is one of those recipes that can easily be adapted with a single swap to fit a vegan lifestyle. To make this recipe vegan, swap out the butter to vegan butter and you are good to go.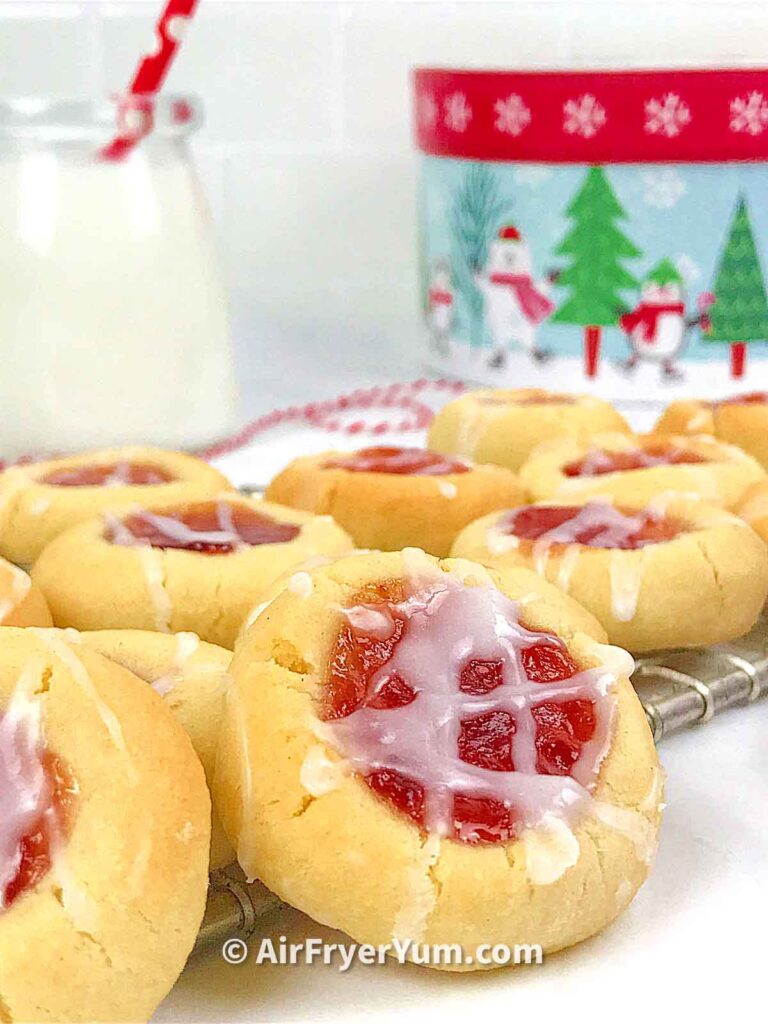 FAQs
Can you fill thumbprint cookies after baking?
Yes you can, especially if you are making them in the air fryer and are worried the jam will fly all over the place. Bear in mind that it won't have that glossy look traditional thumbprint cookies have.
How do I keep my thumbprint cookies from cracking?
Cracked thumbprint cookies still taste delicious. However if you'd rather not have the cracks, keep the dough soft and supple. If making a large batch, keep any dough not in use wrapped in cling film as make the ball and indent the dough.
Can I freeze thumbprint cookies?
These cookies freeze well. To freeze, let cookies cool completely, then store in an air tight container in the freezer for up to two months. To enjoy, let cookies thaw overnight in the refrigerator.
Can I use other types of jam?
Feel free to use any type of jam or preserves you like for your filling. Raspberry jam, Grape jam or any one you like,
Variations
Nutella Thumbprint cookies
thumbprints with kisses
Cream cheese thumbprints
Chocolate thumbprint cookies
Lemon curd thumbprints
Red velvet thumbprint cookies with cream cheese frosting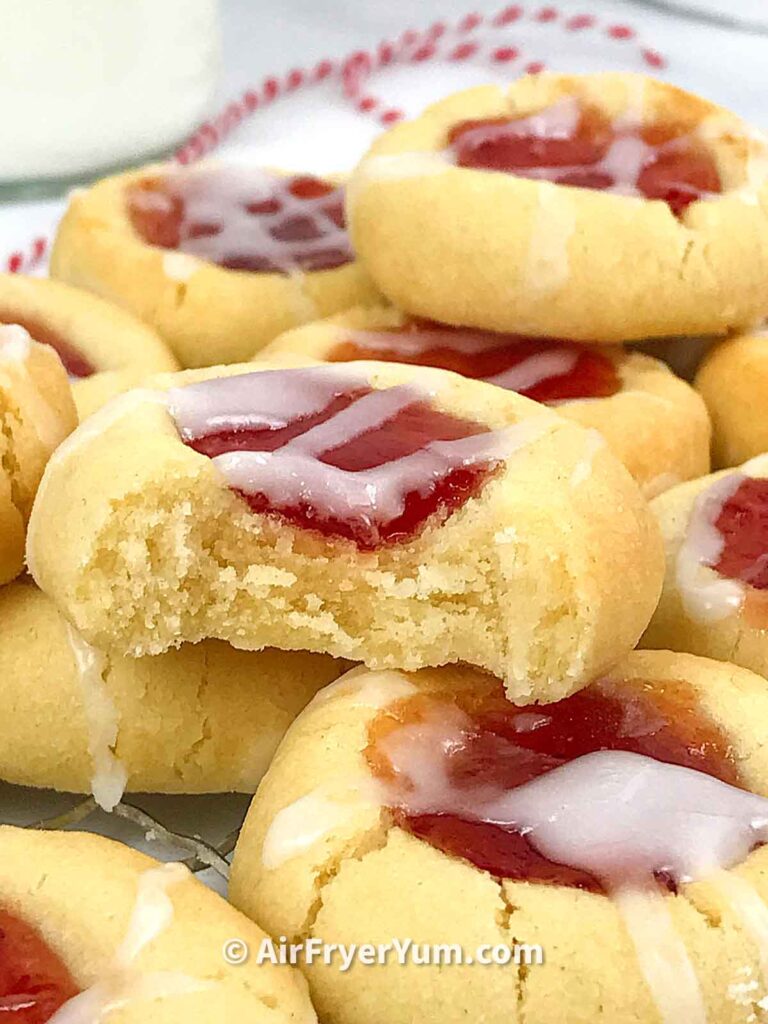 Tips for success
Warming the jam for 5 - 10 seconds in the microwave will make it easier to pour the jam or preserves into the indentation especially if it's coming straight from the refrigerator.
If you are making the cookies on the same day, no need to chill the dough you need it supple to make smooth balls . However if you are making these in the heat of summer, you might need to chill it for about 20 mins.
When rolling the dough between your palms to make the dough balls, try as much as you can to make it smooth this will go a long way to reduce the chances of cracking. However don't worry even if it cracks, it will still taste amazing.
You can roll the balls in granulated sugar or decorative sugar before making the indentation.
Check out all our >>>Air fryer Recipes!
Did you find this recipe helpful? Leave me a comment about it or any recipe idea you would love Air fryer 'yummed' and don't forget to share with family and friends.
Happy Air frying!
---
Looking for more air fryer recipes? Sign up for our yummy emails and follow along on Facebook, Instagram, Pinterest, and Tiktok for updates. Remember to Subscribe to our YouTube Channel for weekly videos.
Loving your air fryer much? Join other Air Fryer Buddies in our exclusive free Easy Air Fryer Recipes Group on Facebook!
New to the world of Air frying? We've got you covered. Check out our helpful>>> Air fryer Resources!
If you love baking, you'd love our beginner's guide to air fryer baking it walks you through how to bake in your air fryer in easy steps and it's free!
Love it? Pin it!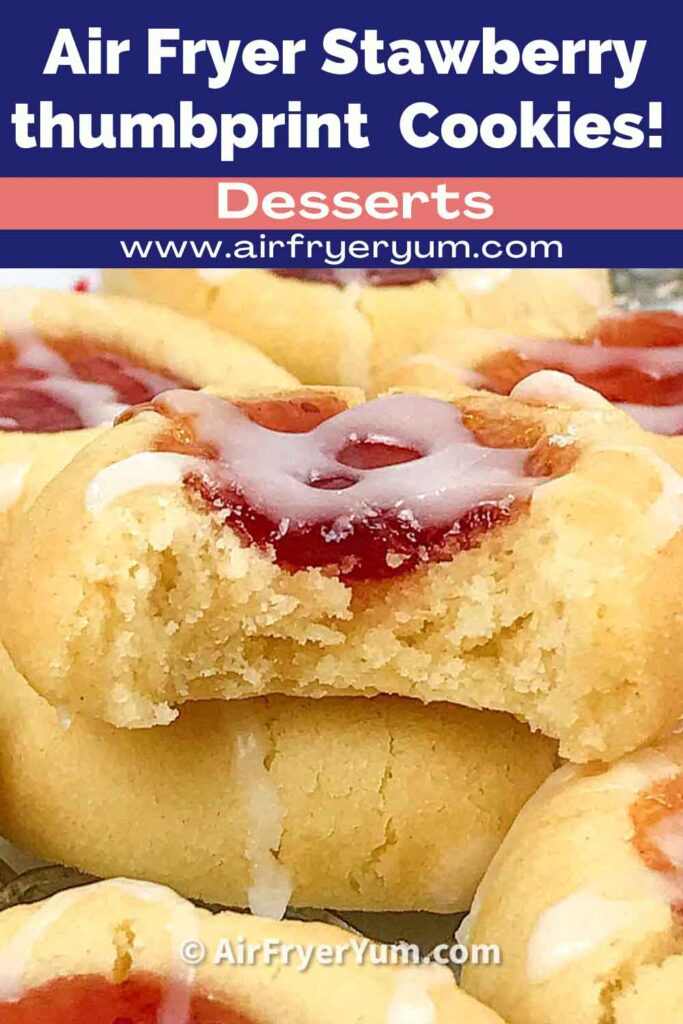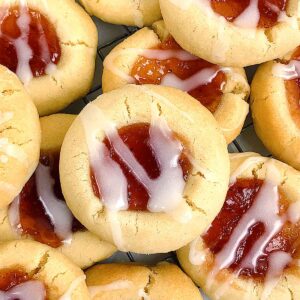 Air fryer Strawberry thumbprint cookies are simple shortbread jam cookies made in the air fryer. They are easy to make, egg free and requires 4 ingredients only.
Ingredients
6

Tablespoons

Butter

¼

cup

powdered sugar

¾

cup + 2 Tablespoons

all purpose flour

(you can use gluten free flour that measures 1:1 with flour)

¼

cup

strawberry jam

(Or any jam of your choice)
For glaze
¼

cup

Confectioners sugar

1 - 2

teaspoon

milk
Instructions
Cream butter and sugar till light and fluffy

Add flour and mix to combine. The dough would be crumbly, do not over mix. Use your hands to bring the dough together to form a ball.

Transfer dough to a cling film wrap. Wrap tightly and let dough rest on the counter for 5 mins. if its a really hot day, chill in the fridge for 10 mins.

When ready to bake, get the dough from the fridge, unwrap the dough divide it into 16 equal parts

Roll each dough into a ball between your palms, make an indentation with your thumb and put some jam in the indentation. Repeat till each dough is filled with jam.

Line air fryer basket with non perforated parchment paper making sure there is atleast 2 inches of room round to ensure proper heat and air circulation. You can read this post on how to put parchment paper in the air fryer.

Transfer cookies to the air fryer basket and bake at 330°F / 166°C for 8 to 10 mins. Let cookies cool slightly in the air fryer for about 5 mins before transferring to a cooling rack with a cookie lifter to cool completely.
How to store
Let cookies cool completely and store in an air tight container for up to 5 days
Notes
Butter should be at room temperature 
These cookies were made in a non preheated air fryer. Adjust timing if you preheat yours.
You can skip the glaze and dust with powdered sugar 
Be sure to read body of the post for more detailed tips.
The number of cookies may vary depending on the size of your round dough. This batch can make 12 to 16 cookies. 
Nutrition
Serving:
4
Cookies
Calories:
282
kcal
Carbohydrates:
28.4
g
Protein:
3
g
Fat:
17.6
g
Saturated Fat:
11
g
Cholesterol:
46
mg
Sodium:
123
mg
Potassium:
34
mg
Fiber:
0.7
g
Sugar:
7.3
g
Calcium:
9
mg
Iron:
1
mg
Nutrition Disclaimer
Nutritional information is an estimate and may change based on products used. Please read our Nutrition disclaimer page.
Subscribe to my YouTube Channel
Subscribe to Air Fryer Yum on YouTube for more detailed videos! Remember to click the bell icon to get notified when I upload new videos.
Save this Recipe for later!
Follow @AirFryerYum on Pinterest!