Can you put Parchment paper in an air fryer? This is one question I see very often asked in various platforms. This guide will not only answer that question but will also share tips on how to use it effectively.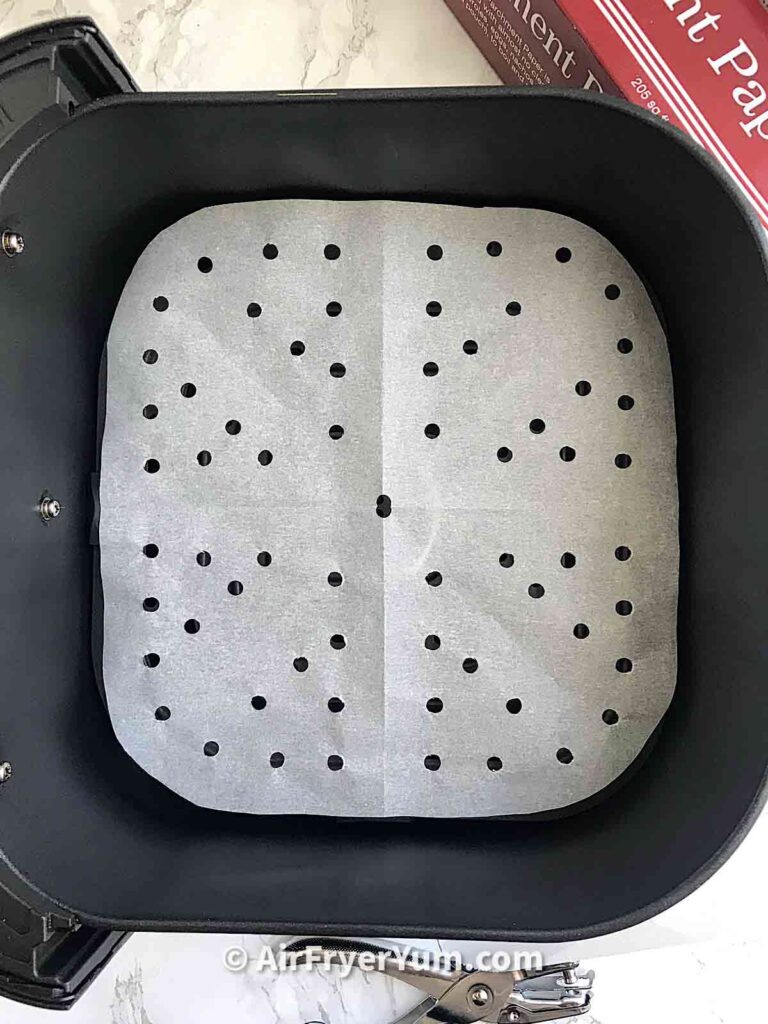 Parchment Paper in an Air Fryer
With the increasing popularity of air fryers popularly known as the Adult oven, many questions have been asked as to how use it effectively.
Air fryer yum creates yummy air fryer recipes and air fryer resources for the beginner and advanced air fryer user.
The questions 'Can you use Parchment Paper in the air fryer' and 'Can you use foil in the Air fryer' are popular questions that come up in most Air fryer recipe groups, therefore I decided it was time to write about it.
---
---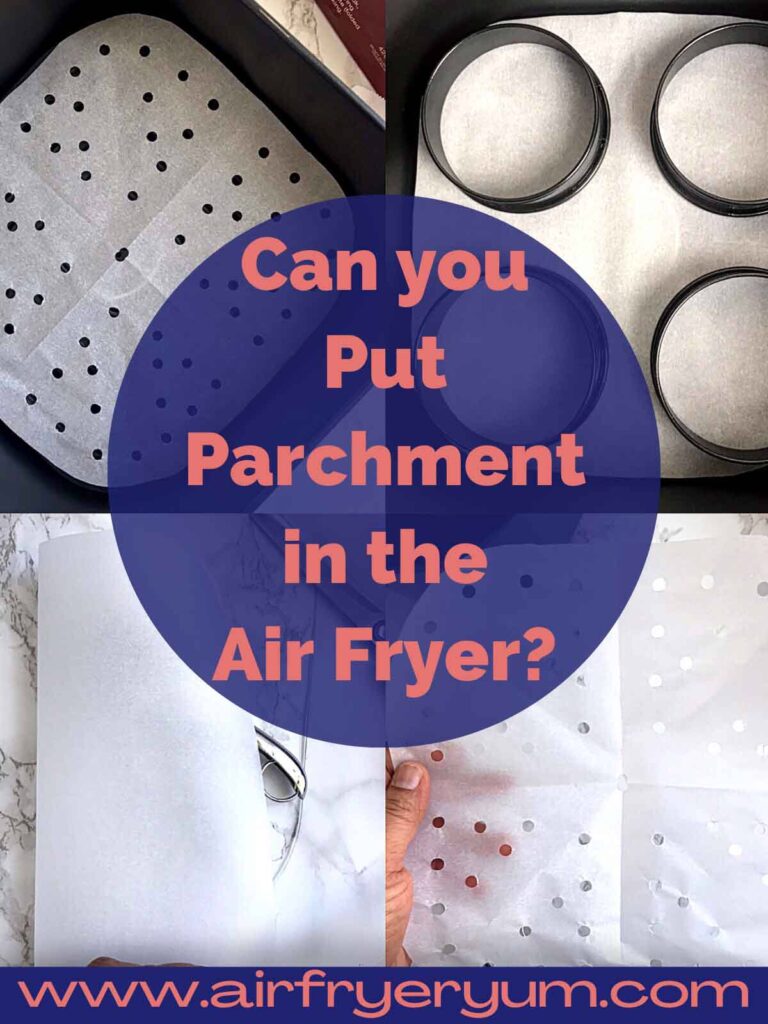 Best Parchment Paper for your Air fryer
A good quality parchment paper is best for your air fryer especially if you intend to make your own perforated parchment paper. A parchment paper or baking paper that is heat safe up to 425°F/ 218°C in a great choice cos most air fryers have the maximum temperature at 400 F.
If you don't want to make yours, you can buy the already perforated ones off Amazon, Walmart or Target online or in store.
If the store bought perforated parchment is not available on your area, you can also buy pre-cut parchment papers online or in bakery supply stores and punch holes in the baking paper using a puncher.
Be sure to measure your air fryer basket so you can buy the right size. You can buy baking paper with exact dimensions or go an inch lower.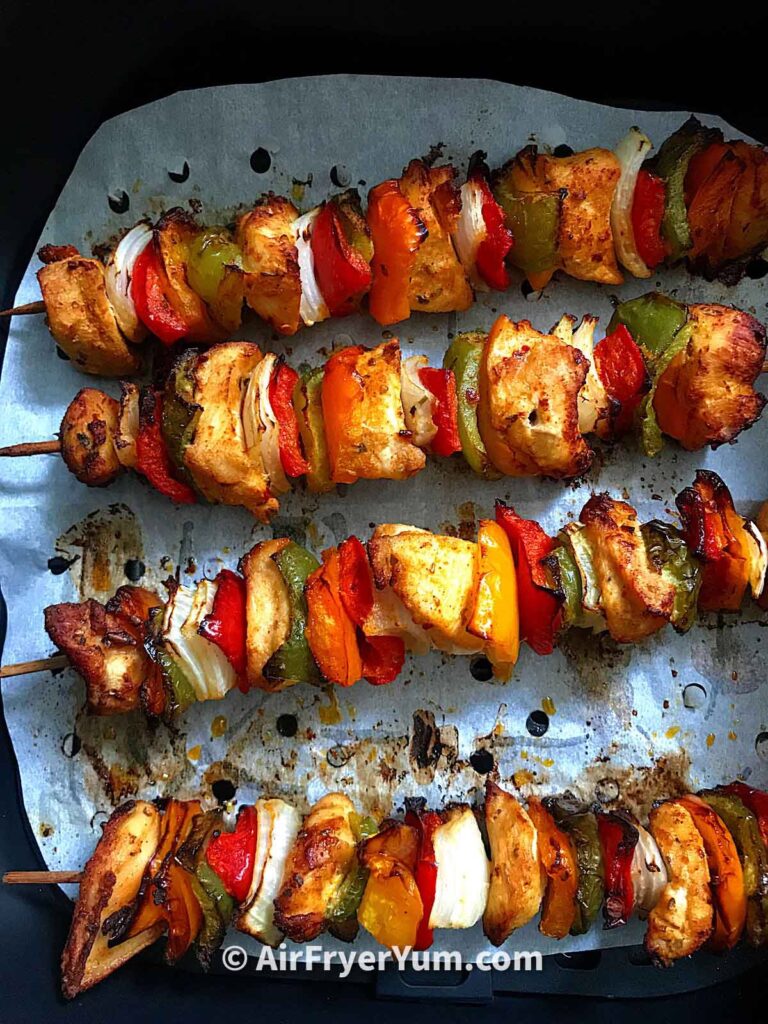 How to use Parchment Paper in the Air fryer.
You might be wondering what part of the air fryer to put the parchment paper is. The parchment paper is placed in the air fryer basket. The following steps will help you use your parchment paper effectively in your air fryer.
Read your Air fryer manual: Reading your instructions manual is very important as air fryers have different models and are made by different manufacturers. This will help you identify the parts of your air fryer helps you understand your own air fryer better and know what is right for your own specific gadge.
Use Perforated Parchment paper in your air fryer: Those holes help with air circulation. I have a few exceptions to that rule. I don't use perforated parchment paper when making Air fryer pancakes from scratch.
Place the parchment at the bottom of air fryer basket not beneath it.
DO NOT Preheat the air fryer with the parchment paper in it: Do not use the Parchment paper when preheating your air fryer. The air fryer has a powerful fan that forces air and heat around while cooking. The Parchment paper is light weight and will fly around in the air fryer and might get caught in the heating element and cause a fire
Weigh it down: NEVER use Parchment paper without food on it.
Quality over Quantity: Use Good Quality Parchment Paper in your air fryer. Even if you are making your own perforated parchment paper, start with a good quality roll of Parchment Paper. Most Air fryers have a maximum heat of 400°F / 204°C make sure the parchment your are using can be used in that temperature. Also try to use FDA approved Parchment liners.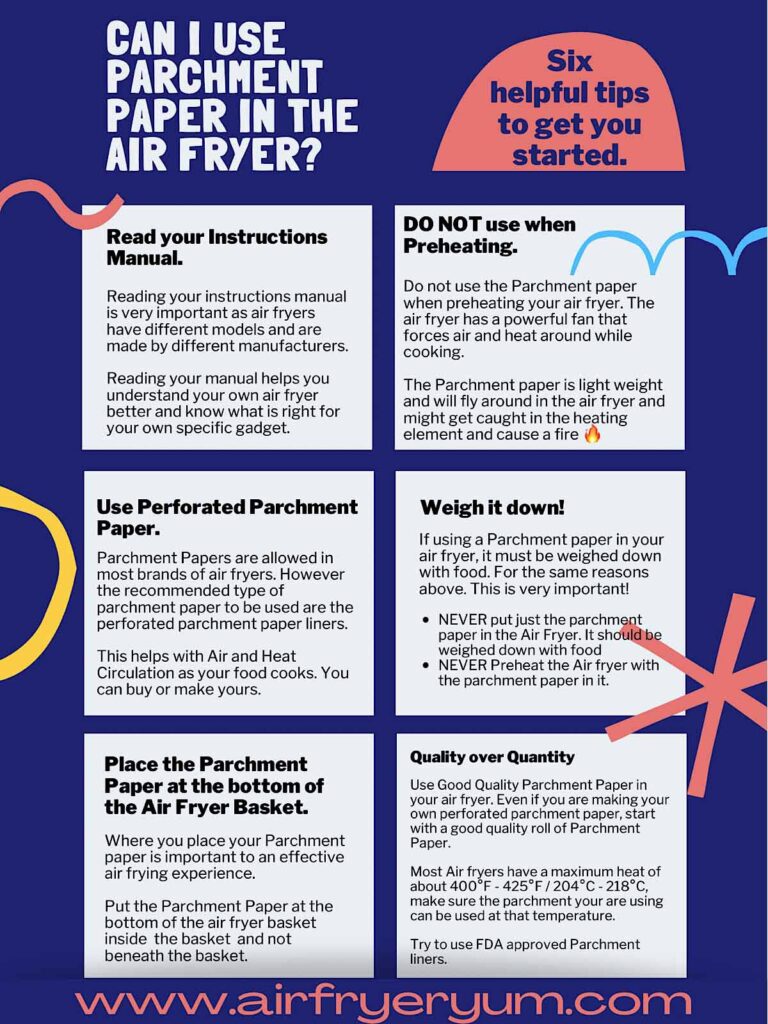 Why You should be using Parchment paper in the Air fryer.
The use of parchment paper in the air fryer is not mandatory. However you might consider using it for the following reasons.
Easy Clean up: It makes it easier to clean up the air fryer basket after cooking when you use parchment paper in it. It may not catch all the grease of food dropping because of the holes, however it will catch most of it.
To prolong the life span of your air fryer basket. Using Parchment paper reduces the need to scrub vigorously when cleaning the air fryer since it will catch most of the drippings that might stick to the basket while cooking. With a parchment paper all you need is light scrubbing.
Prevents food from sticking: Though most air fryer baskets are non stick, sometimes some food will stick because of wear and tear or just because. Using Parchment will prevent sticking
Keeps good from tearing when you need to flip it over.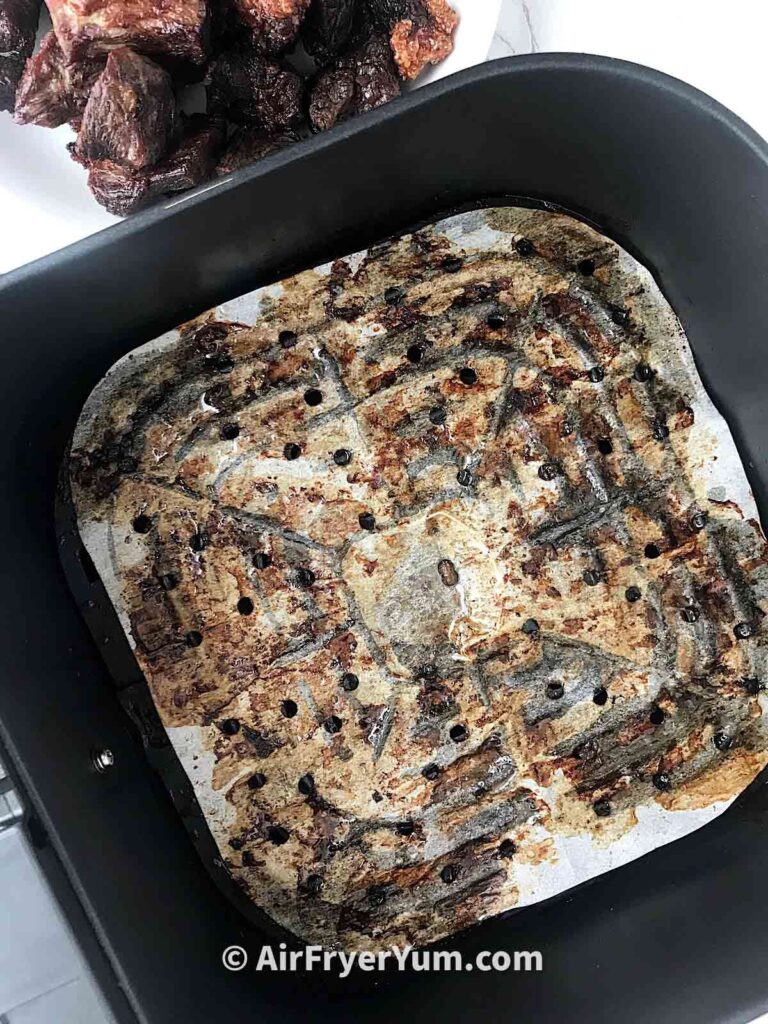 What is Baking Paper? Is it the same as Parchment Paper?
If you are wondering what baking paper is and if it's the same as parchment paper, then you are in the right place.
Baking Paper and Parchment Paper are one and the same thing. It's called Baking Paper in some parts of Europe and in Australia while it's called Parchment paper in the US.
Baking paper / Parchment paper is a grease proof, heat resistant paper that has a non stick surface. It is used in baking and cooking. Just in case you were also wondering, yes you can use baking paper in the air fryer. Buy some online or buy parchment paper and a hole puncher and make yours.
Your Other Air Fryer Questions answered.
Can you put Aluminum Foil in the Air fryer?
Is it safe to use wax paper in the Air fryer?
More Air fryer Resources
Some Air fryer Recipes for Beginners.
Hope you found this guide helpful! If you did, please share with your family and friends and in your favorite Facebook group.
Happy Air frying!