Air fryer steak fries is like a walk in the park! Whether you are making steak fries in the air from fresh or frozen you will enjoy the crispy edges and fluffy interior that comes with well cooked and seasoned fries. I love how easily adaptable steak fries are you can make them with just salt or switch it up with your favorite seasoning blend.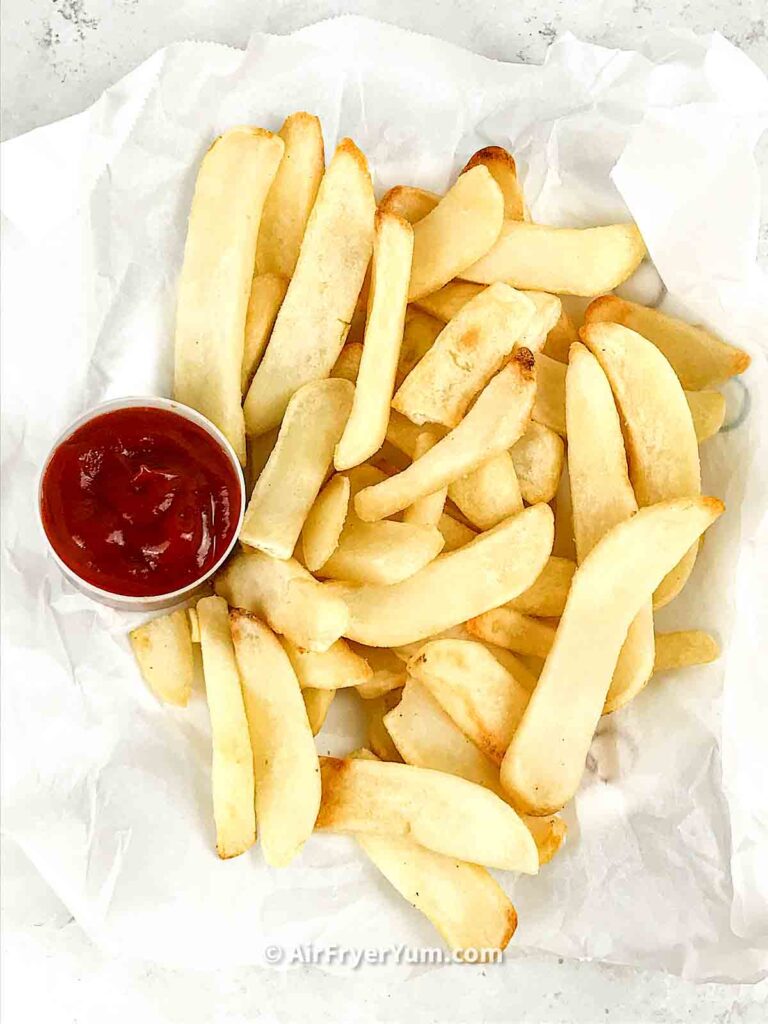 Crispy Air fryer steak fries recipe.
If you haven't tried making fries in the air fryer I would suggest you get comfortably seated before trying this air fried steak fries cos you will be literally blown away at how good it is.
My air fryer never disappoints. From making chicken to frozen foods to reheating and making easy appetizers, it's always my go to appliance. Prior to my air frying life, I used my oven a lot so transitioning to the air fryer wasn't an issue.
---
---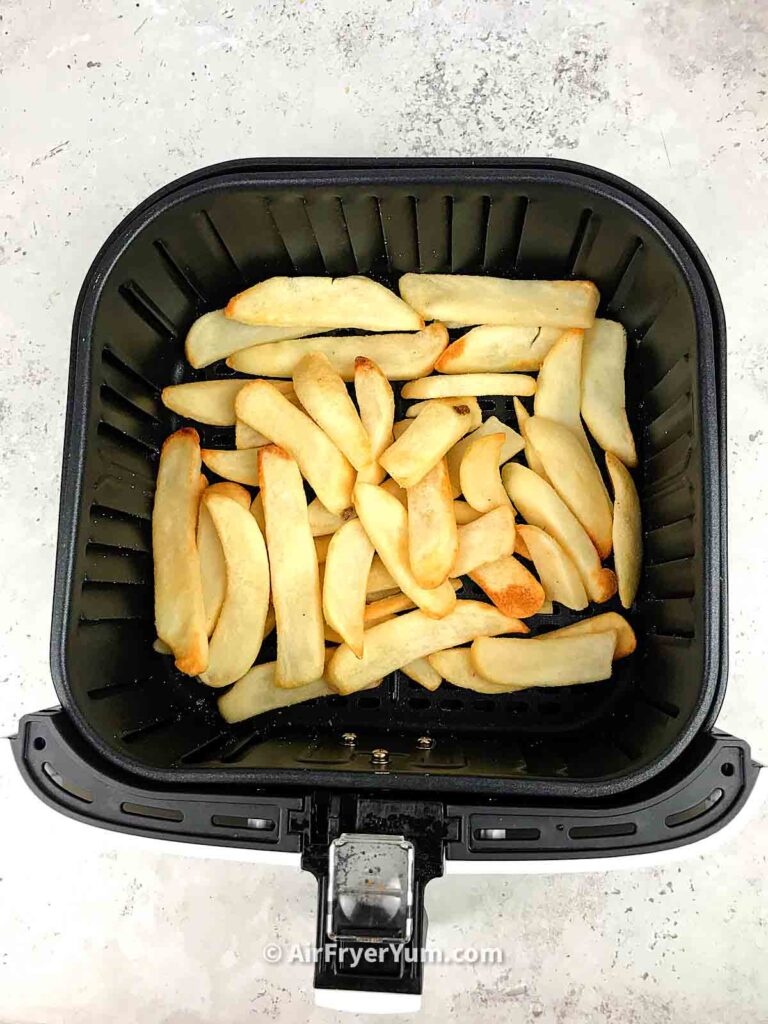 Why Air fry Steak fries?
Short answer because it's so good! Now let's get into the long answers. Trust me, when you try this you are not looking back. So why is this so good!
Easy: Whether you are cooking from scratch or from frozen, the air fryer makes it super easy to enjoy steak fries.
Healthy: Enjoying fries almost guilt free is what I believe most people would love. With the air fryer, you need less oil to achieve the deep fried taste.
Red Robin lovers: If you love Red Robin steak fries, then you'd love these tasty air fryer steak fries.
---
---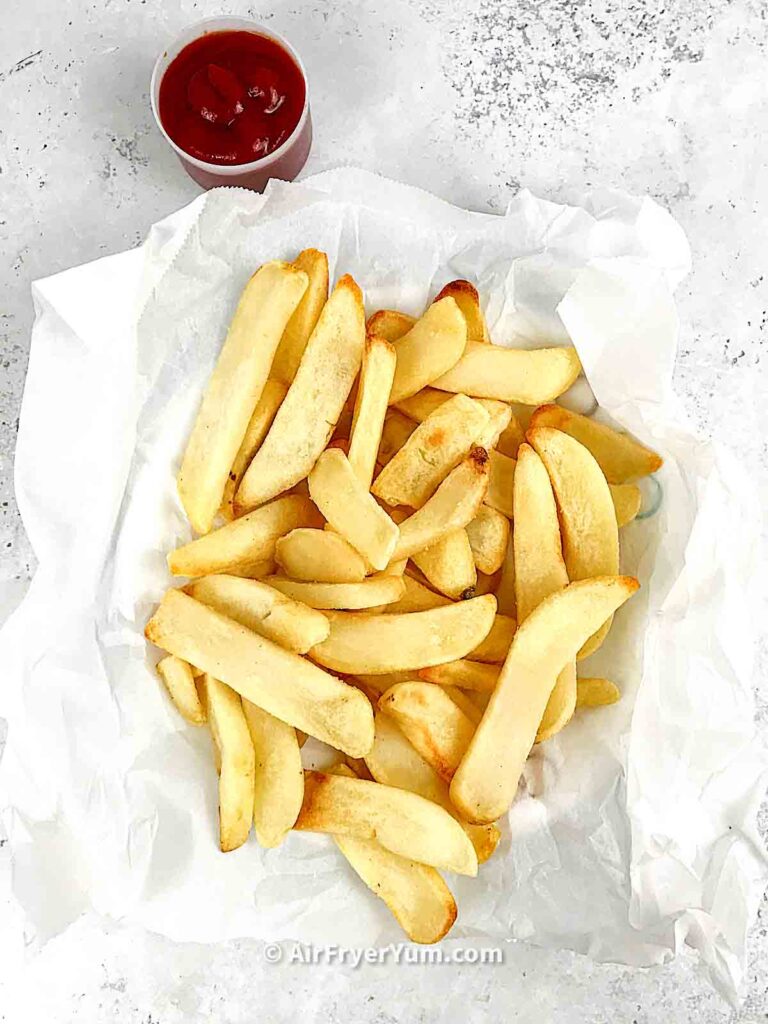 What ingredients do you need to make air fryer steak fries
Potatoes: If you are making steak fries from scratch you'd need potatoes like Russets, Yukon gold or Idaho potatoes. When making from frozen you would need a bag of your favorite brand of frozen steak fries.
Salt: Some brands of frozen fries come well salted and some others come lightly salted. The Ore ida brand comes salted while the Murray foods brand come lightly salted. Therefore you'll need some extra salt depending on the brand.
Oil: Like salt, some brands need oil and others don't. The Oneida brand doesn't need oil however the Murray brand needs a spritz of oil.
Seasoning: You can season fries with your favorite seasoning blend like Cajun, Old bay etc. You can also keep simply simple with salt and garlic or just salt.
How to make Frozen steak fries in air fryer
Lightly spray air fryer basket. Transfer frozen fries to air fryer basket. No need to thaw. Set temperature to 400°F / 200°C for 15 - 18 mins.
Be sure to shake the basket half way through cooking time.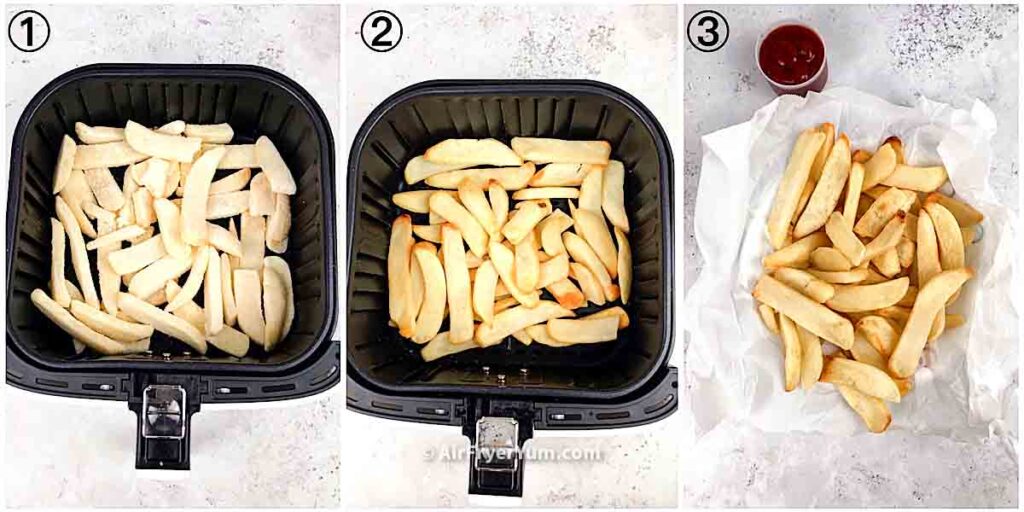 Making steak fries from scratch in the air fryer
Wash and peel the potatoes, soak in lightly salted water for 30 mins. After 30 mins drain and rinse the steak potatoes.
Pat the potatoes dry then drizzle oil and add a dash of salt toss and air fryer at 400°F / 200°C for 20 to 22 mins. Shake the basket half way through cook time.
How long do you cook frozen steak fries in the air fryer?
This will depend on size of cuts and hot crispy you like your fries. Frozen steak fries cook in the air fryer for 15 to 18 mins at a temperature of 400°F / 200°C.
From scratch Steak fries will cook for longer at the same temperature. Usually anywhere from 20 to 22 mins.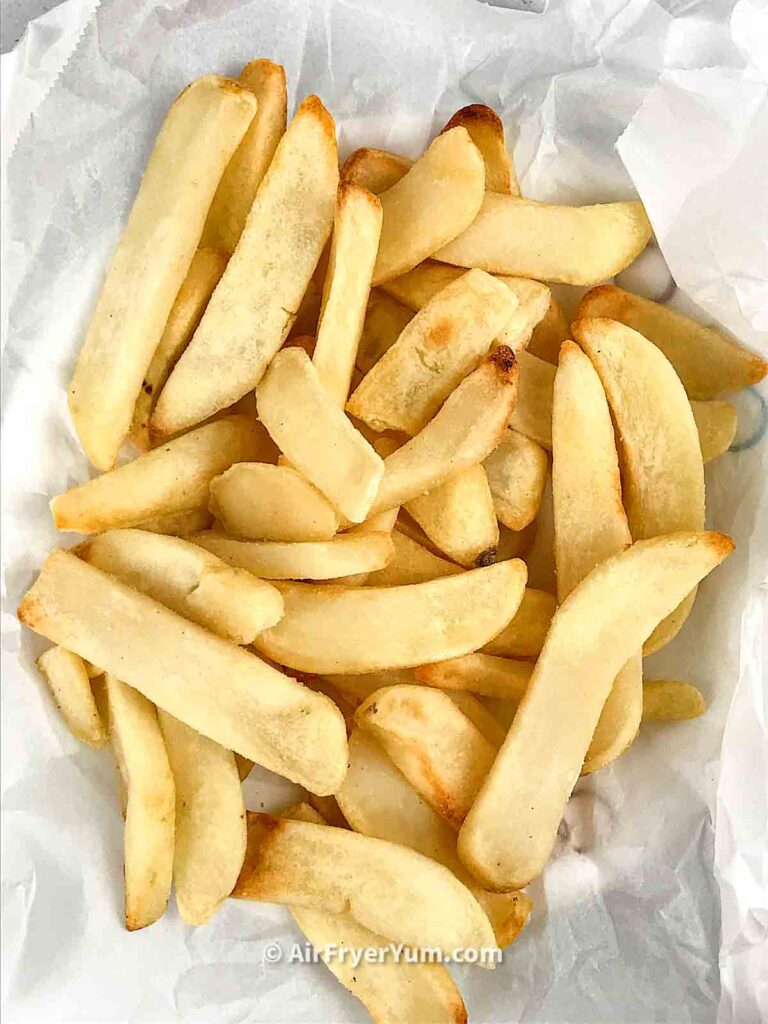 What to serve with steak fries
Steak fries can be served on its own with your favorite dipping sauce like Ketchup, Barbecue sauce, Fry sauce etc.
They can also be served as a side to burgers, meatballs, and chicken recipes. Steak fries make a good base got loaded pub fries.
Tips for success
Some brands of fries have more salt and oil than others, therefore the addition of these ingredients will vary by brand.
Steak fries are similar to potato wedges, because of their sizes and the way they are cut, they won't get all crispy like French fries would. Bear that in mind as you make these. They will have slightly crispy edges with fluffy interior.
You can determine how crispy Golden you want your steak fries to be by adjusting the timing. However I recommend a minimum of 15 mins for frozen fries and 20 mins for steak fries that are made from scratch.
If making from scratch, try to cut the fries evenly so they can cook evenly.
FAQs
---
Why are my air fryer fries not crispy?
Steak fries are not likely to get as crispy as French fries because of the size of the cut. However a little spritz of oil and cooking for longer may get it more crispy. Soaking steak fries when cooking them from scratch can also help.
---
Are steak fries in the Air fryer good?
Yes it is. The air fryer makes the best fries. You should try it.
---
More Air fryer Fries
Check out all our >>>Air fryer Recipes!
Did you find this recipe helpful? Leave me a comment about it or any recipe idea you would love Air fryer 'yummed' and don't forget to share with family and friends.
Happy Air frying!
Love it? Pin it!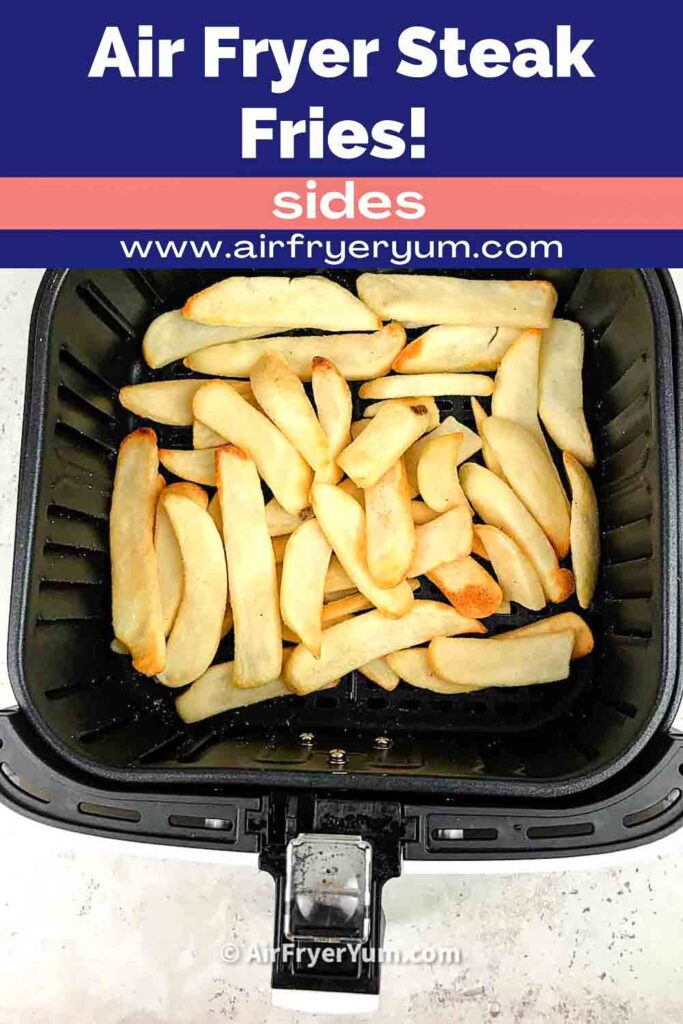 Looking for more air fryer recipes? Sign up for our yummy newsletter and Follow along on Facebook, Instagram, Pinterest and Tiktok for updates. Remember to Subscribe to my YouTube Channel for weekly videos.
Loving your air fryer much? Join other Air Fryer Buddies in our exclusive free Easy Air Fryer Recipes Group on Facebook!
New to the world of Air frying? We've got you covered. Check out our helpful >>> Air fryer Resources!
Shop all air fryers and air fryer accessories at our Amazon store.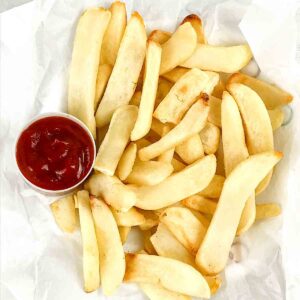 Air Fryer Steak Fries recipe (fresh or frozen)
Air fryer steak fries is like a walk in the park! Whether you are making steak fries in the air from fresh or frozen you will enjoy the crispy edges and fluffy interior that comes with well cooked and seasoned fries.
Equipment
Cosori air fryer 5.8 qt

Oil spray (optional)
Ingredients
Steak fries from scratch
4

Russet

Potatoes

½

teaspoon

Salt

2

Tablespoons

olive oil

¼

cup

Ketchup or Fry sauce
Instructions
For Frozen steak fries
Place fries in Air fryer basket

Set temperature to 400°F / 200°C and timer to Air fry for 15 to 18 mins. Shake basket to flip potatoes half way through cooking time to ensure even cooking.
Making it from scratch
Serve with dipping sauce of choice

Wash peel and cut potatoes. Transfer to a bowl of water add salt and let it soak for 30 mins to remove some starch. This will help with getting it crispy.

After 30 mins, rinse and drain potatoes, pat dry with paper towel.

Toss in olive oil and air fry at 400°F / 200°C for 20 to 22 mins. Remember to shake basket half way through cooking time.
Notes
Air fryers vary in heat level be sure to check your fries often if you are your gadget for the first time.
Do not overcrowd the basket
The cooking time will depend the size and thickness of the steak fries. It will also depend on the quantity of fries in that basket.
From scratch fries take longer to cook.
Nutrition
Calories:
277
kcal
Carbohydrates:
39.7
g
Protein:
4.3
g
Fat:
11.5
g
Saturated Fat:
2
g
Sodium:
432
mg
Potassium:
681
mg
Fiber:
4.1
g
Sugar:
4.4
g
Calcium:
17
mg
Iron:
2
mg
NUTRITION DISCLAIMER
Nutritional information is an estimate and may change based on products used. Please note that nutritional data on this website should be considered estimates and used as a guide only. Under no circumstances will www.AirFryerYum.com be responsible for any loss or damage resulting from the use of this nutritional information. You are encouraged to use a nutritional calculator with the exact brands you are using to get the most accurate information for each recipe.
Subscribe to my YouTube Channel
Subscribe to Air Fryer Yum on YouTube for more detailed videos! Remember to click the bell icon to get notified when I upload new videos.
Save this Recipe for later!
Follow @AirFryerYum on Pinterest!