Love seasoned fries? These old bay seasoned Air fryer butternut squash fries or chips will be your next keto and low carb friendly recipe try.
In a few minutes, you can get this easy vegan/vegetarian side dish ready for dinner. My favorite dipping sauce for this recipe is fry sauce or ketchup would love to hear yours. Now let's me show how to make the best crispy butternut squash fries in easy steps and with helpful tips.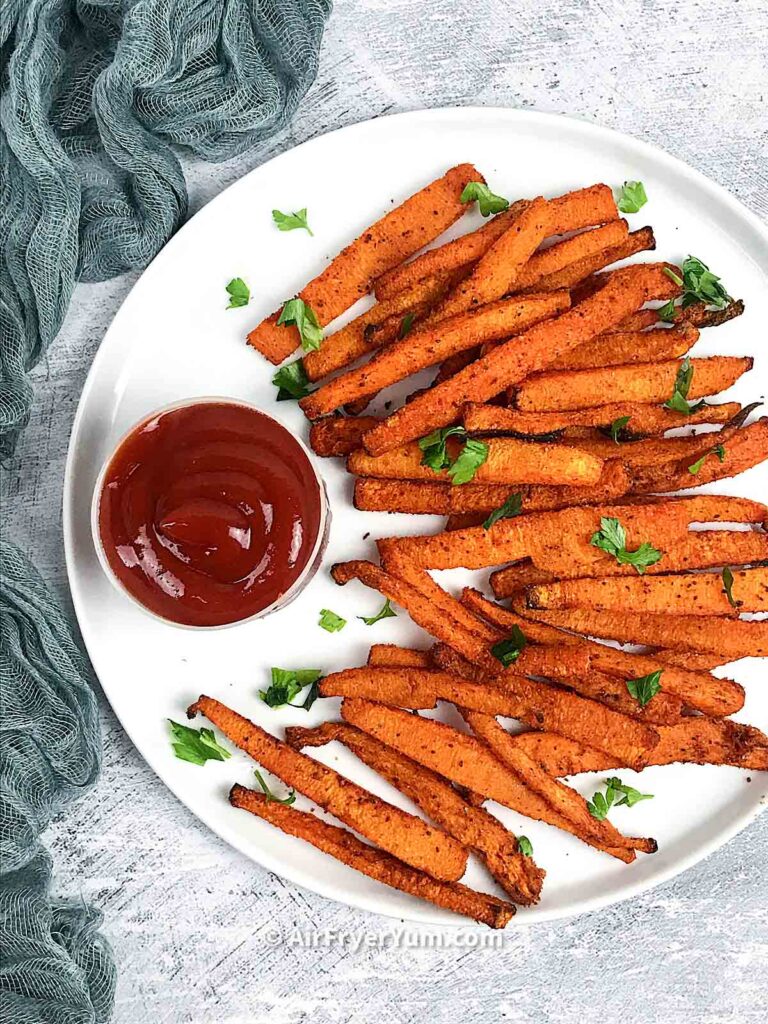 Air fryer butternut squash fries recipe.
Hey veggie lover, these are definitely up your alley. Gone are the days when the oven was the only way to make crispy roasted butternut fries. The air fryer does an even more amazing job for this recipe.
I love the health benefits that come with including veggies in our diet and having a variety of options to enjoy them is always welcome.
---
---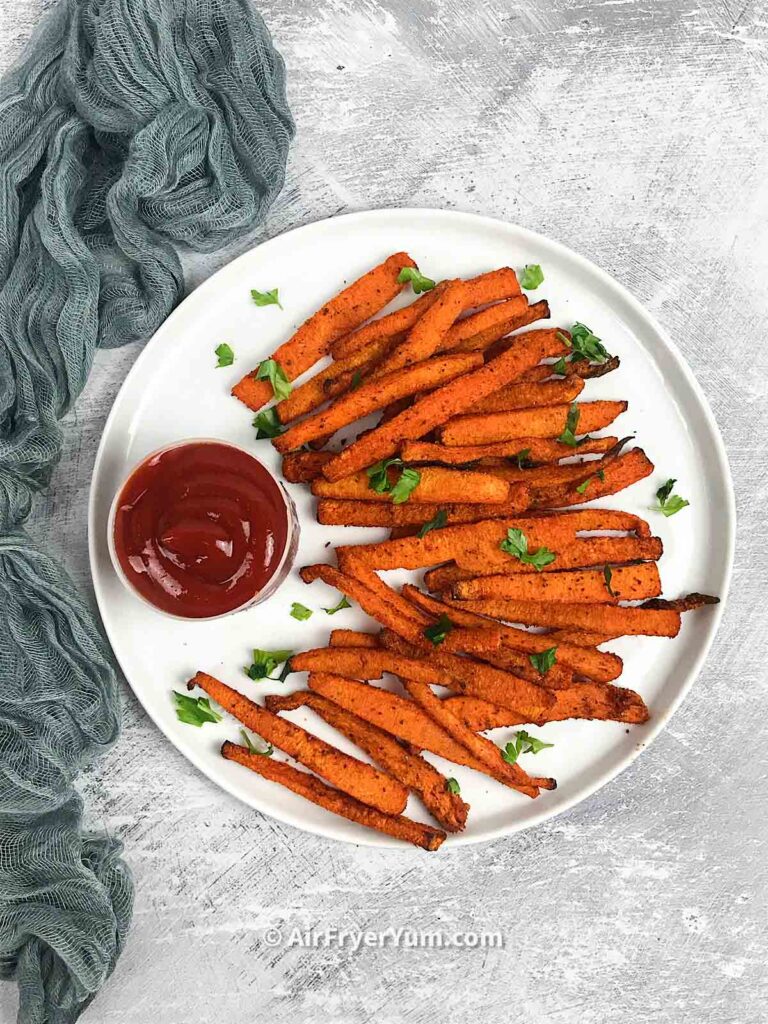 Why this recipe works
My favorite recipes are always easy to make and with minimal ingredients. This air fryer veggie recipe has those qualities and more. Whether you are baking it whole to use for soup or dicing into cubes for thanksgiving dinner butternut squash always delivers. Below are a few reasons why this recipe works and why I think you'd love it.
Easy: This recipe is easy to make. In fact super easy
Accessible ingredients: all you need are two ingredients, butternut squash and old bay seasoning. Even if you don't have this seasoning, you can use just garlic and salt.
Family friendly: This is a great side dish or snack for the whole family
Ingredients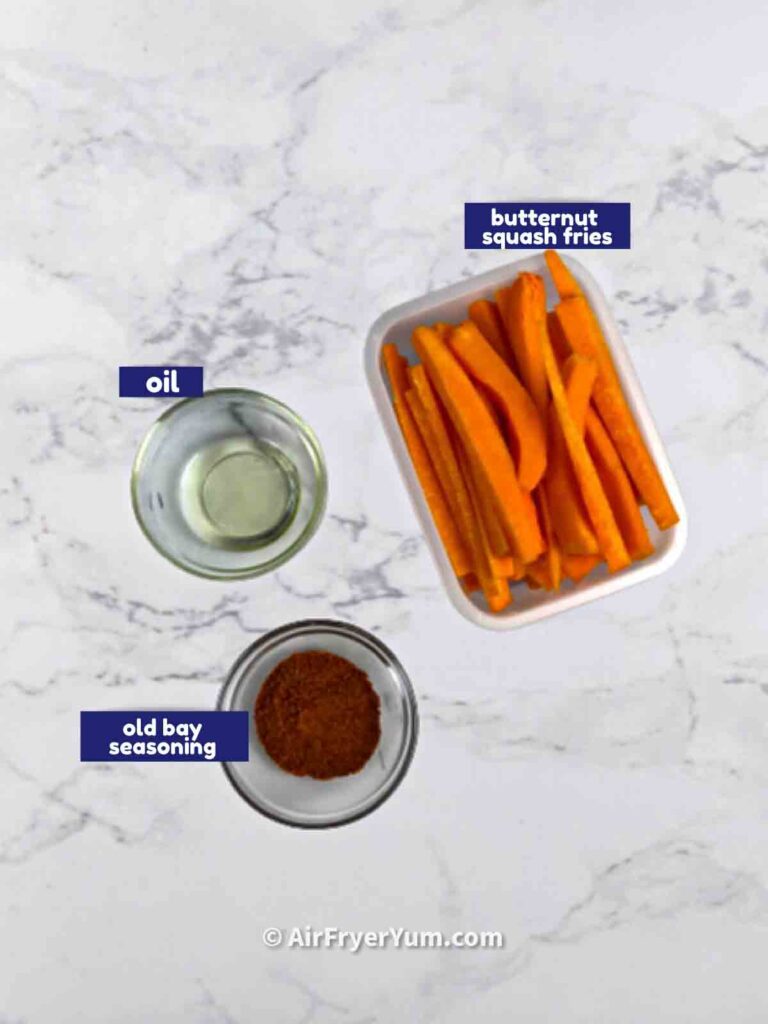 How to make air fryer baked butternut squash fries
This is an overview of the recipe. Full recipe Instructions can be found in the printable recipe card below.
Wash and dry the whole winter squash, cut the squash into fries more details below. Toss in oil and old bay seasoning.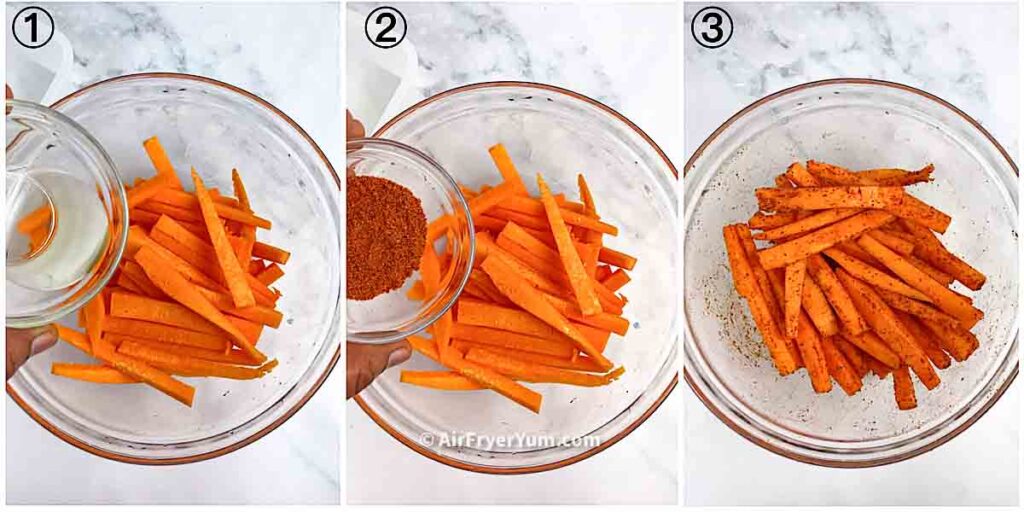 Spray air fryer basket, then air fry to crispy perfection.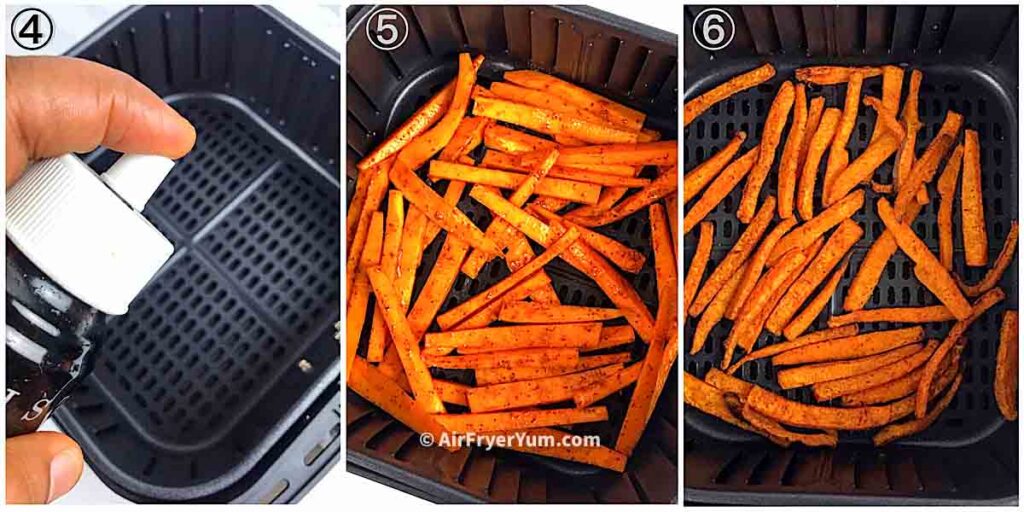 How to roast frozen butternut squash in the air fryer.
To get crispy frozen butternut squash in the air fryer, follow the steps below.
Do not defrost: You need to cook straight from frozen. Thawing will make the vegetable soggy and would not be crispy.
Preheat the air fryer: For frozen butternut squash preheating is key because it helps it hit the ground running if I may say so. It helps the moisture start evaporating off the veggies as soon as it hits the air fryer basket.
Don't forget to spray the air fryer basket before air frying and spray ok some oil on the veggie half way through the cooking time. By this time the heat in the air fryer has thawed the squash and it's ready for some oil. I prefer to do it this way since the oil will slide off the frozen squash as it cooks if I had tossed in oil before baking.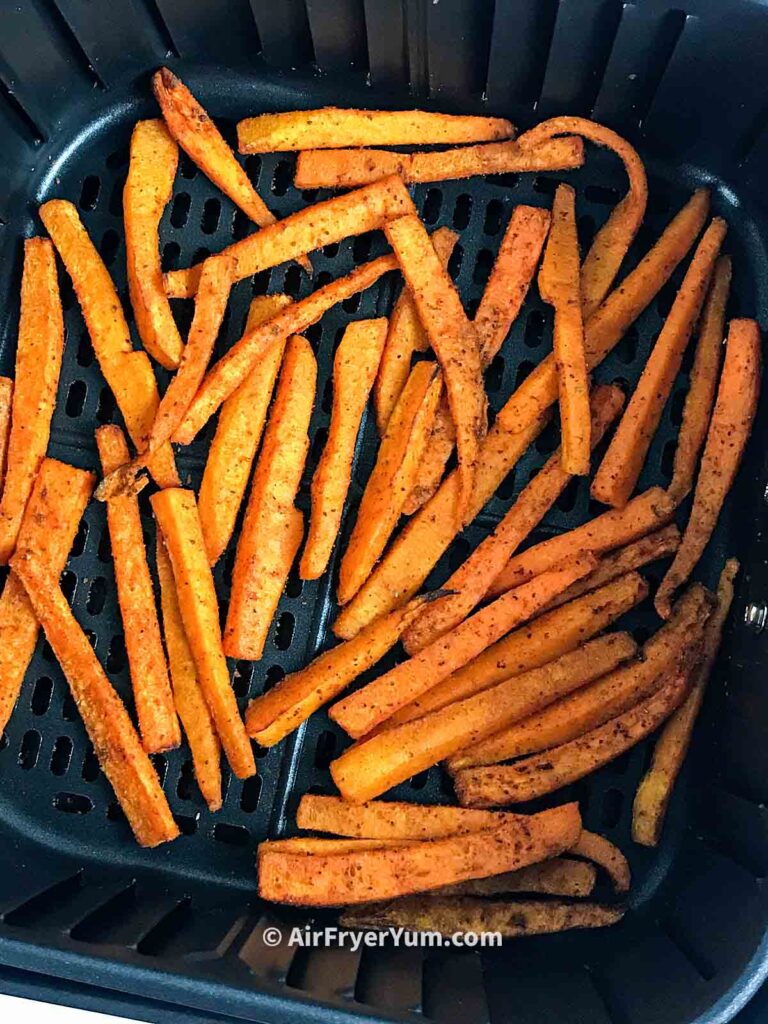 How to cut butternut squash into fries
You might want to soften this winter squash in the microwave for 1-2 mins to soften it a bit but I'd be honest with you, I rarely do so.
Next cut off the top where the stem is, cut it down the middle to reveal the seeds. using a vegetable peeler or knife then scoop out the seeds, cut into ¼ inch slices and then into ¼ inch sticks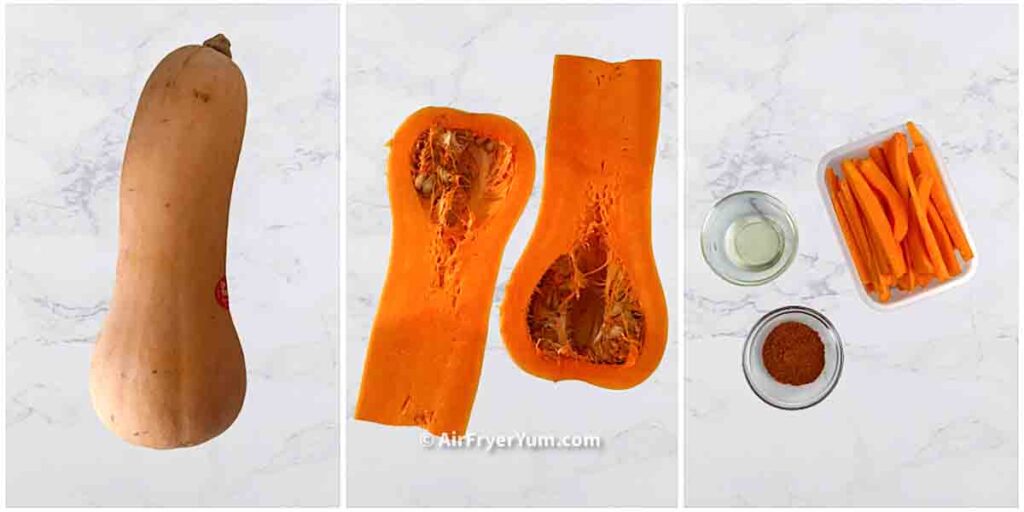 Alternatively cut the squash in two at the neck, scoop out the seeds with a spoon, Peel the skin.
Next cut into round slices about ½ an inch think, cut the slices into ¼ inch sticks to get fries. If you want cubes, you would need to cut the round slices up to 1 inch thick before cutting the round slices into 9 cubes.
You can add some fun to the veggies by using a crinkle cutter or crinkle knife to make butternut squash crinkle cut fries.
Seasoning suggestions
I used old bay seasoning in this recipe however there are a variety of seasoning blends to use as butternut squash fries seasoning options. Some are listed below
Garlic salt
Garlic and herbs like oregano or Italian seasoning.
Taco seasoning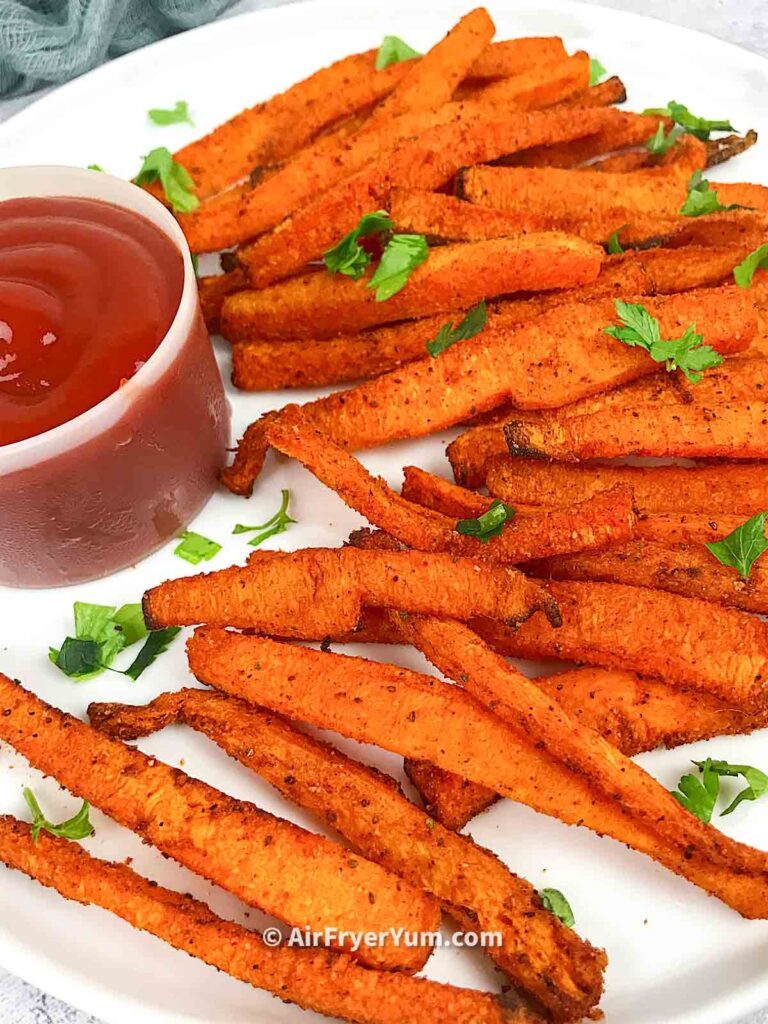 Why is my food not crispy in the air fryer?
There are various reasons why food may not get crispy on the air fryer which include over crowding the air fryer basket or even not cooking long enough.
That being said not all foods get very crispy in the air fryer because they simply can't. For instance homemade sweet potato fries won't get as crispy as store bought frozen fries.
However you can get juicy chicken drumsticks or wings with crispy skin in the air fryer.
Butternut squash fries dipping sauce
What would you dip your fries in? We love to dip these in ketchup, fry sauce or barbecue sauce.
What's your favorite dipping sauce? Leave us a comment below and let us know.
Tips for success
Try to cut the fries to be as close to the same size as possible to ensure even cooking.
Do not overcrowd the basket. Remember to shake basket at 5 minute intervals.
I preheated my Cosori air fryer to major this recipe, however you can also make it in a non preheated air fryer. It would only take a couple of minutes extra for your first batch but subsequent batches will cook faster.
If using the oven style air fryer, bake in the middle rack and allow extra time as the basket style air fryers tend to cook faster than oven style air fryers.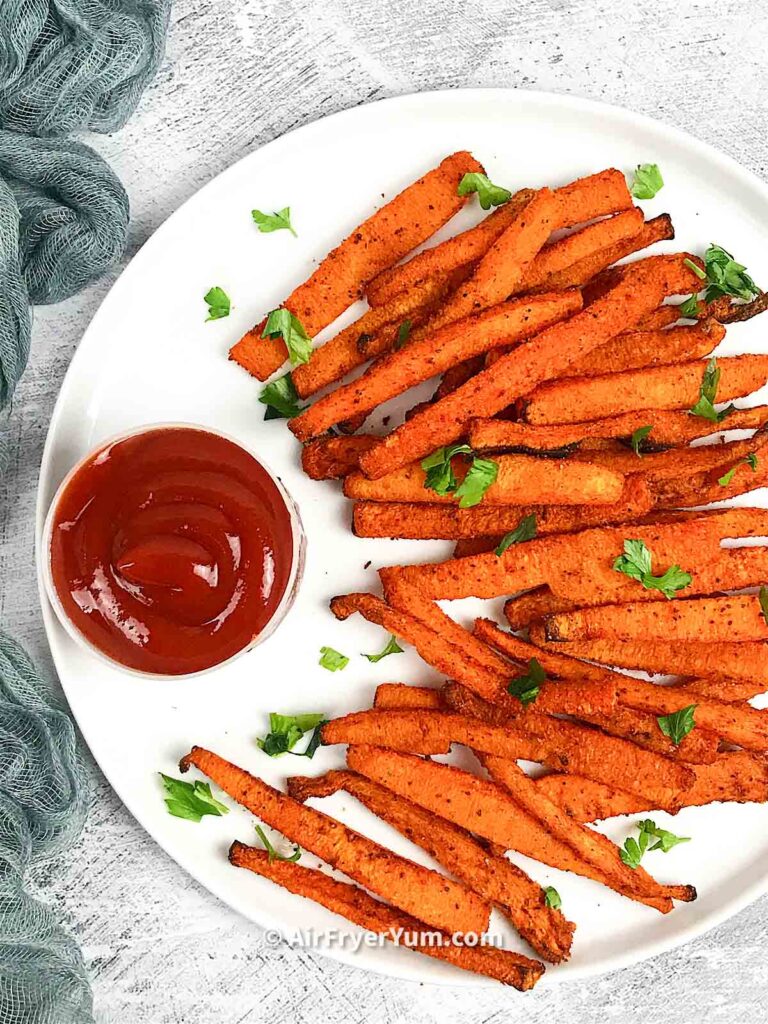 FAQs
Can you air fry frozen butternut squash?
Yes you can. However I would suggest you do so right out of the freezer. See body of post above for full details.
What temperature do you cook butternut squash fries in the air fryer?
I cook at 400F / 205C in the air fryer and at 425F in the oven.
More vegetarian recipes
Kale chips in the air fryer
Air fryer butternut squash cubes
Other air fryer recipes
Check out all our >>>Air fryer Recipes!
Did you find this recipe helpful? Leave me a comment about it or any recipe idea you would love Air fryer 'yummed' and don't forget to share with family and friends.
Happy Air frying!
---
Love it? Pin it!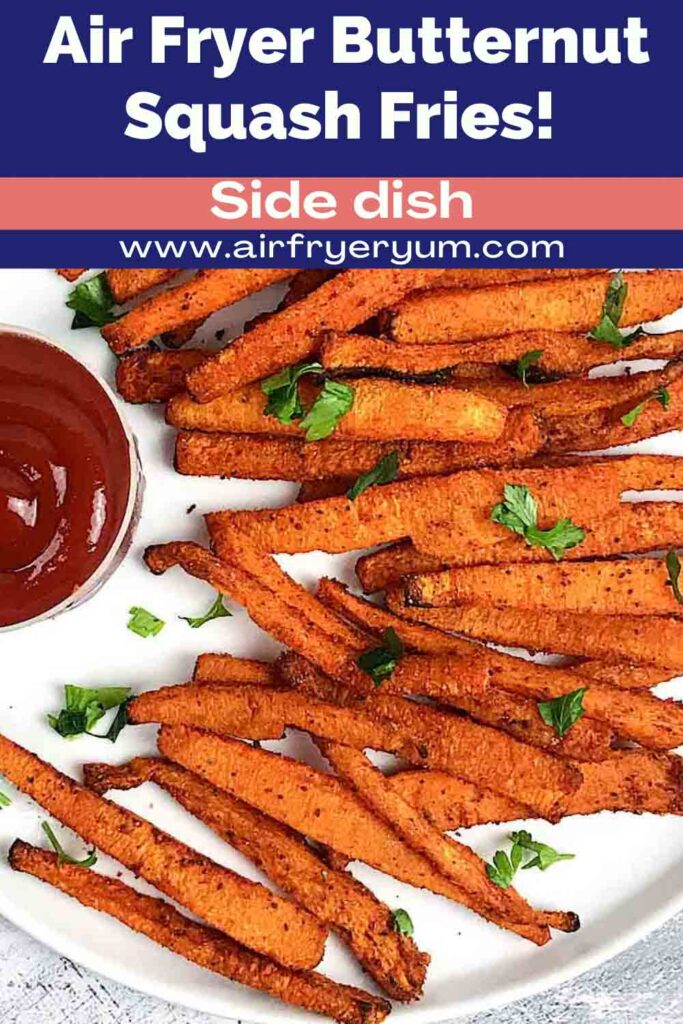 Looking for more air fryer recipes? Sign up for our yummy newsletter and Follow along on Facebook, Instagram, Pinterest and Tiktok for updates. Remember to Subscribe to my YouTube Channel for weekly videos.
Loving your air fryer much? Join other Air Fryer Buddies in our exclusive free Easy Air Fryer Recipes Group on Facebook!
New to the world of Air frying? We've got you covered. Check out our helpful >>> Air fryer Resources!
Shop all air fryers and air fryer accessories at our Amazon store.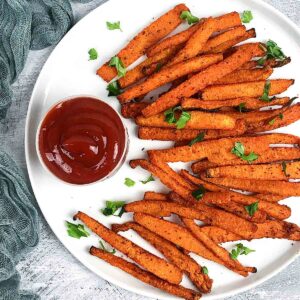 Old bay seasoned Air Fryer butternut squash fries
Love seasoned fries? These old bay seasoned Air fryer butternut squash fries will be your next keto and low carb friendly recipe try.In a few minutes, you can get this easy vegan/vegetarian side dish ready for dinner.
Ingredients
1

medium

butternut squash

(about 1.1 lb)

1

Tablespoon

oil

2

teaspoons

old bay seasoning

¼

cup

ketchup, barbecue sauce, fry sauce or your favorite dipping sauce.
Instructions
Cut the butternut squash into fries ( See post for step by step detail on how to do so)

Preheat air fryer 400°F / 205°C for 5 minutes

Add oil and old bay seasoning to the butternut squash. Toss till well coated

Bake at 400°F / 205°C for 15 to 20 mins shaking basket at 5 mins intervals.

Serve immediately with your favorite dipping sauce.
Nutrition
Calories:
82
kcal
Carbohydrates:
13.5
g
Protein:
1.2
g
Fat:
3.5
g
Saturated Fat:
0.5
g
Sodium:
325
mg
Potassium:
407
mg
Fiber:
2.3
g
Sugar:
2.5
g
Calcium:
55
mg
Iron:
1
mg
Nutrition Disclaimer
Nutritional information is an estimate and may change based on products used. Please read our Nutrition disclaimer page.
Subscribe to my YouTube Channel
Subscribe to Air Fryer Yum on YouTube for more detailed videos! Remember to click the bell icon to get notified when I upload new videos.
Save this Recipe for later!
Follow @AirFryerYum on Pinterest!