Chocolate baked oatmeal is an easy breakfast recipe that can be made in the air fryer. A healthy fiber rich recipe that can also double as a dessert recipe. If you've never tried baked oatmeal, this is the time to try it cos it's even easier in the air fryer.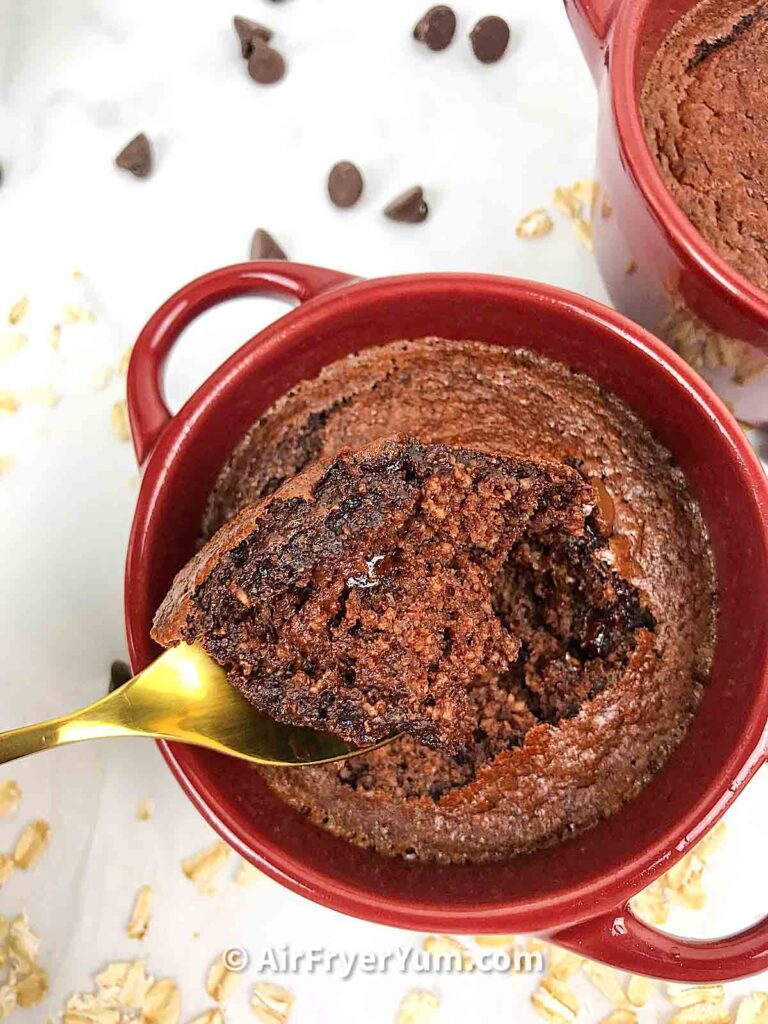 Chocolate chip baked oatmeal.
This is an easy chocolate baked oats recipe with bananas and has a lot of variations. It is an adaptation of my classic air fryer baked oats recipe. After sharing that recipe, I decided to share more variations with you guys.
Besides this recipe you would also find the blueberry baked oatmeal and s'mores baked oats here on Air Fryer Yum! If you love baking with oats, this recipe is a must try.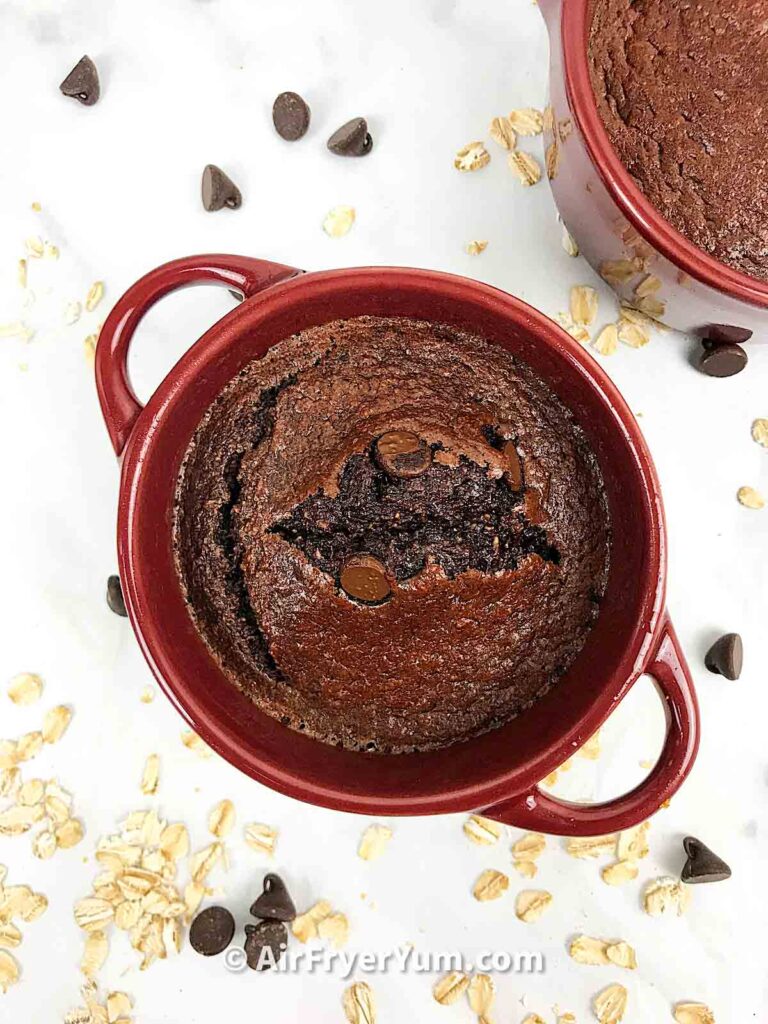 Baking with oat flour
Baking with oat flour is a bit trickier than with wheat flour. That's because of the absence of gluten. However in this recipe works very well regardless. It's probably because the oats are blended till smooth and this recipe this recipe has a lot of binders that keep things together like the eggs and bananas.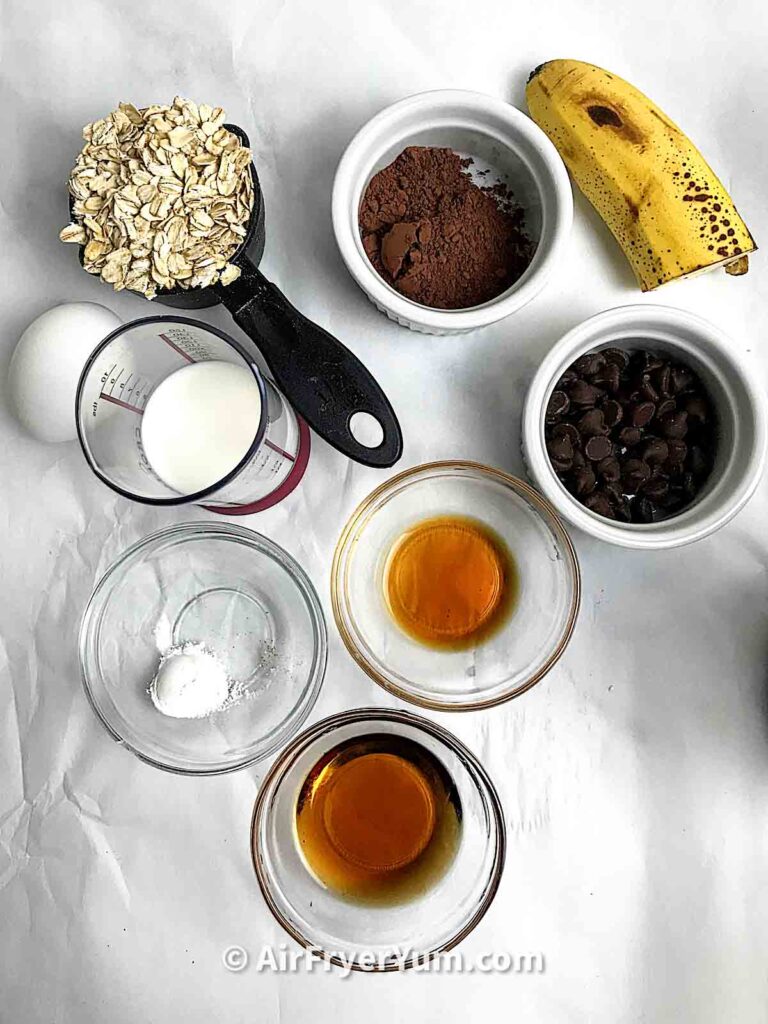 What you'll need to make this recipe
Rolled Oats: Though Traditional or rolled oats is the best for this recipe! You can use quick oats. I don't think Steel cut oats won't because of the texture.
Milk: Use your favorite milk. I used whole milk here. Feel free to use any plant based milk you like like coconut milk, almond milk etc
Sweetener: I used maple syrup for this recipe. Feel free to use honey or any non liquid sweetener you prefer like sugar free sweeteners, coconut sugar.
Banana
Eggs: Substitute with just eggs if Vegan or simply replace the egg in this recipe with ½ of a banana or ¼ cup of plant based milk.
Cocoa powder: I used Hershey's extra dark
Chocolate chips: this is optional
How to make chocolate baked oatmeal
Gather your ingredients, blend till smooth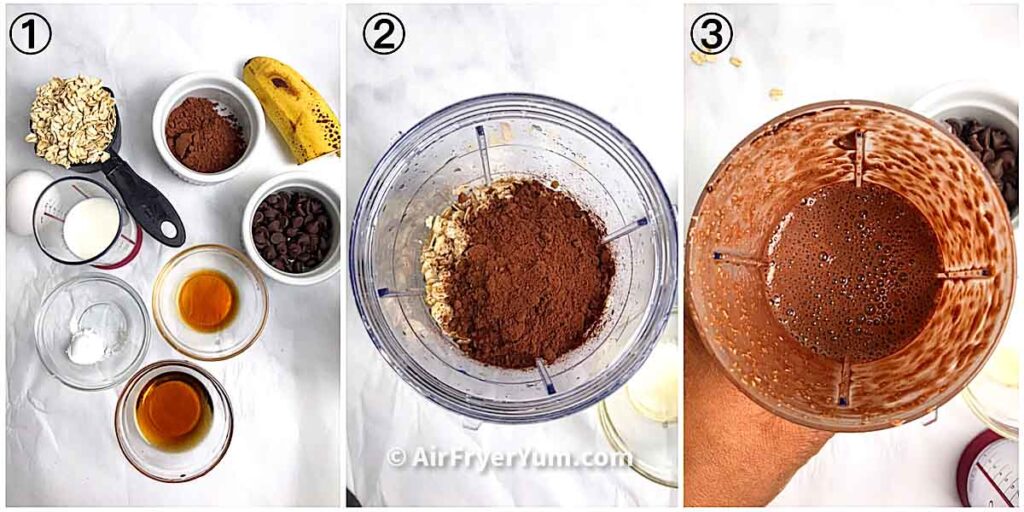 Grease your ramekins. Pour batter into ramekins and bake.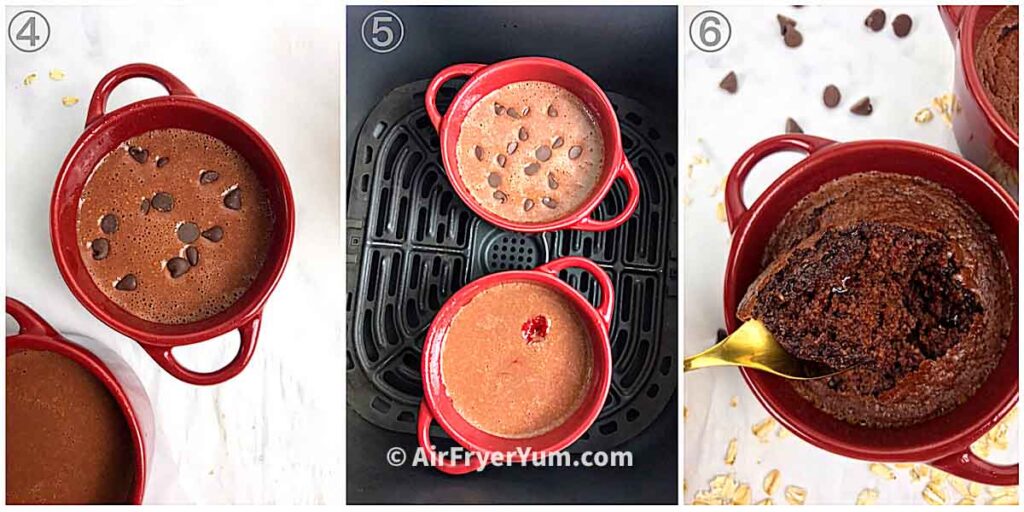 Storing and Reheating
Let the baked chocolate oatmeal cool completely before storage. It will keep in the refrigerator for up to 5 days and can be frozen for up to 1 month.
To reheat, let it thaw in the refrigerator overnight then microwave at 20 secs intervals for up to a minute.
You can also reheat in the air fryer at 350°F / 177°C for 2-4 mins.
Variations
Peanut butter baked Chocolate oatmeal: To this recipe, add a Tablespoon of peanut butter before blending.
Chocolate chip baked oats: Skip the cocoa powder and add only the chocolate chips to the classic baked oats recipe.
Chocolate cherry baked oatmeal: Add some cherries to the oat batter after blending.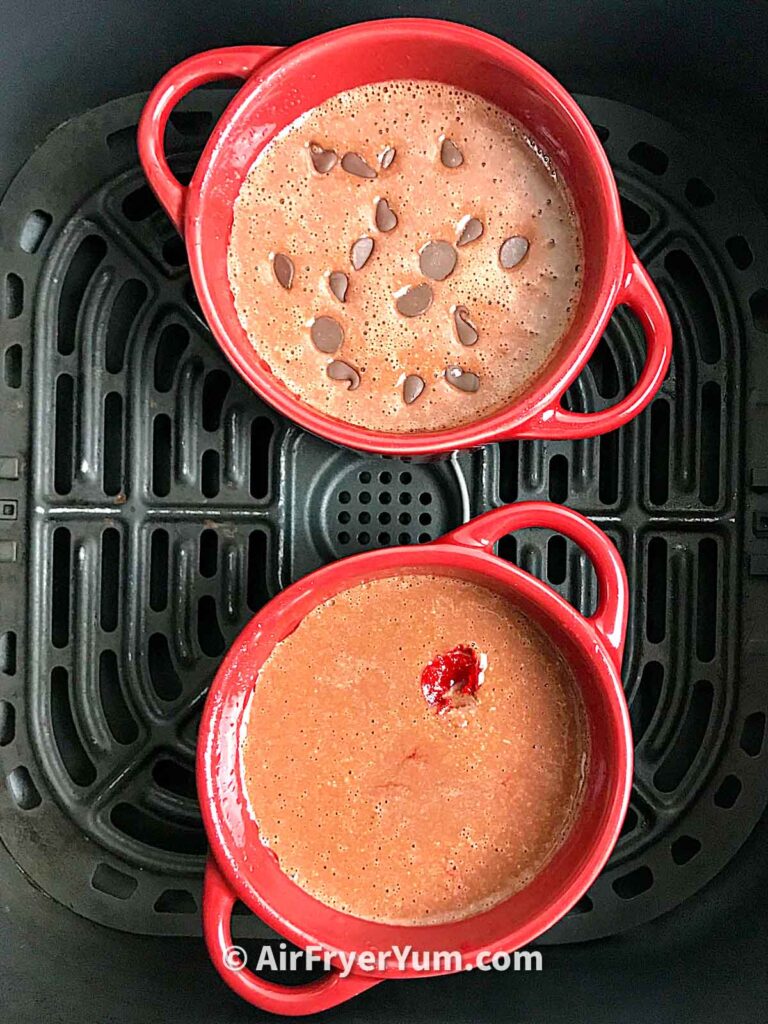 Tips for success
Oats are naturally gluten free, however they can be contaminated with gluten if processed in a facility that also produces products that contain gluten. Therefore if you are gluten free, be sure to check the label the oats you are buying.
The amount of maple syrup in this recipe was just right for us considering the toppings that go with it. If you want it sweeter, I'd suggest you use a different kind of sweetener like coconut sugar or sugar free sweeteners. Reason being that more maple syrup will add more liquid to the batter and this might change the consistency. To prevent this, you can add a tablespoon of oats extra.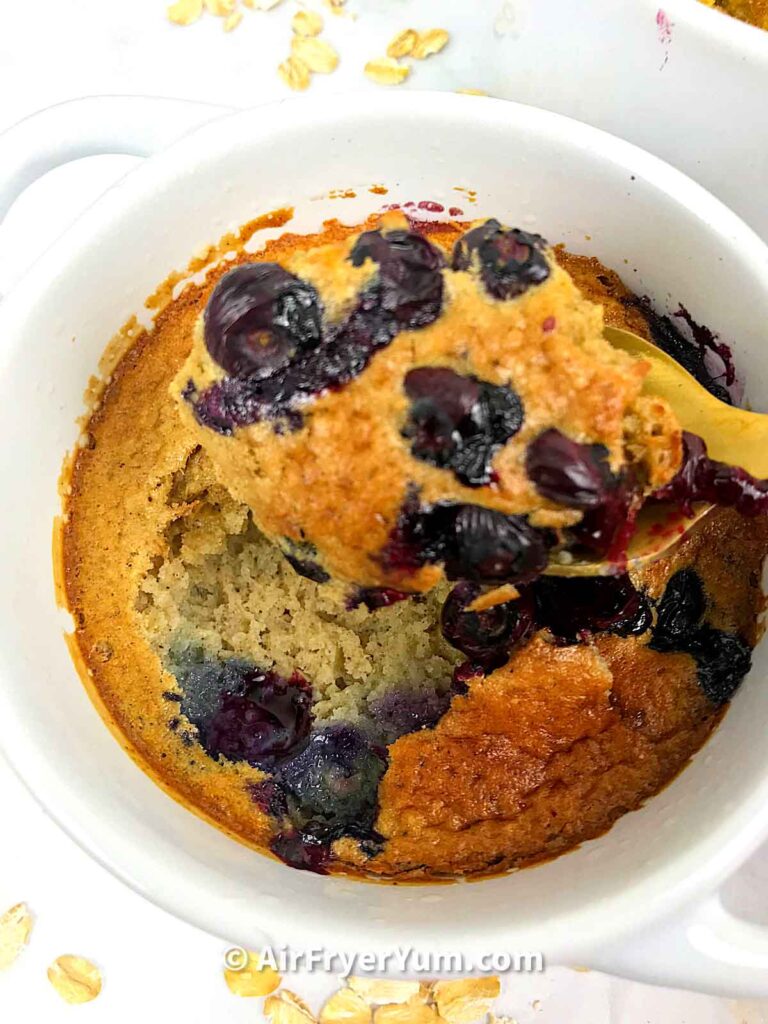 Your Frequently asked questions answered.
Does baked oatmeal need to be refrigerated?
Though some people have had no problems leaving it at room temp for up to 2 day. I prefer to err on the side of caution and store mine in the refrigerator. I won't recommend leaving it on the counter top especially not in the summer.
Can you reheat baked oats?
Yes you can reheat your baked oats. You can do that either in the microwave or right in your air fryer. If frozen, let it thaw overnight in the refrigerator then microwave at 20 mins intervals for up to a minute.
Other Air fryer Baked Oats Recipe
Blueberry baked oatmeal
S'mores baked oats
More Air fryer recipes to try
Check out all our >>>Air fryer Recipes!
Did you find this recipe helpful? Leave me a comment about it or any recipe idea you would love Air fryer 'yummed' and don't forget to share with family and friends.
Happy Air frying!
---
Looking for more air fryer recipes? Follow along on Facebook, Instagram,Pinterest and TikTok for updates and don't forget to Subscribe to my YouTube Channel for weekly videos.
Loving your air fryer much? Join other Air Fryer Buddies in our exclusive free Easy Air Fryer Recipes Group on Facebook!
New to the world of Air frying? We've got you covered. Check out our helpful >>> Air fryer Resources!
Love it? Pin it!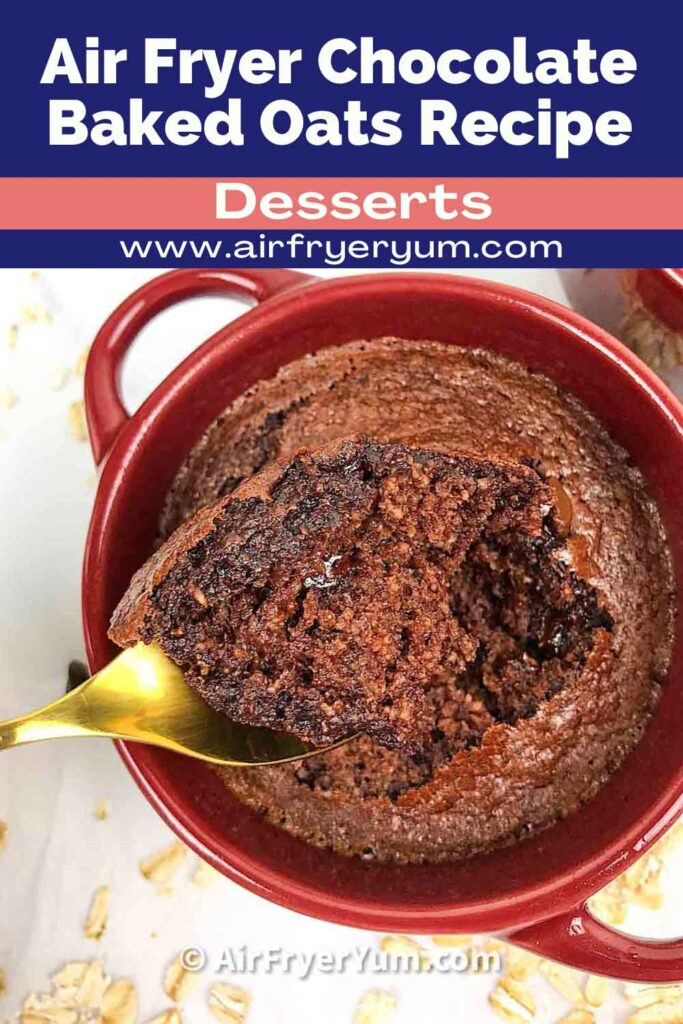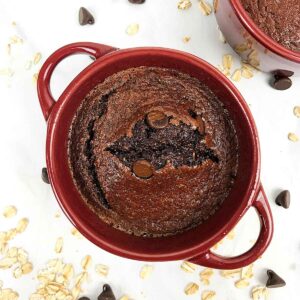 Air fryer Chocolate Baked Oats Recipe
Chocolate baked oatmeal also called baked chocolate oatmeal is an easy breakfast recipe that can be made in the air fryer. A healthy fiber rich recipe that can also double as a dessert recipe. If you've never tried baked oatmeal, this is the time to try it cos it's even easier in the air fryer.
Ingredients
½

large

Banana

½

cup

rolled oats

1

Tablespoon

maple syrup

(

1

teaspoon

vanilla extract

½

teaspoon

baking powder

1

Large

Egg

¼

cup

milk of choice

½

teaspoon

ground cinnamon

(optional)

1

Tablespoon

dark cocoa powder
Optional add ins
A

pinch

of salt

2

Tablespoons

Chocolate chips

¼

cup

cherries

(pitted)
Instructions
Grease the ramekins and set aside. Add all ingredients into the blender except chocolate chips and blend till smooth..

Pour oat batter into prepared ramekins

Bake in the air fryer at 330°F / 165°C for 13-15 mins.
Notes
This recipe can easily be doubled or tripled to make more servings
if you want this a tad sweeter, consider using honey instead of maple syrup or a non liquid sweetener. Adding more maple syrup can alter the consistency of the batter making it more watery and this will affect the final outcome of the baked oatmeal.
Nutrition
Calories:
252
kcal
Carbohydrates:
38
g
Protein:
8.5
g
Fat:
8
g
Saturated Fat:
3.8
g
Cholesterol:
98
mg
Sodium:
62
mg
Potassium:
490
mg
Fiber:
4.3
g
Sugar:
17.1
g
Calcium:
151
mg
Iron:
2
mg
Nutrition Disclaimer
Nutritional information is an estimate and may change based on products used. Please read our Nutrition disclaimer page.
Subscribe to my YouTube Channel
Subscribe to Air Fryer Yum on YouTube for more detailed videos! Remember to click the bell icon to get notified when I upload new videos.
Save this Recipe for later!
Follow @AirFryerYum on Pinterest!