Learn how to Reheat Pizza in Air Fryer in super easy steps. The air fryer reheat leftovers to perfection and reheating pizza in the air fryer is the best way to enjoy your leftovers
From the perfect crispy crust to well warmed up toppings, this appliance restores your day old pizza, frozen leftover or refrigerated pizza back to how it was fresh out of the oven. Unlike the microwave no more soggy crust, and when you try this, you won't want to reheat your pizza any other way!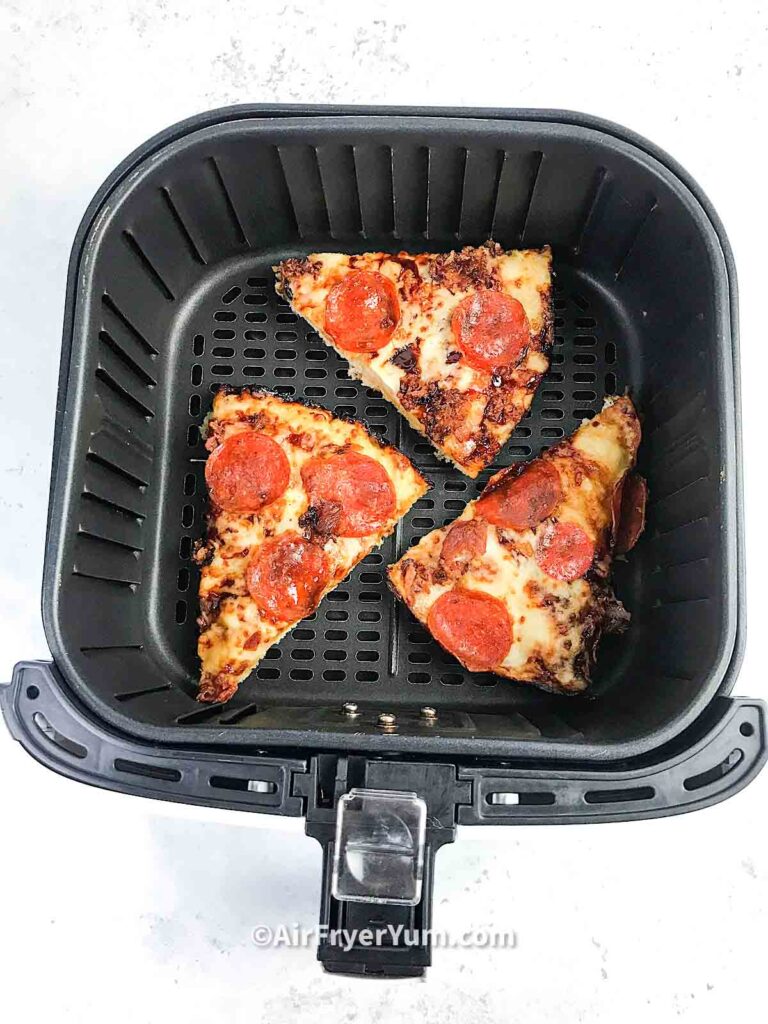 Reheating Pizza in air fryer
Can the air fryer reheat pizza? Definitely! Our family loves Pizza night and so do many families in the United States! Pizza night usually comes with leftovers whether homemade or takeout!
Before I got my air fryer, reheating pizza in the microwave was our go to method since we didn't want to turn on the oven just for a few slices of pizza.
After reheating pizza in air fryer! My goodness I couldn't reheat our leftovers any other way. The reheated pizza came out just as good as it was in the first day. I also like that you could also reheat frozen pizza in air fryer in few minutes.
How do you reheat your refrigerated leftovers? You ask! Simple, place slices in the air fryer straight from the refrigerator and it reheats it to perfection in a few minutes.
Related: How to reheat fries in the air fryer, Reheat steak in air fryer, how to reheat chicken wings in air fryer,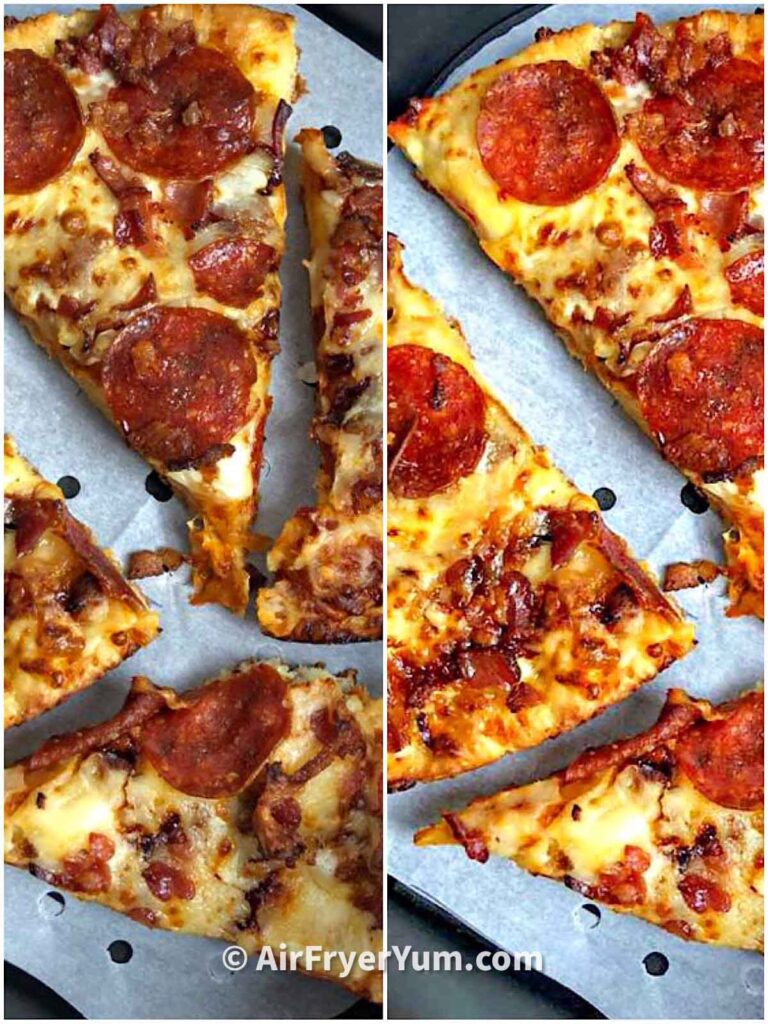 Why we love to reheat Pizza in Air Fryer.
If you're wondering the best way to heat up leftover pizza, let me say we've tried other methods of reheating pizza from microwave to oven to stovetop and we've found the air fryer to be the best for the following reasons.
Unlike the microwave, the air fryer reheats pizza evenly with a nice and crispy crust with no hot and cold pockets of cheese that can burn your tongue.
In the Air fryer and the topping come out sizzling with the cheese all gooey and inviting which you can't achieve any other way except in the oven which will take the longer to preheat than it would take to reheat the slices in the air fryer.
No need to turn on your oven for only 2 - 3 slices of pizza especially during the summer months.
Older kids can help warm up pizza in air fryer without worrying about getting hurt and the best thing is that minimal clean up needed plus you can use parchment paper to catch any cheesy drip but it's honestly not necessary.
Sometimes delivery pizza arrives cold. The air fryer will get it all warmed up for you to enjoy!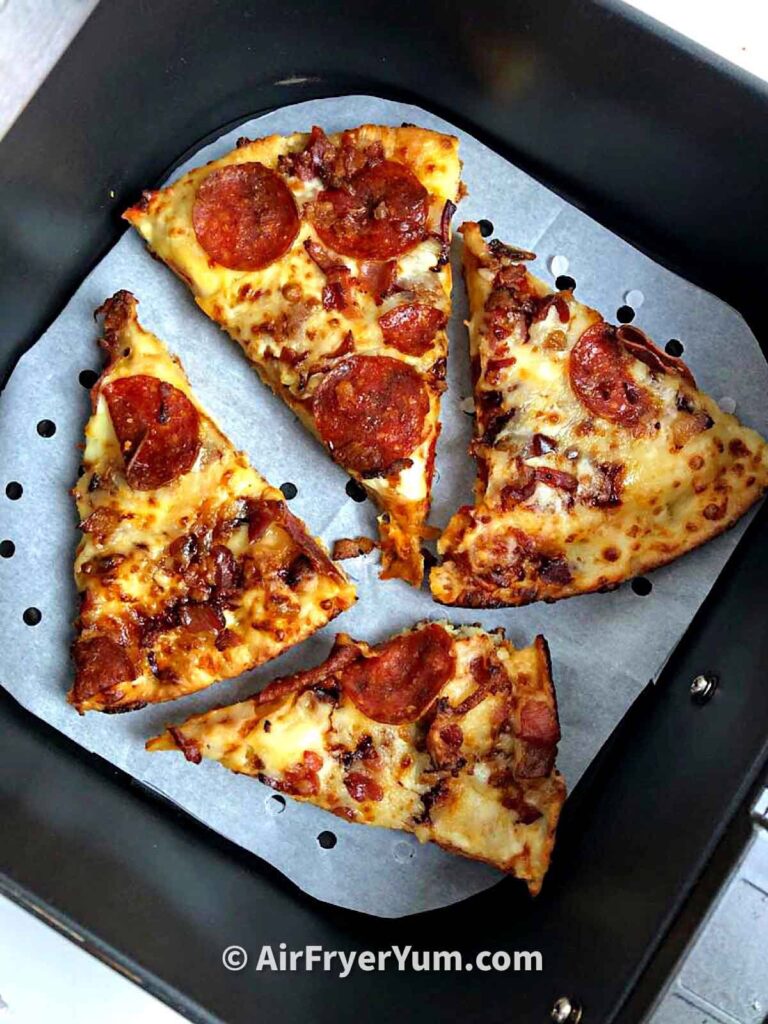 What you'll need to warm up pizza
Leftover pizza
Parchment paper (optional)
Pancake spatula to lift out the pizza slices
Air fryer: Any air fryer brand you have; I've tested it in my Cosori 5.8qt, Gourmia 6qt, and my instant vortex oven air fryer. I have no doubt it would work in Ninja, Pampered chef, Power XL or any air fryer.
Wondering if you can use parchment paper in the air fryer? Read how to do so safely in this guide with an infographic. Can't get perforated parchment paper near you? Learn how to make your own perforated parchment at home. You would also find this video helpful.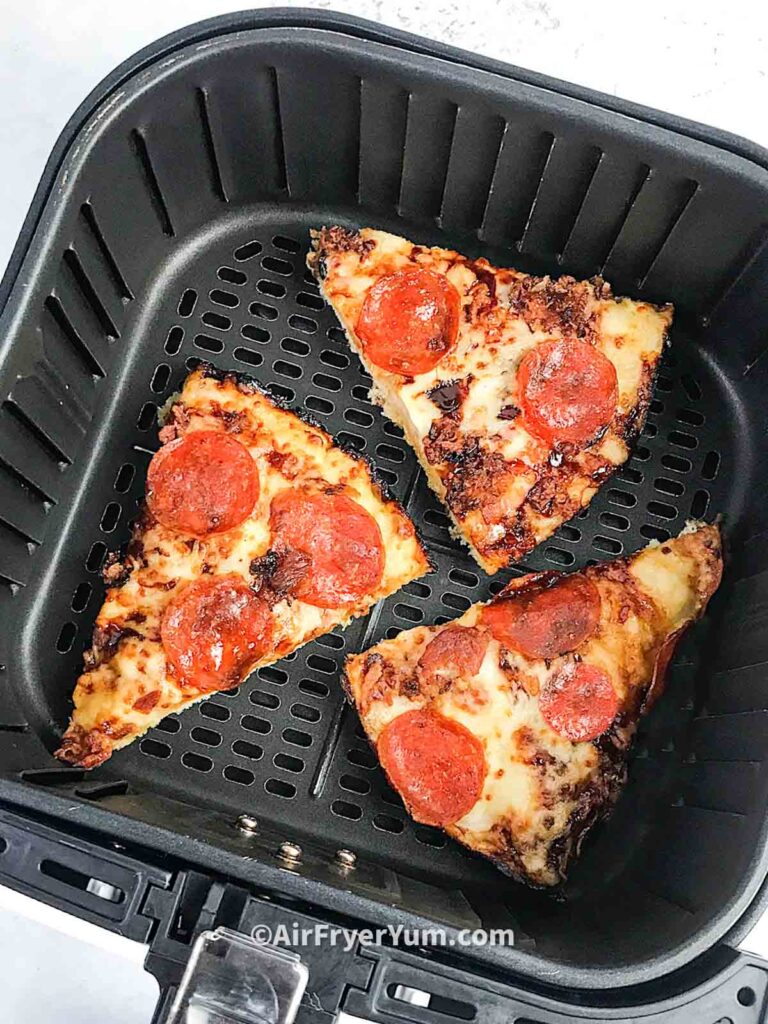 How long to reheat pizza in air fryer appliances
The length of time it takes to reheat pizza will depend on the type of pizza being reheated and if it's being reheated from frozen or just cold out of the refrigerator.
Generally it takes 3 to 5 mins to reheat pizza in the air fryer. 3 mins for thin crust pizza, 4 mins for normal crust pizza and 5 mins for thick crust or deep dish pizza.
Since air fryers differ, use this as a guide and add more time as needed for your gadget. Keep an eye on it. As soon as the toppings are bubbly, it's ready.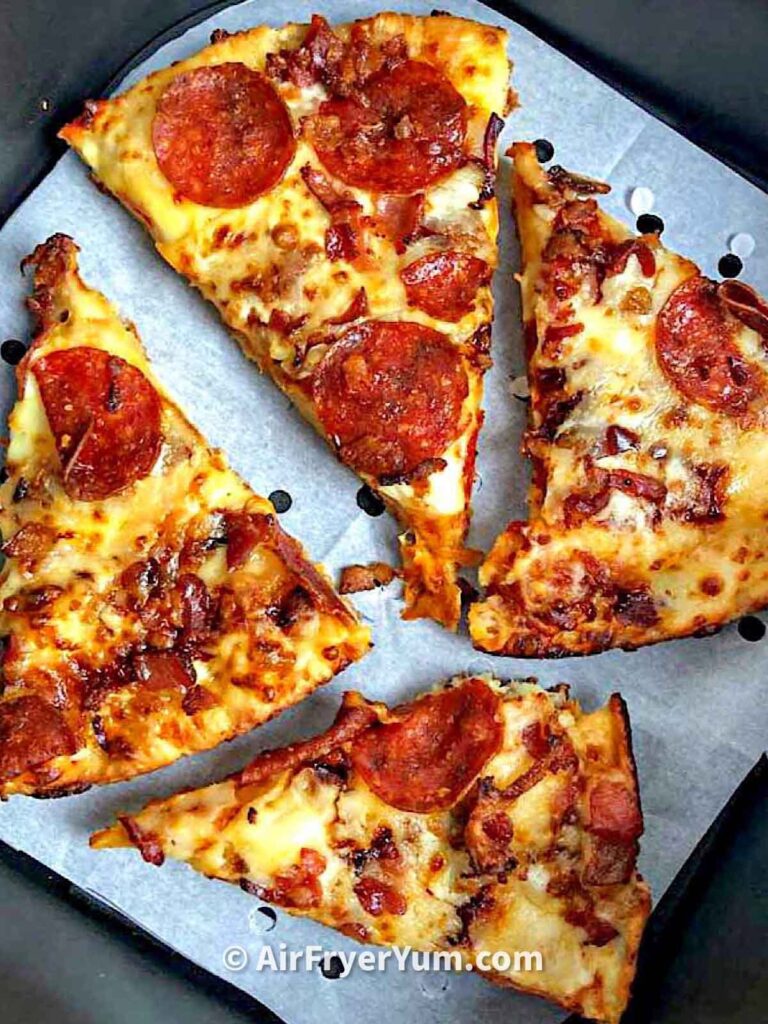 How to Reheat Pizza in air fryer
Trust me when I say when you've got an air fryer, you don't need to reheat pizza any other way and it's honestly so easy.
Let me show you exactly how we reheat our Domino pizza, Pizza Hut or any pizza at all, take out, store-bought or homemade and you do not need to preheat the air fryer to reheat pizza
Place the leftover or cold pizza on the air fryer basket. Set the temperature to 350°F / 180°C and air fry for 3 to 5 mins or until warmed through. Depending on the thickness of the crust add time as needed.
💡Quick tip! For best results, reheat pizza in slices. To reheat a whole pizza break it up in slices and make sure not to stack the slices.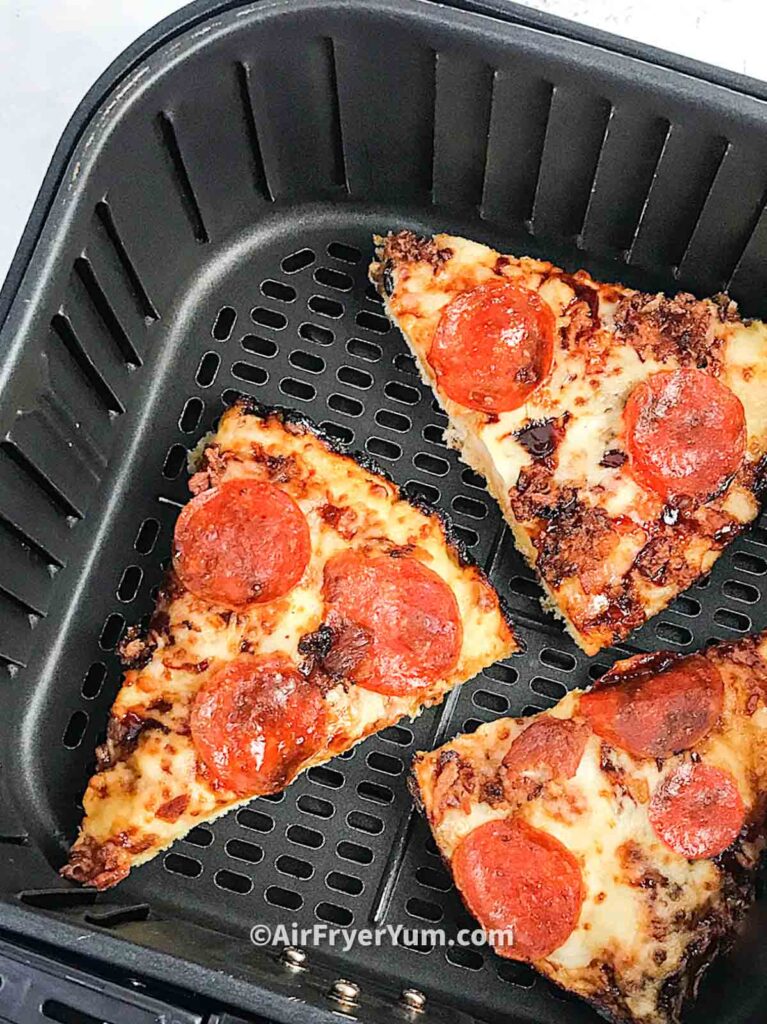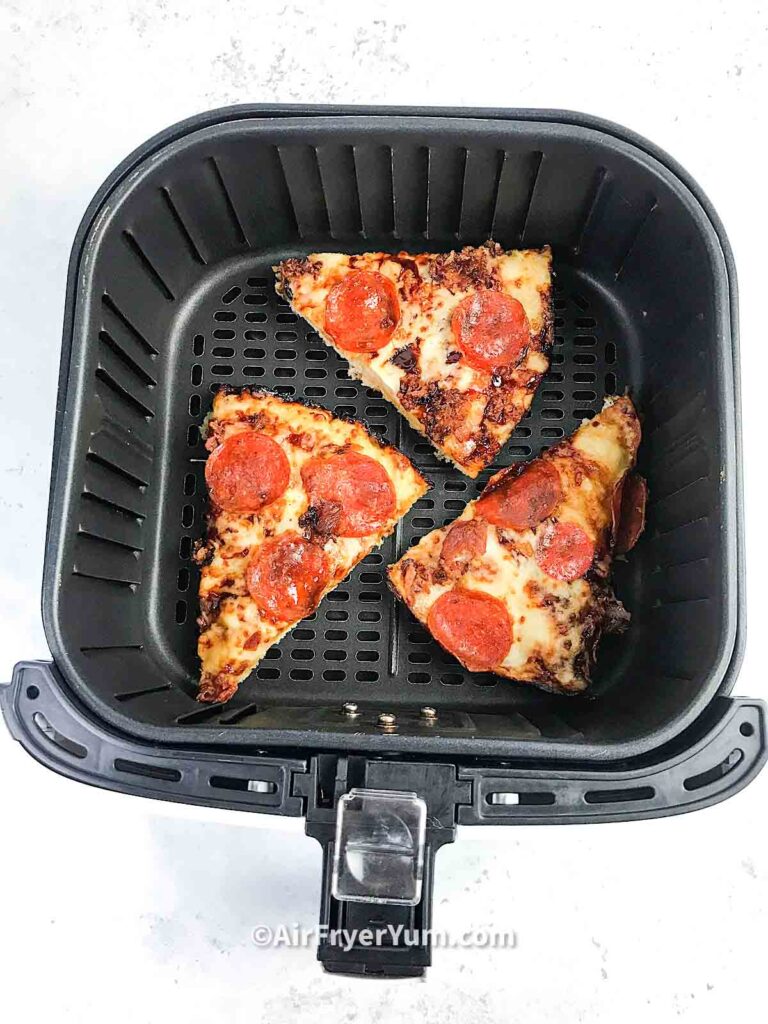 How to store
I do not recommend storing reheated leftover pizza. I would suggest warming up the quantity needed at a given time so you do not have leftovers.
More leftovers to reheat in the air fryer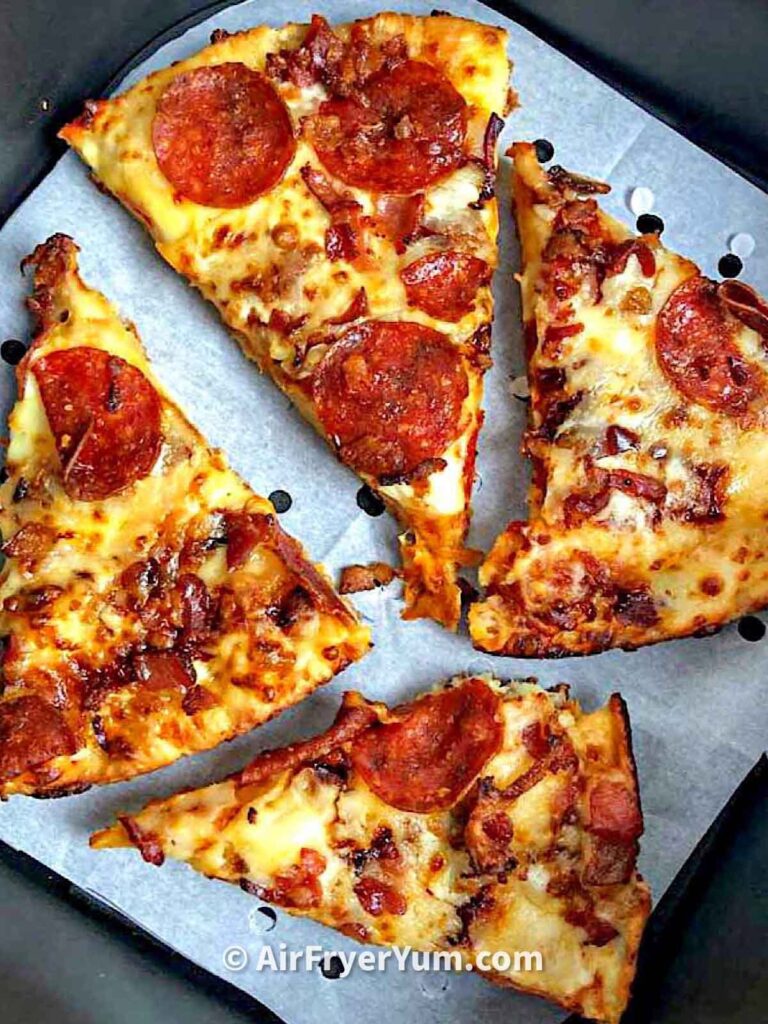 FAQs
Here you'll find answers to common questions on warming up pizza in an air fryer.
Can you reheat frozen leftover pizza in the air fryer?
Reheating Frozen leftover pizza is different from cooking store bought frozen pizza.

Frozen leftover pizza refers to leftovers of already cooked pizza that have been frozen for later. Frozen pizza refers to pizza that was bought frozen from the store. It is different because most store-bought frozen pizzas aren't fully cooked.

The crust is partially cooked, toppings assembled and the resulting product is sealed, flash frozen and then distributed and sold in stores. Therefore it needs to cook longer than frozen leftovers so add more time as needed.

Also Frozen leftovers are cooked about 2-3 minutes longer than leftover pizza kept in the refrigerator.
How do I keep pizza crust from getting soggy?
The best way to reheat pizza without getting it soggy is to use the air fryer instead of the microwave. Follow the steps in the recipe card to enjoy the best leftover pizza.
Can you reheat leftovers in the air fryer?
Definitely, I use the air fryer to reheat most foods that would taste better crispy. From chicken wings, to fries or Rotisserie chicken, I would choose my air fryer over my microwave for those kind of leftovers. Reheating in the oven would take longer so that's out of it.
Should I use parchment paper (baking paper)?
You don't have to use parchment however I decided to use perforated parchment liner to prevent melted cheese from sticking on my air fryer basket.
What temperature to reheat pizza in air fryer?
I have found that 350°F / 180°C for 3 to 5 mins works best in my Cosori 5.8qt and Gourmia basket style air fryers. Adjust the time accordingly for type of crust.
What type of pizza can I reheat?
You can warm up any type of pizza in the air fryer such as personal pizzas, mini pizza, naan bread pizza deep dish, thin crust, Pepperoni, Chicken, Bagel pizza, Pita bread pizza, you name it.
Tips for reheating Pizza in an air fryer.
Size matters: Not all pizzas are created equal, some have a thin crust, while others have a regular crust or are made as deep dish. You need to consider the type of pizza you have when reheating leftovers because the size of the crust will determine how long it will take to warm through.
What to do with really thick crust: If reheating deep dish pizza you might consider covering the pizza loosely with foil and flipping it over to start reheating the crust first, then flip back right side up after 2 mins then remove the foil do that the toppings can heat through.
Check on it: It's ok to open the air fryer basket and check on the pizza at intervals especially if you are trying this out for the first time in your own air fryer. This will help you decide the best timing pizza in your own air fryer and also keeps the toppings from burning.
Adjust the temperature: If you find that the pizza is browning too quickly before getting warmed through, reduce the temperature by 20° - 25°F
Do not overcrowd the basket: Air and heat needs to circulate as food cooks / reheats in your air fryer that's how it crisps things up. Therefore you shouldn't overlap or Stack the pizza slices. Cook in batches if needed My basket style air fryers usually take a max of 3 slices and my oven style air fryer takes up to 4 slices at a time.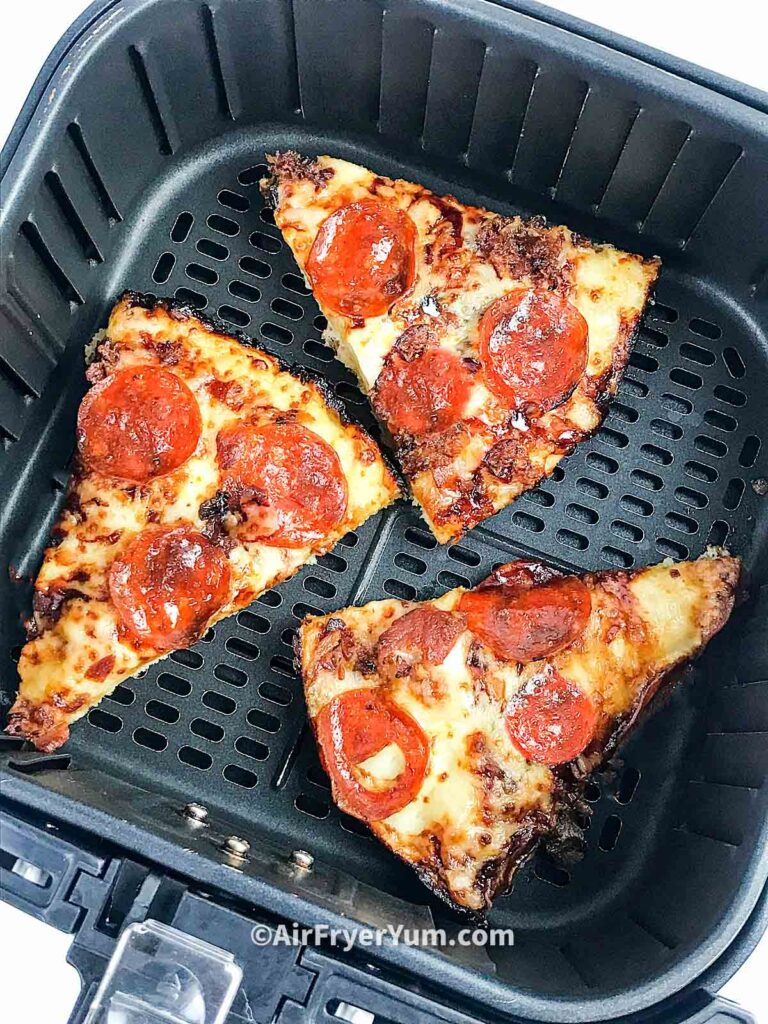 Check out all our >>>Air fryer Recipes!
Did you find this recipe helpful? Leave me a comment about it or any recipe idea you would love Air fryer 'yummed' and don't forget to share with family and friends.
Happy Air frying!
Love it? Pin it!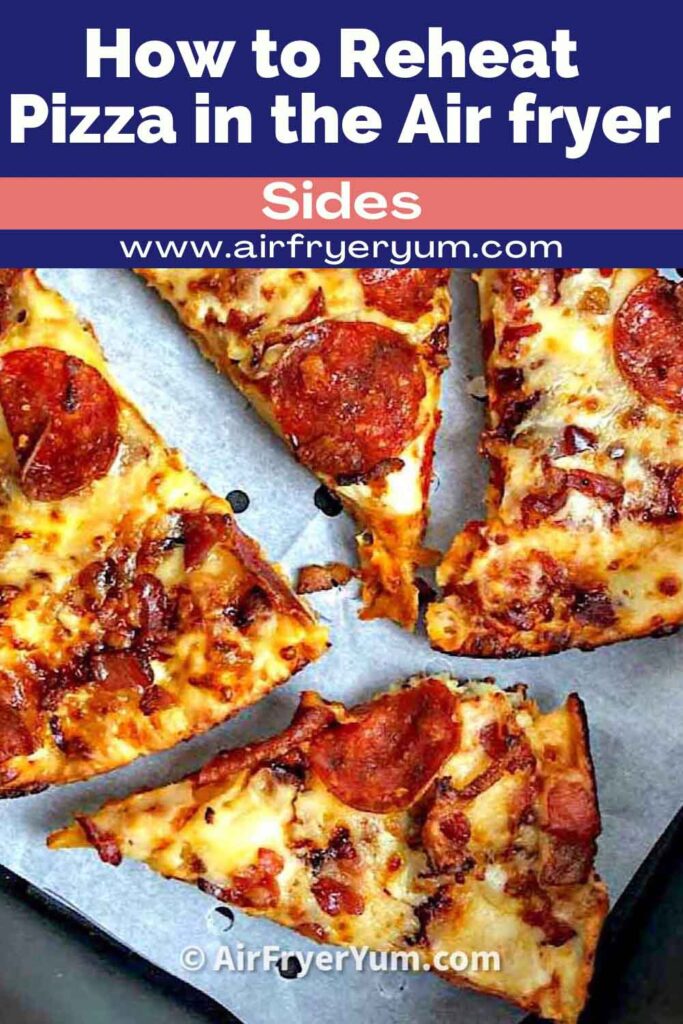 Looking for more air fryer recipes? Sign up for our yummy newsletter and Follow along on Facebook, Instagram, Pinterest and Tiktok for updates. Remember to Subscribe to my YouTube Channel for weekly videos.
Loving your air fryer much? Join other Air Fryer Buddies in our exclusive free Easy Air Fryer Recipes Group on Facebook!
New to the world of Air frying? We've got you covered. Check out our helpful >>> Air fryer Resources!
Shop all air fryers and air fryer accessories at our Amazon store.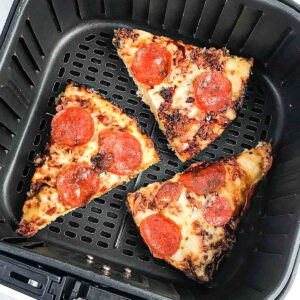 How to reheat Pizza in the Air fryer
Learn how to Reheat Pizza in Air Fryer in super easy steps. The air fryer reheat leftovers to perfection and reheating pizza in the air fryer is the best way to enjoy your leftovers 
Ingredients
2 -3

Slices

leftover pizza

Olive oil spray

(optional)
Instructions
Place leftover pizza in air fryer basket. Lightly spray the edges with olive oil (this is optional)

Set temperature to 350°F / 180°C then Reheat pizza for 4 mins.
Notes
No need to preheat the air fryer because air fryers heat up pretty quickly.
Reheating straight out the refrigerator, you might need to reheat up to 5 mins. Be sure to start checking 4 to see if you need to go up to 5 mins. Start checking thin crust at 3 minutes.
Using Parchment paper is optional.
A light spray to the edges can make the edges a little crispier. However it's optional.
Nutrition
Nutrition Disclaimer
Nutritional information is an estimate and may change based on products used. Please read our Nutrition disclaimer page.
Subscribe to my YouTube Channel
Subscribe to Air Fryer Yum on YouTube for more detailed videos! Remember to click the bell icon to get notified when I upload new videos.
Save this Recipe for later!
Follow @AirFryerYum on Pinterest!
This post was first published in February 2021 but has been updated to include more helpful tips and more images. Hope you find it helpful.