An air fryer perforated parchment paper or liner is one of the essential air fryer accessories you might need if you are a frequent user of your air fryer. It's one of those accessories you can make at home as a DIY project. All you need is a few craft supplies and I am excited to show you exactly how to make it.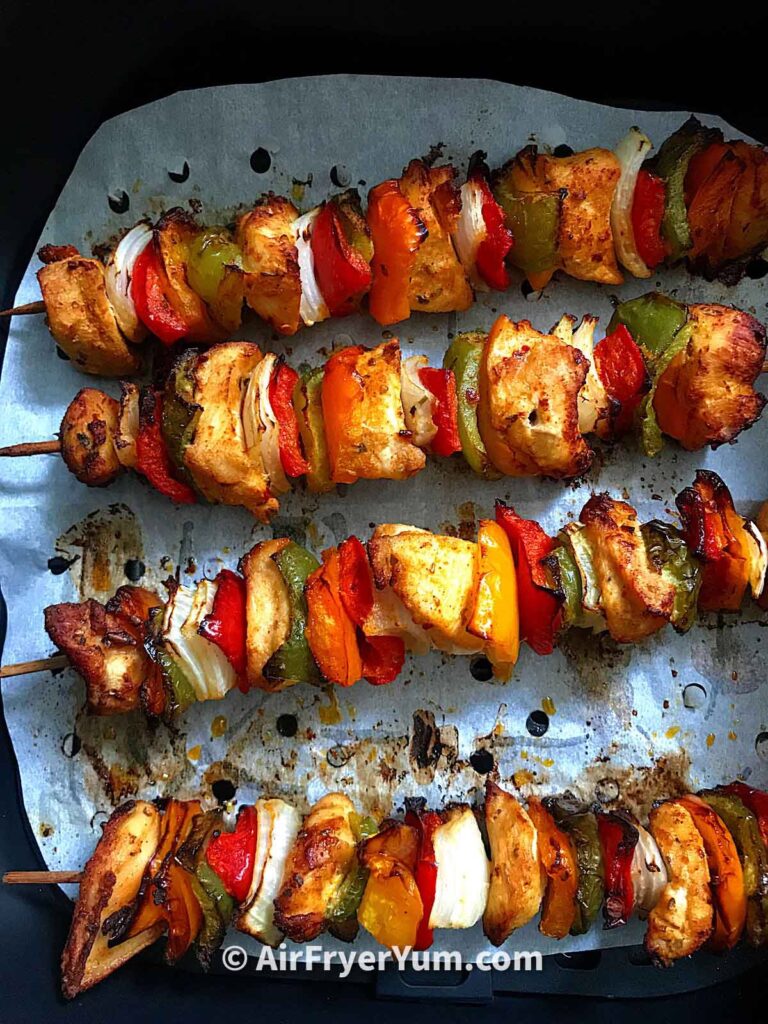 What is Perforated Parchment paper?
A perforated Parchment paper or liner is exactly what it's called, a Parchment paper with holes. Because the Air fryer has holes in it's basket that helps with air flow, you can't use just any parchment paper in it otherwise your food won't cook evenly.
Can you put Parchment paper in an air fryer
Yes you can put parchment paper in an air fryer. It's helps with easy clean up and extends the life of the air fryer basket.
However you shouldn't put it in there without any food on it to weigh it down. It's light weight so the air circulation in the air fryer will get flying around and it can get stuck in the element and ruin your air fryer.
This means it should be used when you are ready to start cooking and not during the preheating stage (for air fryers that need preheating.)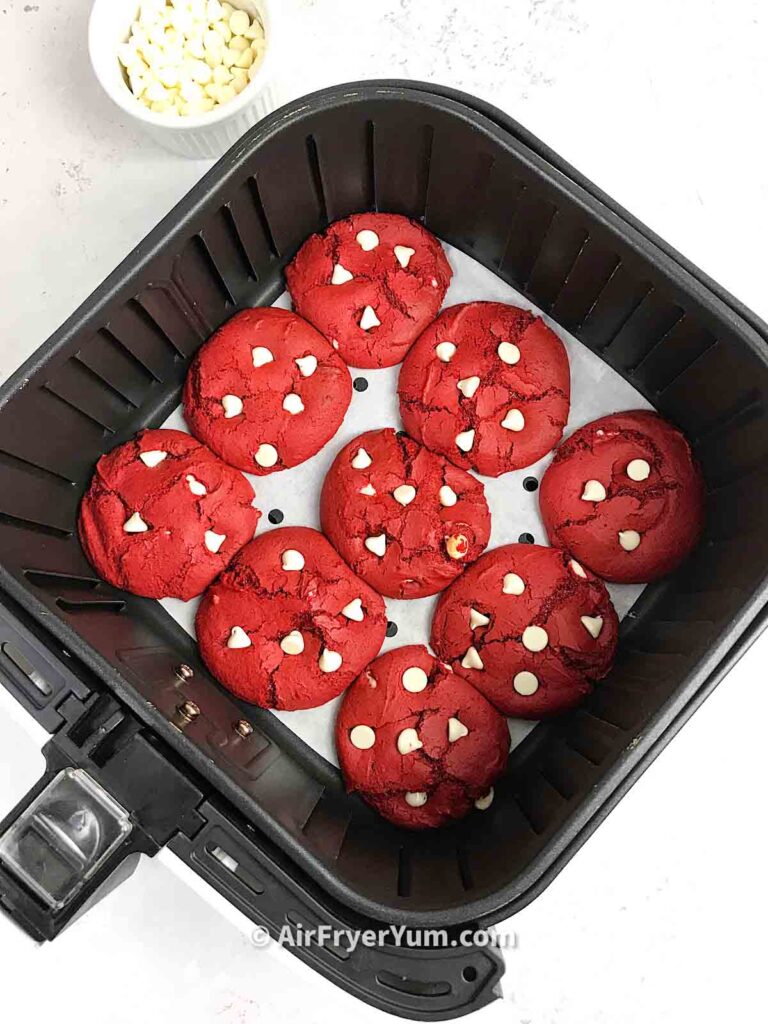 Types of Parchment Paper for your Air fryer
Round Parchment Paper
This is the type of parchment that has been precut for round cake pans. You can also use it in the base of your air fryer basket for recipes like Air fryer chin, Air fryer nuts and breads. You can only use this for air fryers with removable basket inserts like the Gourmia Air fryer
Round Parchment Paper with holes
Round parchment paper with holes are made for air fryers. The holes help with air flow.
Square or Rectangular Parchment Paper
Square Parchment papers are used the same way the round ones listed above are used. If you have a square shaped air fryer basket this is what you need.
Square Parchment Paper with holes.
These are made just for your air fryer. The holes are there for air and heat circulation while cooking.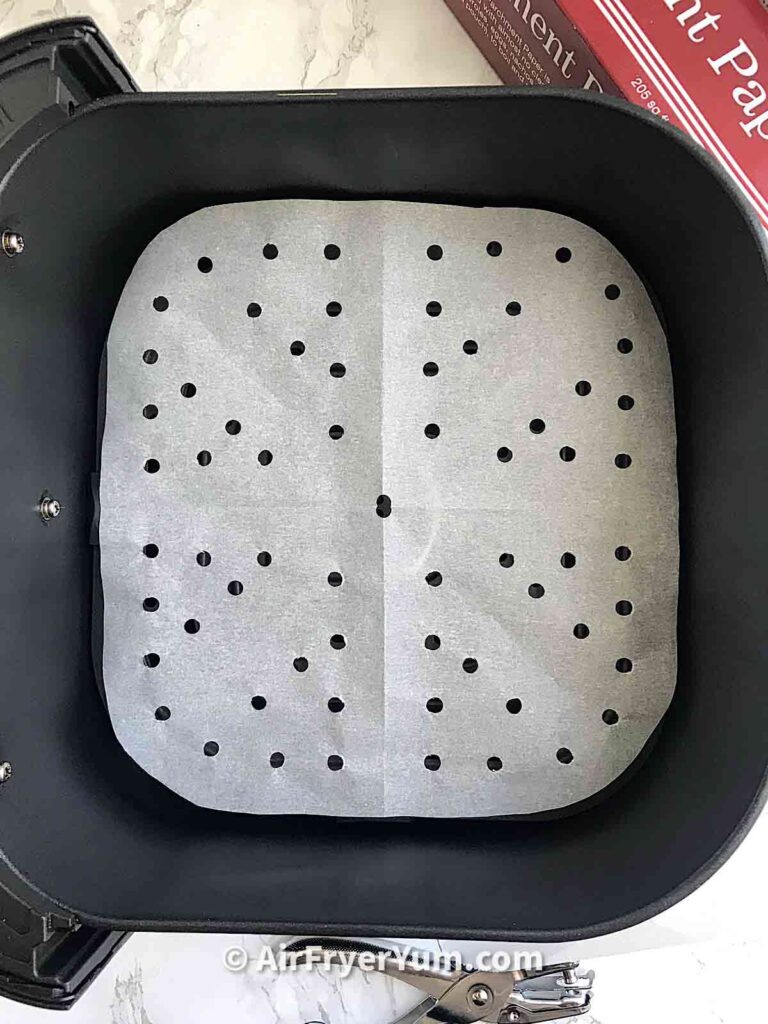 What you need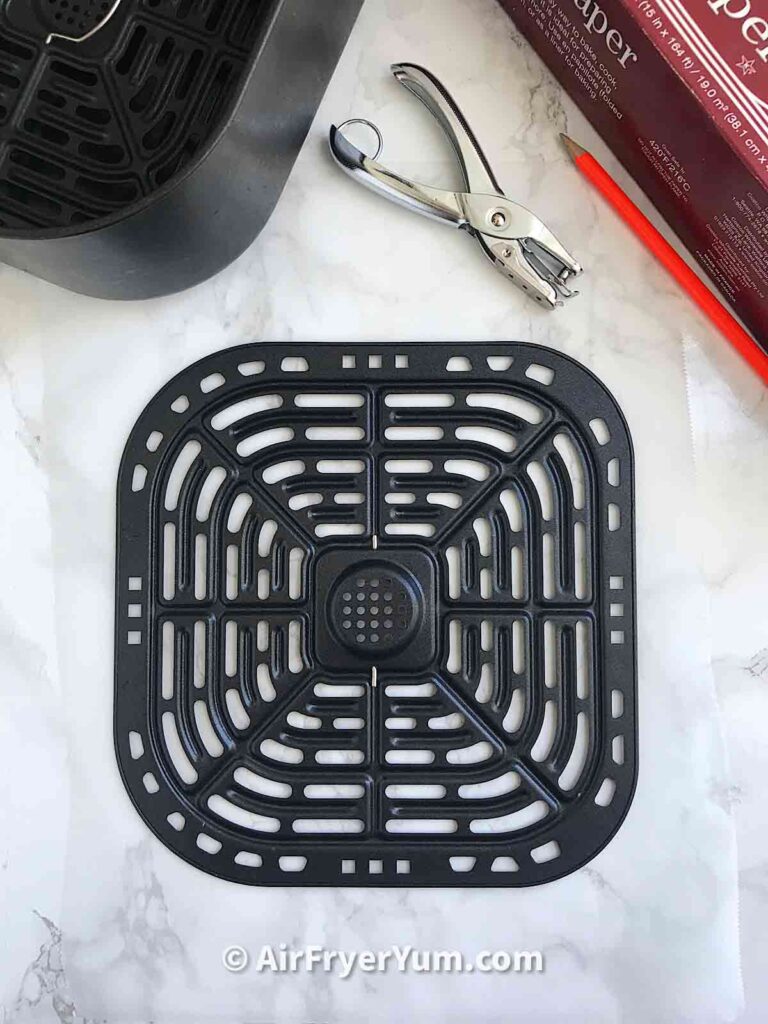 How to make perforated Parchment paper
Step 1-3; Get your parchment paper roll or sheets, place the insert of your basket or any square or round cake pan that is about the same size or slightly smaller than your air fryer basket on the parchment sheet
Trace the shape of the basket and cut it out with a pair of scissors

Step 4-6; Fold it in half then fold again to in quarters

Step 7- 9; nip off the tip with the perforator to create a hole in the middle. Gentle perforate around the edges of the folded paper try to make it as evenly spaced as possible.
After perforating round the edges, fold the paper one more time so you can make some perforation in the middle area. See pic number 10

Open up the folded now perforated parchment and use.

Reasons to use a perforated Parchment paper in your air fryer.
Is it mandatory to use an air fryer liner? No! It's not. However I have some reasons below why you might want to use it.
Easy Clean up: Using a parchment paper on your air fryer will help with easier clean up. It wouldn't keep all the grease from dripping onto the base but it would catch most of it making clean up less tedious.
Long term maintenance: Reduces wear and tear from constant scrubbing of the air fryer baskets and racks. It will help the non stick surface last longer.
Easily Accessible: It's available for purchase online if you don't want to make yours.
Safe to use: Most Parchment papers are safe to use up to 420°F / 215°C in the oven. Most air fryer have their maximum temperature at 400°F so it's safe to use on your air fryers.
FDA approved: Most Parchment Papers are FDA approved. You can check to see if it's indicated on the parchment box before purchase.
Help the environment: You can use Eco friendly Parchment paper to make your own homemade/DIY perforated parchment sheets.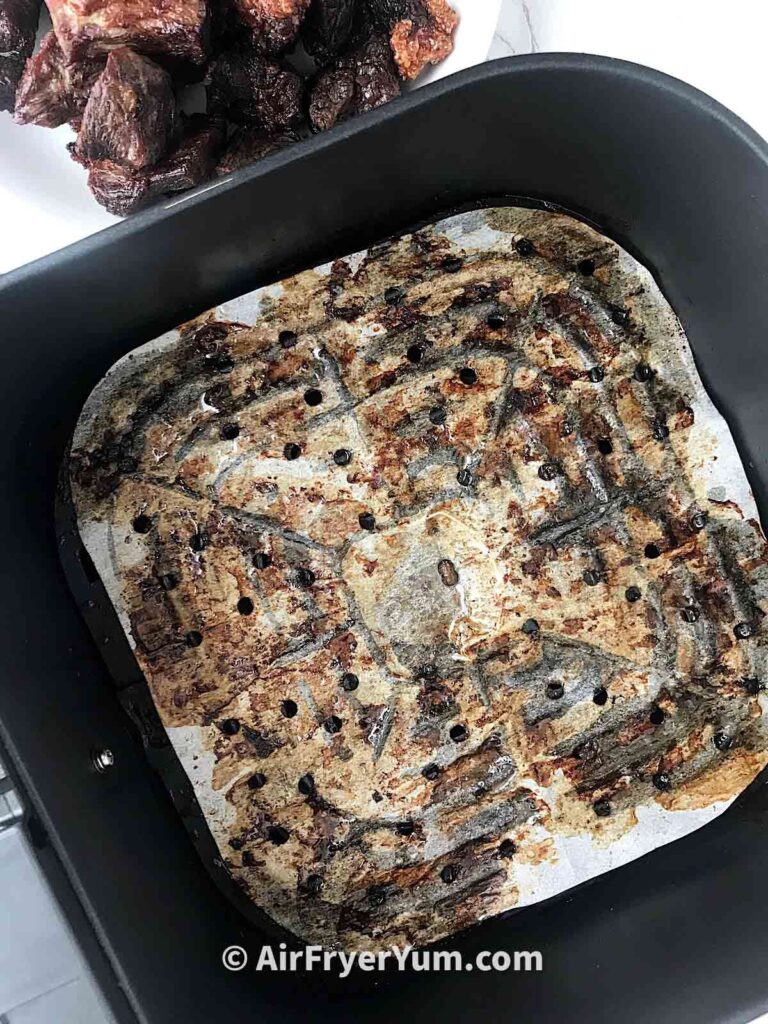 How to store your DIY perforated parchment paper.
If you used the Parchment paper roll to make your perforated parchment paper, you will find that it keeps rolling back to shape.
I usually make up to a dozen or two and store in a ziplock bag. When storing, place the curling part face down so that it can't curl Back. Then slide it into the ziplock bag and place a book on it. It will eventually straighten out when you are ready to use it.
If you are using it immediately, simply place it in the air fryer with the curly side facing down.
Don't place only the parchment in the air frying when preheating. It's so light and will fly around in the air fryer and get caught in the element. Always use the parchment paper with whatever you intend to air fry on it.
Tips for success
Buying Parchment paper rolls is more cost effective than using the precut large sheets.
If you've had your perforator for a long time, it might be blunt so press hard while you punch the holes.
Some holes may not perforate fully, you can pull the flaps out gently.
Use Lead free pencils to trace the shapes.
If you have shaped precut parchment papers used for cake pans. You can follow the same steps to create some holes to make it Air fryer friendly.
If you have a smaller air fryer, use a 6 inch pan to trace out the pattern.
If you have a dollar store around you, you can buy the parchment paper and puncher from there. If buying from there try to purchase a brand name parchment. It will be smaller but you are sure if it's quality.
Air fryer Recipes that use Perforated Parchment paper.
Parchment paper use in your air fryer isn't mandatory but recommended. With that you can use it for most recipes especially Beef & Chicken recipes.
Did you find this tutorial helpful? Leave me a comment about it or any recipe idea you would love Air fryer 'yummed' and don't forget to share with family and friends.
Happy Air frying!
Love it? Pin it!
Looking for more air fryer recipes? Sign up for our yummy newsletter and Follow along on Facebook, Instagram, Pinterest and Tiktok for updates. Remember to Subscribe to my YouTube Channel for weekly videos.
Loving your air fryer much? Join other Air Fryer Buddies in our exclusive free Easy Air Fryer Recipes Group on Facebook!
New to the world of Air frying? We've got you covered. Check out our helpful >>> Air fryer Resources!
Shop all air fryers and air fryer accessories at our Amazon store.