Crispy air fryer chicken drumsticks that are tender, juicy on the inside and seasoned to perfection. These Chicken legs have no breading and yet have nice and crispy skin. Thanks to the addition of baking powder to the spice blend. This recipe is ready in 30 mins! Just in time for dinner.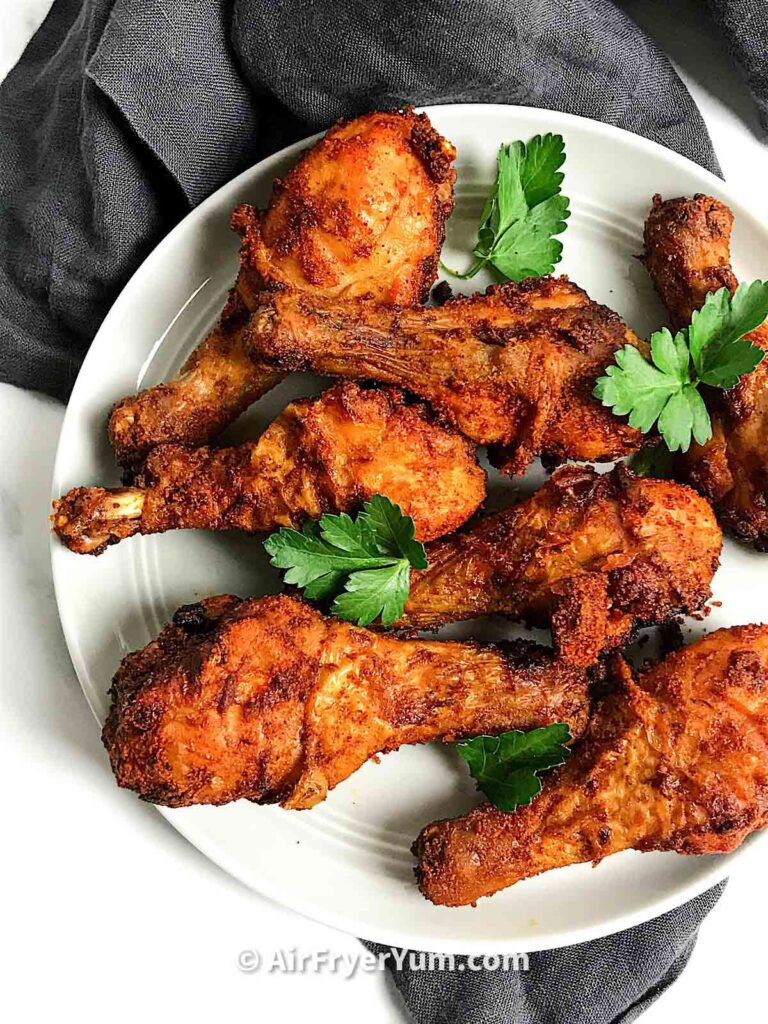 Air fryer Chicken drumsticks Recipe
Are you living a low carb / keto lifestyle? I have a growing collection of Air fryer chicken recipes and this recipe dear air fryer buddies is one you need to make .Be sure to check these Sticky Air fryer legs and BBQ Chicken drumsticks too.
Drumsticks and thighs are one of the best parts to use for air fryer fried chicken recipes because they tend to be juicier than chicken breasts and have lower chances of getting too dry.
Related: How to make Air fryer butterfly drumsticks, The best Air fryer chicken recipes
What is the secret to crispy fried chicken in the air fryer.
If you are wondering how to make crispy fried chicken in your air fryer, I've got you. The secret is not the flour and cornstarch blend used to make southern style fried chicken. That's a different kind of crispy.
Baking powder is the secret to this crispy air fryer chicken. Just like we use it for wings. It works for drumsticks as well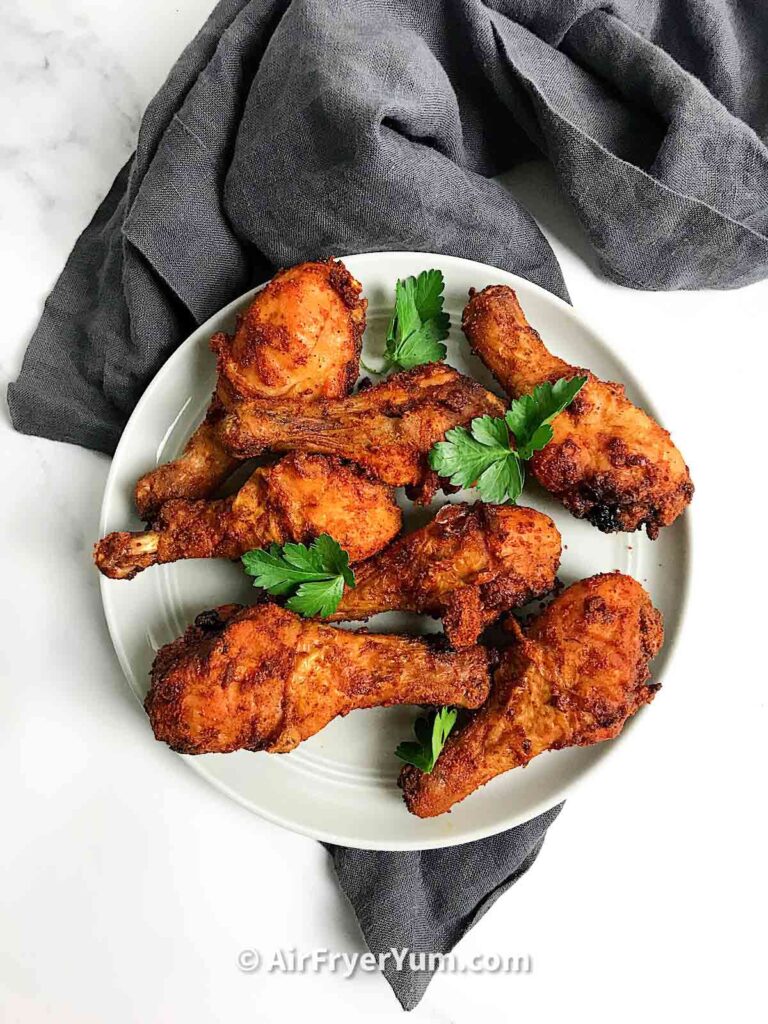 Ingredients
Chicken drumsticks
Oil
Paprika
Cayenne
Garlic powder
Onion powder
Chicken bouillon
White pepper
Baking powder
How to make air fryer Chicken drumsticks
Step 1-3; Gather your ingredients, combine spices and baking powder. Blend spice and baking powder mix with the chicken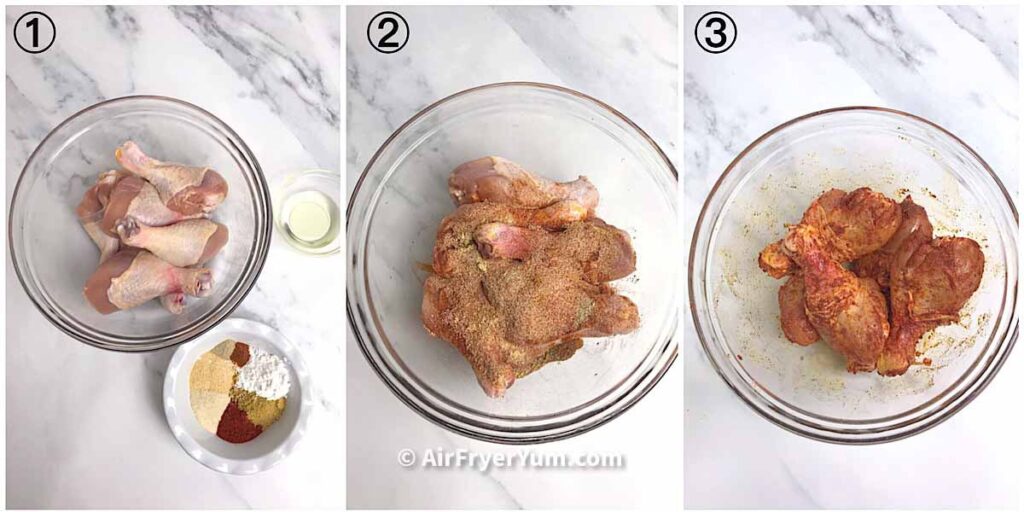 Place Drumsticks in the basket of air fryer and air fry, flipping half way through. Internal temp should read at least 165 degrees F with a meat thermometer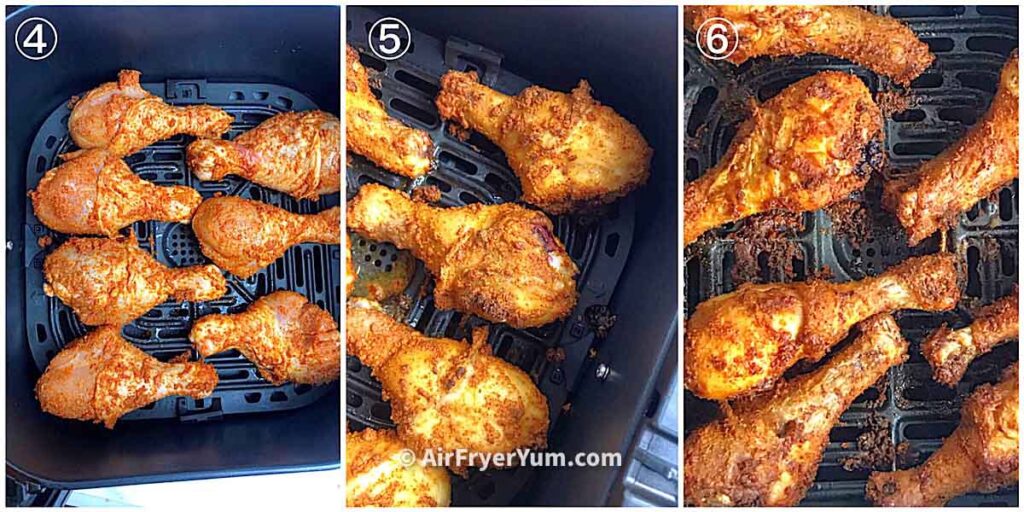 Air fryer frozen chicken drumsticks.
Sometimes we forget to get the frozen meats out of the freezer in time for dinner and we are faced with the dilemma of how to cook frozen chicken.
The air fryer does a good job at cooking frozen foods. However if you are cooking chicken from frozen in the air fryer, I'd recommend a saucy chicken recipe line this teriyaki chicken and BBQ chicken.
This is because unless the chicken was seasoned before freezing, you are likely to lose most of the seasoning added just before popping it into the fryer while it cooks and thaws. Tossing in teriyaki sauce or barbecue sauce will add more flavor.
How long to cook Chicken legs in the air fryer.
I usually cook chicken drumsticks for 25 - 30 minutes in my air fryer and it comes out fully cooked nice, tender and juicy. This will also depend on the sizes of the chicken pieces.
Make it in the oven
Don't have an air fryer yet? No problem Preheat oven to 400 F. Follow same instructions above to season on the chicken legs. Then arrange on a parchment paper lined baking tray and cook for 35 to 40 mins or until the internal temperature reads 165 degrees F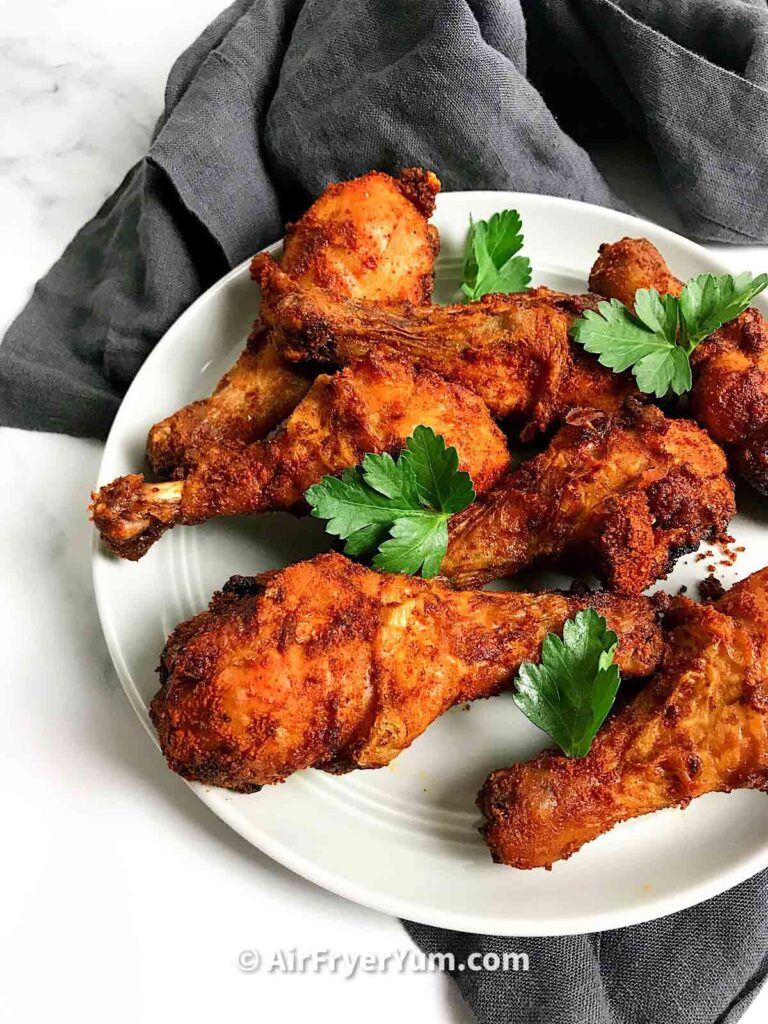 Variations
This recipe is very forgiving and and you can use any spice blend you like and make it your own. Want to make some Cajun chicken? Awesome simply swap out the spice blend for Cajun spice and use drumsticks or thighs.
Want some Indian flavors? Why not make this chicken with Garam masala and dig in.
What to serve with Fried Chicken
There are variety of sides to serve with fried chicken. Salad and rice dishes go very well and here are some of our favorites.
Fried cabbage
Air fryer broccoli
Tips for success
Spray air fryer basket with air fryer spray.
Please use Baking powder not Baking soda the are not the same.
Try to get the chicken as dry as you can before adding the oil and spices. This will help seasoning stick to the meat better.
You don't need to marinade the chicken to get great results however if you do have some time on your hands, let it rest for 20 mins after adding the spice blend.
FAQs
What is the secret to crispy fried chicken
This largely depends on the type of chicken you are making. Baking powder makes naked chicken crispy, flour makes southern chicken crispy while the coating of flour and breadcrumbs make breaded chicken crispy.
Do Air fryers make food crispy?
Not all foods get crispy on the air fryer however, because air fryer cooks by circulating heat and hot air in a very fast way, it makes most foods crispy.
More Air fryer Recipes
Crispy Air fryer Bacon: In my opinion, the air fryer makes the crispiest bacon! With a bonus of less mess! If you try it you are never going back. It's that good.
Crowd pleasing Air fryer meatballs: Making meatballs from scratch is so easy with your air fryer.
Air fryer Chin chin: Make this crunchy snack in your air fryer and enjoy a healthy twist to a traditional Nigerian classic.
Our Air Fryer Recommendations
Did you find this recipe helpful? Leave me a comment about it or any recipe idea you would love Air fryer 'yummed' and don't forget to share with family and friends.
Xoxo!
Looking for more air fryer recipes? Follow along on Instagram, and Pinterest for updates and don't forget to Subscribe to my YouTube Channel for weekly videos.
Loving your air fryer much? Join other Air Fryer Buddies in our exclusive free Easy Air Fryer Recipes Group on Facebook!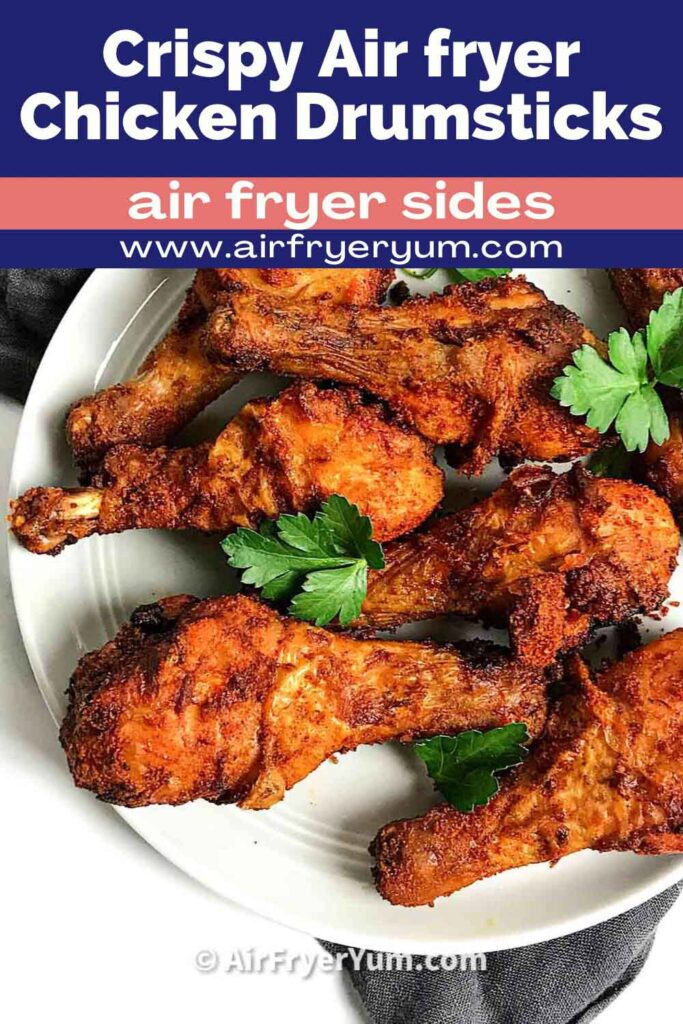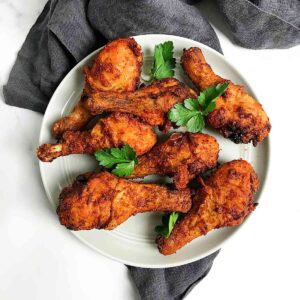 Crispy Air fryer chicken drumsticks
Crispy air fryer chicken drumsticks that are tender, juicy on the inside and seasoned to perfection. These Chicken legs have no breading and yet have nice and crispy skin. Thanks to the addition of baking powder to the spice blend. This recipe is ready in 30 mins! Just in time for dinner.
Ingredients
8

chicken drumsticks

1

Tablespoon

oil

1

teaspoon

ground Paprika

½

teaspoon

ground Cayenne

1

teaspoon

garlic powder

1

teaspoon

onion powder

2

teaspoons

baking powder

¼

teaspoon

white pepper

1 ½

teaspoon

chicken bouillon
Instructions
Wash and drain chicken. Then dry thoroughly with paper towel.

Mix spices and baking powder together. Add oil to chicken then add the spices-baking powder blend

Massage into the chicken till all drumsticks are well coated

Let it marinade for about 20 mins.

Arrange in your air fryer, set temperature to 400 °F / 204°C and cook for 25-30 mins or until internal temperature reads 165°F / 74°C. Remember to flip chicken legs half way through cooking time.

Serve
Video
Notes
Please use baking powder and not baking soda. They are two different things.
It's important to dry the chicken thoroughly this will help the oil and seasoning stick to the meat.
Nutrition
Serving:
2
Pieces
Calories:
194
kcal
Carbohydrates:
2.6
g
Protein:
25.6
g
Fat:
8.8
g
Saturated Fat:
1.8
g
Cholesterol:
81
mg
Sodium:
87
mg
Potassium:
463
mg
Fiber:
0.4
g
Sugar:
0.4
g
Calcium:
123
mg
Iron:
2
mg
Nutrition Disclaimer
Nutritional information is an estimate and may change based on products used. Please read full nutrition disclaimer here .
Subscribe to my YouTube Channel
Subscribe to Air Fryer Yum on YouTube for more detailed videos! Remember to click the bell icon to get notified when I upload new videos.
Save this Recipe for later!
Follow @AirFryerYum on Pinterest!