Here's something sweet to wrap bacon around. Air fryer Bacon wrapped pineapple bites are delicious sweet and salty appetizers that will having you reaching out for more.
Everyone loves bacon wrapped appetizers whether as bites, rings or on stick, these would definitely get rave reviews at you next backyard barbecue. You've got to make these in your air fryer and I am happy to show you how.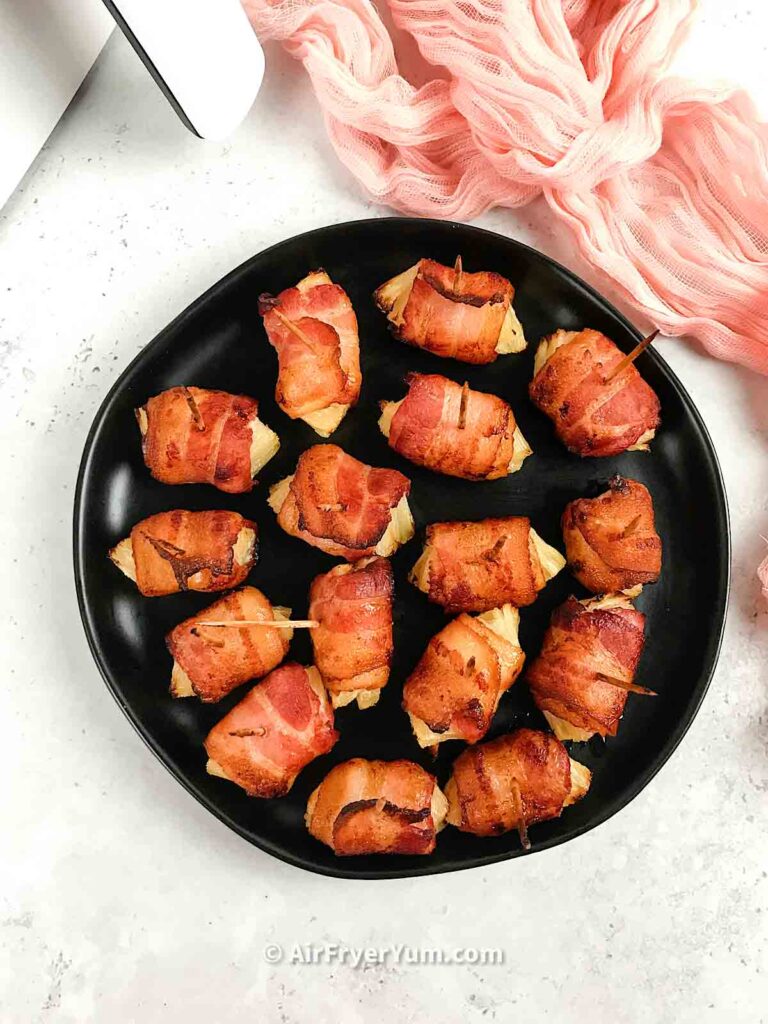 Air fryer Bacon wrapped Pineapple recipe
Air fryer bacon wrapped pineapples are a delightful and tasty treat to enjoy with family or share with friends. The taste of caramelized pineapples with salty bacon is best experienced.
The magic sweet and salty does to the taste buds will be unmatched when this easy air fryer appetizer gets into your mouth. This is one recipe that should be made all year round holidays included.
Related: Air fryer bacon wrapped potatoes, bacon wrapped radishes in air fryer, air fryer bacon wrapped appetizers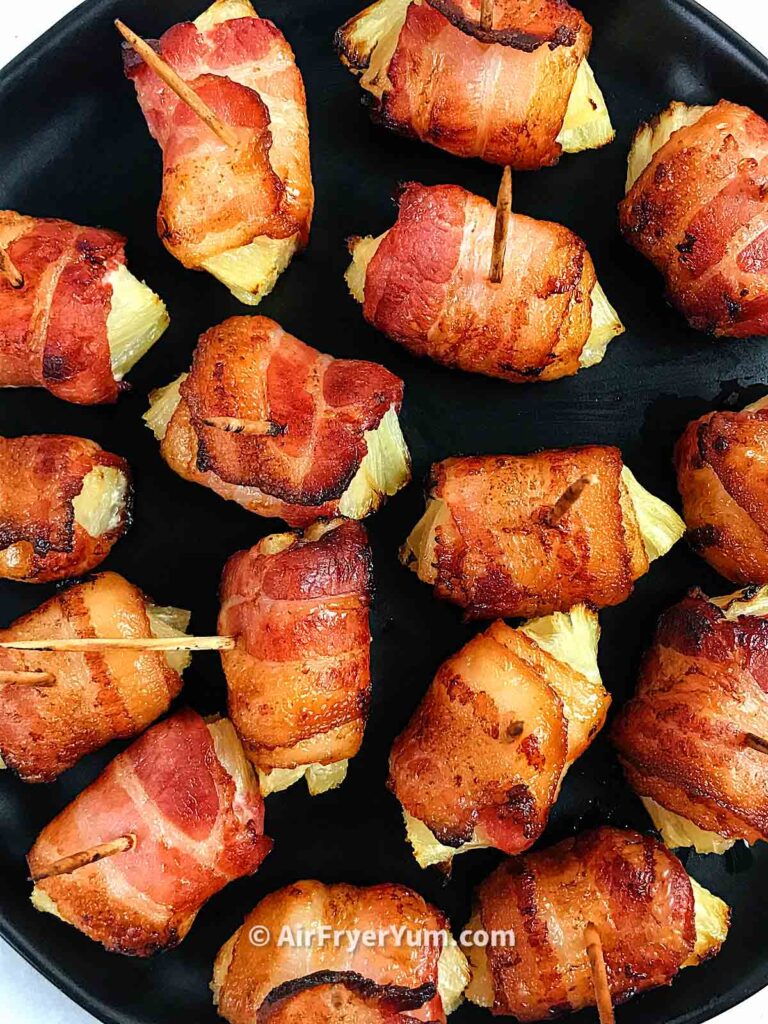 Why these bacon wrapped pineapple bites are so good
Hello easy entertaining and tasty pick me ups. Here are some of the reasons these are always within reach for me
Easy: what could be easier than wrapping bacon around pineapple bites or rings? Well maybe eating it. These are beginner friendly and super easy to make.
Availability: pineapples are available all year round so these are great appetizers to serve at any occasion.
Crowd pleasing: These are family friendly and always a hit at summer backyard gatherings.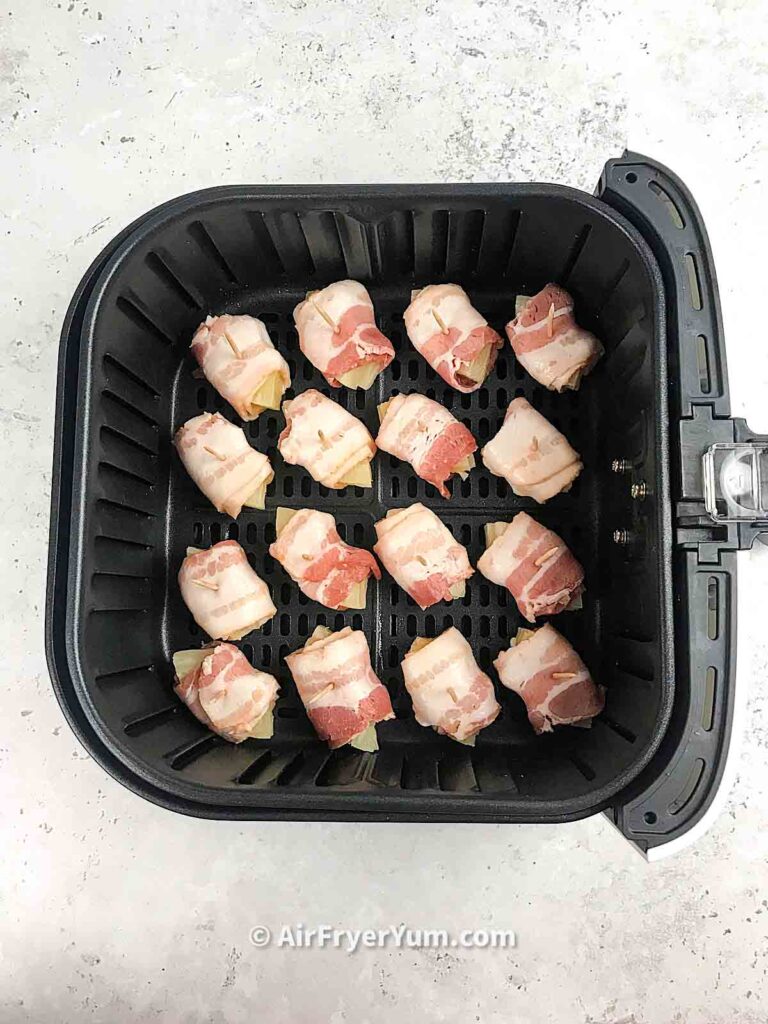 What you'll need
Fresh or canned pineapples
Regular cut Bacon
Brown sugar (optional)
How to make bacon wrapped pineapple in the air fryer
These are a variety of ways to enjoy this recipe. As bites, as rings and as skewers
Making bites
Cut pineapple into bite sizes about 2 inches. Cut bacon into thirds. Wrap pineapple bites with bacon and secure with toothpicks. If using brown sugar, roll pineapple in brown sugar before wrapping the roll wrapped bites in brown sugar before air frying.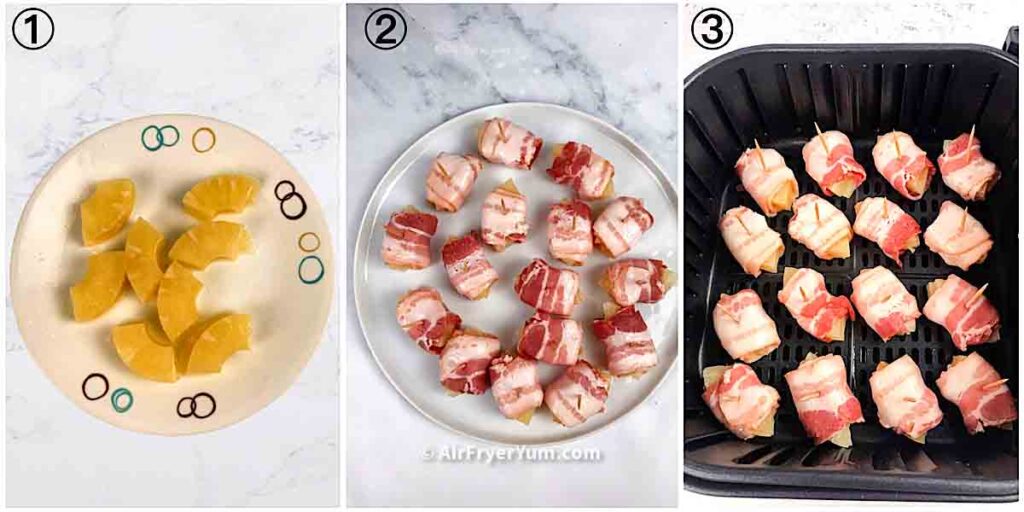 Transfer wrapped pineapple bites on to air fryer basket and bake at 400°F / 200°C for 10 to 12 mins.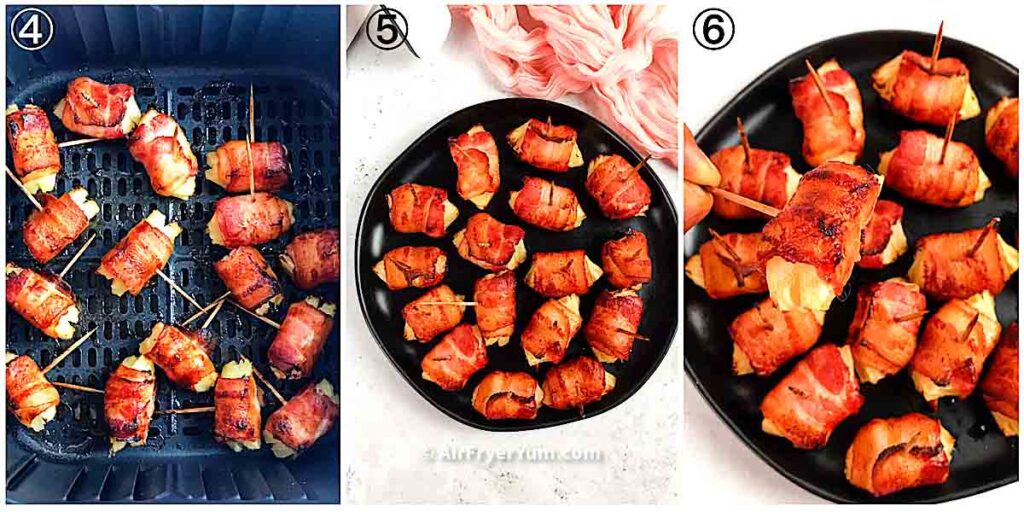 Pineapple rings
To make these with pineapples rings, you can use store bought pineapple rings in a can or remove the core from freshly sliced pineapple rings.
Cut bacon into halves and gently wrap bacon slices around the bacon rings passing bacon in and out the pineapple rings. Do not overlap the bacon.
Skewers
Pass each wrapped pineapple bite through a wooden skewer make it 4 or 5 per 6 inch skewer and air fryer at 400°F / 200°C for 10 to 12 mins. Remember to flip over half way through.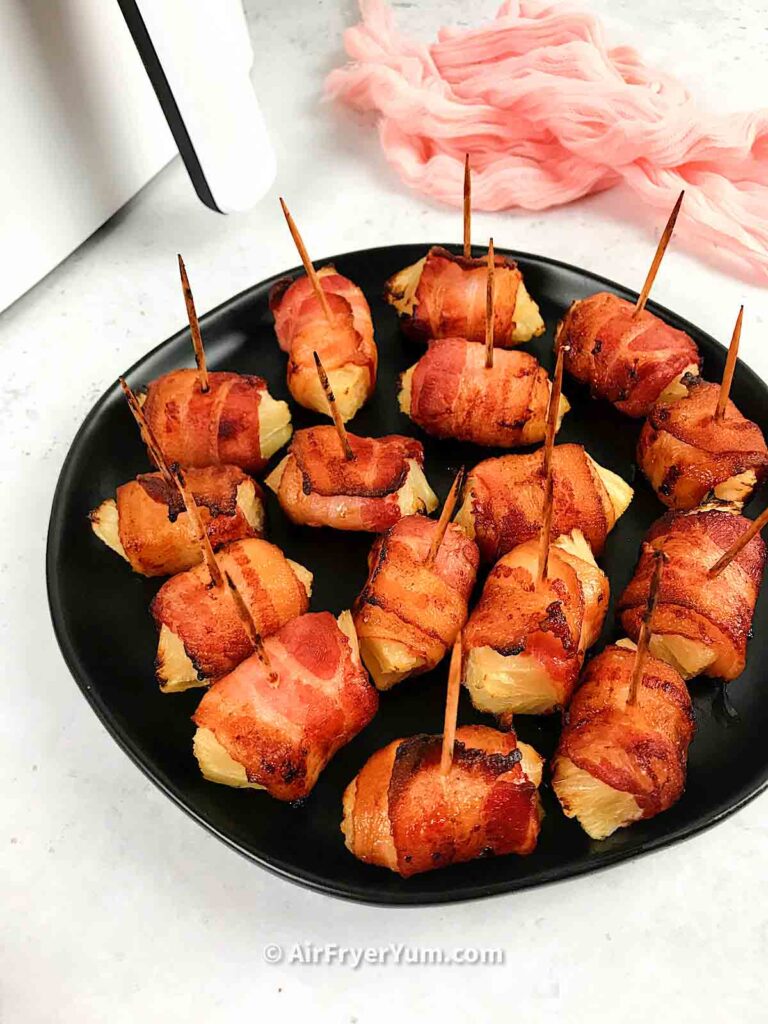 Don't have an air fryer yet?Make these in the oven.
Preheat oven to 400°F / 200°C / Gas mark 6.
Place wrapped pineapple bites in a parchment paper lined baking sheet bake in the preheated over for 25 mins or until bacon is crispy.
Make ahead and how to store.
These bites are best served immediately so I don't recommend storing leftovers. However to save time, you can wrap the pineapples and store in a covered dish in the refrigerator up to a few hours or a day ahead. When your guests are about to arrive. Pop them in the air fryer and bake till crispy.
Air frying tips
Cut the pineapples in equal sizes so they cook evenly and get ready at the same time.
Brown sugar adds more caramelization to this treat. Cinnamon is also a great addition.
Remember to flip halfway through cooking time.
When using skewer, thread the wrapped pineapple bite at seam so it keeps the bacon secure.
If you want the bacon super crispy, I would recommend you precook the bacon for a minute or two. Keep an eye on it as you precook and stop when it's still soft and pliable. You won't be able to wrap the pineapple bites or rings if the bacon is no longer soft.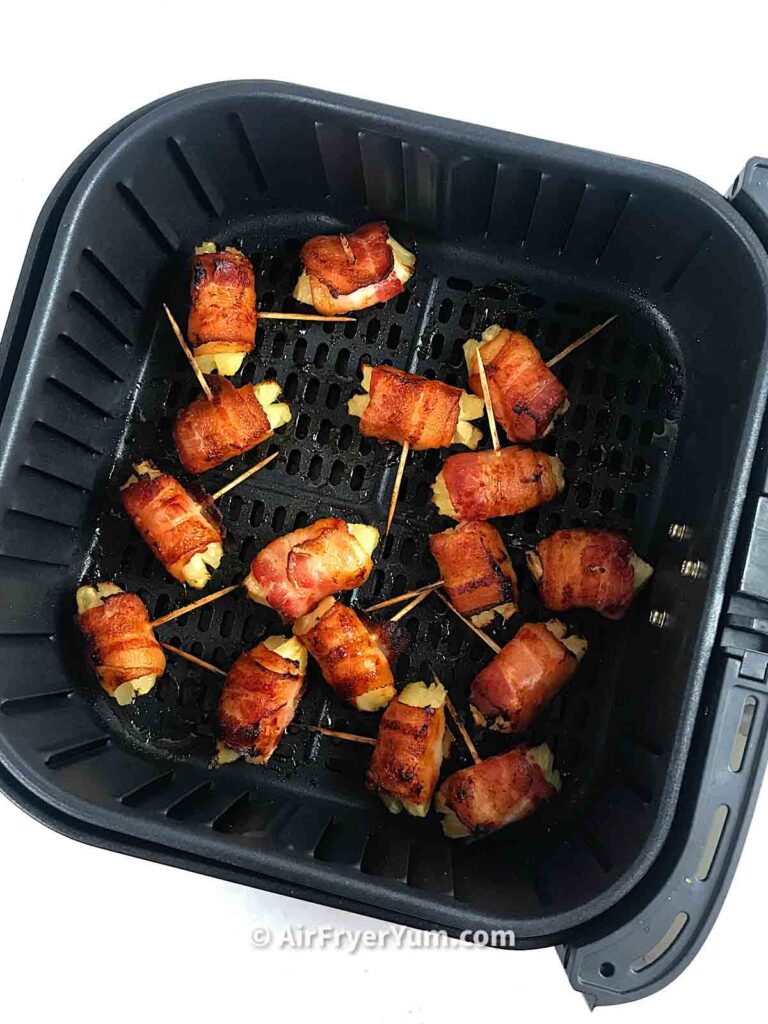 Frequently asked questions
Does the bacon get crispy all through?
The bacon gets pretty crispy but remains a bit chewy in the areas near the pineapple.
---
Can I use canned pineapple for this recipe?
I have used both and either one works fine. The canned ones will definitely save you time if you are in a hurry but the fresh ones are sweeter when bought at peak season. If using canned pineapples I would use the rings instead of the chunks. The rings are firmer and you can control the sizes you cut it into.
---
Can you buy pineapple all year round?
Fortunately pineapples are available all year round. They may be in abundance in its peak season which is from March to July.
---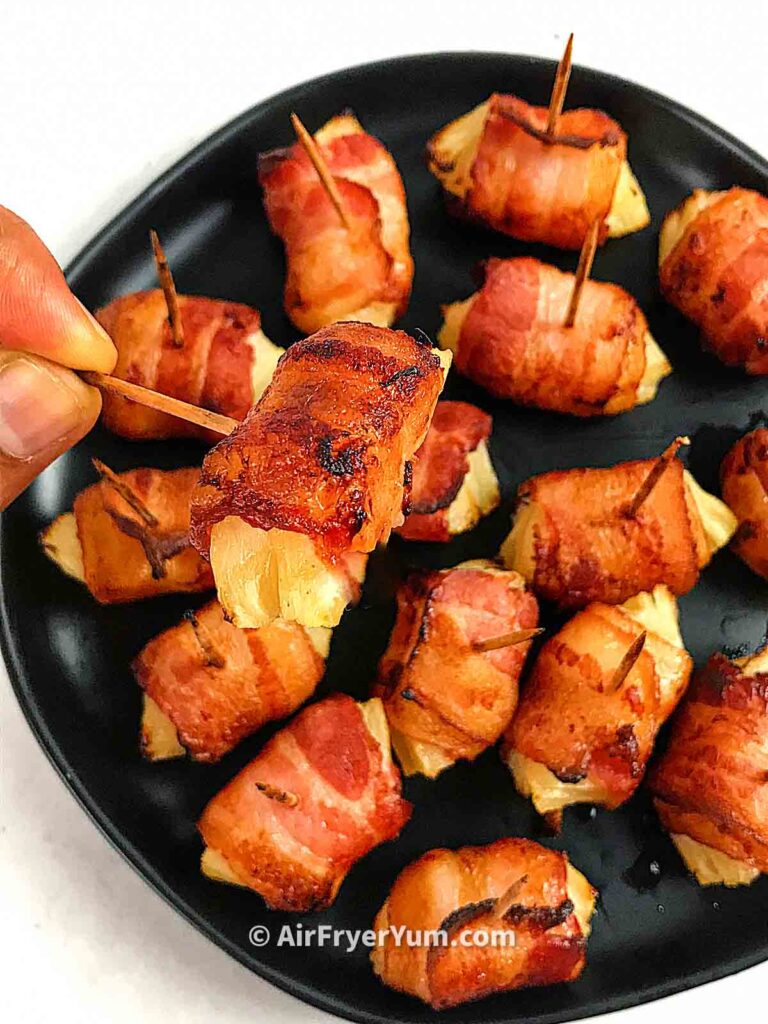 More bacon wrapped appetizers
Check out all our >>>Air fryer Recipes!
Did you find this recipe helpful? Leave me a comment about it or any recipe idea you would love Air fryer 'yummed' and don't forget to share with family and friends.
Happy Air frying!
Love it? Pin it!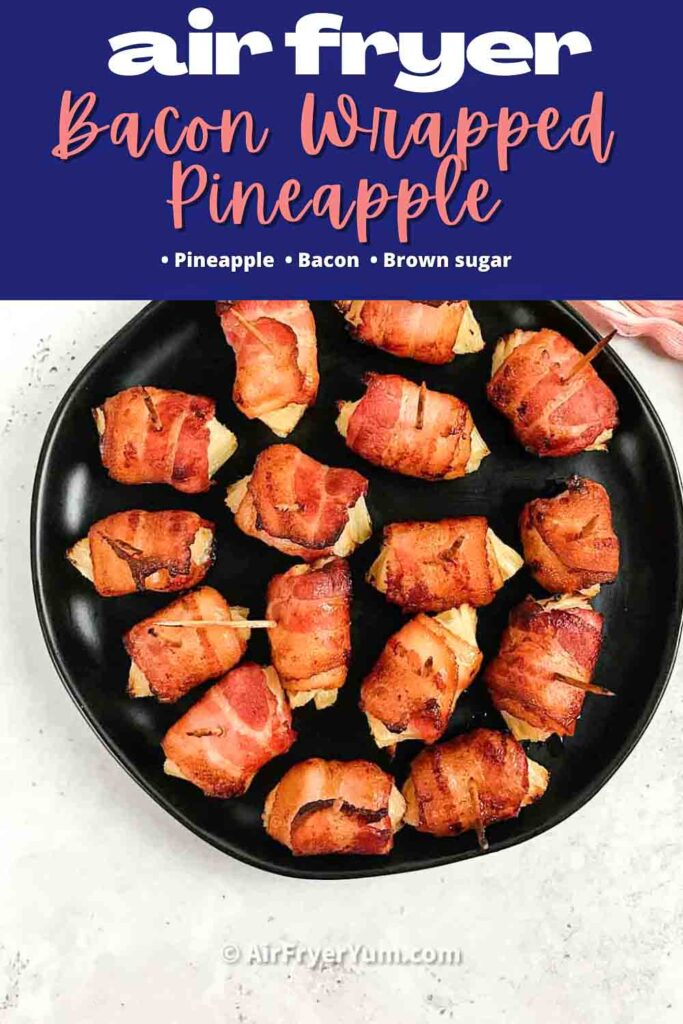 Looking for more air fryer recipes? Sign up for our yummy newsletter and Follow along on Facebook, Instagram, Pinterest and Tiktok for updates. Remember to Subscribe to my YouTube Channel for weekly videos.
Loving your air fryer much? Join other Air Fryer Buddies in our exclusive free Easy Air Fryer Recipes Group on Facebook!
New to the world of Air frying? We've got you covered. Check out our helpful >>> Air fryer Resources!
Shop all air fryers and air fryer accessories at our Amazon store.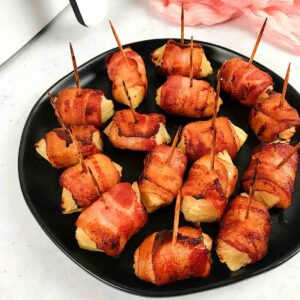 Air fryer bacon wrapped pineapple (bites and rings)
Here's something sweet to wrap bacon around. Air fryer Bacon wrapped pineapple bites are delicious sweet and salty appetizers that's will having you reaching out for more.
Equipment
Air fryer

Glass bowl

Knife

Parchment paper (optional)

Bamboo Toothpick sticks or cocktail sticks

cutting board
Ingredients
24

(2 inch)

Pineapple chunks or cubes

(see note 1 if using canned pineapples)

8

Slices

Regular cut bacon

(Cut in thirds)

¼

Cup

brown sugar

(optional)
Instructions
Prepare the bacon
Cut bacon in thirds crosswise and set aside
Prepare pineapple
Toss pineapple chunks in 2 tablespoons of brown sugar if using. If not using brown sugar, move to bacon wrapping.
Assemble it all
Wrap each pineapple chunk with bacon and secure seam with tooth picks or cocktail sticks.

Repeat process till all the pineapples have been wrapped.

Roll wrapped pineapples in the rest of the brown sugar if using.
Air fry
Place bacon wrapped pineapples in the air fryer basket. Do not overcrowd the basket

Set temperature to 400°F / 200°C and bake for 10 to 12 mins flipping half way through. Remove and cook subsequent batches.
Notes
If using canned pineapple, buy the rings and cut it into thirds.
Use cold bacon. It's easier to cut cold bacon without stretching and distorting the shape.
No need to preheat the air fryer. However start checking the second batch at 10 mins if using a Ninja air fryer
Do not overcrowd your basket. Cook in batches if needed. I used a 5.8qt air fryer 12 fits in mine at a time. Put whatever amount that will fit in yours without overcrowding the basket.
Nutrition
Serving:
4
Pieces
Calories:
184
kcal
Carbohydrates:
4
g
Protein:
4
g
Fat:
16
g
Cholesterol:
28
mg
Sodium:
292
mg
Potassium:
88
mg
Fiber:
4
g
Sugar:
4
g
Calcium:
4
mg
Iron:
4
mg
Nutrition Disclaimer
Nutritional information is an estimate and may change based on products used. Please read our Nutrition disclaimer page.
Subscribe to my YouTube Channel
Subscribe to Air Fryer Yum on YouTube for more detailed videos! Remember to click the bell icon to get notified when I upload new videos.
Save this Recipe for later!
Follow @AirFryerYum on Pinterest!