These air fryer bacon crackers are a nice blend of sweet and salty. Similar to my favorite holiday bacon appetizer recipe yet slightly different. Keebler's Club crackers are the stars in this recipe and the bacon and Parmesan cheese or brown sugar takes it to a whole different level of yum!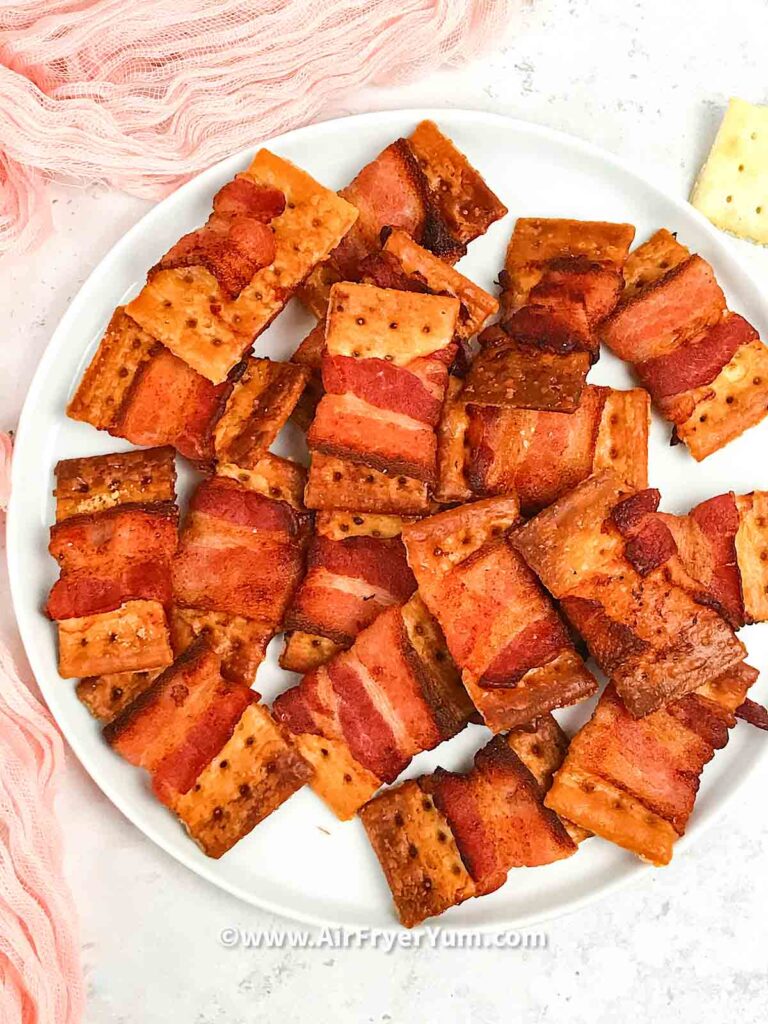 Bacon Crackers Recipe
This will be your new go to appetizer recipe and the most popular at your tailgating party. It's super easy to make and requires just 3 ingredients. With just a tiny bit of prep you are well on your eat to enjoying one of the best party snacks yet and that's because there's bacon in it.
Bacon crackers or bacon wrapped crackers can be whatever you want it to be, it could be sweet or savory depending on your preference. If you ask me, I'd say why not make both so everyone can have a taste of both worlds.
We've been wrapping food with bacon for a while now so you need to check out our air fryer bacon wrapped corn on the cob, (no need to grill just use the air fryer) air fryer bacon wrapped green beans and air fryer bacon wrapped appetizers just in case you missed them. Oops did I forget the air fryer bacon wrapped tater tots.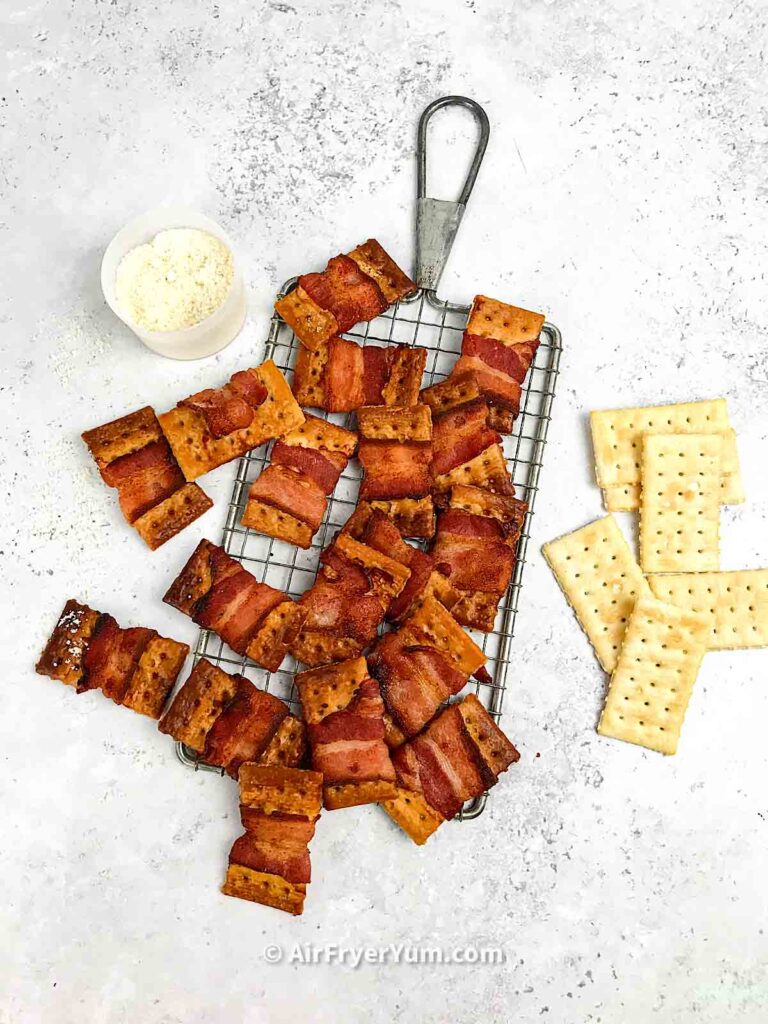 Why these Bacon wrapped club crackers are so good.
Can you tell we love our bacon over here at AirFryerYum.com. When it comes to bacon, we don't play. These bacon wrapped crackers are the truth. This isn't only for Thanksgiving, Christmas or New year, it's perfect for any occasion.
We find that our friends love these little bites for the big game while we gather around the big screen to watch the game and to be honest, crowd pleasing doesn't even begin to define how amazing these are.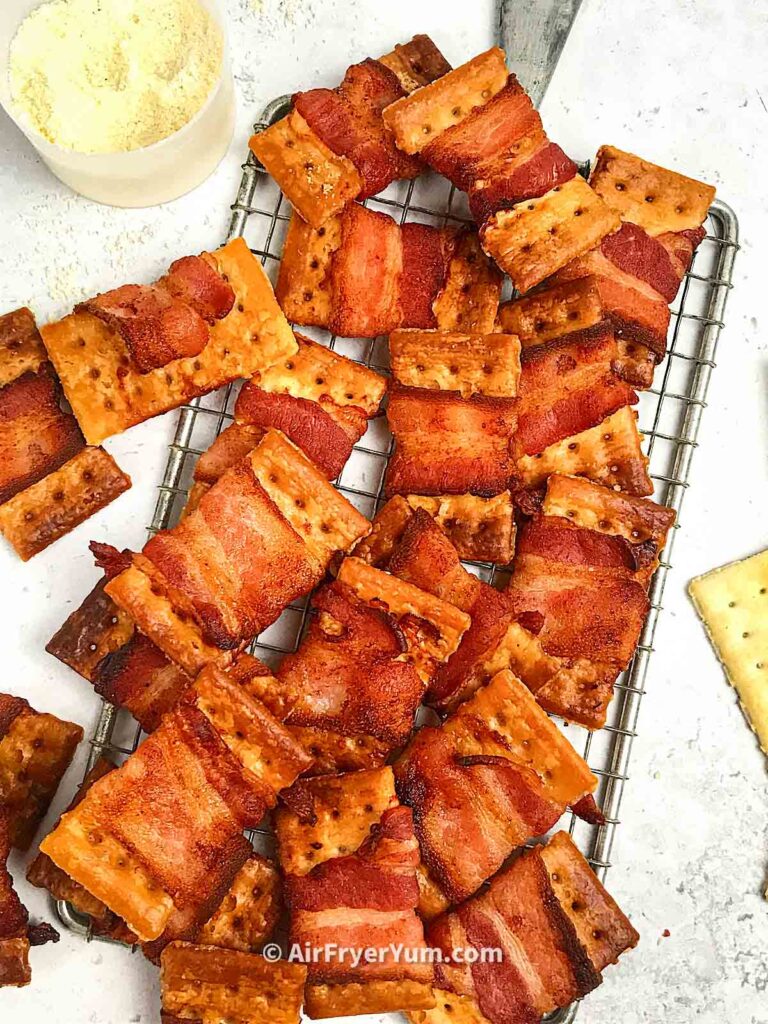 What you'll need (ingredients)
Keebler Club crackers
Bacon (regular cut bacon not thick cut)
Parmesan cheese (for the savory version) or
Light brown sugar (for the sweet version)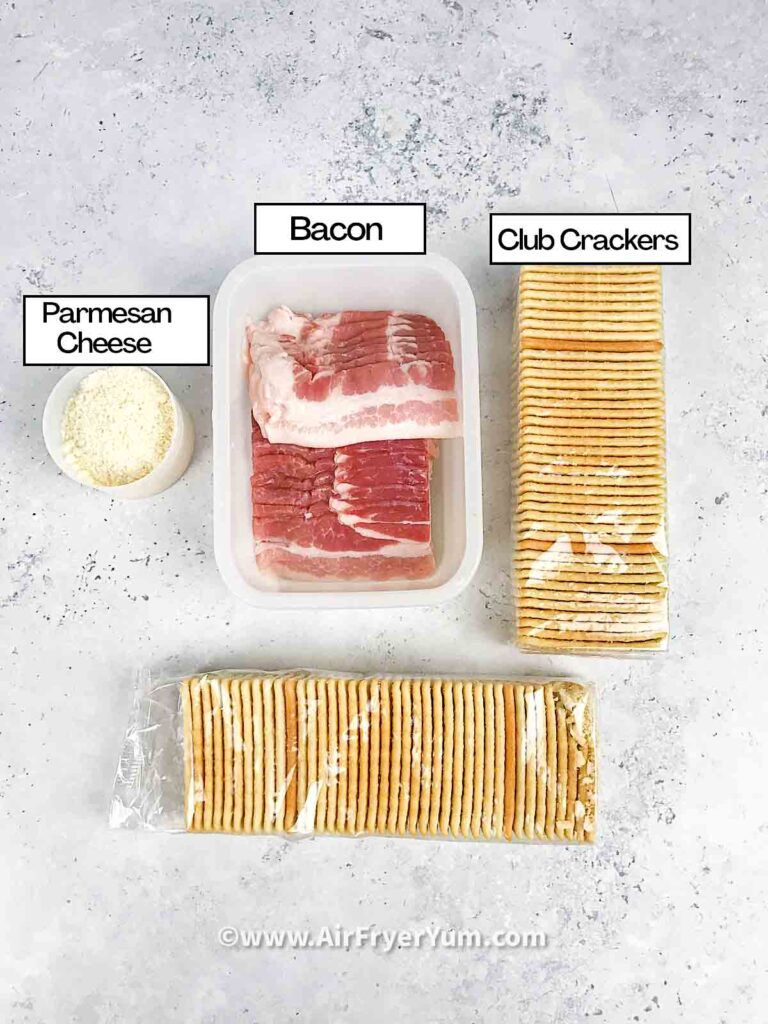 Calories in club crackers.
If you are wondering how many calories there are in club crackers, I've got you covered. I will also share the recommended serving size and nutritional facts as per the Keebler box.
A serving size is 4 crackers, Calories 70kcal, Total fat is 3g, Total carbs 9g, Sugar 1g, Fiber 0g, Protein 0.5g Sodium 125mg, Potassium 13g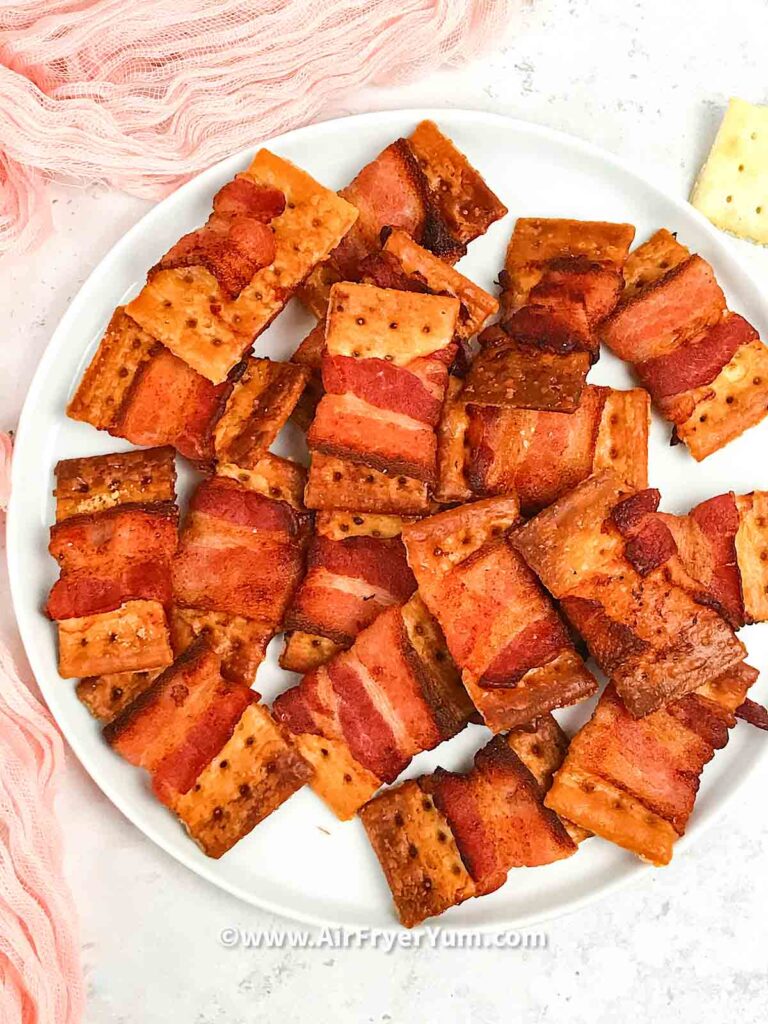 How to make Bacon crackers in the Air fryer
This is an overview of the recipe with easy to follow step by step pictures. You can get the full printable recipe at the end of this page. First things first, gather your ingredients.
Cut bacon strips or rashers into thirds and set aside. Arrange crackers on a plate, put ½ a teaspoon each of grated Parmesan cheese on each cracker. Next wrap the crackers with bacon.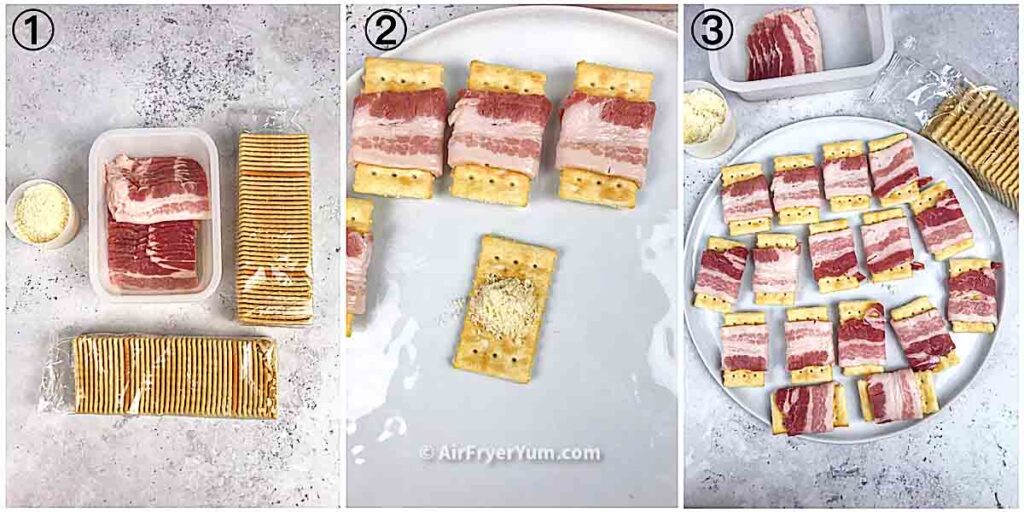 Place bacon wrapped crackers in the air fryer basket with the seam side down. Then air fry at 400°F / 200°C for 6 to 7 mins. After air frying, the crackers would be soft. Let it rest, it will harden as it cools.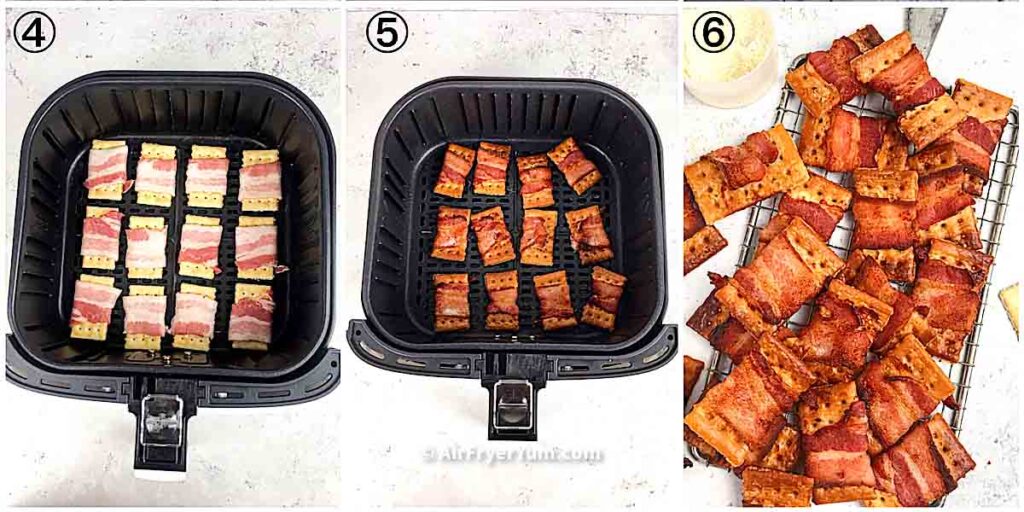 How to make it in the oven
Need to make a really large batch you can make it in the oven or you don't have an air fryer yet. You could grab this air fryer (👈 affiliate link) In the meantime let's make these in the oven by following the steps below.
Preheat the oven to 300°F / 150°C / Gas mark 2. Place crackers on a cooling rack over the cookie sheet.
Bake in preheated oven for 25 to 30 mins or until bacon is crispy. Let it cool on the rack before serving.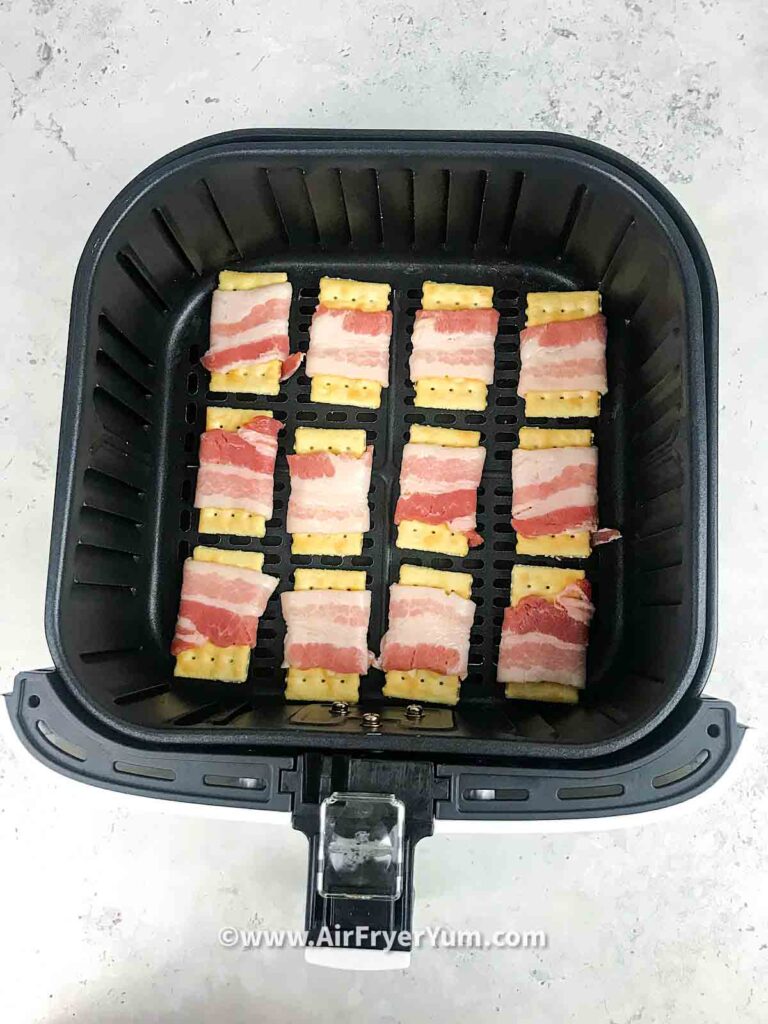 Variations
I almost always make two variations of this recipe the sweet and the savory.
The sweet version is also called Pig Candy crackers and is similar to my Bacon Ritz crackers appetizer because of the brown sugar. The only difference is that the brown sugar is tucked under the bacon in this recipe while it stays on top in the Bacon ritz crackers recipe
The savory version is also known as bacon crackers with cheese or cheese stuffed bacon wrapped crackers. Grated Parmesan cheese is tucked right under the bacon before air frying.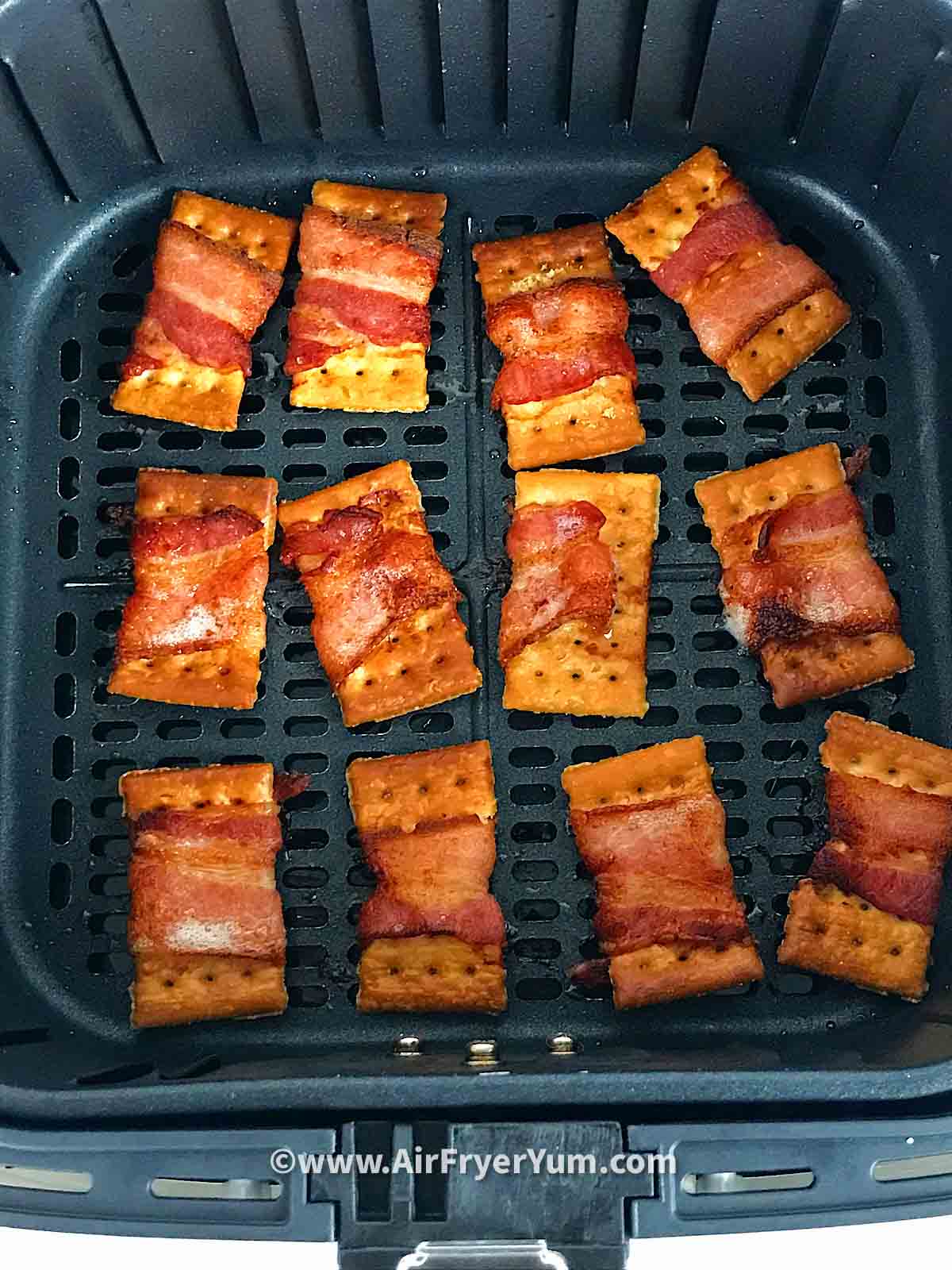 How to store
It is highly recommended that this is eaten the same day it's made. If you must store, then I would suggest a maximum of 24 hours in an air tight container on the countertop.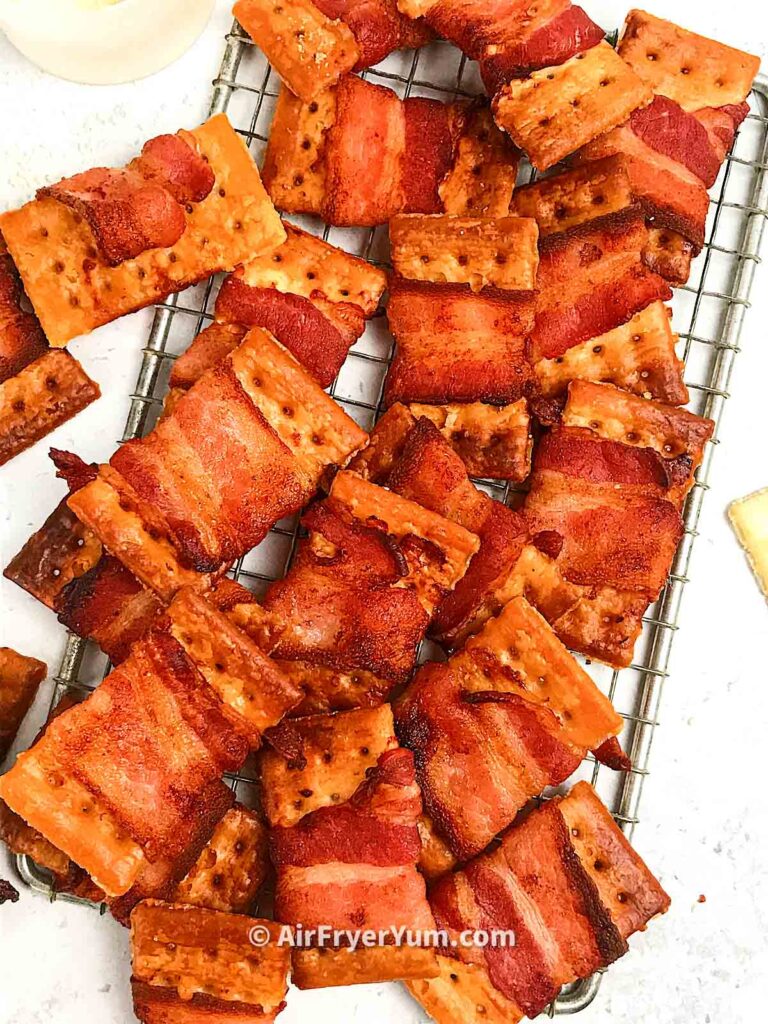 Tips for success
Use a lower sodium crackers to cut down on the salt in the components of the recipe.
Substitute with Multi-grain club crackers to increase the fiber content.
Be sure to place the crackers seam side down and let it cook for longer in this position for about 4 mins before flipping. This will prevent the bacon from curling up.
If you'd like the bacon very crispy, consider precooking it for about 2 minutes before wrapping it round the crackers. If you precook, the bacon would likely shrink and you will need to cut the bacon in halves instead of thirds therefore it may be best to precook the bacon before cutting so you can see which see which size you need to cut it to.
Fun fact about Keebler crackers
Keebler club crackers used to be owned by the Kellogg's company. They sold a part of their snacking brand which includes club crackers to the Ferraro group.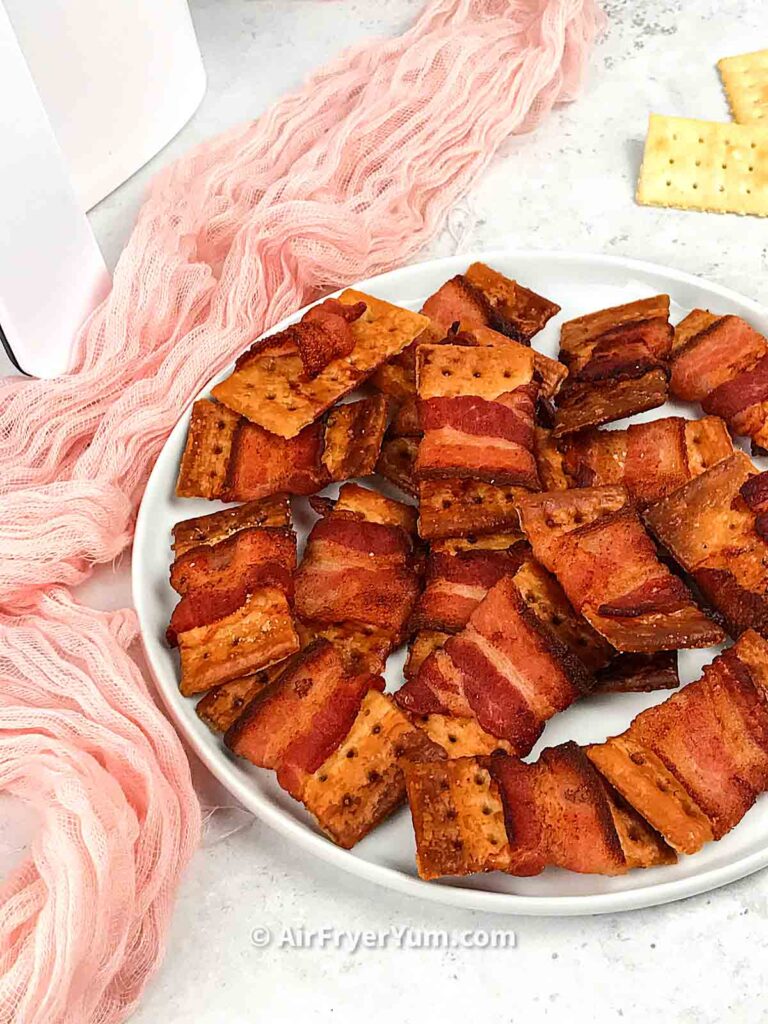 FAQs
Why is it called club crackers?
Sometime in the early 1970s one of the Capital city clubs ran out oyster crackers which it usually served it's guests. The Sous Chef Roderick Moon buttered some saltine crackers and baked them in the oven and served instead of the oyster crackers. It was an instant hit and that's how these type of crackers became known as club crackers. According to Chef Moon, club crackers were invented in a moment of need.
Are club crackers high in carbs?
Keebler club crackers have 9g of crackers per serving of 4. These crackers are so good you might find it difficult to stop once you start. It's not best for a low carb lifestyle except you have extreme self control.
How long to air fry bacon wrapped crackers
It takes about 6 mins to bake these bacon wrapped crackers at 400°F (200°C) in the air fryer without preheating.

If you cook at a lower temperature such as 350°F, it's likely to take longer than the time stated in this recipe.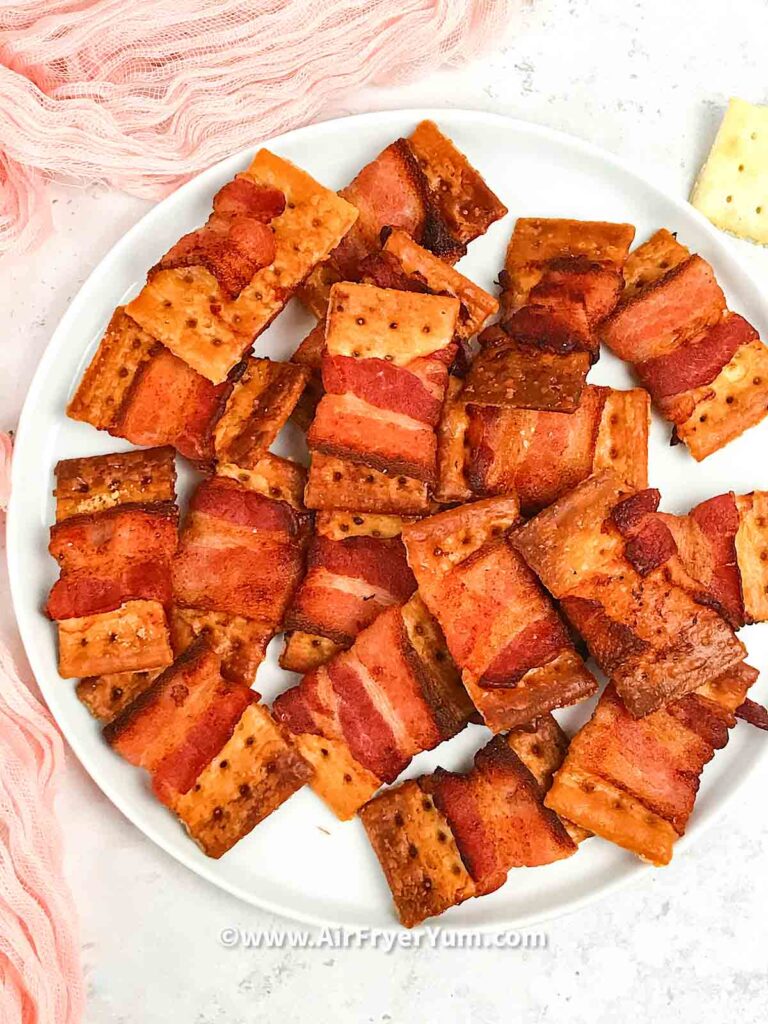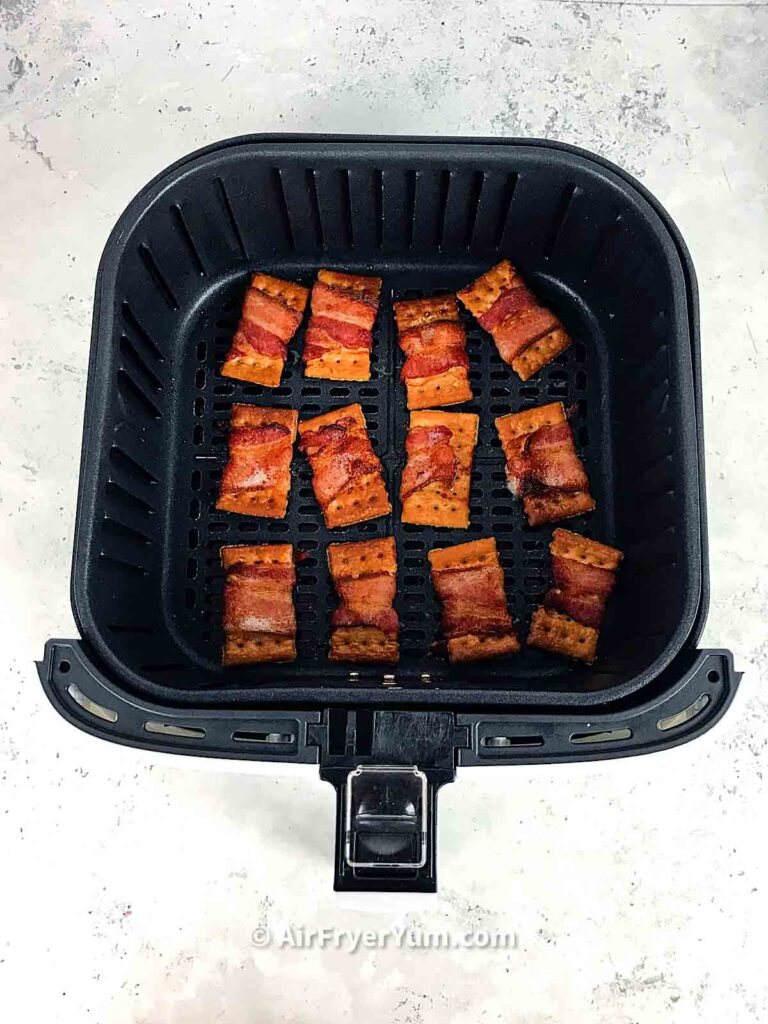 Did you find this recipe helpful? Leave me a comment about it or any recipe idea you would love Air fryer 'yummed' and don't forget to share with family and friends.
Happy Air frying!
Love it? Pin it!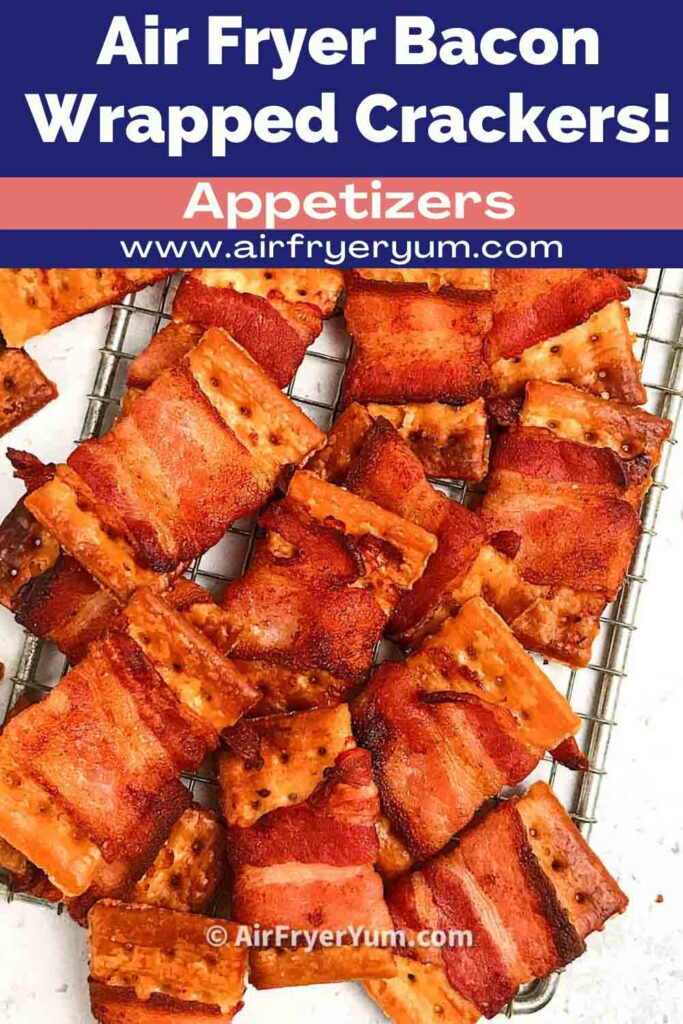 Looking for more air fryer recipes? Sign up for our yummy newsletter and Follow along on Facebook, Instagram, Pinterest and Tiktok for updates. Remember to Subscribe to our YouTube Channel for weekly videos.
Loving your air fryer much? Join other Air Fryer Buddies in our exclusive free Easy Air Fryer Recipes Group on Facebook!
New to the world of Air frying? We've got you covered. Check out our helpful >>> Air fryer Resources!
Shop all air fryers and air fryer accessories at our Amazon store.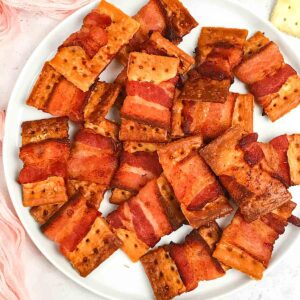 Air Fryer Bacon Crackers Recipe
These air fryer bacon crackers are a nice blend of sweet and salty. Similar to my favorite holiday bacon appetizer recipe yet slightly different. Keebler's Club crackers are the stars in this recipe
Ingredients
24

Club

crackers

½

lb

bacon

(about 8 slices of Thin sliced bacon)

4

Tablespoons

Parmesan cheese

(substitute with brown sugar to make a sweet version of this recipe)
Instructions
Cut each bacon into thirds

Arrange crackers on a plate or chopping board. Pour ½ teaspoon of Parmesan cheese on the top of each cracker.

Gently place bacon over the Parmesan cheese or brown sugar as the case may be, lightly fold over so the edges are tucked under the cracker. Repeat process for each cracker.

Transfer crackers to the air fryer basket, placing crackers seam side down. Set temperature to 400°F / 200°C and air fry for 6 to 7 mins.

Do not flip crackers over in the first 4 mins to give the bacon time to seal under the crackers. If you flip too early the bacon may begin to curl up.
Notes
Recipe was made in a non preheated air fryer.
The nutrition fact was calculated based on the use of Parmesan cheese. The sugar content would higher if you use brown sugar to make a sweet version of this recipe.
When the crackers are hot, they would be soft. Don't worry, they crisp up as they cool.
You can substitute club crackers for saltines.
You would need to cook in batches to ensure all crackers cook evenly.
Nutrition
Serving:
4
Bacon wrapped crackers
Calories:
211
kcal
Carbohydrates:
12.8
g
Protein:
10.6
g
Fat:
12.4
g
Saturated Fat:
4.8
g
Cholesterol:
25
mg
Sodium:
584
mg
Potassium:
60
mg
Fiber:
0.7
g
Sugar:
1.3
g
Calcium:
168
mg
Nutrition Disclaimer
Nutritional information is an estimate and may change based on products used. Please read our Nutrition disclaimer page.
Subscribe to my YouTube Channel
Subscribe to Air Fryer Yum on YouTube for more detailed videos! Remember to click the bell icon to get notified when I upload new videos.
Save this Recipe for later!
Follow @AirFryerYum on Pinterest!