Air fryer bacon wrapped shrimp! Raise your hands if you love bacon and shrimp recipes. Well today is your lucky day cos this Grilled bacon wrapped shrimp recipe is all shades of delicious.
We all know how bacon wrapped foods are seriously yummy, these delightful appetizers tell it all and I'm so excited to show you how to grill some shrimp in your air fryer.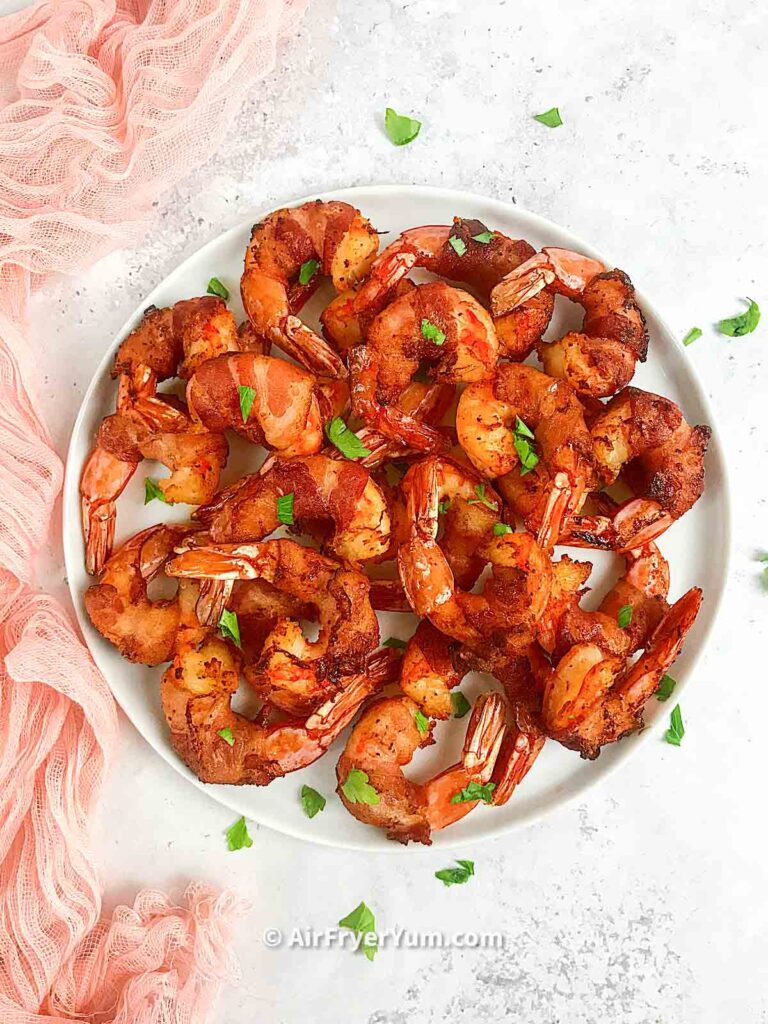 Air fryer Bacon wrapped shrimp
Hey! This is a winning recipe in my book and an all around diet recipe. Except you are living a plant based lifestyle, these air fryer bacon wrapped shrimps will fit right into your meal plan.
It's Keto, Weight watchers friendly, low carb you name it. Your guests at any occasion would definitely love a bite of these. Talk about taking these to a cook out, oh my goodness you're gonna be the star of the show!
Seeing that you love seafood! You should try this Shrimp Fajitas (San Pedro recipe) next. I love fajitas.
Join our exclusive Air Fryer Recipe group on Facebook!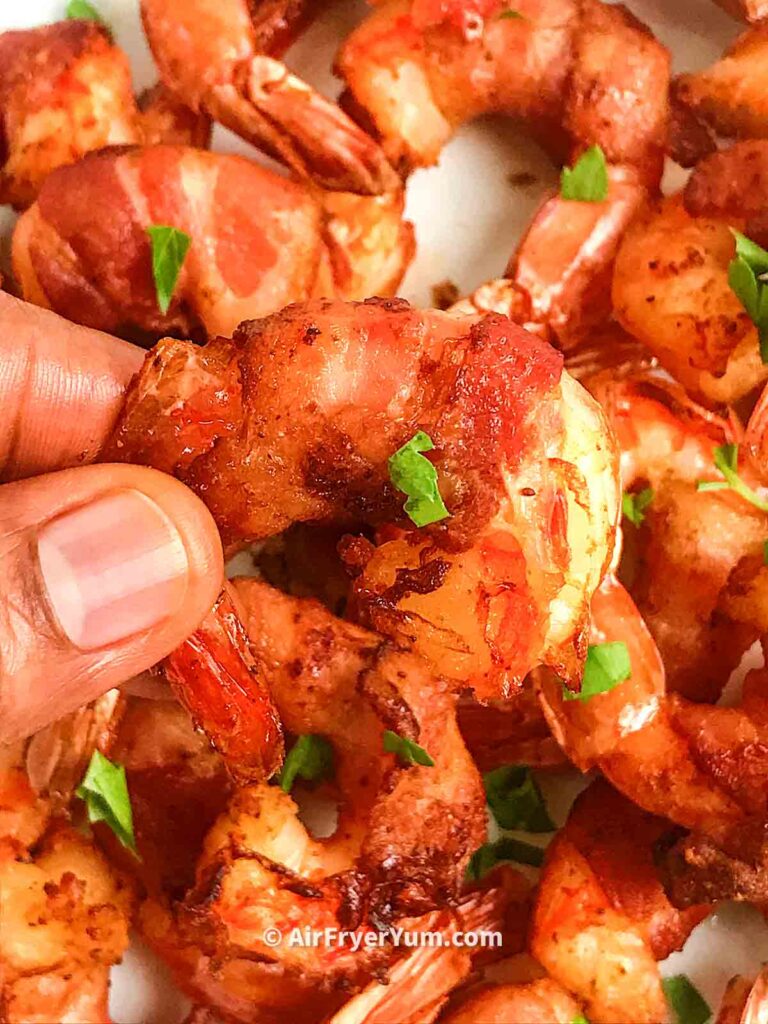 Why this recipe works
What makes any recipe a go-to recipe? Many factors can affect the workability of a recipe, however below are a few things I look out for when trying to make a meal.
Easy: This is a very easy recipe to make. It's hassle free and gets ready in less than 15 mins.
Accessible: Ingredients used here are everyday ingredients that can be bought in your neighborhood grocery store.
Tasty: Bacon wrapped food is an all time fav for most people and this grilled bacon wrapped shrimp is no different.
Family friendly: If no one in your family has seafood allergies, this is one recipe anyone would love including picky eaters.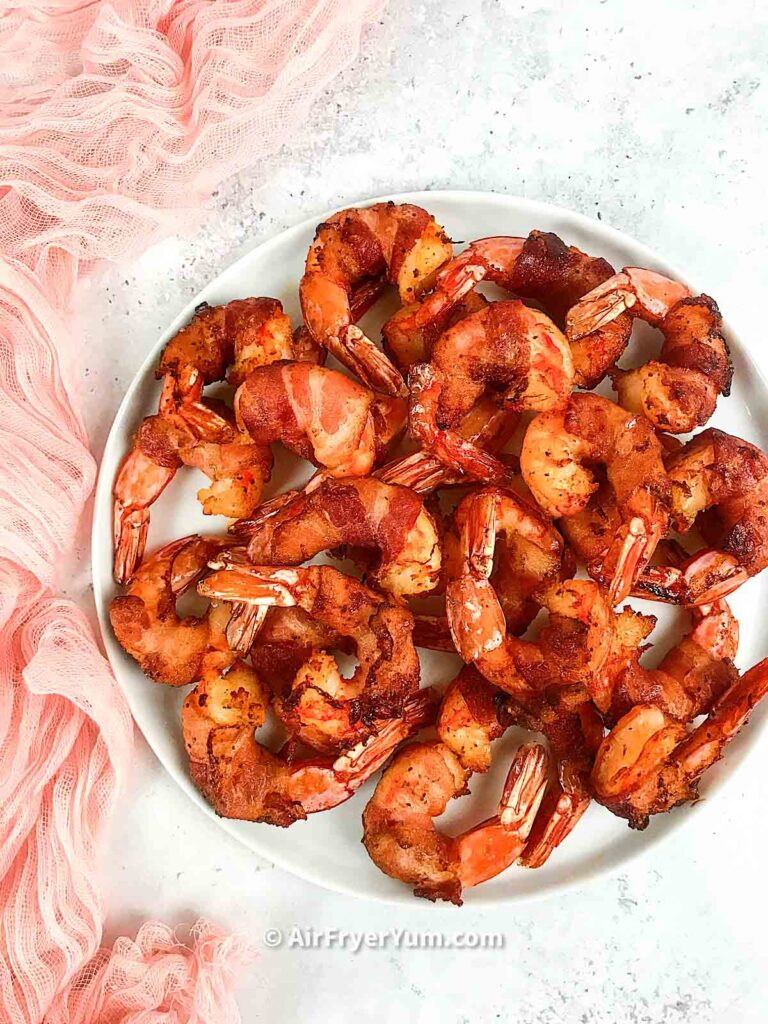 Ingredients needed to make grilled bacon wrapped shrimp in the air fryer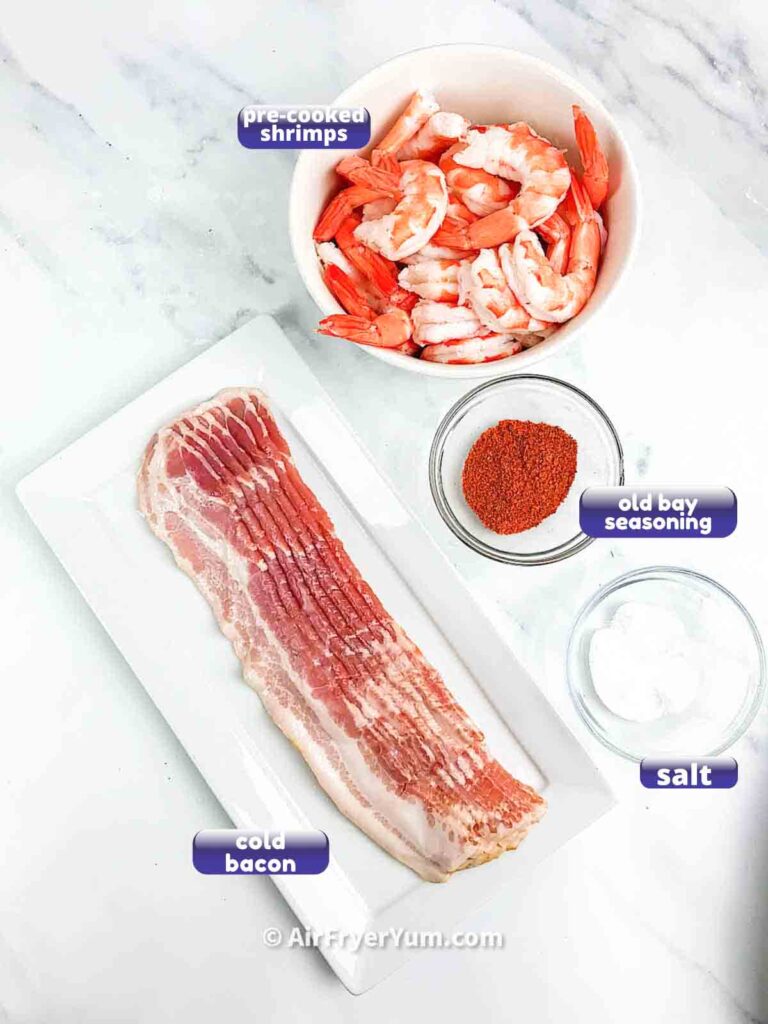 What size of shrimp is best for grilling?
Jumbo sized shrimps are best for this recipe whether you are using an indoor / outdoor grill or using the air fryer. We usually use that large 26 - 30 shrimp per pound bags sold at Costco.
How to make bacon wrapped shrimp
This is an overview of the recipe. Get the full recipe in the printable card at the bottom of the page.
Rinse bad dry the cooked shrimp, seasoning with salt, old bay seasoning and cayenne if using. Cut bacon into thirds and wrap shrimp with bacon. Sprinkle more old bay seasoning over the bacon wrapped shrimp. Cover with cling film and set aside on the counter or refrigerator for 10 mins.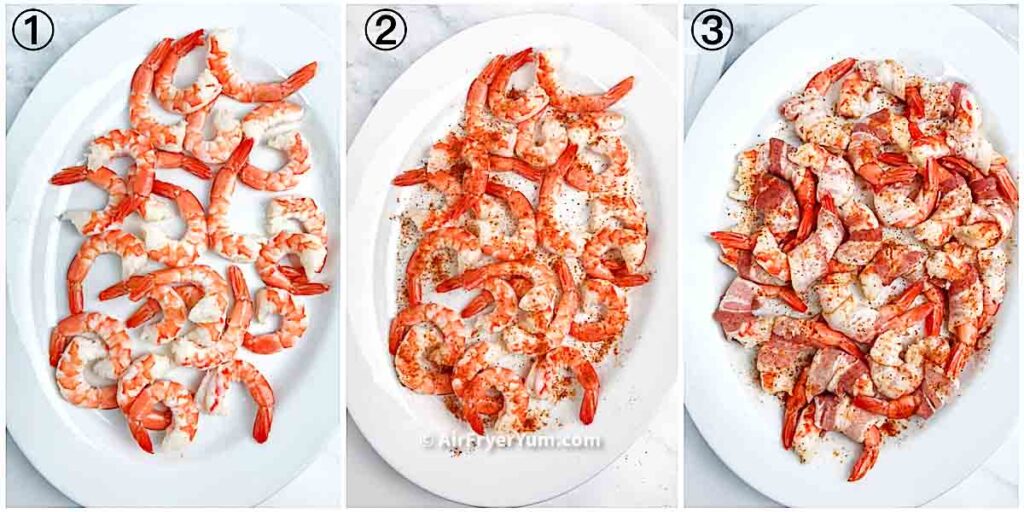 Place wrapped shrimps in the air fryer basket and bake / grill at 400°F / 200°C for 8 - 10 mins for precooked shrimps and up to 15 mins for raw fresh shrimps.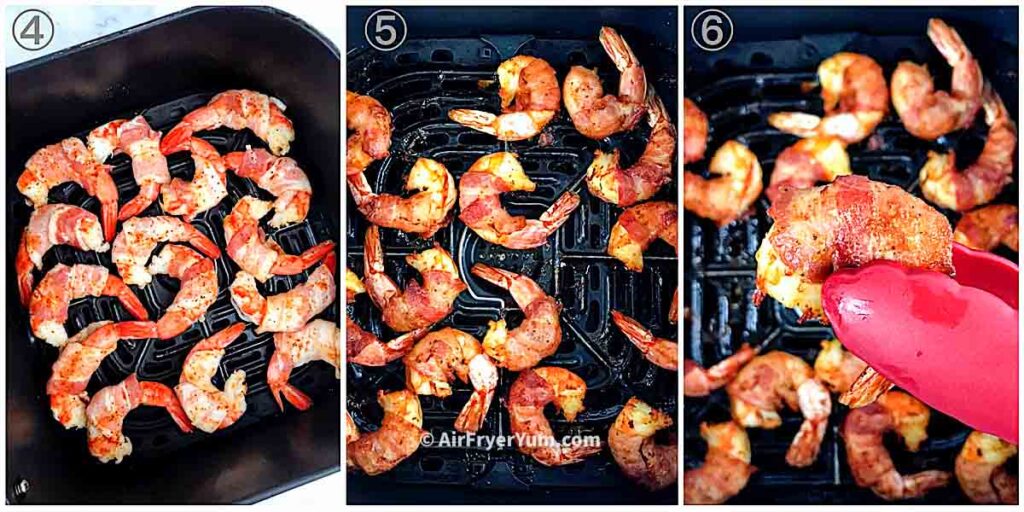 Can you grill cooked shrimp?
Yes you can in fact most of my recipes are made with precooked and frozen jumbo shrimps.
The precooked shrimps are not cooked to my liking and we can't eat it that way even in cold salads therefore I cook them some more. It will get ready in less time than fresh shrimps would and you to skip the shrimp smell you deal with when cooking from fresh.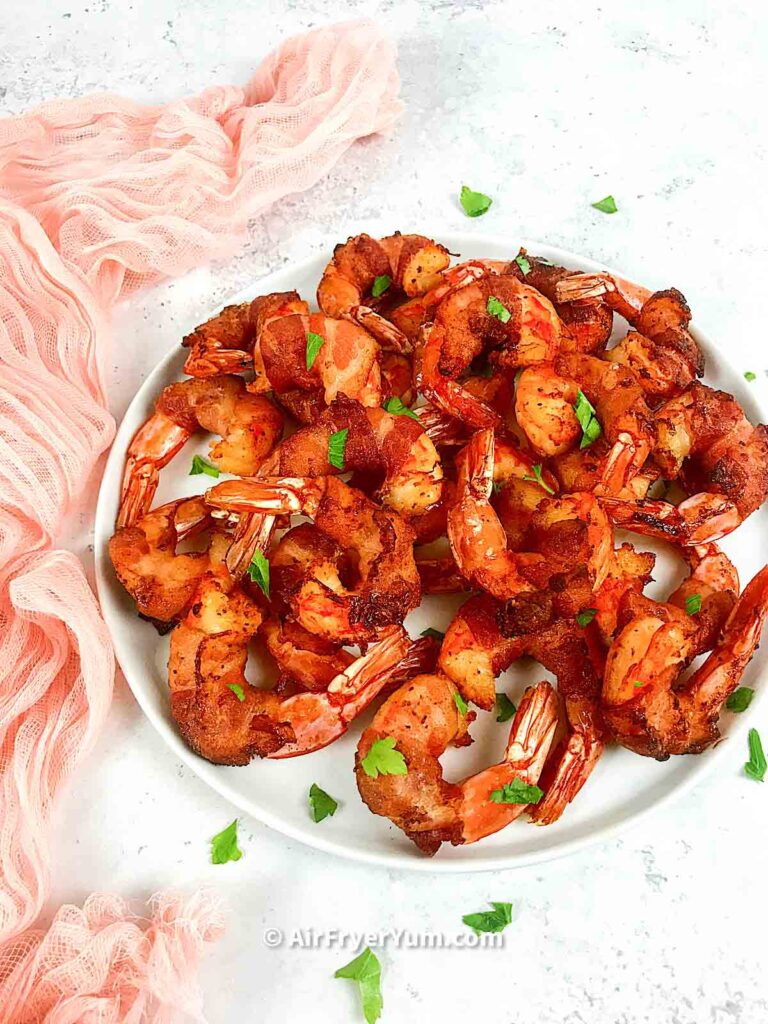 Tips for success
No need to preheat the air fryer
Cut the bacon while it's cold.
Place the bacon wrapped shrimps seam side down to keep the bacon from getting unwrapped while cooking
No need for oil, the bacon grease will do the job.
Do not overcrowd the basket.
Frequently asked questions
Should I grill shrimp with shell on or off?
Personally I like to grill shrimps with shell off leaving only the tail on. It helps the seasoning get into all the corners of the shrimp giving you a very flavorful dish. The tail is served as a holder while you much on the shrimps.
What temperature do you grill bacon wrapped shrimp?
If grilling in the air fryer, I bake shrimps at 400°F / 204°C for 8 -10 mins for precooked and up to 15 mins sometimes 18 mins for fresh. The times mentioned depends on the sizes of the shrimps and how cooked you like your shrimps. I like really cooked so sometimes I have cooked the precooked shrimp for up to 12 mins.
How do you grill shrimp without drying it out?
You can brine the shrimps especially when cooking fresh shrimps. Alternative brush on some marinade or sauce in the case of bbq wrapped shrimps while the shrimps cook.
Can I use Turkey bacon?
Yes you can. I find that turkey bacon is lighter than real bacon and tends to fly around in the air fryer. When using Turkey bacon for this recipe, I would suggest you secure with tooth picks.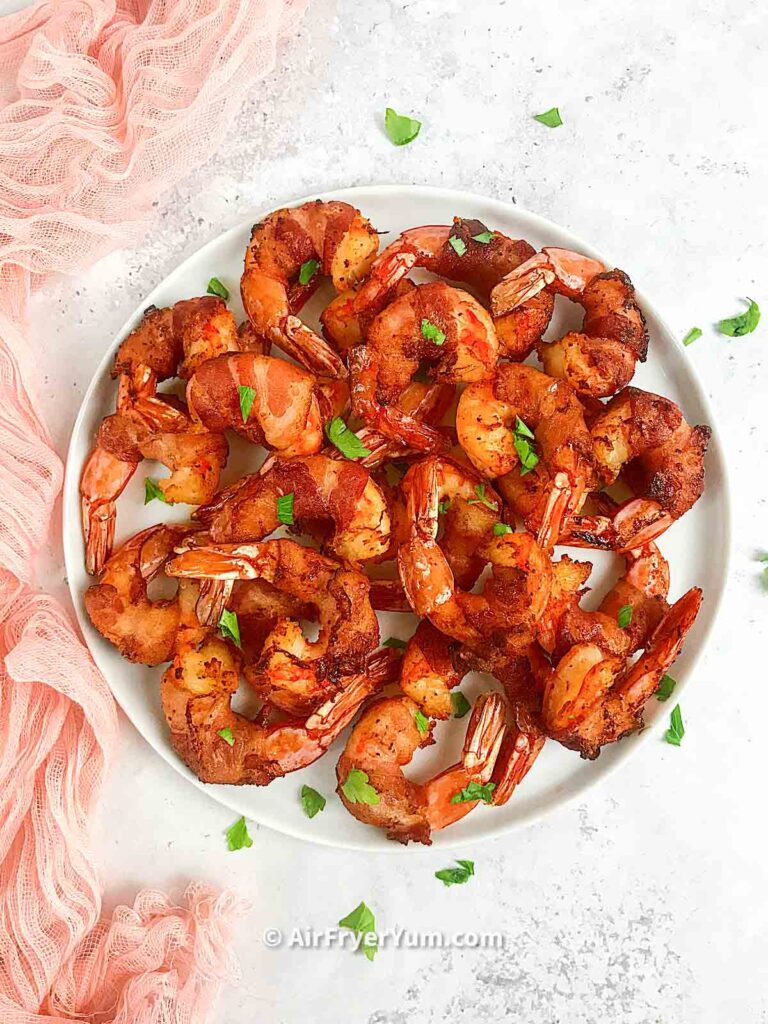 Love bacon wrapped anything? We've got more
BBQ bacon wrapped shrimp recipe
Air fryer Bacon wrapped chicken
Bacon wrapped asparagus
Get all our air fryer appetizers!
More air fryer seafood recipes
Other air fryer recipes
Check out all our >>>Air fryer Recipes!
Did you find this recipe helpful? Leave me a comment about it or any recipe idea you would love Air fryer 'yummed' and don't forget to share with family and friends.
Happy Air frying!
Love it? Pin it!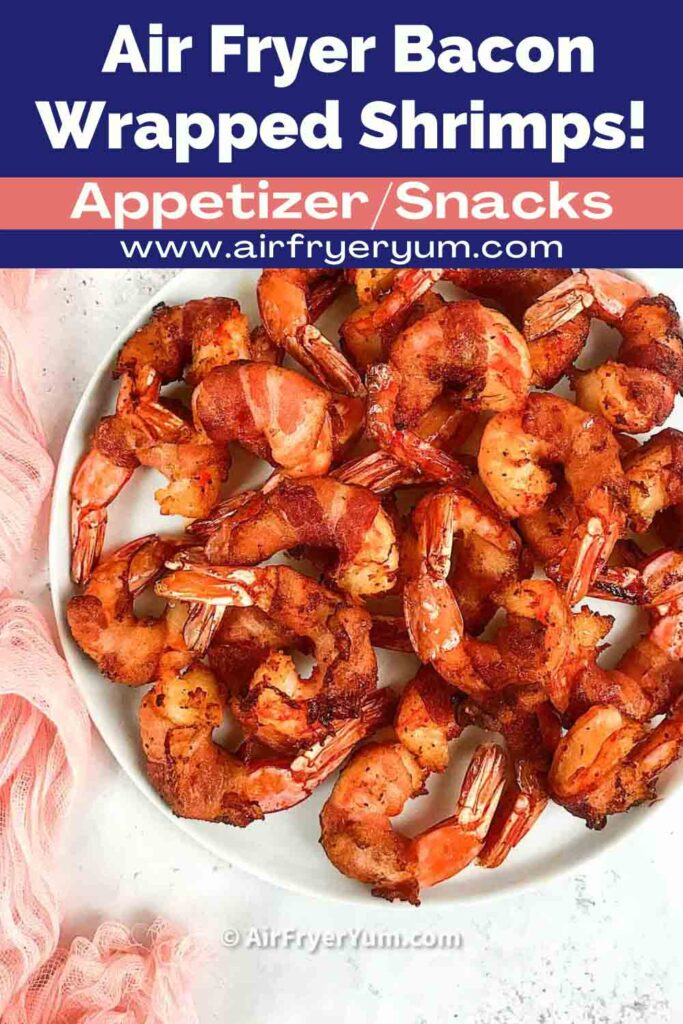 Looking for more air fryer recipes? Sign up for our yummy newsletter and Follow along on Facebook, Instagram, Pinterest and Tiktok for updates. Remember to Subscribe to my YouTube Channel for weekly videos.
Loving your air fryer much? Join other Air Fryer Buddies in our exclusive free Easy Air Fryer Recipes Group on Facebook!
New to the world of Air frying? We've got you covered. Check out our helpful >>> Air fryer Resources!
Shop all air fryers and air fryer accessories at our Amazon store.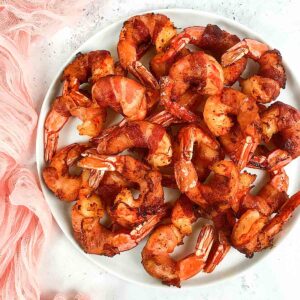 Air fryer bacon wrapped shrimp recipe
Grilled bacon wrapped shrimp! Raise up your hands if you love bacon and shrimp recipes. Well today is your lucky day cos this air fryer bacon wrapped shrimp is all shades of delicious. 
Equipment
Air fryer

Glass bowl

Knife

Parchment paper (optional)

Paper towel
Ingredients
30

Pieces

Shrimp

10

Slices

Thin sliced bacon

1

Tablespoon

Old bay seasoning

¼

teaspoon

cayenne pepper

(optional)

⅛

teaspoon

salt

(optional)
Instructions
Cut bacon into thirds crosswise and set aside

Pat shrimps dry and season with salt, old bay seasoning and cayenne pepper if using.

Wrap each shrimp with bacon and place on a platter.

Repeat process till all potatoes have been wrapped.

Sprinkle with more old bay seasoning, cover with cling film and set aside on the counter or refrigerator for 10 minutes (this is optional)

Place about 15 bacon wrapped shrimps in the air fryer basket or any amount that fits.

Set temperature to 400°F / 200°C and bake for 8-10 mins for cooked shrimp and up to 15 mins for raw shrimp flipping half way through.

Serve with your favorite dipping sauce.
Notes
Salt and cayenne pepper are optional. If the brand of bacon you buy is too salty, leave it out. 
Use cold bacon. It's easier to cut cold bacon without stretching and distorting the shape.
No need to preheat the air fryer. However start checking the second batch at 8 mins
Do not overcrowd your basket. Cook in batches if needed. I use a 5.8qt air fryer 112 - 15 fits in mine at a time. Put whatever amount that will fit in yours without overcrowding the basket.
Nutrition
Serving:
5
Bacon wrapped shrimps
Calories:
239
kcal
Carbohydrates:
0.5
g
Protein:
28.6
g
Fat:
13.2
g
Saturated Fat:
4.4
g
Cholesterol:
229
mg
Sodium:
2148
mg
Potassium:
181
mg
Sugar:
1.7
g
Calcium:
105
mg
Iron:
1
mg
Nutrition Disclaimer
Nutritional information is an estimate and may change based on products used. Please read our Nutrition disclaimer page.
Subscribe to my YouTube Channel
Subscribe to Air Fryer Yum on YouTube for more detailed videos! Remember to click the bell icon to get notified when I upload new videos.
Save this Recipe for later!
Follow @AirFryerYum on Pinterest!