Frozen vegan chicken patties are so good in the air fryer. These chickenless patties make for a great substitute for chicken for our vegan and vegetarian yummers and can easily fit into a Meatless Monday menu for anyone.
The air fryer has for a long time been my go to for making frozen foods because it's fast and easy. Air fried foods cook up nicely giving food that crispy exterior we all like about fried foods but with less oil, making it waist line friendly.
Use this in your crispy chicken salad, sandwiches and lots more. Now Let's make some, dear friends!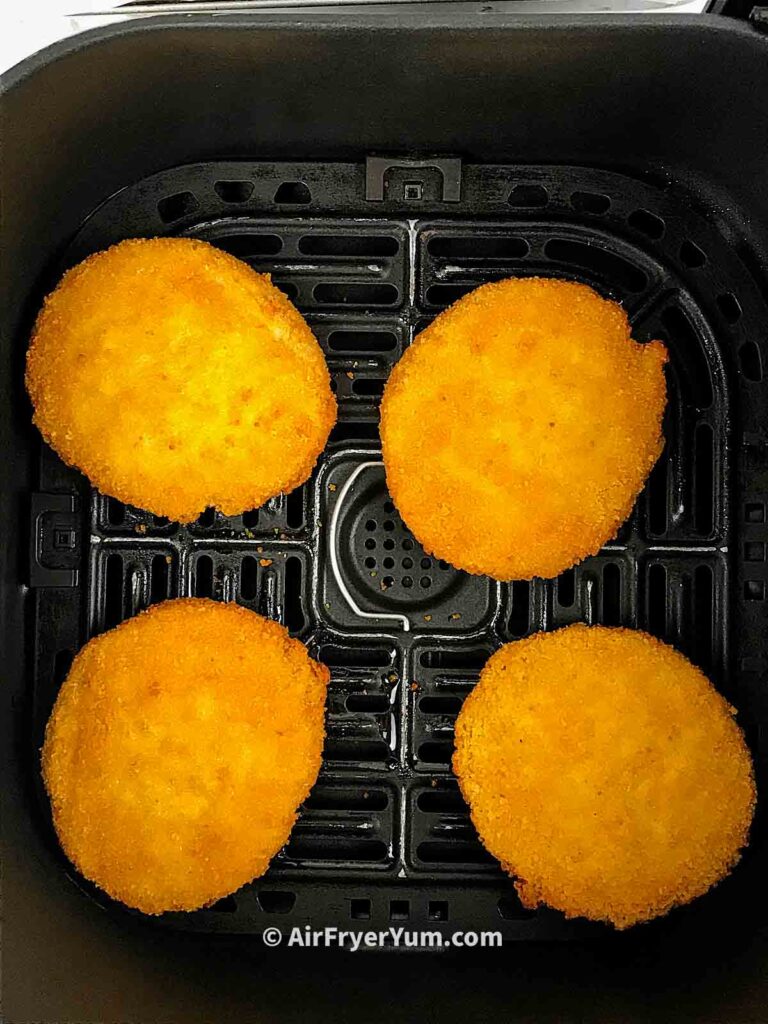 Why you should make these vegan chicken patties in the air fryer.
The first time we tried this on our spicy crispy chicken burgers, my kids couldn't believe it was meat free. I honestly don't know what's in there that makes it taste like chicken but it does.
There are many reasons to try this air fryer vegan / vegetarian recipe and I'm happy to share them with you.
Convenience: These are super easy to make and take little of your time. Almost hands free!
Versatile: Can be used in a variety of dishes. From burgers to Salads to fried rice you name it.
Tasty: These are rich in flavor and will please all palates.
Crispy: Get the feel of deep fried crispy exterior without all the oil.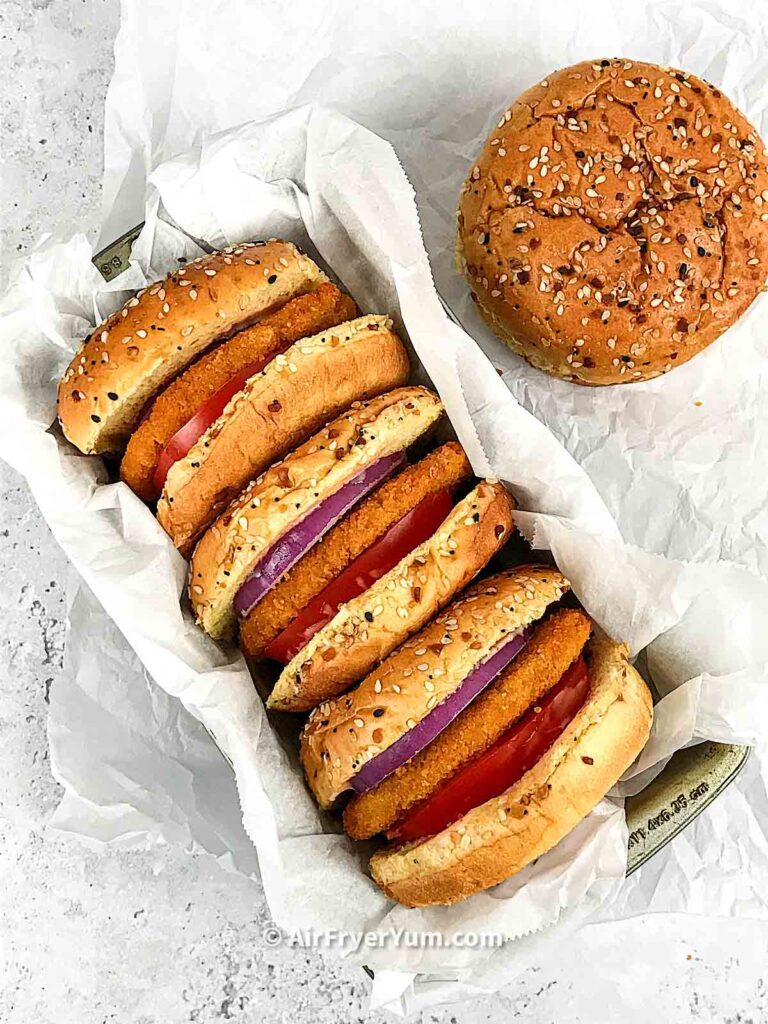 What you'll need
You'll need your favorite vegan chicken patties and ingredients to make whatever side you decide to pair with it.
You might want to use a perforated parchment but that's optional
A pair kitchen of kitchen tongs are recommended to help with flipping to the other side while cooking. These wide tipped tongs are great.
How to make Vegan Chicken Patties in the Air fryer.
Simply place frozen chicken patties in the air fryer basket. Set temperature to 400°F / 205°C
Bake for 6 - 8 mins making sure to flip halfway through.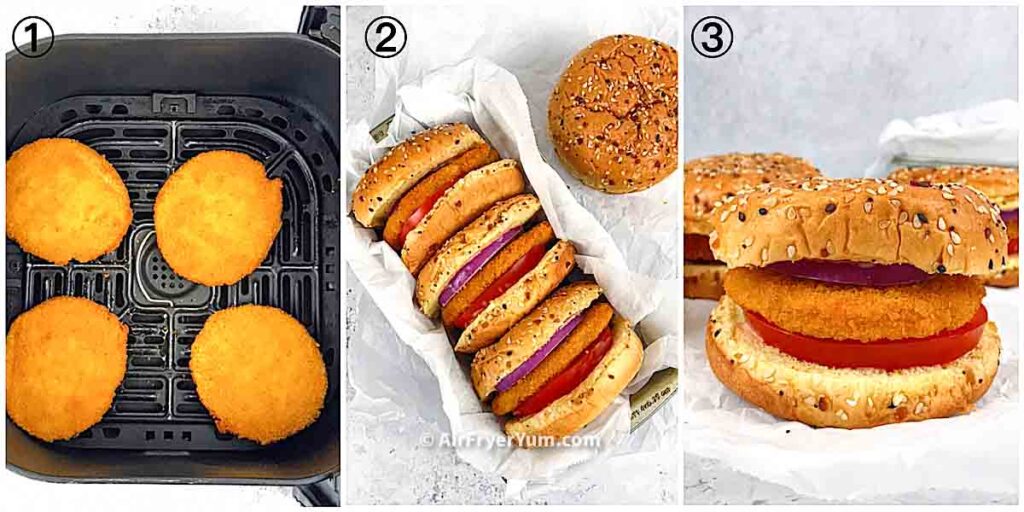 Make in the oven
Don't have an air fryer just yet? No problem these can be made in the oven.
First preheat your oven to 450°F / 225°C place patties on un-greased baking sheet. Bake for 16 mins or till warmed through. Remember to flip half way through cooking time.
At what temperature and time do you cook air fryer vegan chicken patties?
These patties cook up nicely at 400°F / 205°C for 6-8 mins. No preheat needed. If you are cooking in batches, subsequent batches will likely cook at 6 mins.
How to serve vegan chicken patties.
We love to serve slice these into strips and place on a bed of lettuce to make a crispy chicken salad. Others ways we serve it are below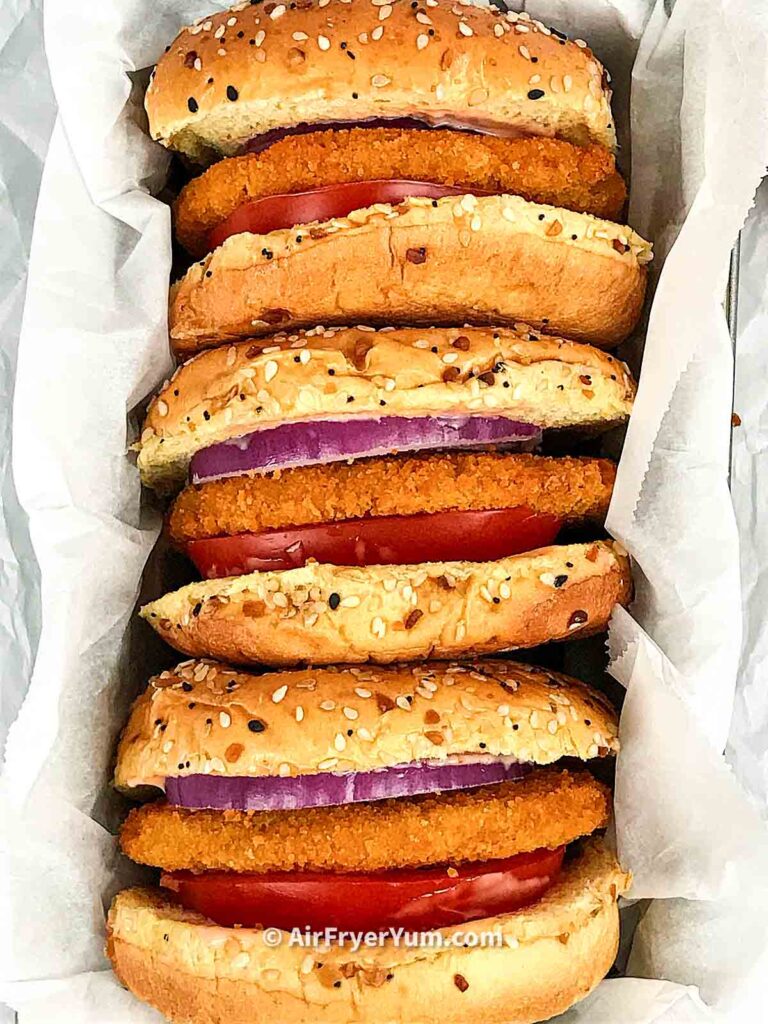 Tips for success
Place patties in a single layer. Do not overcrowd the basket. Cook in batches if you need to.
The frozen patties are well oiled no need to spray the air fryer basket with oil.
Flip the patties half way through cooking time.
Frequently asked questions
What are vegan chicken patties made of?
Be rest assured that these are made without meat of any form. They are made with a variety o ingredients which include wheat flour, spices and herbs amongst other ingredients.
Are Morningstar chicken patties vegan?
The Morningstar farms original Chik patties are marketed as vegan and contain vegan friendly ingredients.
More Vegan Air fryer recipes
Chickenless chicken nuggets
Air fryer French fries
Check out all our >>>Air fryer Recipes!
Did you find this recipe helpful? Leave me a comment about it or any recipe idea you would love Air fryer 'yummed' and don't forget to share with family and friends.
Happy Air frying!
---
Love it? Pin it!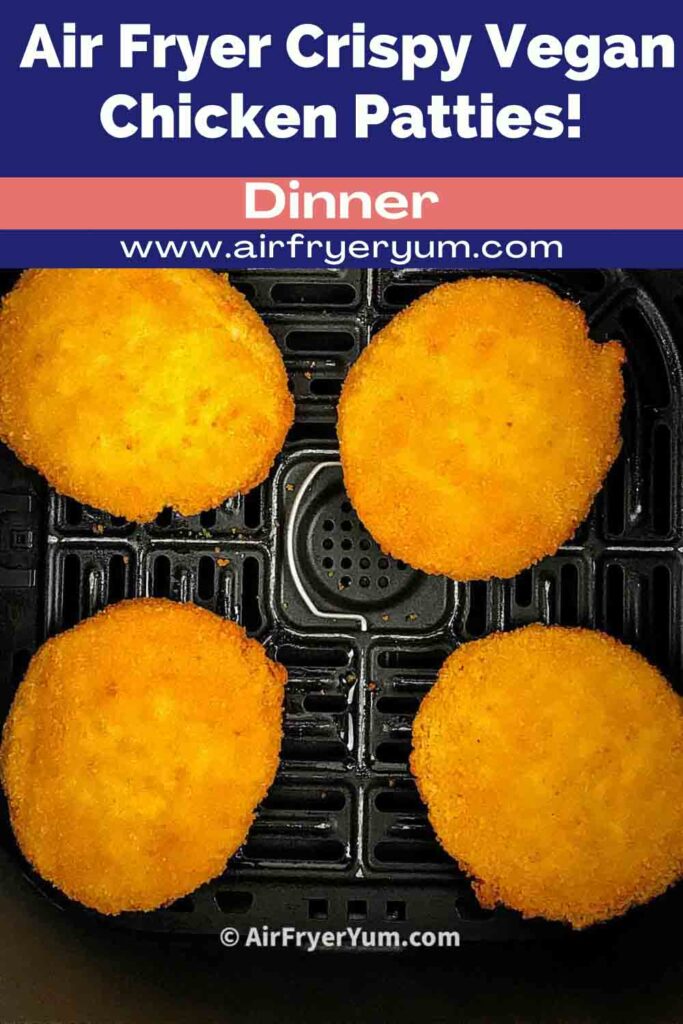 Looking for more air fryer recipes? Sign up for our yummy emails and follow along on Facebook, Instagram, Pinterest, and Tiktok for updates. Remember to Subscribe to ourYouTube Channel for weekly videos.
Loving your air fryer much? Join other Air Fryer Buddies in our exclusive free Easy Air Fryer Recipes Group on Facebook!
New to the world of Air frying? We've got you covered. Check out our helpful>>> Air fryer Resources!
If you love baking, you'd love our beginner's guide to air fryer baking it walks you through how to bake in your air fryer in easy steps and it's free!
Shop all air fryers and air fryer accessories at >>>our Amazon store.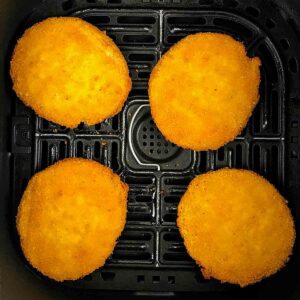 Air fryer Vegan chicken patties
Frozen vegan chicken patties are so good in the air fryer. This chickenless patties make for a great substitute for chicken for our vegan and vegetarian yummers and can easily fit into a meatless Monday menu for anyone.
Ingredients
4

Chicken Patties

½

cup

Vegan burger sauce

4

Vegan

Vegan burger buns
Instructions
Air fryer
Place Vegan chickenless patties in the air fryer basket.

Set temperature to 400°F / 205°C. Bake patties for 6 - 8 mins flipping half way through.

Serve in burger or with salad
Making it in the oven or toaster oven
Preheat oven to 450 F / 225 C

Place frozen patties in ungreased baking sheet and bake for 8 mins, then flip over and bake another 8 minutes.
Making it on the stovetop
Preheat a non stick pan, cook frozen patties for 8 mins flipping half way through.

Cook till both sides are cooked through and nicely browned.
In the microwave
Place patties on a paper towel lined microwave safe plate and cook for 45 secs gently flip over and cook fot another 30 mins. Patty should be cooked through and hot.
Notes
Cook from frozen no need to thaw.
Recipe was made in a non preheated air fryer.
Nutrition
Serving:
1
Vegan patty
Calories:
150
kcal
Carbohydrates:
13
g
Protein:
8
g
Fat:
7
g
Saturated Fat:
1
g
Polyunsaturated Fat:
3.5
g
Monounsaturated Fat:
2
g
Sodium:
420
mg
Potassium:
163
mg
Fiber:
4
g
Calcium:
37
mg
Iron:
1
mg
Nutrition Disclaimer
Nutritional information is an estimate and may change based on products used. Please read our Nutrition disclaimer page.
Subscribe to my YouTube Channel
Subscribe to Air Fryer Yum on YouTube for more detailed videos! Remember to click the bell icon to get notified when I upload new videos.
Save this Recipe for later!
Follow @AirFryerYum on Pinterest!