The tenderness and flavor of these Air Fryer Lamb Chops literally can't be topped! With this well seasoned lamb recipe made with an easy marinade in your arsenal, now is the time to wow all your family and friends and cook up lamb chops in the air fryer any time they're headed over.
They're not going to believe how delicious they are! And Guess what? Today I'll be showing you exactly how to make it in easy steps.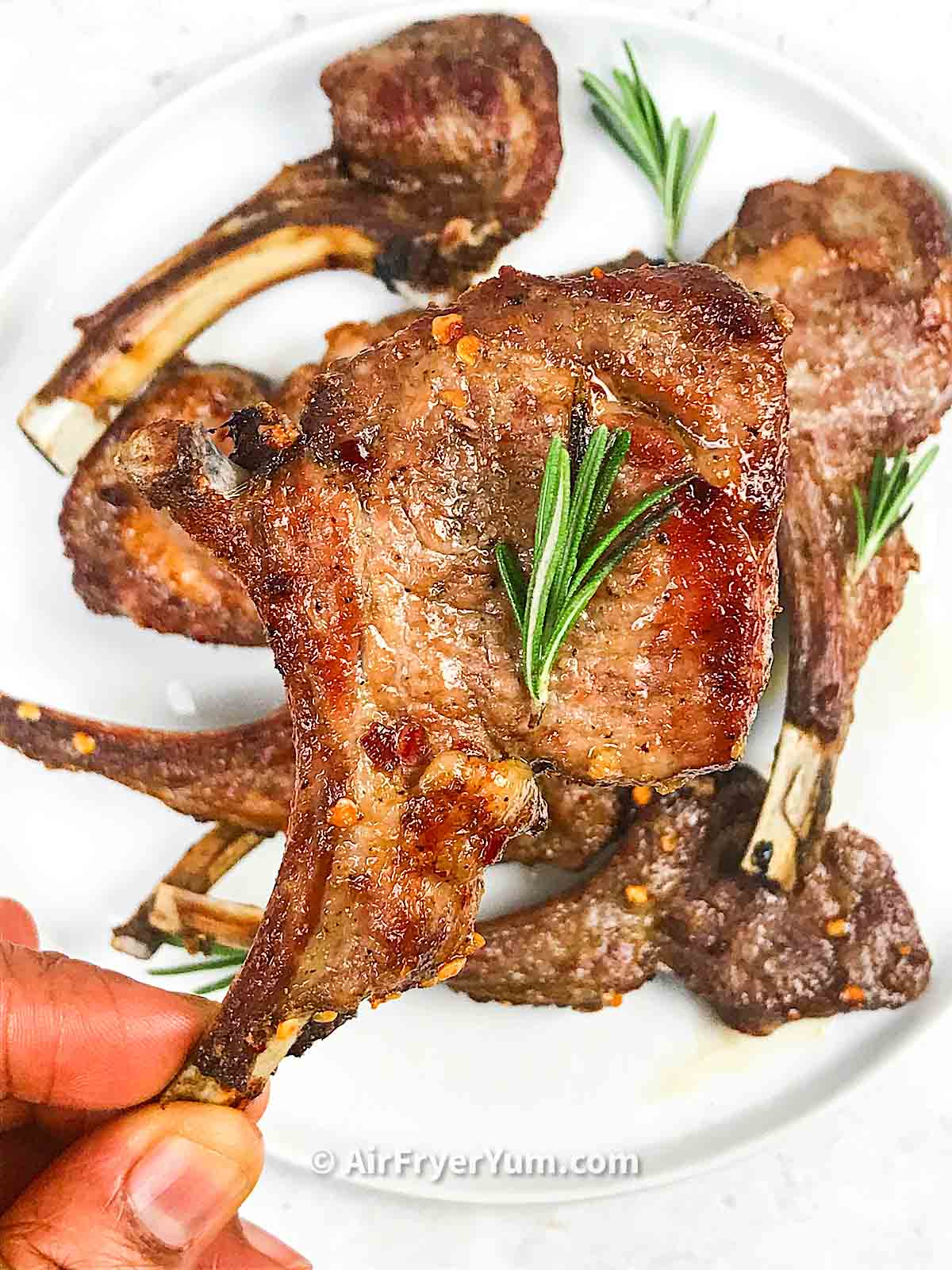 Easy Air fryer lamb chops with Garlic and Rosemary Recipe
As if you need another reason to brag about everything you can cook in your air fryer, right? But trust me on this one…The way the Air Fryer cooks lamb chops is literal perfection.
One of the reasons I love cooking lamb in my Air Fryer is because the circulating air and the hot heat actually put a sort of crust on the edges. That crispy crust with the tender center is the way that lamb chops are supposed to be!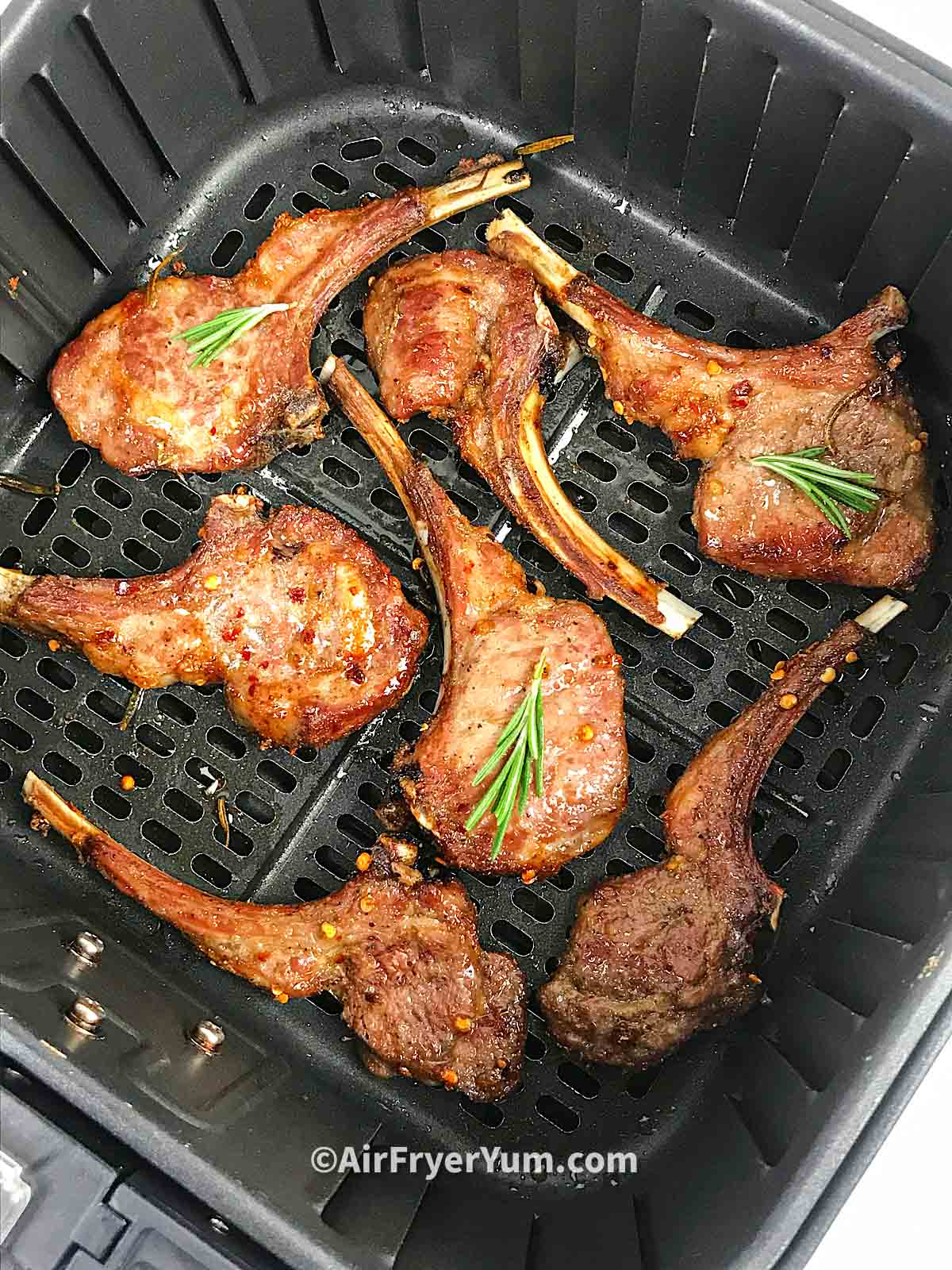 Why you'll love this recipe
Cooking lamb chops in the Air fryer will enhance the flavor of the lamb without overcooking it.
You can easily change up the marinade and ingredients every time you make it
Air frying lamb chops is a fast way to create an epic gourmet meal that would have costed twice as much in a fancy restaurant.
Doubles as an appetizer because of the unique way these are, with some looking like lollipops.
Unlike crumbed lamb cutlets, these are gluten-free, low carb and keto friendly
Related: Air fryer lamb loin chops, Air fryer steak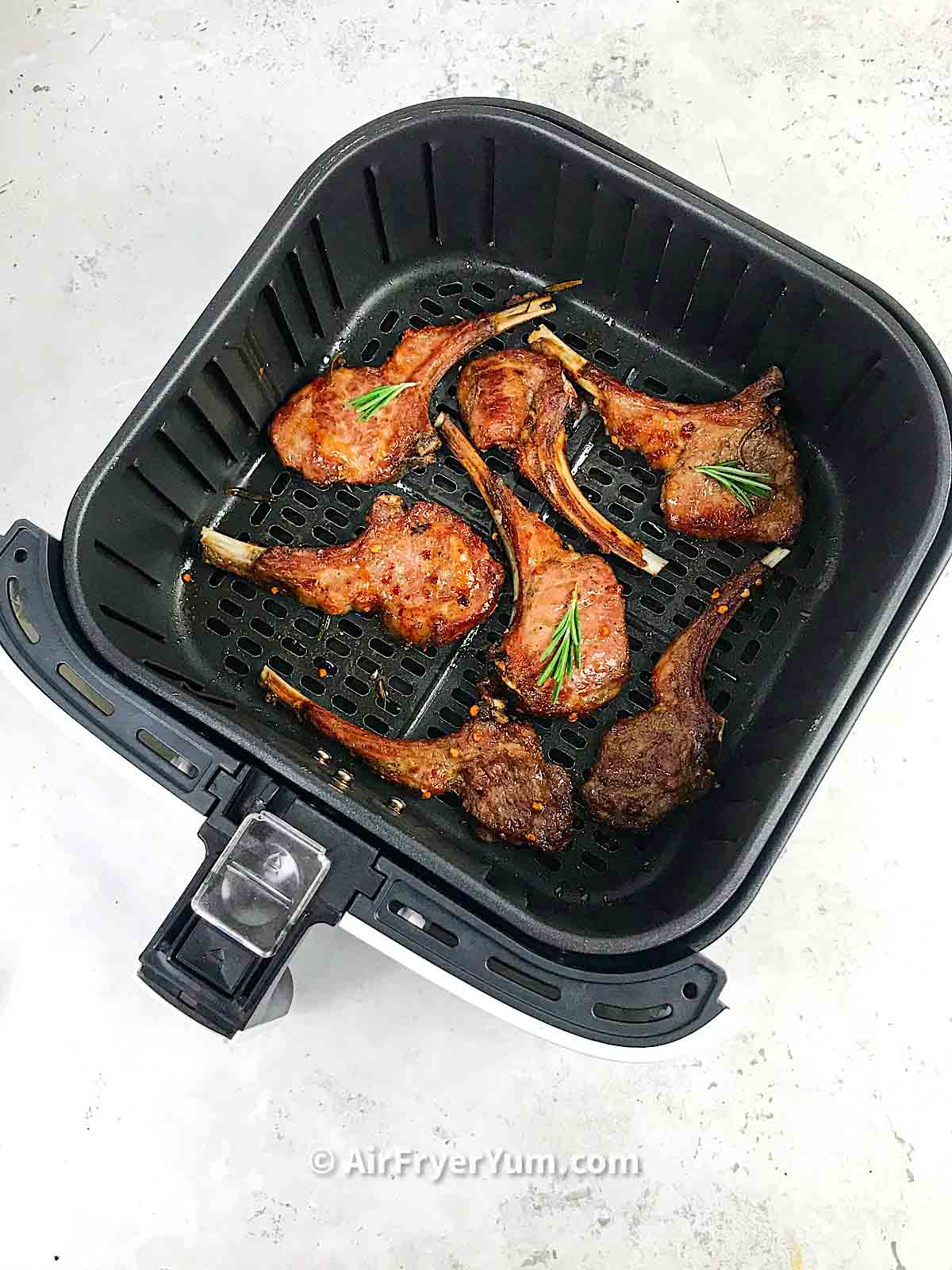 Ingredients
Rack of lamb
Fresh Rosemary
Olive oil
Salt
Black pepper
Red pepper flakes
Onion powder
Black pepper
Cloves of garlic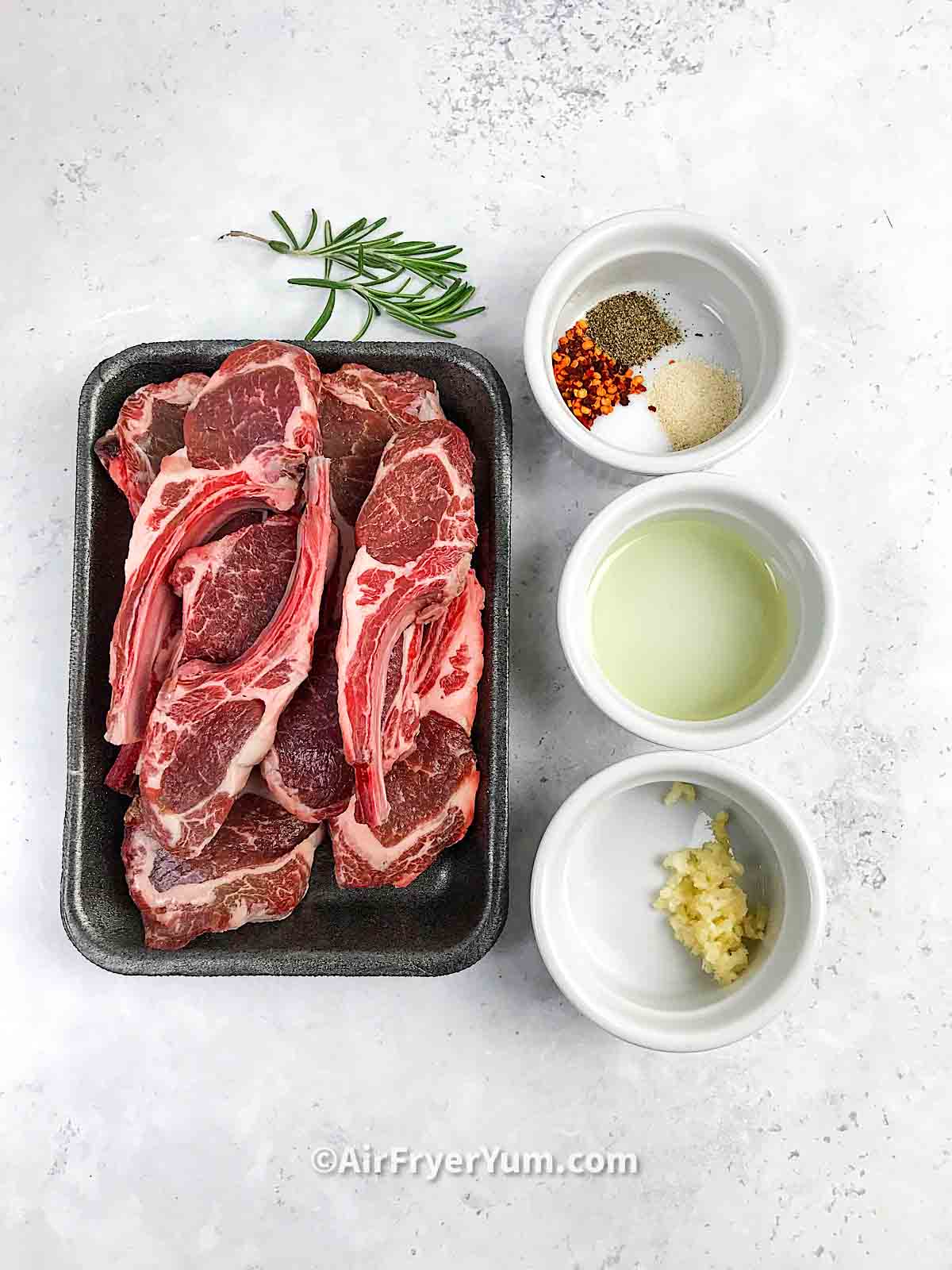 Substitutions
Seasoning blend: use your favorite seasoning blend homemade or store bought.
You can use dry herbs instead of fresh. If you do not have fresh Rosemary, dry would work, and if you do not have fresh garlic you can use garlic powder.
Easy lamb chop marinade
Marinated lamb is super tasty and requires a few ingredients, nothing fancy I promise. In as little as 30 mins to an hour in this easy lamb chop marinade, you are guaranteed a delicious recipe that'll knock your stocks off.
Simply mix the marinade ingredients which are oil, garlic, pepper, salt, rosemary, onion powder and black pepper together, then toss the lamb chops in the it till it's well coated. Cover with cling film and let it marinate for up to an hour before air frying.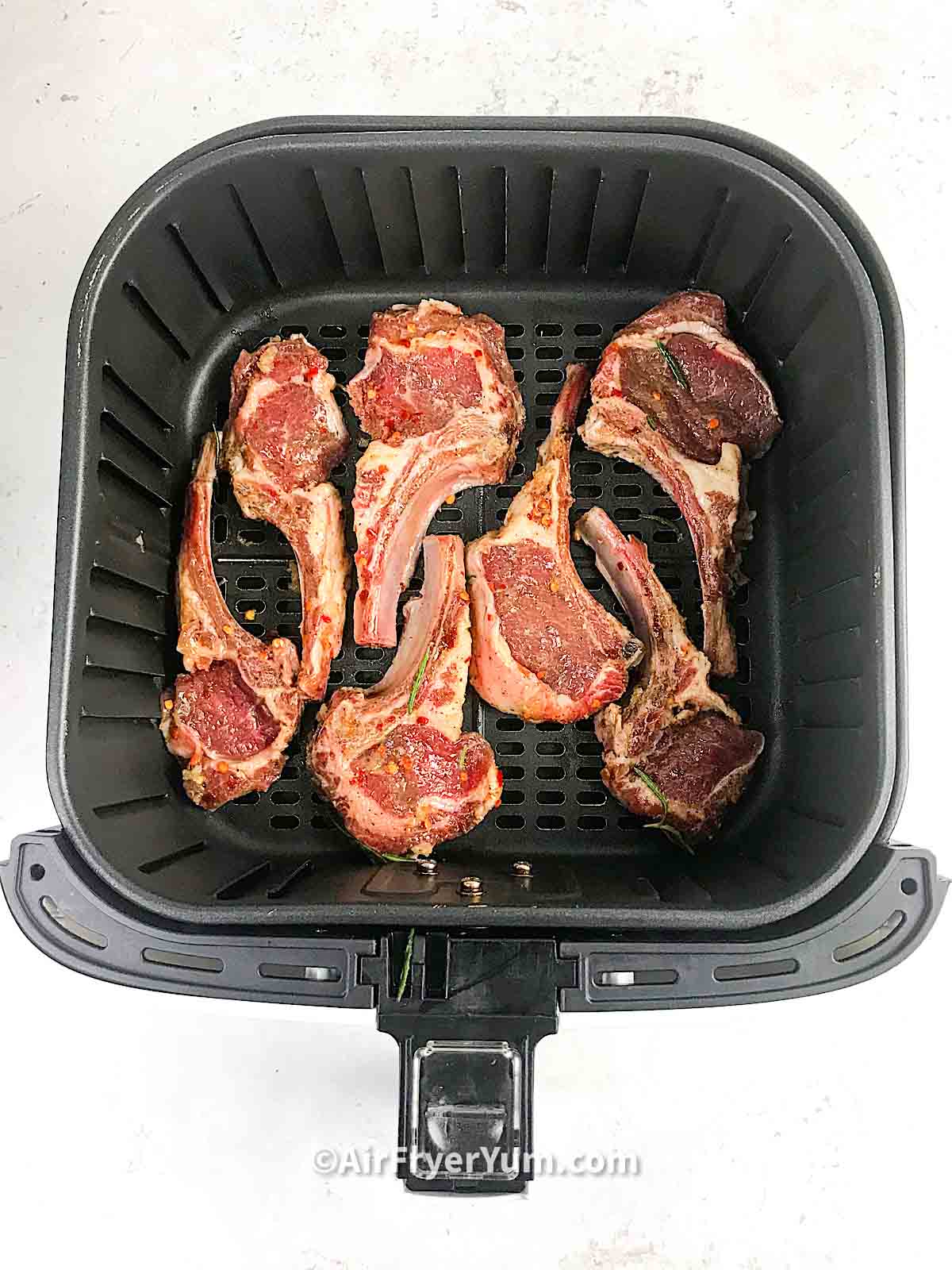 Tools used for air fryer lamb chops
The links below may contain affiliate links. As an Amazon associate and affiliate to other merchants, this website may earn from qualifying purchases. Please read full disclosure here
How long to cook lamb chops in air fryer?
These lamb chops cooked in approximatel11 to 13 mins at 400°F /200°C in my non preheated Cosori air fryer. When air frying lamb chops, there are a few things to consider to determine how long it takes to cook it. Though the most accurate method is the use of a digital meat thermometer here are some other factors to consider
Wattage and type of air fryer: The type of air fryer
Thickness of the lamb chops: thicker chops will take longer to cook thank thin ones.
Rack of lamb vs lamb chops: Individual lamb chops tend to cook slightly quicker than rack of lamb.
Preferred level of doneness: do you like your meats rare, medium or well done?
Air frying Temperature: If cooking at 400°F / 200°C it will cook faster than when cooked at 380°F / 190°C. When testing this recipe, I found that the lamb chops cooked for 12 to 15 mins at 380°F / 190°C.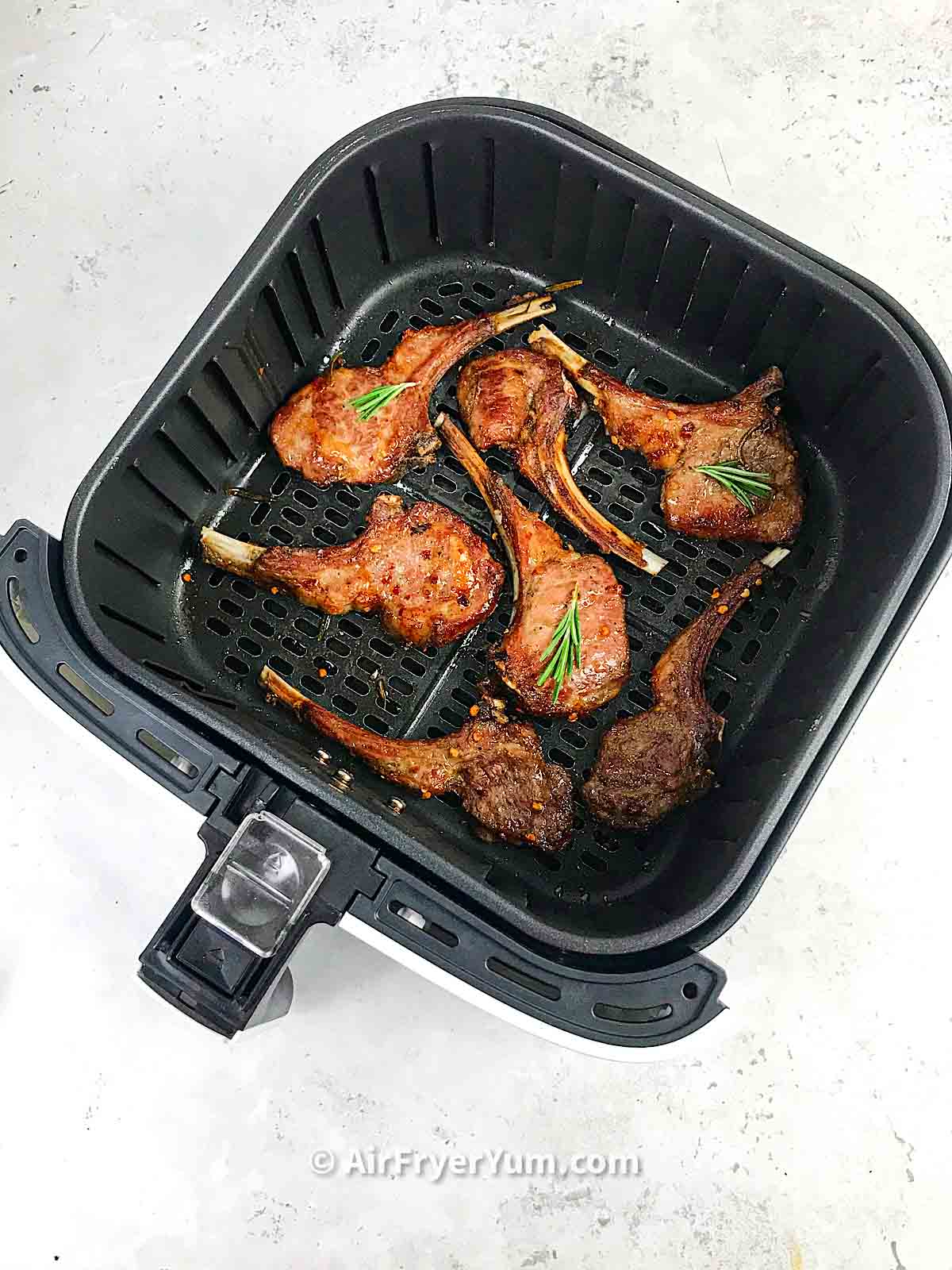 How to cook lamb chops in air fryer
This is an overview of the recipe with step by step photos. Scroll down to the end of this post for a printable recipe card with the amount of ingredients and full recipe instructions.
Gather the ingredients. Wash lamb chops and pat dry with paper towels. Add the oil, spices and herbs to the lamb. Toss to coat then cover bowl with cling film and let it marinate for 30 mins in the refrigerator.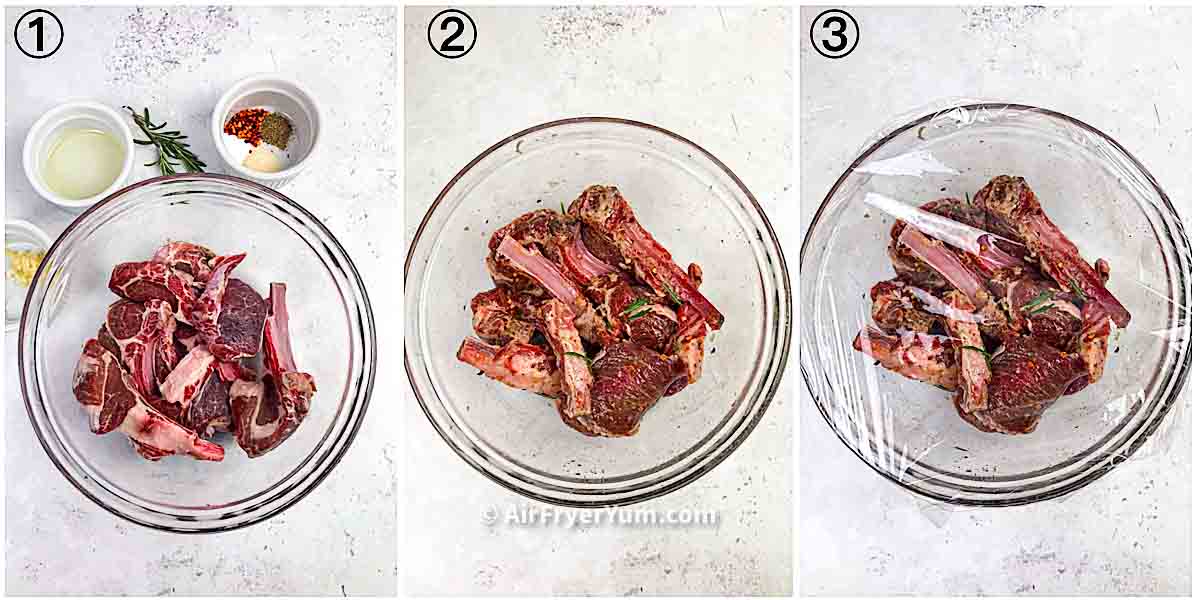 When the lamb is done marinating, transfer to the air fryer basket, set temp to 400°F / 200°C and cook for 12 to 13 mins or until internal temperature reaches 145°F. Remember to flip the lamb half way through cooking time.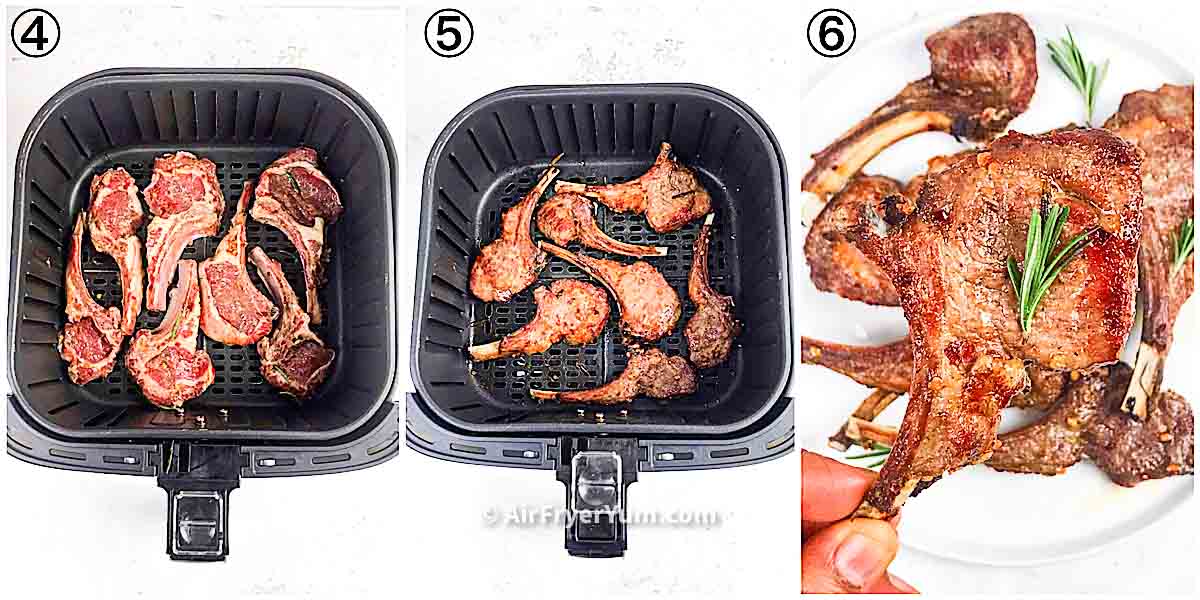 What to serve with Air fried lamb chops
Lamb chops or cutlets are really versatile in how they can be served. You can plate them by themselves and top them with a little bit of butter and fresh parsley or rosemary. Chimichurri sauce or Gremolata sauce are also great!
You can also pair them up with just about any side dish that you can imagine. How does lamb chops and potatoes sound? Salads and mashed potatoes are some of my favorites too.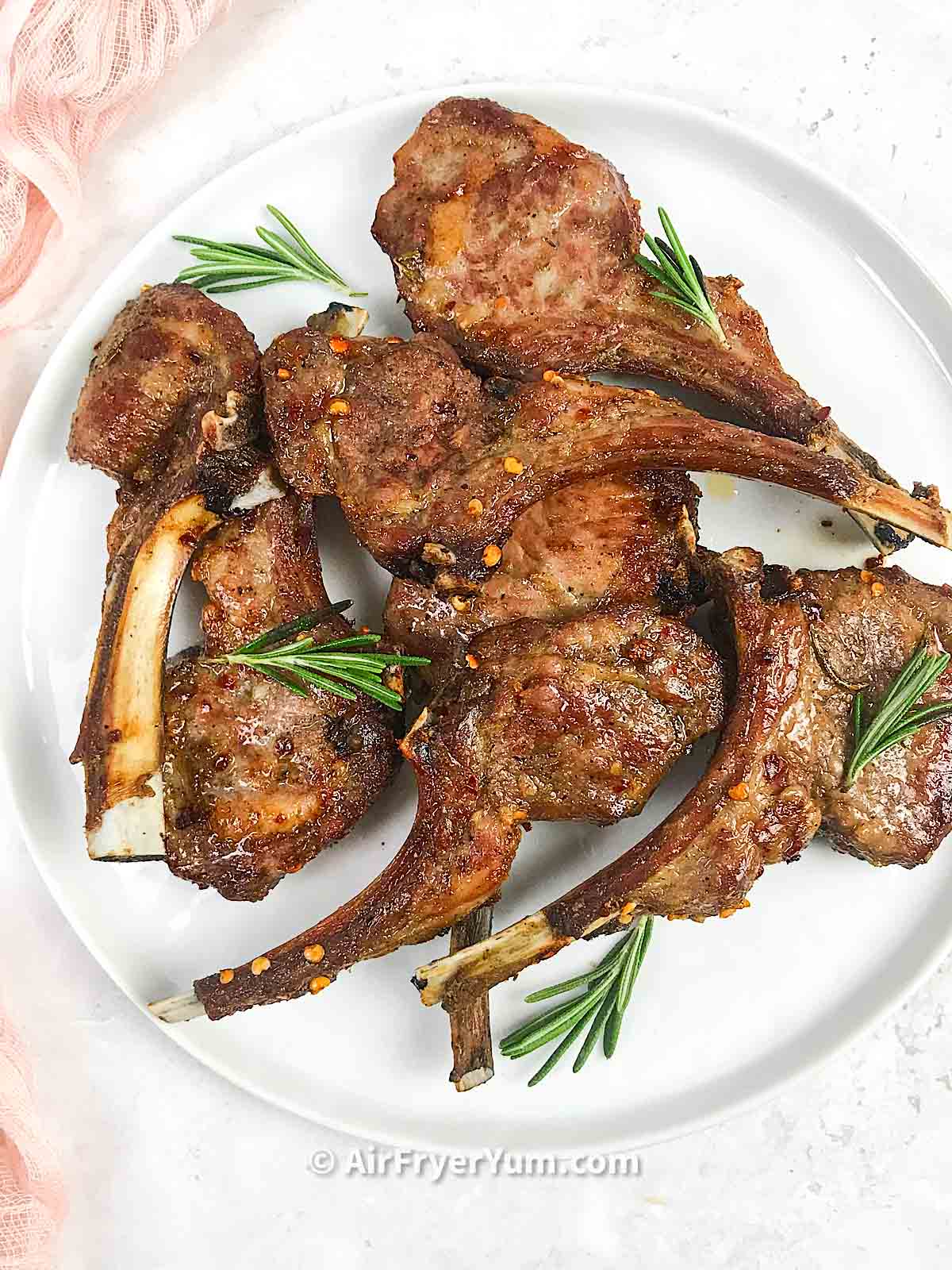 How to store and reheat
Yes you can make these ahead for meal prep and warm it up to be served with fingerling potatoes, baby potatoes or even salads during the week. Also leftover lamb chops just mean that you get to enjoy this tender and juicy meat over and over again.
Before storage, ensure that the meat cools completely before storing in an airtight container in the fridge. For the best flavor and taste, reheat and eat within 3 days in the microwave or air fryer.
Best Tips for Air fryer lamb chops
Do not overcrowd the basket. This will enable the chips cook faster and more evenly.
No need to Preheat. If you do preheat or if your air fryer preheats automatically, the chops will cook 2 to 3 mins faster than in a non preheated air fryer.
Flip the lamb cutlets half way through cooking time to ensure even cooking.
Season the lamb the way you like with your favorite seasoning blend. I like mine spicy with a kick so I add red pepper flakes. Feel free to leave it out.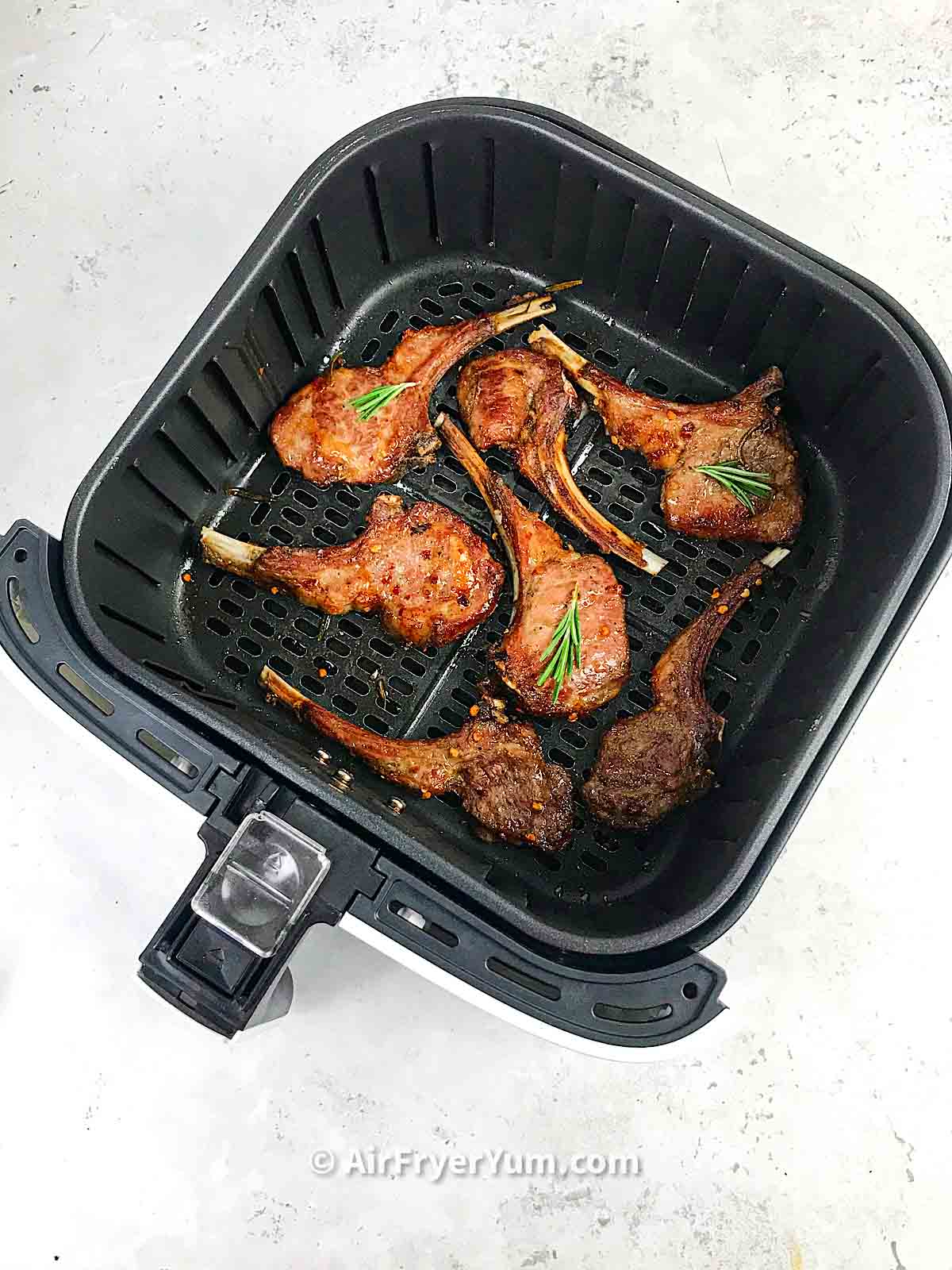 FAQs
Here you'll find answers to common questions about this recipe. If your question isn't answered, please leave us a comment below and we'll gladly answer them.
How long should you marinate lamb chops?
A few hours is a good rule of thumb. Be careful not to marinate them for too long, 3 to 4 hours is good enough. Personally I marinate these for up to 1 hour.
Can you freeze cooked lamb?
Absolutely! Just let it cool down all the way and then store it in a freezer-safe bag or container.
For the best results, eat frozen lamb within four months. You can unthaw it by placing it in the fridge and then reheating it in the microwave, oven or air fryer.
How to season lamb
Seasoning lamb cutlets is as easy as adding the spice blend or marinade to the meat. Mix thoroughly to ensure everything is evenly coated then marinate for up to an hour before cooking.
If you try this recipe, show it off on Instagram! Be sure to Follow and Tag @Airfryeryumblog on Instagram and use the hashtag #airfryeryumblog so we can see your recreations!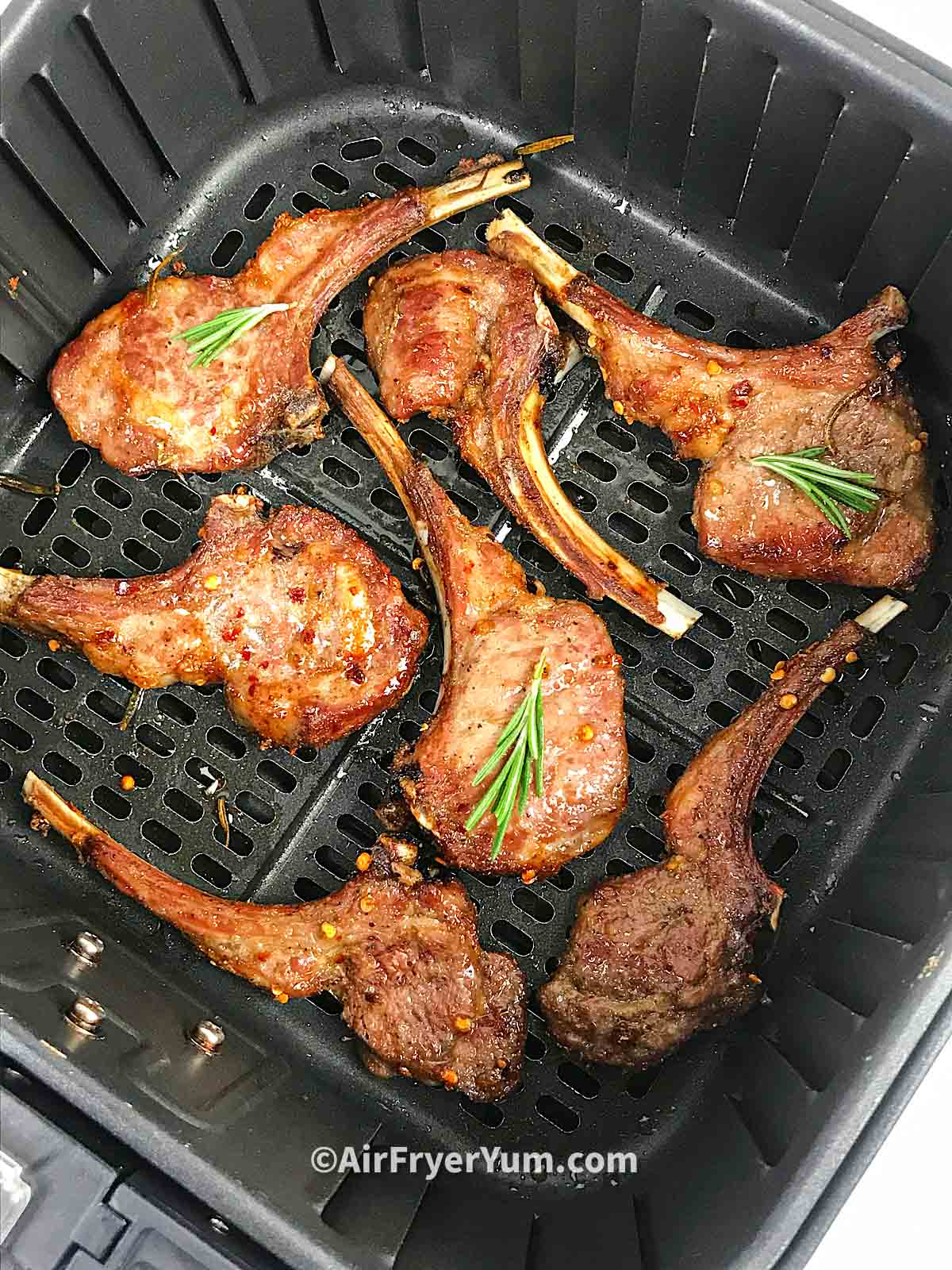 Did you find this recipe helpful? Leave me a comment about it or any recipe idea you would love Air fryer 'yummed' and don't forget to share with family and friends.
Happy Air frying!
Love it? Pin it! Then follow Air Fryer Yum on Pinterest for more deliciousness!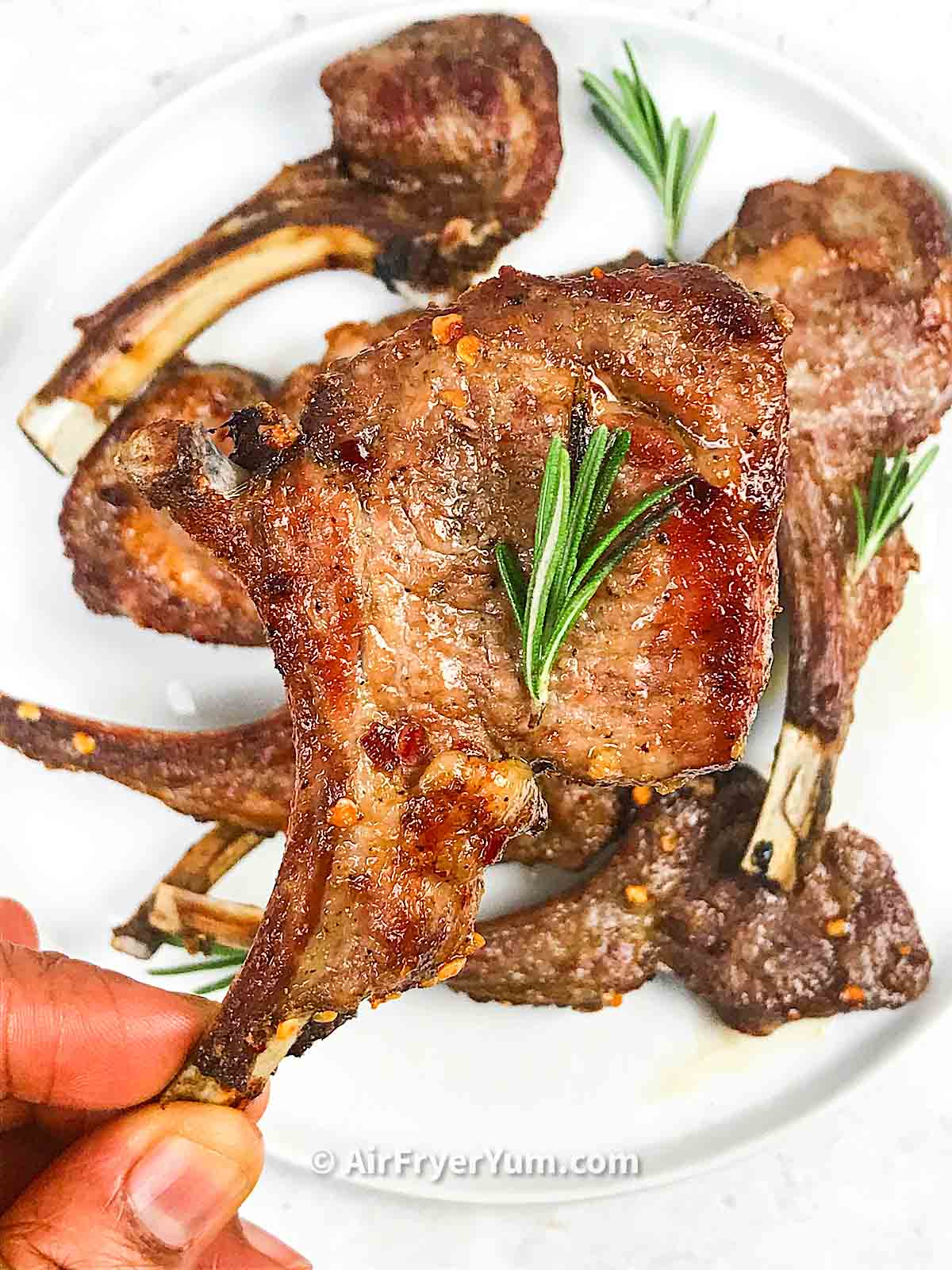 Looking for more air fryer recipes? Sign up for our yummy newsletter and Follow along on Facebook, Instagram, Pinterest and Tiktok for updates. Remember to Subscribe to my YouTube Channel for weekly videos.
Loving your air fryer much? Join other Air Fryer Buddies in our exclusive free Easy Air Fryer Recipes Group on Facebook!
New to the world of Air frying? We've got you covered. Check out our helpful >>> Air fryer Resources!
Shop all air fryers and air fryer accessories at our Amazon store.
Air Fryer Yum's Pro Tip! Air fryer temperatures may vary depending on size, make and model. When making a recipe for the first time, start with less time, check for doneness then add more time as needed.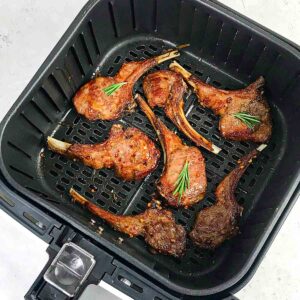 Air fryer lamb chops
The tenderness and flavor of these Air Fryer Lamb Chops literally can't be topped! With this well seasoned lamb recipe made with an easy marinade in your arsenal, now is the time to wow all your family and friends and cook up lamb chops in the air fryer any time they're headed over.
Ingredients
1

rack of lamb

(about 7-8 chops)
Marinade ingredients
2

Tablespoons

olive oil

2

sprigs fresh rosemary

3

Cloves

garlic

½

teaspoon

onion powder

1

teaspoon

salt

¼

teaspoon

black pepper

½

teaspoon

pepper flakes
Instructions
Prepare lamb chops
If you are using rack of lamb, separate into individual chops then wash before transferring into a bowl.

Next pat lamb chops dry in preparation to be seasoned.
Marinate
Add the marinade ingredients to lamb chops and toss to coat.

Make sure the chops are all coated then cover bowl with cling film and let it marinate for at least 30 mins.
Air fry
Transfer marinated lamb chops into air fryer basket and air fry at 400°F for 11 to 13 mins or until internal temp reaches 145°F in the thickness part not touching the bone.

If cooking at 380°F / 190°C expect the cutlets to cook in 12 to 15 mins.

Make sure to flip the lamb chops half way through cooking time.
Notes
No need to preheat the air fryer if your air fryer preheats automatically, it's likely to cook faster than stated in this recipe.
Do not overcrowd the basket, cook in batches if needed.
Nutrition
Calories:
530
kcal
Carbohydrates:
1
g
Protein:
18
g
Fat:
50
g
Saturated Fat:
20
g
Polyunsaturated Fat:
4
g
Monounsaturated Fat:
23
g
Cholesterol:
94
mg
Sodium:
662
mg
Potassium:
261
mg
Fiber:
0.3
g
Sugar:
0.1
g
Vitamin A:
184
IU
Vitamin C:
1
mg
Calcium:
27
mg
Iron:
2
mg
Nutrition Disclaimer
Nutritional information is an estimate and may change based on products used. Please read our Nutrition disclaimer page.
Subscribe to my YouTube Channel
Subscribe to Air Fryer Yum on YouTube for more detailed videos! Remember to click the bell icon to get notified when I upload new videos.
Save this Recipe for later!
Follow @AirFryerYum on Pinterest!
Did you make this air lamb chops recipe? Awesome! Please rate it by clicking the stars ⭐️⭐️⭐️⭐️⭐️ when you leave a comment below. If you loved it please share the link to this recipe with family and friends and in you favorite Facebook group.