Cosori is one of the foremost Air fryer companies in the world and one of my recommended brands of air fryers for beginners besides the Gourmia, Ninja and instant brands in no particular order.
Sometimes amazing companies have to recall their products if they have some concerns regarding the safety of their products. Today's post is about the recent Cosori Air fryer recall where around 2 million air fryers are being recalled in the US, Canada and Mexico due to risk of fire hazards.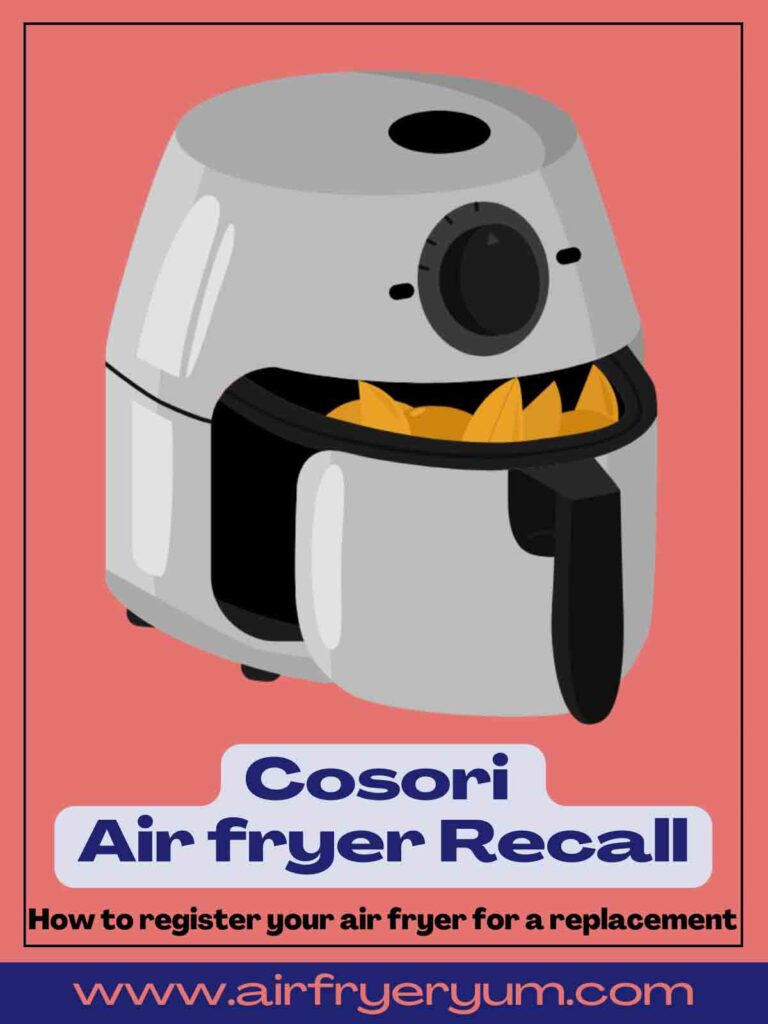 Why companies recall their products
Product recalls are a way for companies to protect their customers, their brand reputation, and their bottom line by addressing issues with their products as quickly and effectively as possible.
You will also find recall information in websites such as the United States Consumer Product Safety Commission (CPSC) or the websites of individual companies. Below are some reasons why companies recall their products
Safety concerns: If a product is found to be unsafe for consumers, the company may recall it to prevent harm or injury. This could be due to a design flaw, a manufacturing defect, or a packaging issue.
Quality issues: Products that don't meet quality standards or fail to perform as intended may be recalled to maintain customer satisfaction and protect the company's reputation.
Legal requirements: Companies may be required by law to recall products if they pose a health or safety risk to consumers.
Customer complaints: If a company receives multiple complaints from customers about a product, they may recall it to investigate the issue and prevent further problems.
Related: How to use a Cosori air fryer, Cosori Air fryer recipes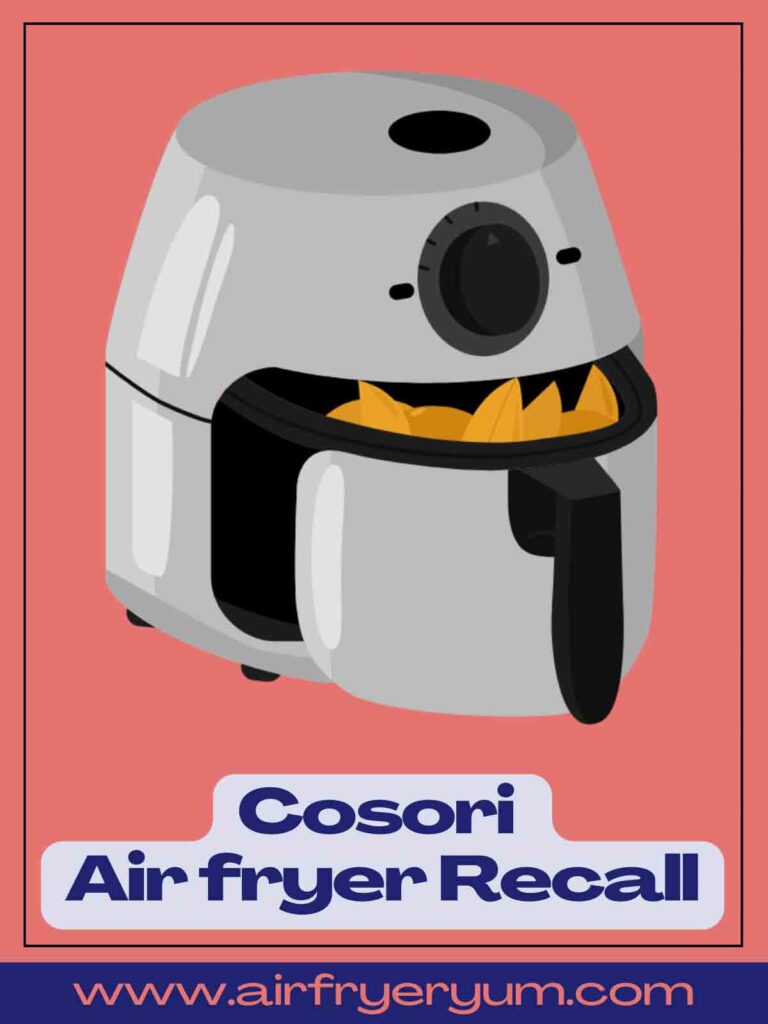 Disclaimer: These are the steps I personally took to register my air fryer for the Cosori air fryer recall. Please refer to the Cosori recall website for the most up to date instructions on how to register yours.
Which Cosori air fryer is being recalled?
CP158-AF
CP158-AF-R19
CP158-AF-RXW
CP158-AF-RXR
CAF-P581-BUSR
CAF-P581-AUSR
CAF-P581-RUSR
CAF-P581S-BUSR
CAF-P581S-AUSR
CAF-P581S-RUSR
CP137-AF
CP137-AF-RXB
CP137-AF-RXR
CP137-AF-RXW
CS158-AF
CS158-AF-RXB
CS158-AF-R19
CO137-AF
CO158-AF
CO158-AF-RXB
CP258-AF
Visit the recall.Cosori.com to confirm that you model is included.
How to register your Cosori air fryer for the recall.
First you visit the Cosori recall website at recall.Cosori.com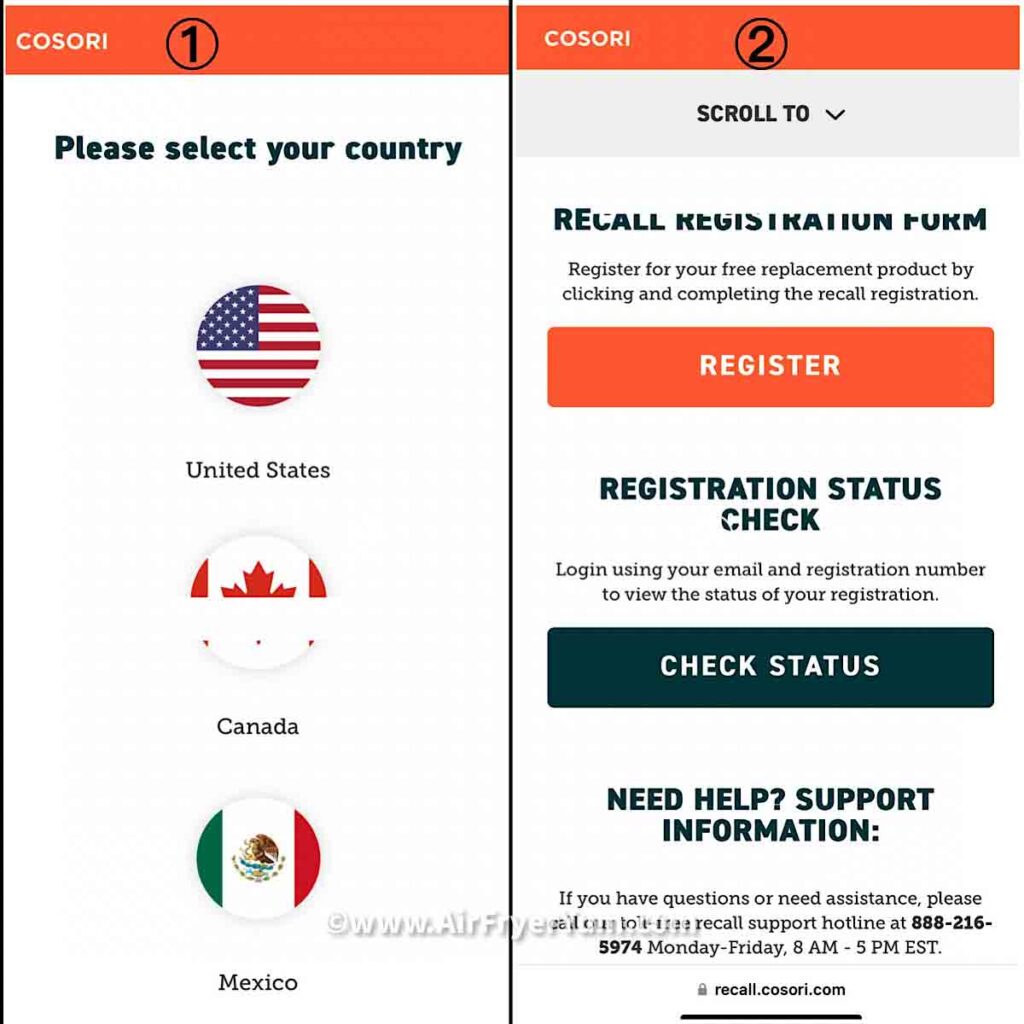 Pic 1: Select the country you are located.
Pic 2: Scroll to the recall registration form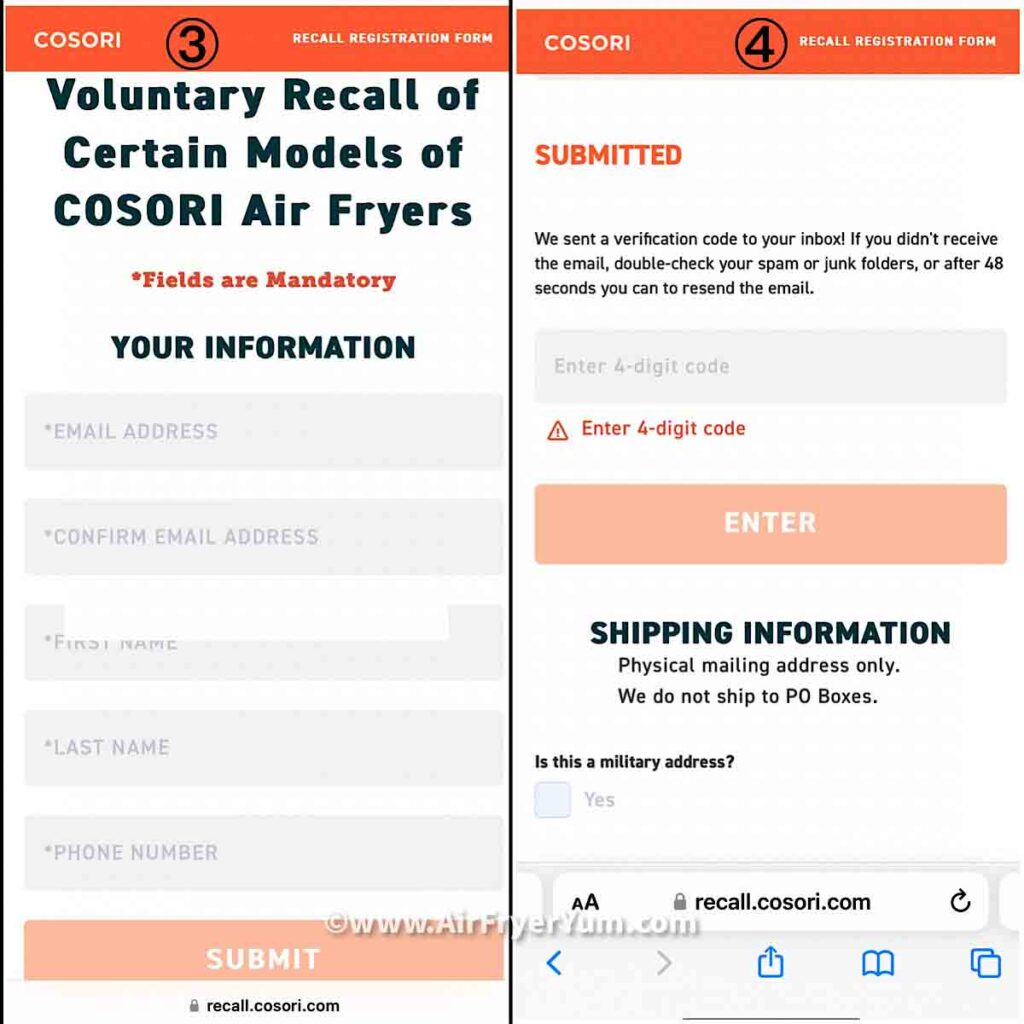 Pic 3: Time to fill in your email, name and phone number.
Pic 4: When you submit your details in pic 3, you'll receive an email with a code to enter as seen in pic 4. Once you add the code, hit the submit button.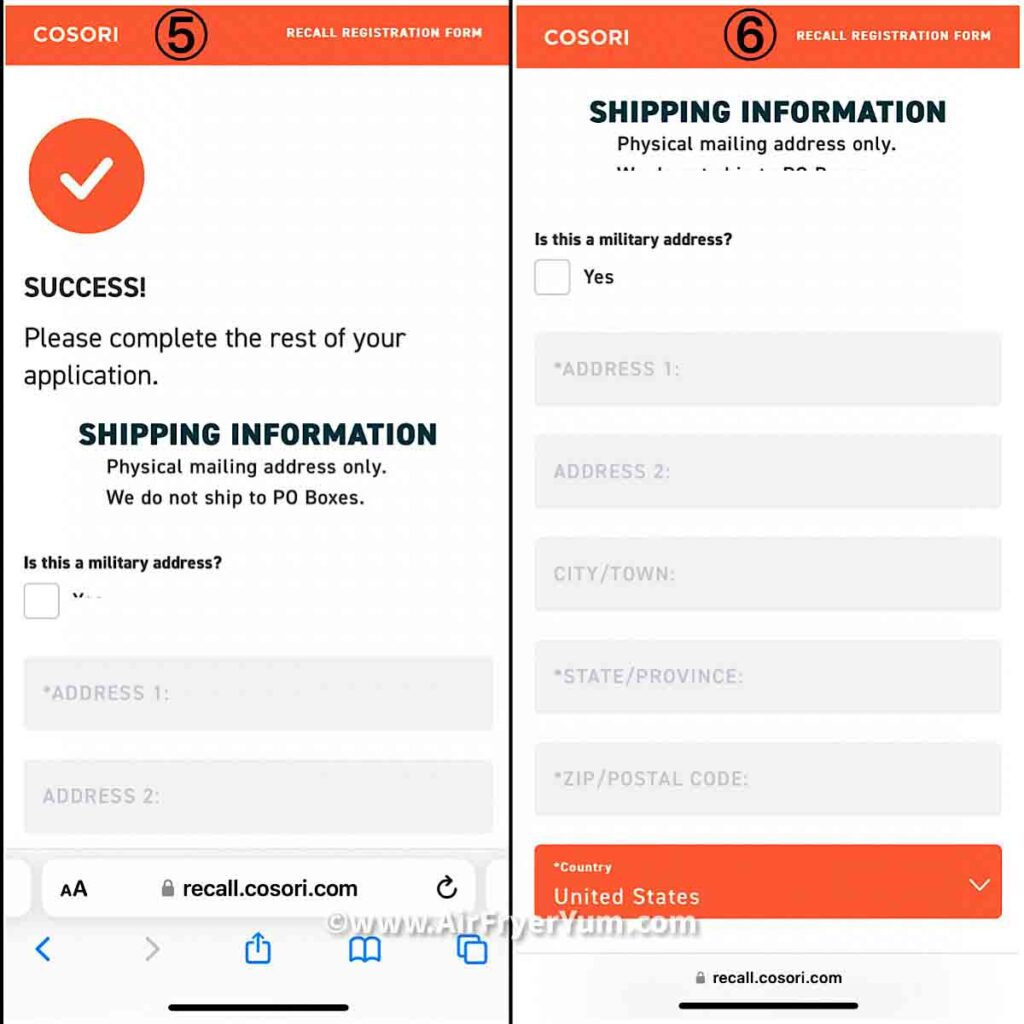 Pic 5: You will see a success message after putting in the code that was sent to your email. It's time for your shipping address.
Pic 6: Input your correct mailing address, no POBox accepted according to the website.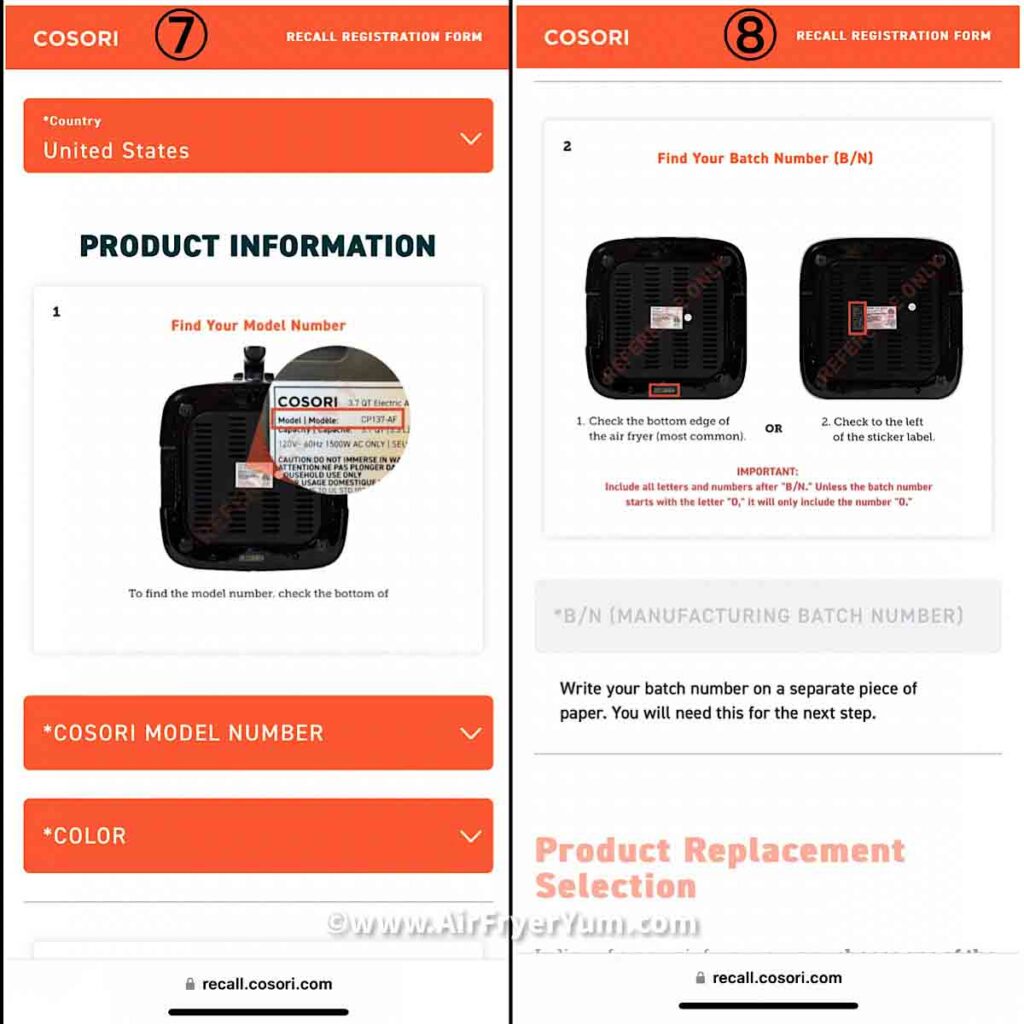 Pic 7: Time to input the details if your Cosori air fryer. You will need the Cosori model number which you will find on the underside of your air fryer. First ensure that the air fryer is unplugged and completely cooled down. After you input the model number, you can select which in most cases is auto selected.
Pic 8: It's time to input your Batch no. Which is also at the underside of the air fryer.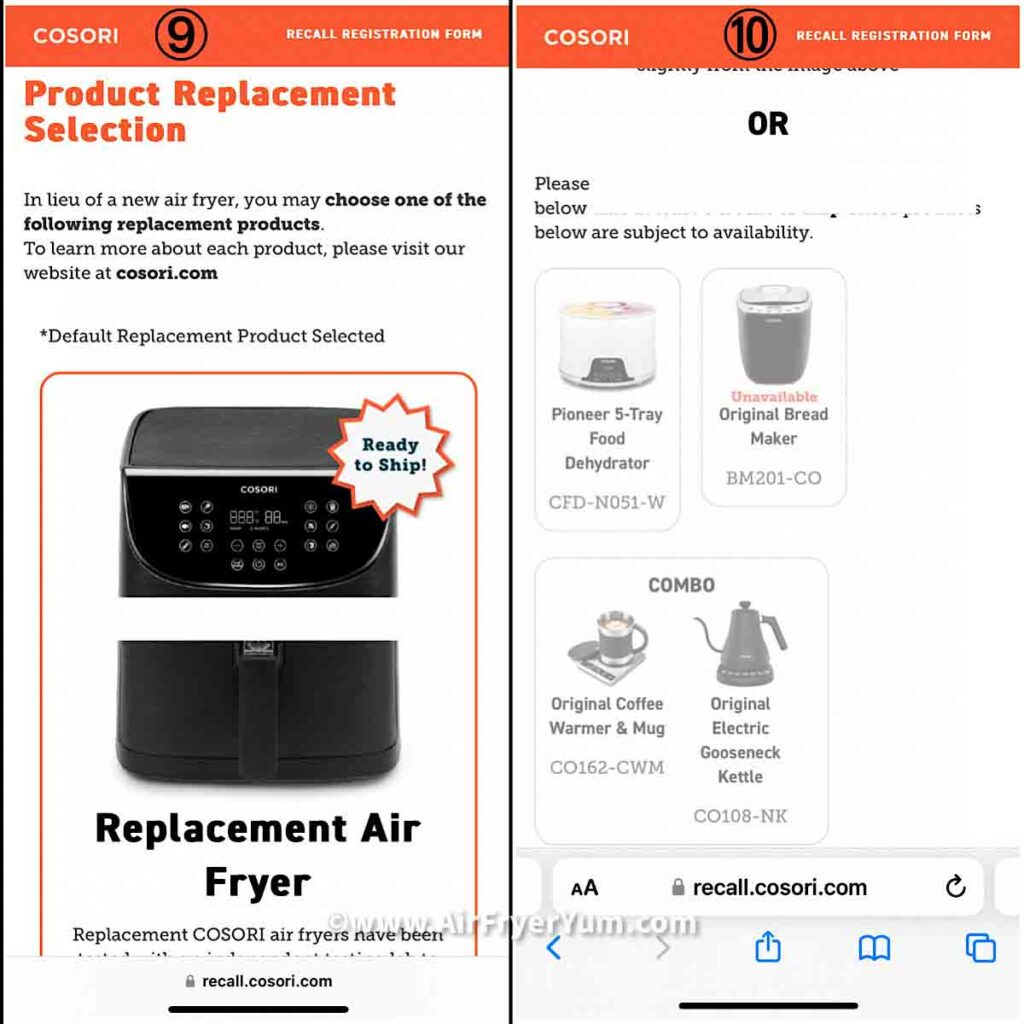 Pic 9: After you input the batch no, your product replacement selection will pop up Which a similar model to my original one but has been built differently to prevent the issue that caused the recall.
Pic 10: You are also given an option to pick other Cosori products from a list if you don't want an air fryer.
After this step you would be expected to upload 3 images of your air fryer.
The underside showing the model number and batch number,
the second picture will be the front of the air fryer with the batch number written on a paper.
The third picture is the back of the air fryer also showing the paper with the written batch number.
When you've submitted all the images you will get a thank you message like the image below.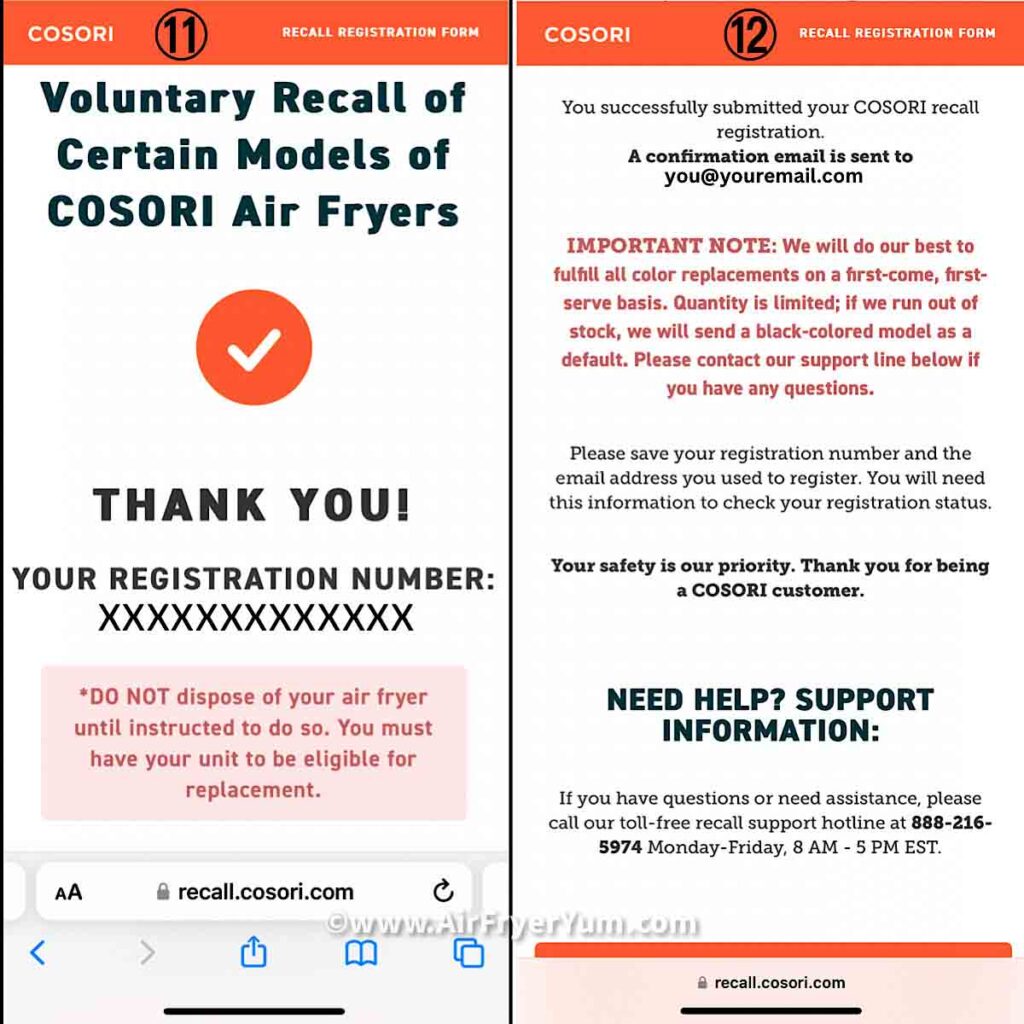 Pic 11: Thank you message with your registration number.
Pic 12: Message informing you that details have been sent to your email.
When will I get my Air fryer replacement
According to the the Cosori recall website it would take 6 to 8 weeks to receive your replacement after you registration has been approved the timeline below is mine, some people in our Cosori users air fryer group on Facebook received theirs within two weeks and some 4 weeks. Mine took over 5 weeks..
I'm yet to receive as of today 03/27/23 which is almost 5 weeks since I cut the cord. There's hope still since I have received the email telling me the model I would be receiving and letting me know it will ship soon. I receive it on 04/03/23 yay!!
Check the status of your air fryer replacement here. You will need the email you used to register for the recall and your recall registration number which can be found in the email that was sent to you after your completed your recall.
Replacement timeline
Recall registration ➡️ Email indicating acceptance of registration and requesting to verify address ➡️ Email confirmation for shipping ➡️ Replaced Air fryer Shipped and tracking code sent ➡️ Air fry received. (04/03/23)
I received my replacement air fryer total of 5 weeks and 3 days after registration and approval which is within the 6 to 8 weeks they promised.
More helpful air fryer resources
Did you find this post helpful? Leave me a comment and don't forget to share with family and friends.
FAQs
Is the Cosori air fryer recall real
Which countries are affected by the Cosori air fryer recall
Is the Cosori air fryer safe to use?
How long will it take to receive my replacement air fryer?
Will I receive the same model of my recalled air fryer?
Why should I cut the cord of my air fryer?
Love it? Pin it! Then follow Air Fryer Yum on Pinterest for more deliciousness!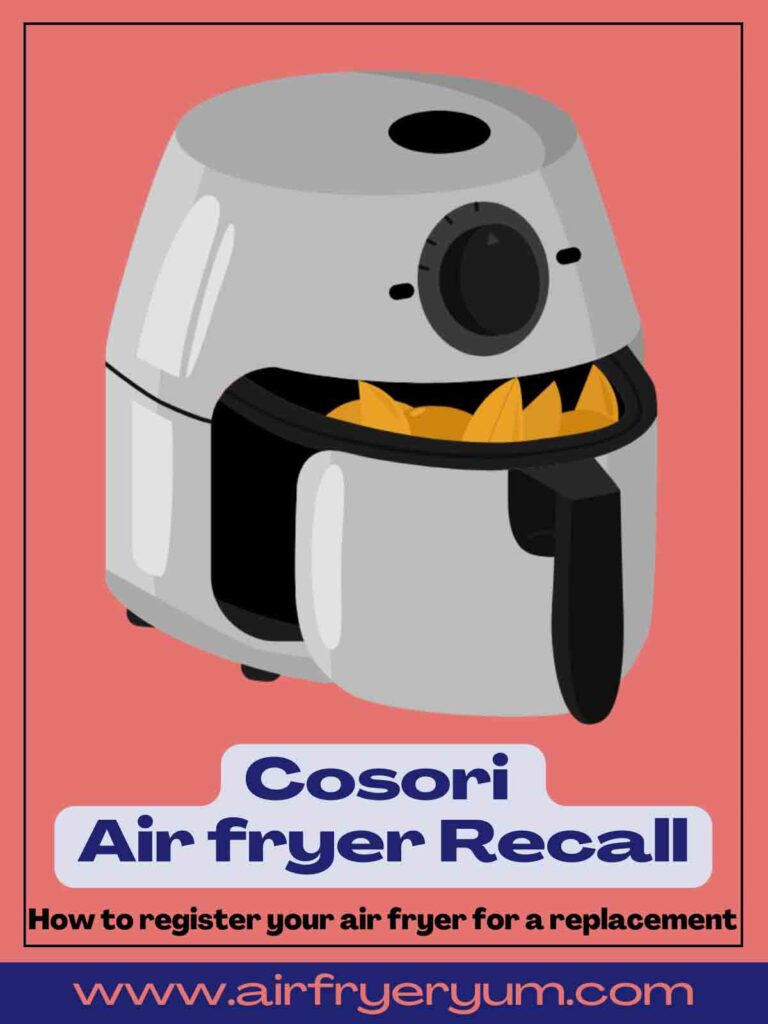 Looking for air fryer recipes? Sign up for our yummy newsletter and Follow along on Facebook, Instagram, Pinterest and Tiktok for updates. Remember to Subscribe to my YouTube Channel for weekly videos.
Loving your air fryer much? Join other Air Fryer Buddies in our exclusive free Easy Air Fryer Recipes Group on Facebook!
New to the world of Air frying? We've got you covered. Check out our helpful >>> Air fryer Resources!
Shop all air fryers and air fryer accessories at our Amazon store.