Air fryer Brunch recipes are fun to make and easy to put together. With minimal prep and clean up, you'd be enjoying a variety of recipes from pancakes to sausages, fried eggs, steak and eggs with breakfast potatoes. If you are looking for brunch food to make in the air fryer then you'll love these.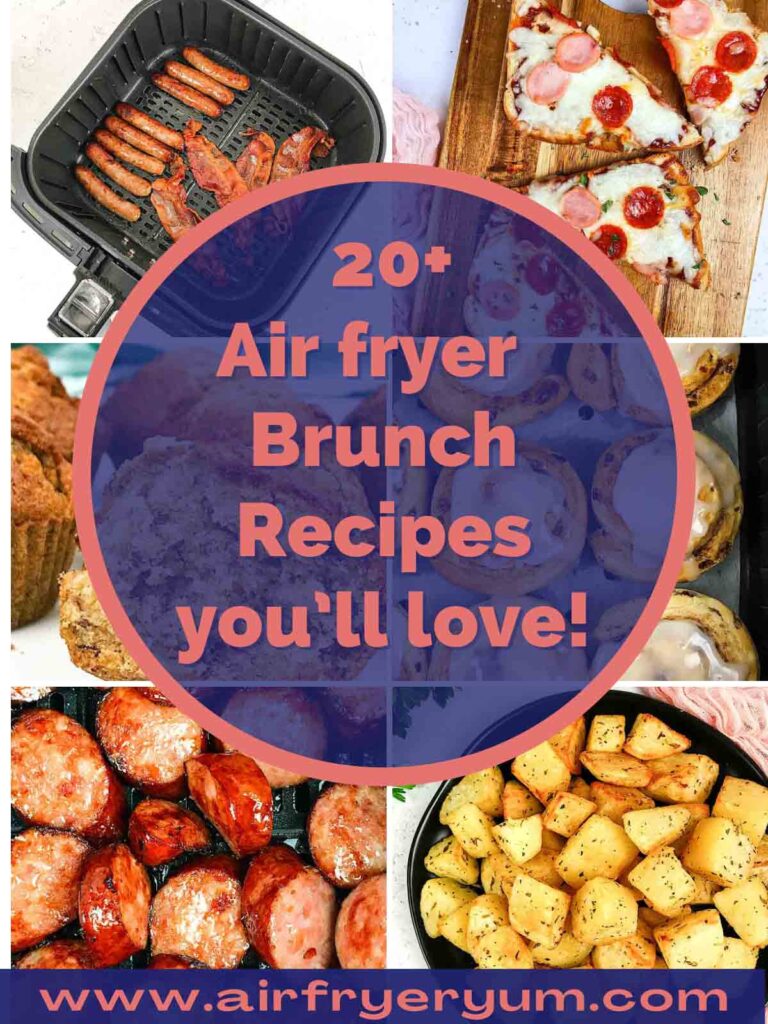 What is brunch?
Brunch can be defined as the meal time /period between breakfast and lunch. In fact the name brunch was coined from the words breakfast and lunch. Brunch time is usually between 11 am and 1:30 pm and brunch food like pancakes, bacon and breakfast potatoes are served.
This category of meal time originated in England in the 19th century but has become common in the United States in recent years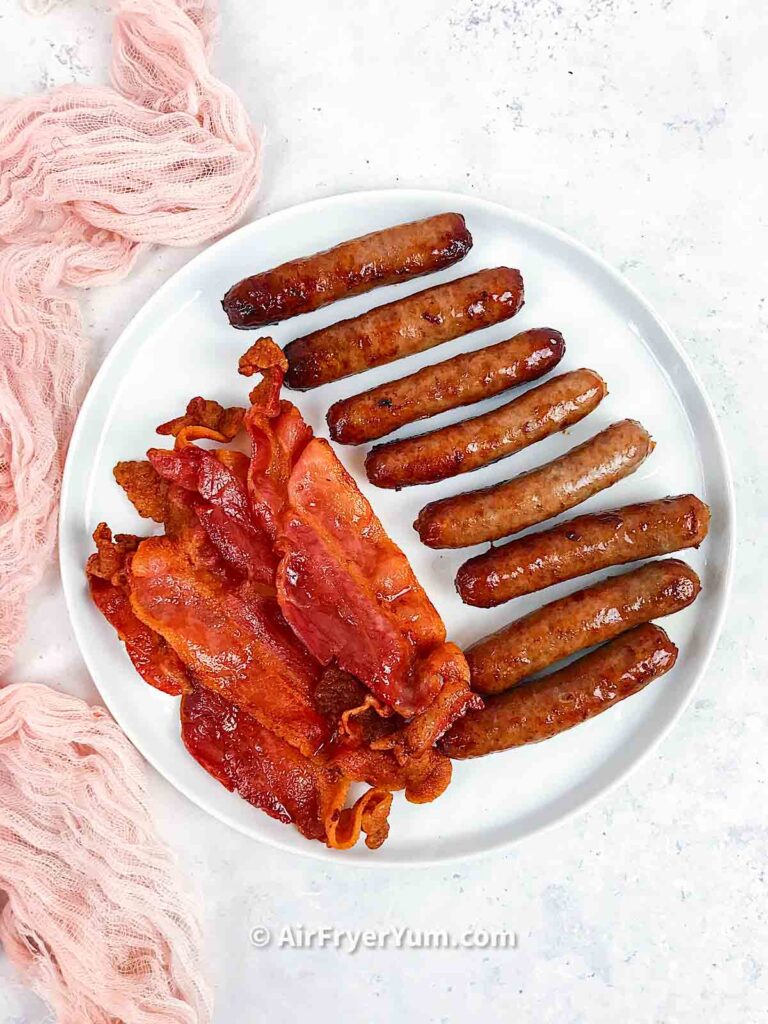 Can you make brunch food in the air fryer?
Definitely you can make brunch food in the air fryer and it doesn't take much of your time and tastes amazing.
Recipes like cinnamon rolls, baby potatoes, and lots more which I will be sharing in a bit are possible in the air fryer.
Related: Air fryer breakfast recipes, ham steak in the air fryer, Air fryer Mother's Day recipes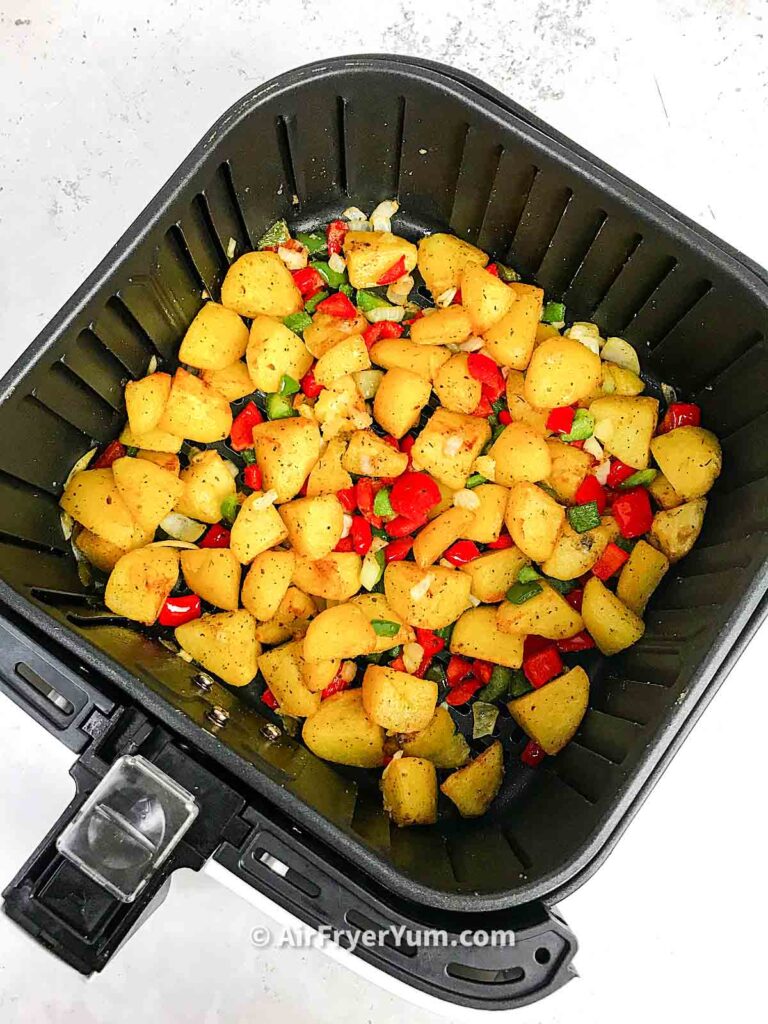 Our favorite air fryer brunch recipes are below.
These are free air fryer recipes that you we make often and love. it's our hope that you enjoy these as much as we enjoyed creating it for you.
Air fryer hot dogs
Air fryer hot dogs are quick and easy to make. In less than 10 mins, you've got crispy skinned hot dogs with juicy insides. Ready to be served on its own, with salads or in a hot dog bun topped with ketchup and mustard or even some sauerkraut or relish. 
Get this recipe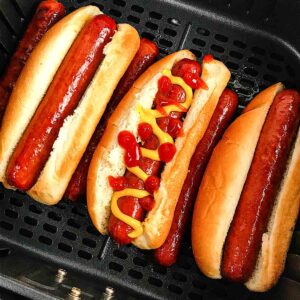 What to serve at a home brunch?
Serving brunch at home is easy. From freshly air fried breakfast sausages to home fries made from scratch or with left over breakfast potatoes. You can never go wrong with rustling up leftovers to serve for brunch.
It's a different ball game all together if you are hosting a brunch party! In that case most of your recipes will need to be made from scratch and depending on the numbers of guests you are expecting, the air fryer can be be used for all the recipes or serve as a supporting appliance to your oven and or stove top.
Air frying Tips
If you are cooking for the first time in your air fryer, it's ok to check on it multiple times. Air fryers cook differently, doing this will help you master your own brand better.
Preheating is optional. Most foods made in this website are made in a non preheated air fryer except otherwise indicated.
FAQs
What is a typical brunch menu?
A typical brunch menu consists of fried eggs, sausages, bacon, waffles, pancakes, pancake syrup, breakfast potatoes, coffee, orange juice ham steak, breakfast steak etc.
Brunch VS Lunch, what's the difference?
Brunch is a meal that's eaten between breakfast and lunch and is a mix of breakfast foods like bacon, sausages, eggs and lunch food like fries and steak. It is usually served between 10:30/11am to 1:30pm. Lunch is a light meal of the day usually eaten from 12:30 to 4 pm.
What kind of dishes do you serve at brunch
A mix of breakfast and lunch dishes are served at brunch.
If you try any of these air fryer brunch recipes, show it off on Instagram! Be sure to Follow and Tag @Airfryeryumblog on Instagram and use the hashtag #airfryeryumblog so we can see your recreations!
More air fryer recipe collections
Air fryer bacon recipes
The best chicken recipes to make in the air fryer
Air fryer recipes for college students
Best frozen foods for air fryer
Air fryer Game day recipes
Easy air fryer recipes for beg
Check out all our >>>Air fryer Recipes!
Did you find this recipe helpful? Leave me a comment about it or any recipe idea you would love Air fryer 'yummed' and don't forget to share with family and friends.
Happy Air frying!
Love it? Pin it! Then follow Air Fryer Yum on Pinterest for more deliciousness!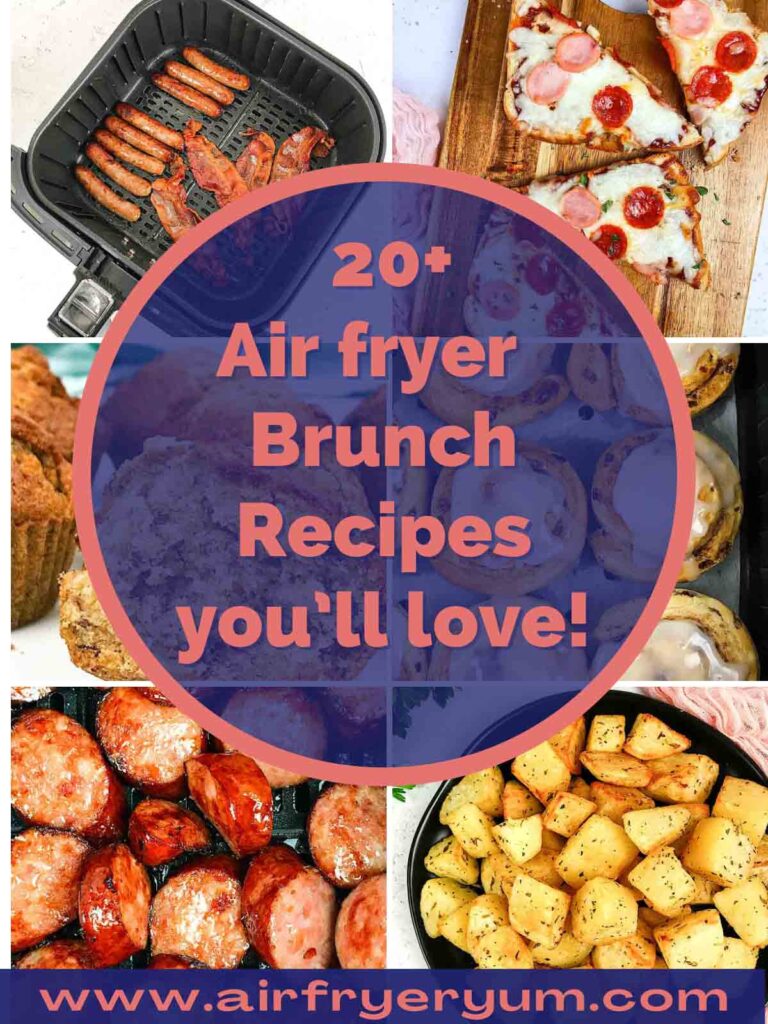 Looking for more air fryer recipes? Sign up for our yummy newsletter and Follow along on Facebook, Instagram, Pinterest and Tiktok for updates. Remember to Subscribe to my YouTube Channel for weekly videos.
Loving your air fryer much? Join other Air Fryer Buddies in our exclusive free Easy Air Fryer Recipes Group on Facebook!
New to the world of Air frying? We've got you covered. Check out our helpful >>> Air fryer Resources!
Shop all air fryers and air fryer accessories at our Amazon store.
Air Fryer Yum's Pro Tip! Air fryer temperatures may vary depending on size, make and model. When making a recipe for the first time, start with less time, check for doneness then add more time as needed.
Did you make any brunch food from this collection? Awesome! Please rate it by clicking the stars ⭐️⭐️⭐️⭐️⭐️ when you leave a comment below. If you loved it please share the link to this recipe with family and friends and in you favorite Facebook group.