If you've been wondering how to use Cosori air fryer, then you are in the right place. I have a blog post on the overview of how to use air fryers but since like humans, each air fryer brand is different, this guide will delve into how to use the Cosori air fryer 5.8 qt. It would also be helpful if you have a 3.7qt air fryer. If you are sitting on the fence and wondering if it's really worth it to buy one, read along and decide.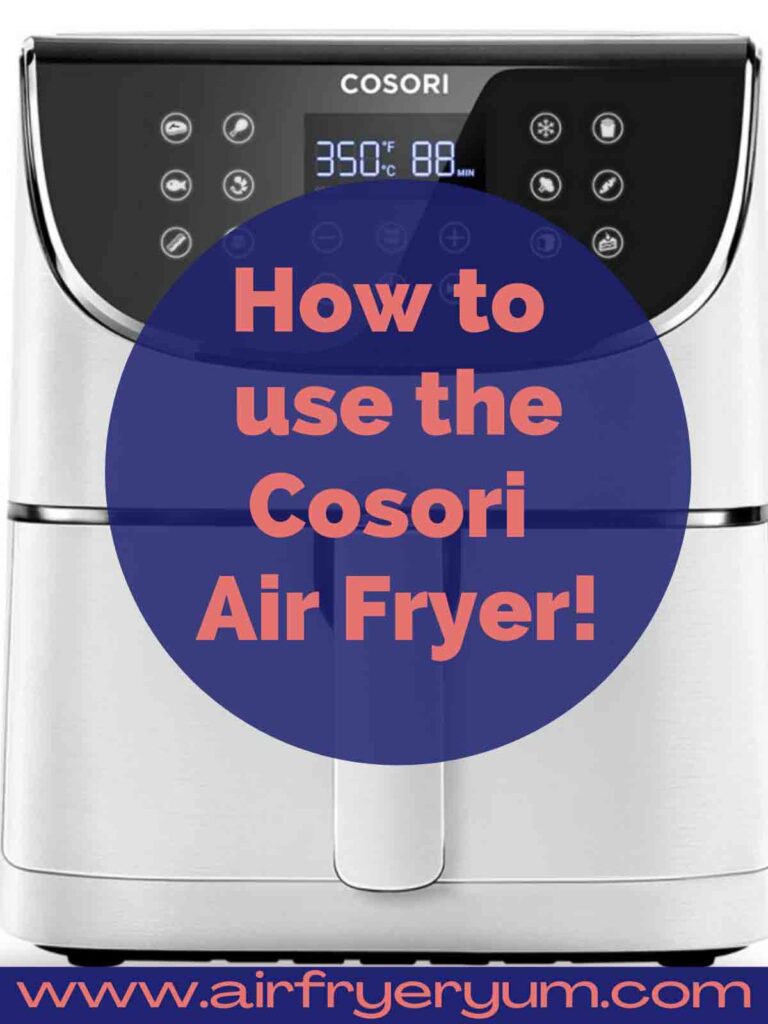 What is an air fryer?
An air fryer is a counter top kitchen appliance that cooks similar to a convection oven but faster. It's hit the world with a bang and is making waves across borders.
It is particularly known for its ability to cook food to deep fried crispy perfection with little or no oil. It does this by its speedy air and heat circulation technology.
Is air fried food healthy?
Air fried food is said to be healthier than deep fried foods. It is said to cut down calories by up to 80% making it a healthier option for cooking especially for people to cholesterol problems.
Related: Large capacity air fryers, 70+ Cosori air fryer recipes, Cosori air fryer recall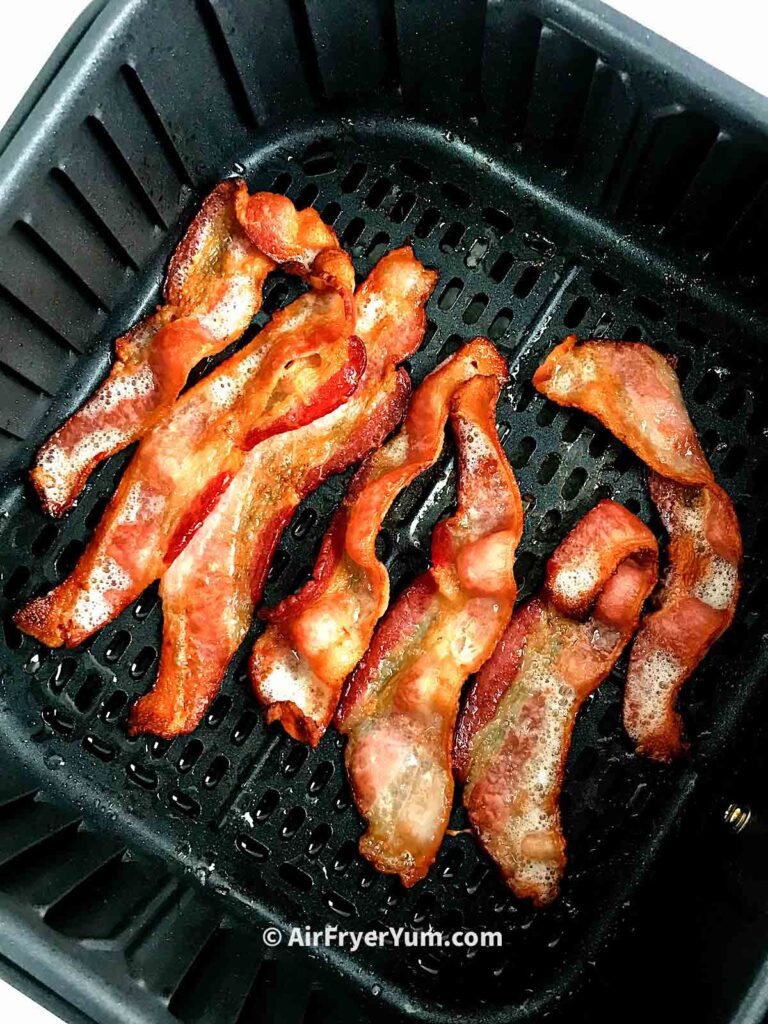 Why the Cosori Air fryer 5.8 qt works
There are lots of great Cosori air fryer reviews on Amazon by happy buyers. You can read my own review as well if you are still sitting on the fence about buying one. In the mean time, let me share with you why this works and why we love it!
It cooks food to crispy perfection. Thanks to its well aerated inner basket.
It has a square basket which contains more than round baskets.
Cooks food in less time than in the oven. I share more reasons further down in the pros & cons section of this guide.
Join our exclusive Air fryer Recipes group on Facebook!
Where to buy a large capacity air fryer like the Cosori
Large capacity air fryers that can feed a family of and beyond is on popular demand and you are in luck because Cosori dual blaze and the Cosori Air Fryer 5.8 qt is one of them and you would love it!
You can get these air fryers in stores like Costco, Target, Best Buy, and Walmart. If you happen not have any of these stores near you, you can easily buy online from Amazon, Walmart, Costco or the website of the brand you are buying.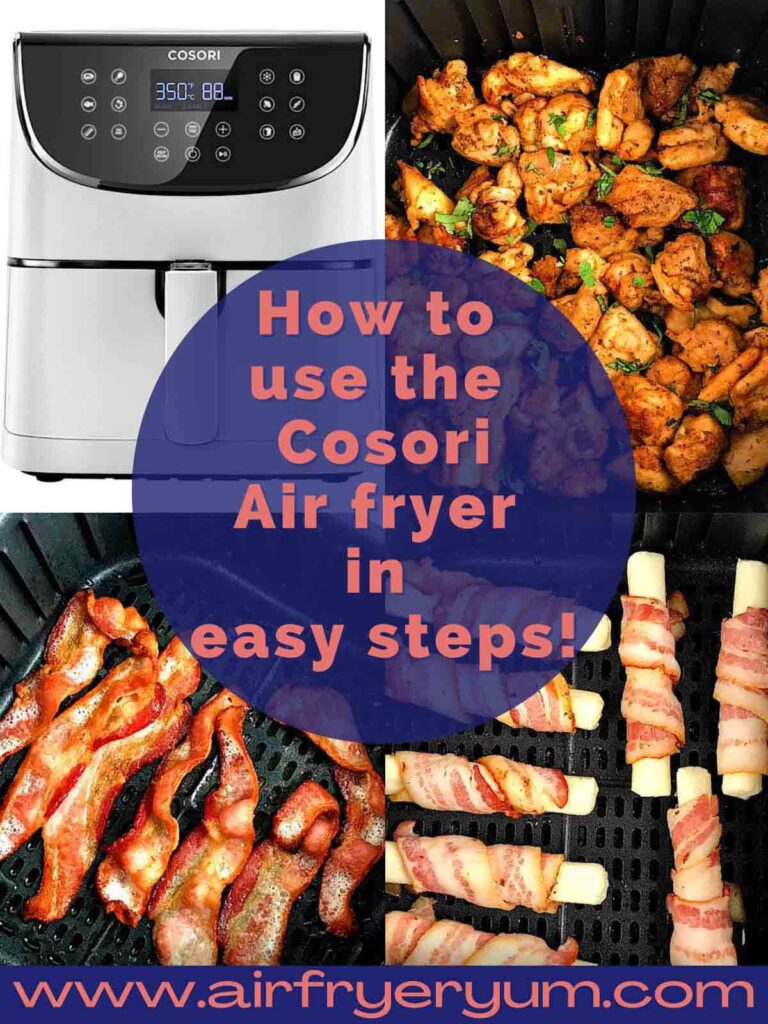 What's in the box?
A user manual
Cookbook
Warranty registration card
Quick reference guide
Cosori Air fryer 5.8 qt or 3.7 qt as the case may be.

Air fryer inner basket with handle
Outer basket
1 Rack
4 Metal skewers
Getting to know your Control panel and Presets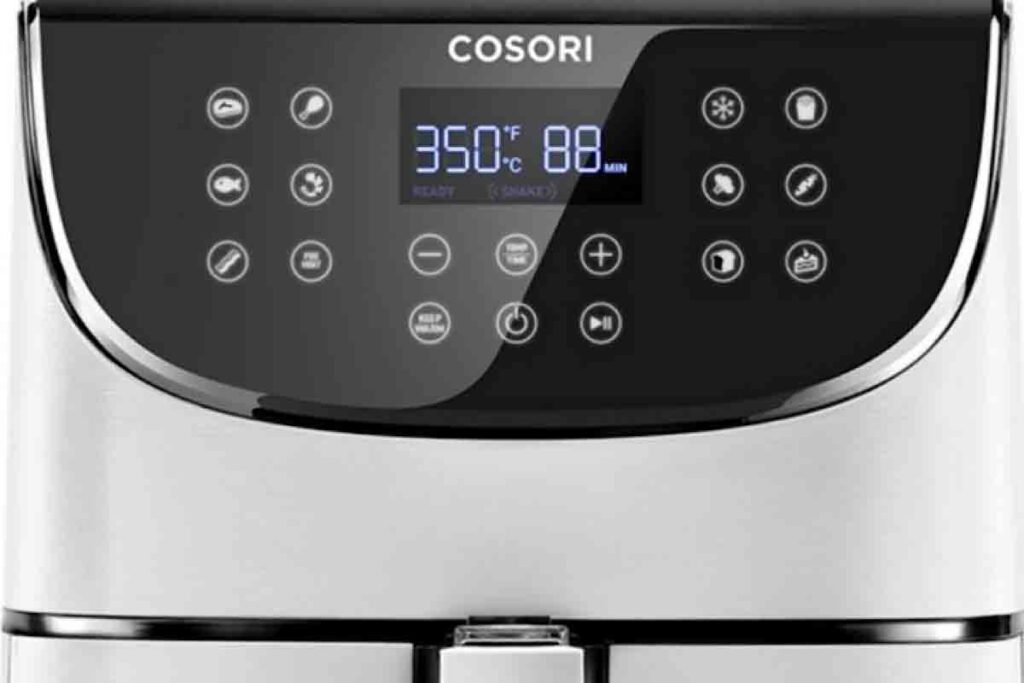 The control panel is pictured above. It the panel that holds the functionality of Cosori air fryer and is where it is operated from.
It has the following digital buttons from left to right
Steak
Fish
Bacon
Chicken
Shrimp
Preheat
Decrease time/temperature
Keep warm
Time / temperature selection button
On/Off button
Increase time/temperature
Start/Pause button
Frozen foods
Vegetables
Bread
French Fries
Root vegetables
Desserts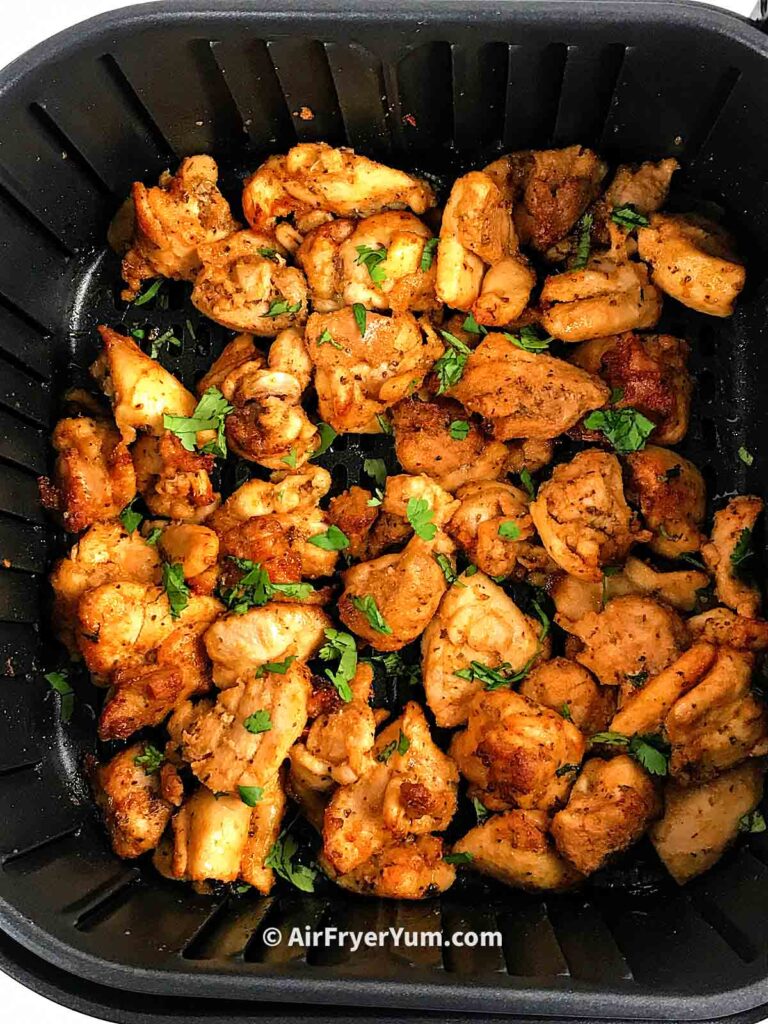 How to use the Cosori Air fryer 5.8 qt or 3.7 qt
Now to the fun part! The part we've been waiting for! How to use Cosori air fryer in easy steps.
Remove all packaging and stickers from the air fryer.
Place air fryer on a stable heat resistant surface with enough room on the sides all around.
Read your manual
Identify the parts of your air fryer
Pull out both baskets (yes there are two baskets the outer basket houses the inner basket. Take note that the inner basket actually the one with the handle.)
Separate the two basket by pressing the basket release button.
Step 2
Plug the air fryer cord to an outlet
Do a test run of your new Cosori Air fryer 5.8 qt or 3.7 qt (more on that below)
Make your chosen recipe. Remember to start with one of our beginner friendly recipes of this is your first time using an air fryer.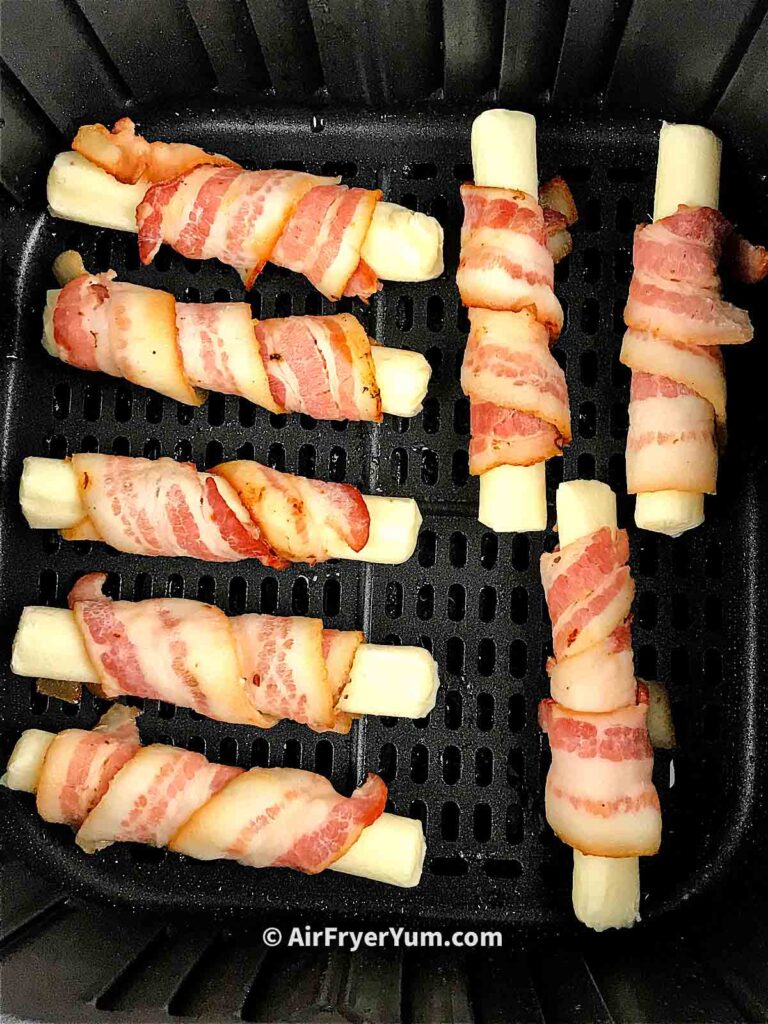 Cosori Air fryer Test Run
After plugging in the air fryer, follow the next steps
Press the preheat button (number 6 above) Preheat is preset to 400°F for 5 mins.
Next press the start/pause button (number 12 above) and the preheating cycle would begin. When it's done, the air fryer would beep
Pull out the empty baskets and let cool for 5 mins.
Push empty baskets back in after 5 mins. Press the steak button which is preset to 400°F/ 200°C for 6 mins.
Press the time/temperature button twice, this will highlight the time, then use your decrease button to reduce time to 5 mins.
Press the start/pause button and the air fryer will start its cycle. When done, pull out baskets and let cool for up 30 mins. Test run completed. Congrats you can now use your air fryer.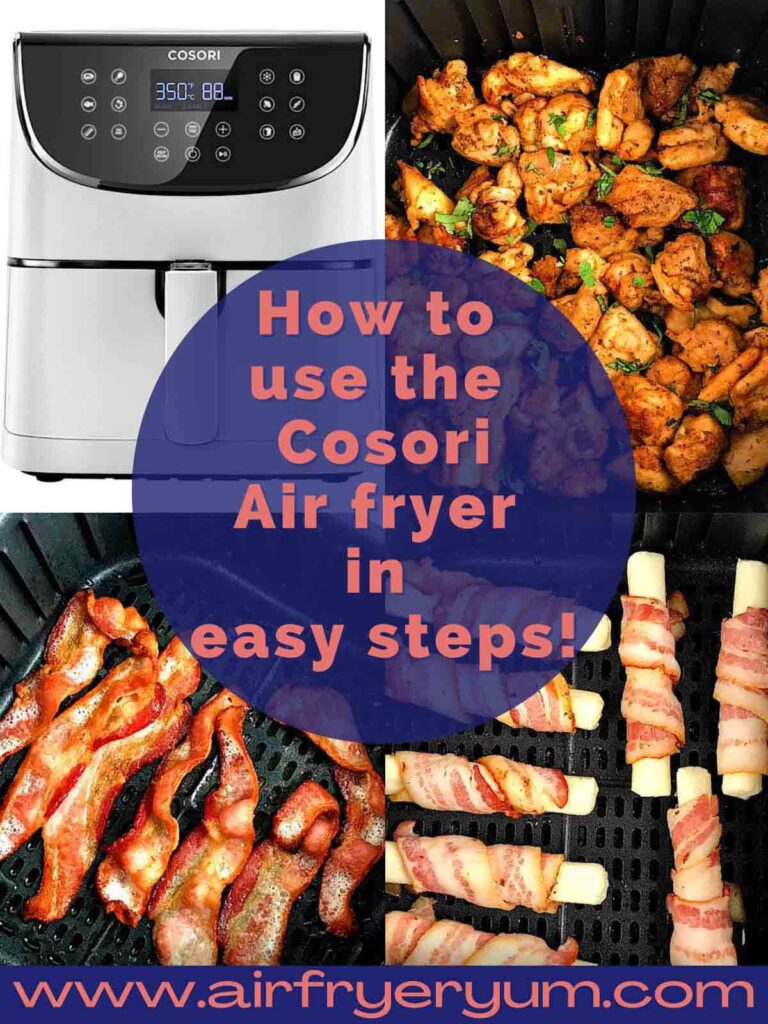 Are there any problems with the Cosori air fryer?
I love my Cosori air fryer however with most things there could be pros and cons. Good news. There are very few cons and these cons aren't such a big deal.
Pros
Has a square shaped basket which gives a larger surface area for cooking.
The digital screen makes it a better option than air fryers with a dial knob which can wear out.
Has a lot of presets to choose from. I'd be honest I hardly ever use the preset buttons for instance the dessert button is set at 300°F for 30 mins. I assume that would depend on the size of the cake. My banana bundt cake took close to 35 mins at 330°F to be fully baked.
The baskets are super easy to clean manually or with a dish washer. This is because it has no ridges. It has a simple flat perforated design. The outer body seems to be stain resistant cos my white Cosori has kept well.
Comes with a 1 year warranty with an opportunity to increase it to 2 years if you register online usually within 14 days of purchase. Even it's past 2 weeks of purchase register via the link www.Cosori.com/bonus and you are likely to still get it cos I registered my product over a month after and still got my warranty extended.
Has a preheat button. Don't know if this is really pro since I use my Gourmia without preheating and have no issues (some newer models of Gourmia now include a preheat button)
For the fashionista! Like the kitchen aid mixers It comes in a variety of colors, Red, White, Black and Stainless steel. I know it's only 4 but qualifies. I love my White Cosori.
Ability to switch temperature units. Press and hold the Time/Temp button for 3 seconds the air fryer will need once, then the unit will change from Fahrenheit to Celsius. Do the same to switch back to Fahrenheit. This is a very good one for our European friends. No need to use the temperature conversion section of this oven to air fryer calculator.
Automatic pause and resume. When the basket is pulled out during cooking, the air fryer pauses automatically and resumes when it's pushed back in.
Has a shake reminder which beeps to remind you to Shake the basket if using the preset for fries.
Cons
The basket is a bit delicate so handle with care and while cooking try not to shake food with just inner basket.
The buttons need a bit more getting used to especially using the time/ temp button and increase and decrease buttons. It took me longer to get used to the buttons than it took me with my Gourmia.
It doesn't have a rotisserie option however it cooks whole chicken like a pro. In their defense this is a basket style air fryer therefore It's not meant to have rotisserie, that function is reserved for oven style air fryers like the instant pot vortex oven style air fryer, Gourmia GAF688 7 qt and the Power XL Air fryer Pro
Not many relevant cons right? The Cosori air fryer is really great.
Shop our Air fryer and Air fryer Accessories store!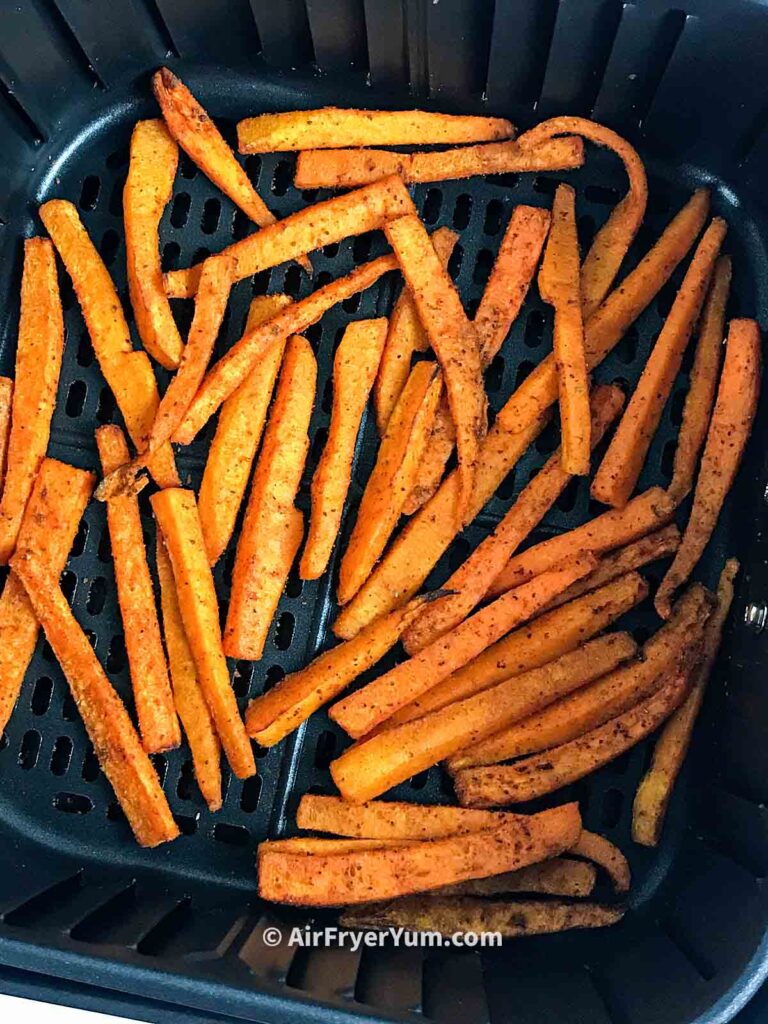 How to remove Cosori air fryer basket
To remove the Cosori air fryer basket (separating the inner basket from the outer one) here's what you'll do. This is best done with the basket on a solid surface and not mid air.
Slide the plastic button guard forward.
Press the basket release button then gently lift out the inner basket from the outer one. Thats all.
To put it back, gently slide it back in, then push the plastic button guard back to position.
Tips for a successful use of your Cosori Air fryer
Read the manual: You don't need to read it like you are taking an exam but read enough to know the parts and the dos and don'ts because air fryers are made by different manufacturers and therefore have different rules of use. Get to know your Cosori air fryer!
Recipes: If this is your first time using an air fryer, I'd suggest you start with an easy recipe that would encourage to explore and not keep you overwhelmed and discouraged. Frozen foods are a good place to start. For instance why not make air fryer frozen fries first before making French fries from scratch. Why not try bacon wrapped foods like bacon wrapped potatoes, bacon wrapped radishes before trying air fryer Mexican rice.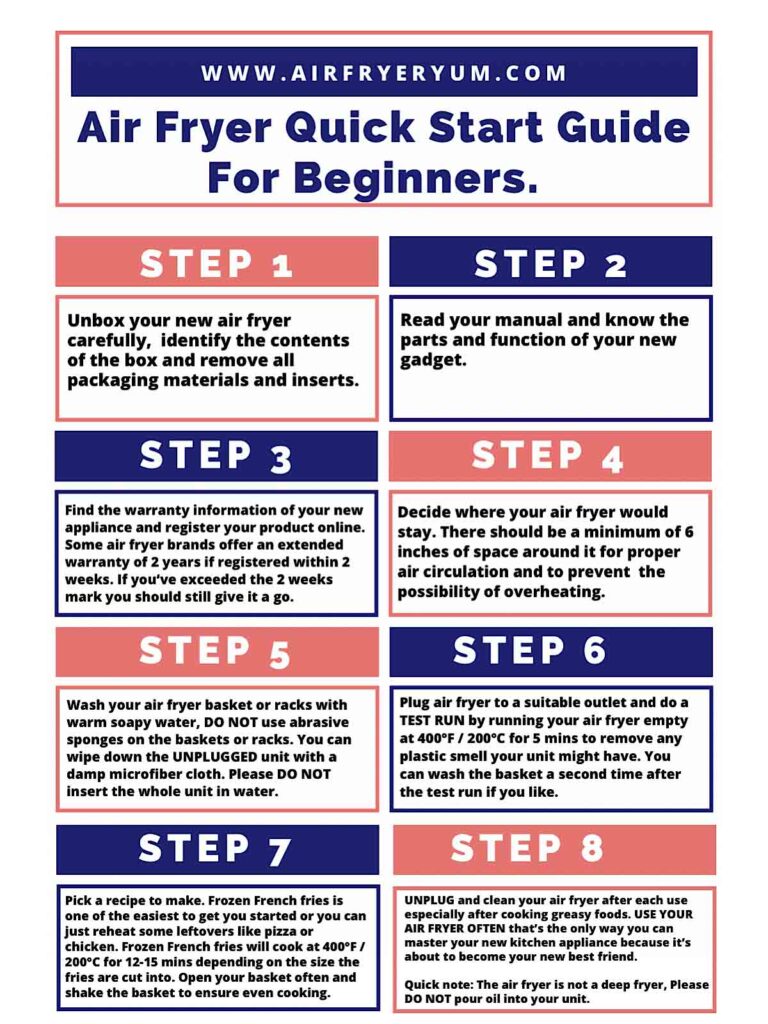 A few important things to note
An air fryer isn't a deep fryer. You don't pour oil in the basket to fry any food.
Never press the basket release button when baskets are in mid air otherwise the outer basket will fall. Place baskets on a surface before pressing the release button
Shaking the basket is best with dry foods like fries and may not be the best for foods like meats that may have drippings. This is to ensure hot liquid doesn't splash in you. If you find that there is a collection of liquid at the bottom of the air fryer, use a pair of kitchen tongs to flip.
Do not over fill the basket.
Keep air fryers on heat resistant surfaces.
Do not immerse unit in water
Cosori Air fryer Recipes
These are some recipes made in my Cosori air fryer
Check out all our Air fryer recipes which include both recipes from the Cosori air fryer and the Gourmia air fryer.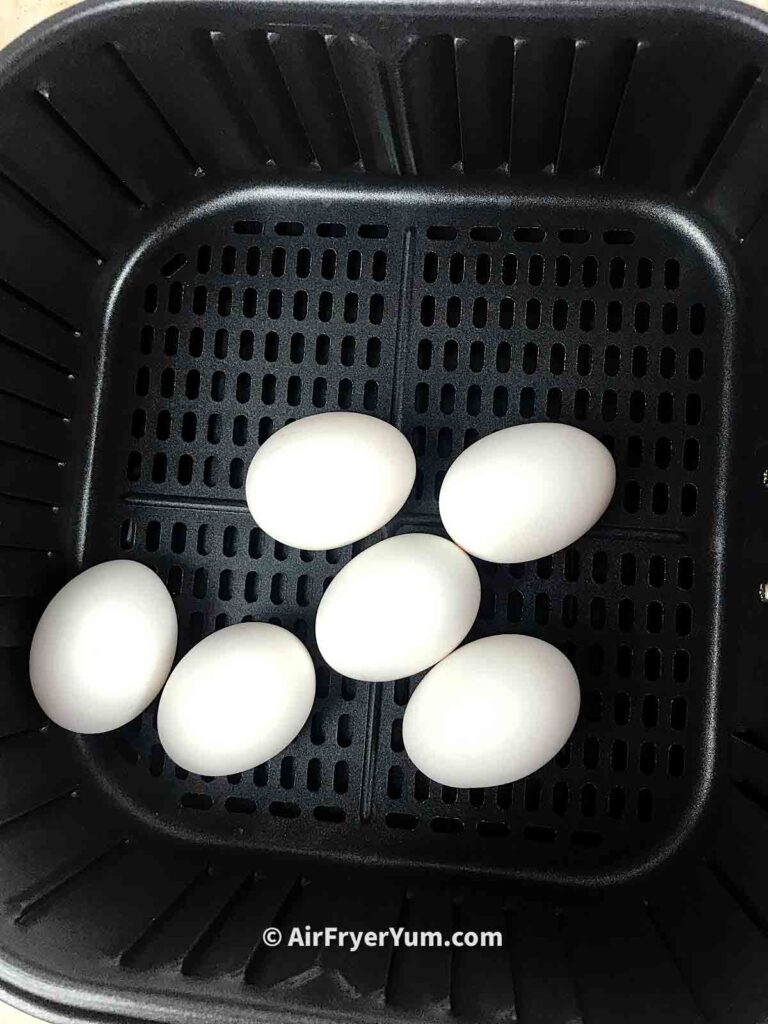 More Air fryer guides
Cosori air fryer review (non sponsored honest review)
Gourmia Air fryer review (non sponsored honest review)
How to use the Gourmia Air fryer
Check out all our Air fryer Resources, you'd be glad you did!
Did you find this guide helpful? Leave me a comment about it or any question or guide you'd love to see covered on Air Fryer Yum and don't forget to share with family and friends.
Happy Air frying!
---
Love it? Pin it!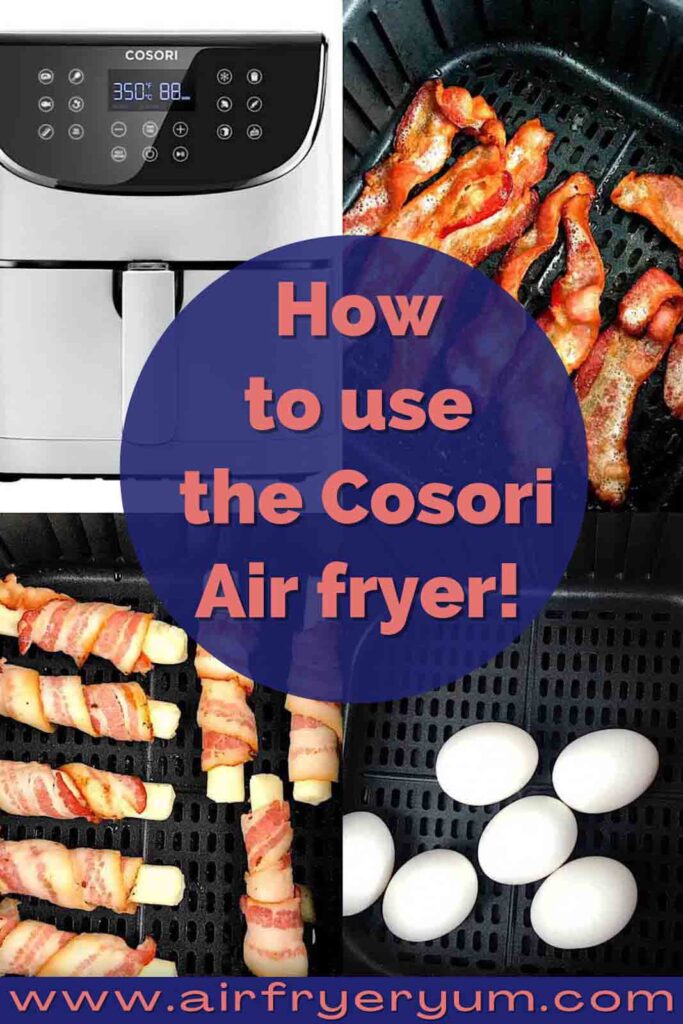 Looking for more air fryer recipes? Sign up for our yummy emails and follow along on Facebook, Instagram, Pinterest, and Tiktok for updates. Remember to Subscribe to our YouTube Channel for weekly videos.
Shop all air fryers and air fryer accessories at our Amazon store.