Making Beef Suya in the air fryer is my new favorite recipe because air fryer beef suya is super easy to make, quick and very tasty, you'll get the same flavorful beef skewers in less time with no need to turn on your oven or outdoor grill.
Made with the perfect blend of Nigeria's most popular spice blend known as Suya spice or Yaji by the locals. You'll love this flavorful marinated beef recipe and I promise it's worth every bite.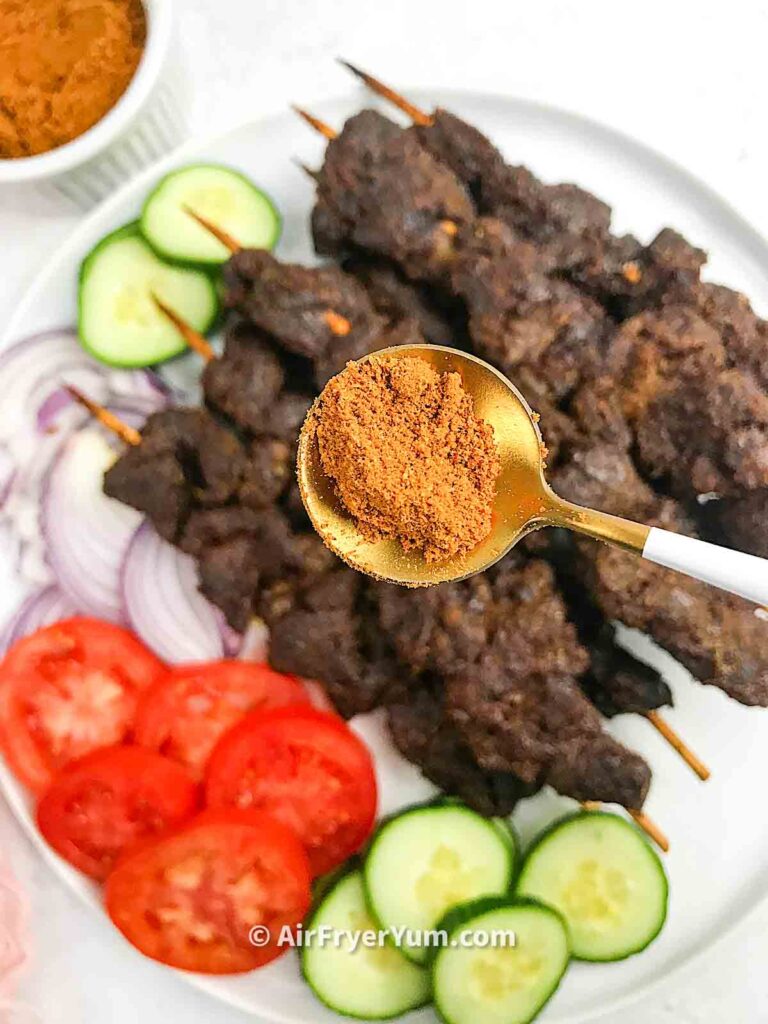 What is Suya?
Suya is a popular street food found across West Africa, particularly in Nigeria. It's a delicious spicy skewered grilled meat recipe made by marinating beef in oil and a special spice blend also known as yaji.
The marinated beef is then threaded through wooden skewers or grilled without skewers on an out door locally made grill. The result is the well seasoned juicy beef suya loved by many. It is then Served with a garnish of onions and, tomatoes some times cucumbers and some sprinkle of yaji.
Like Jollof rice, Nigerian Suya or West African Suya has transcended borders and is not only enjoyed by the natives of the it's original countries living in Diaspora but has carved out a niche for itself in the palates of other nationals.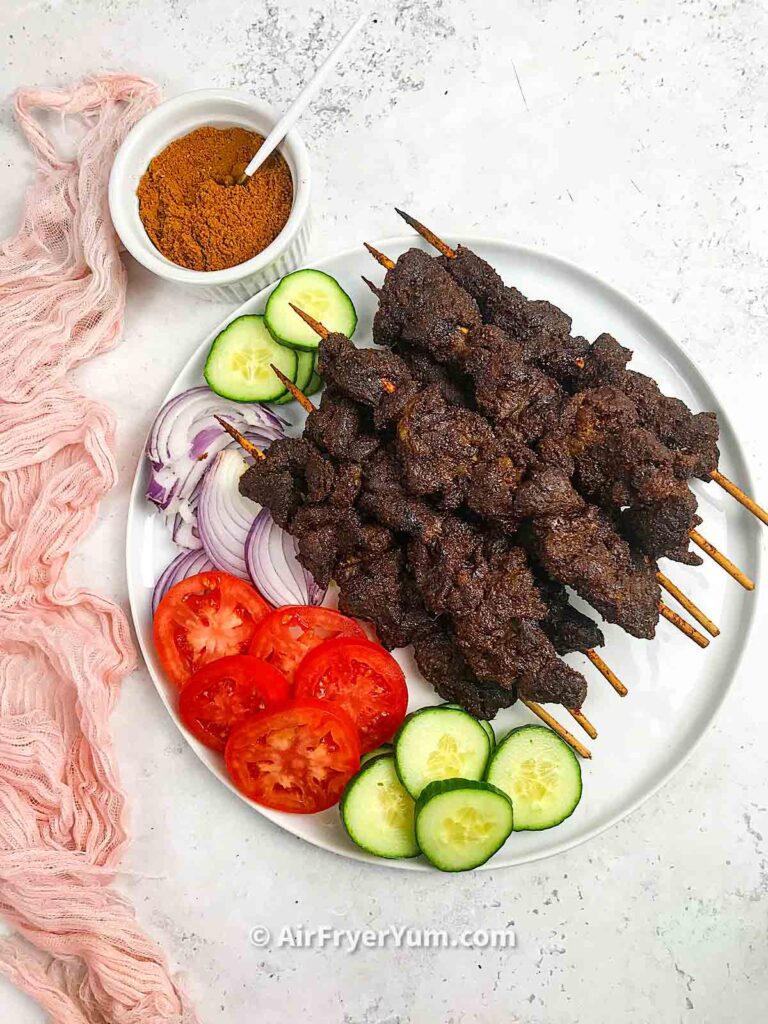 Easy Air fryer beef Suya recipe
My easy Air fryer suya recipe is one you need to have in your recipe arsenal especially if you are a lover of good food and entertaining!. It's made with a few ingredients that are readily available in stores or online. The only specialty ingredients needed is the yaji aka Suya spice which you can make or buy online.
If you are a DIY human, you can make your own blend of Suya spice at home using this recipe. The Spice blend is what makes these beef skewers taste amazing. One important thing though, this recipe isn't for any one with peanut allergies because the spice blend contains peanuts which is what actually gives beef Suya it's unique unbeatable taste.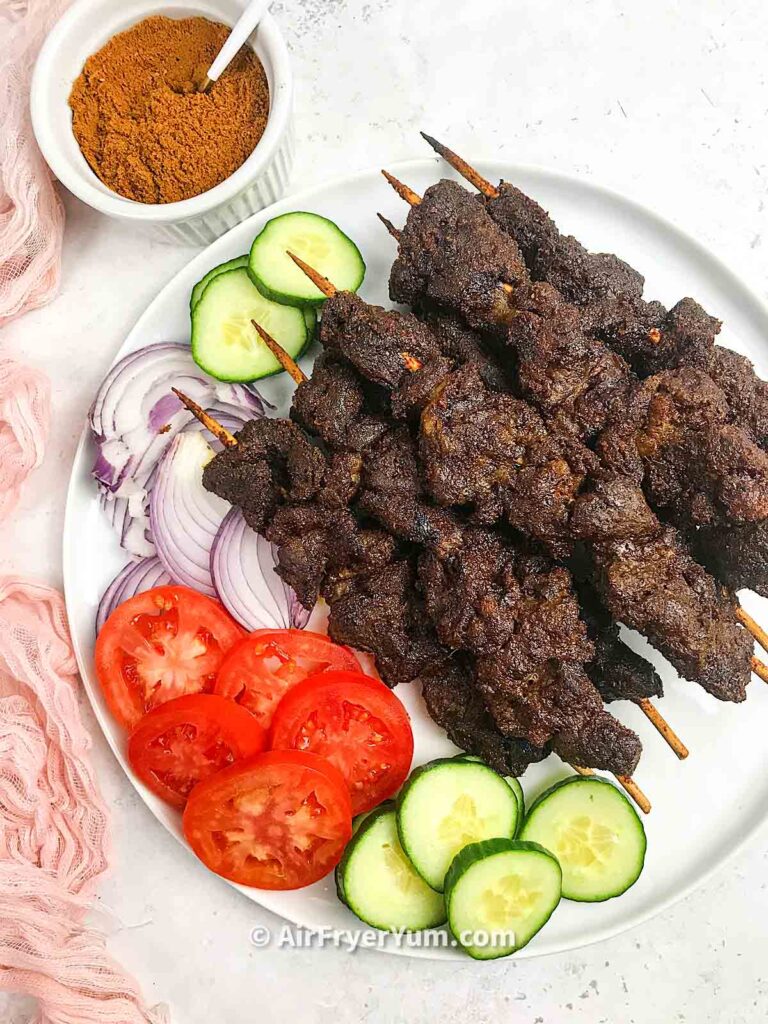 Why you'll love this recipe
The only reason not to love this recipe is if you've got peanuts or tree nut allergies if you don't, here are the reason this Nigerian spicy beef skewers has remained on the top list of must try delicacies for tourists visiting the country. For the same reasons, you'll enjoy making this in your air fryer and in the comfort of your home.
It's unique taste:
Low carb
Accessible ingredients
Suya spice contains peanuts. This recipe as is, is not suitable for people with peanuts or tree nuts allergies.
Related: Greek chicken souvlaki, Chinese Chicken on a stick recipe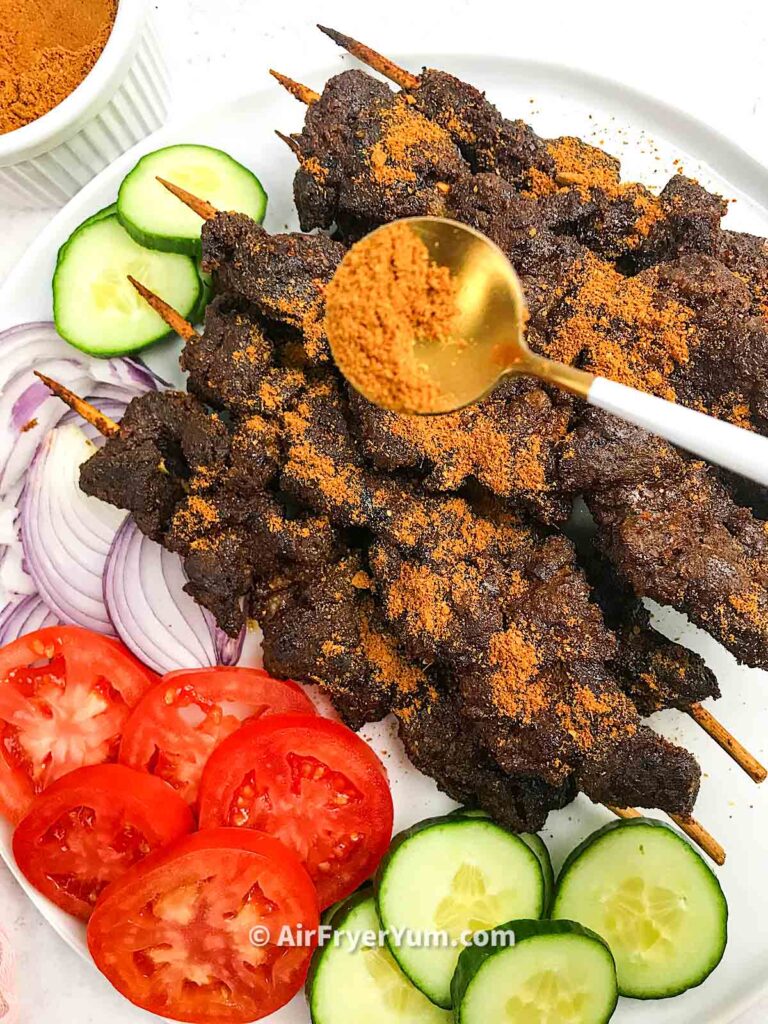 What ingredients are in Suya?
Beef or any other meat of choice including chicken
Suya spice (which usually consists of paprika, cayenne pepper, curry powder peanut powder, ginger etc)
Stock powder or cubes
Oil
Garlic powder
Onion powder
Substitutions
Type of meat: Though Suya is commonly made with beef, you can also make chicken Suya, ram suya, pork Suya etc
Yaji (Suya spice): The recipe name is derived from the spice blend used, therefore it's an important part of this beef recipe. However you can easily use your favorite spice blend like Cajun seasoning. With that swap you would be making Cajun beef skewers and not Suya.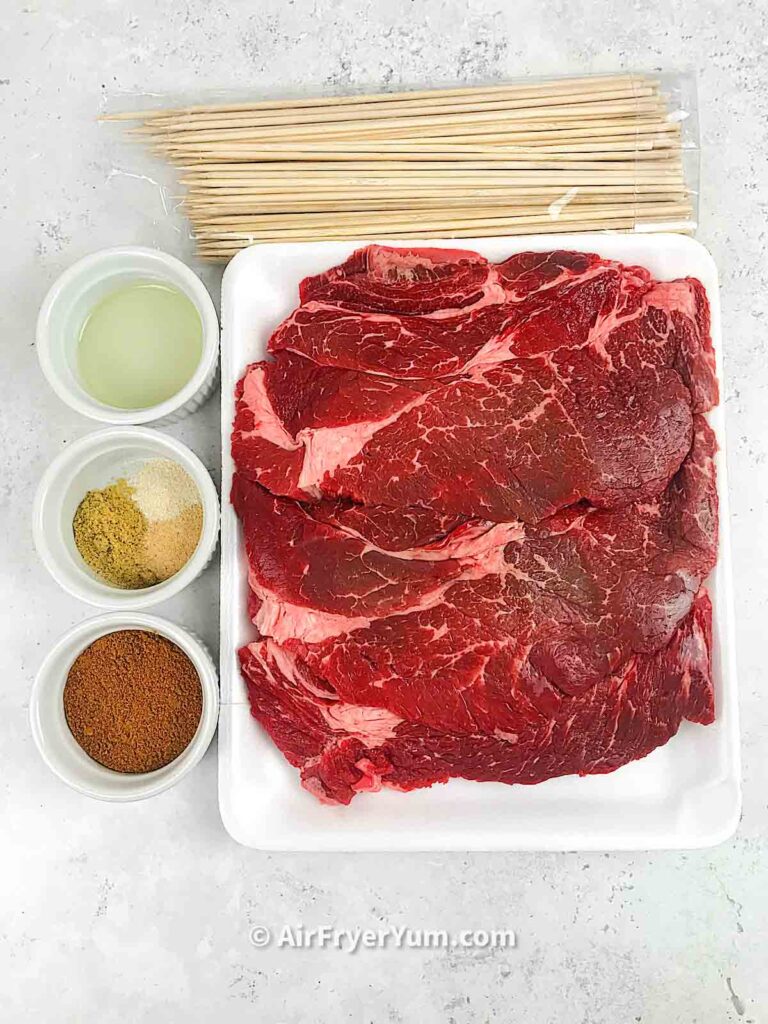 What is the best cut of meat for Suya?
To be honest any part of Beef works to make Suya. In Nigeria, all parts of the cow is usually used. Here I've used Sirloin steak, skirt steak, rib eye steak and they all came out delicious.
How to make Suya
This is an overview of the recipe with step by step photos. Scroll down to end of post for a printable recipe card with the amount of ingredients and full recipe instructions.
How to make it in the Air fryer
Season and marinade the beef with the listed ingredients for at least 30 mins then thread beef slices through skewers. Repeat process till all the pieces of beef has been used up.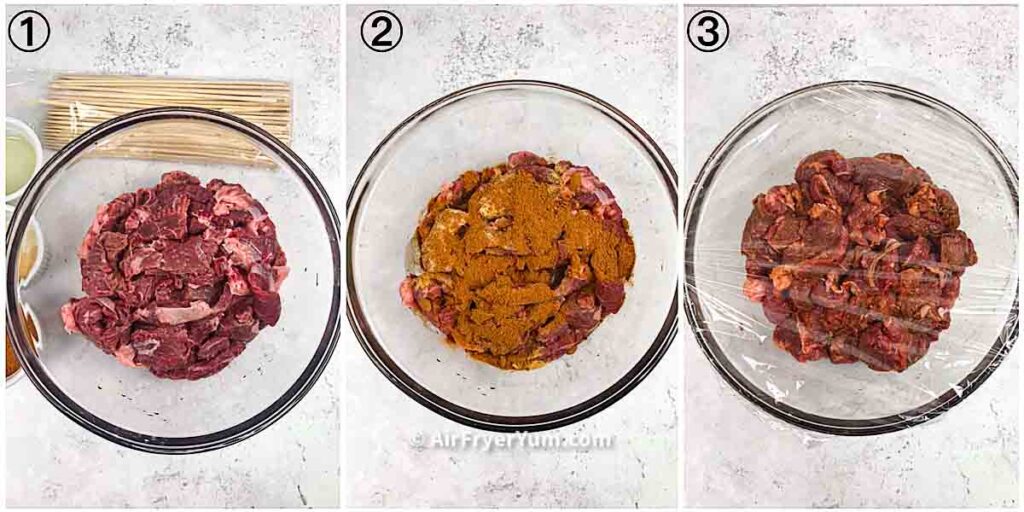 Get some oil and pastry brush, then pour some Suya spice blend on a flat plate. Brush each beef skewer with oil then dredge it on the spice blend plate to get seasoning on it. Repeat till all the meat have been dusted.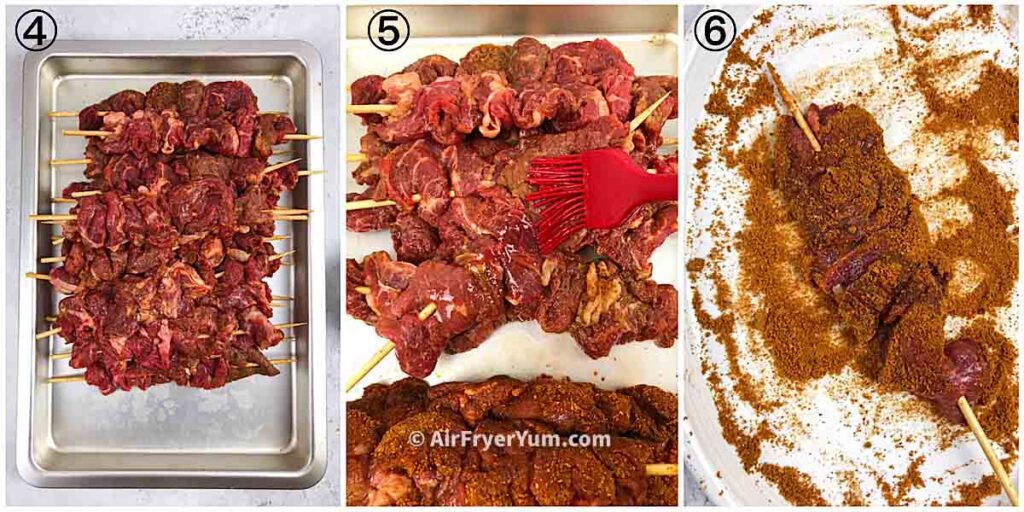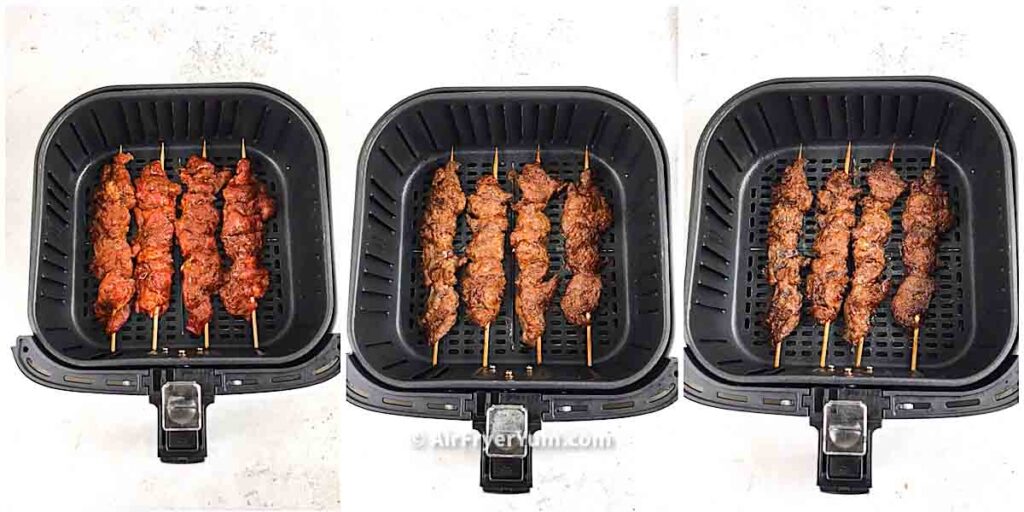 Alternatively, mix oil with the spice then brush the mixture on the meats. Next place beef skewers in the air fryer basket or rack and cook at 400°F / 200°C for 13 to 15 mins in the air fryer basket and 15 to 18 mins for the oven air fryer. Internal temp should be at least 145°F / 74°C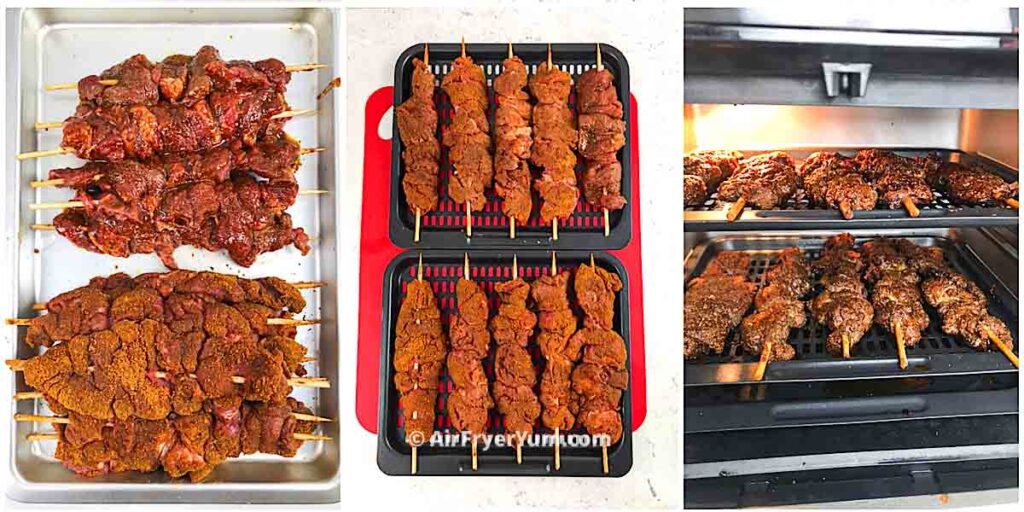 Making Suya in the oven
Prepare the raw meat as described previously and let marinate. When ready to cook, Preheat the oven to 400°F / 200°C / Gas mark 6.
Thread the meat on skewers, place in baking sheet and cook for 15 mins then flip meat and cook for another 10 mins or until fully cooke and internal temperature of meat reads 145°F / 74°C
How to make it on the grill.
Place skewered meat on a grill and grill for 20 mins or till fully cooked.
What does Suya taste like?
Suya has a unique spicy and nutty taste that is based on the ingredients that make up the spice blend used to make it.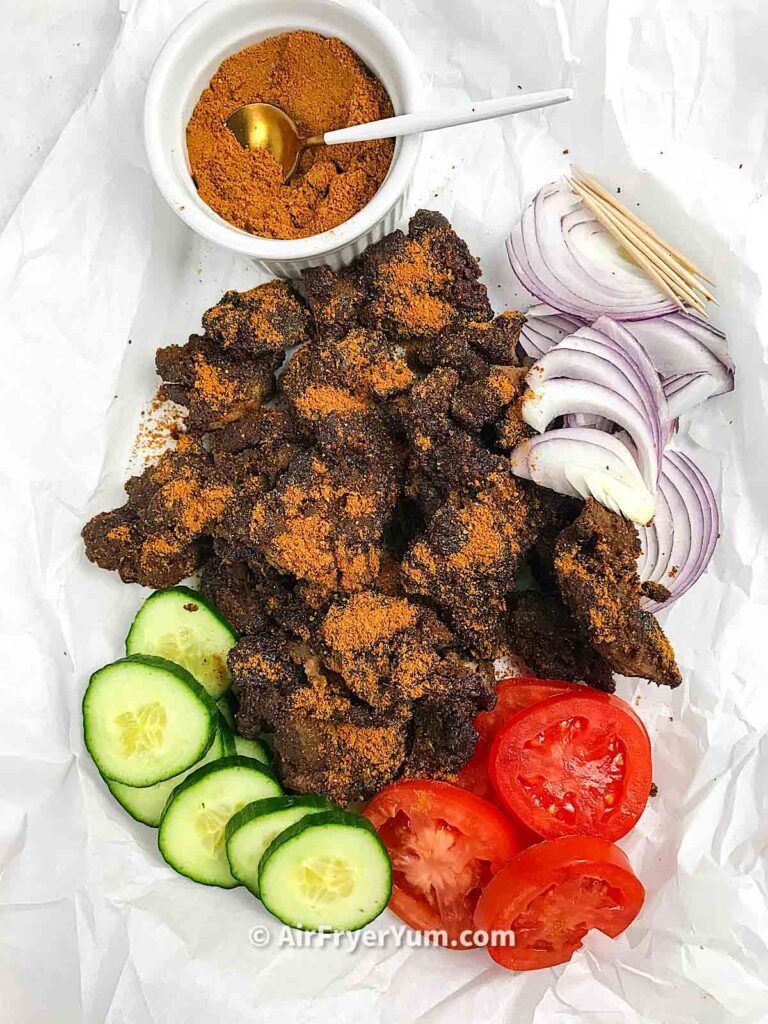 How to serve it
What are the best sides that pair well with Beef Suya? Besides being garnished with tomato, onion and cucumber slices, Suya can be served with coleslaw, French fries, Steak fries, Plantains, Potato slices or wedges.
It can be served with air fryer vegetables, rice, bread or salads. It makes for a great side dish, snack or appetizer.
How to store
Suya keeps well in the refrigerator or freezer. To store let it cool completely then store in an air tight container. You can remove the meat from the skewers by gently sliding the meats out.
It will keep well in the refrigerator for up to a week and will freeze for up to a month.
Reheating
It can be reheated in the microwave or air fryer. To reheat in the microwave, nuke at 30 seconds intervals till warmed through. For the air fryer reheat at 400°F / 200°C for 3 to 5 mins or until heated through.
Do you soak bamboo sticks before air frying
Bamboo sticks need to be soaked when cooking on a grill or oven to prevent the sticks from burning. Because the air frye cooks at a much faster time it may not necessarily have the same effect on bamboo skewers.
I have had great results with soaking and not soaking before use in my air fryer. However I would recommend you soak the sticks irrespective of your chosen method of cooking.
How long to soak skewers
Bamboo skewers should be soaked for at least 30 mins. Using hot water may help with getting it sticks absorb the moisture faster.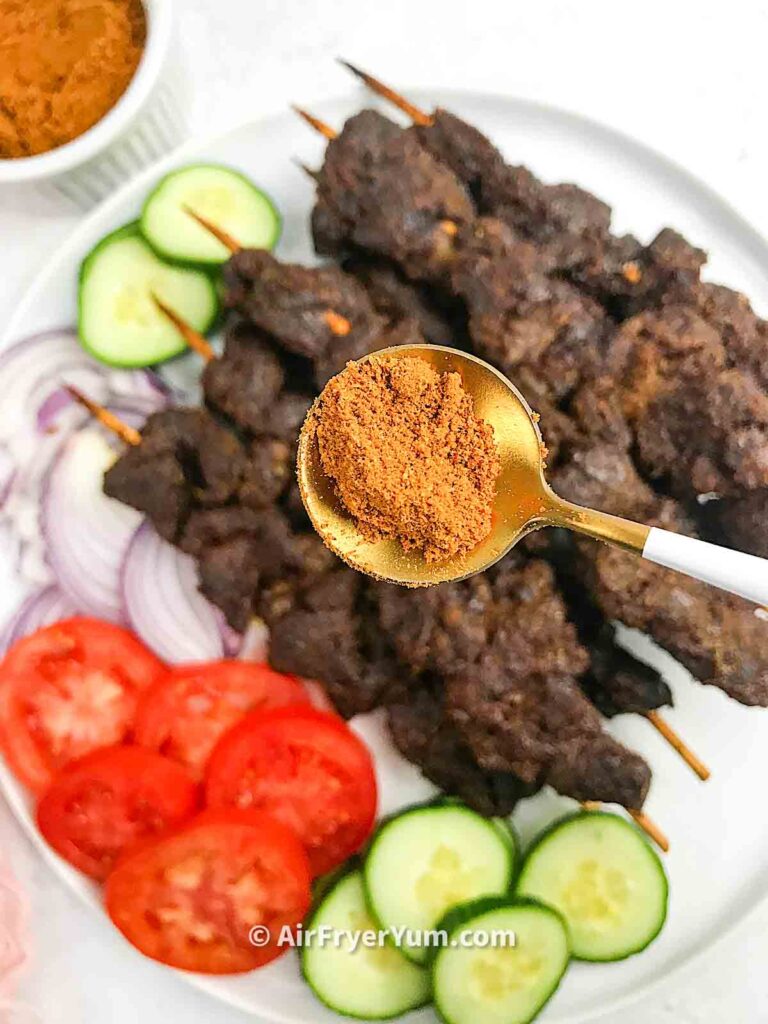 Air frying Tips
When using wooden skewers on the outdoor grill and oven, it is advised that you soak the skewers in water for about 30 mins to prevent it from getting burnt. Because food takes a longer time to cook on a grill or oven the chances of the skewers getting burnt are high. On the contrary the air fryer cooks pretty fast and therefore very unlikely to do so. However it's better safe than sorry so go ahead and soak the skewers before using.
Alternatively use thicker wooden skewers or use metal skewers for skewered meat recipes.
You can make Suya with beef strips instead of skewers. Simply place seasoned beef strips in the basket and cook.
Frequently asked questions
Can I make beef suya without skewers?
Definitely you can make Suya without the skewers. You can cook them in strips or small chunks after seasoning and marinating the meat.
Is Suya Red meat?
Beef, Pork or lamb suya if red meat Suya. However not all Suya recipes are red meat. Chicken or Turkey Suya isn't red meat.
I have peanut allergy, can I use Suya spice?
Sadly you can't eat Suya or use Suya spice if you have peanuts allergies. Peanuts are a major ingredient in Suya spice. Most people with peanut allergies tend to have tree nut allergies too and Vive versa. Therefore as amazing as this recipe is, please stay away from Suya if your have these allergies.
More Related recipes
Check out all our >>>Air fryer Recipes!
Did you find this recipe helpful? Leave me a comment about it or any recipe idea you would love Air fryer 'yummed' and don't forget to share with family and friends.
Happy Air frying!
Love it? Pin it!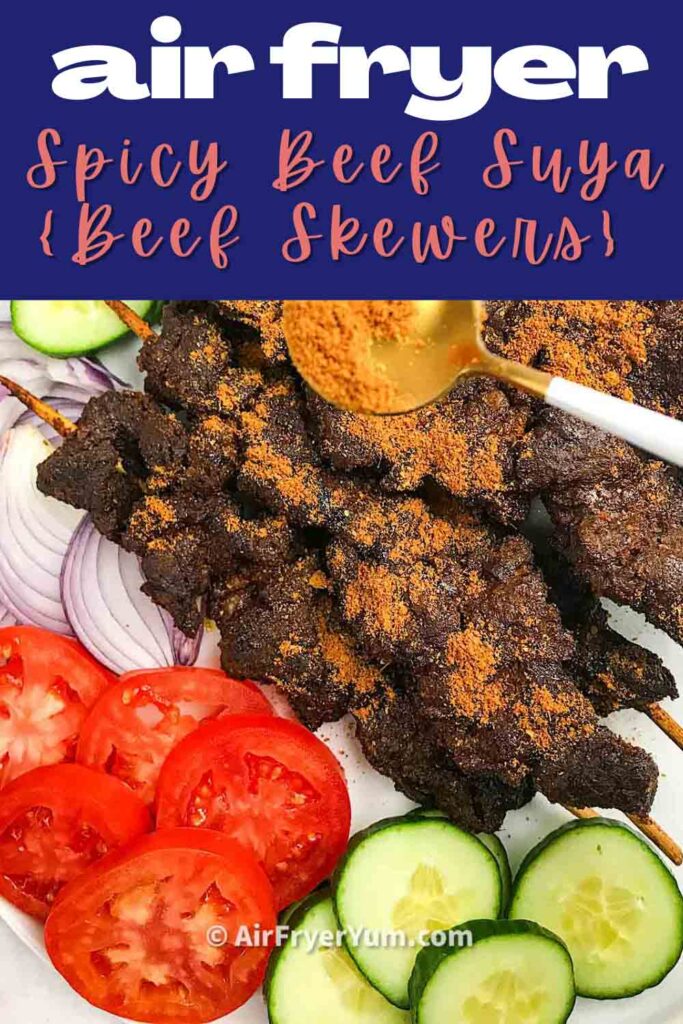 Looking for more air fryer recipes? Sign up for our yummy newsletter and Follow along on Facebook, Instagram, Pinterest and Tiktok for updates. Remember to Subscribe to my YouTube Channel for weekly videos.
Loving your air fryer much? Join other Air Fryer Buddies in our exclusive free Easy Air Fryer Recipes Group on Facebook!
New to the world of Air frying? We've got you covered. Check out our helpful >>> Air fryer Resources!
Shop all air fryers and air fryer accessories at our Amazon store.
Air Fryer Yum's Pro Tip! Air fryer temperatures may vary depending on size, make and model. When making a recipe for the first time, start with less time, check for doneness then add more time as needed.
🚫 Suya spice contains peanuts. This recipe as is, is not suitable for people with peanuts or tree nuts allergies.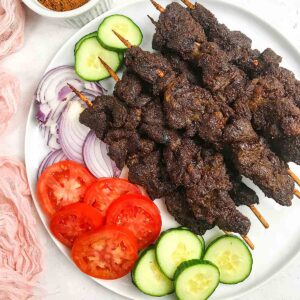 Air fryer Beef Suya
Making Beef Suya in the air fryer is my new favorite recipe because air fryer beef suya is super easy to make, quick and very tasty, you'll get the same flavorful beef skewers in less time with no need to turn on your oven or outdoor grill. 
Ingredients
2

lbs

Steak

(Sirloin steak, Skirt steak or ribeye steak)
Marinade
2

Tablespoons

oil

2

Tablespoons

Suya spice

(you will need a total of ½ Cup of Suya spice for this recipe details to follow)

1

teaspoon

Garlic powder

½

teaspoon

onion powder

1

teaspoon

Chicken bouillon powder
For dusting
2

Tablespoons

Oil

¼

Cup

Suya spice
Serving Suggestions
1

Large

Cucumbers

1

Medium

Red onion

(sliced)

2

Medium

Roma Tomatoes

(sliced)

2

Tablespoons

Suya spice

(for serving)
Instructions
Slice beef into thin slices (a mallet can help thin beef out if you prefer)
Marinate the beef
Add oil, and spices to the thinly sliced beef

Toss till Steak is well coated. Cover with cling film and marinate in the refrigerator for 30 mins.
Dredge
Thread steak on skewers, pour some Suya spice into a flat plate. Brush meats with oil then dredge in the suya spice to coat. Repeat process till all the meats are coated.
Air fry (basket style)
Place meat skewers in air fryer basket or on air fryer oven rack and air fry at 400°F / 200°C for 12 to 15 mins flipping half way through. Internal temp should be at least 145°F / 63°C
Air fryer oven
Place meat in air fryer oven racks and set aside. Turn on your air fryer instant pot vortex oven. Select air fry option. Set temp to 400°F / 200°C and time to 15 mins.

Hit the start button. It will preheat for 3 minutes before the option to add food will come on.

Slide in the racks with the skewered meats into the air fryer. When it indicates to turn your food which is usually half way through cooking time. Bring out the racks and turn the skewers over.

When returning the racks back, switch positions so that rack formerly at the bottom is now at the top and vice versa. This will enable both racks get equal love from the heating element.

Continue cooking till time is up then check for doneness with meat thermometer. Intenal temp should read 145°F / 63°C. If it hasn't reached that cook for another 1 or 2 minutes.
Serve
Sprinkle more Suya spice if needed and Garnish with Cucumber, Onions and garlic slices
Nutrition
Calories:
208
kcal
Carbohydrates:
2
g
Protein:
16
g
Fat:
15
g
Saturated Fat:
5
g
Polyunsaturated Fat:
2
g
Monounsaturated Fat:
8
g
Trans Fat:
1
g
Cholesterol:
46
mg
Sodium:
81
mg
Potassium:
277
mg
Fiber:
1
g
Sugar:
1
g
Vitamin A:
114
IU
Vitamin C:
3
mg
Calcium:
13
mg
Iron:
1
mg
Nutrition Disclaimer
Nutritional information is an estimate and may change based on products used. Please read our Nutrition disclaimer page.
Subscribe to my YouTube Channel
Subscribe to Air Fryer Yum on YouTube for more detailed videos! Remember to click the bell icon to get notified when I upload new videos.
Save this Recipe for later!
Follow @AirFryerYum on Pinterest!
Did you make this recipe? Awesome! Please rate it by clicking the stars ⭐️⭐️⭐️⭐️⭐️ when you leave a comment below. Also be sure to Follow & Tag @AirFryerYumBlog on Instagram when you make any of our recipes. We are honored and would love to see your recreations of our recipes!