This marinated chicken on a stick is one recipe you need to make. My Air fryer Greek chicken souvlaki recipe is easy to make, flavorful and fits right into most diets. It's a perfect low carb or keto side to tomatoes, onions and lettuce.
No need to use the grill or turn on your oven. In less than 20 mins you will get this easy Greek fast food from air fryer to the table. Simply get your fixings ready while the Air fryer does it's thing.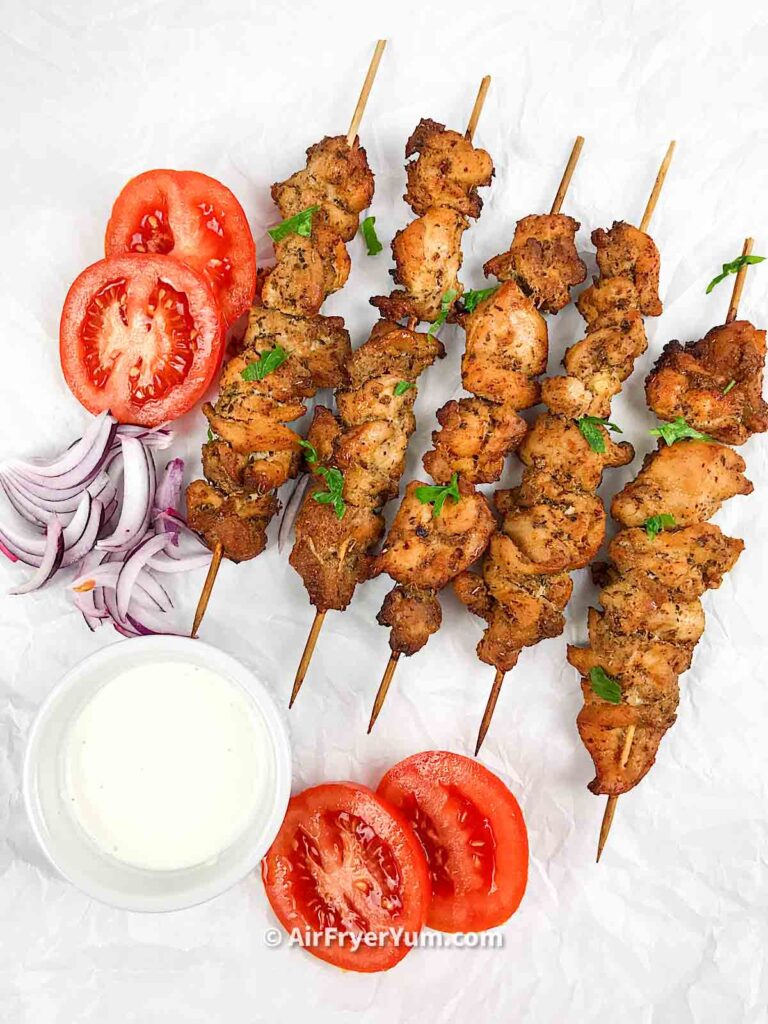 What is Souvlaki (Greek Souvlaki)
Greek Souvlaki or Souvlakia (plural form) as the name implies is a Grecian street food that's looked upon the National Greek food. Just like Kabobs / Kebabs, Souvlaki simply means grilled meat on skewers.
It can be eaten as a grab and go meal while walking down the streets of Athens or eaten in a restaurant like Souvlatzidiko.
Souvlaki can be made with pork, chicken or lamb. These marinated skewered meats are usually sold in wraps of pita bread with tzatziki sauce. If you love chicken skewers you should try our Chinese chicken on a stick recipe, so good!
Souvlaki VS Gyros, what's the difference
Souvlaki and gyros are both street foods that include some form meats served on pita bread. The major difference in gathered is that while souvlaki is made from grilled skewered meats, gyros are made from meat slices shaved from a rotating meat cone which is a vertical rotisserie style stack of grilled meats.
Both are commonly made with pork but can be made with beef, lamb or chicken and served with a side of veggies, chips and the yogurt dip tzatziki.
Souvlaki and gyros can be served as platters, however souvlaki is more popularly eaten on the skewers while gyros are eaten in pita bread wraps. You can read more of the differences between these 2 Greek fast foods in the linked article.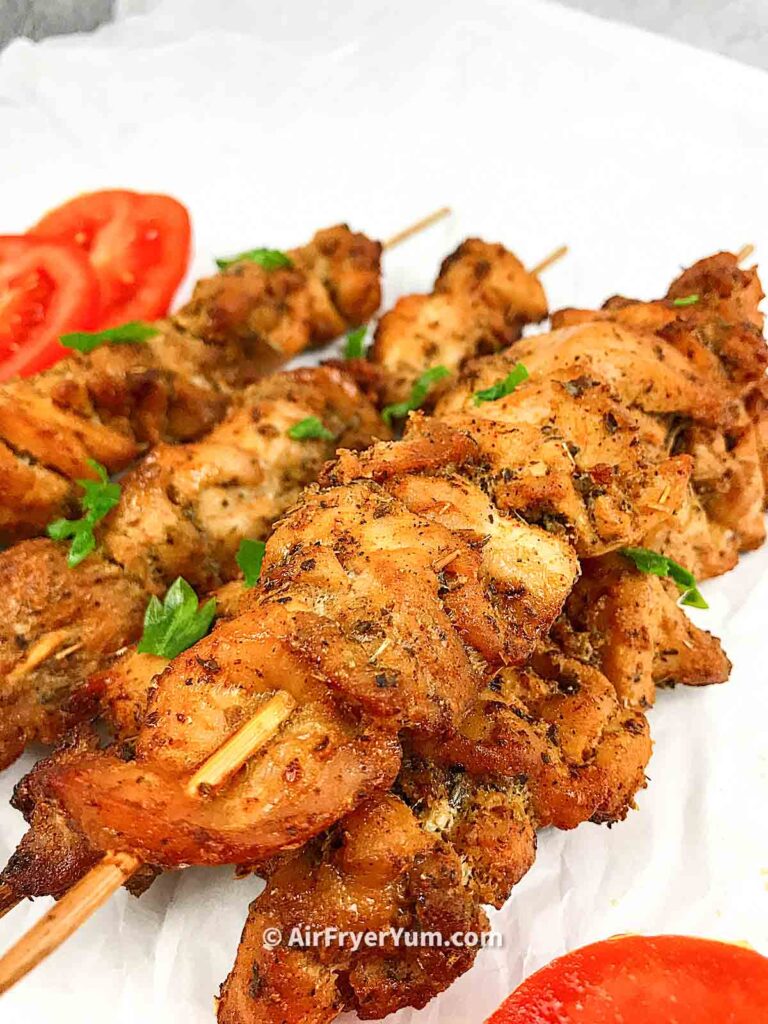 What ingredients do you need to make Greek chicken souvlaki in the air fryer
Boneless skinless Chicken thighs or breasts
Mediterranean style Oregano: You can substitute with Italian style oregano. Did you there are different types of oregano leaves? Let me know if you did in the comments below.
Oil
Garlic powder or cloves of garlic
Salt
Paprika
White pepper
Black pepper
Cayenne pepper
Lemon juice
White wine. I didn't use white wine in this recipe as I didn't have any on hand. Since I happen to see it used in most souvlaki recipes, I thought to mention it. If you intend to use it, you can add about 2 Tablespoons of white wine to the marinade.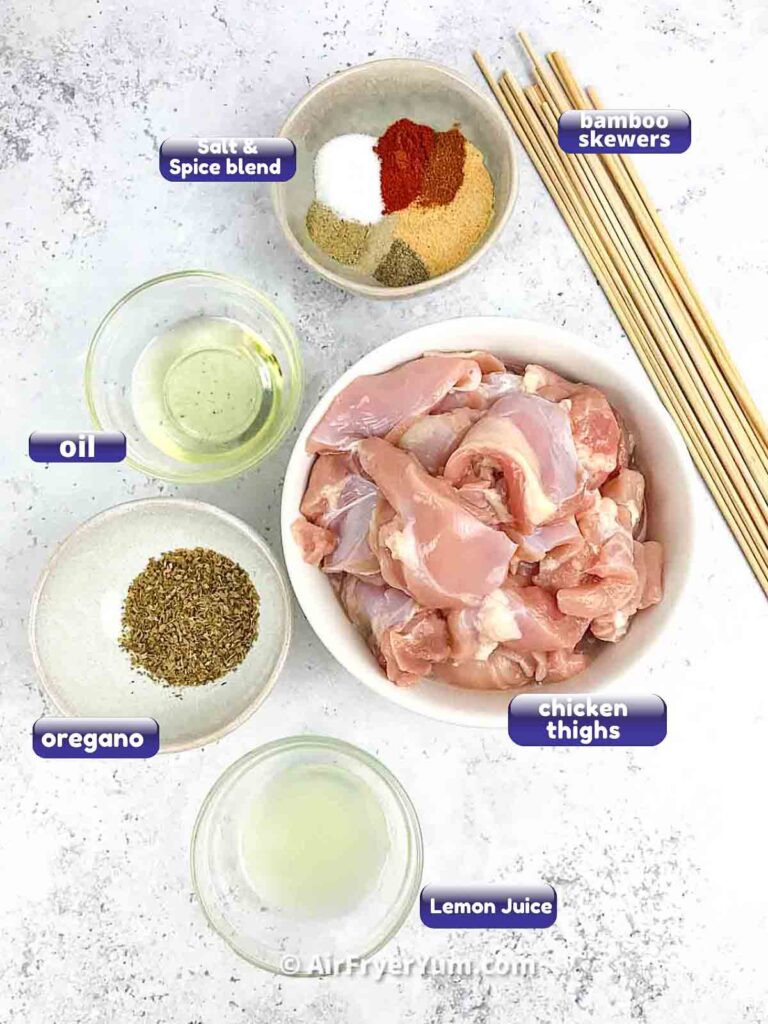 Souvlaki marinade
This is a marinated meat recipe so it needs a good and tasty marinade to infuse rich flavors into the chicken skewers. To make the marinade I gather all my spices and herbs and mix them together in a bowl before coating the bite sized meats in the marinade.
I like to marinade the chicken for 30 mins up to 2 hours and sometimes 24 hrs if time permits. However if time is an issue, marinate for a minimum 10-15 mins on the counter top should do the trick.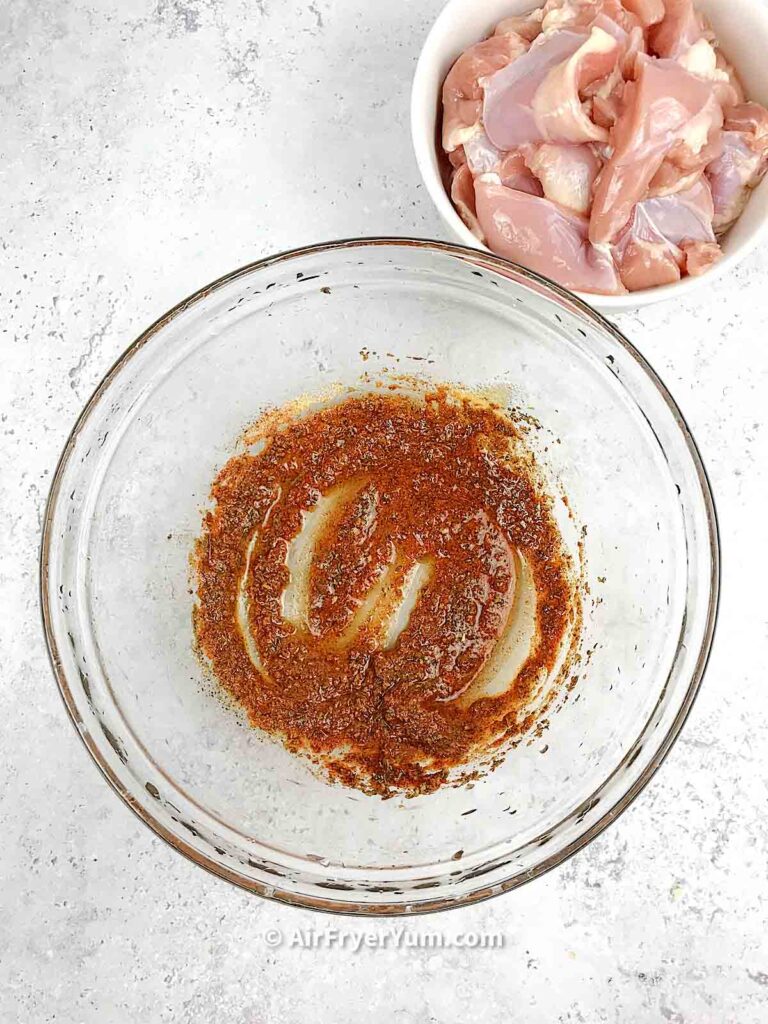 How long to cook chicken souvlaki in air fryer
The cooking time for air fryer chicken souvlaki may vary based on the size of the chicken pieces and the temperature at which it is cooked. It will also depend on your type and brand of air fryer. As a general guideline, cook at 400 degrees F (200 degrees C) for 15 mins ensuring that you flip halfway through the cooking time.
It's also very important that you make sure that the chicken is fully cooked and has reached an internal temperature of 165 degrees F (74 degrees C) before serving. I recommend you use a meat thermometer for this.
How to make Air fryer Chicken Souvlaki
Now to the fun part! This is an overview of the recipe. Full recipe and tips can be found in the printable recipe card at the bottom of this page.
Cut up the chicken into bite sized pieces. 2 inch cubes should be fine. Marinade chicken bites in the souvlaki marinade for at least 30 mins. While the chicken is marinating, soak the wooden skewers in water this would prevent it from getting burnt as the meat cooks.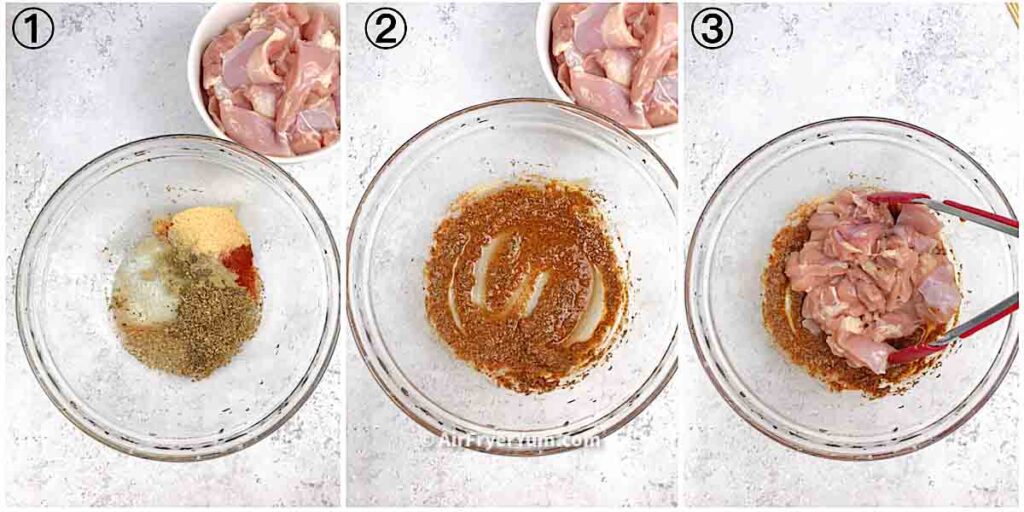 When the chicken is ready, thread the meats on the skewers and air fry at 400°F / 204°F for 15 mins flipping half way through. The meat is cooked when the internal temperature is at least 165°F / 74°C and meat is no longer pink.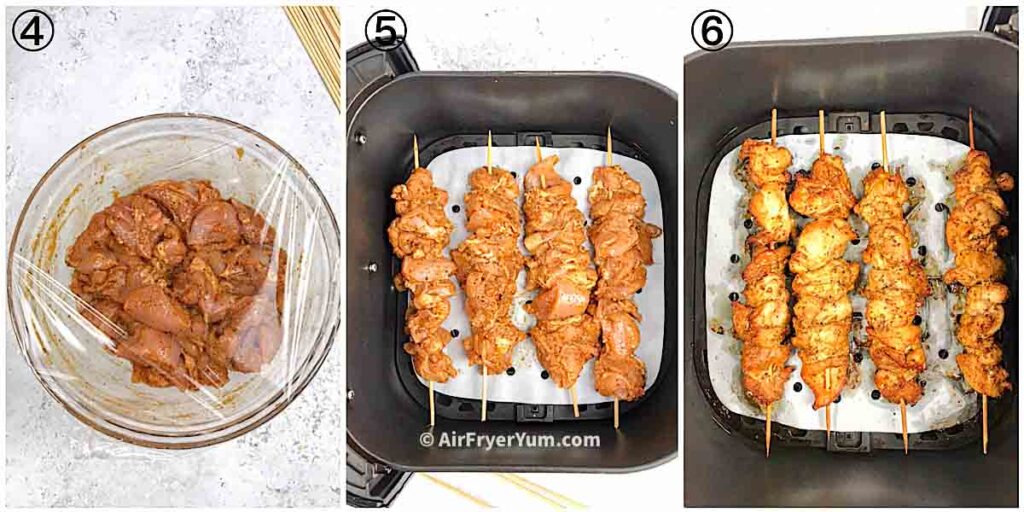 Don't have an air fryer just yet? Not to worry there are other ways to make Greek souvlaki
Pan fry on the stove top
You can pan fry chicken souvlaki on the stovetop using a cast iron grill pan. Simply pan fry till cooked through.
Make it in the oven
Preheat the oven to 400°F / 204°C. Place marinated chicken skewers on parchment paper lined baking sheet. You can also bake on the rack in the baking sheet.
Bake for 25 to 30 mins flipping half way through. You can use that me broil setting for an extra minute or two.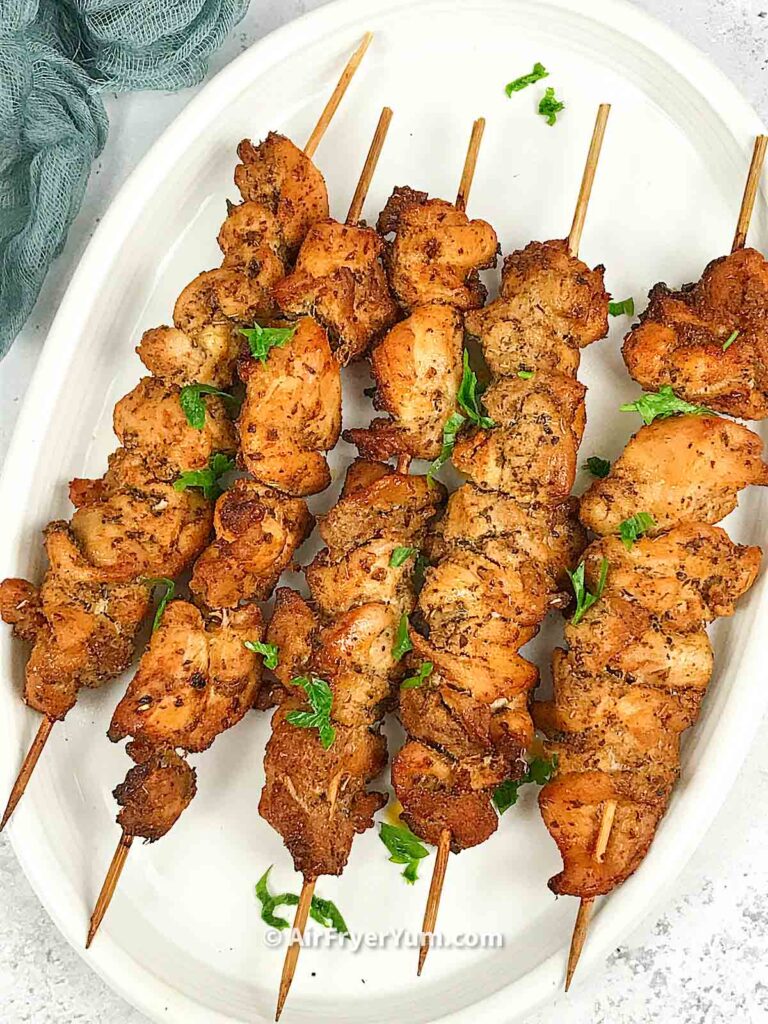 Storing leftovers and reheating
Greek Souvlaki is best enjoyed immediately. However if you need to store leftovers, I'd suggest you remove the chicken from the skewers and store in an air tight container for up to 2 days in the fridge. Leftovers can be used in salads, wraps or burgers.
To reheat, simply pop in the microwave and microwave at 30 secs intervals until warmed through. Reheating chicken in the air fryer is my preferred method. place chicken in the air fryer basket or rack and reheat at 350 degrees F for 3 to 5 mins or until its warmed through.
Tips for success
I love to use boneless skinless chicken thighs because they make juicy kebabs and don't dry out easily. However I've also used boneless chicken breasts and they worked fine.
Marinating the chicken for a minimum of 30 mins will make the chicken flavorful.
I used garlic powder for this recipe. To use fresh garlic cloves swap out the garlic powder for 4 cloves of garlic.
You do not need to soak the skewers like you would normally do if you were cooking this in an outdoor grill.
FAQs
What kind of meat is souvlaki, is it healthy?
Souvlaki is a meat on stick recipe. It could be made with pork chicken, lamb or beef. The most common being pork. In my opinion this is a healthy side dish.
How do you eat chicken souvlaki
Chicken souvlaki can be eat right from the stick or unthreaded from the stick and served with various fixings like tomatoes, onions, tzatziki and pita bread.
Is Souvlaki a Kebab?
Kebab simply means meat on a skewer so technically souvlaki is a type of kebab.
What country does souvlaki originate from?
Souvlaki is a Mediterranean delicacy originating from Greece.
More air fryer recipes
Check out all our >>>Air fryer Recipes!
Did you try this Air fryer Greek chicken souvlaki recipe? I'd love to hear all about it. Leave me a comment below or tag @airfryeryumblog on Instagram.
If you have any recipe idea you would love Air fryer 'yummed', let me know. Don't forget to share this recipe with family and friends.
Happy Air frying!
Love it? Pin it!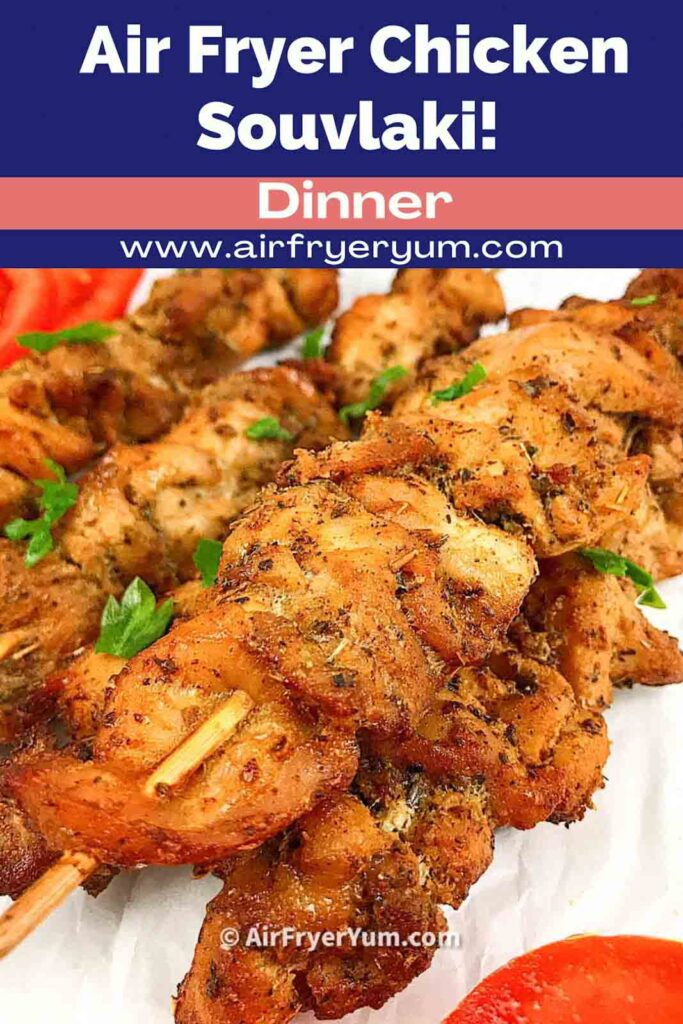 Looking for more air fryer recipes? Sign up for our yummy newsletter and Follow along on Facebook, Instagram, Pinterest and Tiktok for updates. Remember to Subscribe to my YouTube Channel for weekly videos.
Loving your air fryer much? Join other Air Fryer Buddies in our exclusive free Easy Air Fryer Recipes Group on Facebook!
New to the world of Air frying? We've got you covered. Check out our helpful >>> Air fryer Resources!
Shop all air fryers and air fryer accessories at our Amazon store.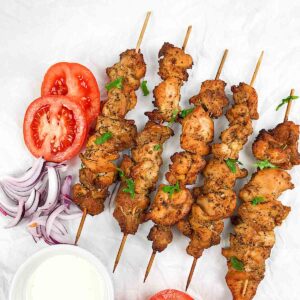 Air fryer Greek Chicken Souvlaki recipe
This marinated chicken on a stick is one recipe you need to make. My Air fryer Greek chicken souvlaki recipe is easy to make, flavorful and fits right into most diets. It's a perfect low carb or keto side to tomatoes, onions and lettuce.
Equipment
Air fryer 5.8qt

Perforated Parchment paper

Bamboo skewers
Ingredients
2

lbs

Boneless skinless Chicken thighs or breasts

1

tablespoon

Mediterranean style Oregano

2

tablespoon

Oil

3

teaspoons

Garlic powder or 4 cloves of garlic

1 ¼

teaspoon

Salt

1

teaspoon

Paprika

½

teaspoon

White pepper

½

teaspoon

Black pepper

¼

teaspoon

Cayenne pepper

3

Tablespoons

Lemon juice
Instructions
Prepare souvlaki marinade
Mix salt, spices, herbs, oil and lemon juice in a bowl and set aside
Prepare chicken
Wash and pat chicken dry with a clean paper towel.

Cut chicken thighs into 2 inch bite sized pieces.

Combine the chicken bites with the marinade till well coated. Set aside in the refrigerator to marinate for at least 30 mins.

While the chicken is marinating soak the bamboo skewers in water to keep it from burning during cooking.

When ready to bake, thread the chicken pieces on the skewers till all the meat has been threaded.
Air fry
Place chicken skewers in a parchment paper lined air fryer basket. Mine takes 4 at a time.

Bake at 400°F / 204°C for 15 mins flipping half way through cooking time. Internal temperature should be at least 165°F / 74°C

Let it rest for 2 minutes then bake the next batch.

Serve with your favorites fixings
Notes
This recipe makes 8-10 souvlaki chicken skewers.
If you can't have Mediterranean oregano you can substitute with Italian oregano.
If you are in a hurry you let chicken rest for 10 mins on the counter after mixing with marinade.
Nutrition
Serving:
1
Chicken souvlaki
Calories:
203
kcal
Carbohydrates:
1.2
g
Protein:
26.5
g
Fat:
9.6
g
Saturated Fat:
2.3
g
Cholesterol:
81
mg
Sodium:
370
mg
Potassium:
250
mg
Fiber:
0.4
g
Sugar:
0.4
g
Calcium:
23
mg
Iron:
1
mg
Nutrition Disclaimer
Nutritional information is an estimate and may change based on products used. Please read our Nutrition disclaimer page.
Subscribe to my YouTube Channel
Subscribe to Air Fryer Yum on YouTube for more detailed videos! Remember to click the bell icon to get notified when I upload new videos.
Save this Recipe for later!
Follow @AirFryerYum on Pinterest!