Air fryer meatball skewers could serve as easy party appetizers or side dishes to salads or dinner as a whole. These are easy pineapple habanero sauce glazed meatball skewers or kabobs made in the air fryer using frozen fully cooked meatballs.
The pineapple habanero glaze adds a delicious hint of sweet, sour and delicious. You can used other glaze options like bbq sauce or even grape jelly. What you decide you've to try this recipe cos it's so good!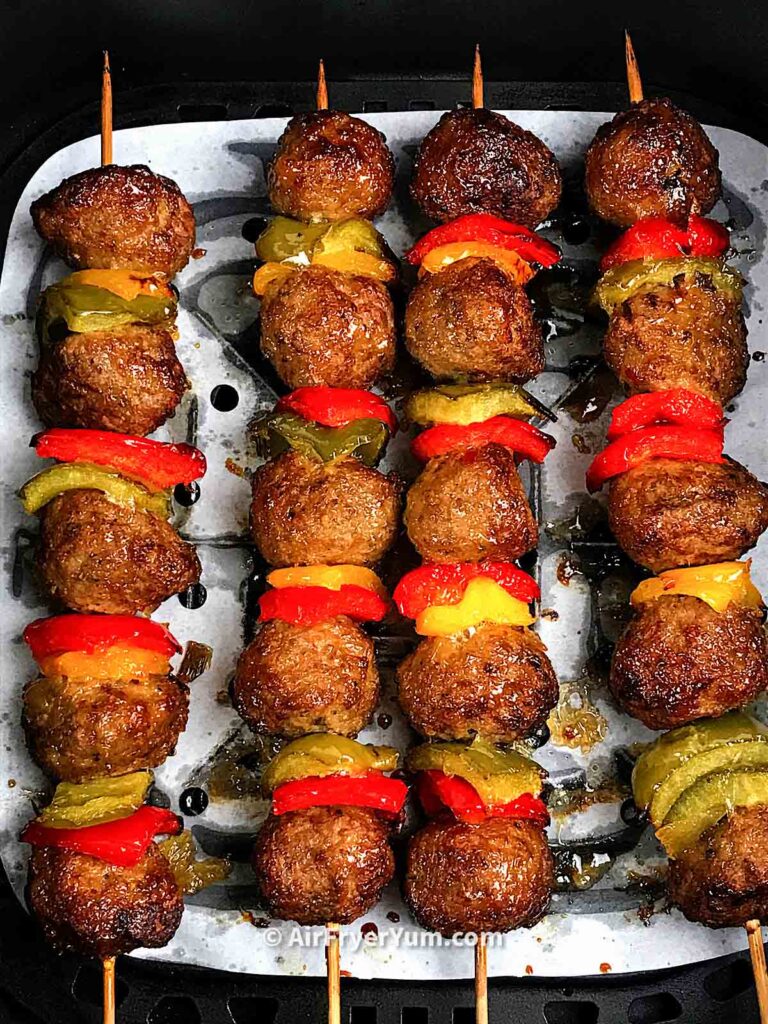 Air fryer meatball skewers appetizer recipe
One of my favorite sides or appetizer recipe to entertain guests with are meatballs. These 1 ½ inch ground beef balls are easy to make from scratch and used immediately or made ahead and frozen for later.
They are tasty and versatile. Enjoying them on sticks is one of the many ways to have fun with these. Talking about meatball subs, salads and lots more.
I digress! Let's talk about what makes this recipe so good and why you should be making them ASAP!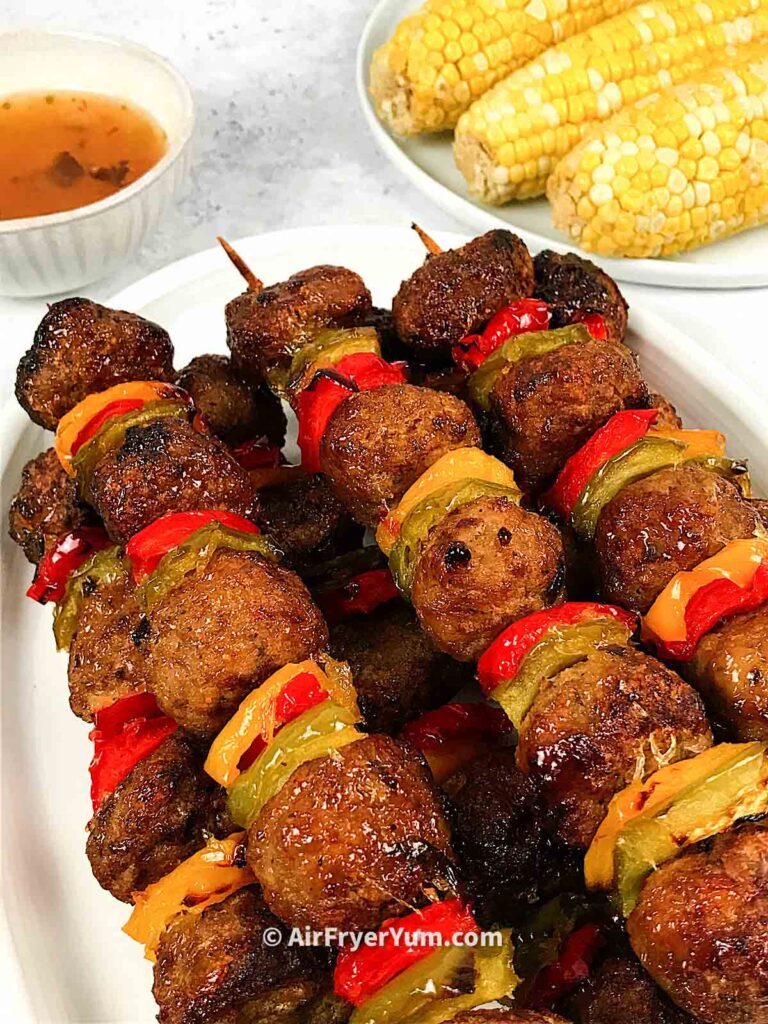 Why this recipe is so good
To be honest! What's not to love about this recipe.
Easy: These are made with frozen fully cooked Italian meatballs so you get to save on some time.
Tasty: No doubt, the meatballs are tasty on their own but the pineapple habanero sauce takes it to another level. Mouth watering deliciousness in every bite
Fast: The air fryer cooks these to perfection faster than the oven and grill. It creates a nice crispy exterior with a succulent interior that you'll definitely love!
Versatile: Your choice of glaze these meatball skewers is endless. Sauces like teriyaki, sweet and sour, Grape jelly, honey barbecue, sriracha you name it.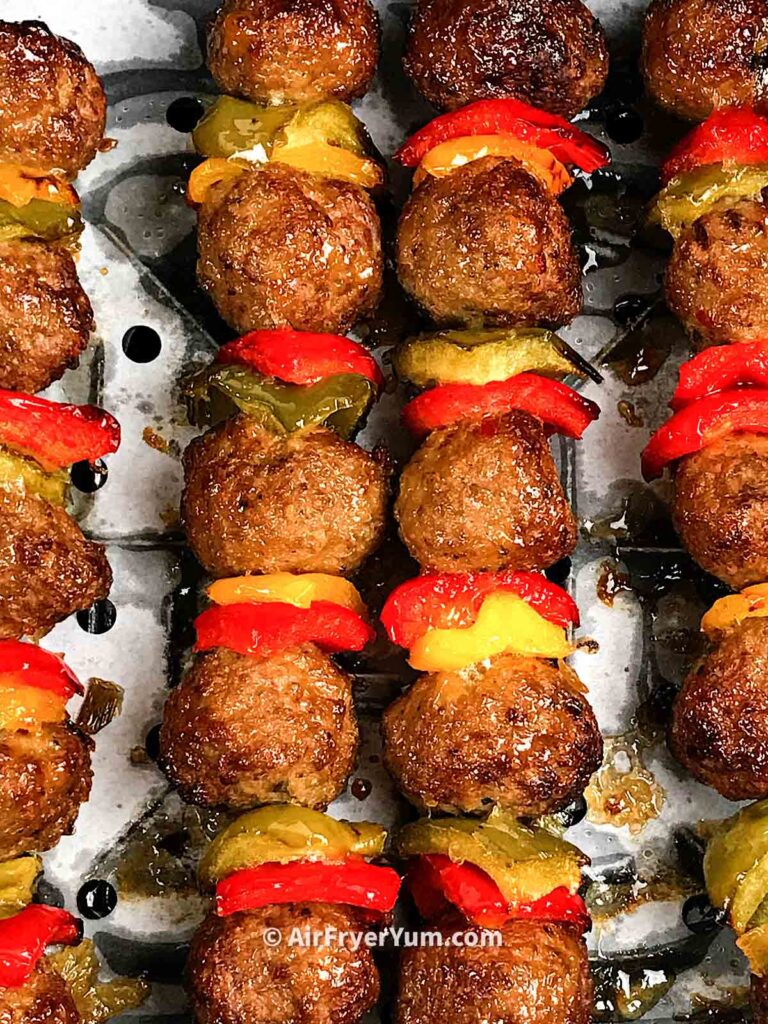 Ingredients & tools
I made these with frozen Italian meatballs if you are looking for a from scratch recipe, check out my air fryer meatballs recipe
Frozen Italian meatballs about 11/2 inch
Pineapple habanero sauce: I used the Robert Rothschild brand I bought from Costco. Feel free to use any other sauce you prefer like barbecue sauce or sweet and sour sauce.
Red bell pepper
Green bell pepper
Yellow bell peppers
Tools:
Bamboo skewers
Silicone brush
Parchment paper
Air fryer (I used a 5.8qt basket air fryer for this recipe)
How to make Meatball skewers or kebabs in the air fryer
This is an overview of the recipe. Full instructions can be found in the printable recipe card at the bottom of the page.
First things first. Gather your ingredients and tools. Cut up the peppers and set aside,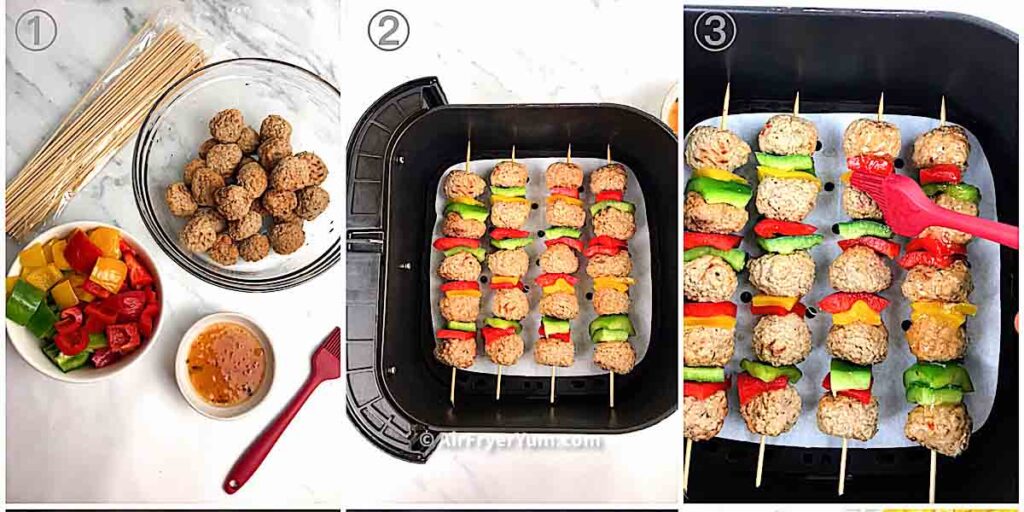 I didn't use onions in this recipe but I have used it in other meatball skewer recipes I've made. Feel free to include onions in that mix.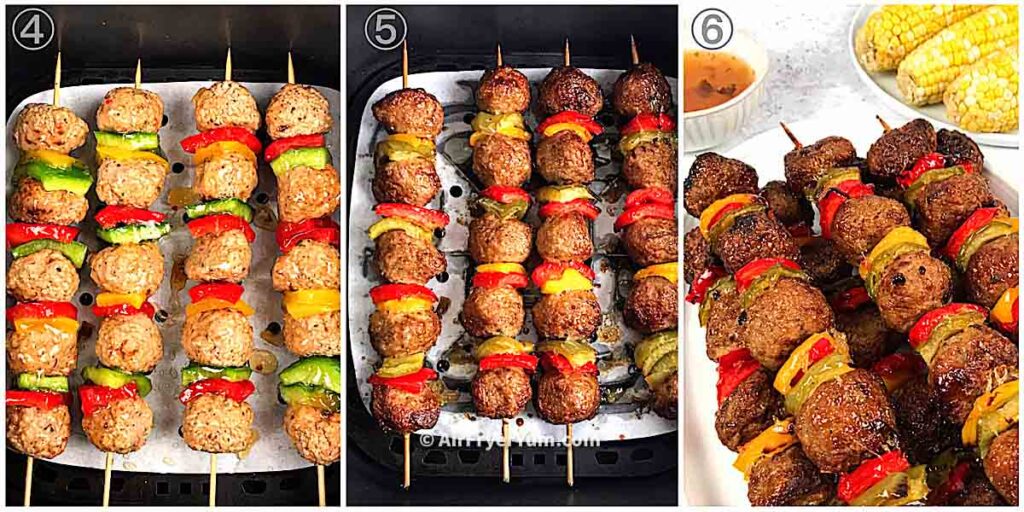 Making meatballs from scratch for kabobs
Follow instructions stated in this meatball recipe, thread raw meat balls on the skewers alternating with the veggies.
Brush on some pineapple habanero glaze and air fry for 12 - 14 mins flipping half way through. The internal temperature should be 165°F / 74°C when fully cooked.
Note that the time range is longer when cooking meatballs on a stick from scratch in the air fryer when compared to cooking only meatballs. Meat ball skewers are cramped together on the stick and heat may not get around each meat ball as fast as it would with individual meat balls.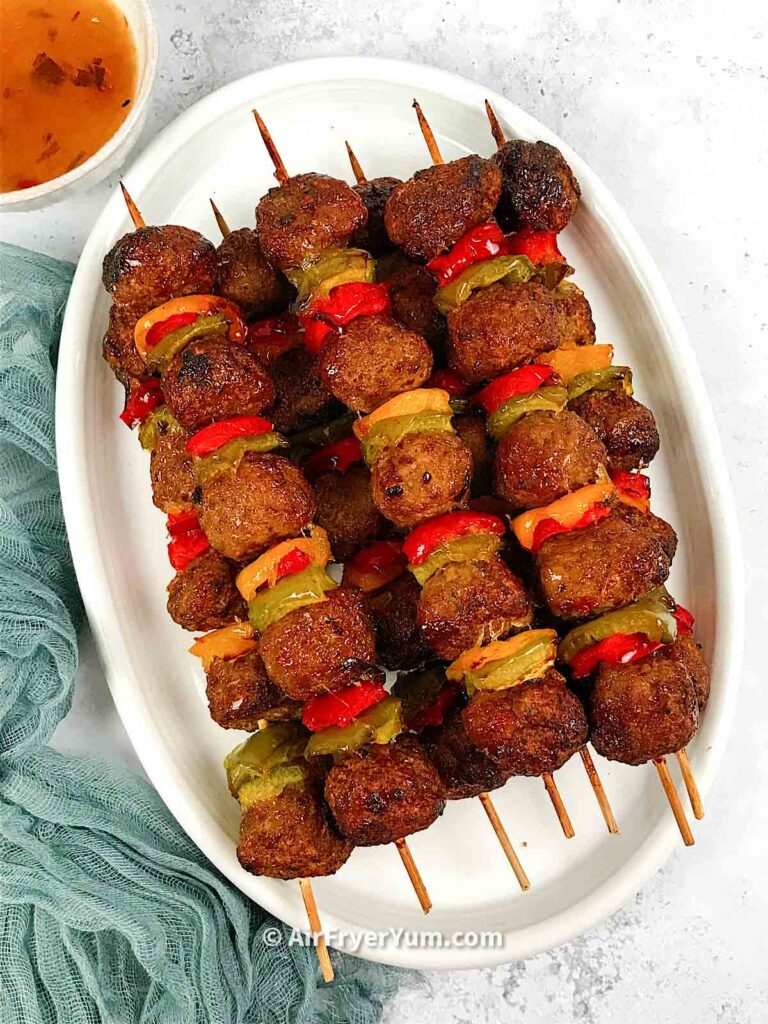 Tips for success
Thaw meatballs: Let frozen meatballs thaw overnight in the refrigerator so it's easy to thread them through the bamboo skewers.
Time saving tip: If you are in a hurry and forgot to thaw the frozen meatballs. Pop them in the microwave for a minute to thaw just enough to allow the skewers through.
Soaking the Skewers: if using bamboo skewers, soak in warm water for 5 mins before threading the meatballs. This will keep them from burning. Alternatively use the metal skewers that came with your air fryer.
Measuring the Skewers: If your bamboo skewers are too long, measure it by placing over your air fryer basket and snip off the excess.
Meatballs from scratch: If cooking meatballs from scratch, cook for 12 - 14 mins mins flipping half way through. The internal temp should be at least 165°F / 74°C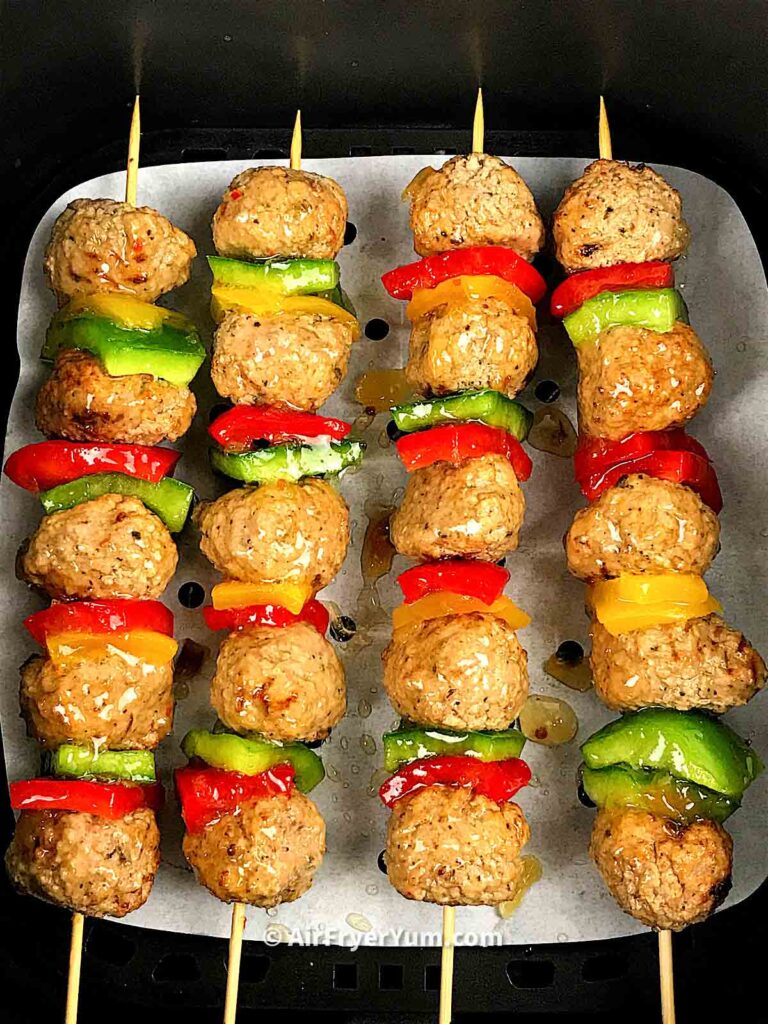 Frequently asked questions
What is the secret to good meatballs?
The secret to juicy meatballs lies in the making and combination of ingredients. Check out this article for full details on how to make good meatballs and if you want a from scratch recipe, check out my air fryer meatballs recipe.
Is it better to fry or bake meatballs?
I think it's a matter of preference. I like the way meatball baked in the oven or air fryer turn out better than pan fried meatballs.
What should I eat with meatballs?
Meatballs balls go with any food. They are like a blank canvas for any meal. Serve it with salads, rice and lots more.
Love food on a stick? I thought so. Try these!
Air fryer chicken kabobs
Honey teriyaki meatball skewers
Sweet and sour chicken skewers
Air fryer steak kebabs
Marinated beef kabobs
Beef and potato skewers
More Air fryer recipes!
Check out all our >>>Air fryer Recipes!
Did you find this recipe helpful? Leave me a comment about it or any recipe idea you would love Air fryer 'yummed' and don't forget to share with family and friends.
Happy Air frying!
---
Love it? Pin it!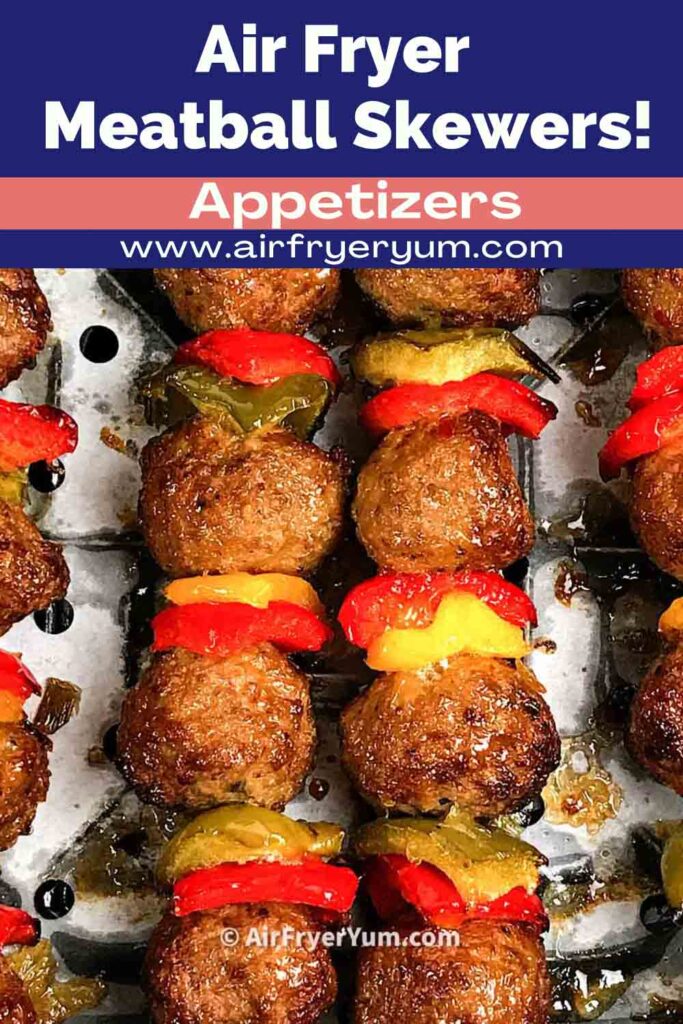 Looking for more air fryer recipes? Sign up for our yummy newsletter and Follow along on Facebook, Instagram, Pinterest and Tiktok for updates. Remember to Subscribe to my YouTube Channel for weekly videos.
Loving your air fryer much? Join other Air Fryer Buddies in our exclusive free Easy Air Fryer Recipes Group on Facebook!
New to the world of Air frying? We've got you covered. Check out our helpful >>> Air fryer Resources!
Shop all air fryers and air fryer accessories at our Amazon store.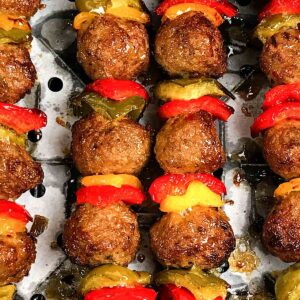 Air fryer meatball skewers (Kabobs)
These are easy pineapple habanero sauce glazed meatball skewers or kabobs made in the air fryer using frozen fully cooked meatballs. Air fryer meatball skewers could serve as a party appetizer or an easy side dish to salads or dinner as a whole.
Equipment
5.8qt Air Fryer

8 Bamboo skewers

Silicon brush

Parchment paper
Ingredients
40

1 - 1 ½ inch

fully cooked meatballs

3

large bell peppers

(green, red & yellow)

¾

cup

Pineapple Habanero sauce
Instructions
Thread the meatballs on the skewers alternating with the peppers. My skewers could fit 5 meatballs.

Place skewered meatballs in the parchment paper lined air fryer basket.

Brush the skewered meatballs with the pineapple habanero sauce. Set temperature to 400°F / 204°C and cook for 4 mins.

Pull out the basket, brush on more sauce, flip over and brush on some more sauce. Push air fryer basket back and bake for 4-6 more minutes till meatballs are warmed through and peppers slightly charred.

Repeat process for the rest of the meatballs and serve.
Notes
This recipe makes 8 meatball skewers with 5 meatballs per skewer.
If using the oven style air fryer, bake in the middle layer for 2 -3 mins more.
Nutrition
Serving:
1
Meatball skewer
Nutrition Disclaimer
Nutritional information is an estimate and may change based on products used. Please read our Nutrition disclaimer page.
Subscribe to my YouTube Channel
Subscribe to Air Fryer Yum on YouTube for more detailed videos! Remember to click the bell icon to get notified when I upload new videos.
Save this Recipe for later!
Follow @AirFryerYum on Pinterest!