The air fryer makes tender juicy chicken breasts with or without brining. Chicken in all forms is great for most diets, therefore it's a perfect side for people following a keto, low-carb, or Whole30 diet.
This Air Fryer Chicken Breast recipe is one of the best air fryer recipes to try. In less than 30 mins you can put together a mouth-watering and flavorful dinner with chicken made in the air fryer. I would be more than happy to show you how to do it in a few easy steps.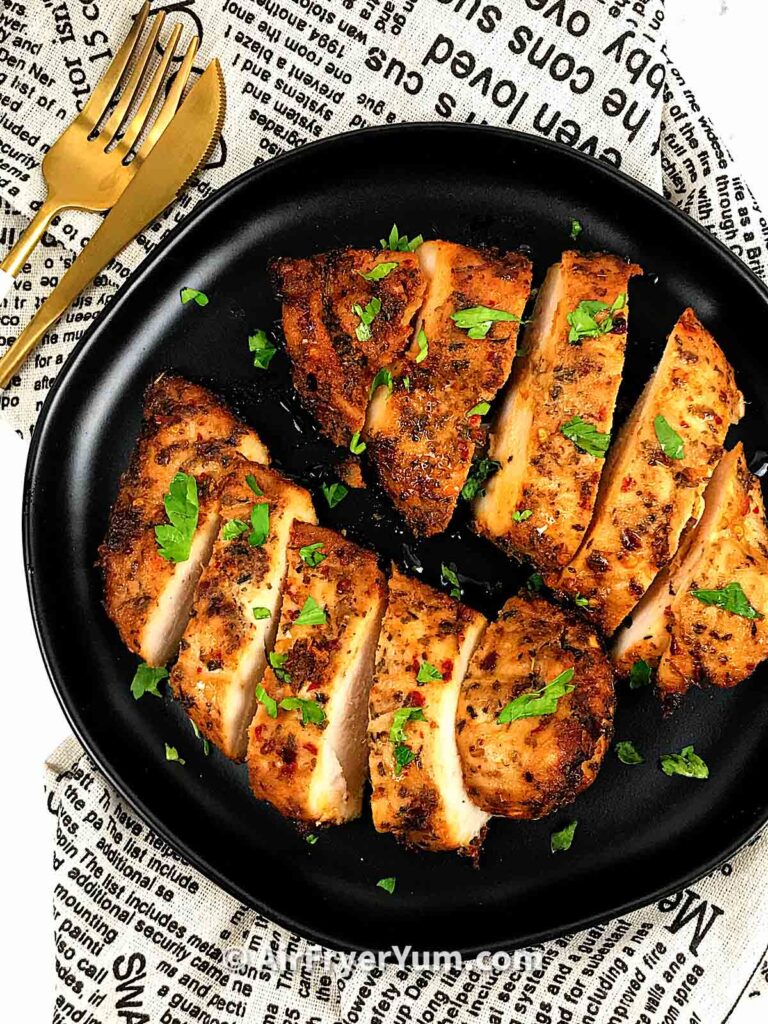 Air Fryer Chicken Breast Recipe
When it comes to using chicken in recipes, many people prefer roasting or cooking chicken thighs since they come out so juicy and extra crispy. Though breasts can be the easiest cut of poultry to cook, it can also be a bit tricky and challenging because all white meat is usually lean and tends dry out quickly if not cooked properly.
The air fryer does an amazing job at making juicy flavorful chicken breasts or any meat at all. Believe me when I say this is probably the only recipe you need.
If you've made chicken schnitzel in the air fryer from scratch or from frozen you would agree that air fryers cook chicken in less time than in the oven and yet keeps it nice and tender. Breaded meats or veggies are the best as get extra crisp and delicious with no need to submerge in oil to achieve it.
---
---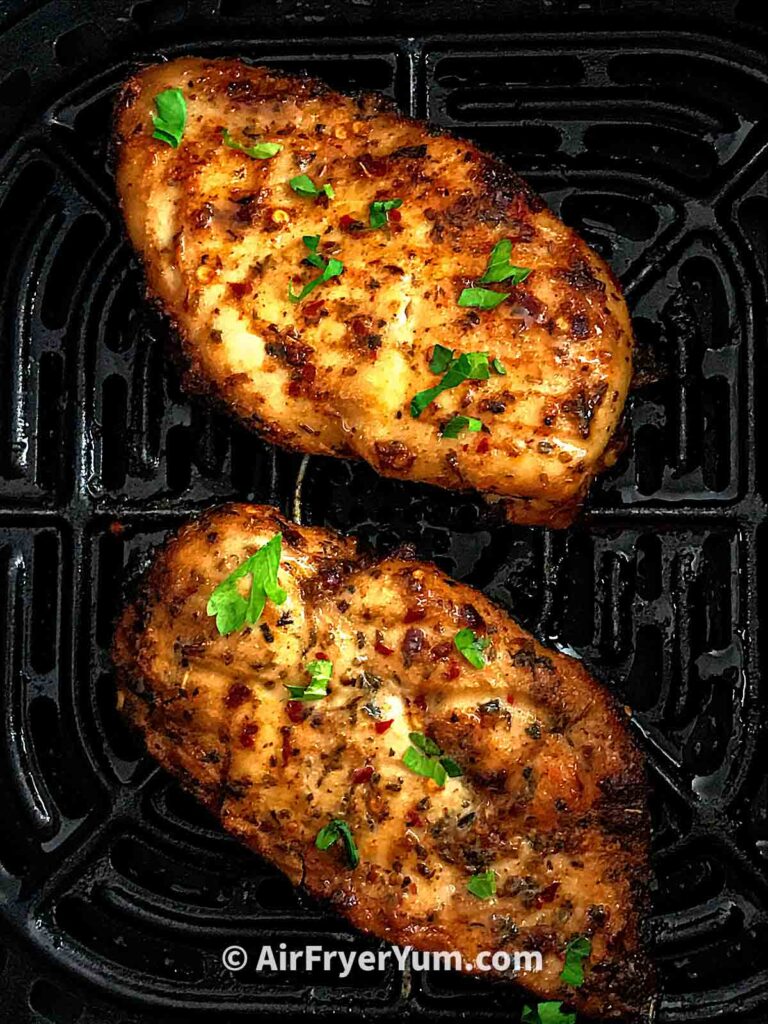 What is an Air fryer, is it healthy?
An Air fryer is a counter top appliance that works by circulating hot air in its cooking compartment. Simply put its like a mini convection oven. It is a great kitchen appliance to have, mine has literally taken over the job of my conventional oven
Related: How to use an Air fryer
Is it healthy? Yes it makes you enjoy your favorite fried foods with a tiny fraction of oil. What could be healthier than that! Bonus you don't need to heat up the entire kitchen when cooking with the air fryer like an oven would which is especially not welcome during the summer months.
Ingredients:
Chicken breasts: Boneless and skinless
Olive Oil
Italian seasoning: This spice blend tastes great on chicken.
Chili flakes for some heat (optional)
Garlic powder
Paprika: adds color and flavor
Salt to taste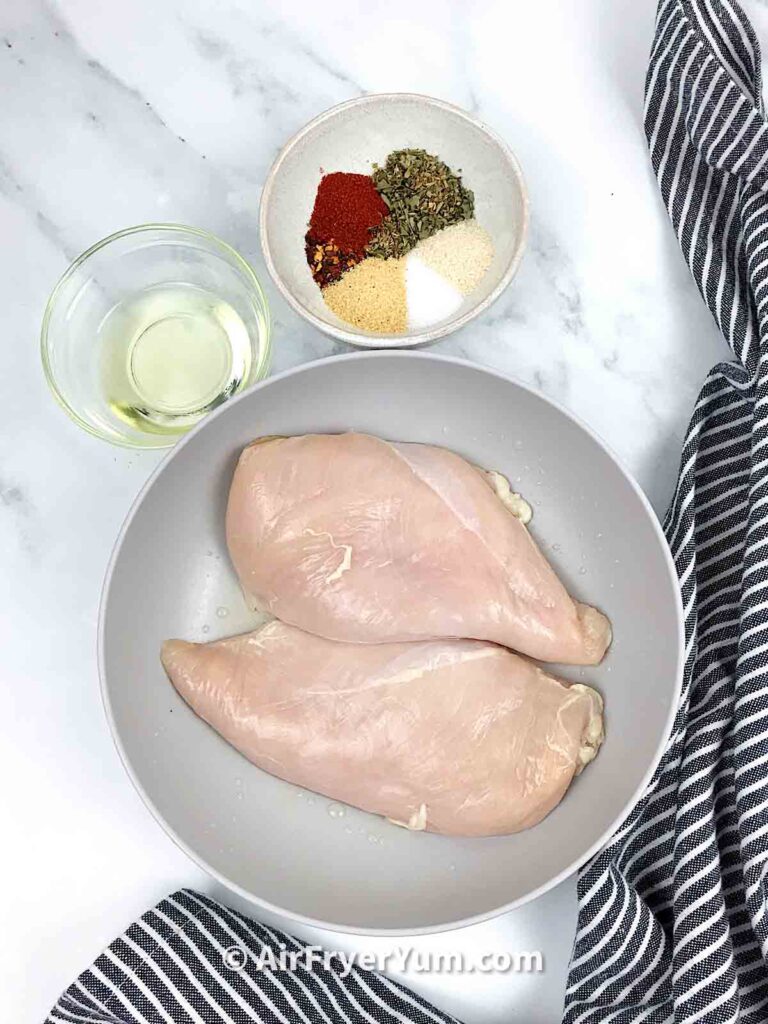 Brining
I tend to marinate the chicken instead of brining. This is a personal preference. If you prefer to brine I'll show you exactly how to do it. Bear in mind that brining does not only help with moisture, the meat also absorbs salt. You would need to adjust your seasoning accordingly after brining. You can use non salt seasoning and herbs and leave out the salt.
How to do it.
For 4 chicken breasts, I use a 4 cups of lukewarm water to ¼ cup of kosher salt which amounts to a ratio of 1:0.25 meaning 1 cup of water to 1 Tablespoon of kosher salt. If you are using a different kind of salt, this salt conversion chart should help.
Brining for too long can make the meat very salty. I recommend a maximum of 1 hour for this recipe.
---
---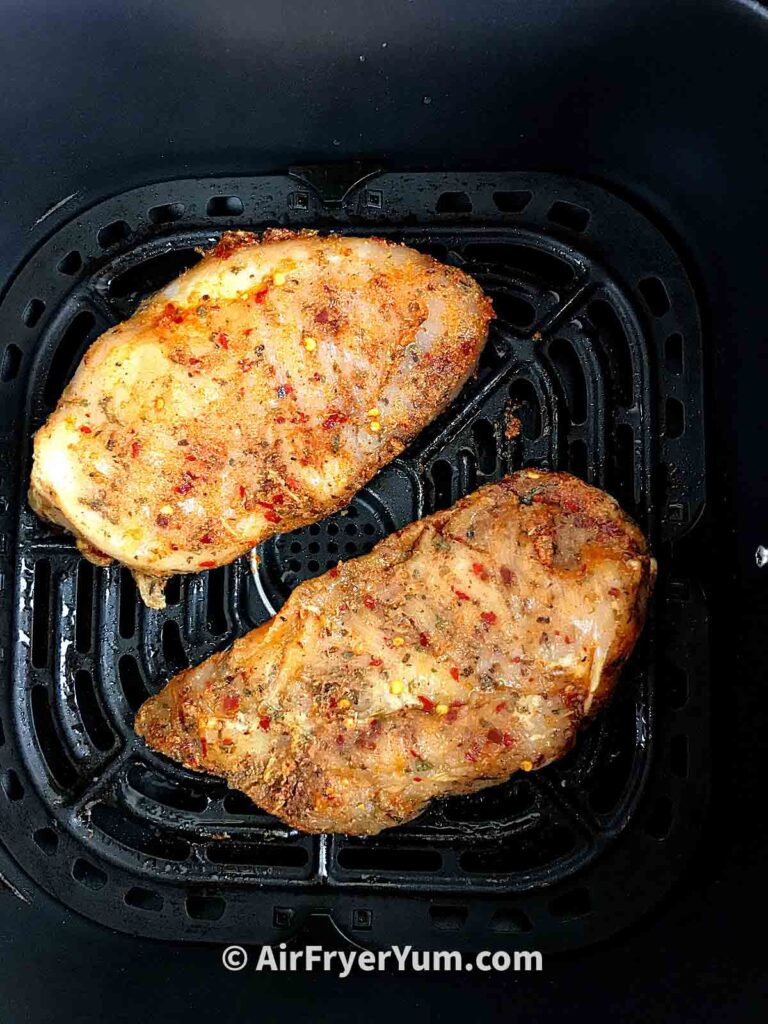 How To Cook Chicken Breasts in the Air Fryer.
This is an overview. Full details of ingredients, quantities and method can be found in the printable recipe card below.
The Marinade method
Pat dry before transferring to a freezer bag then add oil and seasoning blend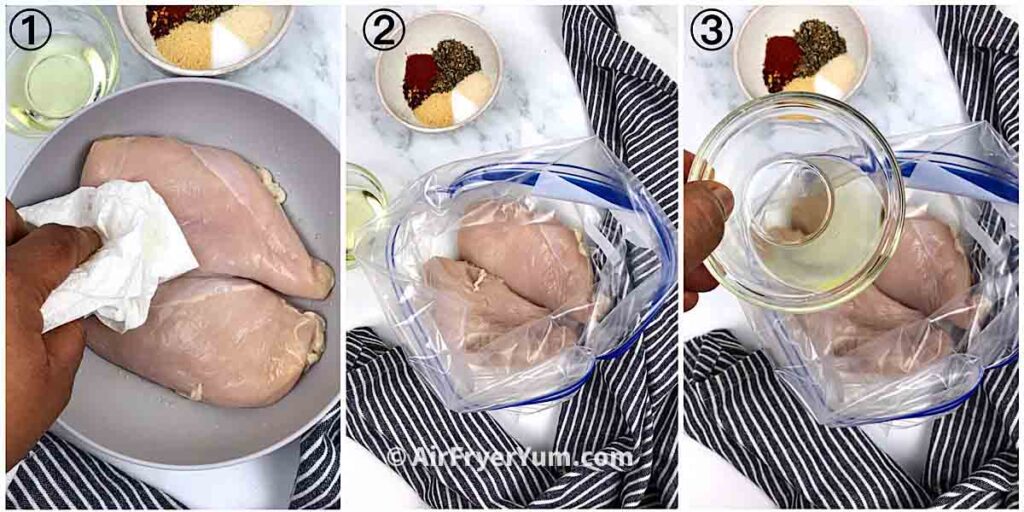 Massage condiments into chicken. Seal bag and marinade for at least 30 mins of up to 24 hrs of you have more time. If you are not brining I would recommend you do not skip this step. Marinating softens leaner meats and reduces the chances of them drying out.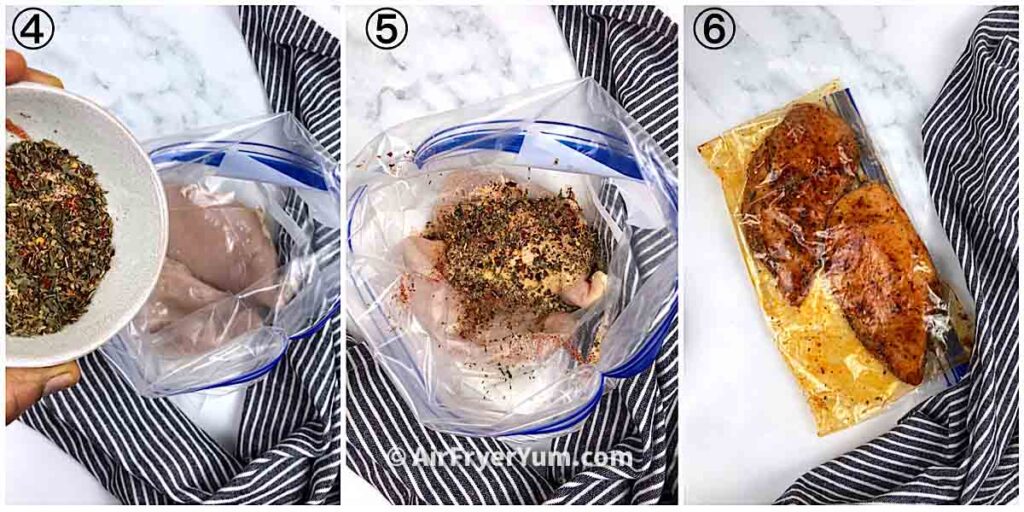 When chicken is ready, bake in air fryer at 380°F for 15 - 18 mins, flipping half way through. Remember to check the internal temperature. It should read 165°F / 74°C.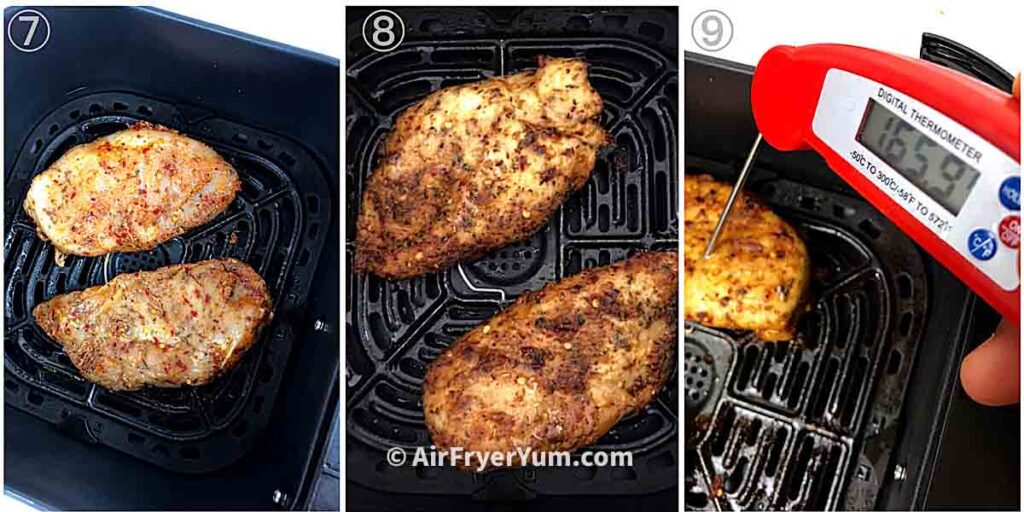 The Brining Method
Submerge chicken in brine solution and let it brine for up to an hour. After an hour, rinse and par dry with paper towel. Brush with oil and season lightly with a no salt seasoning.
Air fry at 380°F until the internal temp reads 165°F. Be sure to flip half way through
How to cook frozen chicken breast in the air fryer.
Sometimes I forget to get the meat out of the freezer in time for dinner and I know I am not the only one. If you are wondering if you can cook frozen foods in the air fryer, you can.
To be honest, cooking chicken from frozen in the air fryer won't come out as well seasoned as when cooking from scratch. Good news I have a nice tip for you. Try seasoning the chicken or any meat at all before freezing.
That's my secret to the best air fryer frozen chicken or any meat at all. Cook it at 400°F / 200°C for 15-20 mins or until internal temperature reads 165°F / 74°C on a meat thermometer. Contrary to my thoughts that cooking frozen chicken at a lower temperature would work better, after many recipe testings I have concluded that it's better and faster to cook at a higher temp than lower and it still comes out juicy.
How long to cook chicken breast in the air fryer?@
The length of time to cook chicken breasts in the air fryer will depend on the size. I usually cook mine any where between 15 to 20 mins at 380°F.
Bare in mind that the chicken breasts used in this recipe are large. If you have smaller chicken breasts, start checking for doneness at 10 -12 mins
However the most important thing when cooking meats is the internal temperature. For chicken the internal temperature should read at least 165°F / 74 C on the meat thermometer.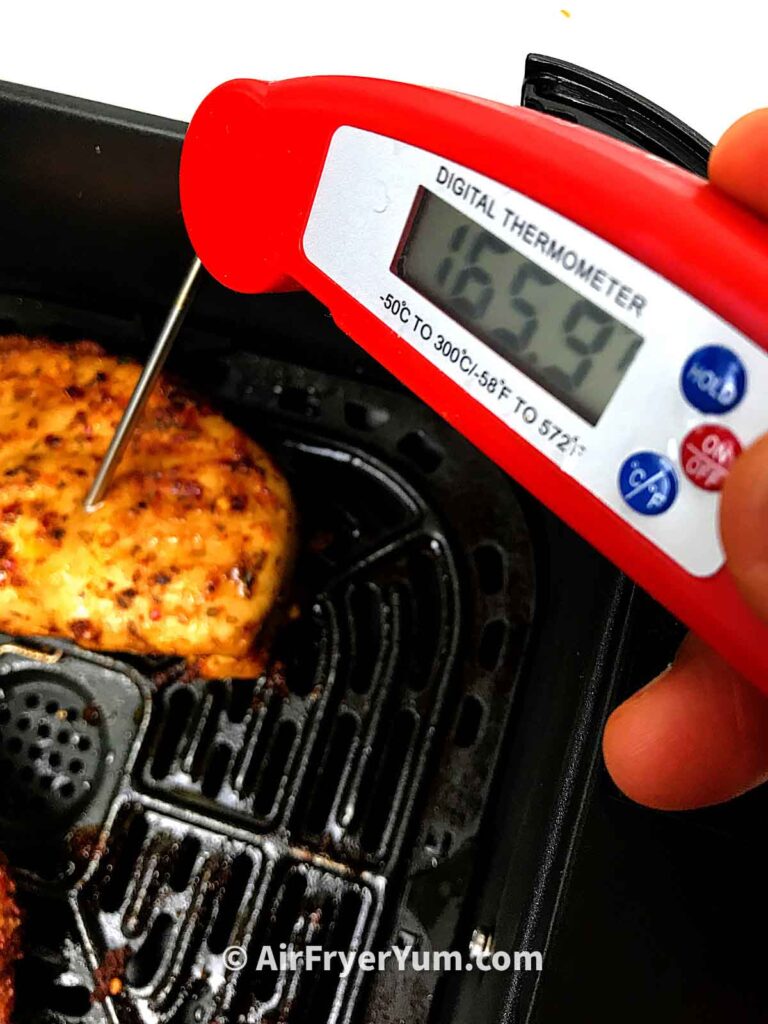 Tips for success.
Brining or marinating the chicken breasts help to improve taste and texture. I highly recommend it.
Let the meat rest for about 5 mins after cooking before cutting.
Cooking equal sized chicken helps with even cooking. Using a meat tenderizer to hammer the chicken to equal thickness can help when you have chicken of different sizes
I like to season and marinade the chicken in a freezer bag.
Your Frequently Asked Questions answered
Can you put raw chicken breasts in an air fryer?
Yes, you can cook raw meat in an air fryer. A whole chicken may take up to 55 minutes at 360°F to cook in an air fryer. You can even roast chicken, steak or pork in this fantastic kitchen appliance.
Do you have to flip the chicken in an Airfryer?
It's best to flip chicken or any food in the air fryer halfway through the cooking time. Just like you need to turn an omelet over on the pan to cook the other side, you need to flip foods in the air fryer, so that they brown & crisp evenly.
Unlike an oven, the air fryer cooks from the top. Therefore if you want your recipe to cook evenly, always turn, rotate or shake air fryer basket.
How does brining add moisture to meat?
Brining makes the chicken breasts juicy by a process called osmosis. Osmosis is the diffusion of a solution through a semi permeable membrane. The chicken is the semi permeable membrane which absorbs the salt solution. By doing this the meat will be more juicy and tender when cooked.
Do you need oil while cooking the chicken breasts in the air fryer?
Yes you need a bit of oil to cook chicken breasts in the air fryer. The air fry has gained popularity over the past few years as a helpful kitchen appliance because you can make a healthy version of your favorite fried recipes such as fried chicken, pastries, french fries, and potato chips with very little oil.
Instead of completely submerging food content in oil, you just need a tablespoon of oil for an air fryer to give your recipe a similar taste and texture.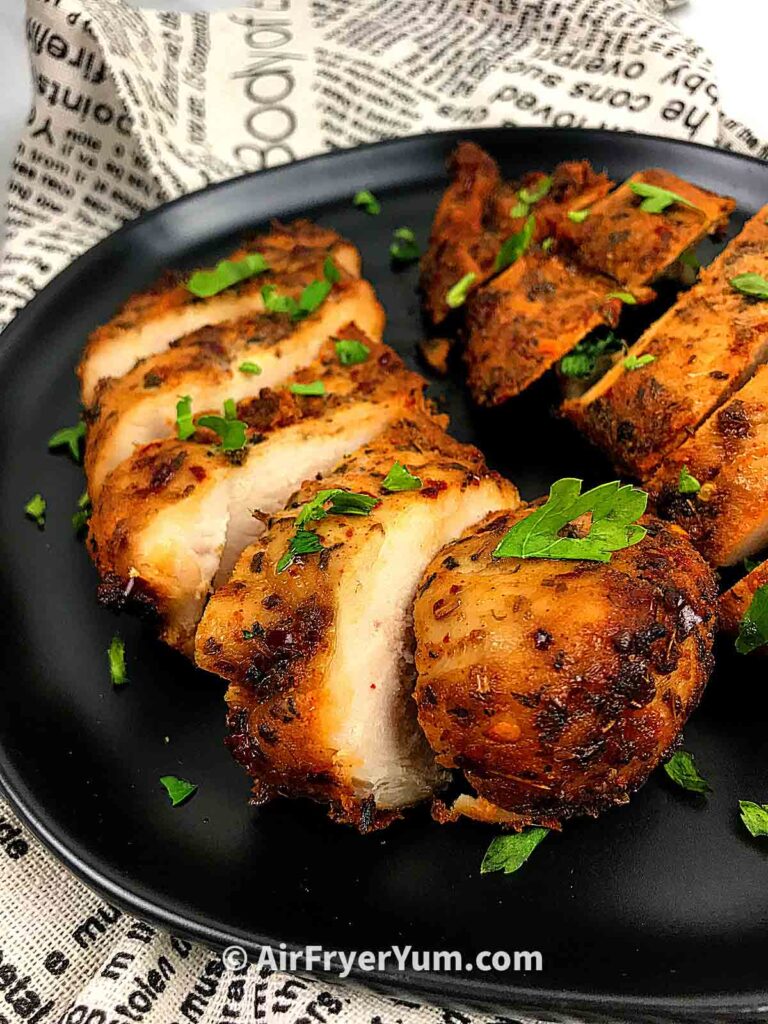 More Air fryer Chicken Recipes
Air fryer chicken thighs (bone in and boneless)
Whole chicken
Chicken schnitzel
Check out all our >>>Air fryer Recipes!
Did you find this recipe helpful? Leave me a comment about it or any recipe idea you would love Air fryer 'yummed' and don't forget to share with family and friends.
Happy Air frying!
---
Love it? Pin it!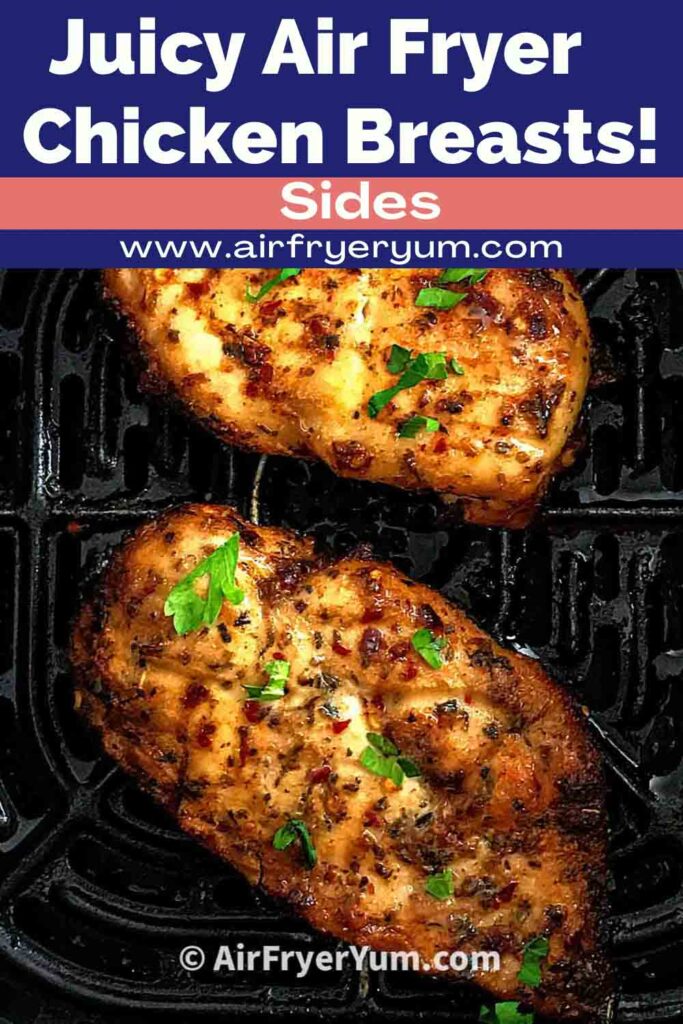 Looking for more air fryer recipes? Follow along on Facebook, Instagram, Pinterest and Tiktok for updates and don't forget to Subscribe to my YouTube Channel for weekly videos.
---
---
Loving your air fryer much? Join other Air Fryer Buddies in our exclusive free Easy Air Fryer Recipes Group on Facebook!
New to the world of Air frying? We've got you covered. Check out our helpful>>> Air fryer Resources!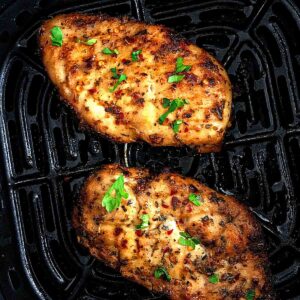 Juicy Tender Air fryer Chicken breasts
The air fryer makes tender juicy chicken breasts with or without brining. Chicken in all forms is great for most diets, therefore it's a perfect side for people following a keto, low-carb, or Whole30 diet. This Air Fryer Chicken Breast recipe is one of the best air fryer recipes to try.
Equipment
5.8 quart Air fryer

Ziplock bag

Kitchen tongs
Ingredients
2

chicken breasts

1

Tablespoon

olive oil

1

Tablespoon

Italian season

½

teaspoon

paprika

½

Tablespoon

chili pepper flakes

½

teaspoon

onion powder

1

teaspoon

garlic powder

½

teaspoon

salt
Instructions
Mix the spices together and set aside. Pat the chicken breasts dry. Transfer the breasts into a ziplock bag, add the oil and spice blend to the chicken.

Massage the blend into the chicken and let it marinate for about 30 mins

Spray the air fryer basket, place chicken breasts in the air fryer, set temperature to 380°F and cook for 15-18 mins or until internal temp reads 165°F/ 74°C on a meat thermometer.

Let chicken rest for five minutes before serving.
Notes
The length of time to cook the chicken will depend on the size and thickness of the of the chicken.
I didn't tenderize my chicken because it wasn't too thick and both chicken breasts were about the same size. If you have really large chicken, you tenderize it with a meat tenderizer to even out the meat sizes.
Nutrition
Serving:
1
g
Calories:
294
kcal
Carbohydrates:
2.8
g
Protein:
52.6
g
Fat:
9.2
g
Saturated Fat:
2.6
g
Cholesterol:
130
mg
Sodium:
751
mg
Potassium:
898
mg
Fiber:
1
g
Sugar:
0.7
g
Calcium:
22
mg
Iron:
1
mg
Nutrition Disclaimer
Nutritional information is an estimate and may change based on products used. Please read our Nutrition disclaimer page.
Subscribe to my YouTube Channel
Subscribe to Air Fryer Yum on YouTube for more detailed videos! Remember to click the bell icon to get notified when I upload new videos.
Save this Recipe for later!
Follow @AirFryerYum on Pinterest!