Baking chicken sausages in the air fryer is fast becoming my favorite way to make them and these Amylu roasted Garlic Asiago chicken sausages from Costco definitely check all the boxes. Pairing them with roasted sweet mini peppers was the best decision ever!
When I make chicken sausages for breakfast or as a side for dinner, there is always a request for second rounds and I like just how the air fryer crisps up the skin while leaving the interior juicy and full of flavor.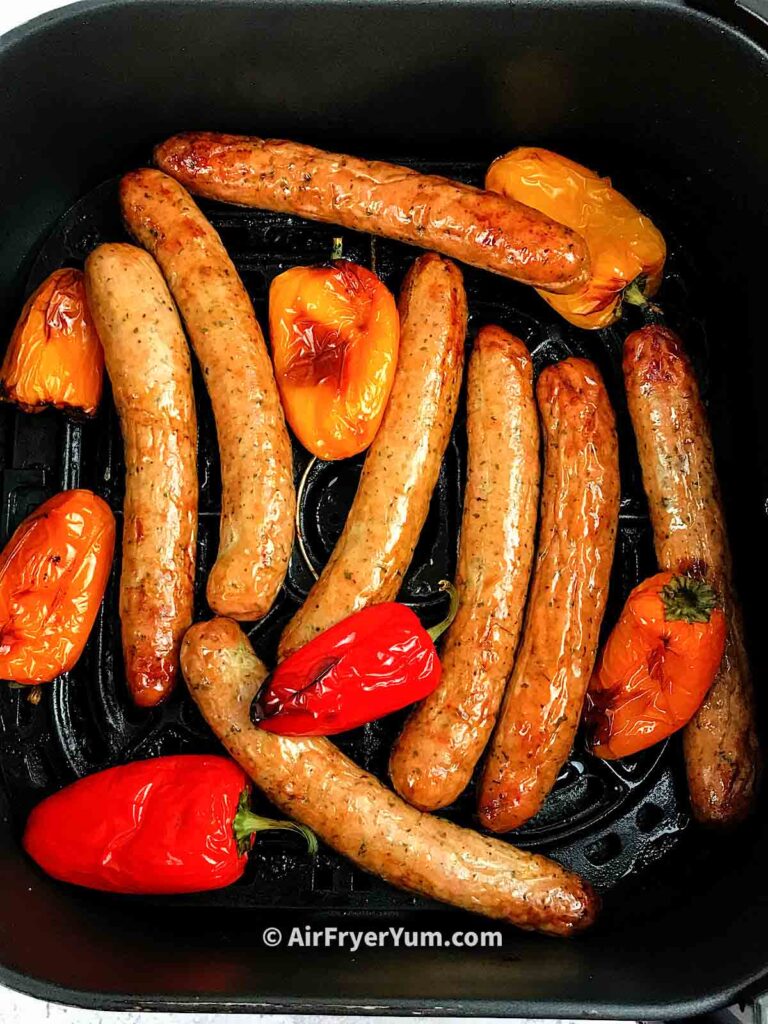 Why we love these roasted garlic Asiago chicken sausages.
I would have to say the air fryer makes the best everything! Well let me not blow it over the top but common guys it makes the best almost everything and these Garlic Asiago chicken sausages with roasted peppers isn't any different.
If you haven't tried my spicy chicken andouille sausage recipe in the air fryer I would encourage you to bookmark it or pin it so you can make it next. It's that good.
Here are a few reasons why this recipe works.
Gets ready in 12 mins or 15 mins when cooking from frozen.
Packed tons of flavor
Easy to make and perfect for any side dish.
If you love sausages with crispy skin without having to stand by the stove flipping them frequently then the air fryer my friend is the way to go!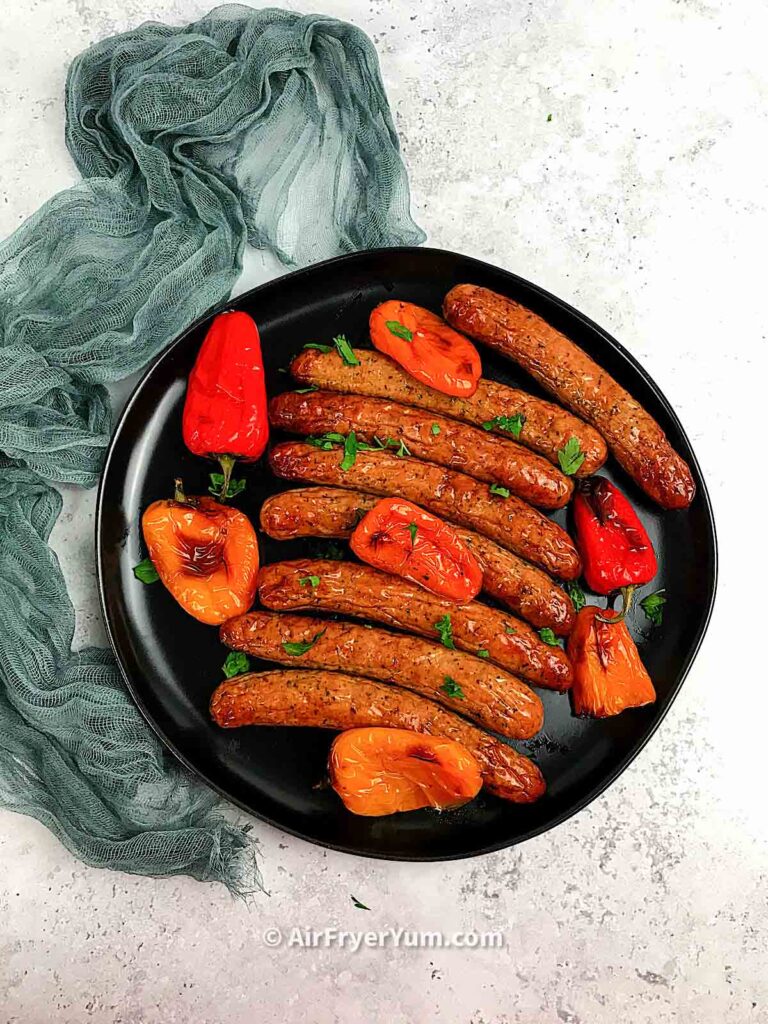 ** If you landed here looking for a plant based sausage recipe, These air fryer veggies sausages should suffice!**
What you need!
Cooking sausages in the air fryer requires simple ingredients and tools.
Ingredients:
Garlic and Asiago sausages
Sweet mini peppers
Tools:
Air fryer
Parchment paper (optional)
Kitchen tongs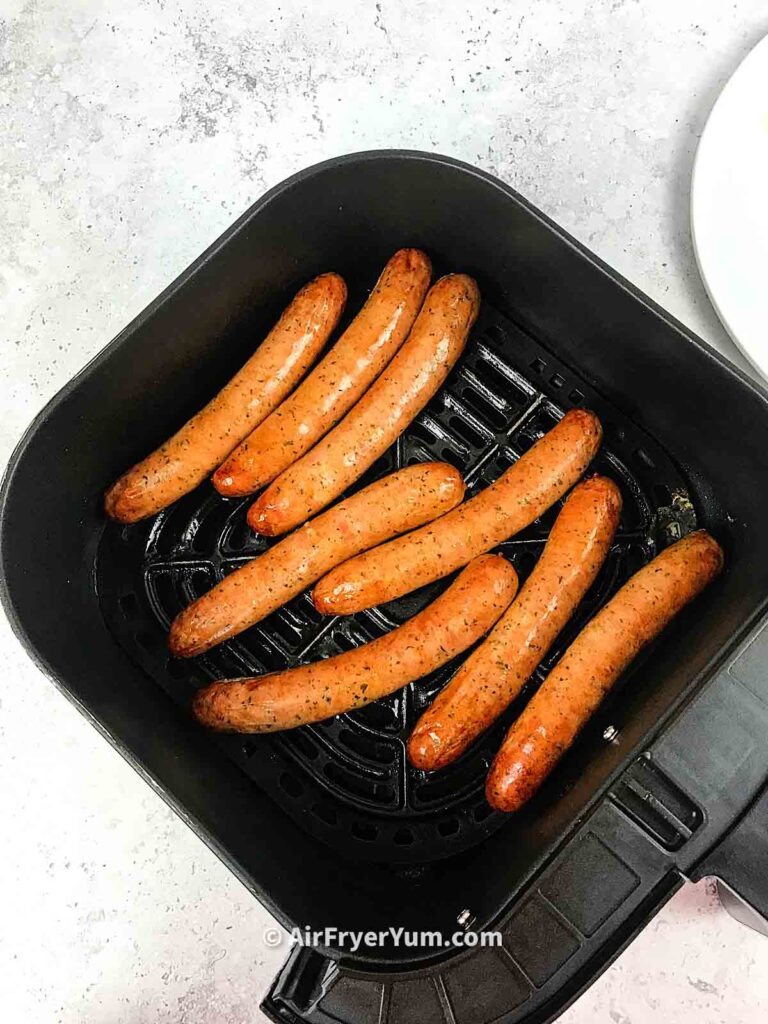 How to cook Garlic Asiago chicken sausages in the air fryer.
Place chicken sausages and sweet peppers in the air fryer no need to preheat the air fryer. Set the temperature to 400°F / 204°C for 12 - 15 mins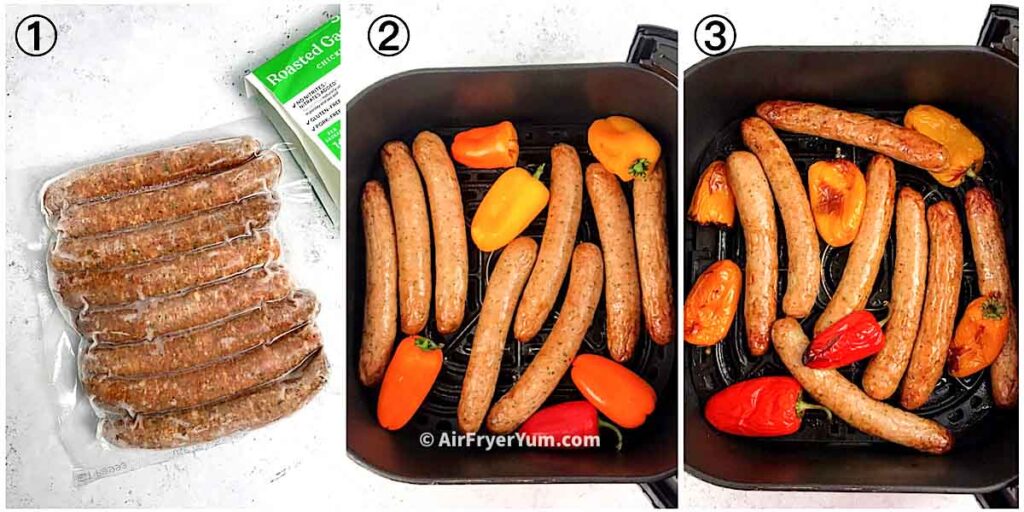 Cooking frozen chicken sausages
Cooking frozen sausages isn't much different from room temperature sausages. The only difference would be length of time because the sausages will thaw before cooking.
Add a couple of minutes extra when air frying frozen sausages. Ranging from 15 - 18 mins depending on the sizes.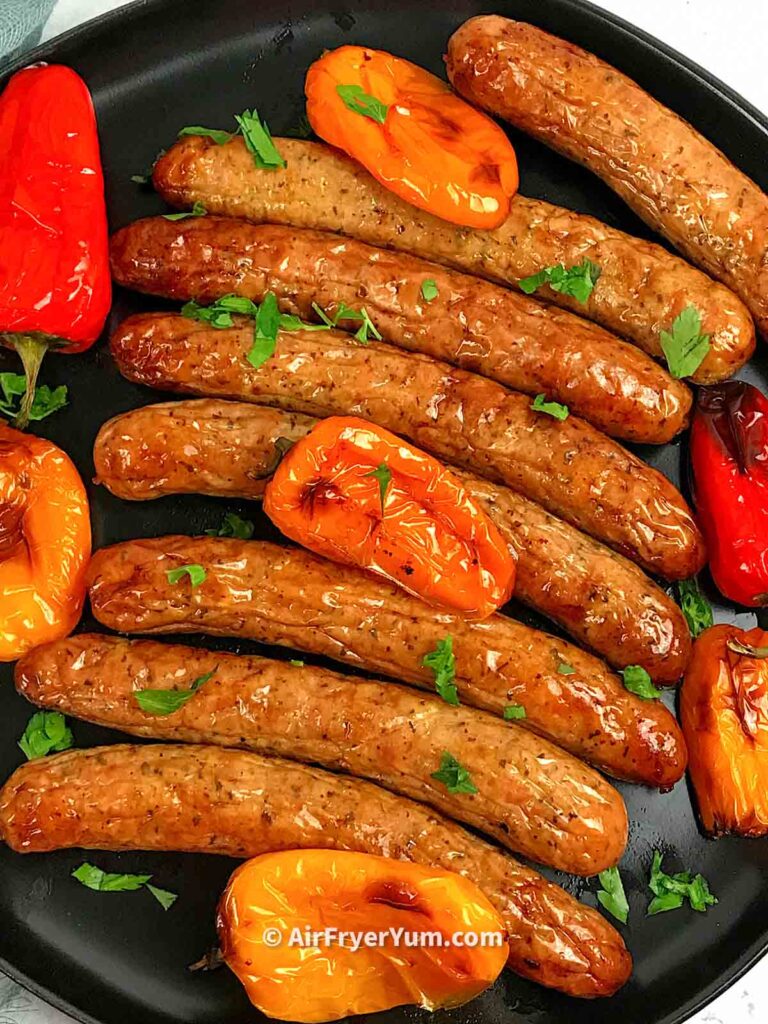 Tips
Do not overcrowd the basket: to ensure the sausages cook evenly. Place sausages in a single layer. Basket air fryer (Gourmia and Cosori, fit 8 medium sized sausages comfortably) If the sausages are larger, you should be able to fit 5.
Do not pierce the skin of the Sausages: I used to think sausages will cook better when pierced however I have since realized the skin is there to lock in the juices making them more flavorful.
Smoking: Though I have seen a lot of comments about this in the various Facebook groups I am in, I haven't experienced my air fryer smoking when cooking sausages or bacon. Since I haven't experienced this, I will share with you what I think should help based on the various suggestions in my air fryer group. First the oil from the sausages hitting the hot surface of the air fryer might be what's causing it to smoke. The use of parchment paper should reduce the chances of it happening. You can also add some water at the bottom of your air fryer to catch the drippings.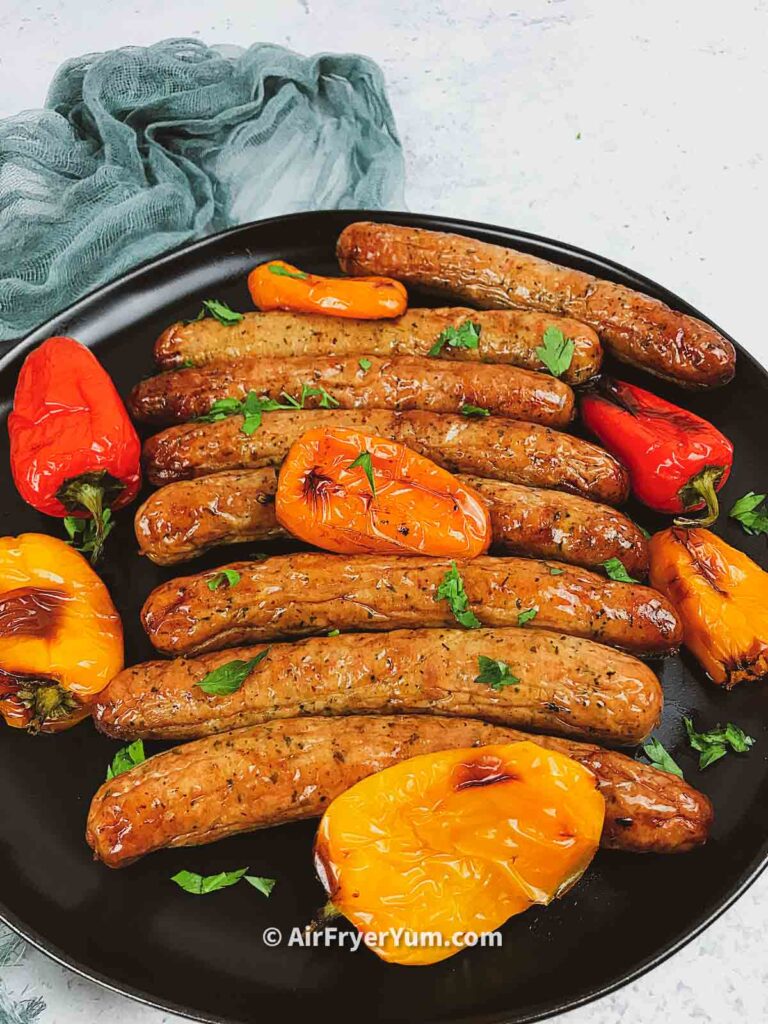 Love Sausages in the Air fryer? We've got more!
Bacon wrapped hotdogs
Air fryer brats
More Air fryer chicken recipes
Check out all our >>>Air fryer Recipes!
Did you find this recipe helpful? Leave me a comment about it or any recipe idea you would love Air fryer 'yummed' and don't forget to share with family and friends.
Happy Air frying!
---
Love it? Pin it!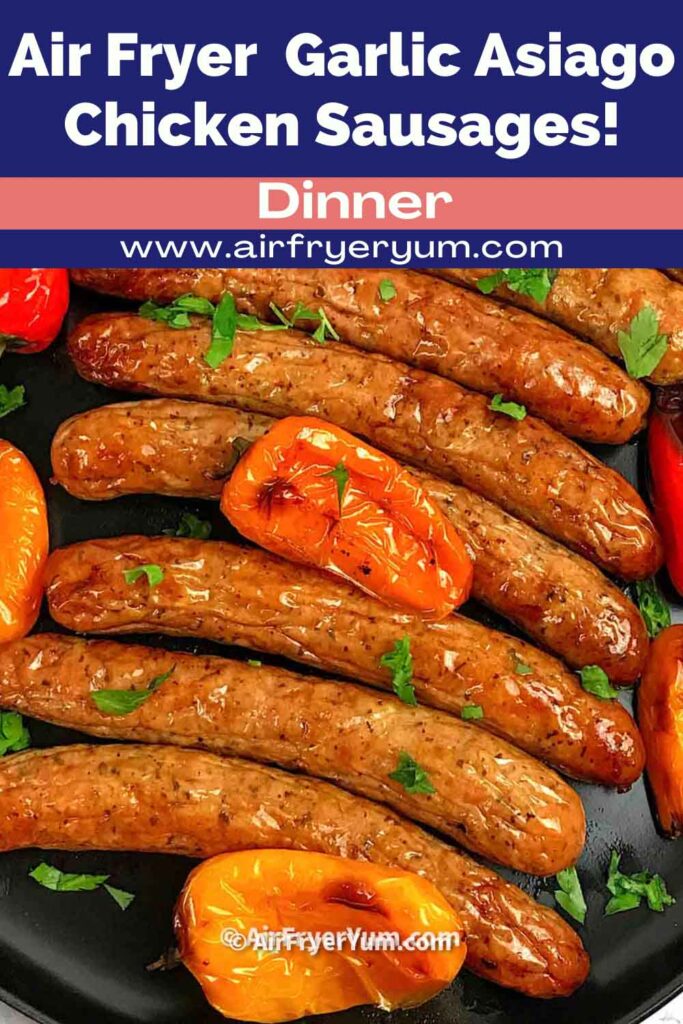 Looking for more air fryer recipes? Sign up for our yummy emails and follow along on Facebook, Instagram, Pinterest, and Tiktok for updates. Remember to Subscribe to ourYouTube Channel for weekly videos.
Loving your air fryer much? Join other Air Fryer Buddies in our exclusive free Easy Air Fryer Recipes Group on Facebook!
New to the world of Air frying? We've got you covered. Check out our helpful >>> Air fryer Resources!
If you love baking, you'd love our beginner's guide to air fryer bakingit walks you through how to bake in your air fryer in easy steps and it's free!
Shop all air fryers and air fryer accessories at our Amazon store.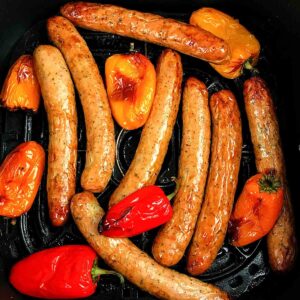 Air fryer Roasted Garlic Asiago Chicken sausages & sweet peppers
Baking chicken sausages in the air fryer is fast becoming my favorite way to make them and these Amylu roasted garlic chicken sausages from Costco definitely check all the boxes. Pairing them with roasted sweet mini peppers was the best decision ever!
Ingredients
8

links

Garlic Asiago Chicken sausages

8

pieces

sweet mini peppers
Instructions
Place chicken sausages and mini peppers in the air fryer. Set temperature to 400°F / 204°C.

Cook for 12 - 15 mins shaking the basket at 5 mins intervals until cooked through.

Serve with scrambled eggs or any other side dish you prefer.
Notes
If cooking from frozen, cook for up to 18 mins.
I like slightly charred peppers. If you prefer the peppers softened but not charred, add the peppers after the first 5 mins.
This recipe was made in a non preheated air fryer. If cooking in batches subsequent batches will cook faster because the air fryer preheated while cooking the first batch.
Nutrition
Serving:
1
Sausage link
Calories:
120
kcal
Carbohydrates:
1
g
Protein:
14
g
Fat:
7
g
Saturated Fat:
2
g
Cholesterol:
65
mg
Sodium:
370
mg
Potassium:
156
mg
Sugar:
1
g
Calcium:
37
mg
Iron:
1
mg
NUTRITION DISCLAIMER
Nutritional information is an estimate and may change based on products used. Please note that nutritional data on this website should be considered estimates and used as a guide only. Under no circumstances will www.AirFryerYum.com be responsible for any loss or damage resulting from the use of this nutritional information. You are encouraged to use a nutritional calculator with the exact brands you are using to get the most accurate information for each recipe.
Subscribe to my YouTube Channel
Subscribe to Air Fryer Yum on YouTube for more detailed videos! Remember to click the bell icon to get notified when I upload new videos.
Save this Recipe for later!
Follow @AirFryerYum on Pinterest!