Air fryer mushrooms with no breading are the perfect side dish that fits into most diets including Keto, Low carb, Vegan and vegetarian. Air fried mushrooms are easy to make, flavorful and quick! It gets ready in less than 15 mins with minimal prep and a few pantry staples.
Before standing over your stovetop to make sautéed mushrooms, why not make this easy hands-free version. With less than 10 ingredients you'd have this air fryer side dish ready for dinner. I include instructions for both the basket style and oven style air fryers.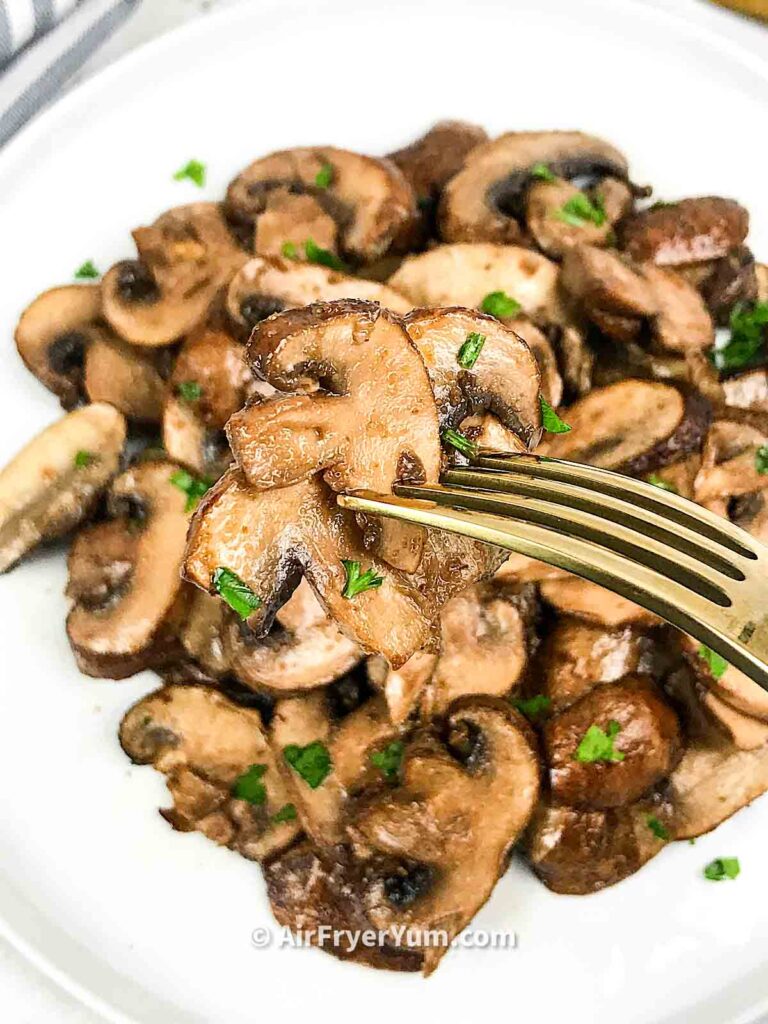 Easy Air fryer Mushrooms recipe
Whether you are making air fryer mushrooms with portobello, button, Cremini (baby bella mushrooms), this beginner friendly recipe is always a keeper.
To be honest I can't choose which is my favorite, these, my breaded air fried mushrooms or these delicious air fryer stuffed mushrooms.
I love how easy it is to put this air fryer sautéed mushrooms recipe together and how tasty and flavorful it is irrespective of the use of soy sauce or not. I think you'll love these and here are a few reasons why.
---
---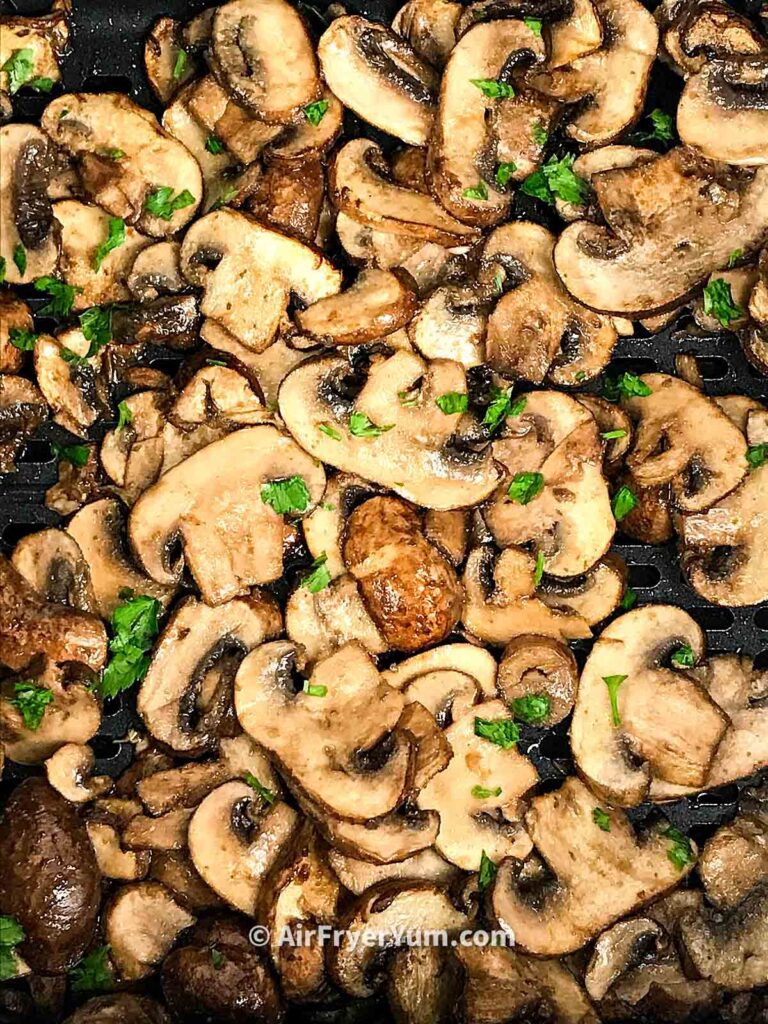 Why you'll love air fried mushrooms
Easy: This is a quick and easy family friendly recipe. It is well seasoned and irresistible to many at least in my home my picky eaters give it a try whenever I make them.
Dietary: Mushrooms are healthy, fiber rich and nutrient dense. They are keto friendly and also fit into most diets including vegan and vegetarian diets.
Time saver: Gets ready in less than 15 mins no kidding. Bonus, no need to stand over your stove making sautéed mushrooms. This recipe is a game changer.
Adaptable: This air fryer mushroom recipe is easily adaptable. Leave out the oil and make it oil free. Use Tamari instead of soy sauce to make this recipe gluten free.
Related Recipe: How to make breaded mushrooms in the air fryer.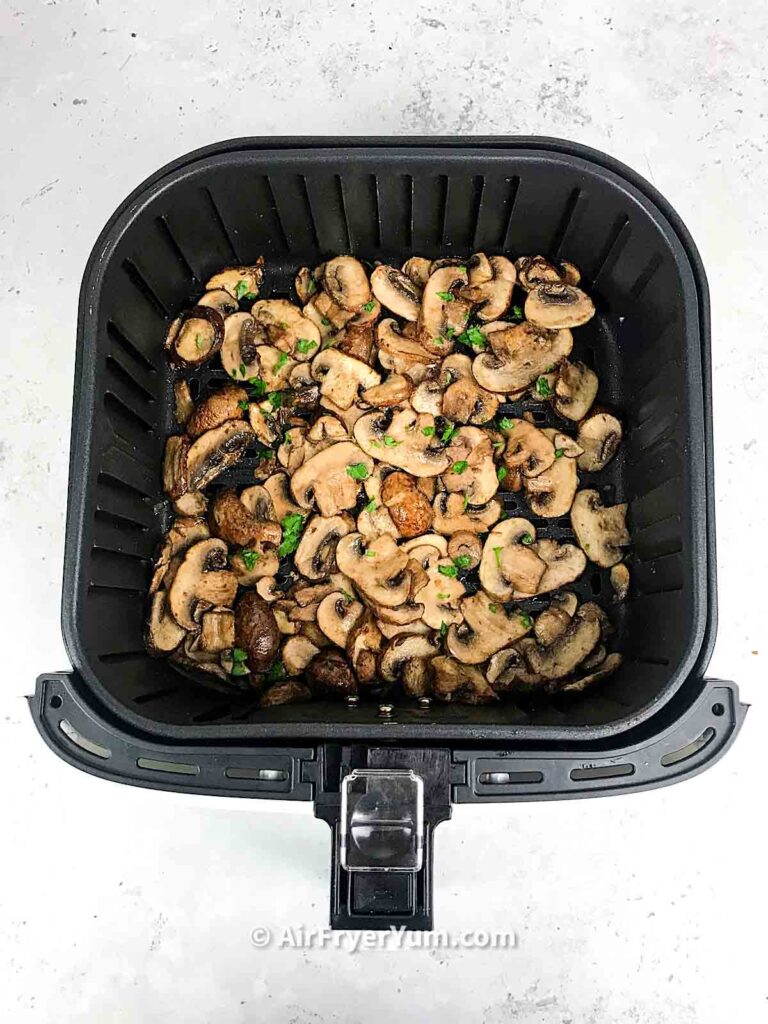 What you'll need to make this recipe
Mushrooms
Olive Oil
Garlic powder
Black pepper and or cayenne pepper
Regular or dark Soy sauce
Salt
Parsley and / or lemon wedges for garnishing
Ingredients substitutions
Mushrooms: Any type of mushrooms would work for this recipe. Feel free to use your favorite type.
Oil: You can use canola oil, vegetable oil, avocado oil etc. You can also use butter or ghee. However you might want to stick with the oil or use a plant based alternative for butter if you are vegan.
Spices: I highly recommend using garlic in this recipe as a base and add any other seasoning you like.
Soy: Swap out regular soy sauce for a gluten free soy sauce alternative like Tamari or Worcestershire sauce. (Note: Most brands of Worcestershire sauce are gluten free. Be sure to check the label of the brand you want to buy to confirm. Here is a list of some gluten free Worcestershire sauce brands)
Recommended Air fryer Accessory for this recipe: Silicon Spatula from this Set
---
---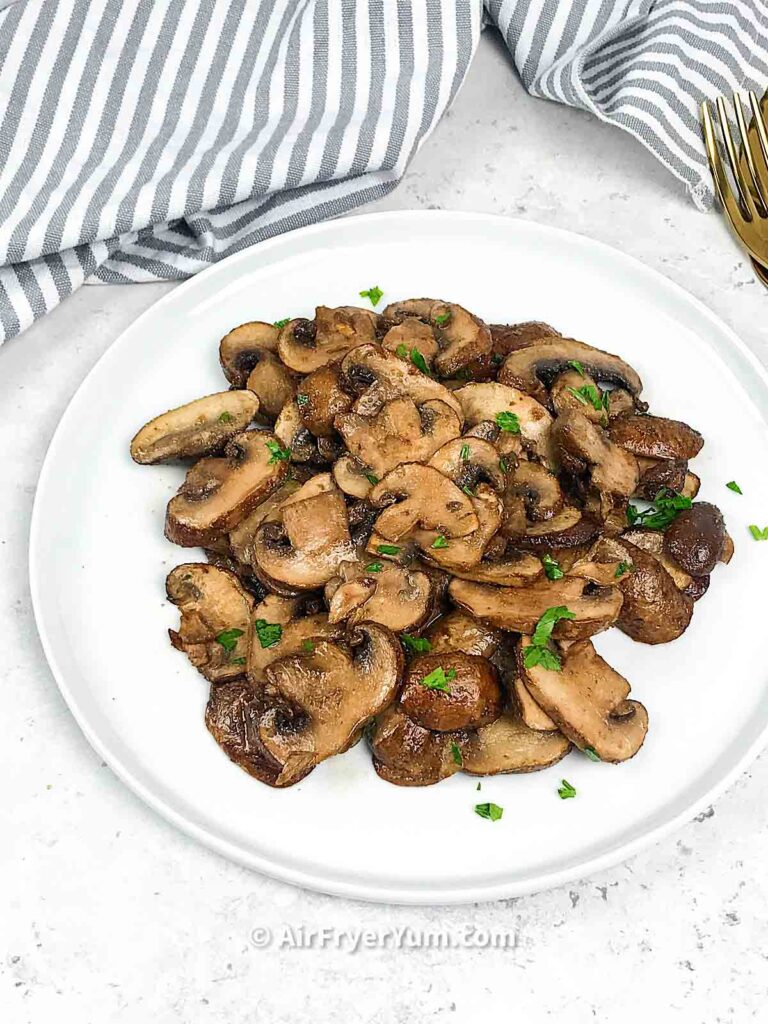 How to make the best air fryer mushrooms.
This is an overview of the recipe with step by step photos. Scroll down to the end of post for a printable recipe card with full recipe and instructions.
Toss sliced mushrooms and seasoning ingredients together in a bowl till well combined.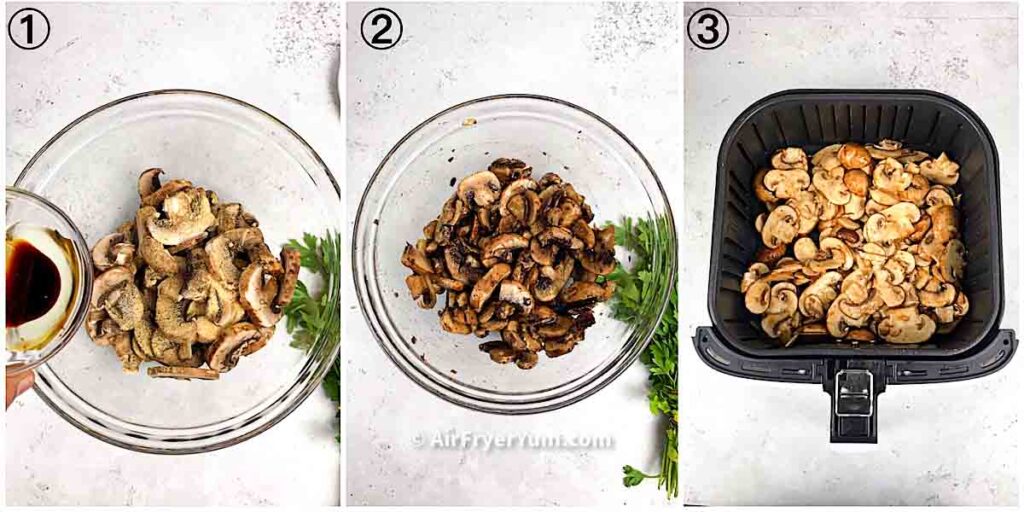 Place seasoned mushrooms in air fryer basket and bake at 380°F / 193°C for 8 to 10 mins tossing half way through with a silicon spatula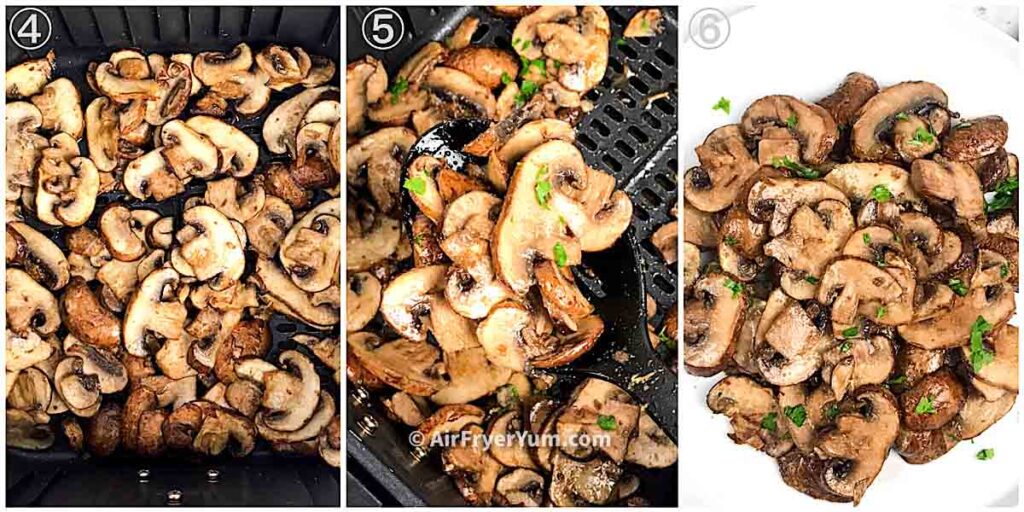 How to make it in the oven style air fryer
Depending on the brand you have, my instant pot vortex plus oven comes with automatic preheat. You can choose to wait till it preheats or put the mushrooms right as it starts to preheat.
Place seasoned mushrooms on air fryer rack and and in the middle level not too close to the heating element.
Use the air fry button and cook at 380°F / 193°C for 10 to 12 minutes for non preheated air fryer oven and 8 to 10 mins if the air fryer was automatically preheated.
Be sure to toss the mushrooms at 5 min intervals with a spatula.
If cooking a large batch and need to use all the racks, be sure to swap the posited each time you toss it so that they all get even heat.
How long to air fry mushrooms
Air fryer mushrooms don't take long to cook. It usually takes 8 to 10 mins to cook them in get air fryer.
The trick is to start checking after the first 5 mins. Keep an eye on it so it doesn't get over cooked.
Regular or dark soy sauce substitute.
Don't have regular or dark soy sauce in hand? Below are a few substitutes you can use.
Worcestershire sauce
Coconut aminos
Maggi seasoning
Tamari
Teriyaki sauce
Oyster sauce
Miso paste
Fish sauce
Related: Be sure to check out all our Air fryer Meatless Monday Recipes.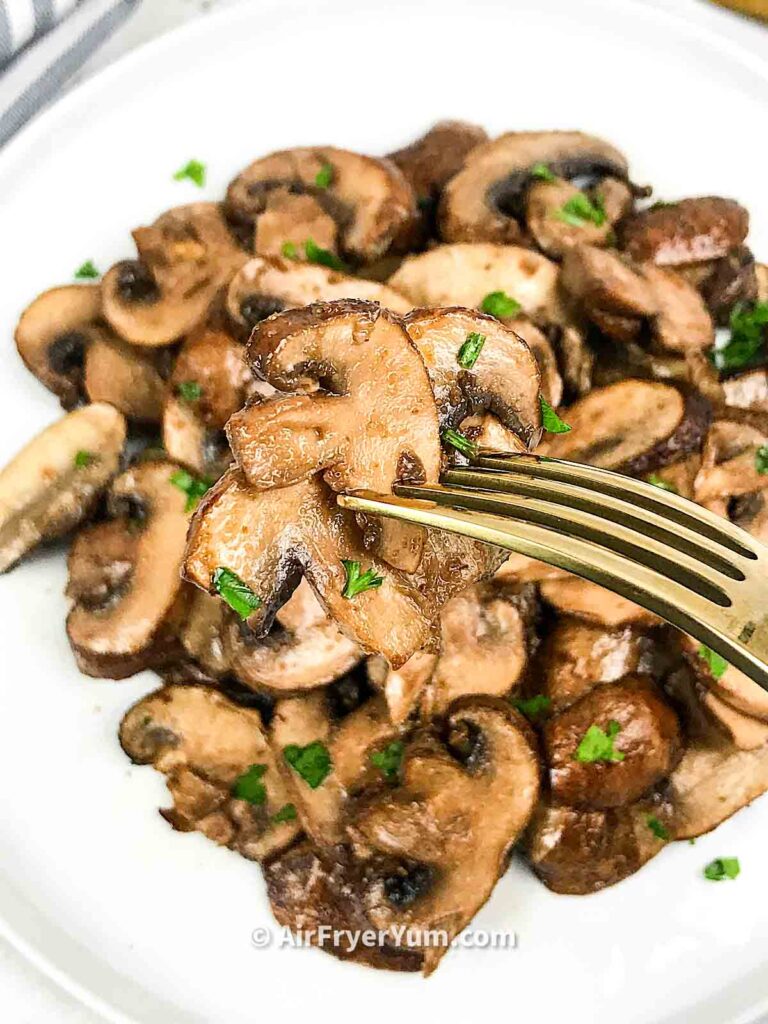 How to clean mushrooms
Mushrooms delicate and already have a lot of water in them so it's not advisable to soak them in water. All they need is a light rinse by swishing them in water scrubbing off dirt gently if needed.
You can also wash them in a colander under running water. Whatever method you choose, do not leave the mushrooms soaked in water.
Variations
Switch things up to make this delicious air fryer mushrooms that have no breading.
Use your favorite seasoning blend, think Cajun, Old bay etc
Make garlic butter mushrooms by swapping out the oil in this recipe for butter or vegan butter if vegan.
Did you know Mushrooms and onions are so yummy. You need to try it.
What to serve with mushrooms
Rice
Potatoes in any form including mashed, fries, steaks etc
Pasta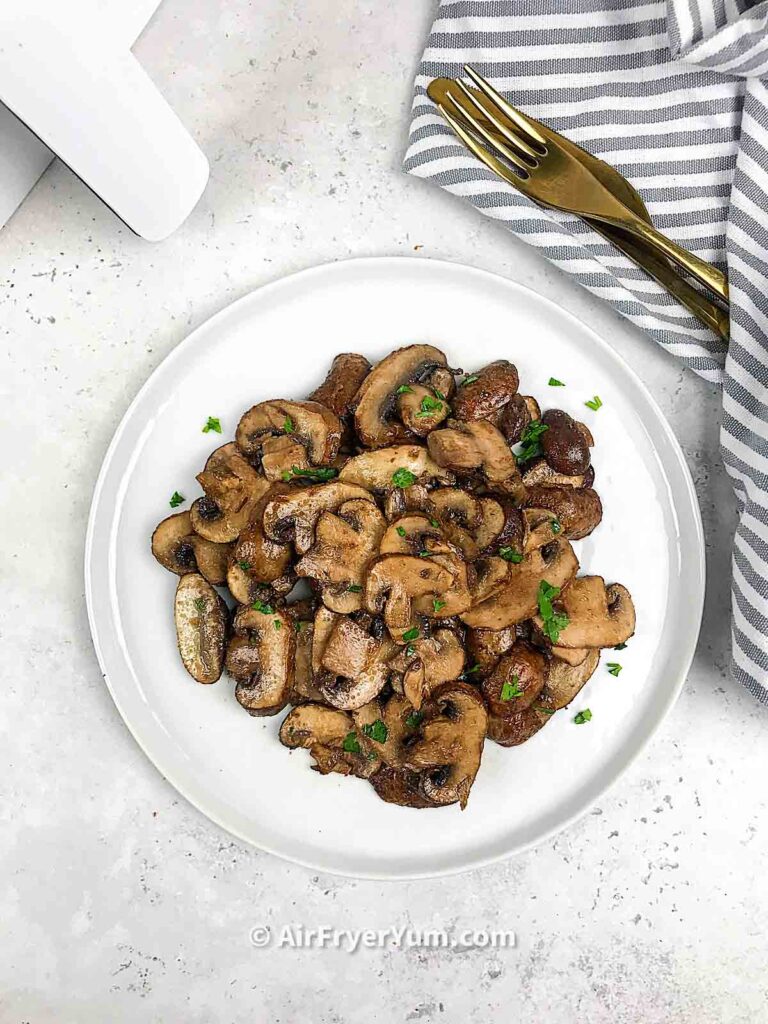 How to store
Air fried Mushrooms are best eaten immediately. However if you find that you must make these ahead or that you have leftovers, they would keep in a shallow air tight container in the refrigerator for up to 3 days.
Reheating
Reheat in the microwave on low power at 30 seconds intervals till warmed through. Alternatively reheat the mushrooms in the air fryer at 380F for 3 to 5 mins or till heated through. The timings mentioned will depend on quantity the more you have the more time it will take. Do not overcrowd the basket.
Air frying Tips
Wash and scrub the mushrooms gently to remove dirts. Place in a colander to drain.
Cut into similar slices so they cook eventually.
Do not overcrowd the basket for easy air flow.
Keep an eye on it, do not cook for too long or it will overcook or get burnt.
Check at the halfway mark and toss the mushrooms around with a spatula. Don't flip or shake basket because the mushrooms would have released some liquid which will be at the base of the basket. It will be hot and can scald if it touches your skin.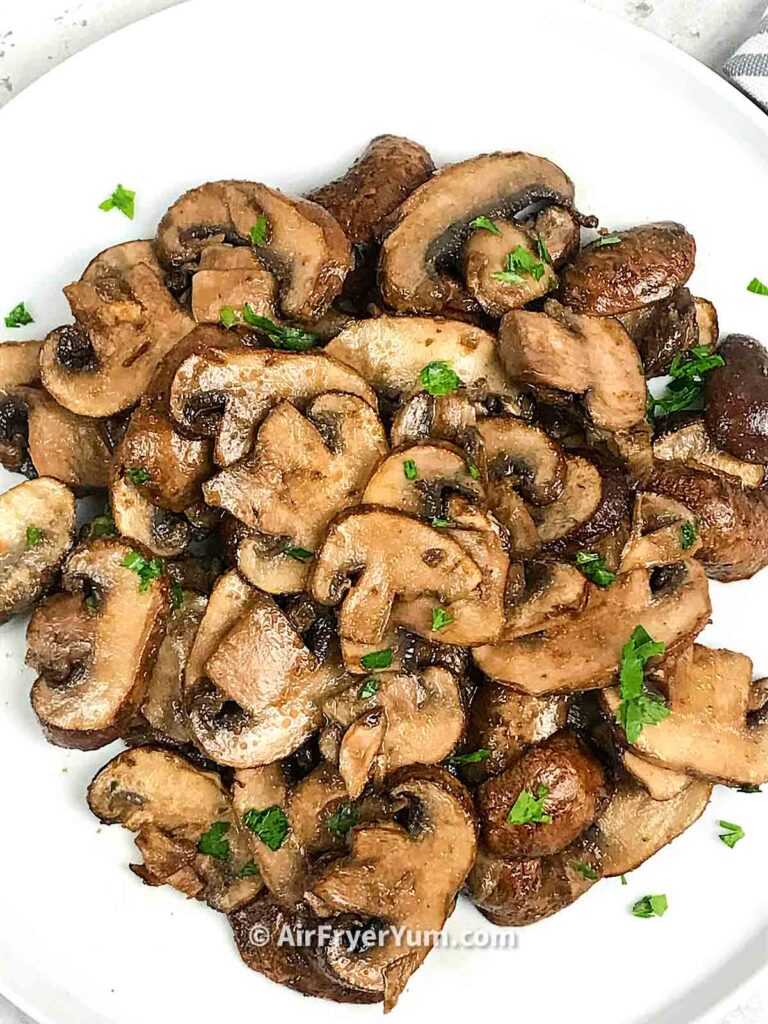 FAQs
Why are my air fryer mushrooms rubbery?
Mushrooms lose water as they cook. Over cooking the mushrooms make them lose a lot water and become rubbery.
---
Are air fried mushrooms crispy?
Generally mushrooms don't get crispy because they are not meant to be crispy the texture doesn't permit it. However they can be made to have a crunchy exterior when coated with batter or breadcrumbs. Try this breaded mushrooms recipe if you love crispy mushrooms.
You can also get your mushrooms off to a right start by not soaking them in water while washing. See section on how to clean mushrooms above.
---
What flavors do mushrooms add?
Mushrooms add an umami kind of flavor to recipes that's rich and savory.
---
Are mushrooms gluten free?
Yes mushrooms are naturally gluten free and can be included in a gluten free diet. Read more on the topic in this article if you or a loved ones are living gluten free.
---
More easy air fryer recipes
Check out all our >>>Air fryer Recipes!
Did you find this recipe helpful? Leave me a comment about it or any recipe idea you would love Air fryer 'yummed' and don't forget to share with family and friends.
Happy Air frying!
Love it? Pin it!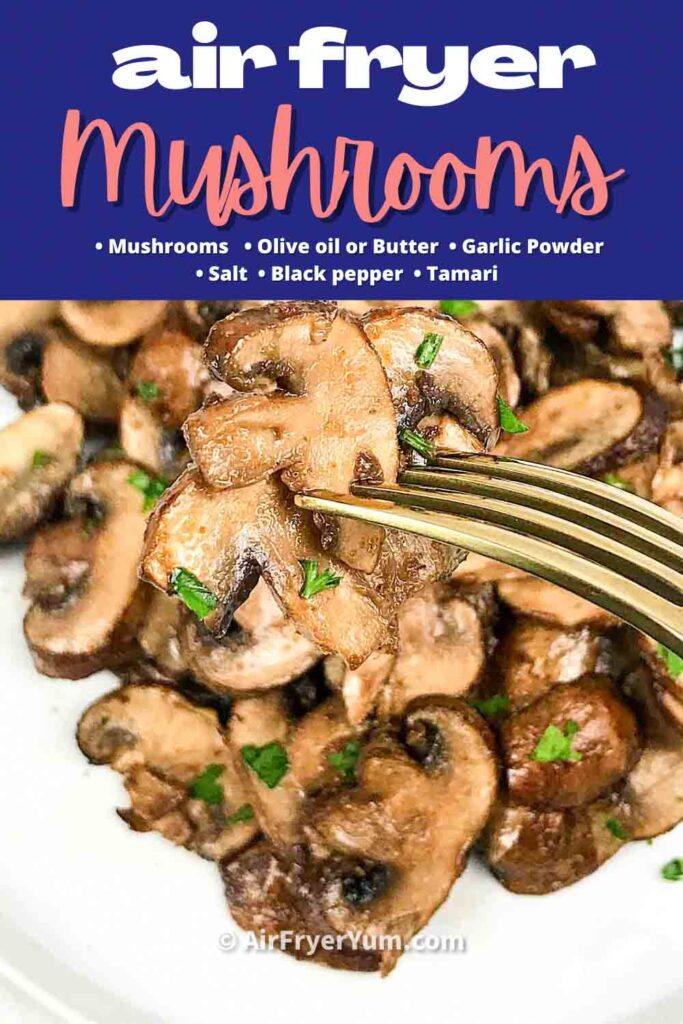 Looking for more air fryer recipes? Sign up for our yummy newsletter and Follow along on Facebook, Instagram, Pinterest and Tiktok for updates. Remember to Subscribe to my YouTube Channel for weekly videos.
Loving your air fryer much? Join other Air Fryer Buddies in our exclusive free Easy Air Fryer Recipes Group on Facebook!
New to the world of Air frying? We've got you covered. Check out our helpful >>> Air fryer Resources!
Shop all air fryers and air fryer accessories at our Amazon store.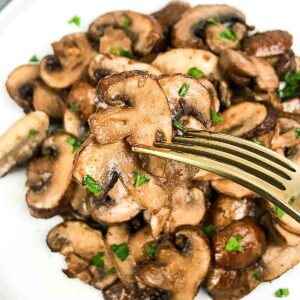 Air fryer mushrooms (Air fried Mushrooms recipe)
Air fryer mushrooms with no breading are the perfect side dish that fits into most diets including Keto, Low carb, Vegan and vegetarian. Air fried mushrooms are easy to make, flavorful and quick! It gets ready in less than 15 mins with minimal prep and a few pantry staples.
Equipment
Cosori air fryer 5.8 qt

Heat resistant Silicon spatula or spoons

Mixing bowl
Ingredients
16

oz

Mushrooms

(Cremini mushrooms aka Baby Bella mushrooms, Portobello or white mushrooms)

1

Tablespoon

Olive oil

¼

teaspoon

Cayenne pepper

¼

teaspoon

black pepper

1

teaspoon

garlic powder

⅛

teaspoon

salt or to taste

2

teaspoons

Soy sauce

(substitute with Worcestershire sauce or Tamari for gluten free)

1

Tablespoon

chopped parsley

(and/or lemon wedges for garnishing)
Instructions
Wash mushrooms gently, making sure to scrub off dirts. Let them drain in a colander then cut into even slices.

Transfer sliced mushrooms to a bowl, add oil, soy sauce, pepper, salt and garlic powder. Toss to combine and coat.

Put evenly coated mushrooms into air fryer basket, set temperapture to 380°F / 193°C and cook for 8 to 10 mins tossing half way through with a silicon spatula to ensure even cooking.

Serve with your choice of sides.
Notes
No need to preheat the air fryer.
Do not overcrowd the basket to ensure even cooking. Also remember to toss with a spatula halfway through the cooking time.
Shaking the basket to toss the mushrooms isn't recommended in this case because the mushrooms releases water while cooking and this will be hot and can pour on the person shaking the basket
Do not overcook the mushrooms. If your own specific air fryer tends to be very hot start checking 2 to 3 minutes earlier.
Nutrition
Calories:
86
kcal
Carbohydrates:
7.3
g
Protein:
4.2
g
Fat:
4.9
g
Saturated Fat:
0.7
g
Sodium:
305
mg
Potassium:
698
mg
Fiber:
1.1
g
Sugar:
2.9
g
Calcium:
29
mg
Iron:
1
mg
Nutrition Disclaimer
Nutritional information is an estimate and may change based on products used. Please read our Nutrition disclaimer page.
Subscribe to my YouTube Channel
Subscribe to Air Fryer Yum on YouTube for more detailed videos! Remember to click the bell icon to get notified when I upload new videos.
Save this Recipe for later!
Follow @AirFryerYum on Pinterest!