Move over potato chips, there's a new snack in town. This air fryer pasta chips recipe is the new tiktok trend. Tiktok is a social media platform that has a way of revamping existing recipes and turning them into a viral sensation.
If you are a frequent user of the platform, you'd remember Baked oats, Twisted bacon and baked feta cheese pasta. By the time you try these crunchy air fried bow tie pasta chips, they may just be your next fav snack! Did I say easy does it? Alright let's make some seasoned pasta chips cos we are going to have legit fun making these and dipping them in your favorite sauce.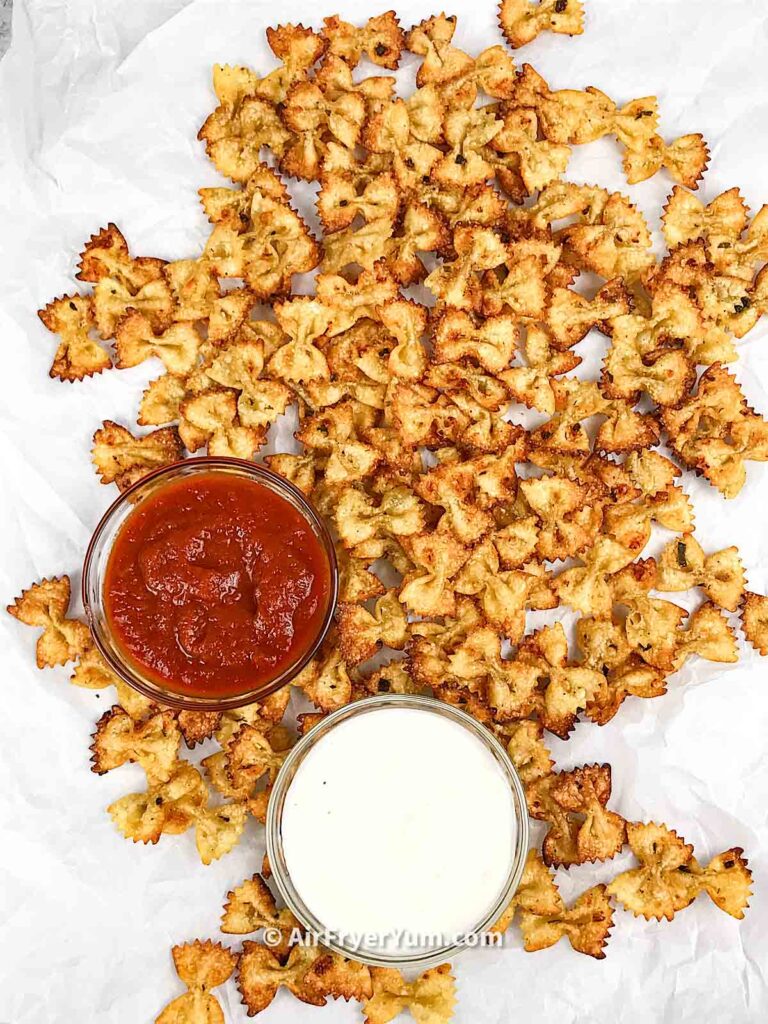 Pasta Chips Recipe (Viral Tiktok recipe)
This isn't a new recipe at all. Like I said Tiktok has a way of making existing recipes a rave. The first time I came across this recipe was on the web while looking up bow tie pasta recipes and a blog popped up with some air fried bow tie pasta chips.
If I remember correctly the recipe on the blog post was dated 2018. Fried Pasta actually existed longer than that.
Fast forward to June 2021 I begin to see it on tiktok pages of some popular bloggers I follow and yes I will be making it here on air fryer yum simply because it's tasty and easily adaptable and most importantly so easy to make.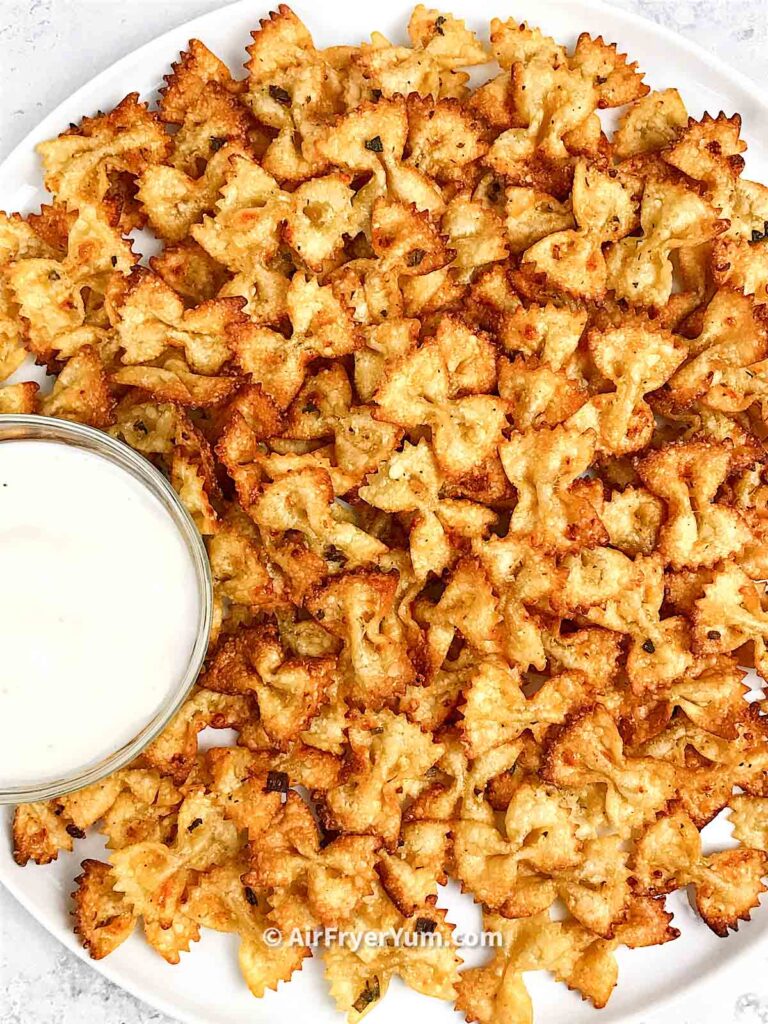 What are Pasta chips you might ask!
This is where Italian cuisine meets American cuisine. Think Pasta and potato chips or crisps in one. Well pasta chips are traditionally deep fried pasta where the pasta is first cooked, drained and fried.
There's a popular Olive Garden appetizer called loaded pasta chips made from cooked and fried lasagna pasta sheets. Other ingredients include cheese and meats and boy those are so good.
These pasta chips seem to have been made popular by @nick.digiovanni on tiktok he made crunchy deep fried pasta chips using farfalle (bow tie or butterfly pasta). I love that you can serve these with a variety of dips including olive dip!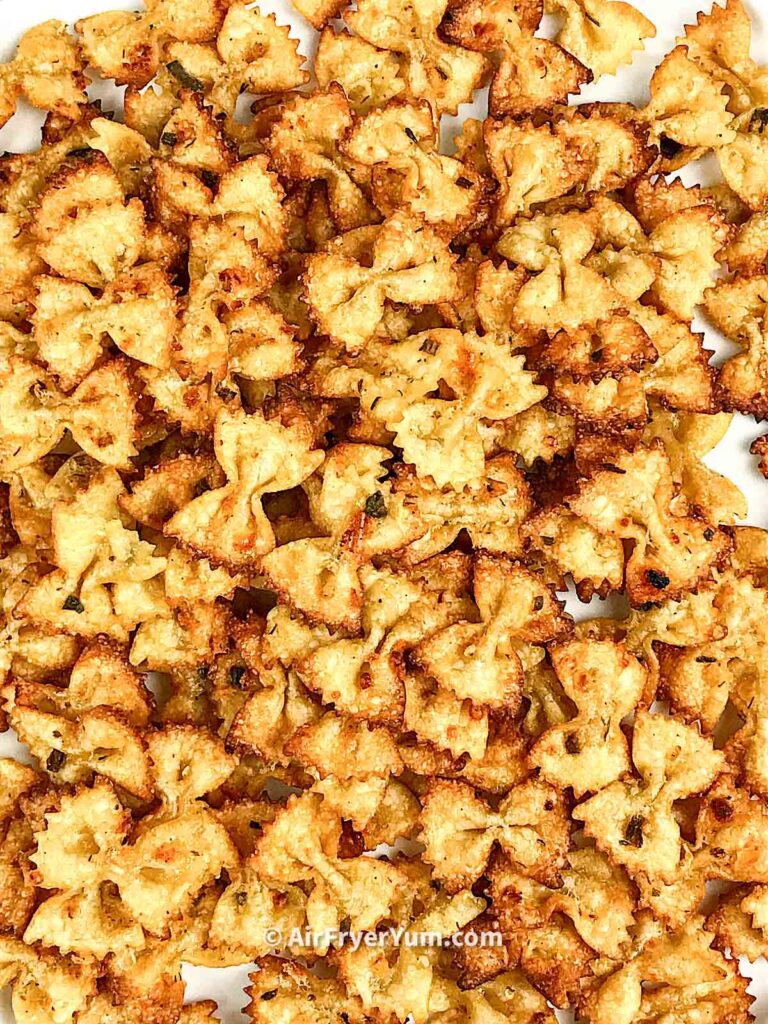 What ingredients do you need to make Pasta chips
Dry Pasta of choice: It's best to use pasta with a larger surface area to make it easier to grab and dip as you would with regular potato chips.
Salt: creates a nice flavor base for all the seasoning
Oil: For coating the pasta and helps crisp it up in the air fryer
Spice blend: Think of these as your potato chip base. I used ranch, chives and garlic. Use any seasoning you blend like. You can decide to use just garlic and salt if that's what you like.
Parmesan cheese: Adds a nice depth of flavor to these chips. Use freshly grated cheese for better flavor.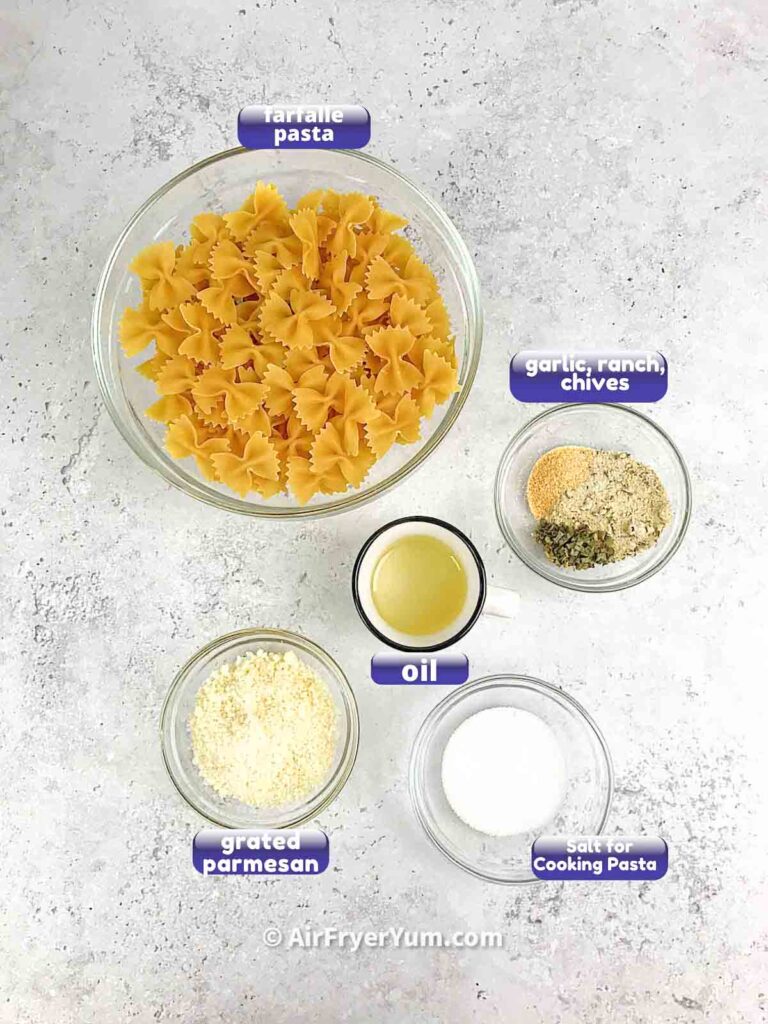 Best pasta shape to use
Since I will be making air fried bow tie pasta today, it's only natural that my choice of pasta would be Farfalle aka bow tie aka butterfly pasta. The following pasta shapes would work too.
Ziti
Rigatoni
Penne
Rotini
Lasagna sheets (break up into smaller pieces before cooking)
How to make pasta chips in the air fryer
Cook the pasta till it's al dente which means firm to the bite. Here is a guide to how to cook pasta perfectly. The length of time needed to get the al dente texture would vary based on the type & shape of pasta used.
Drain pasta with a colander, no need to rinse and yes discard the pasta water, you don't need it this time.
Add oil this will help the seasoning stick to the pasta.
Season with your choice of season. Toss to coat the pasta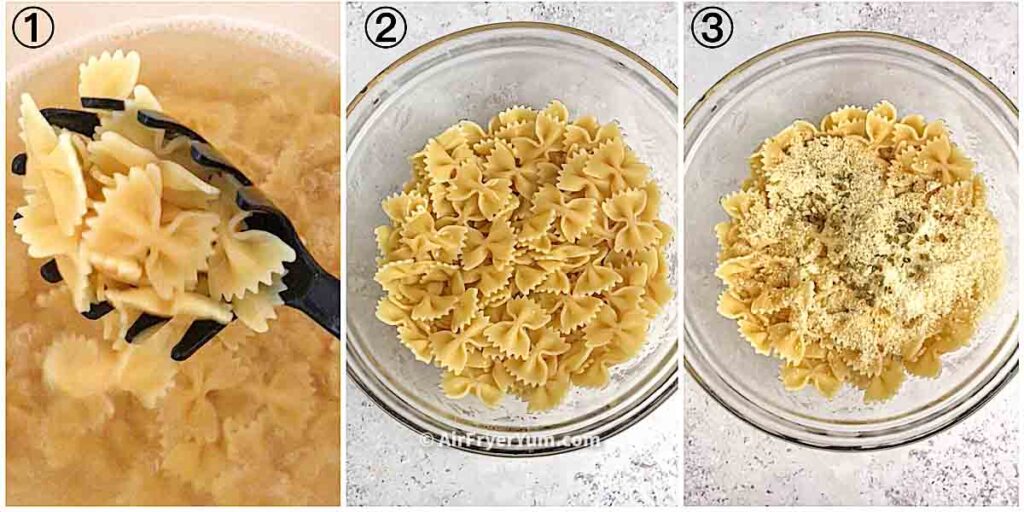 Air fry in batches at 400°F / 204°C for 8-10 mins.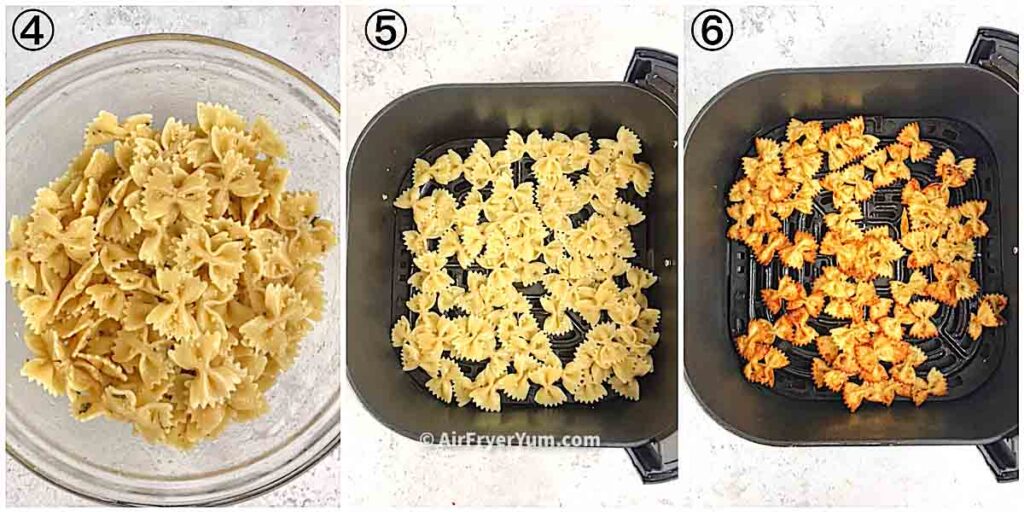 Like cookies, Pasta Chips crisp up some more as they cool so don't worry if it seems like it's not so crispy right out of the air fryer.
How to make it in the oven
Don't have an air fryer yet? You can make these in the oven. The following steps will walk you through how to bake pasta chips in the oven.
Preheat the oven to 400°F / 200°C / gas mark 6
Spread cooked, drained and seasoned pasta on a baking sheet. Bake for 20 to 25 mins stirring at 10 minute intervals to ensure even cooking.
Deep frying method
Cook, drain and season the pasta as described above, then fry in oil till golden brown. It's that easy.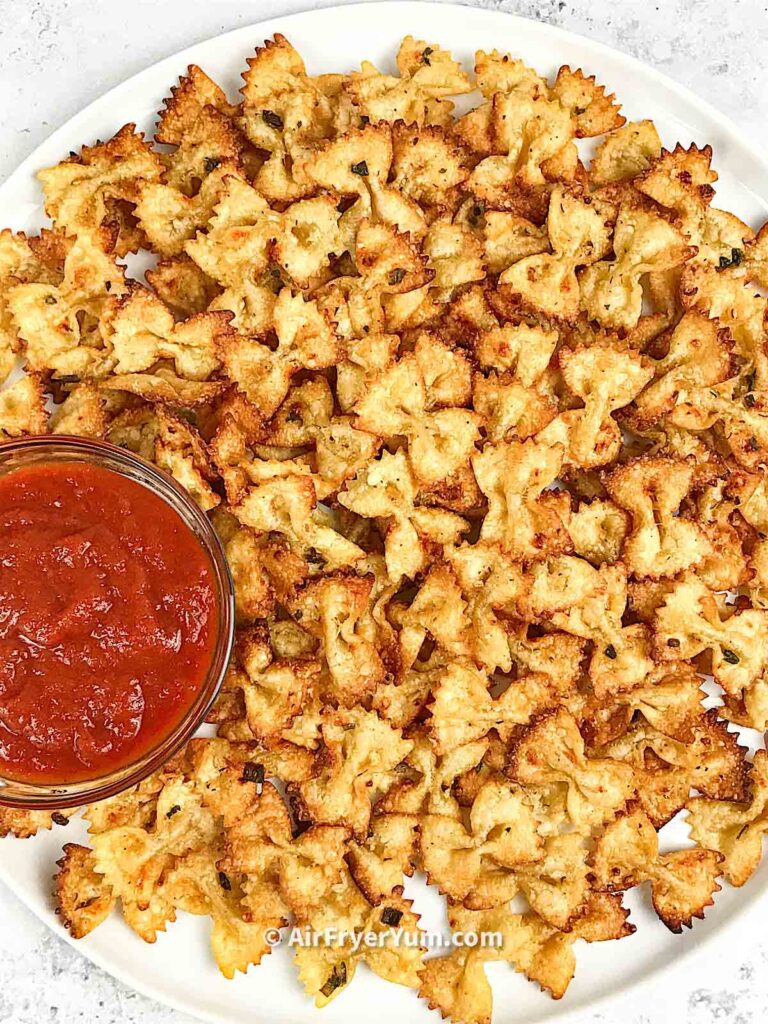 What do you serve these air fried bow tie pasta chips with
Serve these with your favorite dip below are a few suggestions
Marinara sauce
Ranch dip
Feta cheese dip
Pesto
Ketchup
How to use air fryer pasta chips
Besides dipping these crispy goodness in your favorite dipping sauce, did you know you could make loaded cheesy pasta chips similar to the famous Olive Garden loaded pasta chips.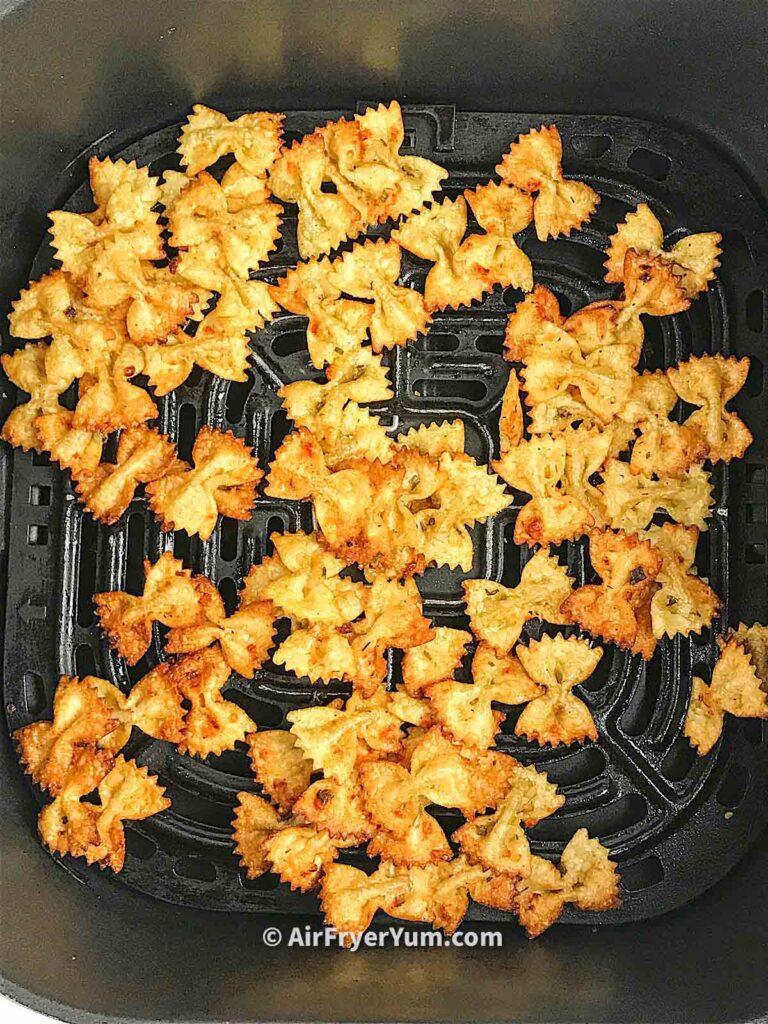 Air fryer Pasta Chips Flavor Variations
Today's recipe is proudly cool ranch! You can choose more options from that list below.
Nacho cheese pasta chips:
Ranch flavored Pasta chips
Spicy nachos
Cajun fried bow tie pasta
Cinnamon sugar pasta chips
How to store.
We love to enjoy these on the same day we make them. It can also keep for up to three days in an air tight container on the countertop.
Tips to make the best air fryer pasta chips
Salt the water: You would need to add extra salt than you would when making pasta that would be eaten immediately, here's why. This is probably your best chance to get those babies well salted. Not to worry if you don't get it well salted at this stage, you have the opportunity to do so when adding the seasoning.
Do not over cook the pasta. This is very important. You need to cook the pasta till it's just cooked and firm to the bite which is what we know as al dente.
Seasoning: The seasonings used here can be adapted to your taste. You can even make a cheddar cheese flavored version.
Do not overcrowd the basket. I cooked mine in 3 batches.
Diets or lifestyle: Use gluten free pasta to make it gluten free, use Renet free Parmesan to keep it vegetarian, use low carb pasta to keep it keto / low carb
If using an oven style air fryer, bake for up to 12 mins in the middle rack.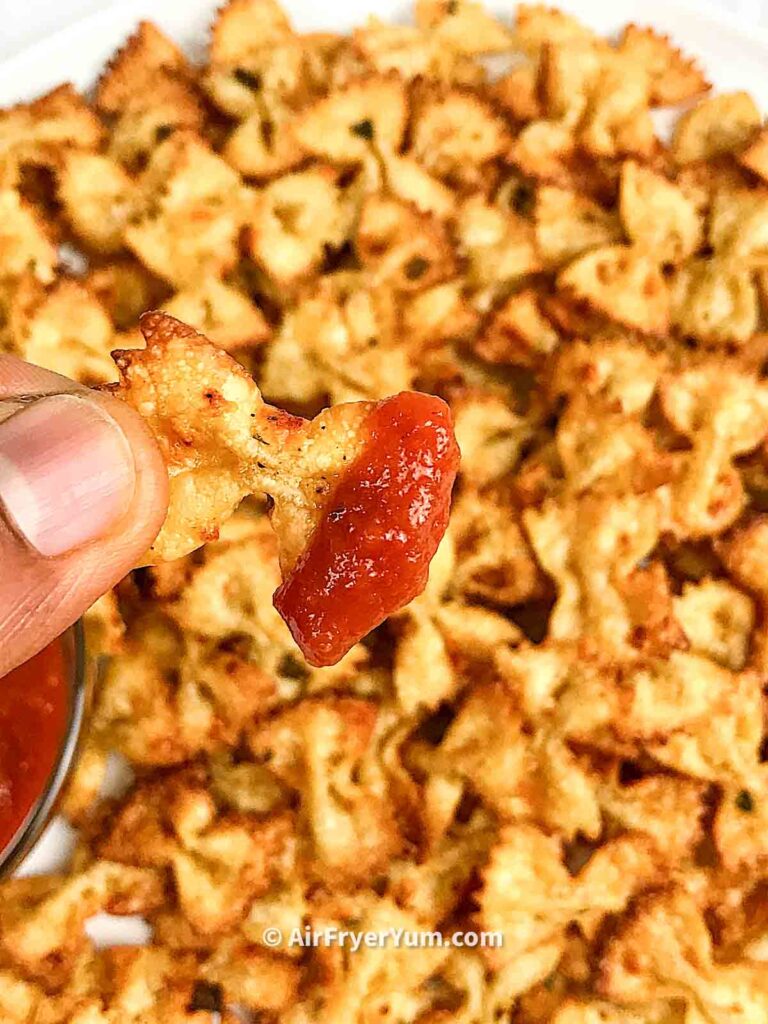 Frequently asked questions
Can you put pasta in the air fryer?
Yes you can. I have made Mac and cheese, baked feta pasta and this pasta chips a lot of times in my air fryer and it always turns out delicious.
What are pasta chips made of?
Pasta Chips are made from pasta.
Can you fry pasta?
Yes you can. Pasta chips were originally deep fried.
Guess what? We've got more Tiktok air fryer recipes
Loaded fries
Baked feta cheese pasta in the air fryer
Air fryer tornado potatoes
Other recipes to try
Check out all our >>>Air fryer Recipes!
Did you enjoy making this air fryer pasta chips recipe with me today? Leave me a comment about it or any recipe idea you would love Air fryer 'yummed' and don't forget to share with family and friends.
Happy Air frying!
---
Love it? Pin it!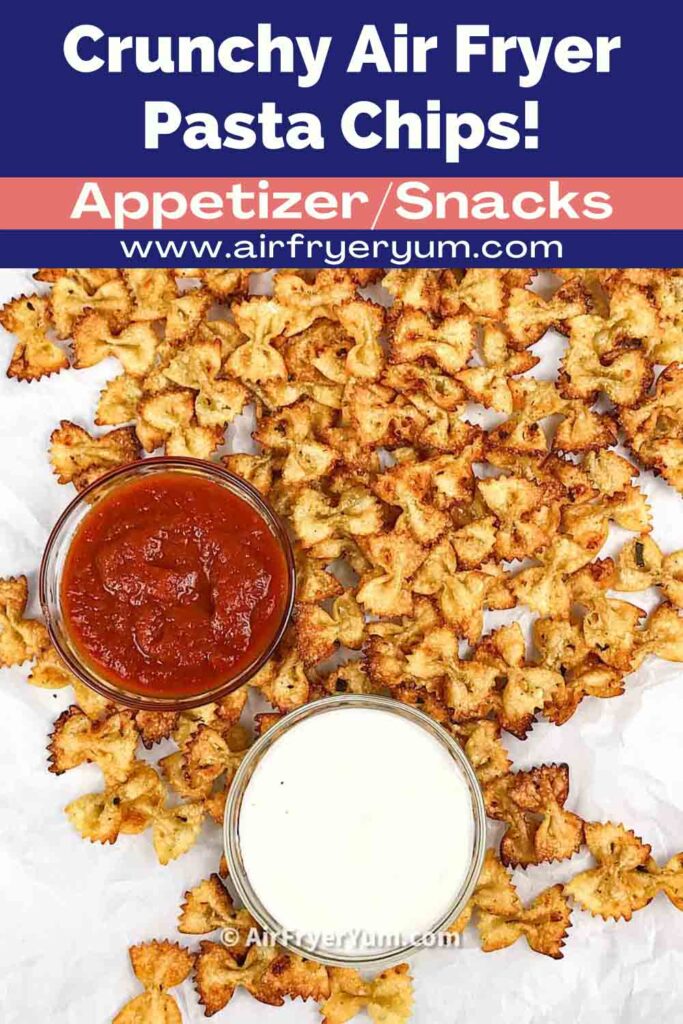 Looking for more air fryer recipes? Sign up for our yummy newsletter and Follow along on Facebook, Instagram, Pinterest and Tiktok for updates. Remember to Subscribe to my YouTube Channel for weekly videos.
Loving your air fryer much? Join other Air Fryer Buddies in our exclusive free Easy Air Fryer Recipes Group on Facebook!
New to the world of Air frying? We've got you covered. Check out our helpful >>> Air fryer Resources!
Shop all air fryers and air fryer accessories at our Amazon store.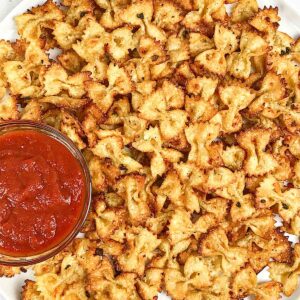 Air fryer Pasta chips ( Fried Bow tie pasta)
Move over potato chips, there's a new snack in town. This air fryer pasta chips recipe is the new tiktok trend. Tiktok is a social media platform that has a way of revamping existing recipes and turning them into a viral sensation.
Equipment
Air fryer

Colander

Stainless steel pot

Parchment paper
Ingredients
8

oz

Bow tie pasta or any pasta of your choice see note 1 for suggestions

1

tablespoon

salt

1

Tablespoon

Oil

1

Tablespoon

Ranch seasoning mix

1

teaspoon

garlic powder

½

teaspoon

chives
Instructions
Make the Pasta
Pour 4 quarts of water into a stainless steel pot and bring to a rolling boil

Add salt and pasta to boiling water and stir.

Let pasta cook till it's al dente. This will take 10-11 mins for Bow tie pasta (read manufacturers instructions for other types of pasta)

Drain pasta no need to rinse.
Season Pasta
Coat pasta with oil and add seasoning. Toss gently to coat.
Air fryer method
Transfer some seasoned pasta into the air fryer basket do not overcrowd the basket.

Set temperature to 400°F / 200°C and bake for 8-10 mins shaking at 4 mins intervals.

Transfer cooked pasta chips onto parchment paper lined tray to cool.

Repeat proceed till all the cooked pasta has been air fried.
Oven method
Preheat oven to 400°F / 200°C / gas mark 6

Spread seasoned pasta on an unlined baking sheet

Bake for 20 to 25mins or until golden brown. Remember to stir in between using a spatula.
Deep fried method
Heat up oil and fry seasoned pasta till golden brown.
Notes
Pasta options: Ziti, Rigatoni, Penne, Rotini
If using an oven style air fryer, bake in the middle rack. It may take 2 to 3 mins longer. Be sure to keep an eye on it.
Nutrition
Calories:
199
kcal
Carbohydrates:
31.6
g
Protein:
6.5
g
Fat:
4.7
g
Saturated Fat:
0.6
g
Cholesterol:
41
mg
Sodium:
1962
mg
Potassium:
110
mg
Fiber:
0.1
g
Sugar:
0.2
g
Calcium:
10
mg
Iron:
2
mg
Nutrition Disclaimer
Nutritional information is an estimate and may change based on products used. Please read our Nutrition disclaimer page.
Subscribe to my YouTube Channel
Subscribe to Air Fryer Yum on YouTube for more detailed videos! Remember to click the bell icon to get notified when I upload new videos.
Save this Recipe for later!
Follow @AirFryerYum on Pinterest!