Twisted bacon or bacon twists! Oh yes!another tiktok recipe is upon us. This easily adaptable keto friendly appetizer is not only great for breakfast, it's an amazing snack which is also perfect for entertaining. Bacon twists are usually made in the oven however today we are doing things differently. Did you know you can make bacon in the air fryer. Isn't it cool to know that in less than 15 mins you would be munching away on this yummy food that's trending on social media as of the time of this writing (April - May 2021)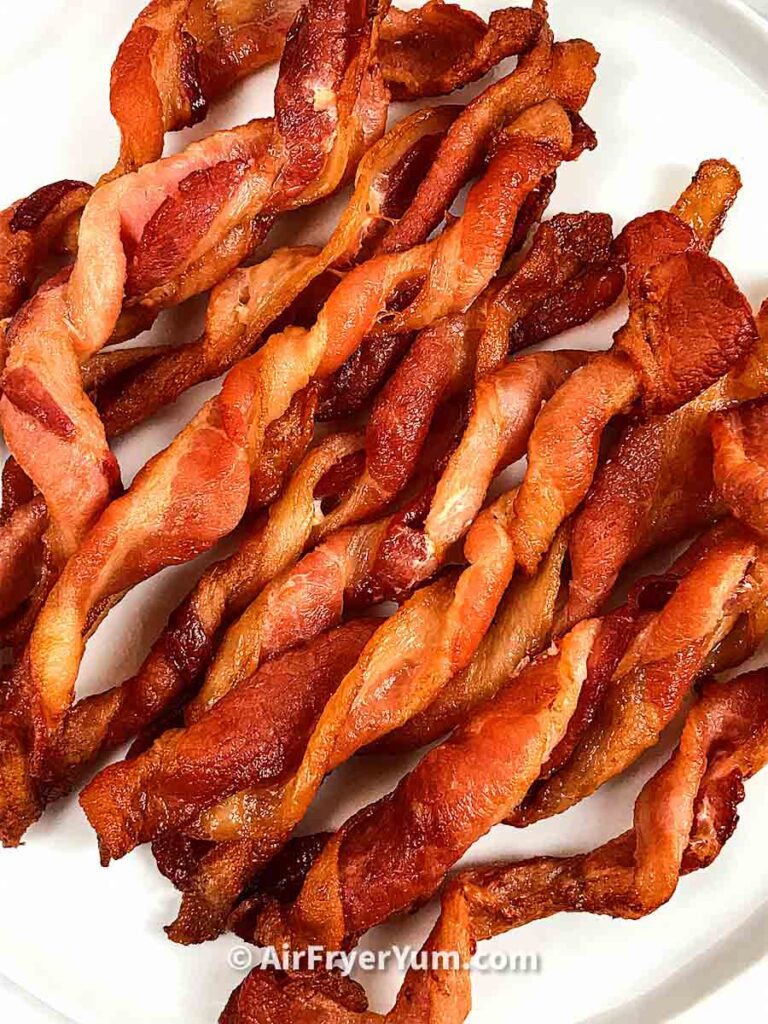 Air fryer Twisted bacon recipe.
Cooking bacon in the air fryer isn't new to me, in fact that's the only way I make it these days. You might be wondering why this recipe is so good right? We know air fryer bacon mess free but there's more, aesthetics!
Well if you like pretty and delicious food, this is it. The twists look like curls and are pretty on a plate with whatever side you want to have it with, hello scrambled eggs! These are the exact words of my 9 year old who has a keen eye for creative things.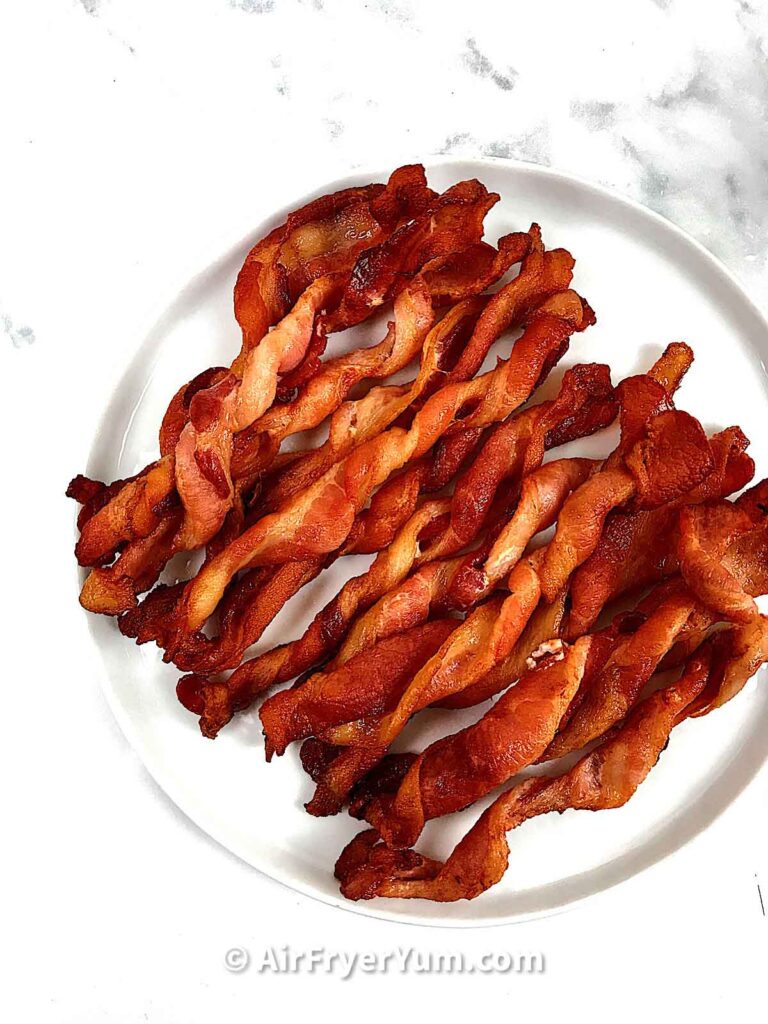 Tiktok Viral Food trends
The social media platform TikTok always seems to come up with food trends that go viral. Recipes like Dalgona coffee, Cereal Pancakes, Baked feta cheese pasta, Nature's Cereal, Baked oats of which I made three varieties Vanilla, Chocolate and blueberry and now we have bacon twists. I love trying them out cos it's so much fun.
This Trend is said to have been started by Abby Durlewanger, of @houseofketo on Tiktok. As at the time of this blog post, her video had over 3.5 millions views! Wow! Meanwhile are you following @AirFryerYum on Tiktok? If you aren't, please do, we'd love to hang out with you over there as well.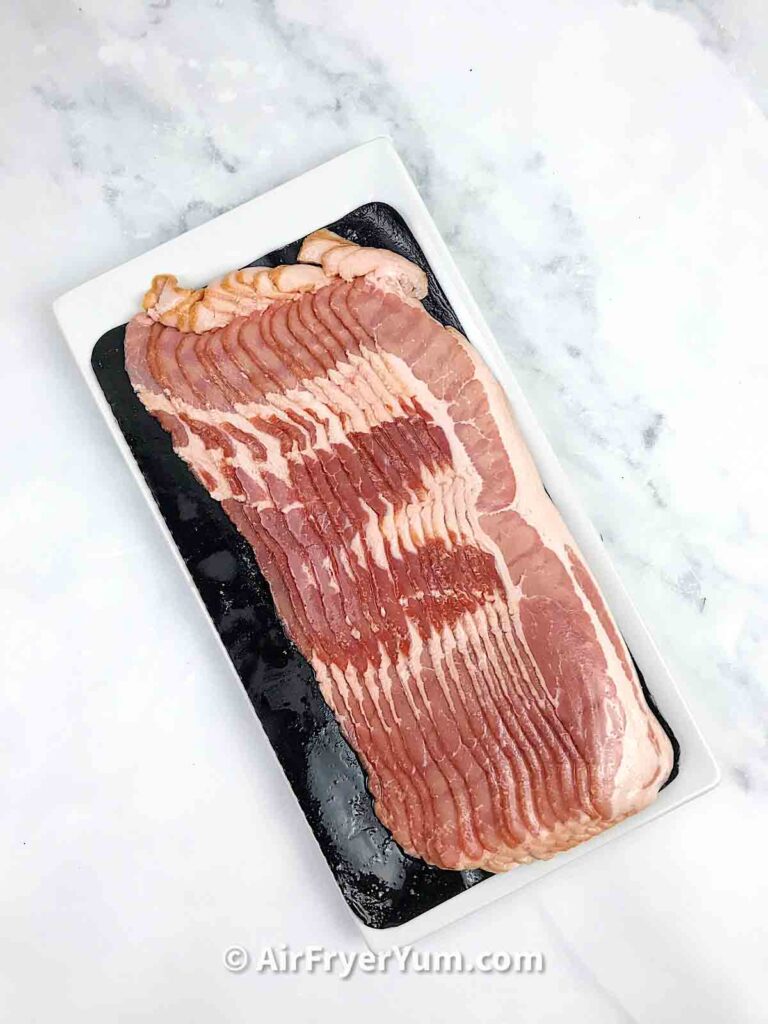 Is Twisted bacon crispy, What texture like?
Because of the bunching of curls in twisted bacon, the end product tends to have crispy edges and chewy centers. However for my crispy bacon lovers (my 5 yr old included) there is trick to achieving the crispy texture you love.
Tighter twists will yield crispy bacon twists. That's the secret.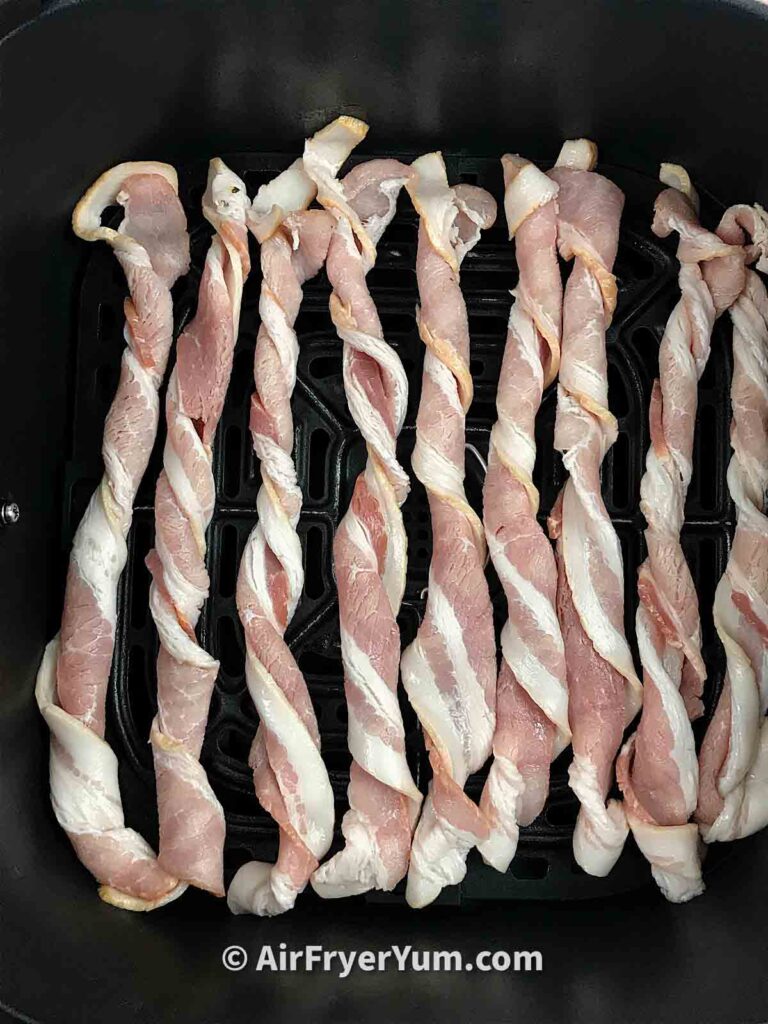 What do you need to make twisted bacon in the Air fryer
Just good ol' bacon and a bit of twisting technique. There are a variety of bacon flavors to choose from like maple, hickory smoked and honey bacon. I haven't tried making twisted bacon with thick cut bacon so I don't know how it would work. I don't know if it will twist properly, what I do know is that it will take longer to cook.
Perforated Parchment: This is optional but helpful when cleaning your air fryer basket. If you are wondering if you can put parchment paper in the air fryer, this guide covers the dos and don'ts and this video walks you through how to make one of you can't find the pre-made perforated parchment papers or perforated silicon mats in store or online.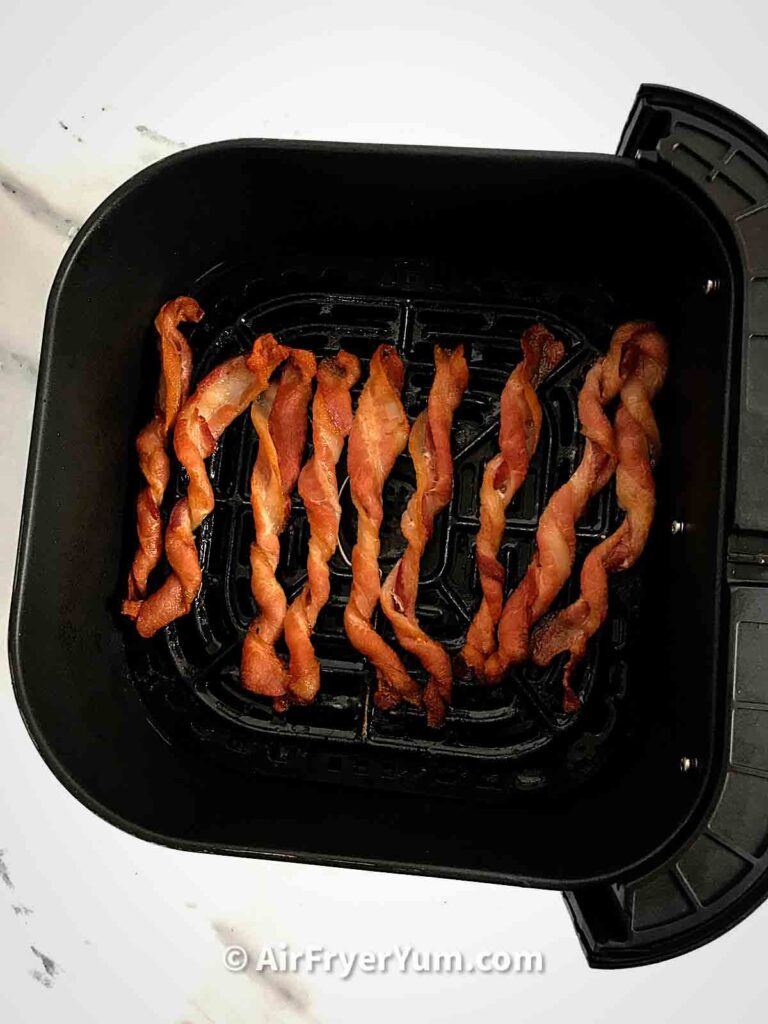 How to make Twisted bacon in the air fryer step by step
It's easier than you think and I have a video to show you just how to do it. In the meantime, you can read through the steps.
How to twist the bacon
First twist each bacon strip by holding not end steady with one hand and twisting the other end with your other hand. You can also twist by twisting with both hands going in opposite direction whichever way you prefer As you do this, you'll notice the bacon begin to form a twist.
This is the point to decide the texture you prefer, if you want the bacon chewy with crispy edges, make a loose twist.
For crispy bacon lovers, make tighter twists which will kind of stretch the bacon as you twist. Because of this, I would suggest you cut the bacon when making tight twists.
Time to Air Fry
Bake at 380°F / 194°C for 10-12 mins depending on how crispy you want these be. I chose to cook these at a lower temp than I did with my crispy air fryer bacon because of the twists. I wanted to give the bunching up in the middle time to cook.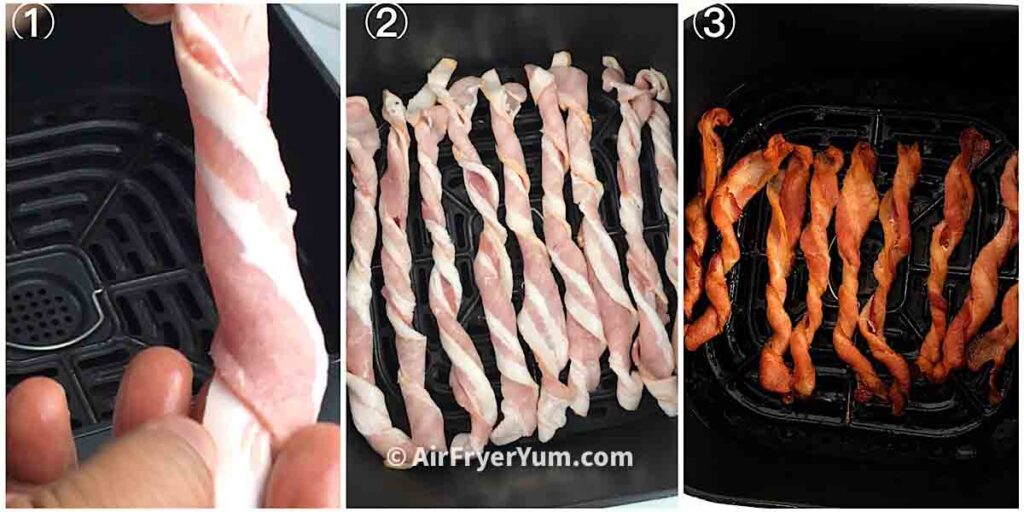 Make it in the oven.
If you don't have an air fryer yet, you can bake it in the oven. In the oven, you can even make a really large batch.
Twist the bacon and place on a rack in a baking sheet. Bake at 350°F for 25 to 30 mins or until your desired level of crispness.
Make it in the microwave
You can make bacon in the microwave too! Place it on a paper towel lined microwave safe plate and microwave in high for 4 - 5 minutes or to your desired level of crispy.
When cooking bacon in the microwave do not overlap. You would need to cook in batches.
Flavor Variations
The flavor variations of this keto friendly snack can be endless.
Million dollar twists (candied bacon)
Everything bagel bacon (remember to use unsalted everything but the bagel seasoning for this otherwise it will be too salty.
Spiced Bacon. Sprinkle any of your favorite spice blends like Cajun, Suya spice, jerk seasoning or peri peri seasoning.
Brown sugar cinnamon bacon twists
How to store cooked bacon
Cooked bacon can be stored in the fridge got up to 5 days and in the freezer for up to a month. To store cooked bacon correctly, Let it cool completely then transfer to a ziplock bag. Be sure to expel all the air before sealing.
Reheating
You can reheat in the air fryer at 300°F / 148°C for 3-4 minutes or in the microwave for a minute or 2.
Tips
I find it easier to twist the bacon when it's cold. If the bacon is at room temperature, pop it into the refrigerator for about 15 mins or in the freezer for about 5 minutes.
With twisted bacon, the air fryer basket tends to fit more bacon, actually up to a pound of bacon can fit nicely in there. If you are looking for crispy twists, then crowding the basket won't be a good idea.
If you are making tight twists aka crispy twists, you might need to cut bacon in half before twisting, that's if you intend to make it in the air fryer as the tighter twists tend to stretch and would be longer than the length of the air fryer basket.
Your Frequently Asked Questions Answered
Is it safe to cook bacon in the air fryer?
Yes it is. It's actually my best way to make it. It's mess free and crisps up nicely in less time than any other method.
What is the best temperature to cook bacon and for how long?
I usually cook flat bacon at 400°F / 204°C F for 8 mins. I cook bacon twists at a lower temperature of 380°F / 174°C for 10-12 mins because of the curls.
We have more keto friendly recipes
Other Appetizer recipes
Check out all our >>>Air fryer Recipes!
---
Did you find this recipe helpful? Leave me a comment about it or any recipe idea you would love Air fryer 'yummed' and don't forget to share with family and friends.
Happy Air frying!
---
Looking for more air fryer recipes? Sign up for our yummy newsletter and Follow along on Facebook, Instagram, Pinterest and Tiktok for updates. Remember to Subscribe to my YouTube Channel for weekly videos.
Loving your air fryer much? Join other Air Fryer Buddies in our exclusive free Easy Air Fryer Recipes Group on Facebook!
New to the world of Air frying? We've got you covered. Check out our helpful>>> Air fryer Resources!
Love it? Pin it!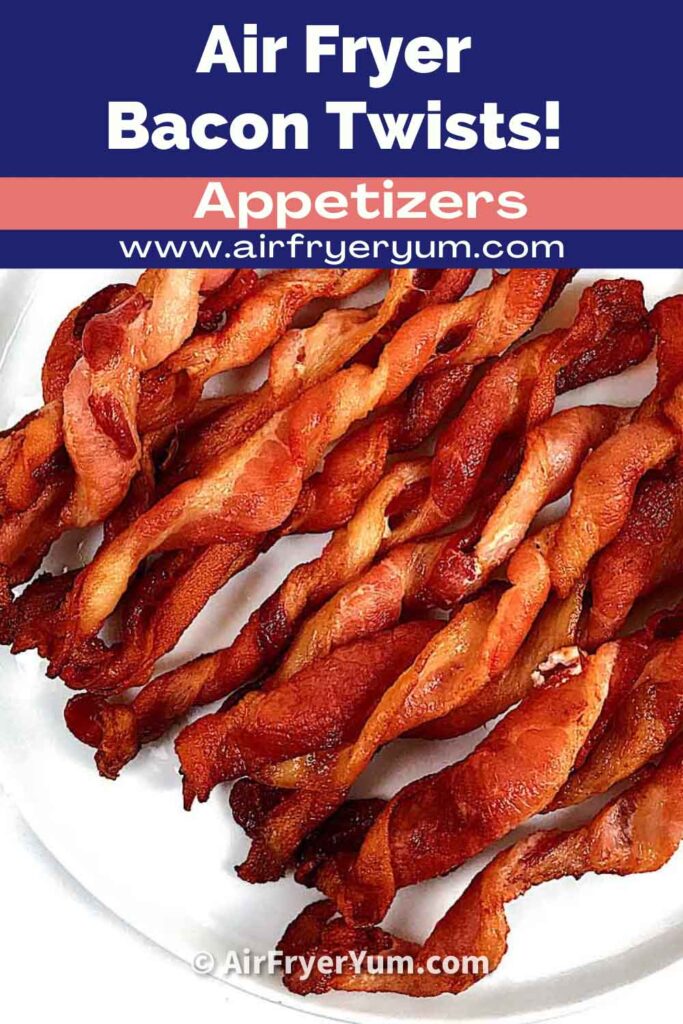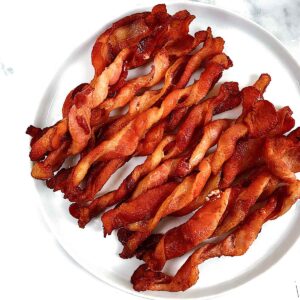 Bacon twists (How to make Twisted Bacon in the Air fryer)
Twisted bacon another tiktok recipe is upon us. This is easily adaptable keto friendly appetizer is not only great for breakfast, it also serves as a snack and is perfect for entertaining.
Ingredients
16

strips of bacon

(about 1 lb)
Instructions
Twist bacon strips and place in the air fryer basket. Doesn't matter if it's overlapping as the bacon would shrink while cooking

Bake 380°F / 194°C for 10 - 12 mins.
Video
Notes
No need to flip halfway through cooking time.
Bacon crispy some more as it cools.
Air fryer temperatures and times may differ depending on manufacturer be sure to read your manual.
I do not preheat my air fryer. However when cooking another batch right after the first I start checking the bacon at 7 mins since the air fryer is now preheated.
Please refer to body of post for other temperatures to cook your bacon
Nutrition
Serving:
2
Strips
Calories:
71
kcal
Carbohydrates:
0.2
g
Protein:
2.2
g
Fat:
6.8
g
Saturated Fat:
2.3
g
Cholesterol:
12
mg
Sodium:
113
mg
Potassium:
34
mg
Calcium:
1
mg
Nutrition Disclaimer
Nutritional information is an estimate and may change based on products used. Please read our Nutrition disclaimer page.
Subscribe to my YouTube Channel
Subscribe to Air Fryer Yum on YouTube for more detailed videos! Remember to click the bell icon to get notified when I upload new videos.
Save this Recipe for later!
Follow @AirFryerYum on Pinterest!