Air Fryer Cajun Shrimp is the perfect dinner recipe! A shrimp recipe with no breading that's perfect for any diet. The next time you're looking for a fast and easy shrimp weeknight meal, look no further than this!
The air fryer does all the work, and you get to enjoy the tasty rewards. Cajun shrimp cooked in just a few minutes of time? Count me in!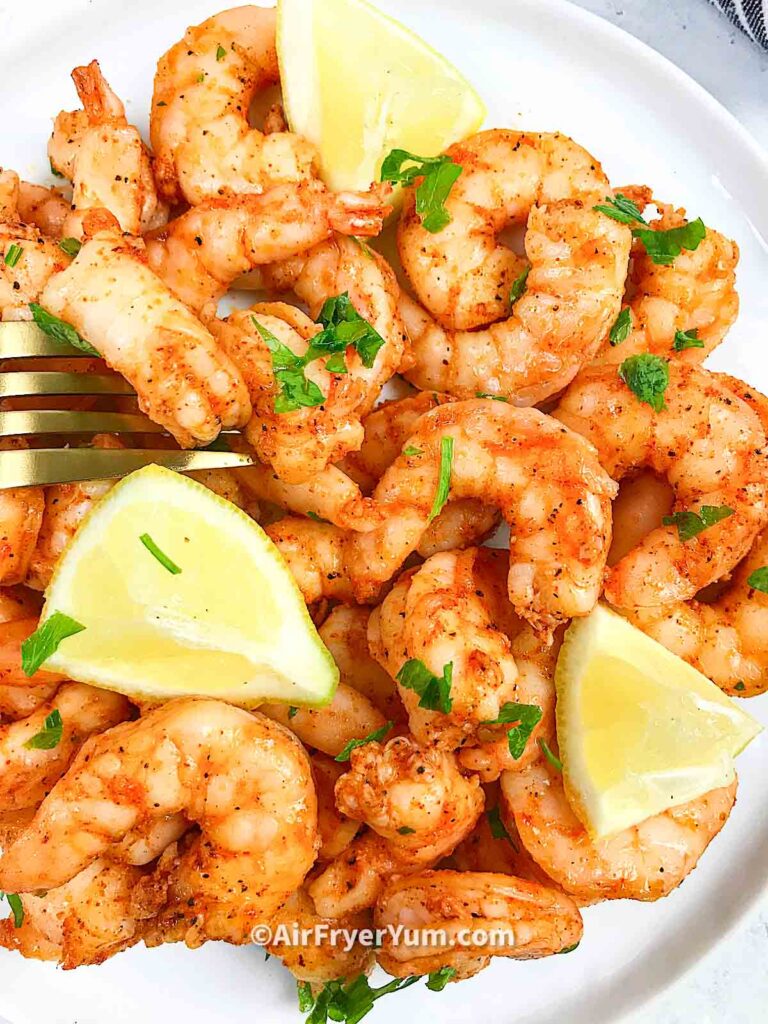 Air fryer Cajun Shrimp Recipe
Who says that cooking shrimp has to be hard to do? The air fryer is the dream appliance when it comes to crisping up those tasty prawns. Just a tad bit of seasoning and a short amount of cook time, and you'll love having the flavor of shrimp waiting and ready to enjoy.
Seriously, Air fryer Cajun shrimp needs to be the next meal at your house because it's so flavorful and simple. Even the kids will agree that eating shrimp like this is just like ordering take out at a restaurant!
Are you looking to include more seafood in your diet? You should try our air fryer Jerk Shrimp and Bacon wrapped shrimp! Take it a step further with this Mussels in cream sauce, recipe, absolutely delicious. I love that it has a dairy free option too.
Join our Air fryer recipes group on Facebook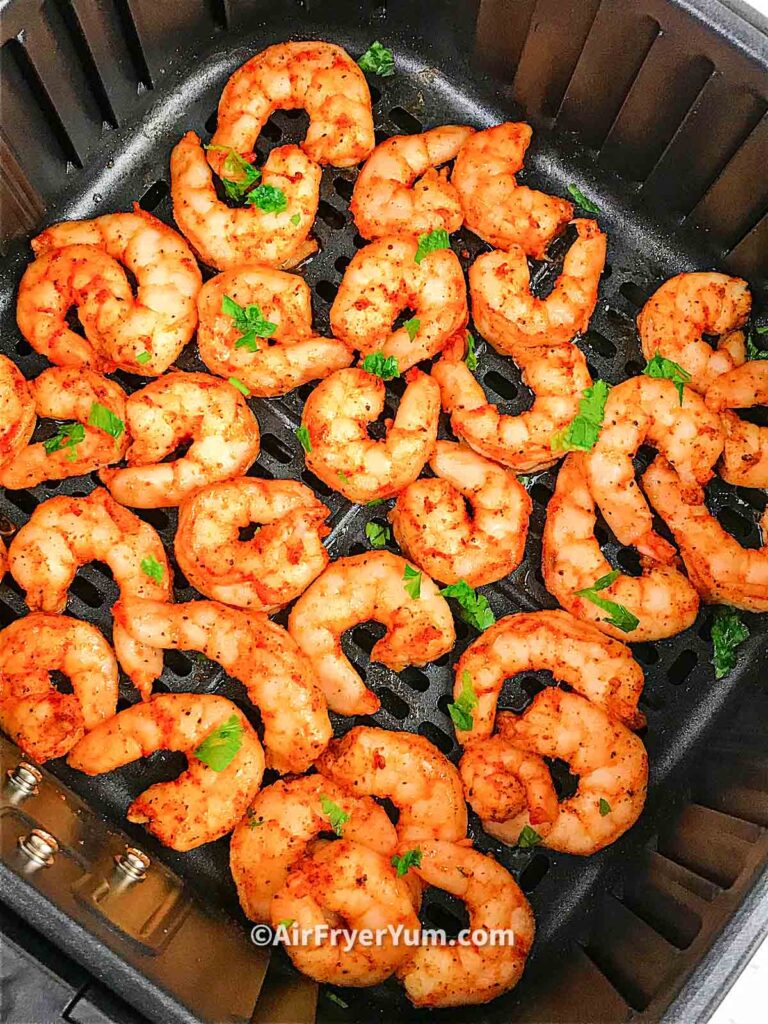 Easy air fryer shrimp with no breading
That's right! This recipe is made with no breading. So if you are gluten free, Keto or low carb, this Cajun shrimp will definitely be one of your go to recipes. Here are a few more reasons why we love this air fryer shrimp recipe.
Few and accessible ingredients
Perfectly cooked, flavorful and tender shrimp in every bite
Versatile recipe that is easily adaptable ace pairs perfectly with any side dish.
Easy low carb meal that's tasty and doesn't skimp on flavor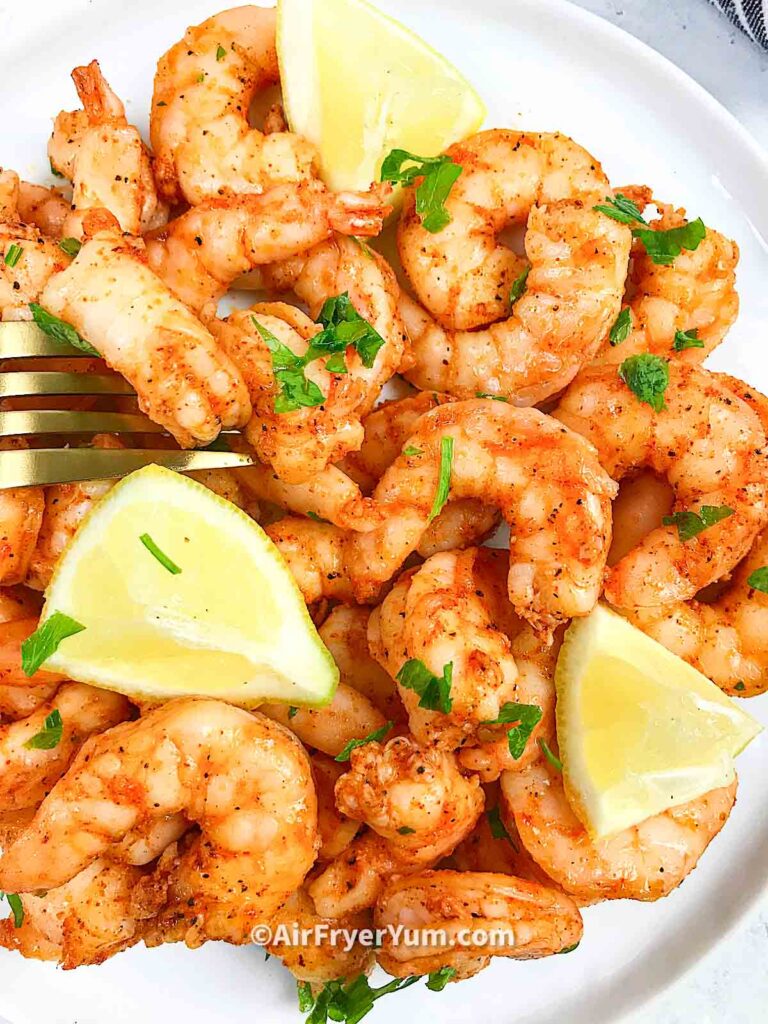 Ingredients
Raw Shrimp
Oil
Cajun seasoning
Garlic powder
Paprika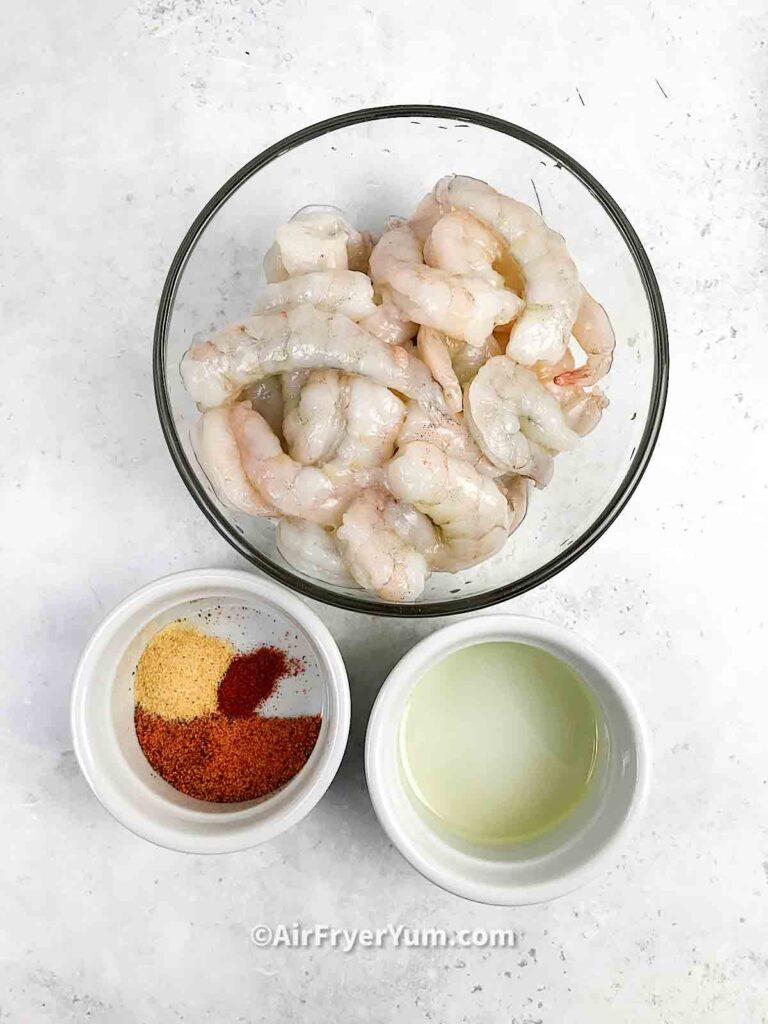 Cajun seasoning substitute
I used the store bought Cajun seasoning I had on hand. You can use homemade Cajun seasoning too. Below are some other alternatives for Cajun seasoning.
Creole seasoning
Old bay seasoning
Tools used for this recipe
The links below may contain affiliate links. As an Amazon associate and affiliate to other merchants, this website may earn from qualifying purchases. Please read full disclosure here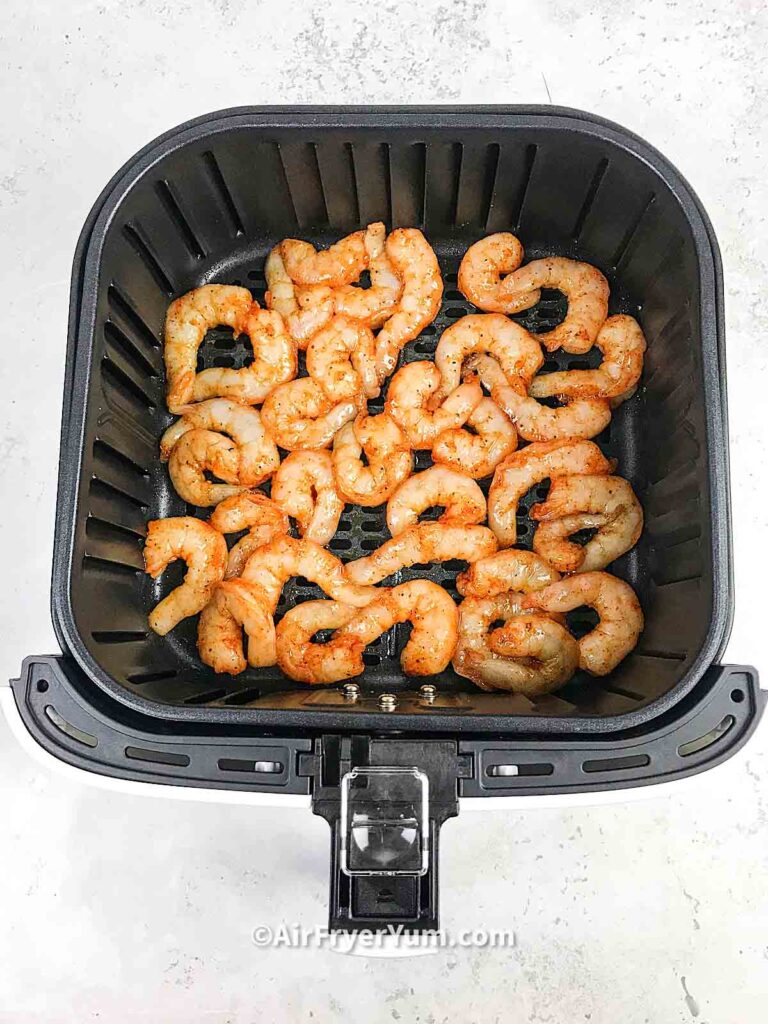 How long to cook Cajun Shrimp in air fryer?
Depending on how well done you like your shrimp. For fresh shrimps it would take any where from 10 to 14 mins at 400°F / 200°C in a non preheated air fryer.
Frozen raw shrimp will take 4 mins longer if cooked straight from frozen versus when thawed. If thawed, cook as fresh shrimps.
Precooked and Frozen: Cook for 6 to 8 mins.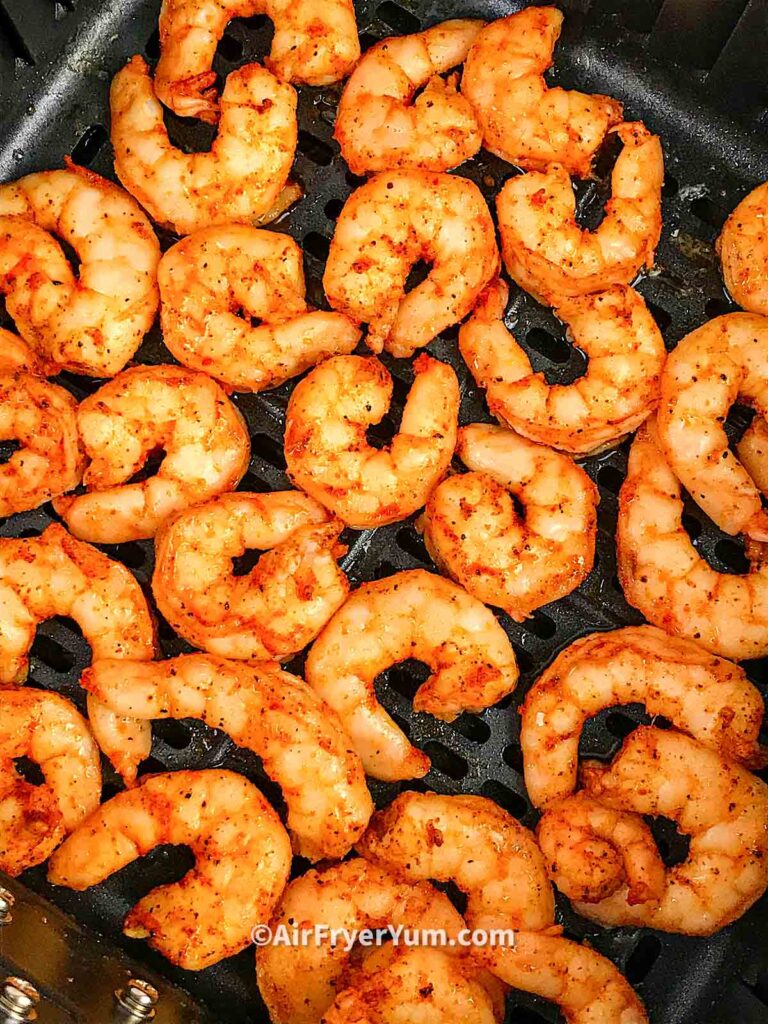 How to cook Cajun shrimp in the air fryer
This is an overview of the recipe with step by step photos. Scroll down to end of post for a printable recipe card with the amount of ingredients and full recipe instructions.
Clean and devein shrimp. Pat dry and season with Cajun, Garlic and paprika. Toss to coat.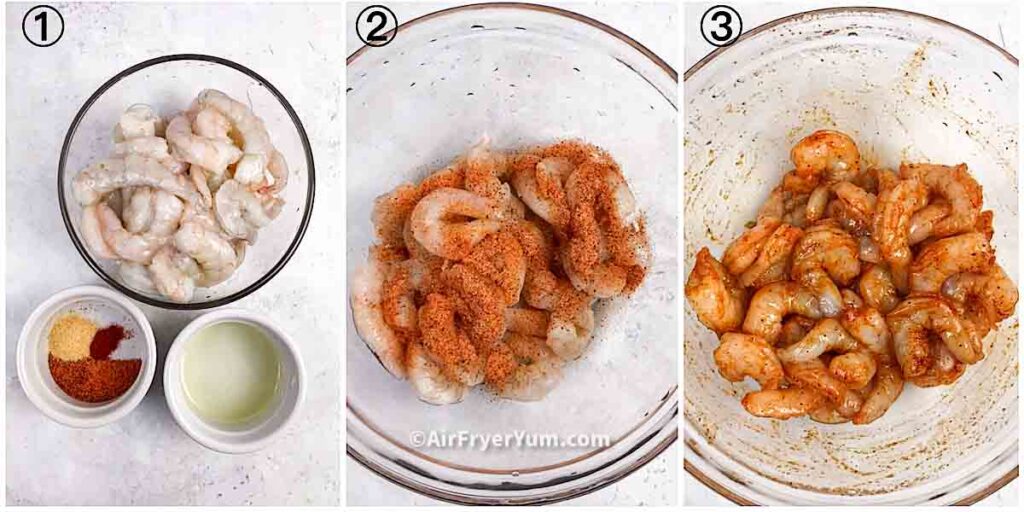 Transfer to air fryer basket and cook at 400°F / 200°C for 10 to 14 mins.
What to serve with Cajun shrimp
This cajun style shrimp in the air fryer is so simple to serve! This is one of those recipes that can be the main dish, or paired up with side dishes, too.
Just take the shrimp out of the air fryer basket and put it on a plate or directly on top of a pile of rice. These can be served with salads, grits, mashed potatoes and lots more!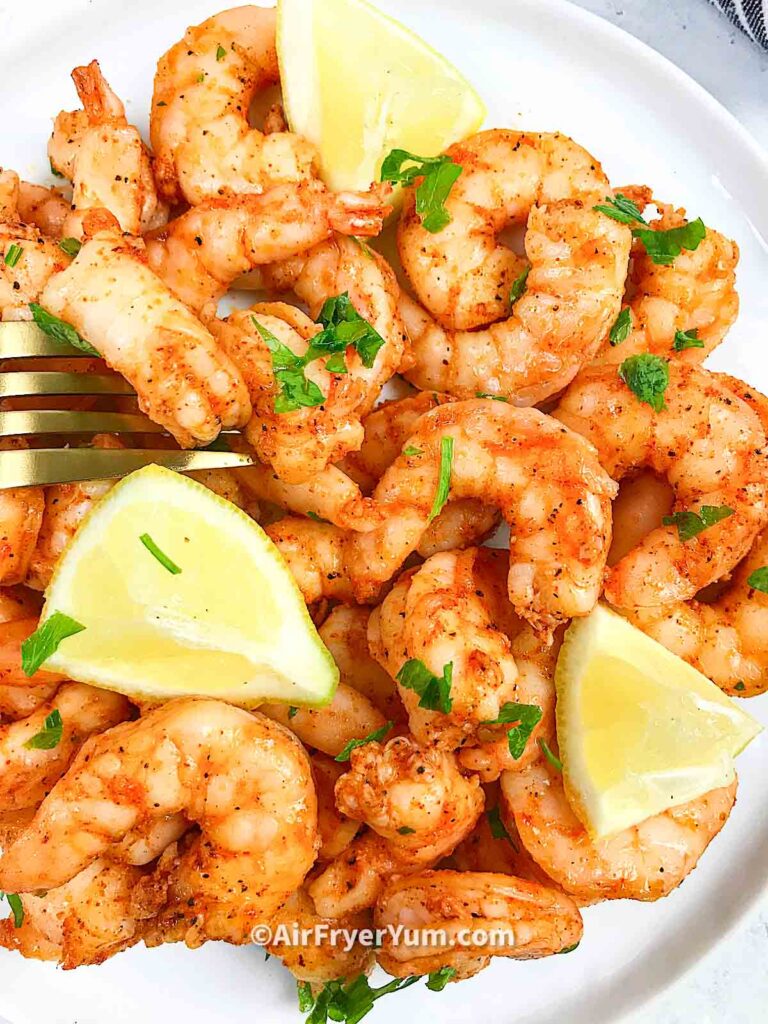 How to store and reheat
If you have leftovers of this air-fried shrimp, you're so lucky! Make sure that you let it cool down all the way and then store it in an airtight container in the fridge for up to 3 days.
When you're ready to reheat and enjoy, you can use your air fryer to warm it right back up. This will bring back some of that crisp as well!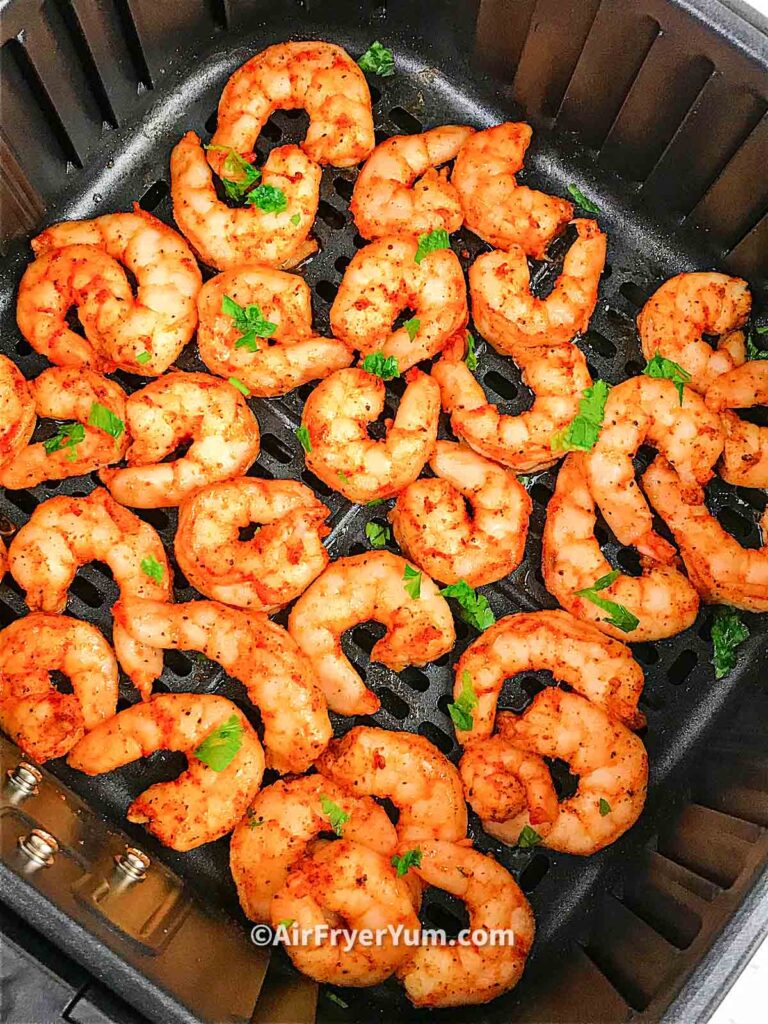 Air frying Tips
Pat shrimp dry with paper towel to ensure seasoning sticks.
No need to preheat the air fryer. However, if you do, it would cook faster than stated in this recipe.
Do not over crowd the basket. Cook in batches if needed.
Store bought Cajun seasoning tends to have more salt than homemade. If using home made Cajun seasoning for this recipe, you can use up to 2 tablespoon and leave out the paprika.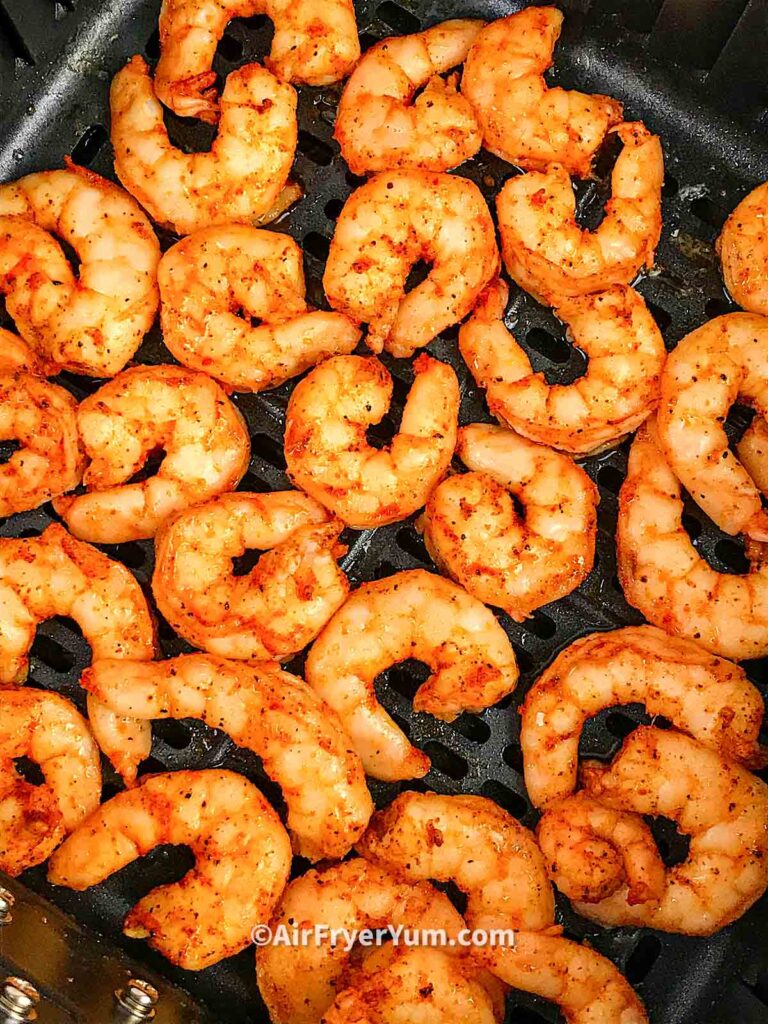 FAQs
Can you cook frozen shrimp in air fryer?
Yes you can cook frozen shrimps in the air fryer, straight from frozen or thawed. If using frozen shrimp for this recipe, cook in the air fryer for 5 mins to thaw, scoop out into a bowl and season.
Drain the liquid in the basket before transferring the seasoned shrimp back to continue cooking. This step will ensure the shrimps crisp up instead of steaming.
Is Cajun seasoning spicy?
Generally Cajun seasoning is said to be spicy. These days store bought Cajun tend to have the hot and mild options. Homemade Cajun seasoning can be adapted to suite your taste.
Undercooked Shrimp? Here's how to know when shrimp is done.
Raw shrimp is usually translucent, greying and limp. To avoid eating or serving undercooked shrimp, pay attention to these qualities. Fully cooked shrimp would be opaque not translucent, pinkish not grayish, firm not limp and curved not straight.
If you try this recipe, show it off on Instagram! Be sure to Follow and Tag @Airfryeryumblog on Instagram and use the hashtag #airfryeryumblog so we can see your recreations!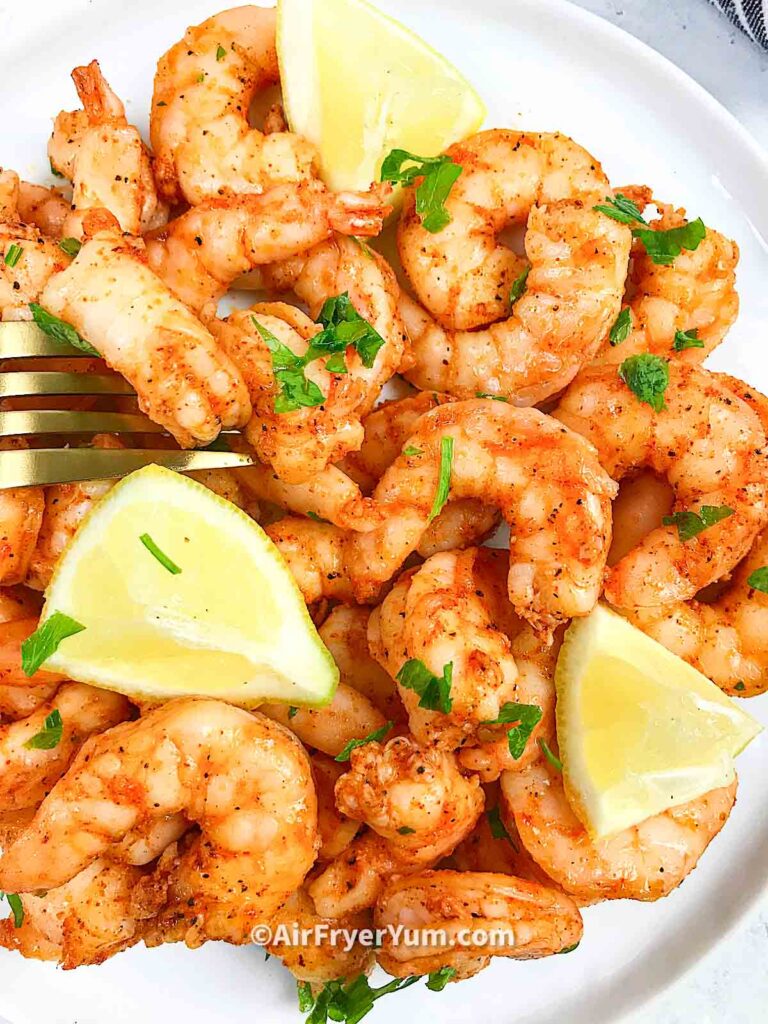 Did you find this recipe helpful? Leave me a comment about it or any recipe idea you would love Air fryer 'yummed' and don't forget to share with family and friends.
Happy Air frying!
Love it? Pin it! Then follow Air Fryer Yum on Pinterest for more deliciousness!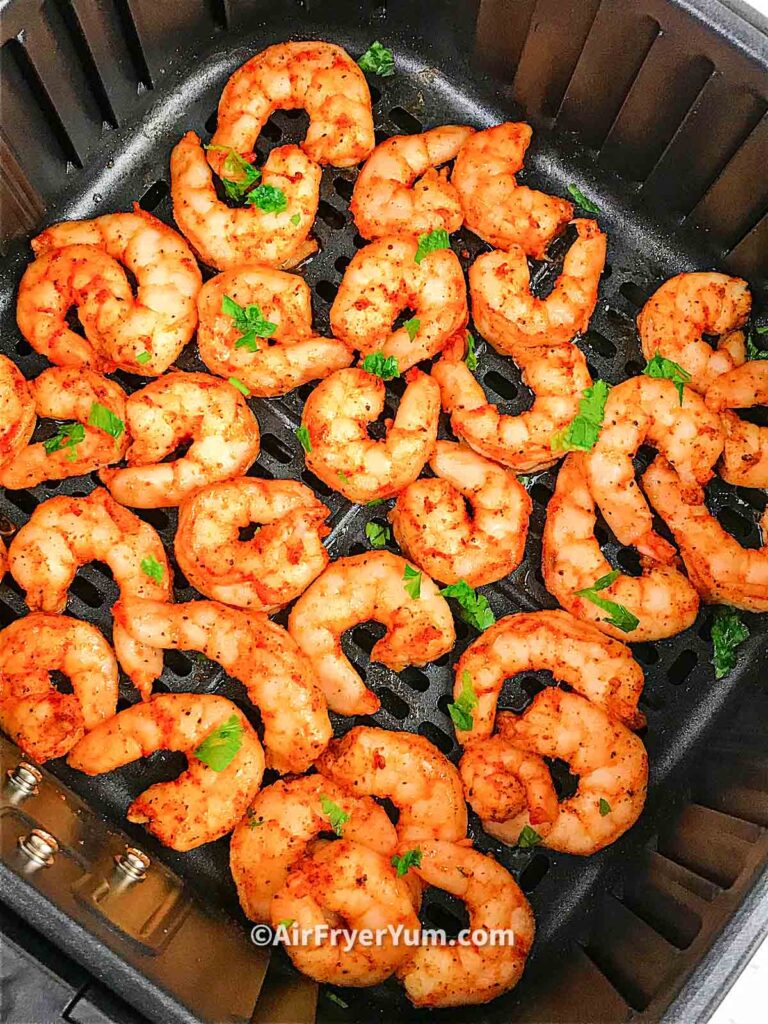 Looking for more air fryer recipes? Sign up for our yummy newsletter and Follow along on Facebook, Instagram, Pinterest and Tiktok for updates. Remember to Subscribe to my YouTube Channel for weekly videos.
Loving your air fryer much? Join other Air Fryer Buddies in our exclusive free Easy Air Fryer Recipes Group on Facebook!
New to the world of Air frying? We've got you covered. Check out our helpful >>> Air fryer Resources!
Shop all air fryers and air fryer accessories at our Amazon store.
Air Fryer Yum's Pro Tip! Air fryer temperatures may vary depending on size, make and model. When making a recipe for the first time, start with less time, check for doneness then add more time as needed.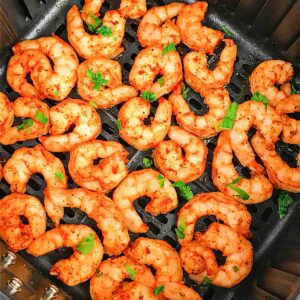 Air fryer Cajun shrimp Recipe
Air Fryer Cajun Shrimp is the perfect dinner recipe! A shrimp recipe with no breading that's perfect for any diet. The next time you're looking for a fast and easy shrimp weeknight meal, look no further than this!
Ingredients
1

lb

Jumbo shrimps

(tail on or tail off)

11/2

Tablespoons

oil

2

teaspoons

Cajun seasoning

1

teaspoon

garlic powder

½

teaspoon

Paprika
Instructions
Fresh Shrimps
Clean and devein shrimps if you didn't buy the it that way already.

Pat dry with paper towel, add oil, Cajun seasoning, Garlic powder and Paprika. Toss to coat. Ensure the shrimps are evenly coated.
Air fry
Transfer seasoned shrimps to air fryer basket or air fryer safe bowl if you prefer and cook at 400°F / 200°C for 10 to 14 mins or to your desired level of doneness.

Remember to flip the shrimps or shake the basket halfway through cooking time to ensure even cooking.
Frozen Shrimps
Place frozen cleaned shrimps in a bowl of warm water for 30 mins and drain with a colander.

Pat the shrimps dry with paper towel toss in seasoning, transfer to air fryer basket and follow same instructions above.

Serve with dipping sauce or as a side dish
Notes
I used fresh shrimps. If using frozen precooked shrimps, cook for 6 to 8 mins this depends on how well done you like your shrimps.
I would recommend Jumbo shrimps for this recipe.
If cooking shrimps straight from frozen, add 3-4 mins to cooking time (this will also depend on how done you like yours)
Nutrition
Calories:
164
kcal
Carbohydrates:
1
g
Protein:
23
g
Fat:
8
g
Saturated Fat:
1
g
Polyunsaturated Fat:
2
g
Monounsaturated Fat:
5
g
Trans Fat:
0.03
g
Cholesterol:
183
mg
Sodium:
136
mg
Potassium:
332
mg
Fiber:
0.4
g
Sugar:
0.1
g
Vitamin A:
512
IU
Vitamin C:
1
mg
Calcium:
76
mg
Iron:
1
mg
Nutrition Disclaimer
Nutritional information is an estimate and may change based on products used. Please read our Nutrition disclaimer page.
Subscribe to my YouTube Channel
Subscribe to Air Fryer Yum on YouTube for more detailed videos! Remember to click the bell icon to get notified when I upload new videos.
Save this Recipe for later!
Follow @AirFryerYum on Pinterest!
Did you make this air fryer Cajun shrimp recipe? Awesome! Please rate it by clicking the stars ⭐️⭐️⭐️⭐️⭐️ when you leave a comment below. If you loved it please share the link to this recipe with family and friends and in you favorite Facebook group.