Fingerling potatoes in the air fryer with fresh rosemary is one recipe you need to add to your weekly meal plan. These air fryer fingerling potatoes are packed full of flavor and require just a few ingredients.
The air fryer makes the best potato recipes in my opinion and takes less time to cook these to crispy yet fluffy perfection. This recipe will show you how to make fingerling potatoes in an air fryer and trust me when you do, you won't be making it any other way.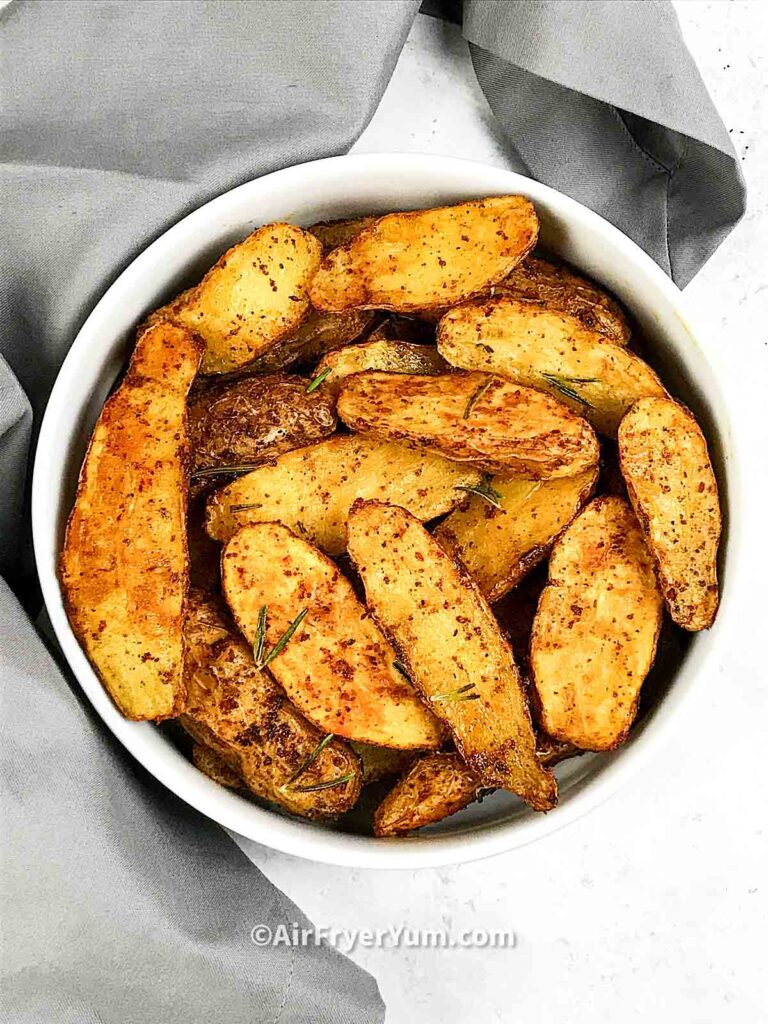 Air fryer fingerling potatoes (Fingerling potatoes in air fryer)
Potatoes are some of the recipes that are best made in the air fryer because they turn out perfectly cooked and in less time than any other methods with similar outcome. These air fryer fingerling potatoes never disappoint.
Whether roasted fingerling potatoes are served as a standalone or with steak or eggs, you will definitely be making these again because they are so good.
Did you know that Rosemary is one of the best herbs to include in your potato seasoning it's adds a depth of flavor that can't be matched.
What are fingerling potatoes?
Fingerling potatoes are small, elongated and somewhat stubby looking potatoes that look like they are shaped like fingers. These are fully grown potatoes and shouldn't be confused with baby potatoes or new potatoes that are harvested before they are fully grown.
They can be boiled, baked, smashed, fried or air fried. They can be used in recipes where any potato species can be used.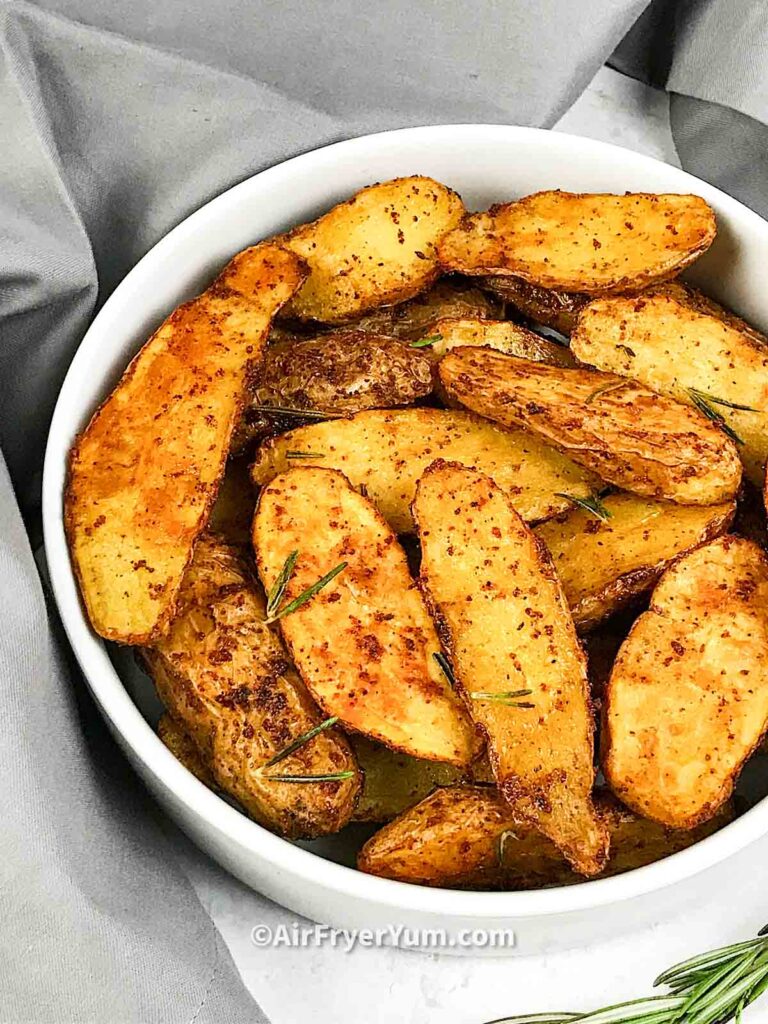 Why you'll love this recipe
Super easy to make! This is a perfectly beginner friendly air fryer recipe.
Potatoes are Budget friendly and versatile.
Roasted fingerling potatoes Family friendly and picky eater approved.
Vegan and vegetarian and a great option for meatless Mondays.
Related: Air fryer baby potatoes, red potatoes and onions in air fryer, air fryer meatless Monday recipes
Ingredients
Fingerling potatoes
Oil
Garlic powder
Paprika
Salt
Fresh Rosemary
Onion powder
Substitutions
Type of Potato: Any potato would work for this recipe. You can use Baby potatoes, heirloom potatoes, Irish potatoes, russet potatoes or golden potatoes. If using larger potatoes simply cut into cubes.
Seasoning: You can use any mix of seasoning and herbs you like. You can even use specialty seasoning blends like Suya spice, Cajun seasoning etc.
Tools use for this recipe
The links below may contain affiliate links. As an Amazon associate and affiliate to other merchants, this website may earn from qualifying purchases. Please read full disclosure here
How long to air fry fingerling potatoes?
Air fryers differ in how long it takes to cook food. Preheating the air fryer will result in a relatively faster outcome without including the preheat time.
These air fryer fingerling potatoes got ready in 18 mins at 400°F / 200°C in my Cosori 5.8qt air fryer.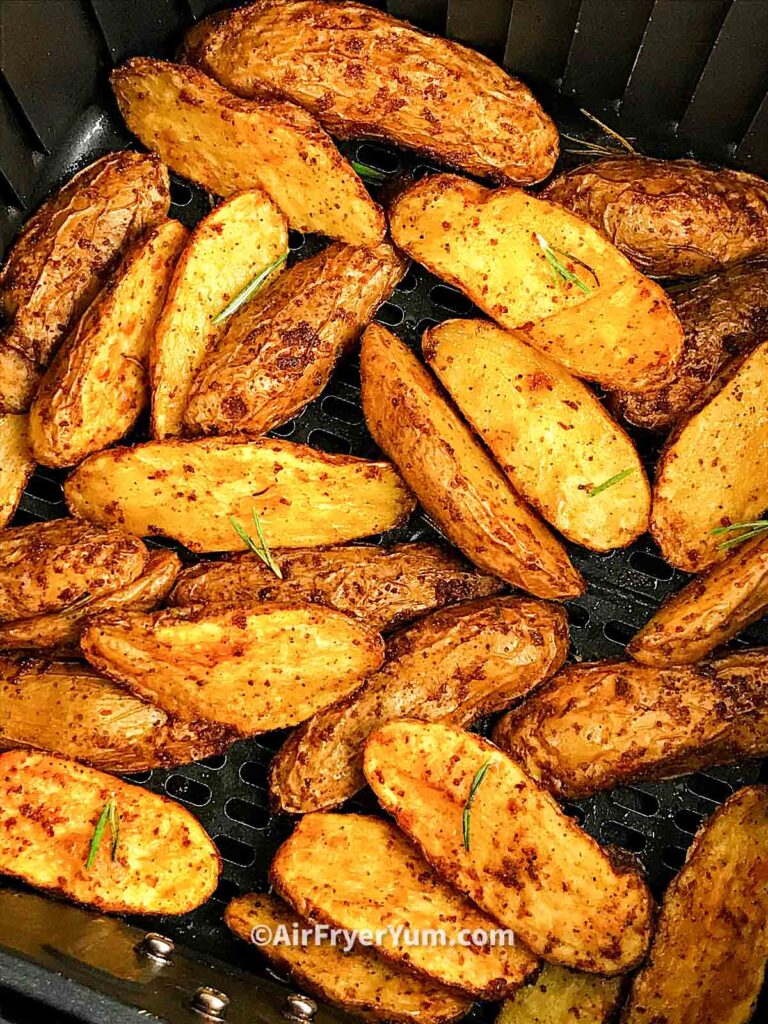 How to make roasted air fryer fingerling potatoes.
This is an overview of the recip with step by step photos. Scroll down to end of post for a printable recipe card with the amount of ingredients and full recipe instructions.
Wash potatoes thoroughly especially if you intend to cook it skin on. Pat dry then cut in halves.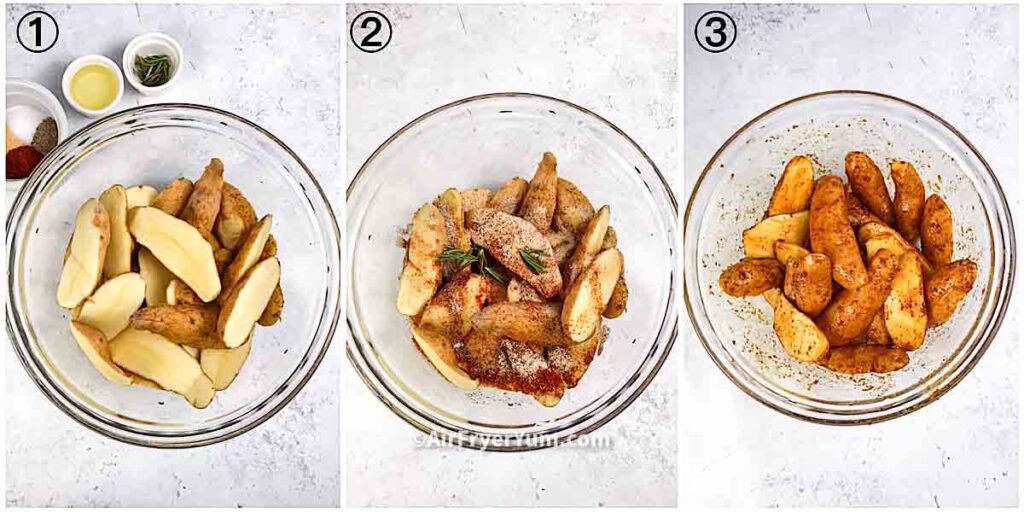 Add oil then season with salt and the other ingredients listed. Mix until combined. Transfer to air fryer basket or rack and air fry at 400°F / 200°C for 18 to 20 mins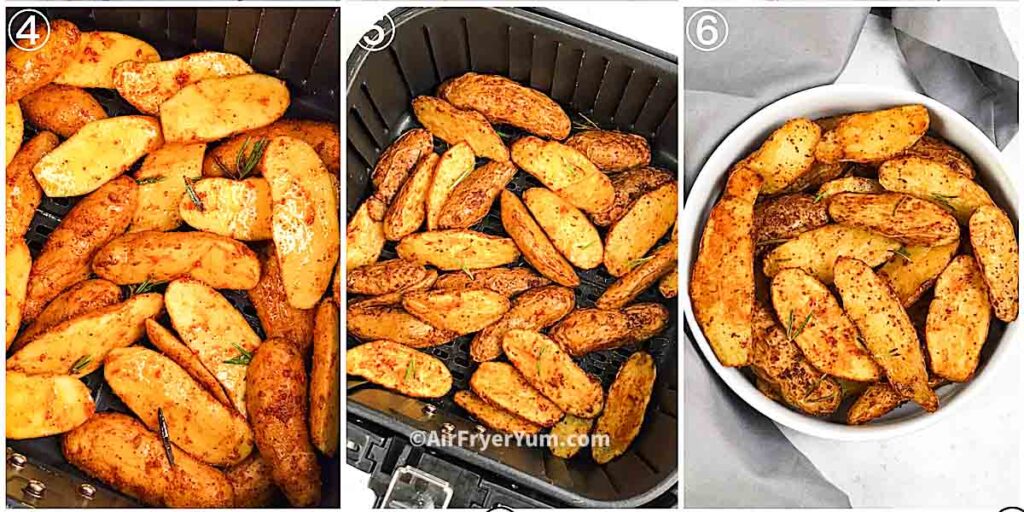 What to serve with fingerling potatoes
Fingerling potatoes can be served on its own or with a dipping sauce like fry sauce. It goes well with scrambled eggs, haddock fish, chicken wings, drumsticks, thighs or chicken breasts. You could also serve these with salads and coleslaw.
Have you tried potatoes and sausage or even with green beans and bacon. These Brussels sprouts recipe with potatoes is also a winner. To be honest the side dish options for this recipe are endless.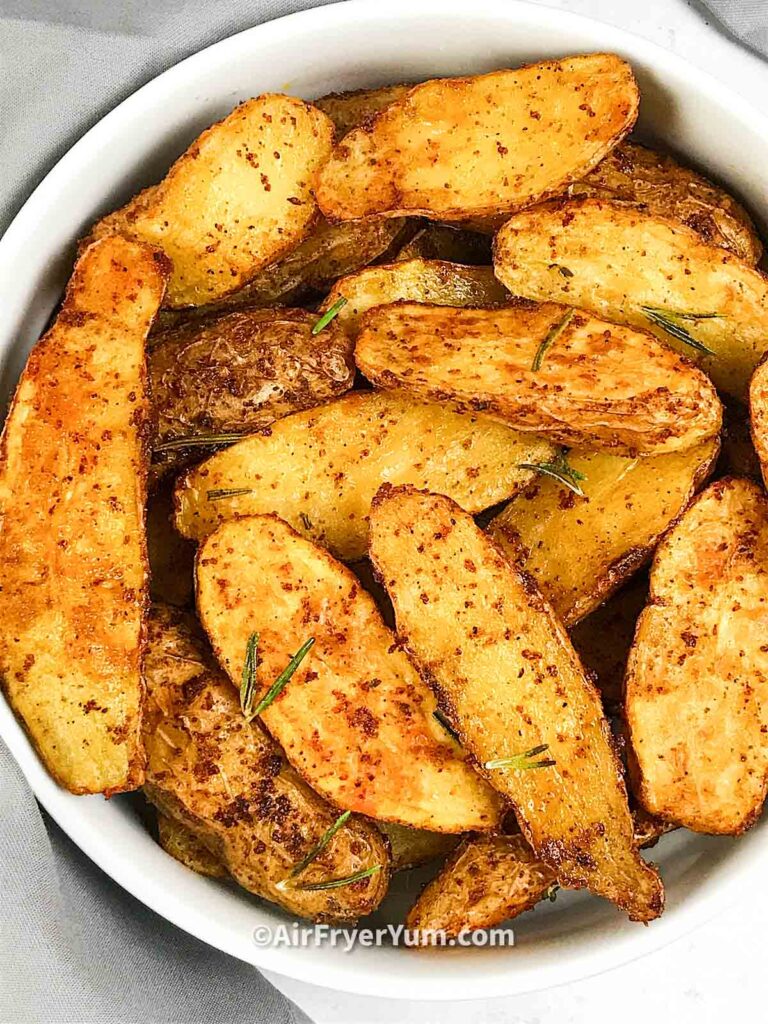 How to store and reheat
Air Fingerling potatoes can be made ahead of time and leftovers store very well. This is a great addition to your air fryer meal prep ideas.
To store simply let the spuds cool completely then store is a dry and clean airtight container in the refrigerator for up to 5 days. I don't recommend freezing this recipe.
Reheating air fryer fingerling potatoes
This can either be done in the microwave or in the air fryer
Microwave: Place in a paper towel lined microwave safe plate and microwave on high at 30 secs intervals till warmed through.
Air fryer: Transfer potatoes to air basket or rack, set temperature to 350°F / 180°C and air fry for 4 to 6 mins or until warmed through.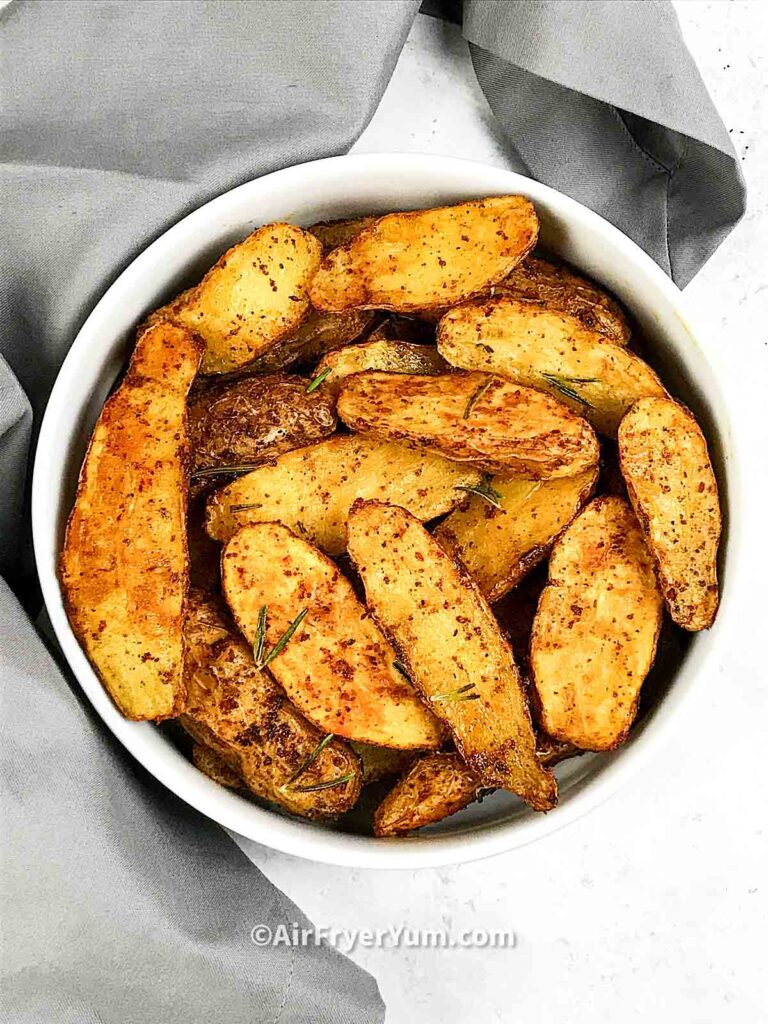 Best Tips for air fryer fingerling potatoes
You can air fry fingerling potatoes whole or sliced into halves or quartered into cubes.
No need to preheat the air fryer
If you are keeping the skin on like I did, please wash thoroughly or buy organic whenever you can.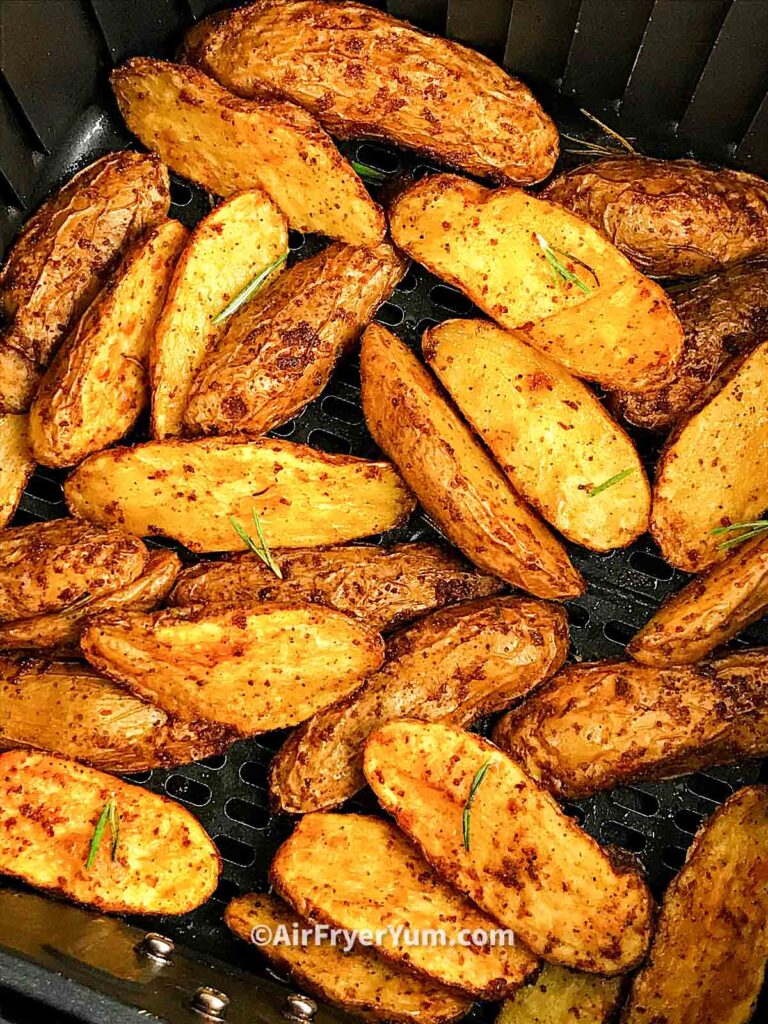 FAQs
Here you'll find answers to common questions about this recipe. If your question isn't answered, please leave us a comment below and we'll gladly answer them.
Do you need to poke potatoes before air frying?
You do not need to poke potatoes before air frying particularly not necessary for small potatoes like fingerlings or baby potatoes.
How long are potatoes supposed to be in the air fryer.
The length of time depends on the size and soecie of the potatoes and also the brand of air fryer being used. Generally smaller potatoes or potatoes that have been cubed will cook faster than whole potatoes.
Where to buy fingerling potatoes
These potatoes can be found in grocery stores across the United States. You can buy fingerling potatoes at Walmart, ACME, Stop & Shop or any other grocery store. One of my favorite brands are the Little potato company fingerling potatoes.
If you try this recipe, show it off on Instagram! Be sure to Follow and Tag @Airfryeryumblog on Instagram and use the hashtag #airfryeryumblog so we can see your recreations!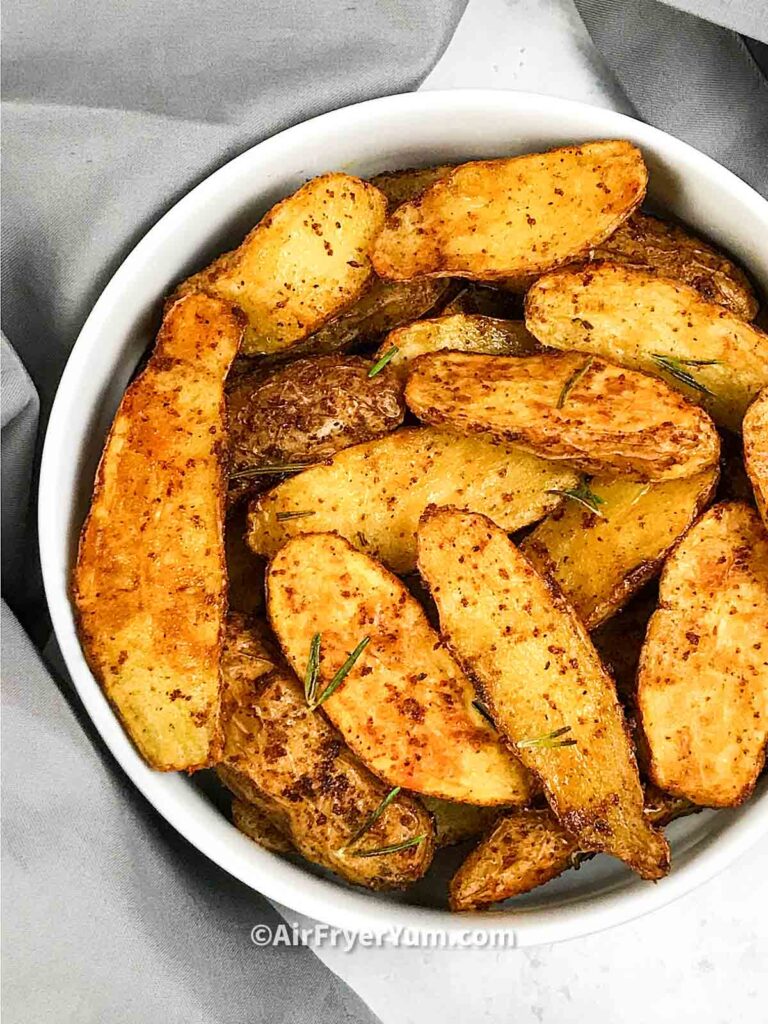 Did you find this recipe helpful? Leave me a comment about it or any recipe idea you would love Air fryer 'yummed' and don't forget to share with family and friends.
Happy Air frying!
Love it? Pin it! Then follow Air Fryer Yum on Pinterest for more deliciousness!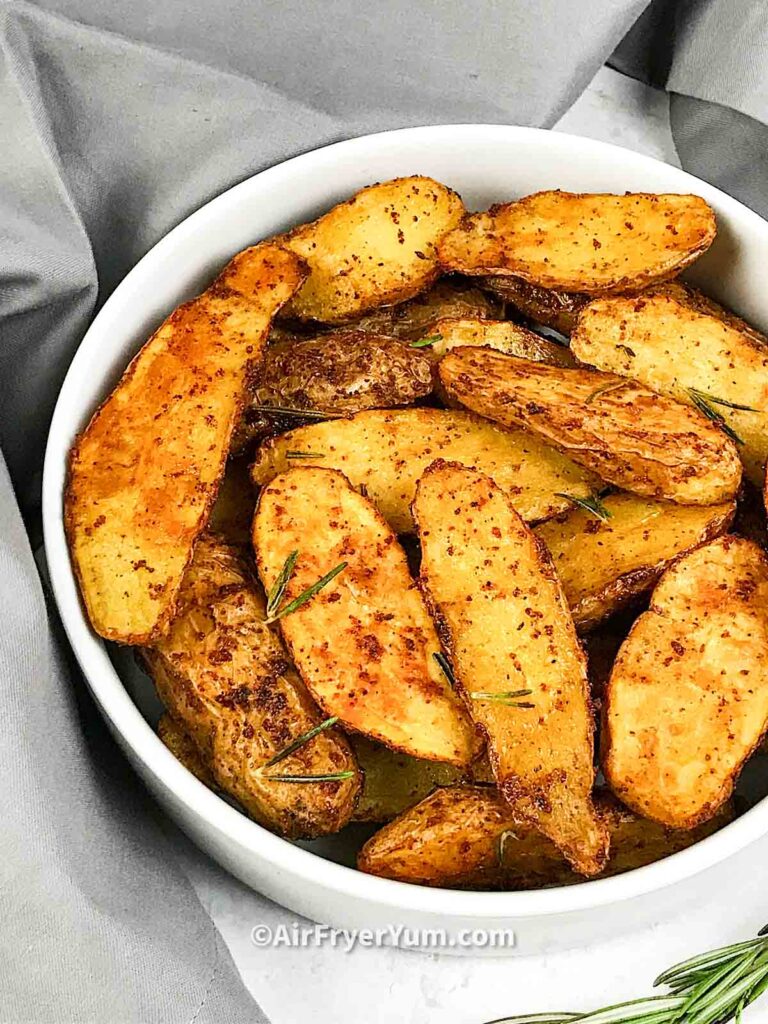 Looking for more air fryer recipes? Sign up for our yummy newsletter and Follow along on Facebook, Instagram, Pinterest and Tiktok for updates. Remember to Subscribe to my YouTube Channel for weekly videos.
Loving your air fryer much? Join other Air Fryer Buddies in our exclusive free Easy Air Fryer Recipes Group on Facebook!
New to the world of Air frying? We've got you covered. Check out our helpful >>> Air fryer Resources!
Shop all air fryers and air fryer accessories at our Amazon store.
Air Fryer Yum's Pro Tip! Air fryer temperatures may vary depending on size, make and model. When making a recipe for the first time, start with less time, check for doneness then add more time as needed.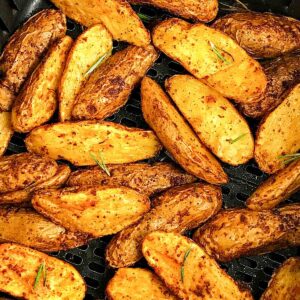 Air fryer fingerling potatoes with rosemary.
Fingerling potatoes in the air fryer with fresh rosemary is one recipe you need to add to your weekly meal plan. These air fryer fingerling potatoes are packed full of flavor and require just a few ingredients.
Ingredients
1.5

lbs

Fingerling potatoes

2

Tablespoons

oil

½

teaspoon

salt

1

teaspoon

Paprika

¼

teaspoon

black pepper

1

teaspoon

garlic powder

1

teaspoon

onion powder

1

Sprig

Fresh Rosemary
Instructions
Prepare the fingerling potatoes
Wash potatoes thoroughly. Pat dry with paper towels.

Slice the potatoes into halves
Season the Potatoes
Transfer potatoes to a clean bowl. Add oil to potatoes

add the salt, and the rest of the seasoning to the potatoes. Mix till well combined
Air fry
Transfer seasoned potatoes to air fryer basket or tray (if using the air fryer oven) see notes

Set temp to 400°F / 200°C and cook for 18 to 20 mins
Notes
Do not overcrowd the basket
If cooking with the oven style air fryer that preheats automatically, these will cook in less time.
Nutrition
Calories:
198
kcal
Carbohydrates:
31
g
Protein:
4
g
Fat:
7
g
Saturated Fat:
1
g
Polyunsaturated Fat:
2
g
Monounsaturated Fat:
4
g
Trans Fat:
1
g
Sodium:
156
mg
Potassium:
736
mg
Fiber:
4
g
Sugar:
1
g
Vitamin A:
28
IU
Vitamin C:
34
mg
Calcium:
28
mg
Iron:
1
mg
Nutrition Disclaimer
Nutritional information is an estimate and may change based on products used. Please read our Nutrition disclaimer page.
Subscribe to my YouTube Channel
Subscribe to Air Fryer Yum on YouTube for more detailed videos! Remember to click the bell icon to get notified when I upload new videos.
Save this Recipe for later!
Follow @AirFryerYum on Pinterest!
Did you make this air fryer recipe? Awesome! Please rate it by clicking the stars ⭐️⭐️⭐️⭐️⭐️ when you leave a comment below. If you loved it please share the link to this recipe with family and friends and in you favorite Facebook group.