When you've tried these homemade crispy air fryer potato wedges, you are bound to understand why there's so much good things to say about the air fryer. Delicious well seasoned wedged potatoes with Crispy edges and fluffy insides that get ready in less than 20 mins.
Cooking potato wedges in air fryer is super easy and quick. Whether these are made in the oven style or basket style air fryer, this potato side dish is sure to please. Serve it as is or with Parmesan cheese or a side of chicken wings you can never go wrong with this air fryer side dish and I am more than happy to show you how to make in easy steps.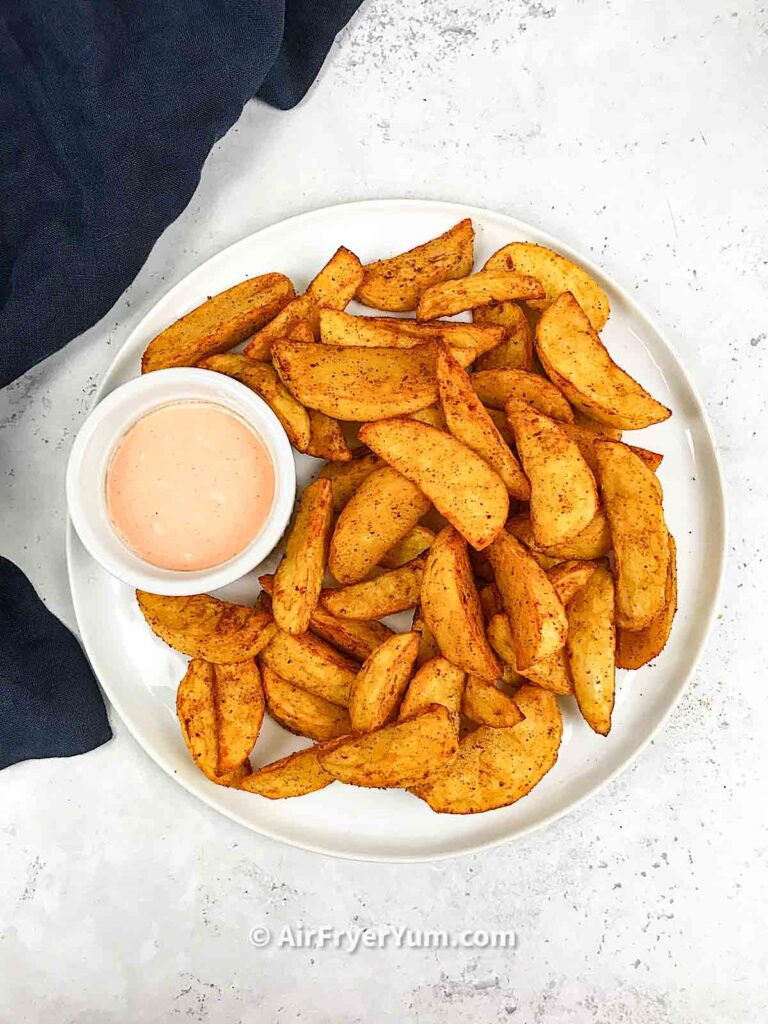 Crispy Air fryer Potato wedges Recipe
With this recipe and your handy kitchen appliance, mid week dinner is sure to be a breeze. Air fried potatoes always come out delicious irrespective of the seasoning use. We love these as much as our air fryer potato slices and cottage fries!
A Potato is a blank canvas on which all delicious comfort food dreams are made. Like these air fryer loaded potato rounds, a bite into one of these well seasoned potato wedges would sure tell you the versatility of potatoes.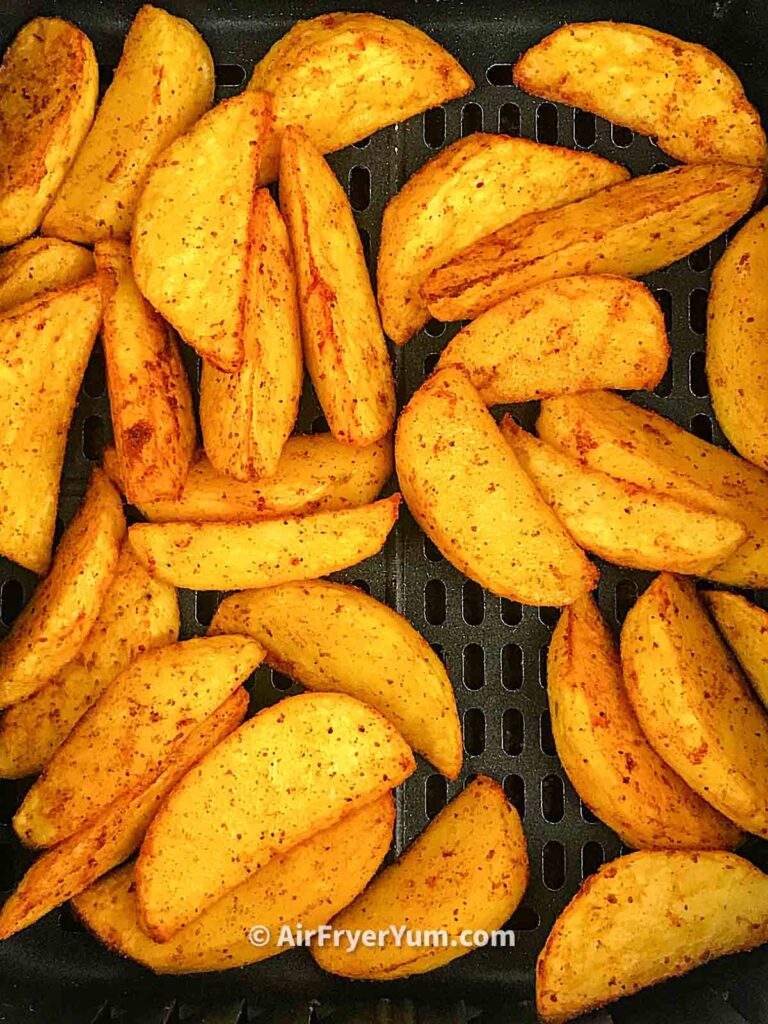 Why you'll love this recipe
Really, what's not to love about these crispy air fryer potato wedges. These are
Super easy to make and packed full of flavor! You would believe how incredibly easy it is to make this dinner style baked potato wedges in the air fryer
Mess free, no need to deep fry. Air fryer potato wedges turn out delicious without all that oil that comes with deep frying.
Time saving: How does quick and easy sound? Making these in the oven can take up to 30 mins whereas making then in the air fryer takes less than 20 mins.
Vegan and vegetarian: If you are looking to eat more plant based foods! Look no further than including potatoes in your diet plus you love how these dill fries taste
Related recipes: Air fryer Sweet potato wedges, How to make home fries in air fryer, Air fryer Parmentier potatoes.
Ingredients
Russet potatoes
Oil
Potato seasoning blend which include

Paprika
Salt
Garlic powder
Italian seasoning (optional)
Black pepper
Best potatoes for wedges
Have you tried russets baked potatoes? If you have, you get why my personal first choice for baked potatoes are usually Russets. They always come out well baked with crispy edges and fluffy soft insides.
They also cook faster than waxy potatoes like red potatoes and yellow potatoes which I have also used to make air fryer potatoes. Other alternatives I've used besides the red potatoes and yellow potatoes are Yukon gold potatoes. If you want really crispy potatoes I'd suggest either Russets or Yukon gold.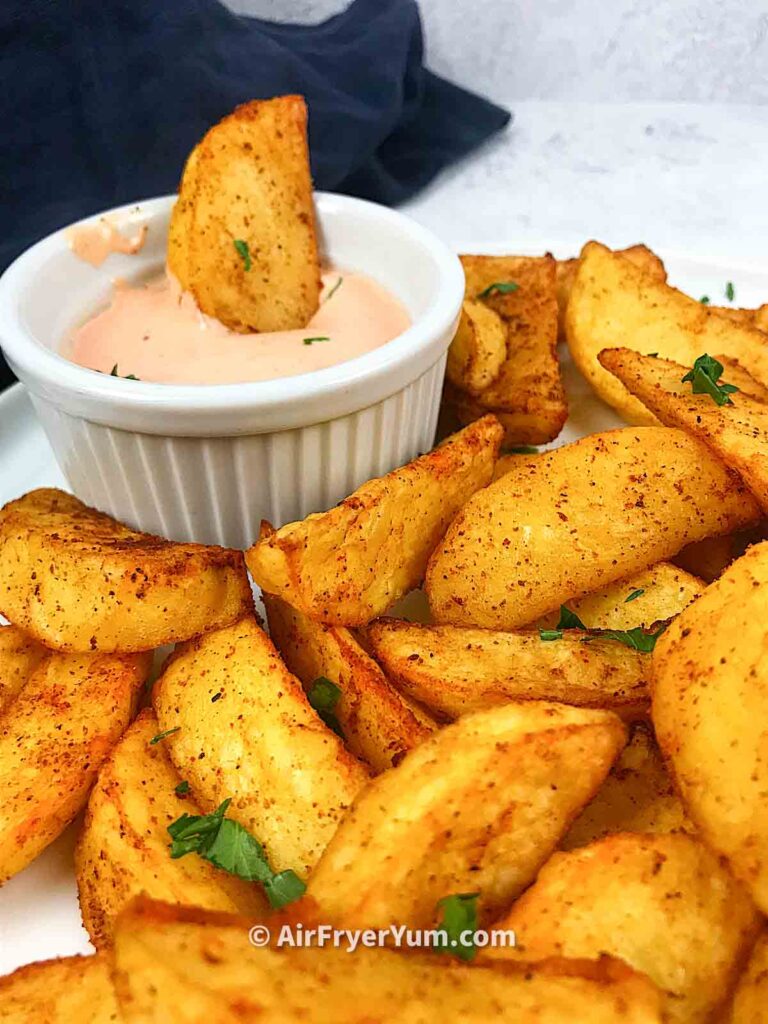 Which air fryer to use?
I've baked potato wedges in all of our resident air fryers the instant pot vortex pro air fryer oven, the Cosori 5.8qt air fryer and the Gourmia 6qt and the potatoes always turned out crispy and delicious.
Not saying that these air fryers represent all brands of air fryer out there but if these wedges came out awesome from those, I believe your Ninja foodi potato wedges should too and if what you've got is the Cusinart, Emeril, or Power Xl, I see no reason why those won't work. The only difference may be the timing.
If this is your first time making a recipe in your air fryer, use time as a guide, start checking your food two minutes before the stated time in this or any recipe and keep a close eye on your food.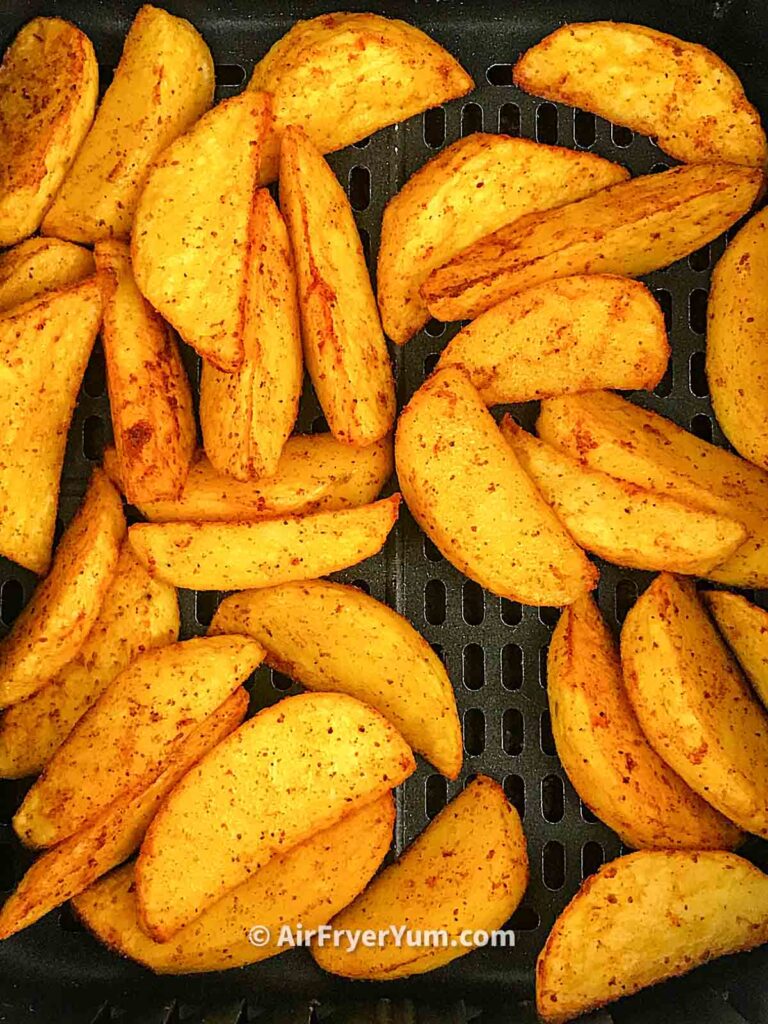 How to cut potatoes into wedges
Wondering how to cut potatoes into wedges? Not to worry it's super easy and I'll show how I'm easy steps.
First, Place the potato on its side, slice it in half lengthwise with a knife.
Next Place the cut side of the potato down onto the chopping board, cut it down the middle into half then cut each half into 2 to create the wedges. Depending on the size of the potatoes, you can get up to 6 to 8 wedges.
How to make potato wedges in air fryer
This is an overview of the recipe with step by step photos. Scroll down to end of post for a printable recipe card with the amount of ingredients and full recipe instructions.
Making it in the air fryer basket
Peel potatoes and cut into wedges. Soak the potatoes wedges in water for up to 30 mins. After 30 mins drain potatoes then pat dry with paper towels.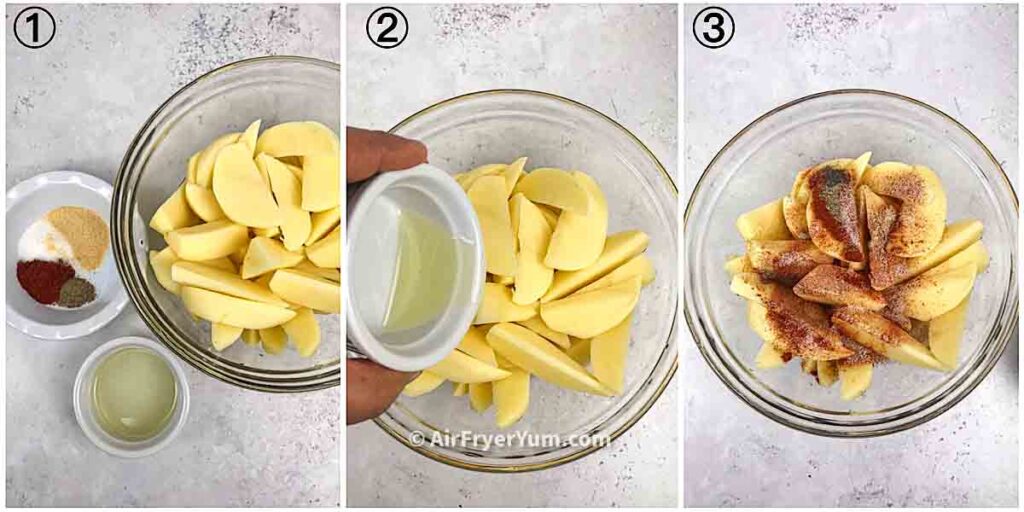 Transfer to a bowl, add oil and potatoes seasoning to potatoes. Toss to coat. Transfer coated potatoes to air fryer basket and air fry at 400°F / 200°C for 15 to 20 mins if using Russet potatoes.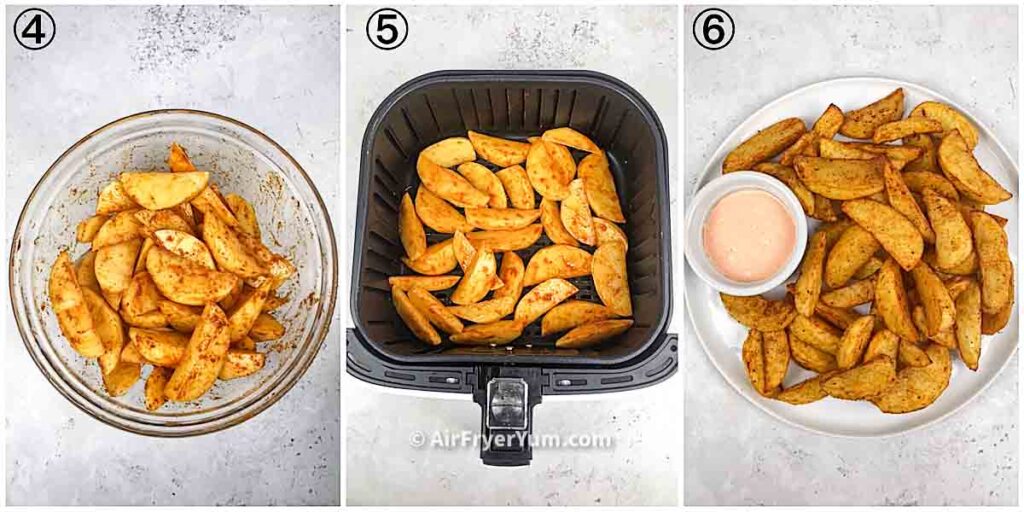 If you used waxy potatoes like red or yellow potatoes it will take up to 25 mins to get to the desired texture. Keep an eye on them
How to make it on racks or trays
Preheat air fryer for 5 mins. Arrange potatoes in air fryer rack. Bake in the middle level for 15 mins or until your desired texture is achieved.
Can you make Frozen potato wedges in air fryer
If you have a bag of frozen potatoes wedges in your freezer and have been wondering if you can make frozen potatoes in air fryer appliances. The answer is YES! And here's how.
Place frozen potato wedges in air fryer basket no need to thaw. Set temperature to 400°F / 200°C and air fry for 20 to 25 mins or until warmed through.
Like these air fried curly fries, most frozen potato wedges I've seen come already seasoned so there's no need for additional seasoning.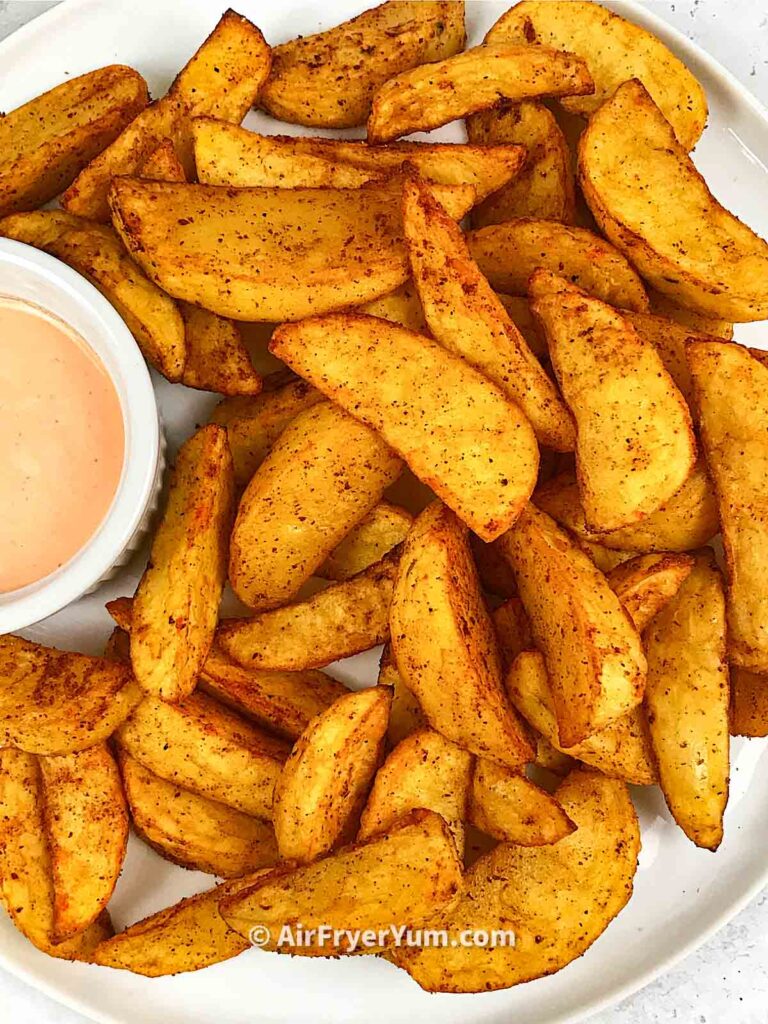 Storage and make ahead instructions
Air fried potato wedges are best eaten immediately, however these can be stored in the refrigerator for 2 to 3 days. It can be reheated in the microwave or air fryer.
Tips
I usually don't preheat my basket air fryers. However my oven style air fryer preheats automatically. Either option would work. Bear in mind that the preheated food will cook faster by a couple of minutes. That doesn't mean it cooked faster than the non preheated basket style (recall we preheated and a preheat cycle is usually 5 mins)
Be sure to Pat the potato wedges dry with paper towels after draining to ensure the oil and potato seasoning sticks.
not overcrowd the basket, cook in batches if needed.
Shake basket at least half way through cooking time to ensure even cooking (personally, I like to shake the basket at 5 mins intervals)
If using an oven style air fryer I recommend cooking on the middle rack. If you want to cook with both racks at a time. You should swap out the levels half way through cooking time so the wedges get to cool evenly.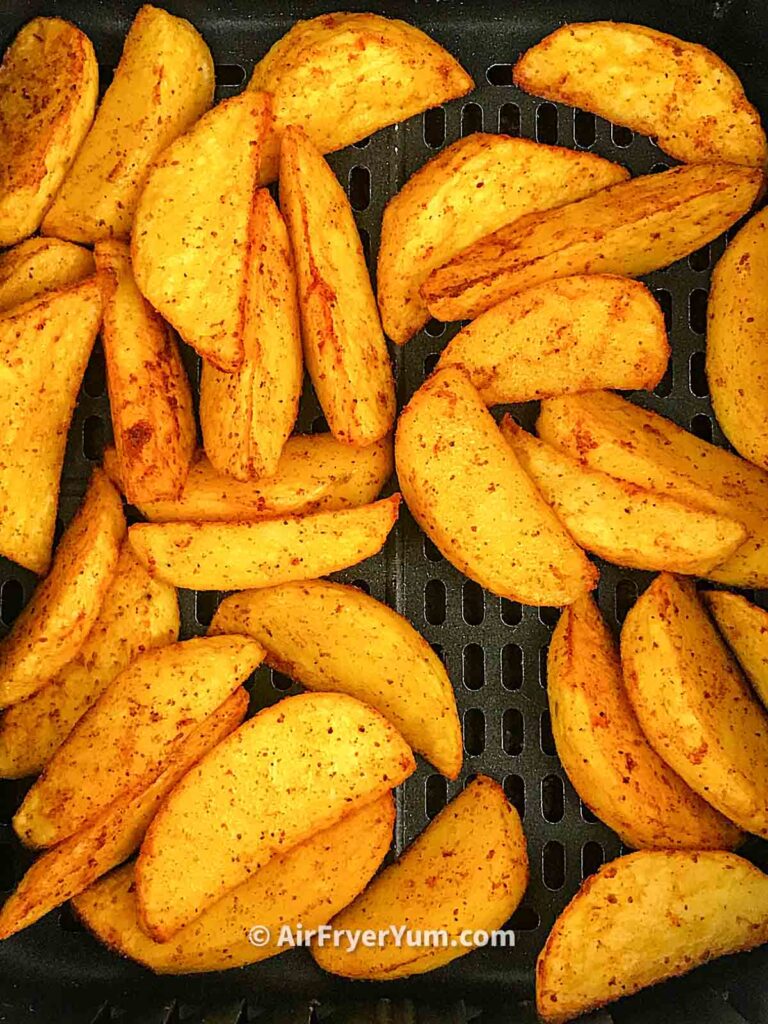 FAQs
Why do you soak potatoes in water before air frying?
Potatoes are soaked before frying or air frying to reduce the starch content in the potatoes. By doing so, the potatoes come out crispy and delicious. This is particularly so for homemade French fries.
How long should Potatoes soak before air frying?
A minimum of 30 mins is fine. You can also soak overnight in the refrigerator.
Why are my air fryer potatoes not crispy?
There are a few factors that can cause this. The type of potato used. Waxy potatoes take longer to cook so you probably haven't cooked long enough. Not soaking the potatoes can also cause this. Another factor is not using oil. Most importantly, you could be using the wrong type of potatoes. For best results use Russets or Yukon gold for crispy potato wedges.
Can you cook potatoes wedges in the air fryer with no oil?
A combination of a little oil and the hot rapidly circulating air in the air fryer helps make the potatoes crispy. Yes you can cook these in the air fryer without oil but you run the risk of a less crispy and dry outcome.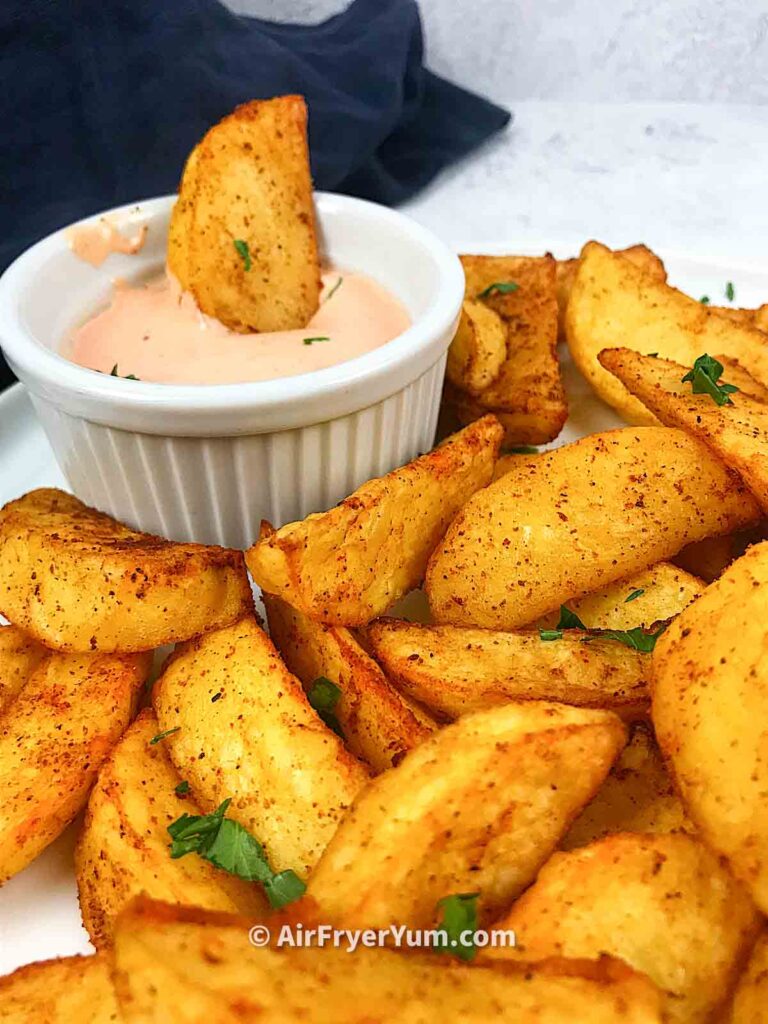 More Air fryer potato recipes
Check out all our >>>Air fryer Recipes!
Did you find this recipe helpful? Leave me a comment about it or any recipe idea you would love Air fryer 'yummed' and don't forget to share with family and friends.
Happy Air frying!
Love it? Pin it!
Looking for more air fryer recipes? Sign up for our yummy newsletter and Follow along on Facebook, Instagram, Pinterest and Tiktok for updates. Remember to Subscribe to my YouTube Channel for weekly videos.
Loving your air fryer much? Join other Air Fryer Buddies in our exclusive free Easy Air Fryer Recipes Group on Facebook!
New to the world of Air frying? We've got you covered. Check out our helpful >>> Air fryer Resources!
Shop all air fryers and air fryer accessories at our Amazon store.
Air Fryer Yum's Pro tip! Air fryer temperatures may vary depending on size, make and model. When making a recipe for the first time, start with less time, check for doneness then add more time as needed.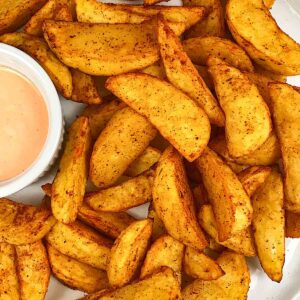 Air fryer potato wedges
When you've tried these homemade air fryer potato wedges, you are bound to understand why there's so much good things to say about the air fryer. Delicious well seasoned wedged potatoes with Crispy edges and fluffy insides that get ready in less than 20 mins.
Ingredients
2.2 lbs

lbs

potatoes

(washed and peeled)

2

Tablespoon

oil

1

teaspoon

salt

1

teaspoon

Paprika

½

teaspoon

black pepper

1

teaspoon

Garlic powder
Instructions
Cut potatoes into wedges, then soak in water for 30 mins (optional but recommended)

After soaking potatoes, drain and Pat dry with paper towel. Transfer potatoes to a bowl.

Add oil and seasoning to potatoes. Toss to combine till all wedges are well coated.
Air fryer basket
Transfer seasoned potatoes into the air fryer basket and air fryer at 400°F / 200°C for 15 to 20 mins or until it reaches the desired texture you like.

Remember to turn the potatoes or shake basket half way through cooking time.

Serve as aside to steak, chicken or dip in your favorite dipping sauce.
Air fryer oven
Set temp 400°F / 200°C and time to 15 mins, Preheat for 5 mins. (See note 2 in notes section).

While the air fryer is preheating, arrange potato wedges on the air fryer rack.

When the oven is preheat place rack in the middle level of the air fryer oven and air fry for 15 mins (start checking at the 13 mins mark to determine if you need to add more time).
Notes
You don't have to peel the potatoes. If you do prefer unpeeled, be sure to scrub the skin properly. Organic potatoes maybe a better option if you want the skin on.
The brand of my air fryer oven is the instant vortex pro and it has automatic preheat. If yours doesn't preheat automatically, you can either preheat manually for 5 mins or add 2 mins to the basket air fryer cook time.
Nutrition
Calories:
206
kcal
Carbohydrates:
35
g
Protein:
4
g
Fat:
6
g
Saturated Fat:
1
g
Polyunsaturated Fat:
2
g
Monounsaturated Fat:
4
g
Trans Fat:
1
g
Sodium:
478
mg
Potassium:
852
mg
Fiber:
5
g
Sugar:
2
g
Vitamin A:
36
IU
Vitamin C:
41
mg
Calcium:
26
mg
Iron:
2
mg
Nutrition Disclaimer
Nutritional information is an estimate and may change based on products used. Please read our Nutrition disclaimer page.
Subscribe to my YouTube Channel
Subscribe to Air Fryer Yum on YouTube for more detailed videos! Remember to click the bell icon to get notified when I upload new videos.
Save this Recipe for later!
Follow @AirFryerYum on Pinterest!
Did you make this Air fryer potato wedges recipe? Awesome! Please rate it by clicking the stars ⭐️⭐️⭐️⭐️⭐️ when you leave a comment below. Also be sure to tag & follow @AirFryerYumBlog on Instagram. We'd love to see your recreations of our recipes!