Air fryer kale chips turn out crispy, well seasoned and delicious in less time than it would in the oven. It's the perfect Keto / low carb heathy snack. Perfectly Salted and easily adaptable with a variety of seasoning options.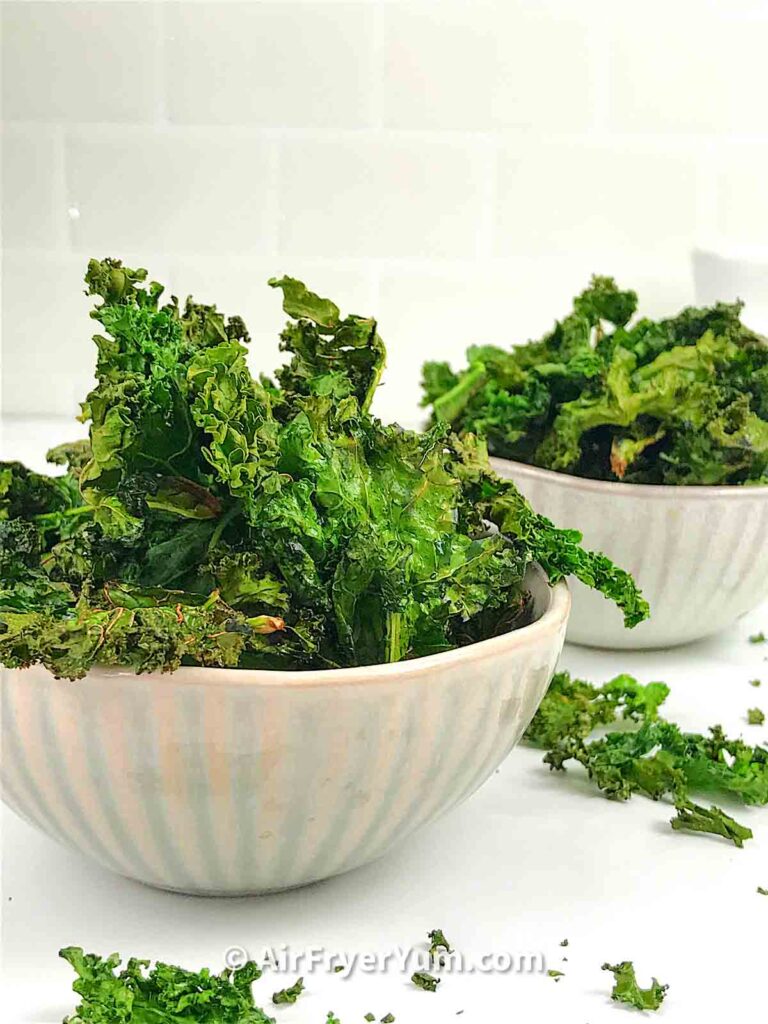 Why Air fried Kale Chips tick all the boxes
I love to have crunchy kale chips. It's a healthy way to enjoy a salty snack. There are many reasons to enjoy this recipe and I listed a few below.
It fits into any lifestyle! Vegan, Keto, low carb, Vegetarian etc.
A healthy crispy snack if you are watching your waist line.
In addition to the many health benefits of kale, it's low in fat and has some fiber and fiber can help you lose weight by keeping you full for longer.
Ingredients & Tools
Kale leaves
salt
Ranch seasoning
Air fryer Rack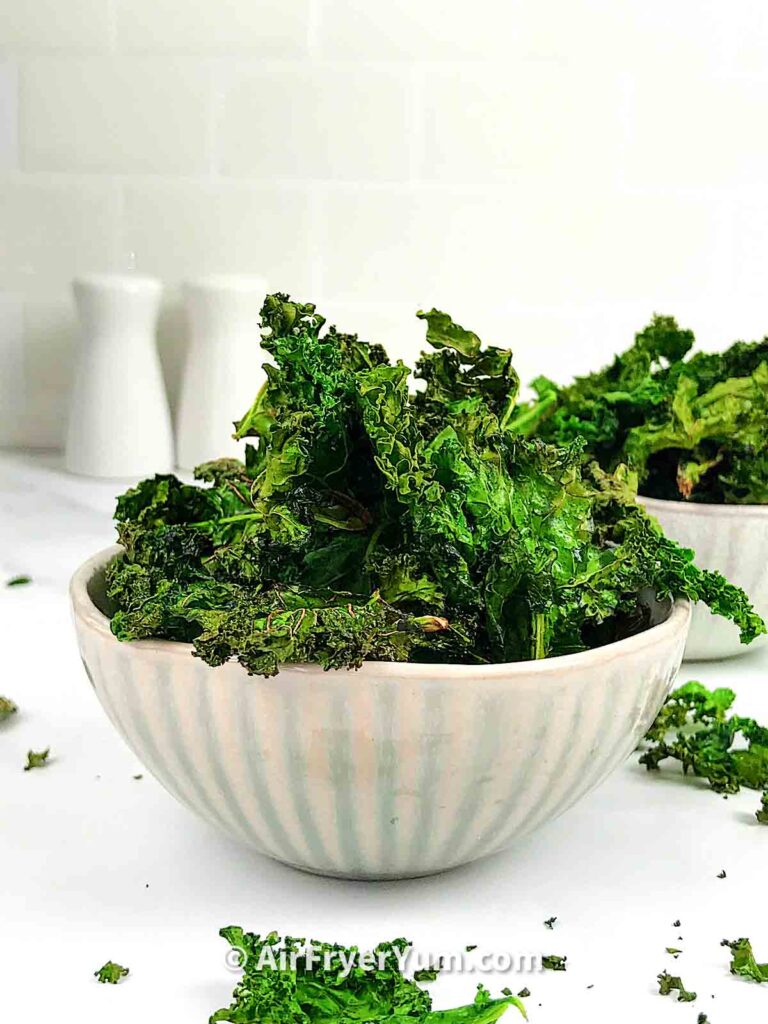 How to make Air fryer Kale chips
This is the easiest low carb snack you will make and this is how to make it in the air fryer.
Remove the stem from the leaves, cut the leaves into preferred sizes. Wash thoroughly in salted water or vinegar water.
Drain the water using a colander, then pour leaves out on a paper towel lined tray while you dab the top with more paper towel.
Spray on some oil, sprinkle some salt and ranch seasoning and air fry.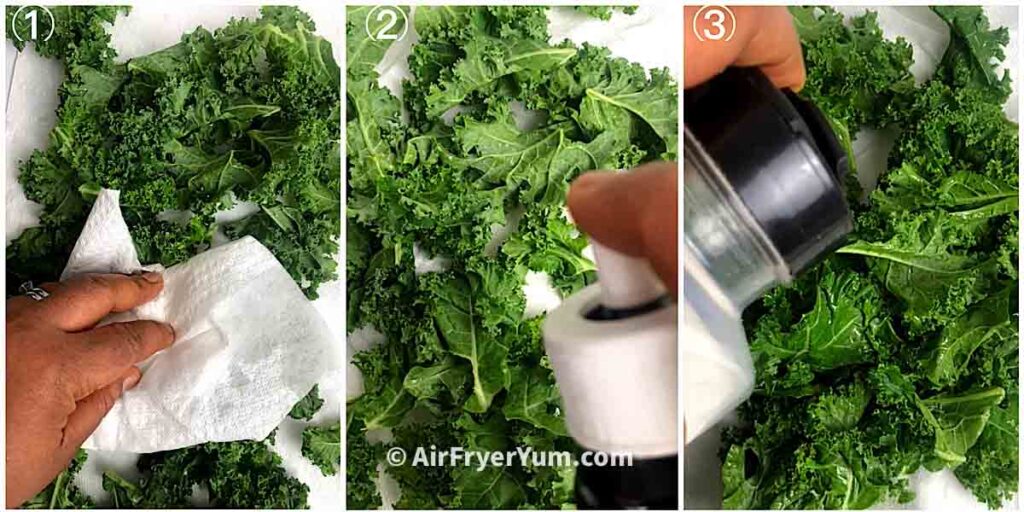 ---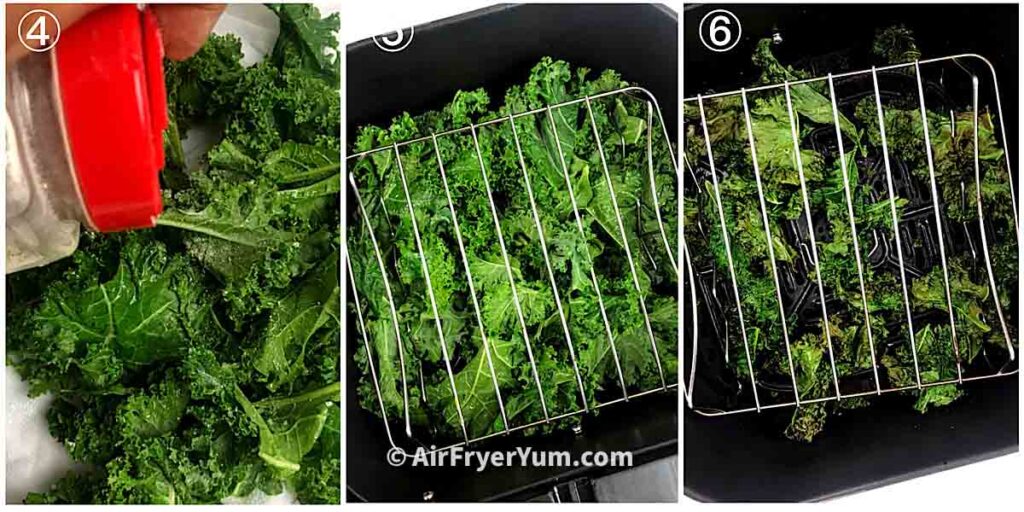 Making baked kale in the oven
If you don't have an air fryer yet, that's not a problem because you can make these in the oven. Follow the steps below to bake crispy kale chips in the air fryer.
After cutting, washing and drying kale leaves, preheat oven to 300°F / 148°C.
Arrange Kale leaves in a baking sheet and bake for 20 to 25 mins or till desired crispness.
Making it without oil.
Oil makes the chips crisp better and allows salt and desired seasonings to stick to the leaves.
However if you'd rather not add some oil you can make kale chips without oil but it would be a bit dryer and more difficult to season.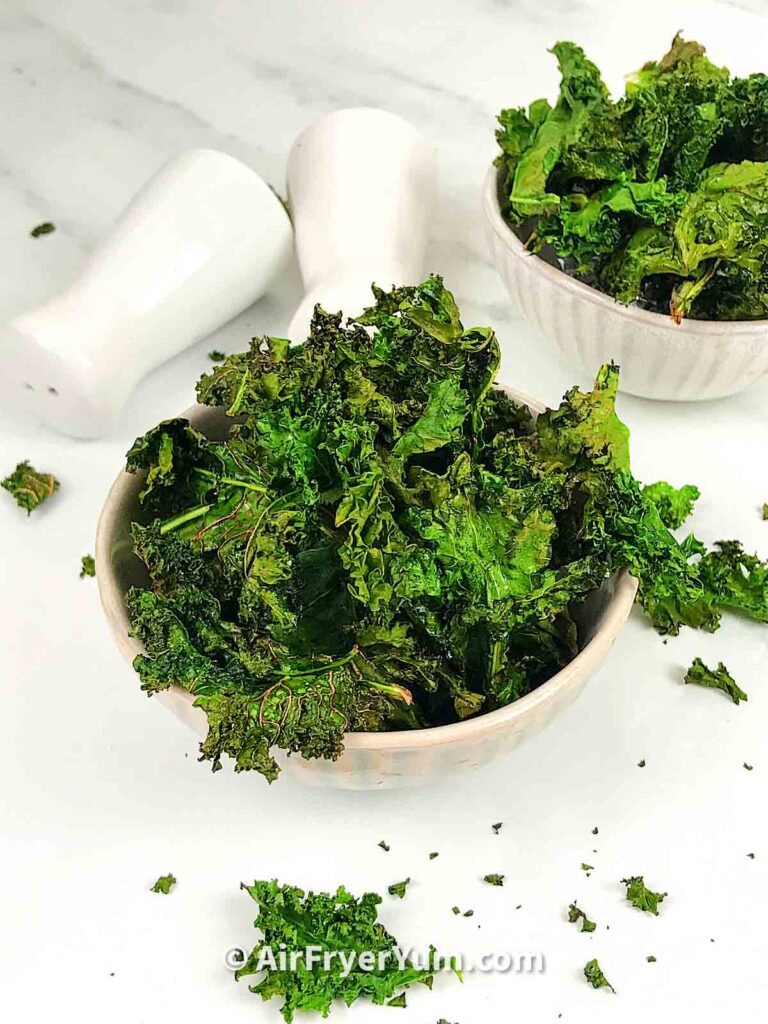 Seasoning options
There a variety of ways to enjoy air fried kale chips, we love to use plain salt or salt and ranch seasoning. However if you love popcorn seasoning that would work perfectly with these veggie crisps. You can check out the collection of seasoning below.
Nutritional yeast for a cheesy flavor
Garlic powder
Onion powder
Cajun seasoning
Black pepper
Tips
Don't air fry the chips with the ribs of the leaves. The middle ribs are not only tough, they are also bitter.
The kale chips tend to fly around in the air fryer. To prevent this, use the air fryer rack to hold the chips down while the chips cook.
Try to cut the kale leaves in equal sizes. Dry the leaves properly with paper towel.
Do not overcrowd the basket. Cook in batches if needed.
Shake the basket half way through cooking time.
If baking in the oven keep an eye on it especially towards the end of baking time.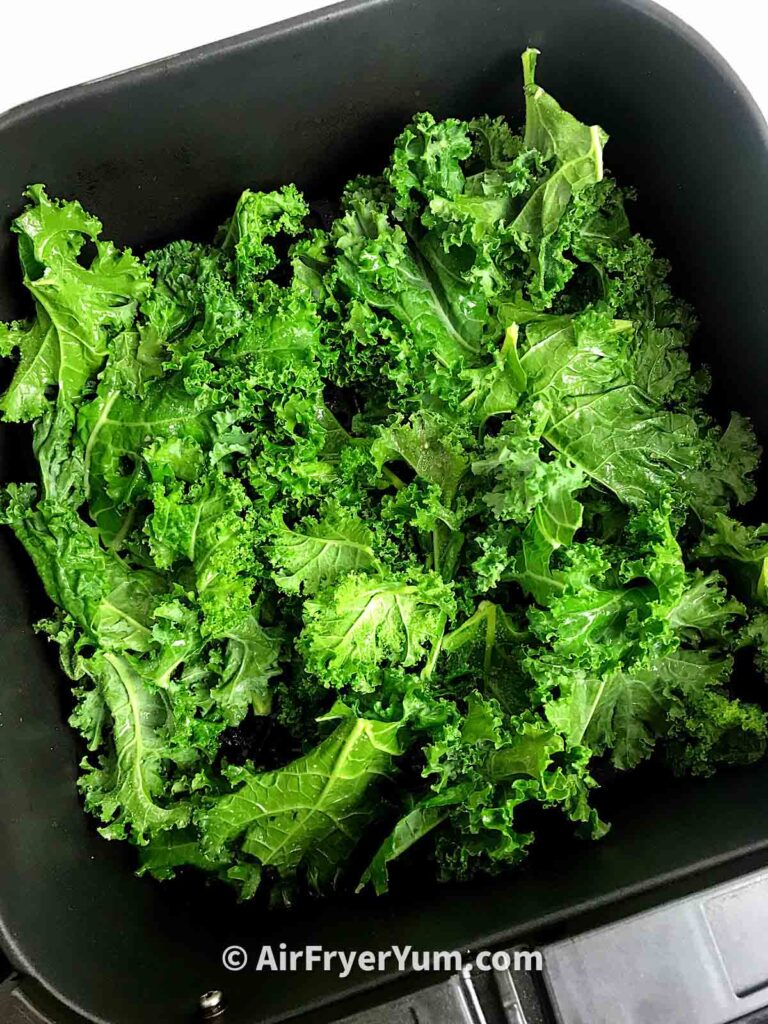 ---
More air fryer vegetarian recipes
Check out all our >>>Air fryer Recipes!
---
Did you find this recipe helpful? Leave me a comment about it or any recipe idea you would love Air fryer 'yummed' and don't forget to share with family and friends.
Happy Air frying!
---
Looking for more air fryer recipes? Sign up for our yummy newsletter and Follow along on Facebook, Instagram, Pinterest and Tiktok for updates. Remember to Subscribe to my YouTube Channel for weekly videos.
Loving your air fryer much? Join other Air Fryer Buddies in our exclusive free Easy Air Fryer Recipes Group on Facebook!
New to the world of Air frying? We've got you covered. Check out our helpful>>> Air fryer Resources!
Love it? Pin it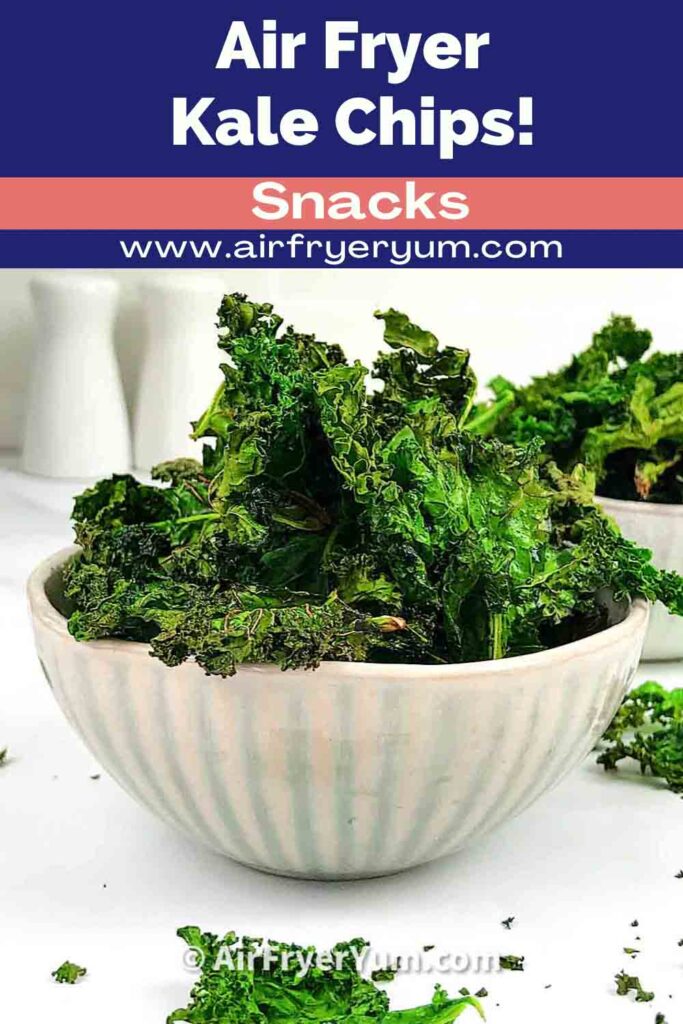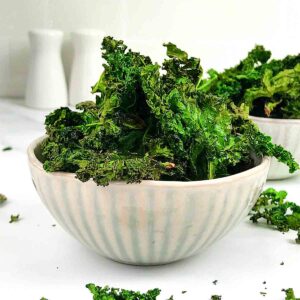 Air Fryer Kale Chips
Air fryer kale chips turn out crispy and delicious in less time than it would in the oven. It's the perfect Keto / low carb heathy snack. Perfectly Salted and easily adaptable with a variety of seasoning options
Ingredients
½

bunch

Kale

(about 8 Stalks)

½

Tablespoon

oil

(You can also use oil spray)

⅛

teaspoon

salt

½

teaspoon

ranch powder

(or favorite seasoning)
Instructions
Remove the middle stalk from each leaf, cut leaves into preferred sizes and wash

Drain leaves with a colander before transferring to a paper towel lined tray to absorb more water. Gently dab the top with some paper towel till the leaves have been well dried.

Drizzle or Spray on some oil, Toss to coat the leave, sprinkle on some salt and ranch seasoning, toss again to coat.

Spread on the air fryer rack, do not overcrowd, a little overlap is allowed. Put an air fryer rack over it to prevent leaves flying around while it bakes.

Bake at 380°F / 194°C for 4-5 mins. Shake the basket half way through.
Notes
Let the leaves dry completely before tossing in oil.
Feel free to use other seasonings.
If you pull out the basket to shake half way through and you notice some leaves already crispy, you can take those out and continue baking the rest.
Nutrition
Serving:
0.5
of recipe
Calories:
87
kcal
Carbohydrates:
11.9
g
Protein:
3.4
g
Fat:
3.5
g
Saturated Fat:
0.5
g
Potassium:
557
mg
Fiber:
1.7
g
Calcium:
152
mg
Iron:
2
mg
NUTRITION DISCLAIMER
Nutritional information is an estimate and may change based on products used. Please note that nutritional data on this website should be considered estimates and used as a guide only. Under no circumstances will www.AirFryerYum.com be responsible for any loss or damage resulting from the use of this nutritional information. You are encouraged to use a nutritional calculator with the exact brands you are using to get the most accurate information for each recipe.
Subscribe to my YouTube Channel
Subscribe to Air Fryer Yum on YouTube for more detailed videos! Remember to click the bell icon to get notified when I upload new videos.
Save this Recipe for later!
Follow @AirFryerYum on Pinterest!