Cooking frozen hot dogs in air fryer is super easy and you're guaranteed a delicious experience that's way better than when thawed and cooked in the microwave. In this air fryer frozen food recipe, you cook straight from frozen no need to thaw.
This method requires minimal effort and a little more time than it takes with these amazing air fryer hot dogs but I promise you it's worth the wait. So if you've been wondering how to cook frozen hot dogs in air fryer, read along and learn how to do so in easy steps.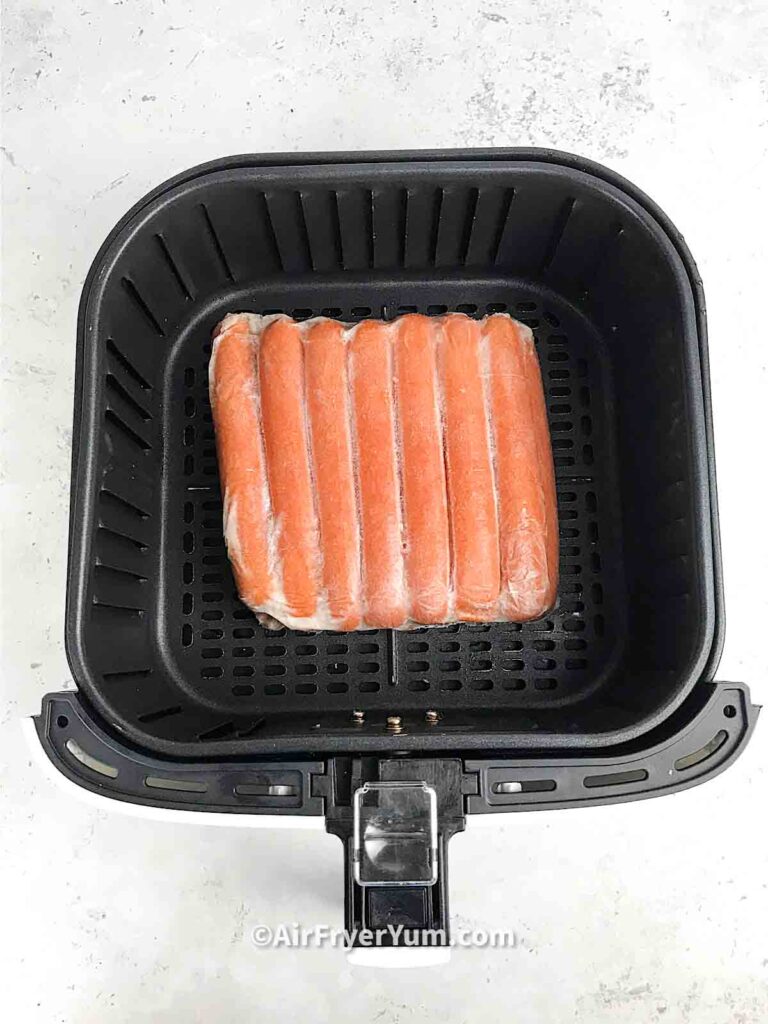 Can you cook frozen hot dogs in air fryer?
Yes I see you! I am you and I have frozen hot dogs staring at me because I forgot to pull it out of the freezer in time for lunch or a quick dinner on a busy weeknight.
Here's the thing, no need to panic, cooking frozen hot dogs in the air fryer is quick and you get crispy yet tender hot dogs in 10 mins with no need to thaw. Here are a few reason we love to use our air fryer to thaw and cook frozen foods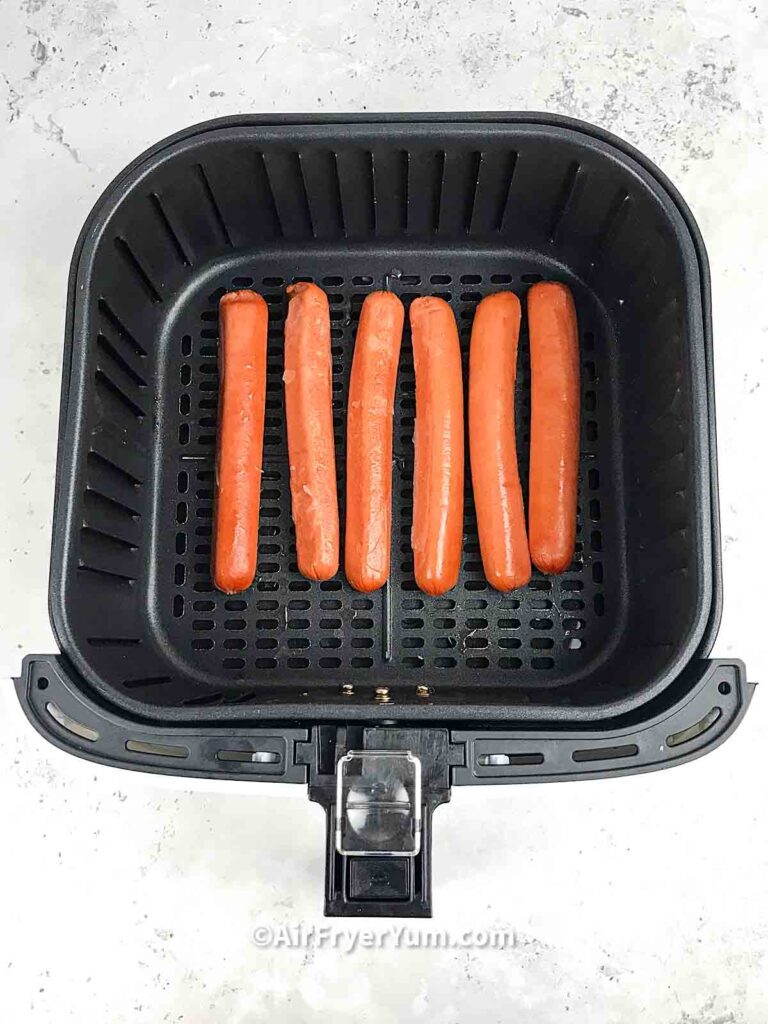 Why this method works
Even cooking: Frozen hot dogs cook up evenly in the air fryer. It's better than the microwave because you'll have hot spots in the hot dog if not microwaved properly.
Quick: Frozen hot dogs cook faster in the air fryer than in the oven, stove top or instant pot.
You are guaranteed consistent results every time.
Related recipes: Best frozen foods for the air fryer, Air fryer kielbasa sausage, how to cook breakfast sausages in air fryer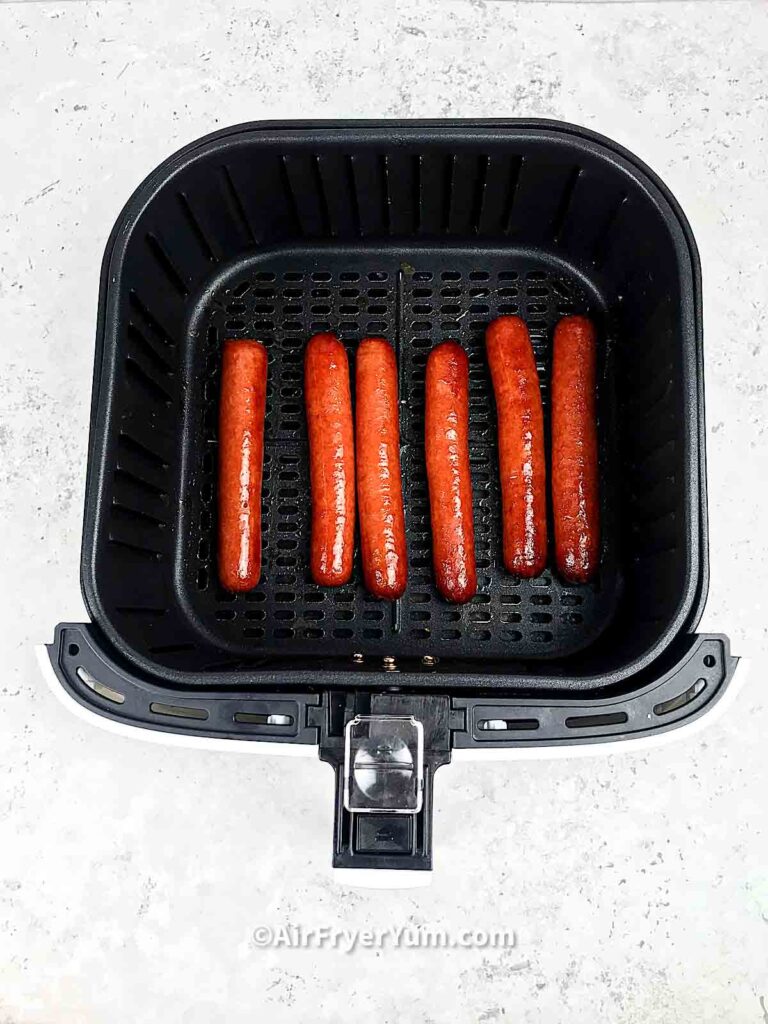 What you'll need
Frozen hot dogs
Hot dog buns
Hot dog toppings
Air fryer
Kitchen tongs
How long to cook hot dogs from frozen in the air fryer?
It takes 11 to 13 mins to cook hot dogs from frozen to the slightly charred deliciousness in the air fryer. In the next section, I'll show you in easy steps exactly how to do it.
How to cook frozen hot dogs in air fryer
This is an overview of the recipe with step by step photos. Scroll down to end of post for a printable recipe card with the amount of ingredients and full recipe instructions.
Defrost/ Thaw the hot dogs
Place frozen hot dogs in air fryer basket, set temperature to 350°F / 177°C and time to 5 mins. Air for 3 mins then flip and air fry for 2 more minutes. Separate the hot dogs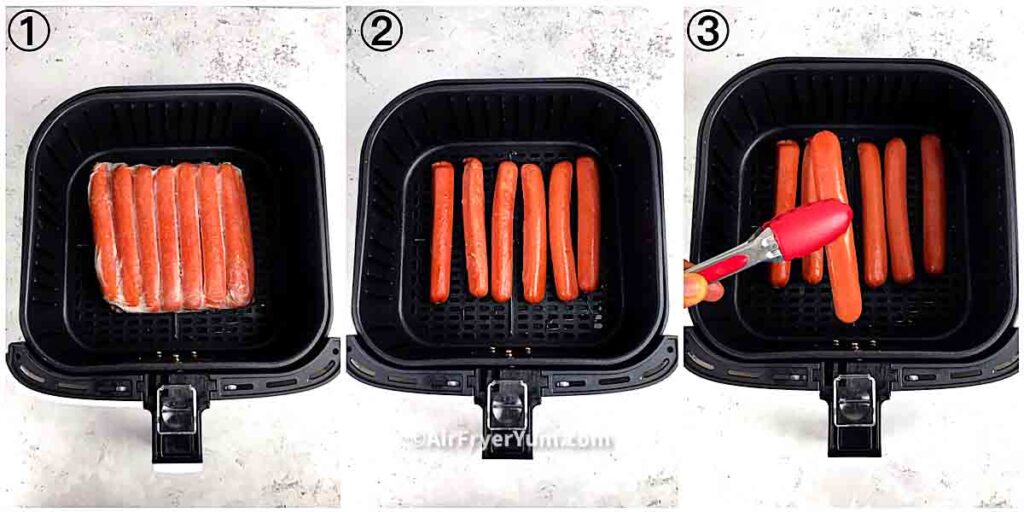 Air fry the thawed hot dogs
Now that the hot dogs have thawed. Crank the temp up to 400°F / 200°C then cook for 6 to 8 mins or until your desired level of doneness.
How to serve
Serve with your favorite toppings on a hot dog bun or add to salads, rice or potato dishes.
How to store and reheat
Store cooked hot dogs in an air tight container after they are completely cooled. Keep in the refrigerator for up to 5 days.
To reheat, pop in the microwave and nuke on high at 20 mins intervals for up to a minute or until warmed through. If using the air fryer, reheat at 350°F / 177°C for 3 to 5 mins or until heated through.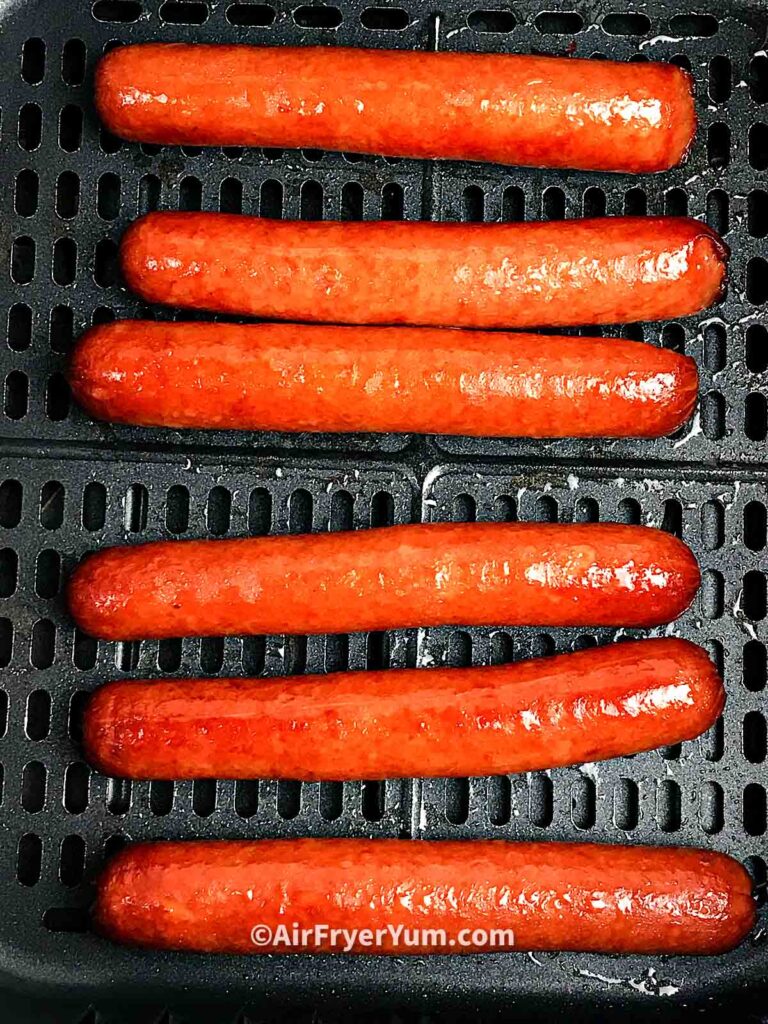 Air frying Tips
No need to thaw: If the hot dogs are stuck together, it's ok to run them under tap water to separate them. You can also thaw in the microwave. But like I said you don't have to thaw, that happens in the air fryer too.
No preheat needed.
Reheating: The length of time needed to reheat hotdogs will depend on the quantity being reheated. It will take longer to reheat 8 hot dogs than it will take to reheat 2.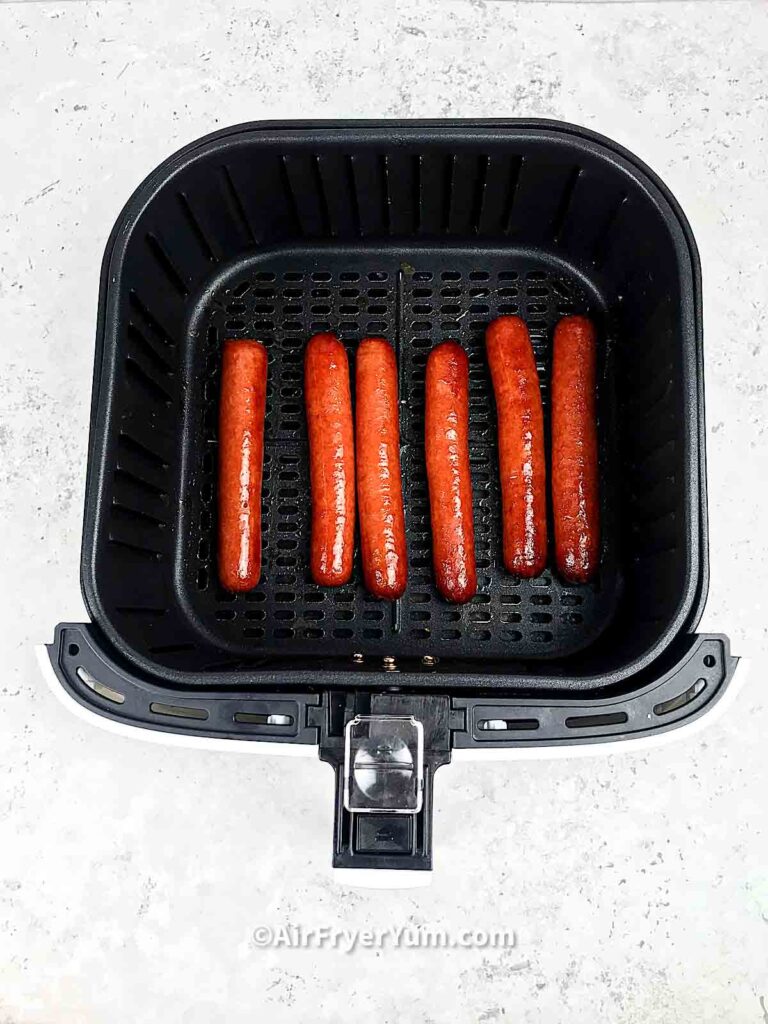 FAQs
What is the best way to cook frozen hot dogs?
I would say it's more about what's more convenient for you. Though you can cook hot dogs from frozen in the microwave, stove top and oven, my most preferred choice is the air fryer because it cooks hot dogs more evenly than the microwave and cooks them in less time than using the oven stovetop, or instant pot.
Are hot dogs unhealthy?
To be honest, because hot dogs like Pepperoni, Salami and bacon fall under very processed foods category which usually contain nitrates very high amount of salt, Frankfurters are considered unhealthy.
This is basically saying eat in moderation and don't make it a habit of feasting on hot dogs frequently and while you are at it look out for nitrate free and Uncured or low sodium options. Applegate Natural, Nathan's, Hebrew National and Coleman have these options.
What is the internal temperature of cooked hot dogs?
The internal of hot dogs will depend on the your of meat used to make the hot dogs.
Pork hot dogs - 165°F / 74°C
Turkey hot dogs - 165°F / 74°C
Beef hot dogs - 140°F / 60°C
If you try this recipe, show it off on Instagram! Be sure to Follow and Tag @Airfryeryumblog on Instagram and use the hashtag #airfryeryumblog so we can see your recreations!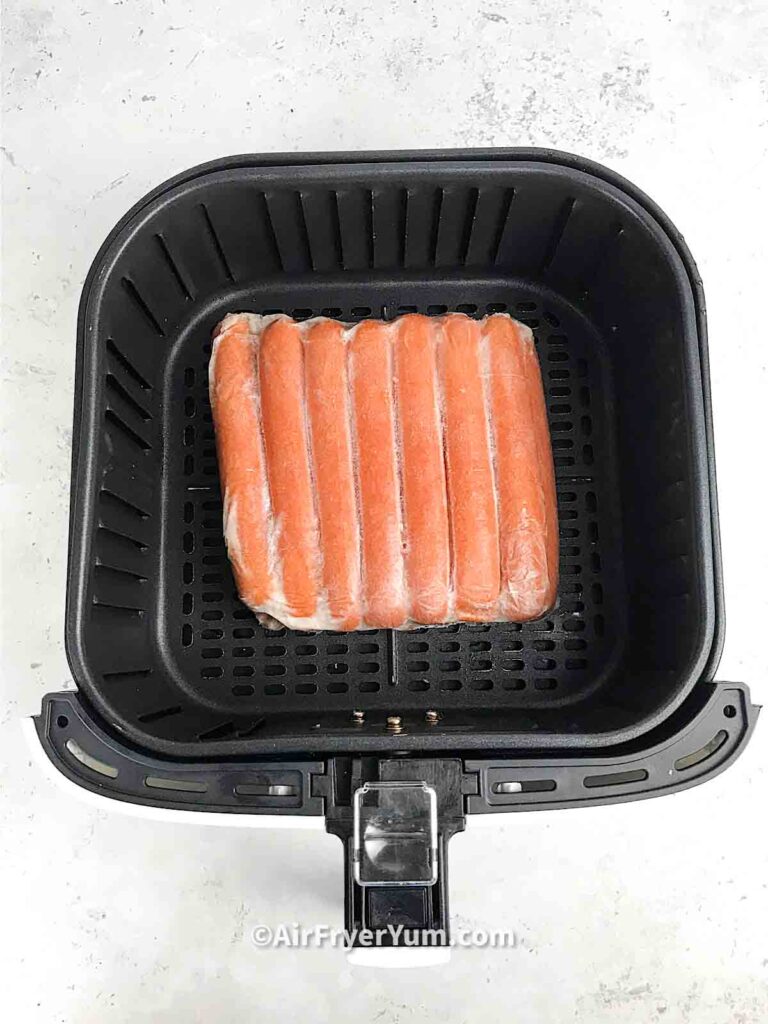 Did you find this recipe helpful? Leave me a comment about it or any recipe idea you would love Air fryer 'yummed' and don't forget to share with family and friends.
Happy Air frying!
Love it? Pin it! Then follow Air Fryer Yum on Pinterest for more deliciousness!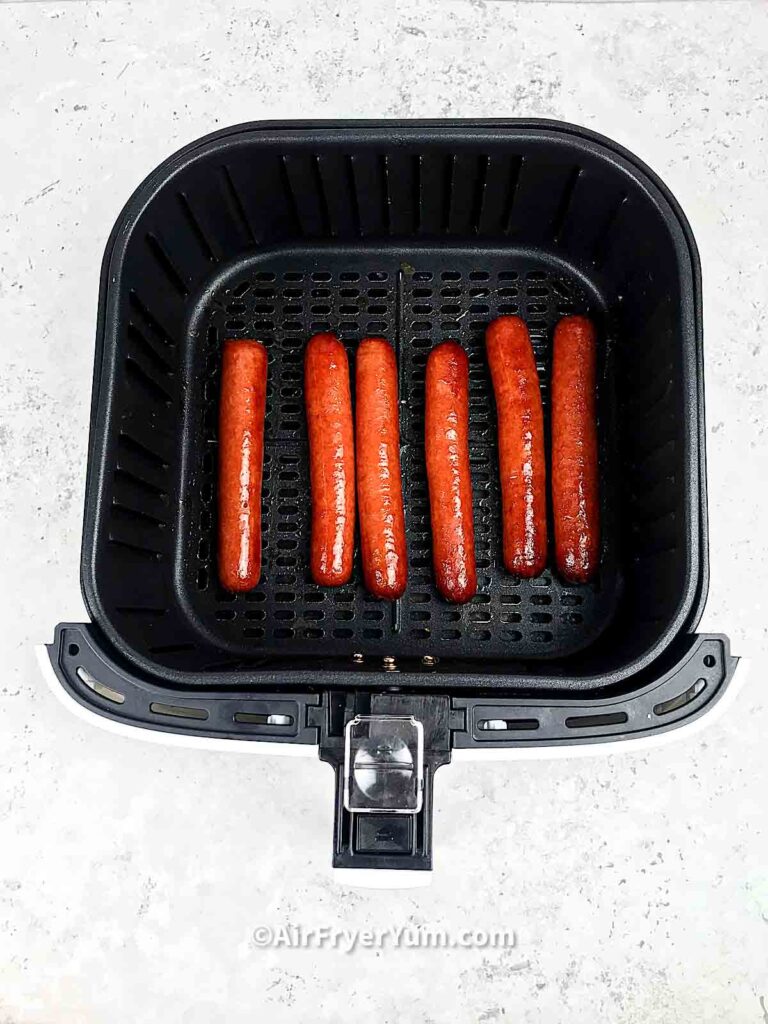 Looking for more air fryer recipes? Sign up for our yummy newsletter and Follow along on Facebook, Instagram, Pinterest and Tiktok for updates. Remember to Subscribe to my YouTube Channel for weekly videos.
Loving your air fryer much? Join other Air Fryer Buddies in our exclusive free Easy Air Fryer Recipes Group on Facebook!
New to the world of Air frying? We've got you covered. Check out our helpful >>> Air fryer Resources!
Shop all air fryers and air fryer accessories at our Amazon store.
Air Fryer Yum's Pro Tip! Air fryer temperatures may vary depending on size, make and model. When making a recipe for the first time, start with less time, check for doneness then add more time as needed.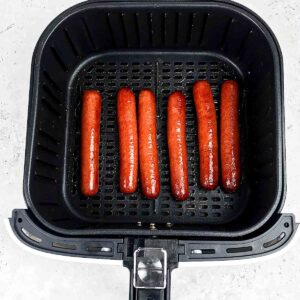 How to cook frozen hot dogs in air fryer
Cooking frozen hot dogs in air fryer is super easy, you're guaranteed a delicious experience that's way better than when thawed and cooked in the microwave. Let me show you how to in super easy steps.
Instructions
Defrost hot dogs in air fryer
Place frozen hot dogs in the air fryer basket set temperature to 350°F /177°C and timer to 5 mins.

Air fry for 3 mins flip the franks. It should have started defrosting by now. Continue cooking for 2 minutes.
Separate franks
Separate the franks using the kitchen tongs

Take out the portion you want to reserve if not cooking all. Even if you are cooking all, you may need to cook in batches.
Cook the thawed hot dogs
Place first set hot dogs in the air fryer basket. Set temperature to 400°F / 200°C and air fry for 6 to 8 min or until slightly charred to your liking. Remember to flip half way through cook time.

Repeat for second batch if cooking all.
Notes
Air fryer temperatures and times may differ depending on manufacturer be sure to read your manual.
I do not preheat my air fryer. However when cooking another batch right after the first I start checking the hot dogs at 5 mins since the air fryer is now preheated.
During the thawing / defrost stage don't be tempted to cook at 400

°F  it will

 make the edges get overcooked.
Nutrition
Calories:
100
kcal
Carbohydrates:
8
g
Protein:
5
g
Fat:
7
g
Saturated Fat:
2
g
Polyunsaturated Fat:
1
g
Monounsaturated Fat:
3
g
Cholesterol:
20
mg
Sodium:
308
mg
Potassium:
66
mg
Vitamin C:
1
mg
Calcium:
11
mg
Iron:
1
mg
NUTRITION DISCLAIMER
Nutritional information is an estimate and may change based on products used. Please read full nutrition disclaimer here.
Subscribe to my YouTube Channel
Subscribe to Air Fryer Yum on YouTube for more detailed videos! Remember to click the bell icon to get notified when I upload new videos.
Save this Recipe for later!
Follow @AirFryerYum on Pinterest!
Did you make this air fryer recipe? Awesome! Please rate it by clicking the stars ⭐️⭐️⭐️⭐️⭐️ when you leave a comment below. If you loved it please share the link to this recipe with family and friends and in you favorite Facebook group.