Hands down the best way to cook Tyson anytizers is the air fryer. If you haven't tried making frozen popcorn chicken in the air fryer, I'd say stop what you are doing and go make some cos you'd be pleasantly surprised at how much better it is in your new kitchen device than it has been in the the oven or microwave.
It literally takes less than 12 mins to get these ready from start to finish with no need to preheat. Be sure to read along to get all the deets, tips and tricks included.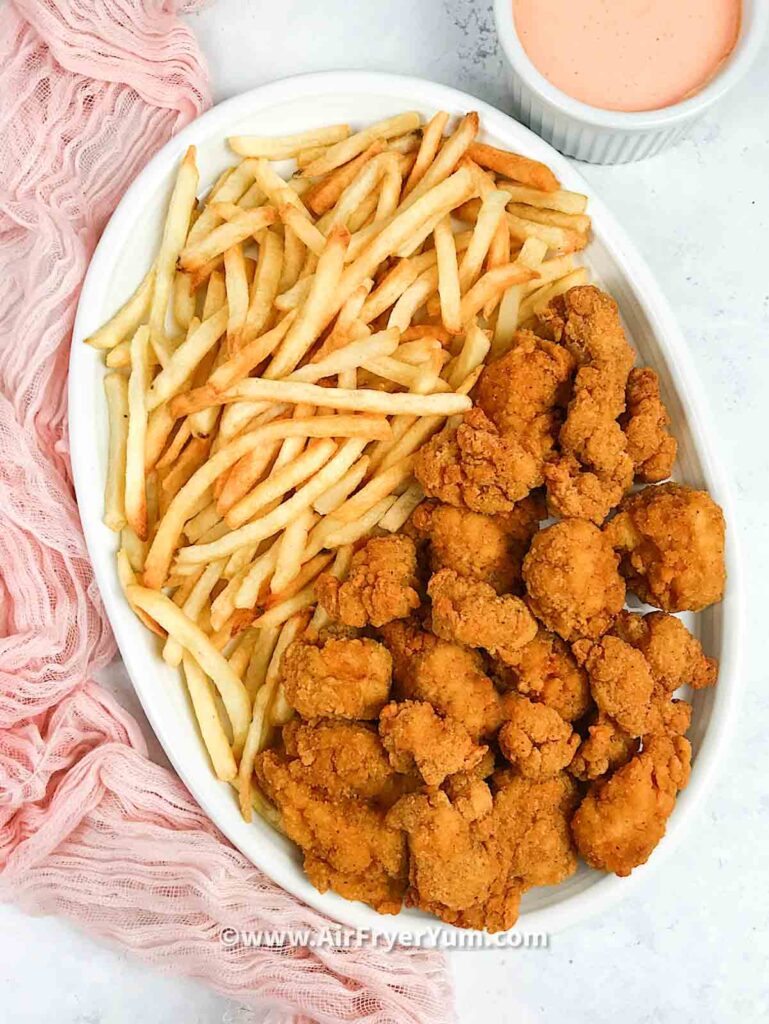 Air fryer frozen popcorn chicken
This can make for a quick after school snack or an easy busy week night dinner when served with other dishes. Cooking frozen popcorn chicken in air fryer is one of the easy ways to enjoy popcorn chicken without setting up a breading station.
If you prefer no breading on your chicken, not to worry we've got you covered. You should try these air fryer chicken bites and if chicken on a stick is your jam then this air fryer Greek chicken souvlaki should be next on your list.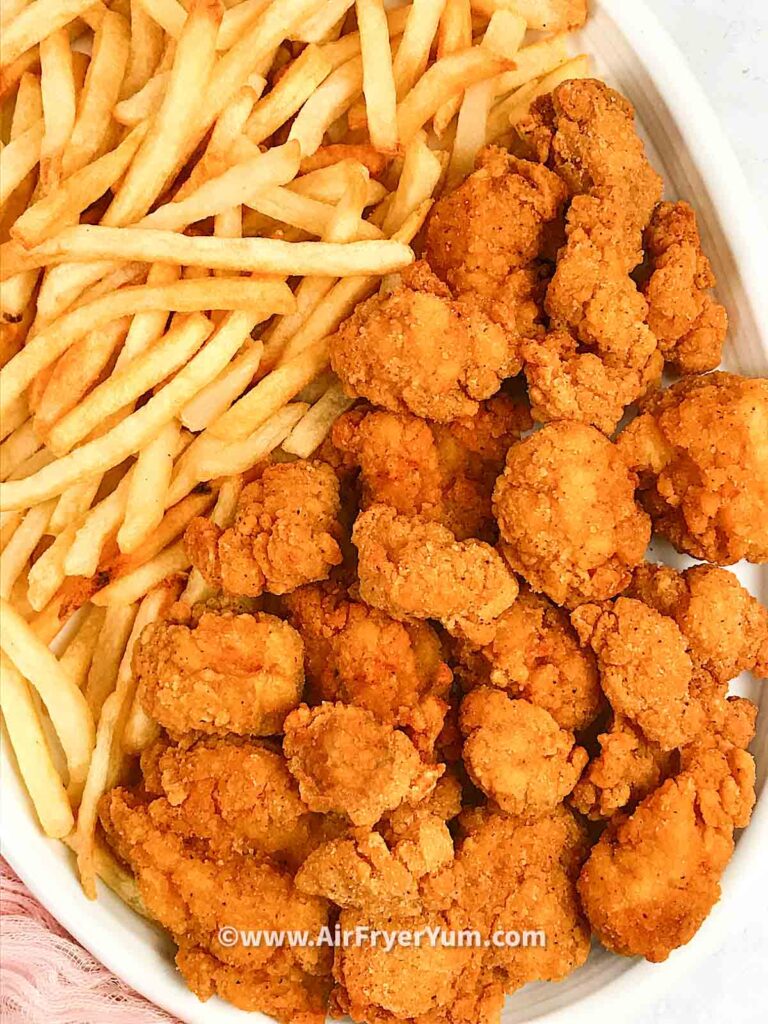 Highlights of this recipe
Crispy Texture: cooking frozen popcorn chicken in an air fryer helps achieve a crispy texture because the hot air circulating around the chicken helps to create a crunchy exterior, similar to deep-frying, without the need for excessive oil.
Time saving: You'll get quicker results in the air fryer because it helps to expedite the cooking process, allowing you to enjoy your crispy chicken bites in less time compared to other methods like baking in an oven.
Convenience: Just set the desired temperature and cooking time, and the air fryer will do the rest but don't walk away though. You need to shake the basket halfway through.
Join our Air fryer recipes group on Facebook!
What you'll need
Frozen popcorn chicken
Dipping sauce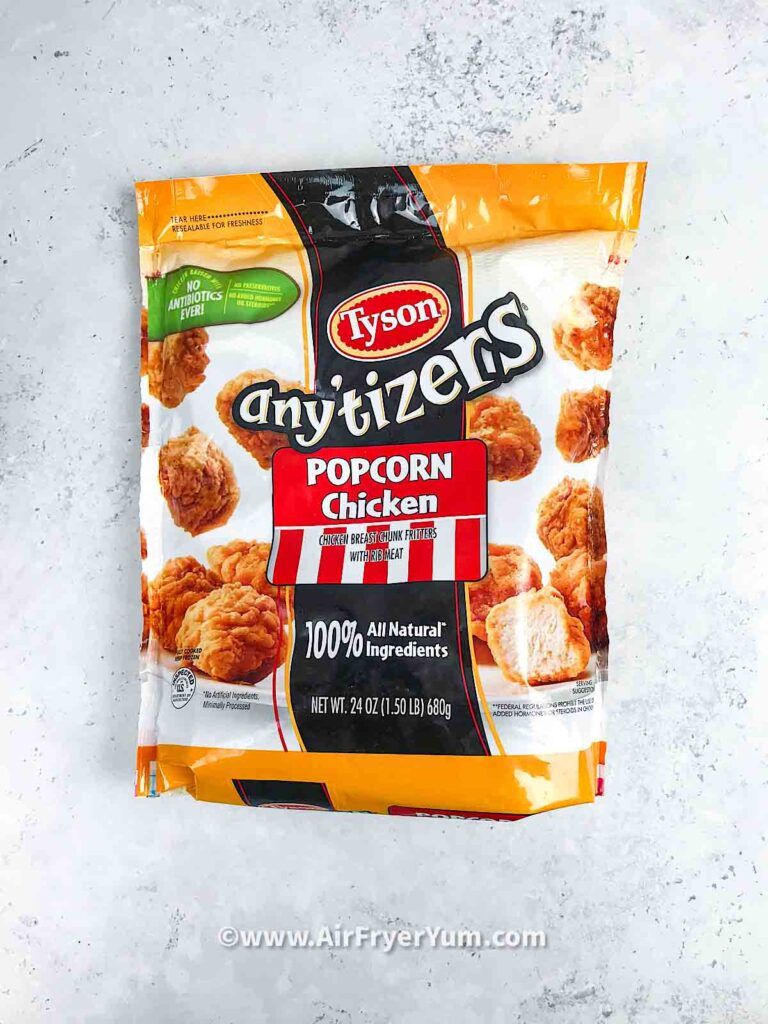 How long to cook
It typically takes 10 to 12 mins to cook frozen popcorn chicken in the air fryer. However bear in mind that certain factors such as type of air fryer (oven or basket style) temperature at which food was cooked, if you preheated the air fryer or not.
These were cooked in my Cosori air fry at 400°F (200°C) without preheating. It has been tested in Gourmia air fryer and Cosori dual blaze with same results.
You may find our free cooking chart for frozen foods helpful.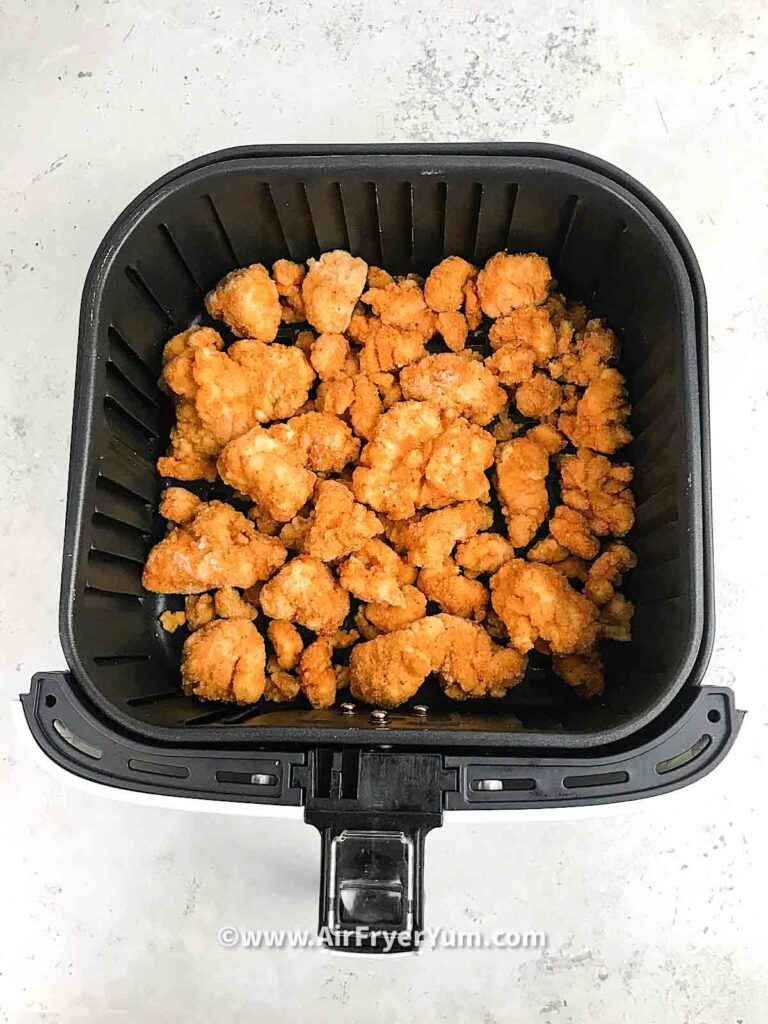 How to air fry frozen popcorn chicken
This is an overview of the recipe with step by step photos. Scroll down to the end of this post for a printable recipe card with the amount of ingredients and full recipe instructions.
Remove the frozen popcorn chicken from its packing. Empty all contents into the air fryer basket or tray of it will fit, otherwise cook in batches.
Set air fryer temperature to 400°F (200°C) and air fry for 10 to 12 mins until heated through. Remember to flip at least halfway through or every 4 mins if you can.
Serving suggestions
Classic Dipping Sauces: Serve the crispy popcorn chicken with a variety of classic dipping sauces such as ketchup, barbecue sauce, honey mustard, ranch dressing, or buffalo sauce. These sauces add flavor and enhance the overall taste of the chicken.
Slider or Sandwich: Create delicious sliders or sandwiches by placing the air fried popcorn chicken between slider buns or bread slices. You can add lettuce, tomato, pickles, and your favorite condiments like mayo or mustard to make mini burgers.
Chicken and Waffle Bites: Combine sweet and savory flavors by serving the air fryer popcorn chicken with waffles. Drizzle with maple syrup for a delightful flavor combination.
Serve with main dishes like air fryer mac and cheese or air fryer ham fried rice.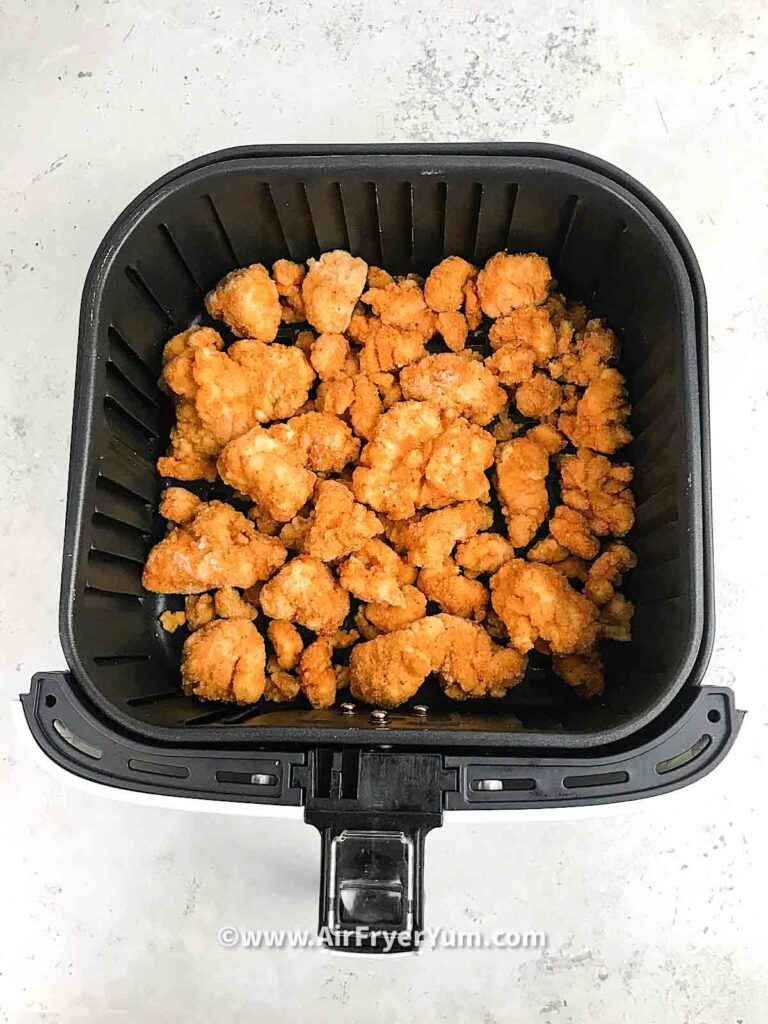 How to store and reheat
I recommend cooking only the quantity you need at a time if you are cooking for yourself. If you do have leftovers, let it cool completely then store in an air tight container in the refrigerator for up to 3 days.
To reheat transfer to the air fryer basket and reheat at 350°F (180°C) for 3 to 5 mins or until heated through.
Air frying Tips
No preheat needed.
Do not overcrowd rye basket. Cook in batches if needed.
Feel free to add more time if yours hasn't heated through after 12 mins.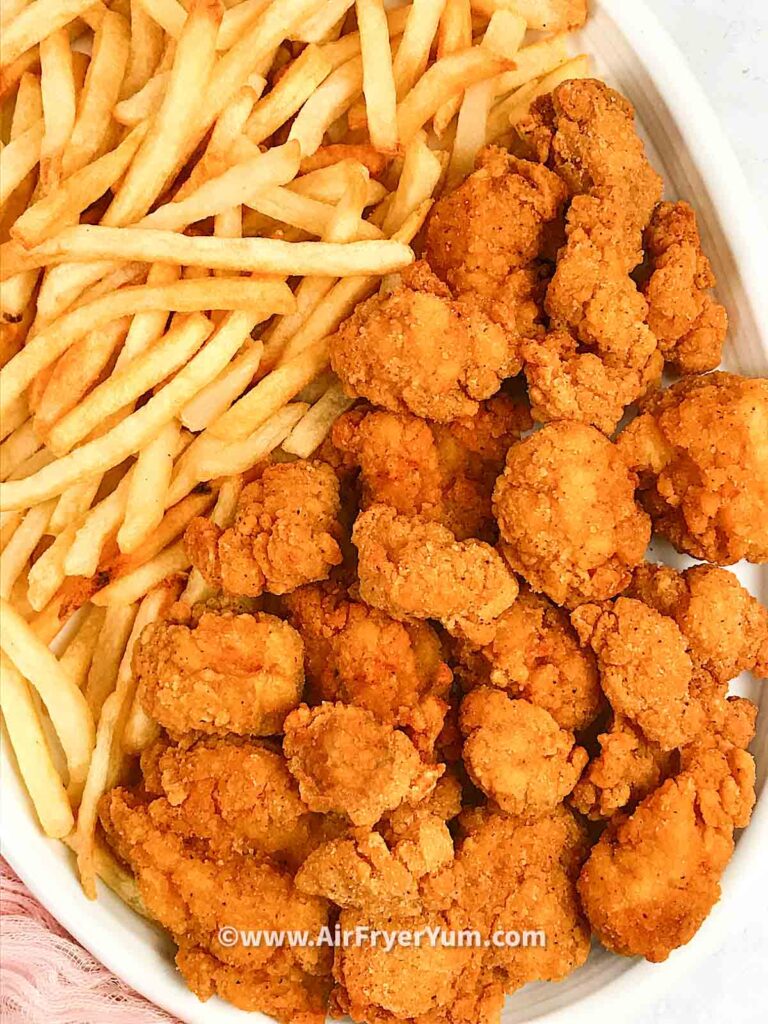 FAQs
Here you'll find answers to common questions about this recipe. If your question isn't answered, please leave us a comment below and we'll gladly answer them.
Are frozen popcorn chicken fully cooked?
Tyson popcorn chicken is fully cooked. All you need to do is reheat till it's heated through.

Check the package of the brand you are using to confirm if it's fully cooked or raw. If it's raw, you need to cook till internal temp is 165°F (74°C)
What's the difference between the Tyson popcorn chicken and Perdue popcorn chicken bites?
These are both frozen breaded chicken bites. The main difference is the size. Perdue Popcorn Chicken bites are a lot smaller than the Tyson popcorn chicken.
Can you cook frozen popcorn chicken directly in the air fryer without defrosting?
Yes, you can cook frozen popcorn chicken directly in the air fryer without defrosting. In fact, cooking frozen popcorn chicken in the air fryer is recommended to achieve the best texture and crispiness without turning on your oven.
Do I need to preheat the air fryer?
No you don't need to preheat the air fryer.
What is the best temperature and time?
The temperature and cooking time may vary slightly depending on the brand and size of your air fryer, as well as the specific instructions on the package of your frozen popcorn chicken.

However, as a general guideline, preheat your air fryer to around 400°F (200°C) and cook the frozen popcorn chicken for approximately 10-12 minutes add more time if needed.

Flip the chicken halfway through the cooking time to ensure even browning.
Do I need to spray it with oil?
No, you do not need to spray oil on the frozen popcorn chicken before air frying.

The chicken already contains some oil, and the hot circulating air in the air fryer helps to crisp it up without the need for additional oil.
If you try this recipe, show it off on Instagram! Be sure to Follow and Tag @Airfryeryumblog on Instagram and use the hashtag #airfryeryumblog so we can see your recreations!
Tools used for this recipe
The links below may contain affiliate links. As an Amazon associate and affiliate to other merchants, this website may earn from qualifying purchases. Please read full disclosure here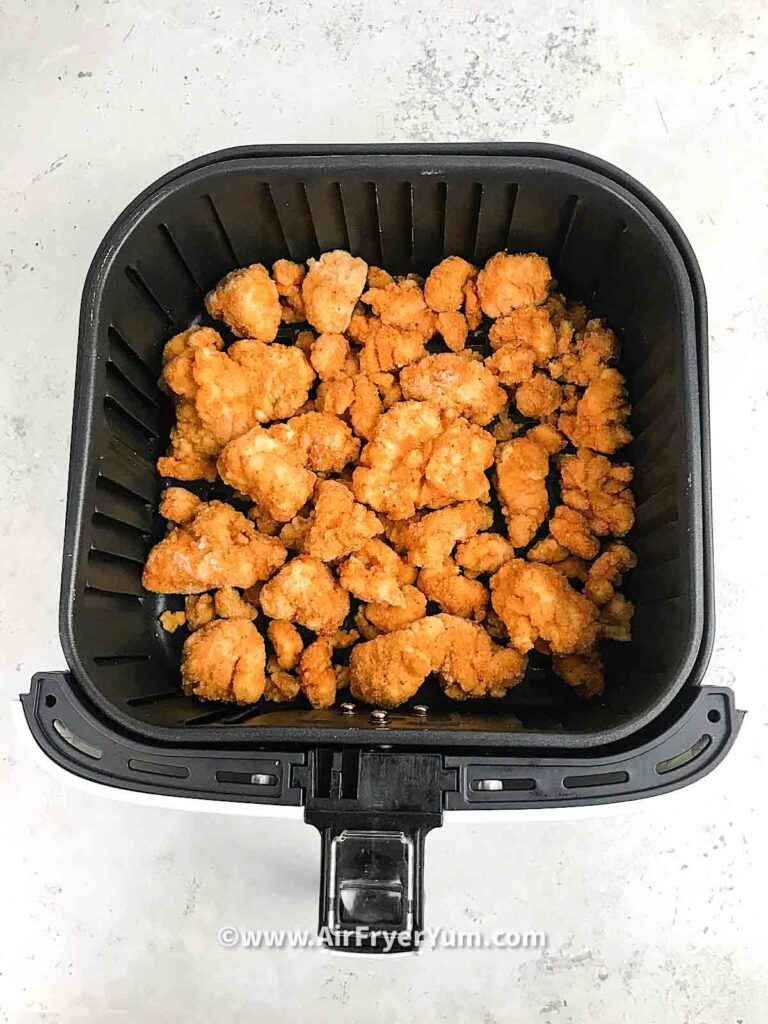 More air fryer recipes
Air fryer frozen chicken tenders
Check out all our >>>Air fryer Recipes!
Did you find this recipe helpful? Leave me a comment about it or any recipe idea you would love Air fryer 'yummed' and don't forget to share with family and friends.
Happy Air frying!
Love it? Pin it! Then follow Air Fryer Yum on Pinterest for more deliciousness!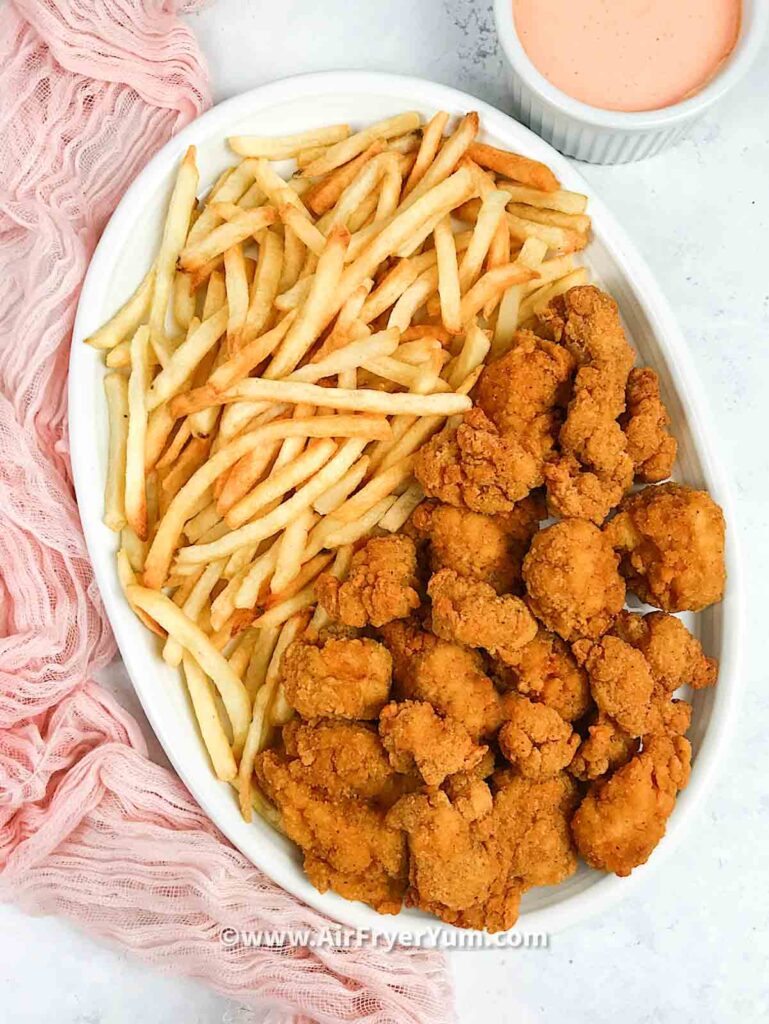 Looking for more air fryer recipes? Sign up for our yummy newsletter and Follow along on Facebook, Instagram, Pinterest and Tiktok for updates. Remember to Subscribe to my YouTube Channel for weekly videos.
Loving your air fryer much? Join other Air Fryer Buddies in our exclusive free Easy Air Fryer Recipes Group on Facebook!
New to the world of Air frying? We've got you covered. Check out our helpful >>> Air fryer Resources!
Shop all air fryers and air fryer accessories at our Amazon store.
Air Fryer Yum's Pro Tip! Air fryer temperatures may vary depending on size, make and model. When making a recipe for the first time, start with less time, check for doneness then add more time as needed.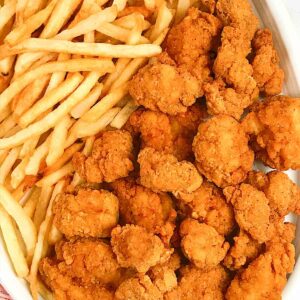 How to cook frozen popcorn chicken in the air fryer
Hands down the best way to cook Tyson anytizers is the air fryer. If you haven't tried making frozen popcorn chicken in the air fryer, I'd say stop what you are doing and go make some cos you'd be pleasantly 
Ingredients
1.5

Lb

frozen popcorn chicken

dipping sauce of choice
Instructions
Remove frozen popcorn chicken from packaging.

Transfer to air fryer basket or tray. Ensure the chicken is in a single layer. A little overlap is allowed but do not overcrowd the basket.

Air fry at 400°F (200°C) for 10 to 12 mins or until heated through and crispy to your liking. Make sure to flip chicken half way through cooking time to ensure even cooking.

Serve with your favorite dipping sauce or sides such as French fries. Kindly refer to serving suggestions in blog post for more ideas.
Notes
I did not preheat the air fryer.
No need to thaw, cook from frozen.
Nutrition
Calories:
170
kcal
Carbohydrates:
14
g
Protein:
14
g
Fat:
7
g
Saturated Fat:
1
g
Polyunsaturated Fat:
3.5
g
Monounsaturated Fat:
2
g
Cholesterol:
25
mg
Sodium:
600
mg
Fiber:
2
g
Nutrition Disclaimer
Nutritional information is an estimate and may change based on products used. Please read our Nutrition disclaimer page.
Subscribe to my YouTube Channel
Subscribe to Air Fryer Yum on YouTube for more detailed videos! Remember to click the bell icon to get notified when I upload new videos.
Save this Recipe for later!
Follow @AirFryerYum on Pinterest!
Did you make this air fryer frozen popcorn chicken recipe? Awesome! Please rate it by clicking the stars ⭐️⭐️⭐️⭐️⭐️ when you leave a comment below. If you loved it please share the link to this recipe with family and friends and in your favorite Facebook group.