Air fryer frozen waffle fries are one of my favorite type of fries to make in the air fryer! It's super easy to make and you get perfect crispy waffle-cut fries in about 15 mins with no need to preheat.
Making Frozen waffle fries in the air fryer is a great way to master your new gadget because it's beginner friendly and yields consistent results every time. These can be served with your family's favorite dipping sauce or with these air fryer cheeseburgers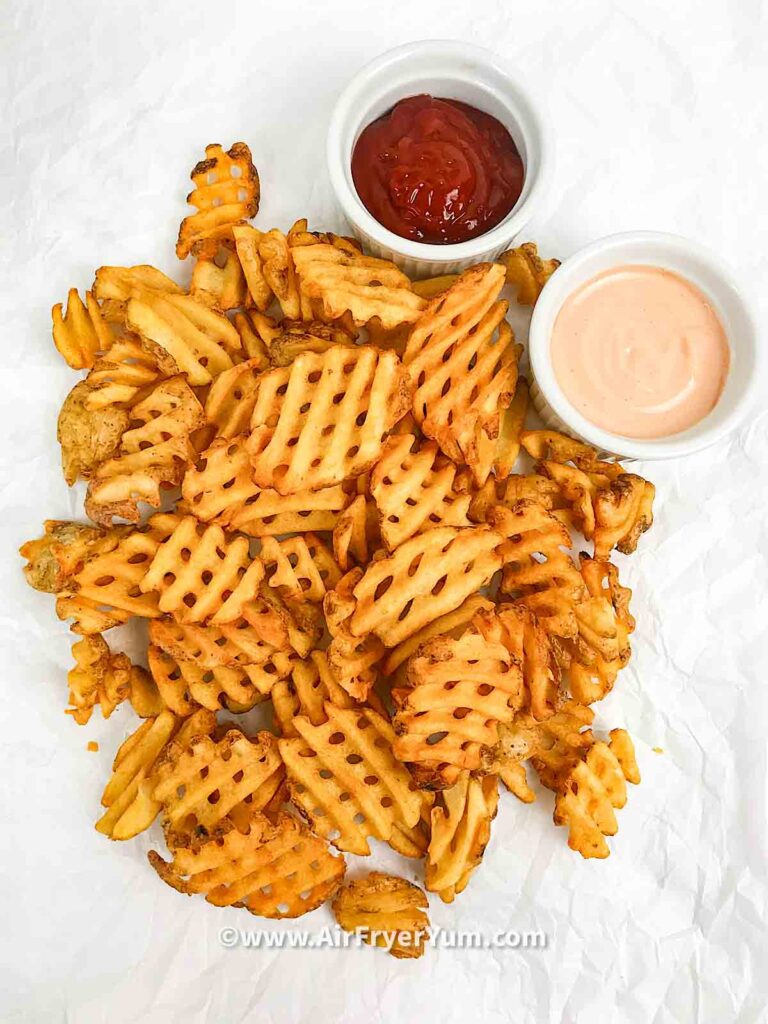 Air fryer frozen waffle fries
Similar to our air fryer frozen crinkle cut fries, and air fryer curly fries, these Crispy Air fryer frozen waffle fries are a delicious and convenient snack or side dish to serve anytime of the day!
Waffle fries are a type of French fry that are cut in a waffle shape, providing a crispy exterior and soft, fluffy interior.
Traditionally these are deep fried but making it in the air fryer is a game changer as it cuts down on excess oil. If you've tried frozen French fries in air fryer or air frozen sweet potato fries you'll understand why we are raving about this.
Related: Air fryer red potatoes, Potato side dishes for steak, air fryer tater tots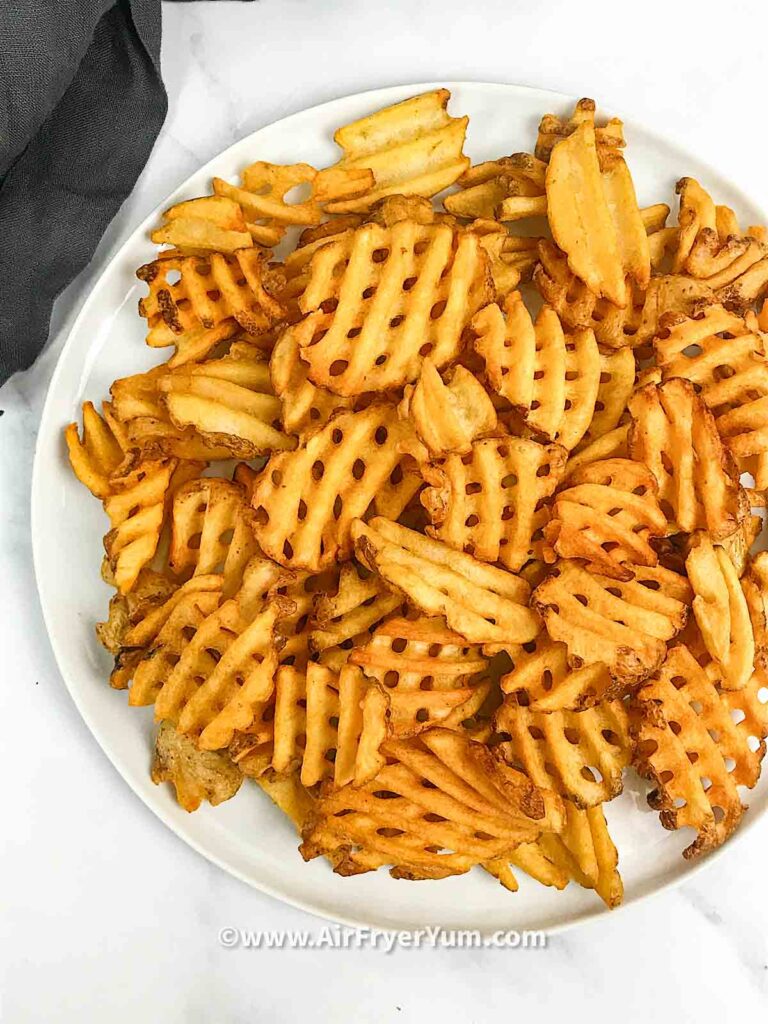 Why we love these!
Easy to make
Versatile: They can also be seasoned to taste with a variety of spices and seasonings, such as garlic powder, paprika, or parmesan cheese.
Air fryer frozen waffle fries are a healthier alternative to traditional deep-fried fries, as they require little to no oil for cooking.
Join our Air fryer recipes group on Facebook!
Ingredients
Frozen waffle cut fries
Dipping sauce
How long to cook frozen waffle fries in air fryer?
The cooking time will depend on the temperature of your air fryer and if you preheat or not. However, typically it will take between 12-15 minutes to cook frozen waffle fries in an air fryer at 400°F( 200°C) and no preheat.
The good thing is that you can adjust the time as needed. So start checking at 12 mins to decide if it needs more time. Be sure to shake the basket occasionally during cooking to ensure even cooking.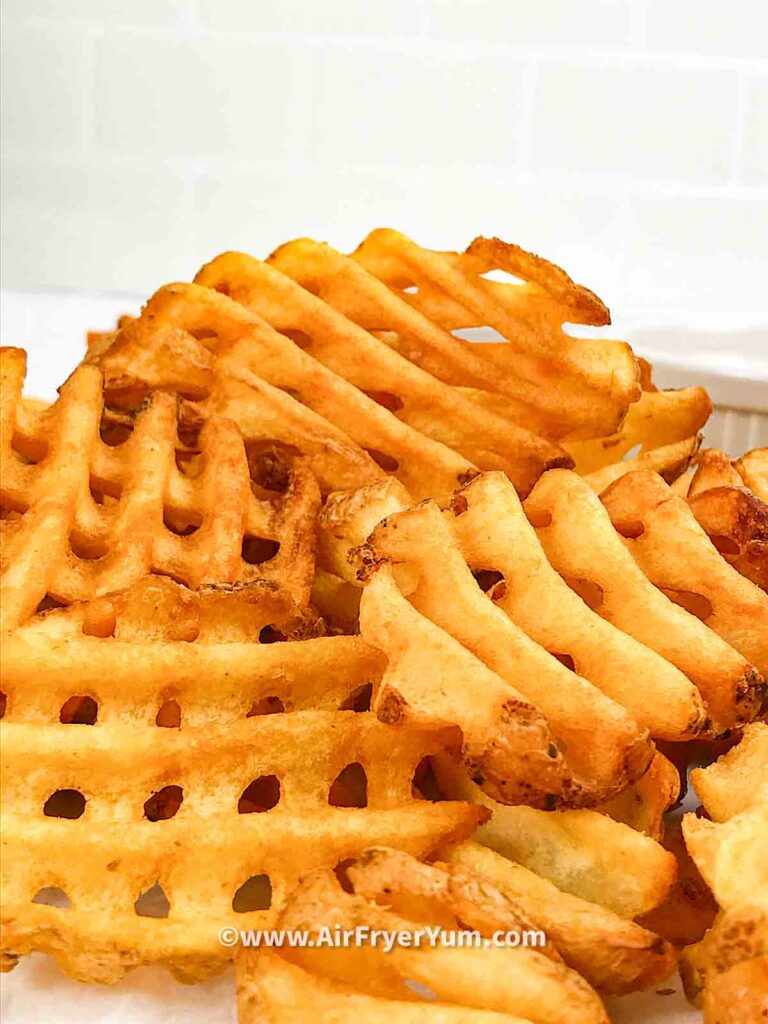 How to make it
This is an overview of the recipe with step by step photos. Scroll down to the end of this post for a printable recipe card with the amount of ingredients and full recipe instructions.
Transfer waffle fries into the air fryer basket or tray no need to thaw.
How to store and reheat
These usually finish in one sitting for my family of 5. If you do make a large batch, you can let these cook down completely, transfer to a paper towel lined airtight container then store in the refrigerator for up to 2 days. I do not recommend freezing these.
Reheating fries in the air fryer is the best because it restores the crispiness. To do this, simply transfer fries to the air fryer basket and reheat at 350°F for 3 to 5 mins or until warmed through.
Air frying Tips
Cook these from frozen. Do not thaw before cooking.
You do not need to preheat the air fryer. However if you do expect this to cook faster than stated in this air fryer frozen foods guide. Also if you cook in batches, subsequent batches will cook faster than the first batch because the air fryer got preheated during the first cooking cycle.
Do not over crowd the basket. That's the secret to crispy waffle fries. Cook in batches if needed.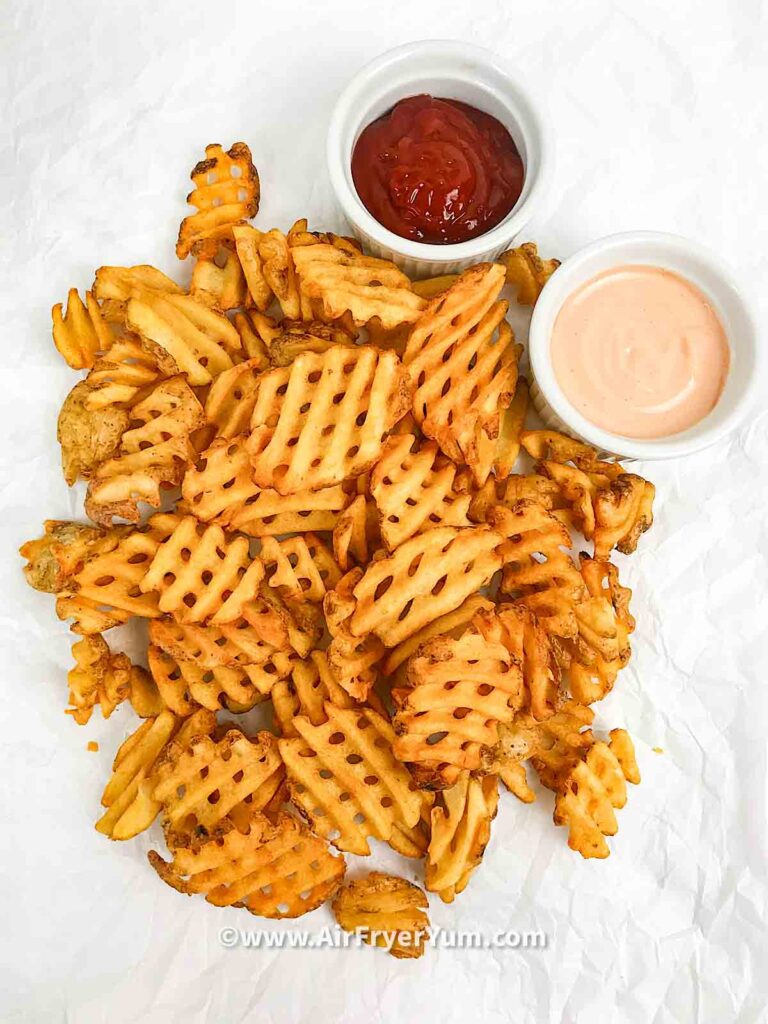 FAQs
Here you'll find answers to common questions about this recipe. If your question isn't answered, please leave us a comment below and we'll gladly answer them.
Can I cook waffle fries in an air fryer straight from the freezer?
Yes, you can cook frozen waffle fries without thawing them first.
Do I need to add oil to air fry frozen waffle fries?
No, you don't need to add any oil to air fry frozen waffle fries. Since these were fried before flash freezing, the fries will release some oil during cooking, which is enough to achieve a crispy and delicious result.
Can I season my frozen waffle fries before air frying?
Some brands come pre-seasoned. While you can season your frozen waffle fries with your preferred spices or seasoning before air frying, you should check that the bag of waffle fries you have isn't pre- seasoned. If it isn't, be sure to evenly coat the fries to ensure the best flavor.
How do I clean my air fryer after cooking waffle fries?
You would hardly have anything to clean up. Simply allow the air fryer to cool down completely, wipe the basket and the interior of the air fryer with a damp cloth or sponge the wash with soapy water, rinse and wipe clean with dry lint free cloth.
If you try this recipe, show it off on Instagram! Be sure to Follow and Tag @Airfryeryumblog on Instagram and use the hashtag #airfryeryumblog so we can see your recreations!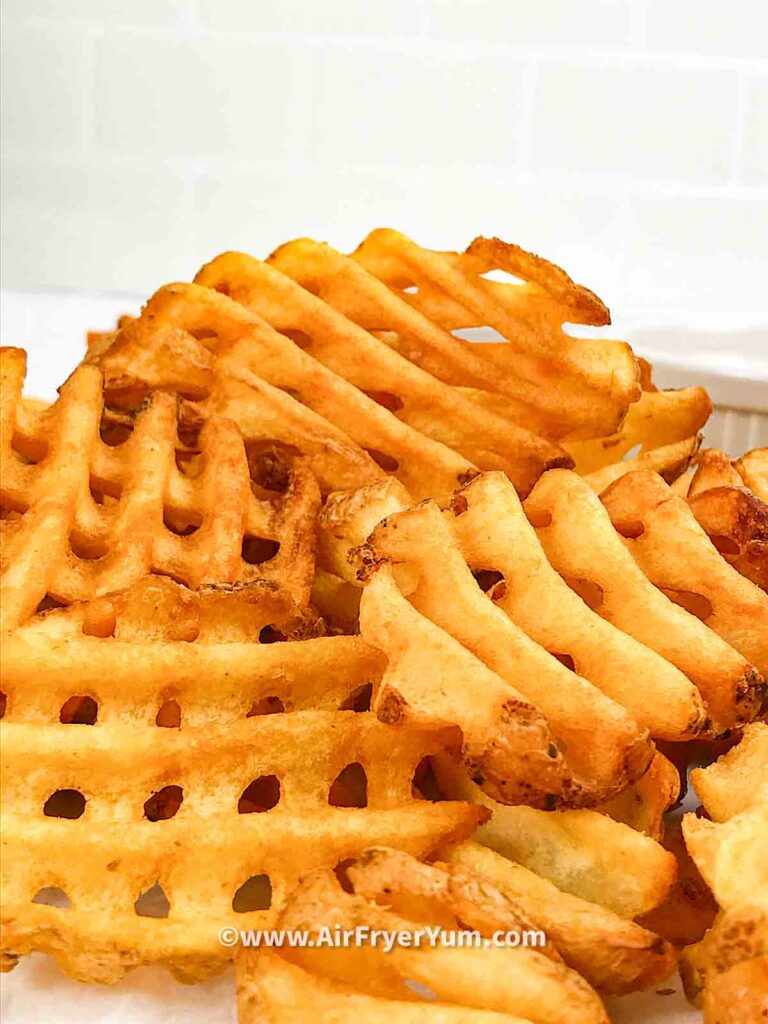 Tools used for this recipe
The links below may contain affiliate links. As an Amazon associate and affiliate to other merchants, this website may earn from qualifying purchases. Please read full disclosure here
Did you find this recipe helpful? Leave me a comment about it or any recipe idea you would love Air fryer 'yummed' and don't forget to share with family and friends.
Happy Air frying!
Love it? Pin it! Then follow Air Fryer Yum on Pinterest for more deliciousness!
Looking for more air fryer recipes? Sign up for our yummy newsletter and Follow along on Facebook, Instagram, Pinterest and Tiktok for updates. Remember to Subscribe to my YouTube Channel for weekly videos.
Loving your air fryer much? Join other Air Fryer Buddies in our exclusive free Easy Air Fryer Recipes Group on Facebook!
New to the world of Air frying? We've got you covered. Check out our helpful >>> Air fryer Resources!
Shop all air fryers and air fryer accessories at our Amazon store.
Air Fryer Yum's Pro Tip! Air fryer temperatures may vary depending on size, make and model. When making a recipe for the first time, start with less time, check for doneness then add more time as needed.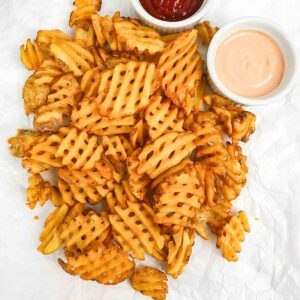 Air fryer frozen waffle fries
Air fryer frozen waffle fries are one of my favorite type of fries to make in the air fryer! It's super easy to make and you get perfect crispy waffle-cut fries in less than 15 mins with no need to preheat. 
Ingredients
18

oz

frozen waffle fries

¼

cup

ketchup, barbecue sauce, fry sauce or your favorite dipping sauce.
Instructions
Transfer frozen waffle fries into air fryer basket in a single layer. A little overlap is allowed but do not overcrowd the basket or tray.

Air fry at 400°F (200°C) for 12 to 15 mins. Shake the basket half way through cooing time. Check at 12 mins and add more time as needed till it reaches your desired level of crispy.
Nutrition
Serving:
11
Pieces
Calories:
180
kcal
Carbohydrates:
24
g
Protein:
1
g
Fat:
9
g
Saturated Fat:
1.5
g
Polyunsaturated Fat:
4
g
Monounsaturated Fat:
4
g
Sodium:
180
mg
Potassium:
250
mg
Fiber:
1
g
Sugar:
8
g
Calcium:
20
mg
Iron:
0.5
mg
Nutrition Disclaimer
Nutritional information is an estimate and may change based on products used. Please read full nutrition disclaimer here .
Subscribe to my YouTube Channel
Subscribe to Air Fryer Yum on YouTube for more detailed videos! Remember to click the bell icon to get notified when I upload new videos.
Save this Recipe for later!
Follow @AirFryerYum on Pinterest!
Did you make this air fryer recipe? Awesome! Please rate it by clicking the stars ⭐️⭐️⭐️⭐️⭐️ when you leave a comment below. If you loved it please share the link to this recipe with family and friends and in you favorite Facebook group.