If you've been wondering how to use an air fryer, this guide will walk you through everything you need to know before buying an air fryer—from how to use this popular kitchen appliance to the best air fryer recipes for beginners. It will also talk about Air fryer baking 101, how to preheat an air fryer, and other helpful air fryer tips!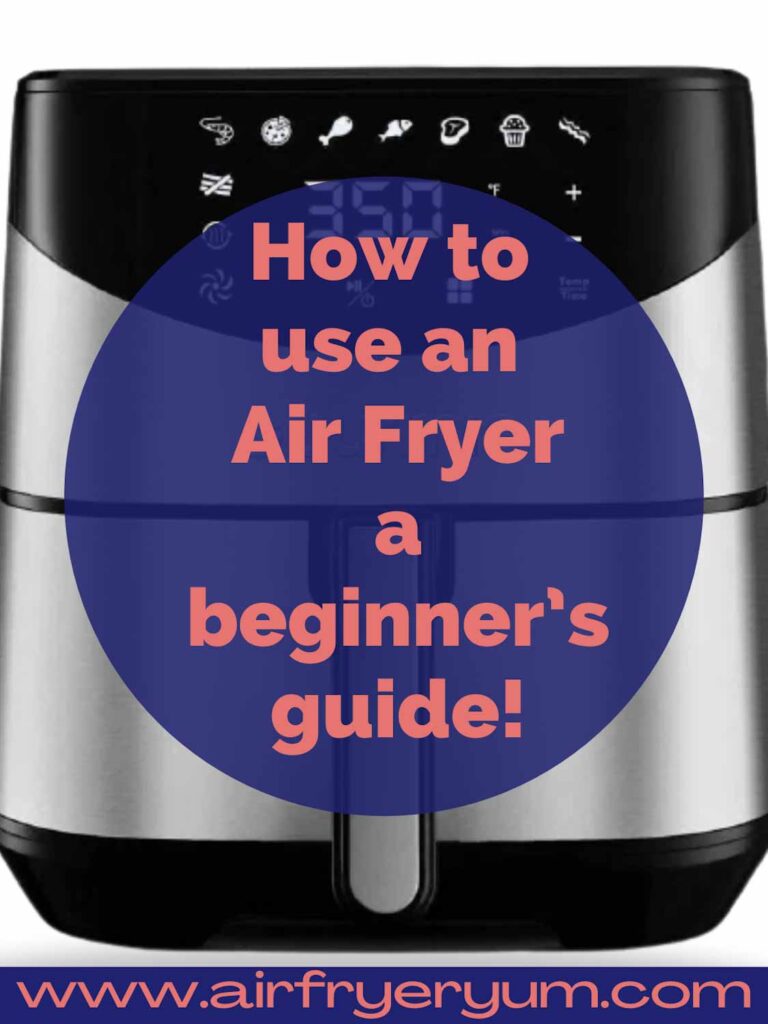 What is an Air Fryer?
This kitchen appliance took the world by a storm and is gradually becoming a necessity in every kitchen. So what is it? An air fryer is essentially a countertop convection oven. It works by rapidly circulating hot air to fry food using minimal to no oil at all.
This incredible kitchen gadget has gained a lot of popularity over the last couple of years. According to a market research firm NPD Group, as many as 40% of the homes in the U.S. had an air fryer by July 2020.
Available in a wide range of models and sizes, air fryers have the ability to turn tasty foods like Tot Burgers and Chicken nuggets or tenders into healthier crispy snacks without deep-frying. Since there is no oil involved, recipes made using this gadget are healthy and oil-free.
It doesn't only make traditional fried foods like French fries or potato chips, but it is also found useful at frying veggies, preparing recipes like Mediterranean chicken bowls, steak fajitas, and bacon-roasted potatoes.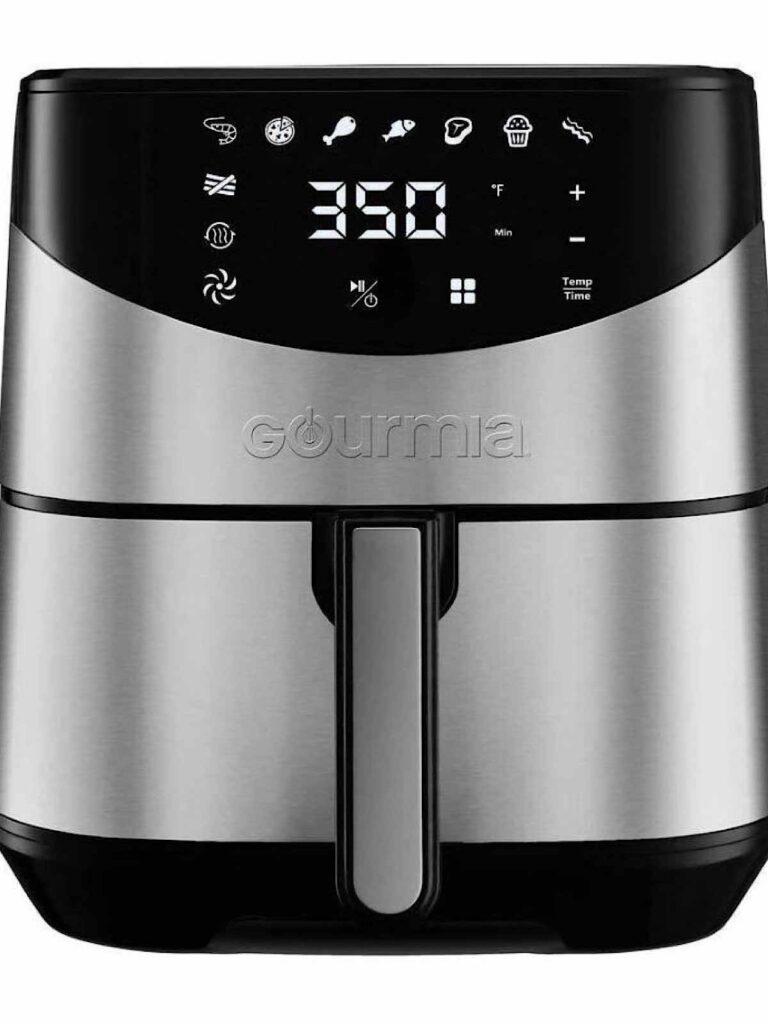 Types of Air fryers
There are a variety of air fryer brands in the market, however there are two major types of air fryers. The basket type and the oven type.
Basket type
This is the more popular type of air fryers it has a drawer like compartment which serves as the basket in which food is cooked.
It usually and comes in two different sizes. The small and the large. The small size range from 2.7 quarts to 3.7 quarts while the large sizes range from 4 quarts to 7 quarts.
The baskets also come in two shapes. The round shaped baskets and the square shaped basket. Below are examples of both types the basket style
Air fryers with round shaped basket
Air fryers with square shaped baskets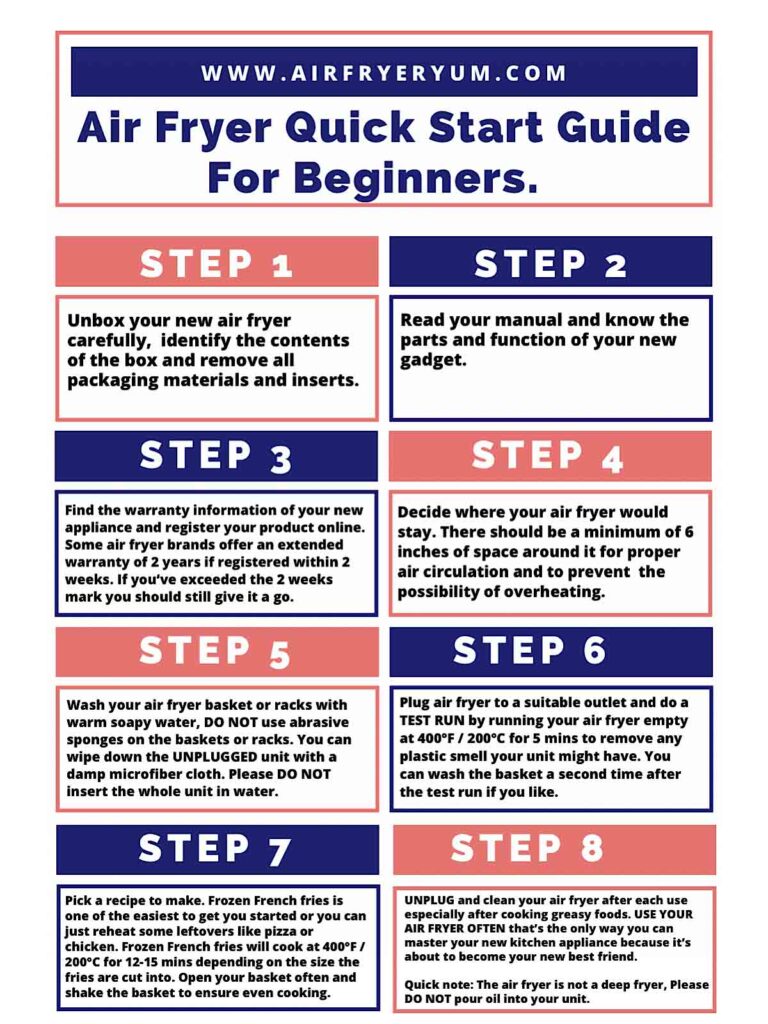 Oven type
The air fryer Oven are different from a standard oven that has an air fryer function. Air fryer ovens are also counter top appliances that look like a microwave or a toaster oven. Instead of a basket, they have racks like a traditional oven and most have a rotisserie chicken rod.
When compared with the basket style air fryers, the basket style air fryer tends to cook a little bit faster. An example of the air fryer oven is the Emeril lagasse Power Air fryer , Instant Pot Vortex and the Pampered Chef Deluxe Air fryer.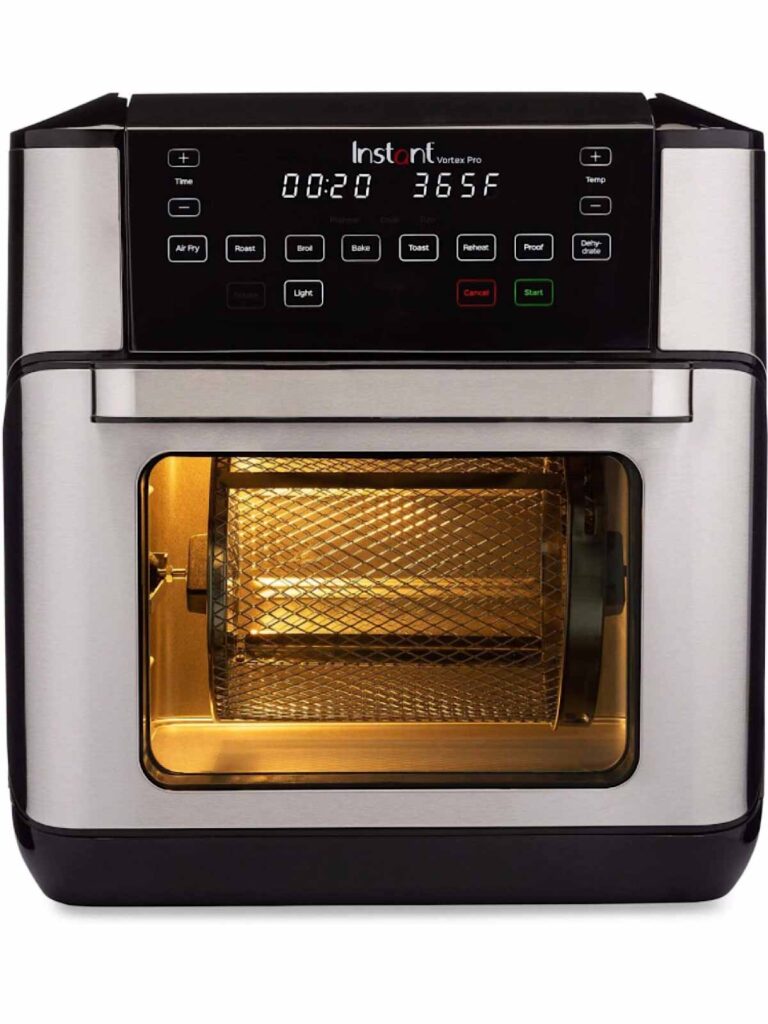 Brands and which to buy.
There are a lot of good brands out there. The size of your family should determine the type you should buy. It will help you decide if you should buy the Basket type or oven style.
Currently the Resident Air fryers on this blog are the Gourmia 6 quart and the Cosori 5.8 quart. An oven style will be added to the family in the near future.
Is the Air Fryer Healthy?
The air fryer is not the only cooking method that cooks healthy food. The hype is in the fact that fried foods are very popular and obviously taste better than boiled foods.
Though Deep fried foods like fried chicken, French fries and the likes taste delicious, the draw back is the amount of oil needed to achieve that crispy delicious goodness we all love.
That's where the air fryer fills the gap. The air fryer makes fried foods healthier because it makes fried foods taste awesome with less oil. The method of cooking forcing hot air around the food in such a way that a little oil adds a level of delicious crispiness that can be compared with deep fried chicken. This crispy air fried chicken drumsticks is proof of the how the air fryer makes crispy chicken.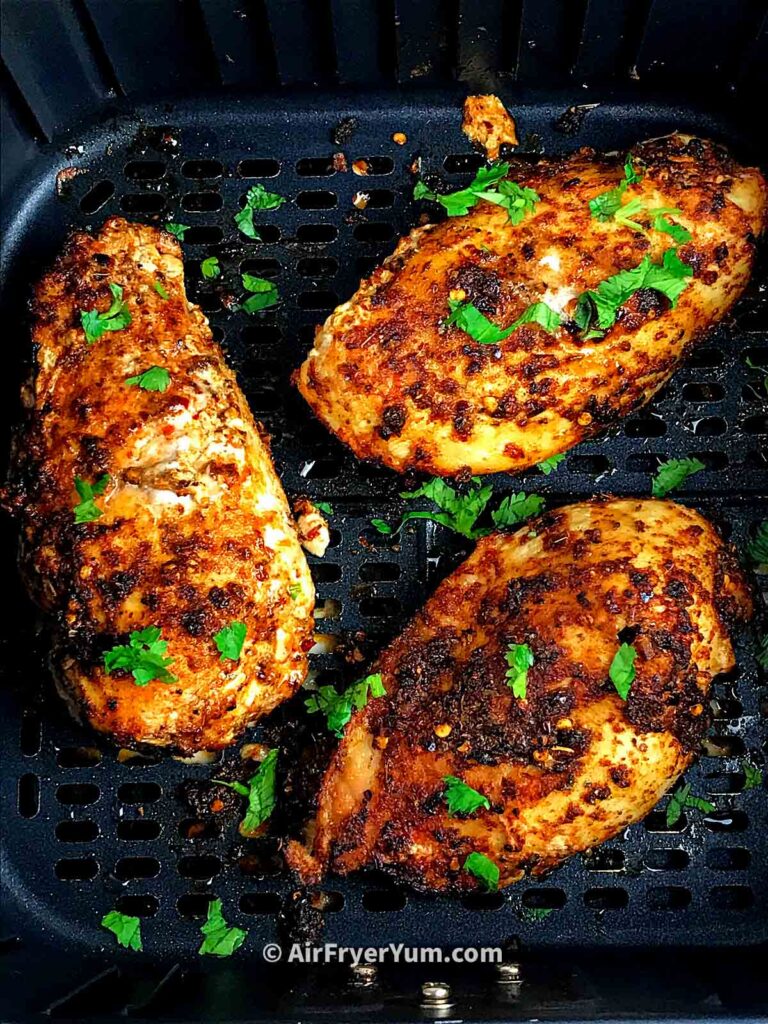 How to use an Air Fryer
Did you just pick up an air fryer from the store or perhaps you got gifted with one for your birthday, Christmas, Mother's or Father's Day and you've got it still packed up and on the counter because you are worried because you have no idea what to do or how to even use it, here is the step-by-step procedure to follow.
Basket style
The topmost section of an air fryer is where the heating mechanism and fan are. All you need to do is place your food in the fryer-style basket and turn the gadget on. The rapid circulation of hot air around your food will make it crisp, like deep frying but without any oil.
Follow these steps to cook your food using an air fryer:
Place your food in the basket: Place the food you want to in the air fryer basket. The basket may hold anywhere from 2 to 3 lbs, depending on its size. If you want to get crispier results, add 1 or 2 tablespoon oil with your food. This will help your food get nice and crispy while also being healthy.
Set time and temperature: The next step is to set the time (typically ranges from 5 to 30 minutes) and temperature (350 to 400 degrees Fahrenheit). This usually depends on the food you're cooking since different recipes require different settings.
Wait for your food to get ready: The final step is to wait until your food is cooked and ready to eat. However, you may need to turn or flip the basket content from time to time so food crisps up evenly.
Oven style
Use the air fryer oven style as you would use a conventional oven or toaster. Food is placed on the racks. However the racks need to be removed to use the rotisserie function.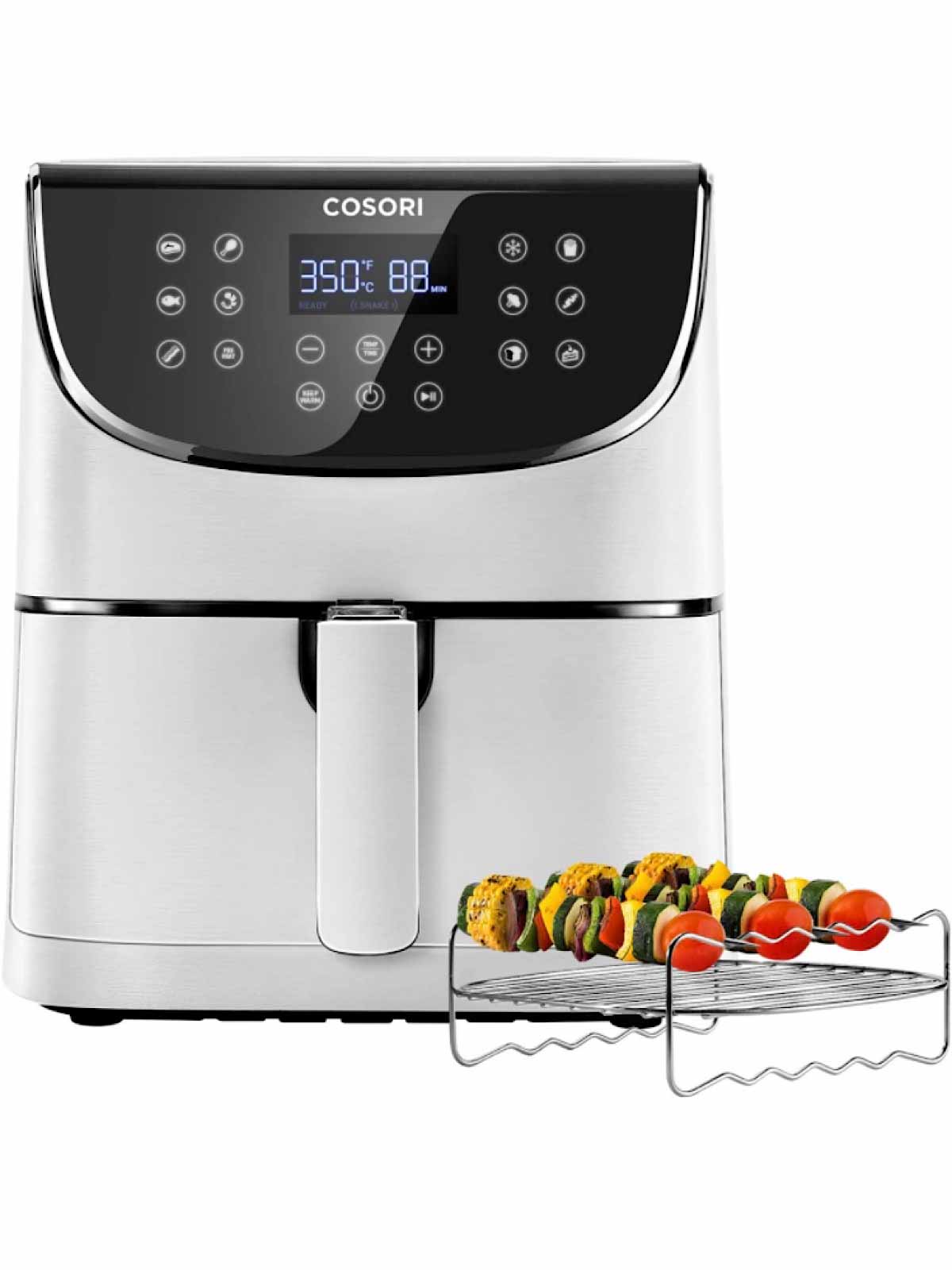 How to clean an Air Fryer?
This machine allows you to enjoy your favorite fried foods guilt-free and with less fat and fewer calories. But even when you're using it, you're still 'frying' after, therefore it's essential to clean it after every use since grease or oil build-up can make your device smoke.
Most models come with dishwasher-safe parts, so make sure to check the manual before washing. Here is how you clean an air fryer:
First refer to your manual on how to clean your specific gadget. Some brands have dishwasher safe parts.
Unplug your fryer from the electric socket.
Remove basket, pans, racks or any insert that has been used. Wash them with hot soapy water. If there is any food or baked-on grease, keep these parts to soak in the hot soapy water for 5 - 10 minutes before scrubbing them with a non abrasive sponge.
Now take a non abrasive sponge or a damp cloth with a little bit of dish soap to wipe down the insides of your air fryer. Wipe the soap away using a clean damp cloth.
The next step is to turn the appliance upside down and start wiping the heating element using a damp cloth. If there is any hard residue on the main part, apply a paste of water and baking soda on the baked-on, and scrub it slowly using a soft-bristle scrub brush.
Wipe the foam away using a clean and dry cloth.
Now it's time to clean the exterior of your air fryer. Simply, wipe it down using a damp cloth with some soapy water and then wipe the soap away with a clean & dry cloth.
Set the removable parts on the counter to dry before reassembling.
This is how simple it is to clean an air fryer. It is important to clean an air fryer after every use to keep it in good condition, and help it last more.
What can you not cook in an air fryer?
Ideally everything that cab be cooked in an conventional oven should be able to work in the air fryer, however not every fried food can be successfully made in the air fryer.
Wet batter: Foods that have a wet batter like corn dogs, fried Oreos and pancakes that require a wet batter can't be made in its traditional form in the air fryer but there are work arounds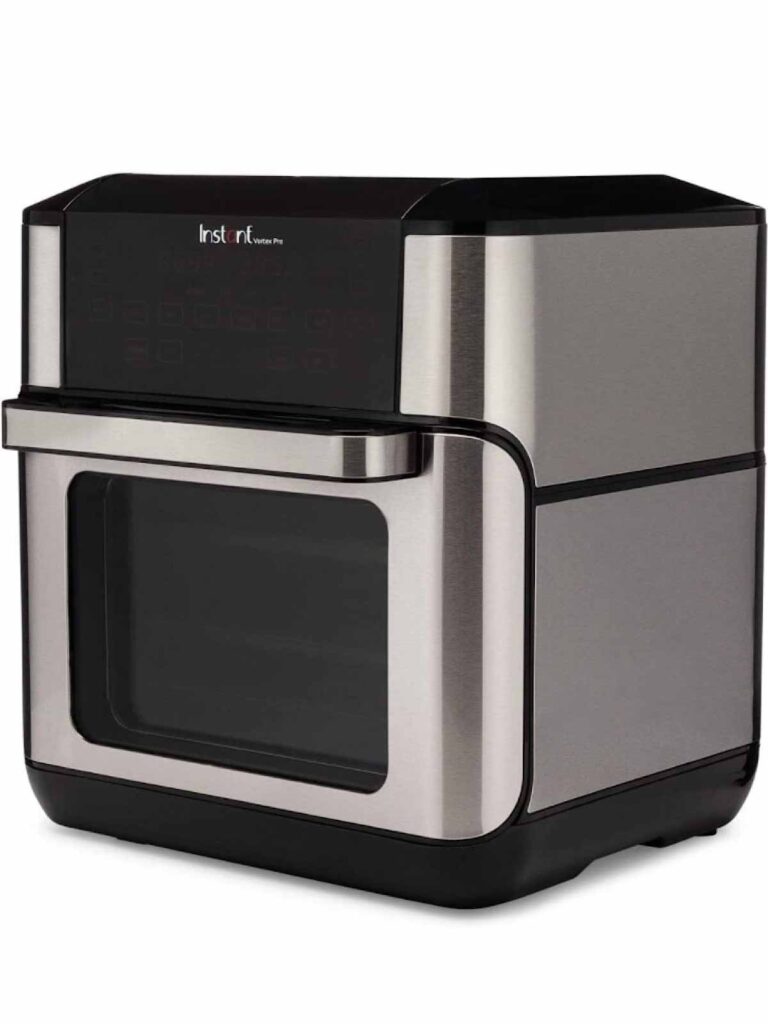 Preheating
Preheating the air fryer would depend on your type of air fryer and your manufacturer's manual indicates that you should.
Personally most of my recipes are made without preheating my air fryer because Gourmia air fryer doesn't require that I preheat it. Besides that, the air fryer heats up very quickly and is much faster than a traditional oven.
However subsequent batches of any recipe you make on a non preheated air fryer tends to cook faster because the air fryer got preheated while the first batch was cooking.
How long to preheat an air fryer and at what temperature
If your air fryer needs preheating or as a personal preference, you like preheating your air fryer, preheat it at the temperature indicated in the recipe you are making for 3 minutes. For instance if you are making my chicken breast recipe, the temperature indicated in the recipe is 380°F / 193°C. Preheat at that temp for 3 mins.
What can I put in it, Parchment paper or foil.
Can I put parchment paper or foil in the air fryer. The short answer is yes. However there are precautions and one of them is to never preheat your air fryer with a foil or parchment paper in it.
There's absolutely no need for that. If you must, place your air fryer rack to hold it in place to keep it from flying around and getting stuck in the element of the air fryer and this could a fire. See how I held the foil down in my air fryer popcorn recipe.
I have a full blog post on how to use parchment papers safely in the air fryer.
You can check it out whenever you want. It also has a free printable info graphic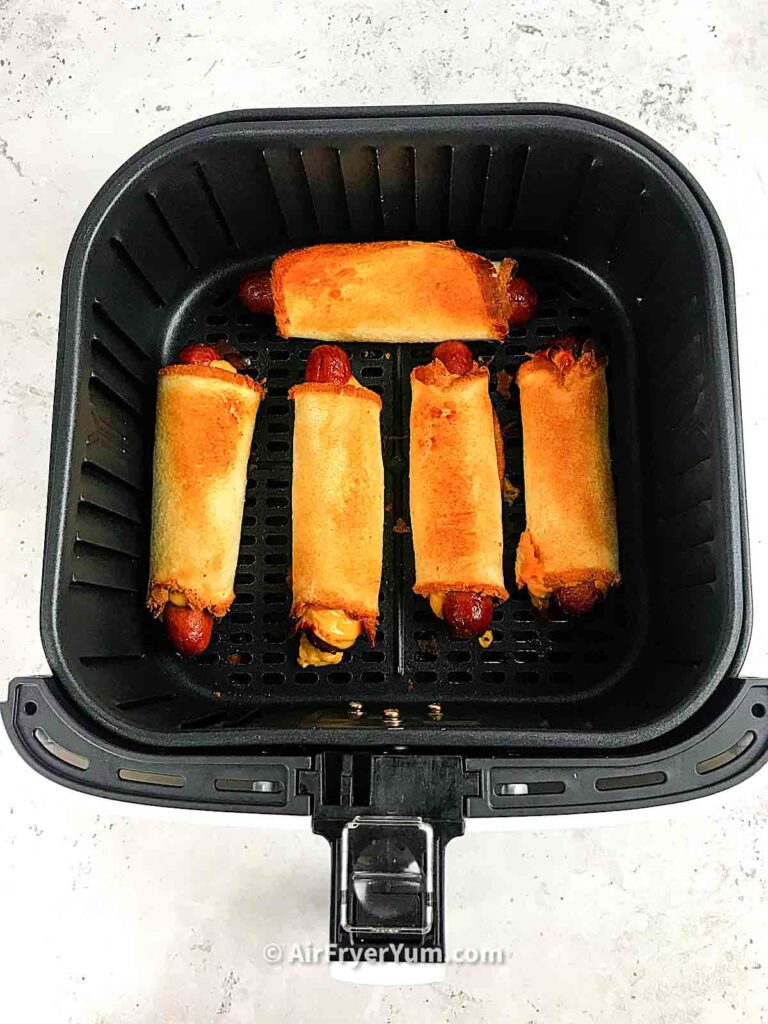 Important tips for beginners
Here are some essential tips to keep in mind when using an air fryer!
Read your manual: Air fryers are made by different manufacturers. Reading your manual will help you know and understand your individual gadget better.
Don't overcrowd the basket: The air fryer cooks by heat and air circulation. It's needs space in between the food to cook and crisp it up. It's ok to cook in batches.
Don't be afraid to open and take a peek: Especially you are using it for the first time. You might want to open and check frequently so that you know when it cooks through.
Shake the basket regularly while cooking: Remember to open your air fryer while cooking and turn or flip foods around as they fry in the machine's basket. This will ensure that the food gets crispy from all the angles and no side stays undercooked.
Don't skip the oil: Contrary to what people might think, for some recipes you actually need to use oil in the air fryer. To spray the basket and to lightly coat the food you are cooking. 1 to 2 Tablespoons depending on the recipe.
Pat your ingredients dry: Remove excess moisture from the surface of vegetables and meat with paper towel before cooking. It helps oil and spice rubs stick better.
You need a meat thermometer: This will ensure you food especially meats reach a safe internal temperature when cooked.
To Preheat or not to: Back to reading your manual. Some air fryers require preheating while some don't. Whichever you prefer, bear in mind that even if you don't preheat before cooking the first batch of food for example sweet potato fries, the subsequent batches will cook faster since the air fryer is now preheated.
Using foil or parchment paper: You can use foil or parchment paper in your air fryer provided you don't preheat with it. Parchment or foil must weighed down with food to use it safely on your gadget. A
Adjust the temperature: Go lower with the temperature than you would for the oven. Air fryers tend to cook faster than ovens, so a slightly lower temperature will allow the food to cook properly on the inside and prevent it from getting too crispy or burning from the outside. Check out my oven to air fryer temperature conversion calculator.
Clean it after each use: It's important to clean it often. I recommend after each use even if you are using a parchment paper. Build up of grease can damage the nonstick coating from scrubbing. This can also cause your kitchen gadget to smoke.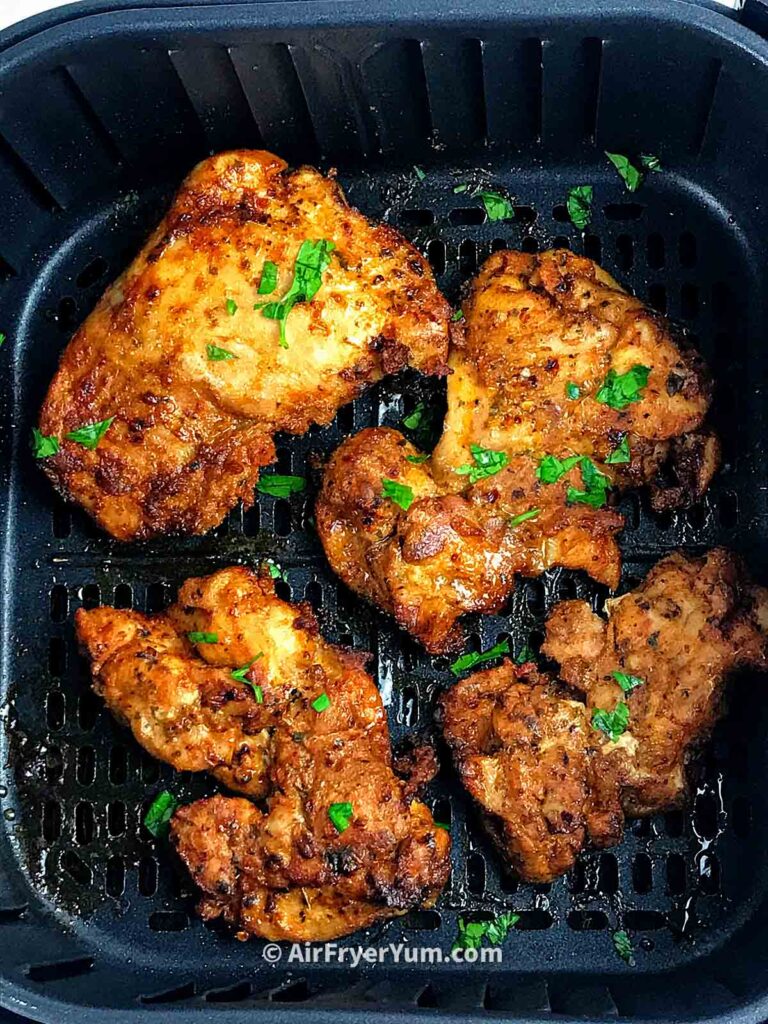 Air Fryer recipes for Beginners
Now that you have read through this guide, which recipe would be making, I'm curious. Would it be bacon, breaded mushrooms or Madeleines? Let me know in the comments.
If you just got an air fryer and have no idea what to make, below are a collection recipes for beginners. You can do this!
Check out all our >>>Air fryer Recipes!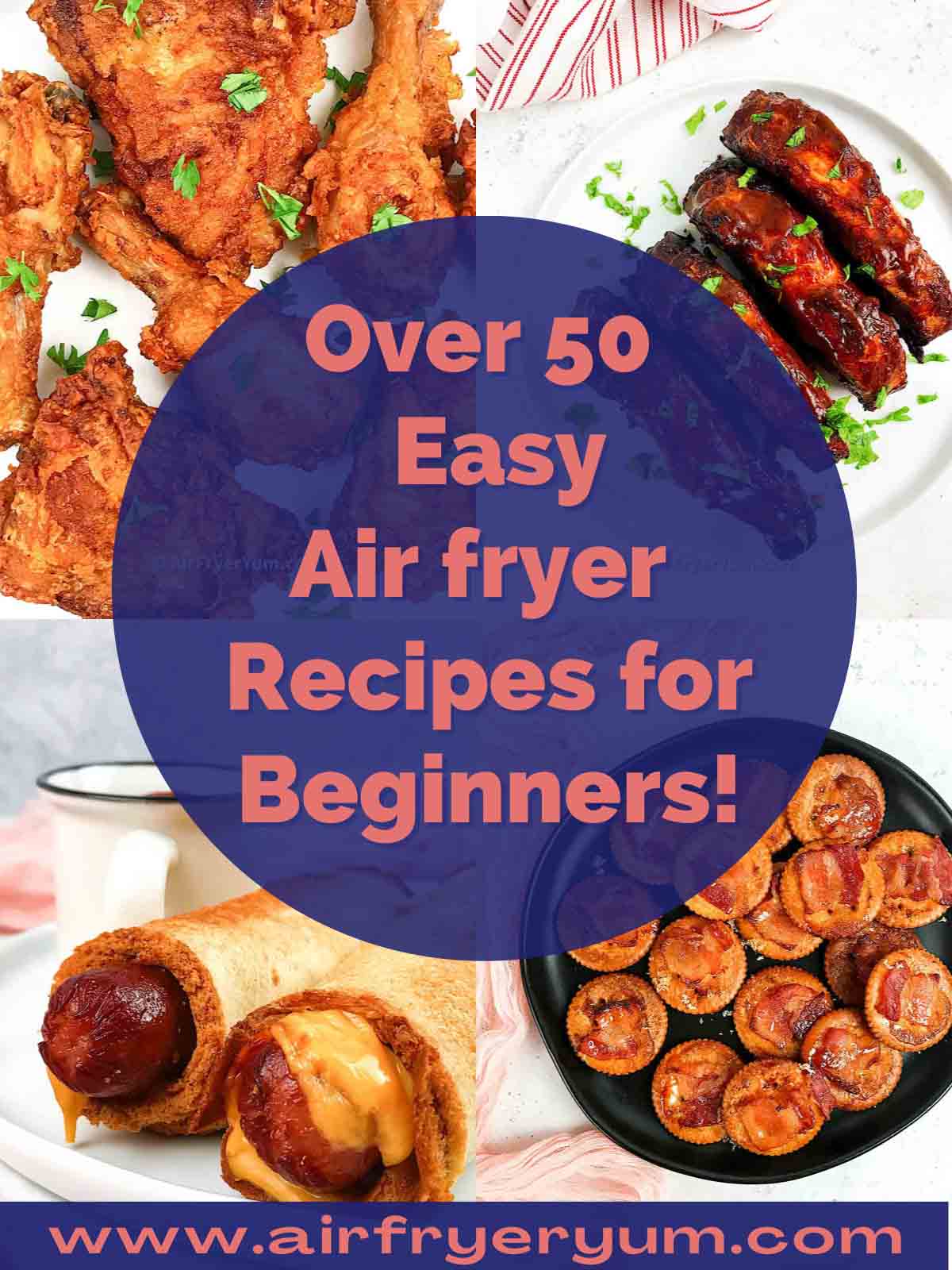 Recommended Air fryers
Below are our top recommended air fryers
Did you find this guide helpful? Leave me a comment about it or any question or guide you'd love to see covered on Air Fryer Yum and don't forget to share with family and friends.
Happy Air frying!
---
Looking for more air fryer recipes? Sign up for our yummy emails and follow along on Facebook, Instagram, Pinterest, and Tiktok for updates. Remember to Subscribe to our YouTube Channel for weekly videos.
Loving your air fryer much? Join other Air Fryer Buddies in our exclusive free Easy Air Fryer Recipes Group on Facebook!
New to the world of Air frying? We've got you covered. Check out our helpful>>> Air fryer Resources!
If you love baking, you'd love our beginner's guide to air fryer baking it walks you through how to bake in your air fryer in easy steps and it's free!
Love it? Pin it!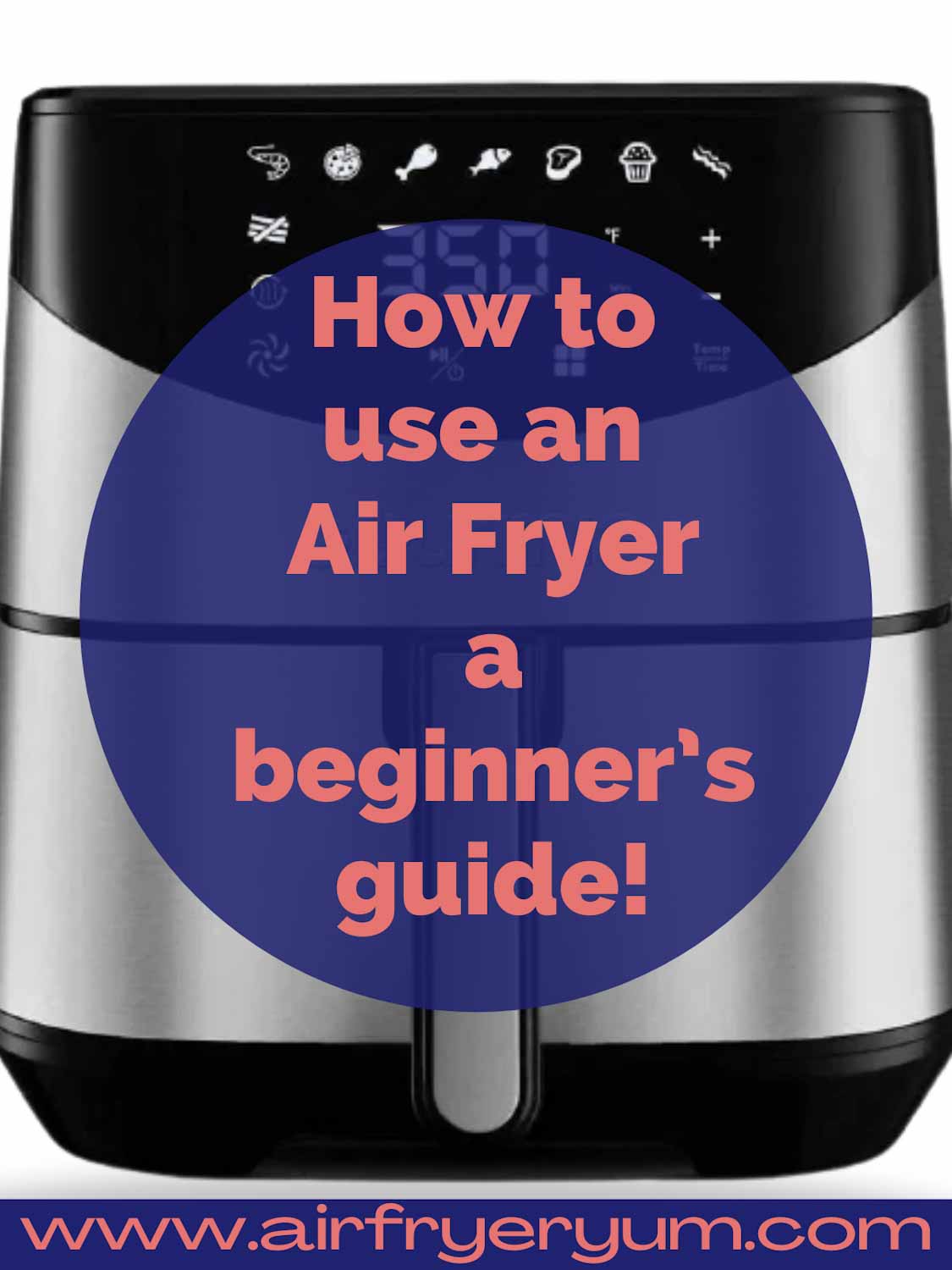 ---
---
Air fryer quick start guide
Unbox your new air fryer carefully and identify the contents of the box.
Read your manual and know the parts and function of your new gadget. Register for the warranty you may need it.
Use your air fryer often that's the best way to learn how to use it
Clean after each use (unplug the air fryer, wash basket or trays and wipe down the element with a damp cloth)
Do not pour oil into the air fryer it's not a deep fryer.
Recipes are a guide since all air fryer brands are different and heat up differently, temperature and time may vary from one air fryer to the other.
It's ok to open the air fryer multiple times to check your food when cooking it won't lose much heat.
A meat thermometer is your best friend if you love to cook meats.
Some foods need a spritz of oil to crisp up. Foods like fries, breaded foods and steak.
If you intend to convert conventional oven temp and cooking time to the air fryer reduce the suggested temperature by 25°F and cut the cook time by 20% This calculator should help.