You've got your air fryer and now you are looking for easy air fryer recipes for beginners and what to cook in the air fryer. This collection of the best air fryer recipes is perfect for anyone from beginners to seasoned air fryer users.
These recipes are mostly quick, easy and healthy since they use less oil than the traditional method of cooking and are totally free. You'll find a range of recipes from breakfast recipes to dinner recipes and we include desserts. Meat lovers and vegetarians are not left out. In this guide, there's is a recipe for everyone.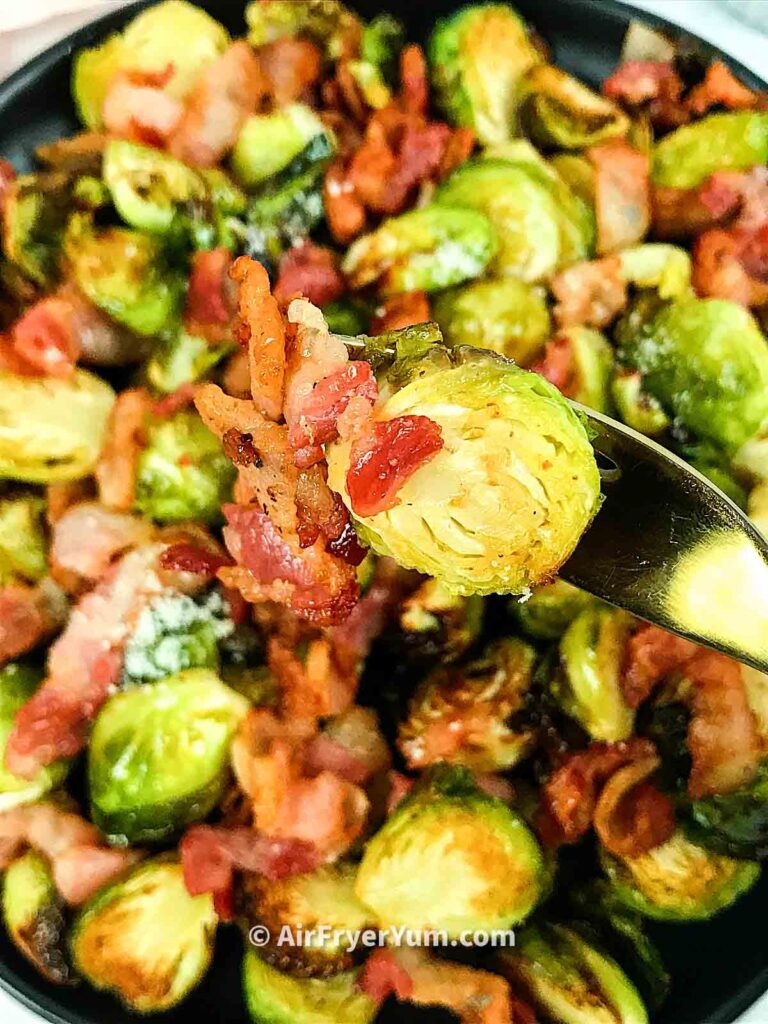 The Best Air fryer recipes for Beginners
What makes a recipe beginner friendly? It's quick, easy and not intimidating. Most of these recipes do not require many ingredients or steps to prepare. They are designed to give you the confidence you need to succeed at your first attempt.
We've been there, so we understand how intimidating it can be to use a new kitchen appliance but I will tell you one thing, using an air fryer is really not much different from using an oven and most of the recipes in this collection of easy air fryer recipes for beginners get ready in 30 mins or less and can be made ahead and stored for later. They are great dishes for any time of day.
We usually include the temperature in Fahrenheit and Celsius because our readers aren't only in the US. We have a wide range of readers from across the world. We've also got a handy Air fryer calculator to help you convert your oven recipes.
---
---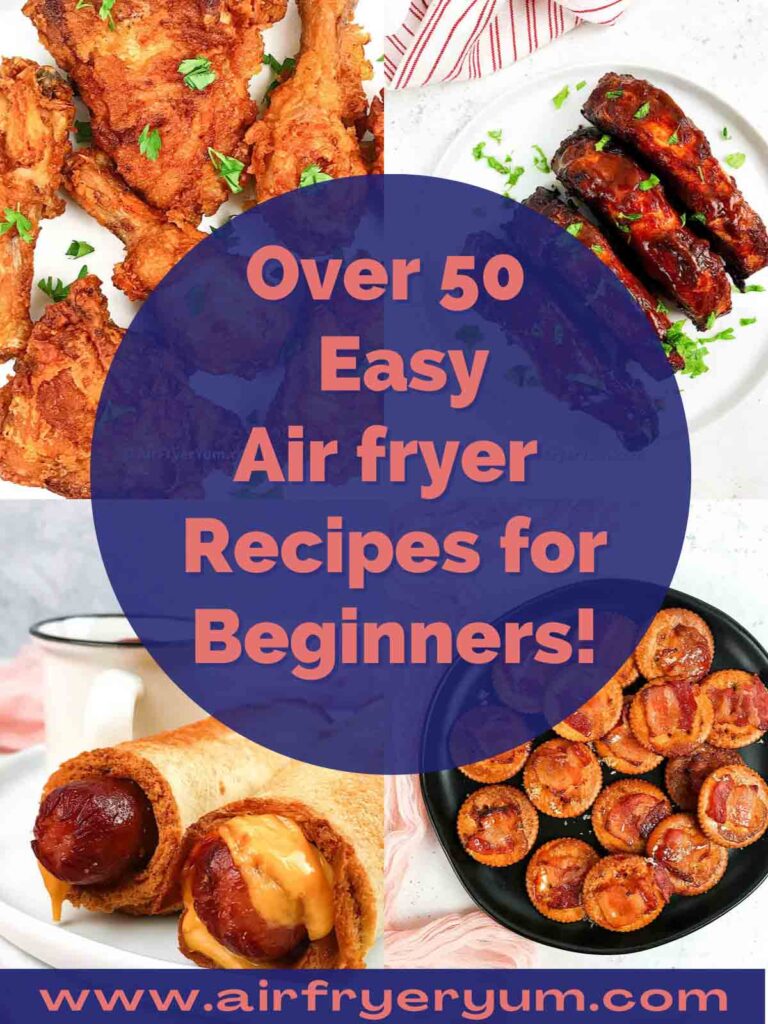 What is an Air fryer and How does it work?
As of the time of writing this post (2021) the air fryer is the latest rave in the kitchen appliances department. You might be wondering, what is an air fryer?
An air fryer is a counter top appliance that uses the convection oven technology to operate. The aim is to create mouth watering 'fried food' with a fraction of the oil used in deep frying.
Because of it's compact nature and the inbuilt technology of rapid circulation of heat and hot air to cook food, it cooks food faster than a regular oven would and doesn't heat up the environment like the oven.
However, these days it has graduated from being only a counter top appliance to being included as a function in regular stove ranges and microwaves.
---
Related: How to use an air fryer, A beginner's guide to air fryer baking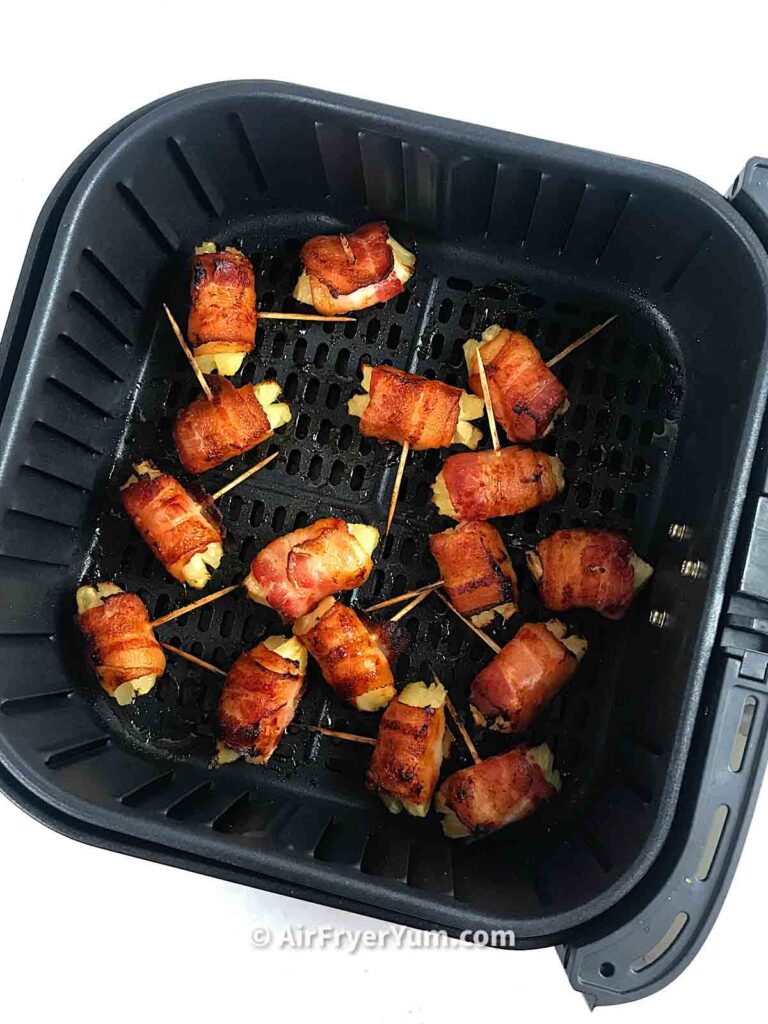 What can you put in an air fryer
Food
Parchment paper (I wrote a guide to answer the question can you put parchment paper in the air fryer? Be sure to check it out to learn how to do so correctly
Foil (read your manual to confirm)
Cake pans
Silicon pans
Oven safe baking dishes
What can you not put in an air fryer
Cling film
Plastic bowls and plates
Paper towel
Non heat resistant ceramic or glass bowls
Oil (you can spray a bit of oil on your food to help crisp it up but you can't use oil like you would in a deep fryer)
Wet foods (batter) are tricky in the air fryer. Things like battered foods Though you can make pancake batter in the air fryer with a baking pan, as a beginner I would recommend you make pancake muffins in silicon muffin liners instead of regular pancakes. As your confidence improves, you can try making regular pancakes
Do I need to preheat my air fryer?
This is a popular air fryer question in our recipe groups and really there's no right or wrong answer to it. You can get away with making tons of recipes in the air fryer without hitting the preheat button even once.
Most recipes made here at Air Fryer Yum are made without preheating the air fryer and that's because unlike the oven the air fryer heats up really fast.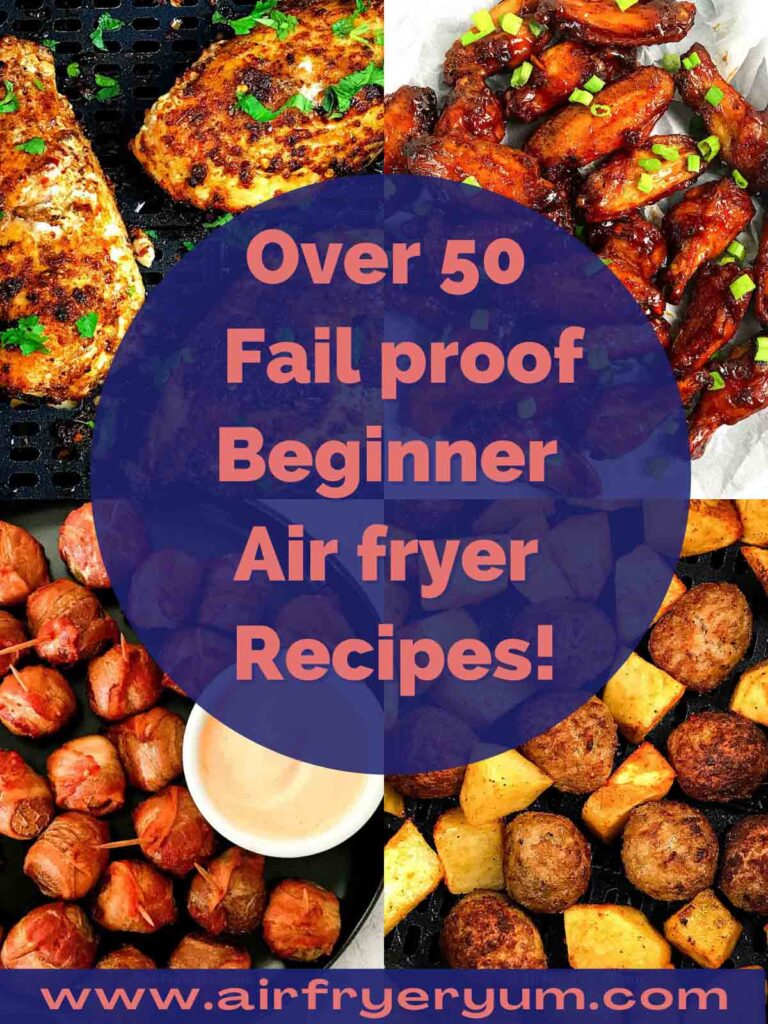 How to flip food in air fryer appliances
While reading through air fryer Recipes, you are very likely to come across the phrase shake basket It's easy to flip food in the air fryer. How you do so would largely depend on the type of food you are cooking. For flat foods like burgers Simply slide a spatula under the food and flip over gently.
For chicken and steak, a pair of kitchen tongs will do the magic. If cooking fries, shaking the basket would suffice.
What to cook in an Air fryer
Ideally you can cook almost things that you can make in a conventional oven in your air fryer. From Chicken to vegetables to desserts. Just like you can bake, broil and roast in an oven, all these and more can be done in the air fryer including reheating food.
Air frying food is the new and healthier way to enjoy fried foods without call the calories that come with deep frying. It's like having the best of both world or eating your cake and having it.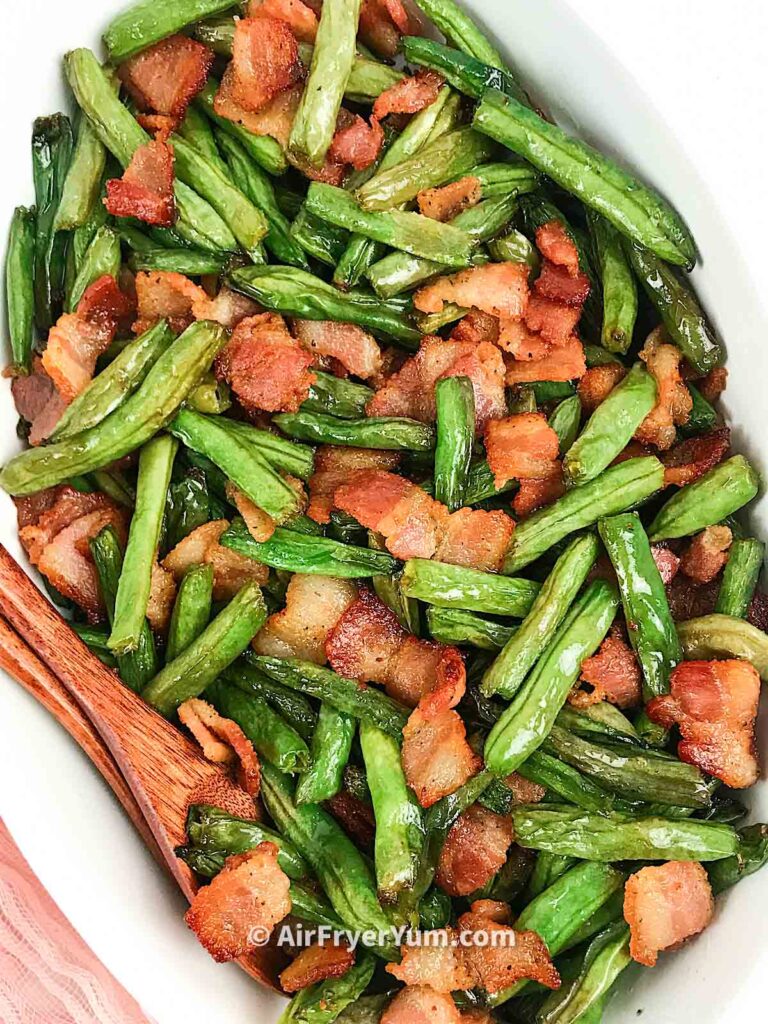 The Best Air fryer Recipes for beginners are right here
As a beginner I recall asking myself 'what should I make first in my air fryer? If you are wondering the same, any of these would be perfect. However most people tend to make frozen French fries first.
I'd love to know which you tried first, please let me know in the comments and be sure to click through to each post to get the full details and tips. Now who's ready for some free air fryer recipes?
Air fryer Chicken recipes
Air fryer Dinner recipes
Air fryer Breakfast
Healthy air fryer recipes
Low carb and Keto Air fryer recipes
Air fryer frozen foods
Air fryer Desserts
Vegan and Vegetarian air fryer recipes
Reheating foods in the air fryer
Air Fryer Vegetables
Appetizers & Snacks
Air frying tips
Read your manual: As a beginner the first thing to do is to get acquainted with your new kitchen appliance and the best way to do so is to read the manual that came right inside the box.
Place your appliance where it can get some air not in a cabinet. At least a space of 6 inch around is ideal.
Do not pour oil into the air fryer, it is not a deep fryer.
Don't be afraid to open the basket often to check your food especially if you are making a recipe for the first time.
Recipes are guides: when trying out a recipe, it's ok to open the basket often, and I recommend you start checking for doneness at least 5 mins before the stated time for recipes cooking beyond 15 mins and 2 to 3 mins for recipes with less than 15 mins cook time.
Clean your air fryer after each use and do a deep clean after making greasy foods like bacon, steak, chicken, sausages and burgers or after making recipes that can lead to caramelized sugar like Million dollar bacon, bacon ritz crackers appetizer or bacon crackers with brown sugar.
Do not overcrowd the basket, cook in batches if needed
Flip or toss your food/ shake the basket: Flip your food when making recipes like burgers, shake the basket when making fries and toss with a spatula when making foods like air fryer vegetables.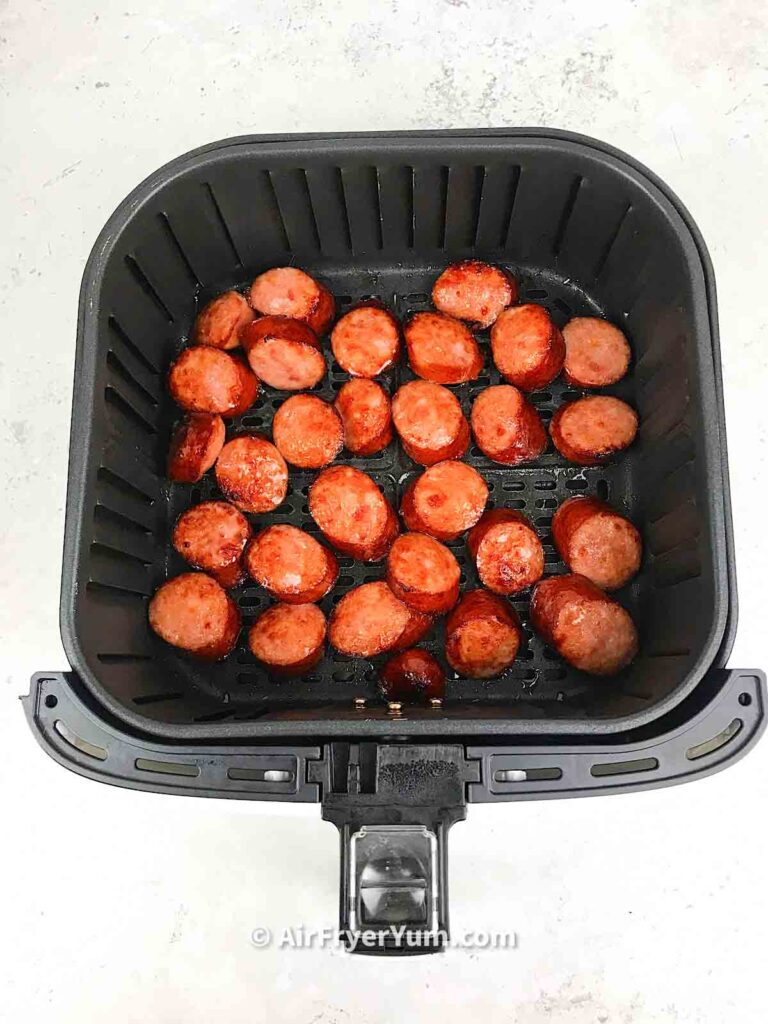 FAQs
Can I put raw meat in the air fryer?
Yes you can put raw meat in the air fryer. The air fryer is known to cook meats to perfection. If you are holding back on cooking your chicken, beef or pork recipes in your air fryer, you are missing out on a lot of lot of tasty dishes.
Do I need to add oil to air fryer?
You do not need to add oil to an air fryer like you would with a deep fryer. Depending on what you are cooking, you may only need a spritz of oil on the air fryer basket or on the food itself.
Can I cook frozen food in air fryer?
Definitely. We do that all the time from frozen fries to frozen chicken or fish. You won't even notice the difference.
Is an air fryer good for beginners?
Yes an air fryer is a great kitchen appliance for beginners. It's not difficult to use and with frequent use you will become a pro user in no time.
Helpful resources for beginners
Check out all our >>>Air fryer Recipes!
Did you find these recipes helpful? Which did you try first? Leave me a comment about it or any recipe idea you would love Air fryer 'yummed' and don't forget to share with family and friends.
Happy Air frying!
Love it? Pin it!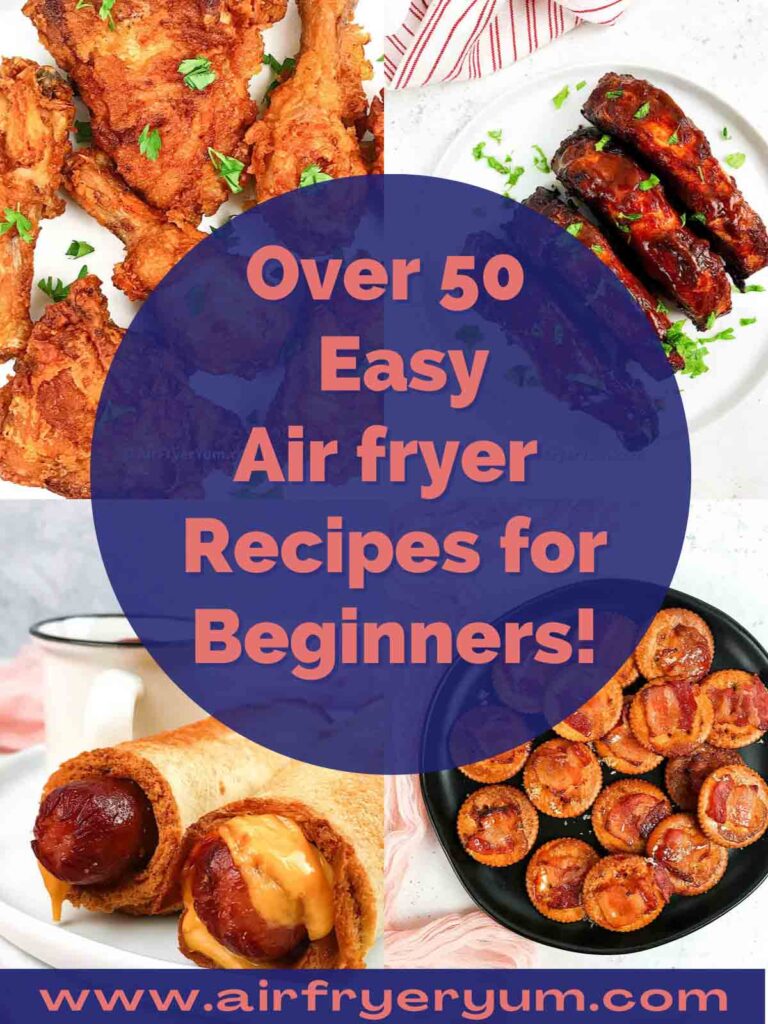 Looking for more air fryer recipes? Sign up for our yummy newsletter and Follow along on Facebook, Instagram, Pinterest and Tiktok for updates. Remember to Subscribe to my YouTube Channel for weekly videos.
Loving your air fryer much? Join other Air Fryer Buddies in our exclusive free Easy Air Fryer Recipes Group on Facebook!
New to the world of Air frying? We've got you covered. Check out our helpful >>> Air fryer Resources!
Shop all air fryers and air fryer accessories at our Amazon store.
Did you make any of these recipes? Awesome! Remember to use the Star Rating ⭐️ ⭐️⭐️⭐️⭐️ when you leave a comment to show how much you loved it! Also please tag & follow @AirFryerYumBlog on Instagram. We'd love to see your recreations of our recipes!