These Air fryer chicken sausages are spicy and delicious. The perfect breakfast to serve with a side of veggies, scrambled eggs or peppers. And no! Sausages are not limited to the breakfast table. These Chicken Andouille sausages can be enjoyed as side dish for dinner and cooks nicely in the the air fryer from fresh or frozen and in less time.
I have tried a variety of sausages which include brats, vegan sausages, hot dogs, andouille you name it! Nothing beats the juicy insides and crispy skin you get in the air fryer. Are you ready to give this recipe a try? Let's do this!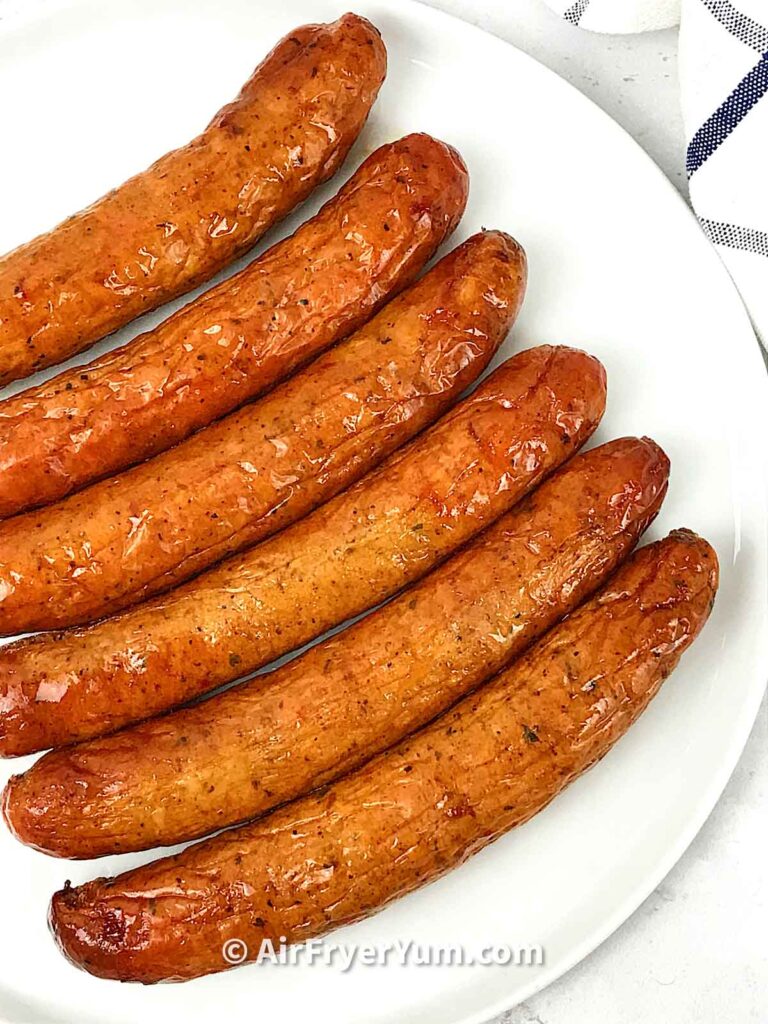 The best Air fryer chicken sausages
No kidding! The air fryer makes the best sausages. If you haven't unboxed your air fryer yet, these chicken Andouille sausages are worth it.
Meal prep just got easier as this can be made ahead to be used in dishes during the week. Reheating in the air fryer is a breeze as well.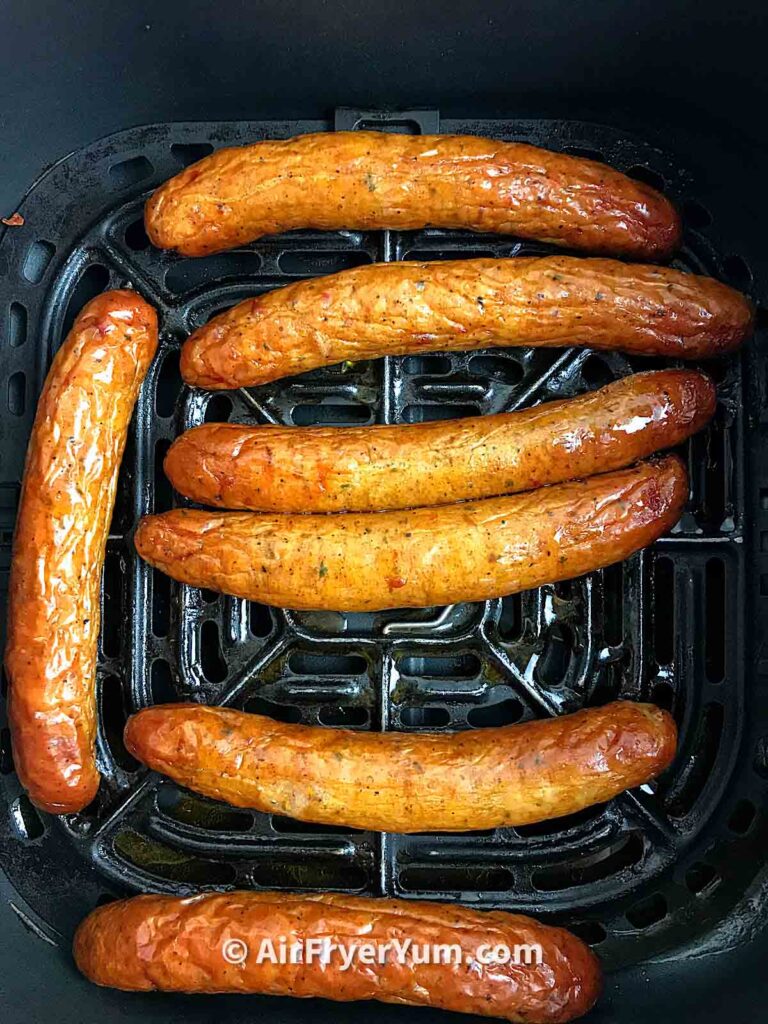 Can you really make sausages in Air fryer?
Are you still wondering If you can cook sausages in the air fryer? Oh yes you can and it's so easy. TBH you won't want to cook it any other way. Let her to why this method is so good.
It's literally hands free. No need to stand by your stove cooking Place chicken sausages on the air fryer basket with or without parchment paper and air fry, it's ok if you forget to flip it or shake it, it will still come out perfect.
The air fryer makes crispy and juicy chicken sausages
It's very convenient and older kids can help themselves with supervision.
The summer heat! Yes, who wants to turn on the oven in the heat. The air fryer takes care of that cos it won't heat up your house.
The air fryer cooks any kind of sausage. I've cooked hotdogs, sausages patties, breakfast links, bratwurst, Italian sausages you name it and it always turns out amazing.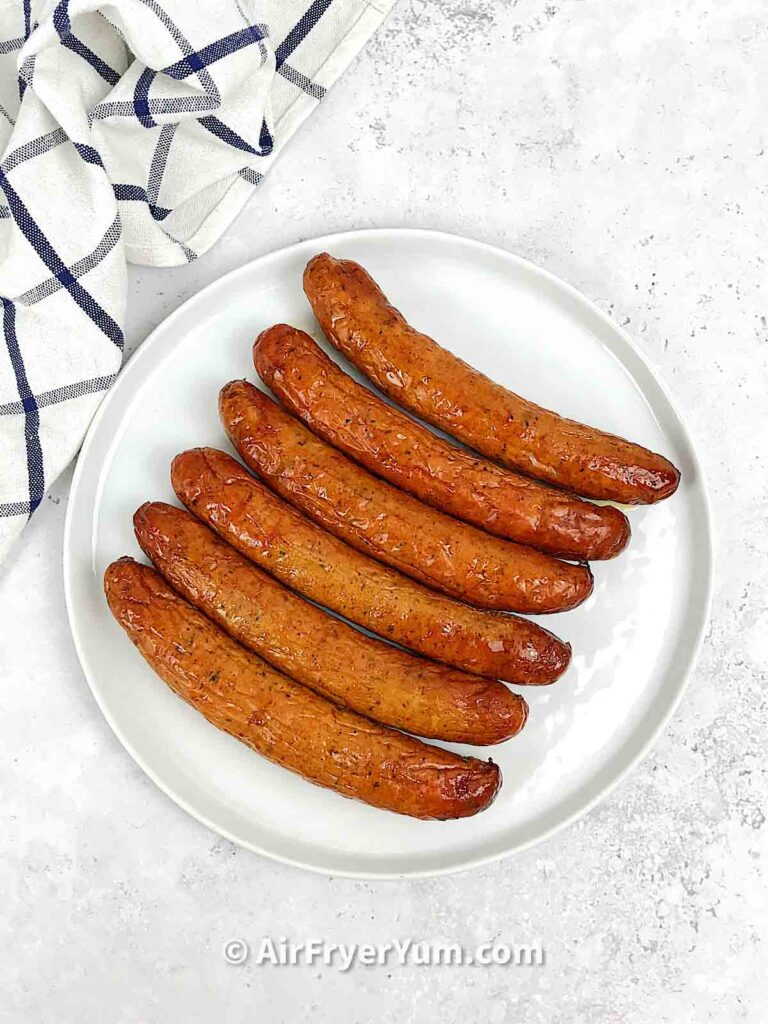 Where to Buy Andouille Sausage
I usually by Amylu Chicken Andouille from Costco. However other brands are carried in a variety of grocery stores across the country.
You will find Andouille chicken sausages in Whole foods, Trader Joe's, Walmart, ShopRite, Publix, Stop and shop, Target and lots more. Walk over to the refrigerator aisle of your local grocery store and check it out.
You can also purchase online from Amazon or any of the stores mentioned above that run an online grocery store.
Best Chicken sausage Brands
There are a variety of brands for chicken sausages in the refrigerator aisle in Costco and other grocery stores. One of my favorite brands is the Amylu brand. It's made with chicken raised without antibiotics.
They also have a variety of flavors like the spicy andouille chicken sausages, garlic Asiago and more. There are some other brands like
Bilinski: This company makes mostly chicken sausages. These sausages are made with ethically raised, free range anti biotic free chicken.
Applegates organics
Trader Joe's
Smart chicken
Premio
Jones dairy farm
GreenWise which is the Publix chicken sausages.
Johnsonville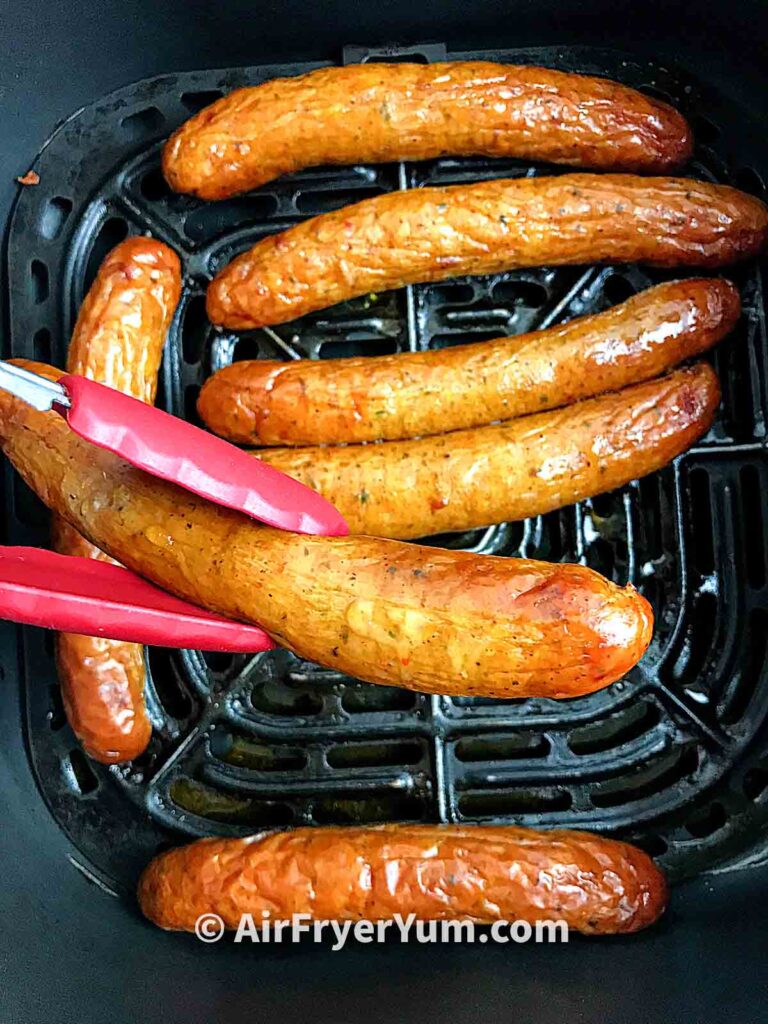 What you'll need (Ingredients & tools)
To air fry chicken sausages, all you need is your choice of sausages and ingredients needed to make your preferred accompanying sides.
Tools:
Parchment paper (this is optional, and if you've been wondering if you could put parchment paper in the air fryer, yes you can however you need to have food in it. I have an article on how to use parchment paper safely in the air fryer, you can read all about it when you are ready and grab the free printable too.
Meat thermometer: This is an important air fryer accessory to have. If you don't have one, there's nothing wrong with cutting the sausages in half to make sure they are cooked through.
Kitchen tongs: This will help with flipping the sausages half through cooking time. If you don't have a pair of tongs, you can simply shake the basket instead.
How to make Chicken sausages in the air fryer (fresh or frozen)
This is an overview of this recipe. Full printable instructions can be found in the recipe card at the bottom of the page.
Grab your cheese frozen or thawed. Place in the air fryer and air fry at 400°F / 204°C for 12 mins (thawed) and 15 mins (frozen)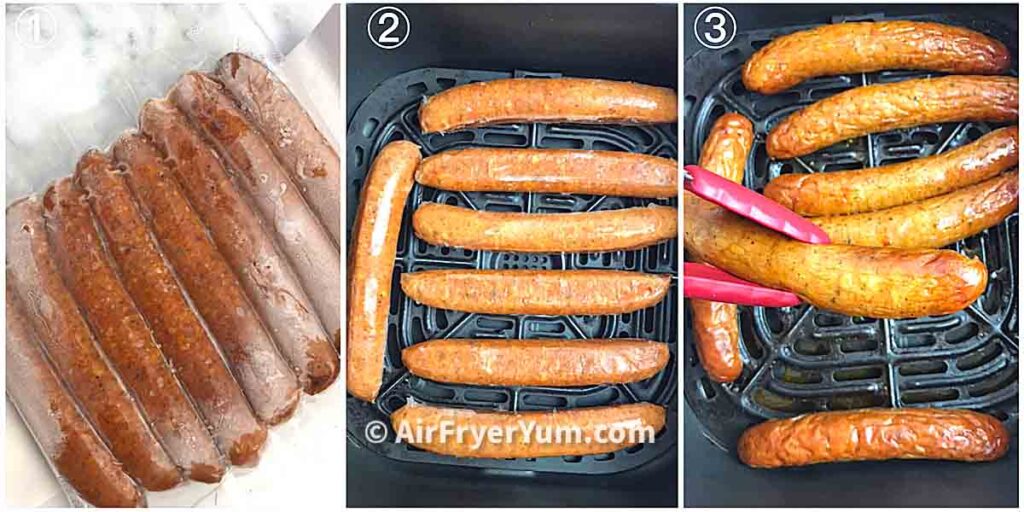 Cooking Frozen Sausages
Since I buy sausages in bulk, I tend to store them in the freezer and to be honest most time I cook from frozen because I forgot to pull them out of the freezer the day before.
Cooking frozen sausages isn't much different from cooking room temperature sausages. The only difference is that it will take a a few minutes longer to cook through.
How long to cook chicken sausages and to what temperature?
These chicken sausages got ready in 15 mins at 400°F / 204°C. The internal temperature after cooking should be at least 165°F / 74°C to be safe to eat.
Sides for sausages (what to serve with Andouille Chicken Sausage)
Your choices are endless with this spicy chicken Andouille sausages. Below are a few of our faves!
Sautéed peppers and onions:
Crispy Cubed potatoes, wedges or fries
Scrambled eggs
Spinach Omelette
Potato salad
Crispy potato wedges
Grilled vegetables.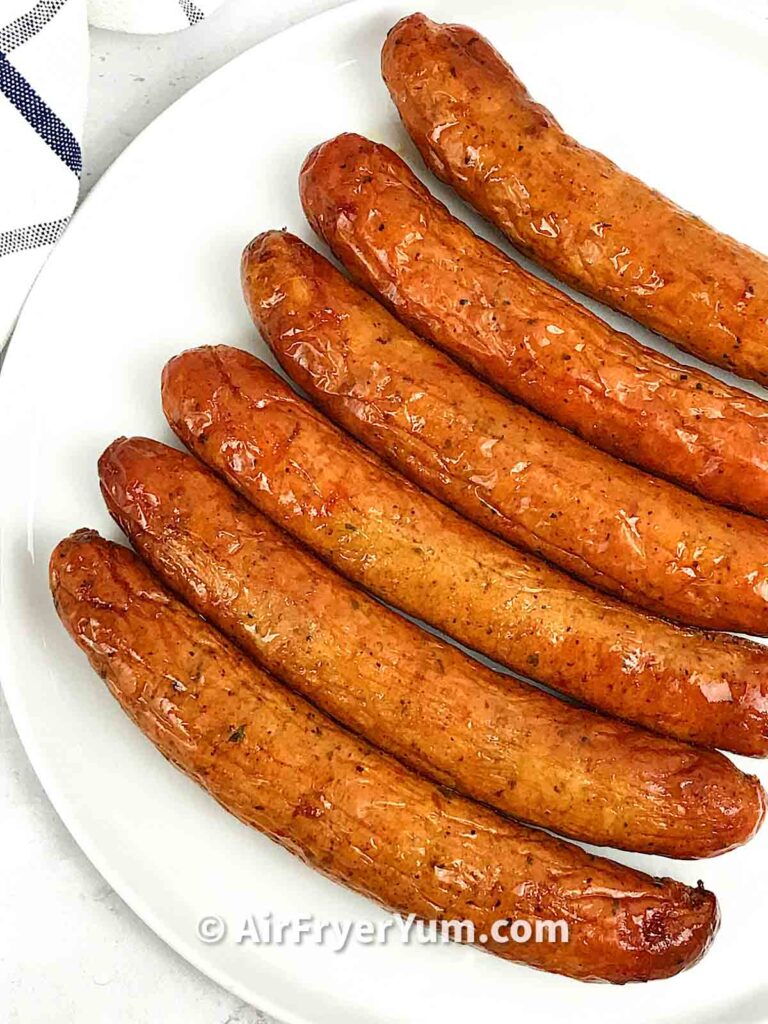 Tips for success.
First timer user: Air fryers differ, therefore times stated in any air fryer recipe are usually in ranges. It's ok to pull out the basket and check it often till the sausages are cooked and browned to your liking.
Using Parchment paper for easy clean up: Most air fryer baskets have a nonstick surface there cleans pretty easily. To preserve this non stick coating for longer, I would recommend using a perforated parchment paper bought in store or online. If you don't find any in your area, you can easily make yours and this video tutorial shows you how.
Air fryer smoking: I've never had issues with my air fryer smoking even with bacon. However I've heard people say that adding some water in the basket base helps prevent this since the oil drippings from the sausages will hit the water instead of a plain hot surface which will likely cause it to smoke.
FAQs
Are Chicken sausages precooked?
Most chicken sausages I've see in the grocery stores are usually precooked or fully cooked. That would lead me to believe that chicken sausages are mostly precooked.
What are chicken sausages made of?
Chicken sausages are usually made from all chicken meat. If you are not sure of a brand you are buying, you can read the ingredients section on the packaging.
What is the best chicken sausage?
This will depend on what your family likes. We cook Amylu chicken sausages a lot because we buy them at Costco. However there other nice brands like Bilinski, Trader Joe's, Premio, Applegate organic, GreenWise and lots more.
More Air fryer sausages
Brats sausages in the air fryer
Air fryer sausage and peppers.
Vegan breakfast links in the air fryer
Air fryer sausage and potatoes
Other breakfast recipes
Check out all our >>>Air fryer Recipes!
More chicken Andouille Sausage recipes.
Here are some recipes from around the web using this sausage.
Did you find this recipe helpful? Leave me a comment about it or any recipe idea you would love Air fryer 'yummed' and don't forget to share with family and friends.
Happy Air frying!
---
Love it? Pin it!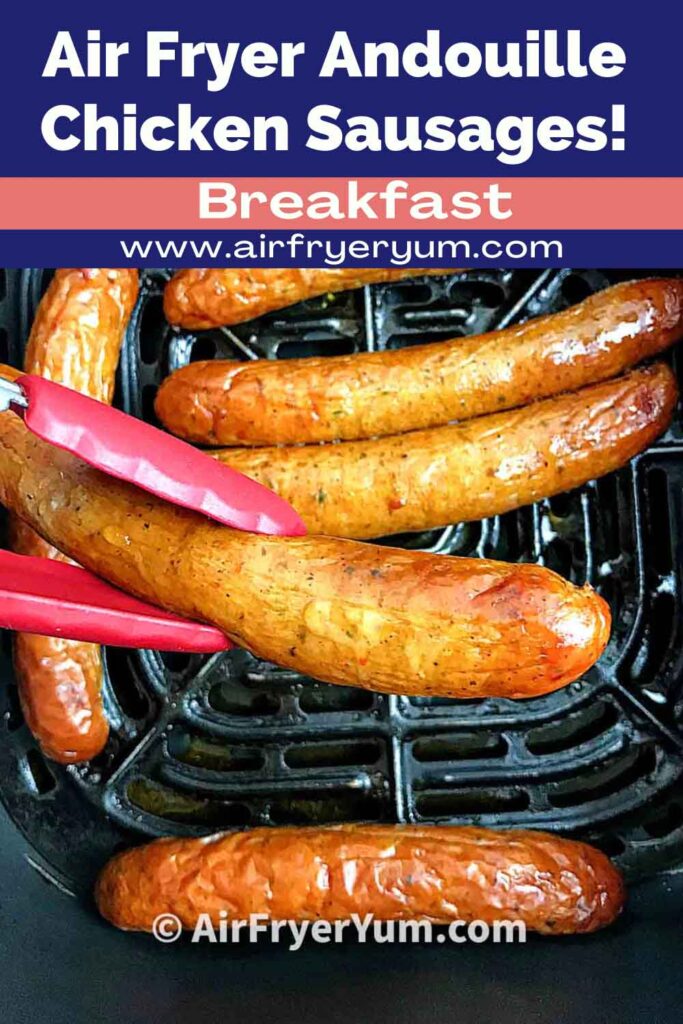 Looking for more air fryer recipes? Sign up for our yummy emails and follow along on Facebook, Instagram, Pinterest, and Tiktok for updates. Remember to Subscribe to our YouTube Channel for weekly videos.
Loving your air fryer much? Join other Air Fryer Buddies in our exclusive free Easy Air Fryer Recipes Group on Facebook!
New to the world of Air frying? We've got you covered. Check out our helpful>>> Air fryer Resources!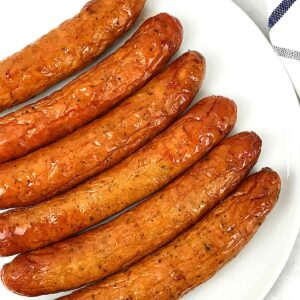 Air fryer chicken sausages (Spicy Andouille chicken sausages)
These Air fryer chicken sausages are spicy and delicious. The perfect breakfast to serve with a side of veggies, scrambled eggs or peppers. And no! Sausages are not limited to the breakfast table. They can be enjoyed as side dish for dinner and the air fryer sure makes great sausages in less time.
Ingredients
7

Chicken sausages

2

cups

sautéed peppers
Instructions
Place Andouille chicken sausages frozen or thawed in the air fryer basket

Set temperature to 400°F / 204°C and cook for 12 to 15 mins or until it's warmed through. The internal temperature should be atleast 165°F / 74°C. If cooking from frozen, cook for 15 mins, if cooking from thawed, cook for 12 mins.

Serve with your sautéed peppers or any other side of your choice.
Notes
Air fryers vary in how they cook food. I would suggest you invest in a  meat thermometer to ensure you are cooking your food to a safe temperature. If you do not have one, you can cut the sausage in half to check.
Do not over crowd the basket. If you must stack the sausages, use your air fryer rack so you are not stacking them directly on top of each other.
If cooking from thawed, start checking for doneness at 12 mins.
Though I used Andouille chicken sausages here, this method would work for other types of chicken sausages.
Nutrition
Serving:
1
Link
Calories:
110
kcal
Carbohydrates:
1
g
Protein:
13
g
Fat:
6
g
Saturated Fat:
1.5
g
Cholesterol:
65
mg
Sodium:
500
mg
Potassium:
169
mg
Calcium:
11
mg
Iron:
1
mg
Nutrition Disclaimer
Nutritional information is an estimate and may change based on products used. Please read our Nutrition disclaimer page.
Subscribe to my YouTube Channel
Subscribe to Air Fryer Yum on YouTube for more detailed videos! Remember to click the bell icon to get notified when I upload new videos.
Save this Recipe for later!
Follow @AirFryerYum on Pinterest!