Yes you can cook raw chicken in the air fryer from scratch. These air fryer chicken recipes are not only delicious but quick and easy and most of these recipes would be ready in less than 30 mins.
This is collection of more than one chicken recipe. If you scroll through you will find each recipe. If you decide to use the jump to recipe button it will take you to the recipe card which has only one of the recipes.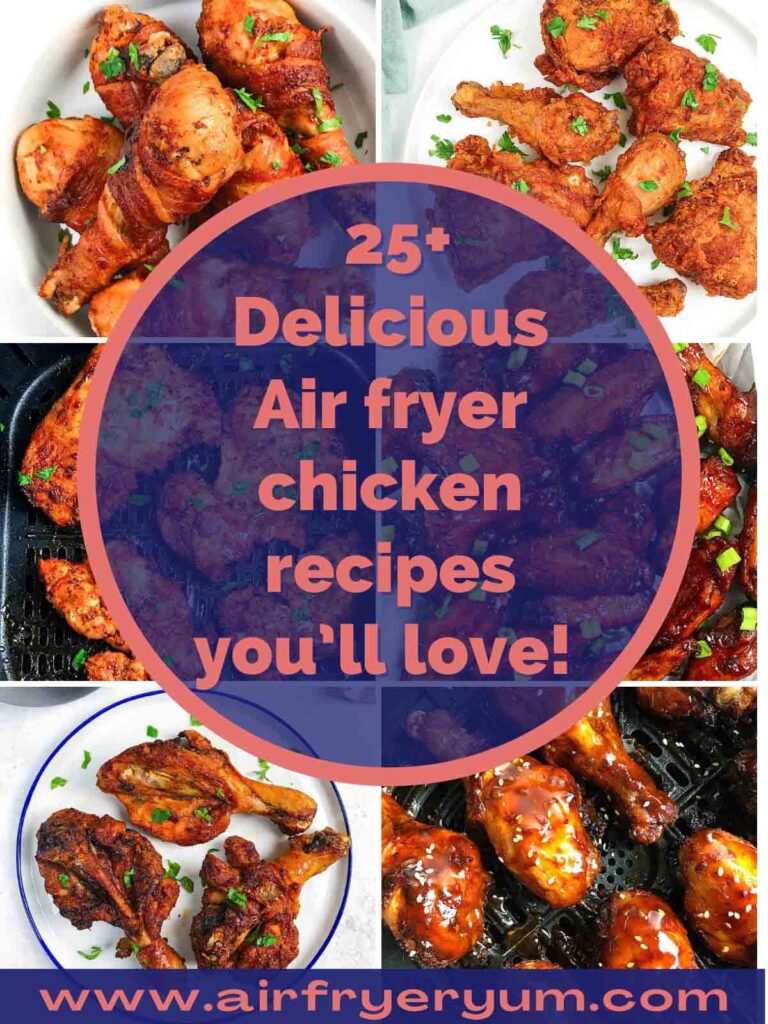 Air fryer chicken recipes
The air fryer cooks chicken to crispy perfection and saves a ton of time when compared to baking it in the oven.
Chicken plays a great role in most home menus and goes well with many side dishes. From salads to potatoes to rice dishes you can never go wrong with it.
The good news is that air fried chicken takes chicken from meh to wow with little or no effort.
---
---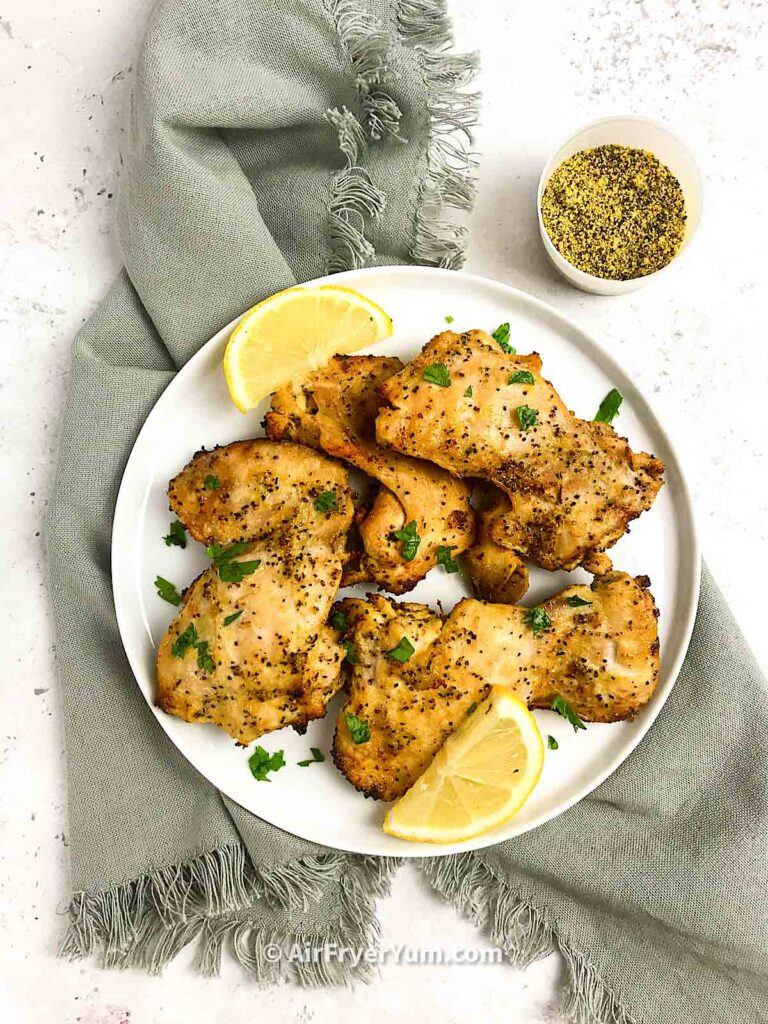 How long do you air fry chicken
This would depend on the size and part of the chicken. Obviously whole chicken would take longer to cook than chicken legs or drumsticks.
Boneless chicken recipes like chicken breasts and thighs would cook faster than bone-in chicken.
The best way to determine if chicken is fully cooked is with the use of an instant read thermometer. The FDA recommends that chicken should be cooked to an internal temperature of 165°F / 74°C to be considered safe to eat.
However some chicken parts like chicken quarters tend to taste better when cooked up to 185°F / 85°C.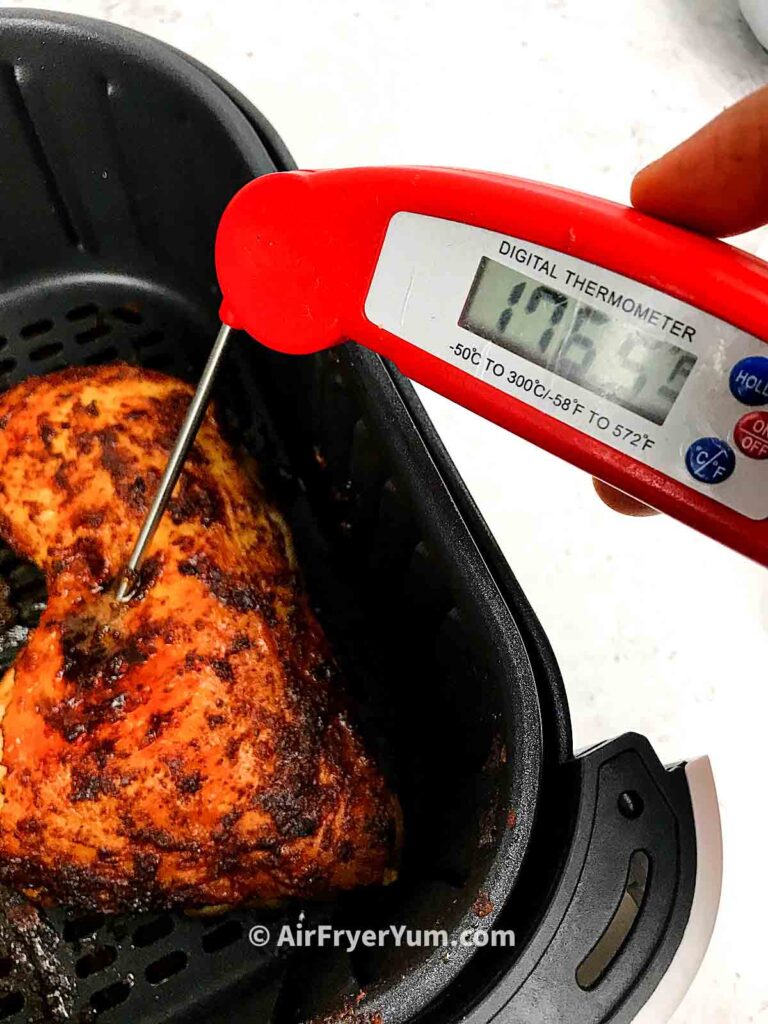 What you'll need
Ingredients:
Whole chicken or chicken part of choice
Chicken seasoning blends which usually include herbs and spices like parsley, oregano, Italian seasonings etc
Garlic powder and or onion powder
Salt
Tools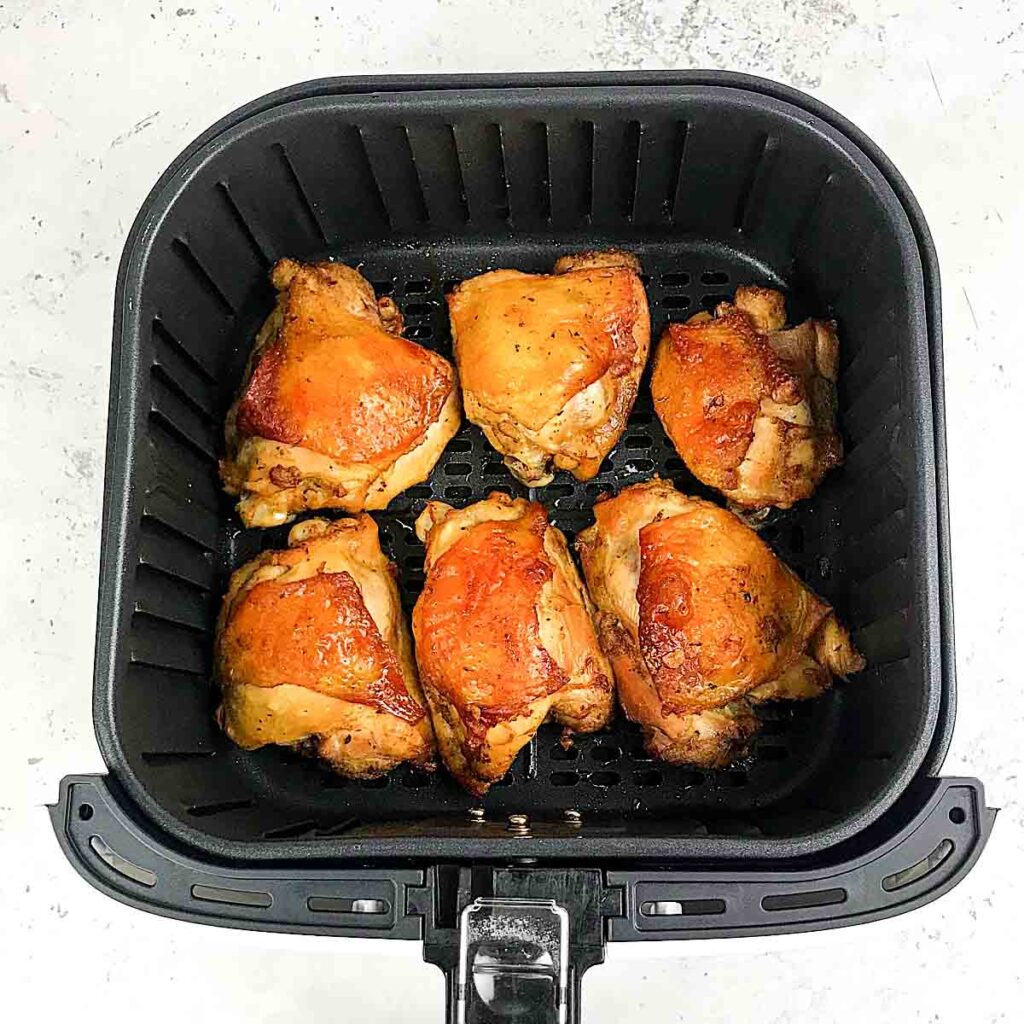 How to air fry chicken
Air frying yields some of the best chicken and it's so easy to do. Don't be intimidated by it. Here is how to do it in easy steps.
Wash and clean chicken.
Season with dry rub or marinade.
Let it rest for 10 mins or marinade in the refrigerator for 30 mins up to 24 hours.
Place chicken in air fryer basket or rack and air fry for the length of time indicated in the recipe. Remember to flip half way through cooking time.
When cooking time is up, check the internal temperature. It should be at the least, 165°F / 74°C to be safe to eat.
Let it rest for up to 5 minutes before serving.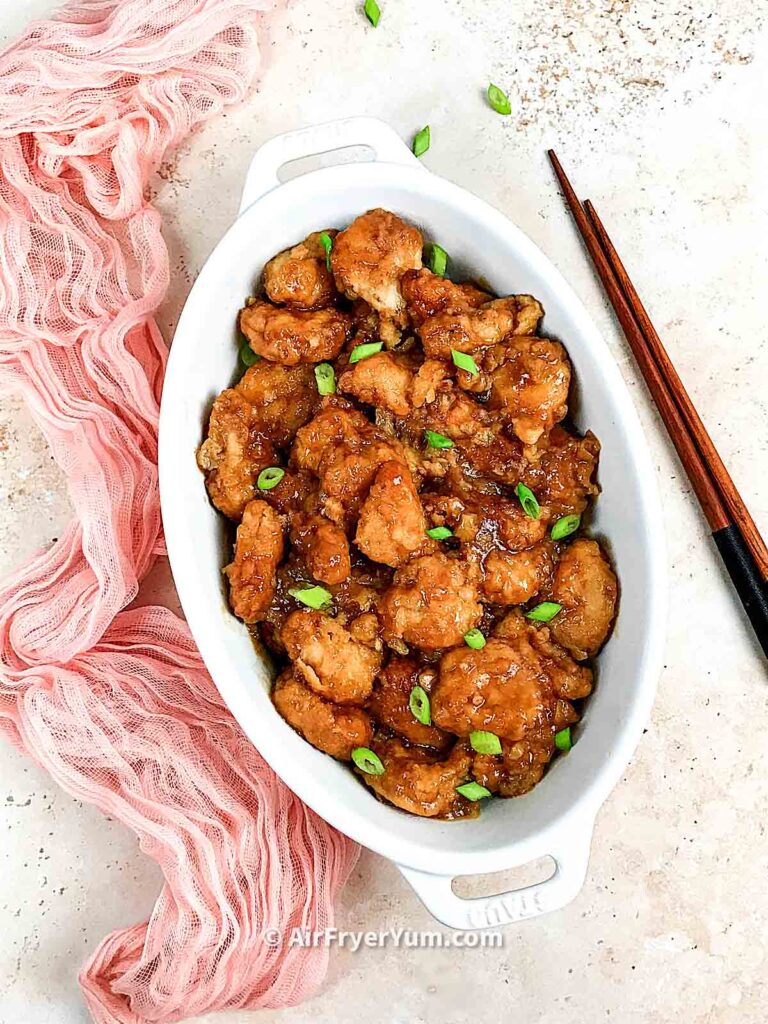 Should you wash chicken?
This is one question that doesn't have a right or wrong answer in my opinion. It bores down to personal preferences and how detail oriented you are.
The general consensus is not wash chicken because it can lead to the distribution of bacteria on surfaces touched by the splatter of raw chicken juice and this can lead to food borne illness if the surfaces are not properly cleaned and then come in contact with other foods or utensils.
Sadly I can't cook chicken without washing it so here is water I do, I rinse the chicken in a big bowl in the sink. I try to avoid using the tap so water doesn't splash from the chicken to the surrounding surfaces.
After washing the chicken I transfer to a colander with a plate underneath to catch excess juice. Then I transfer to a cutting mat reserved for meats and pat dry with paper towel before seasoning.
Next I wash all utensils, tools and surfaces used with soapy water. Clean it dry with paper towel and we are good. This is how I've always washed my chicken and haven't had issues.
Like I said it bores down to personal preference and if you are willing to do the cleaning afterwards. If you are team don't wash chicken that's fine. Skip the wash, season the chicken and air fry.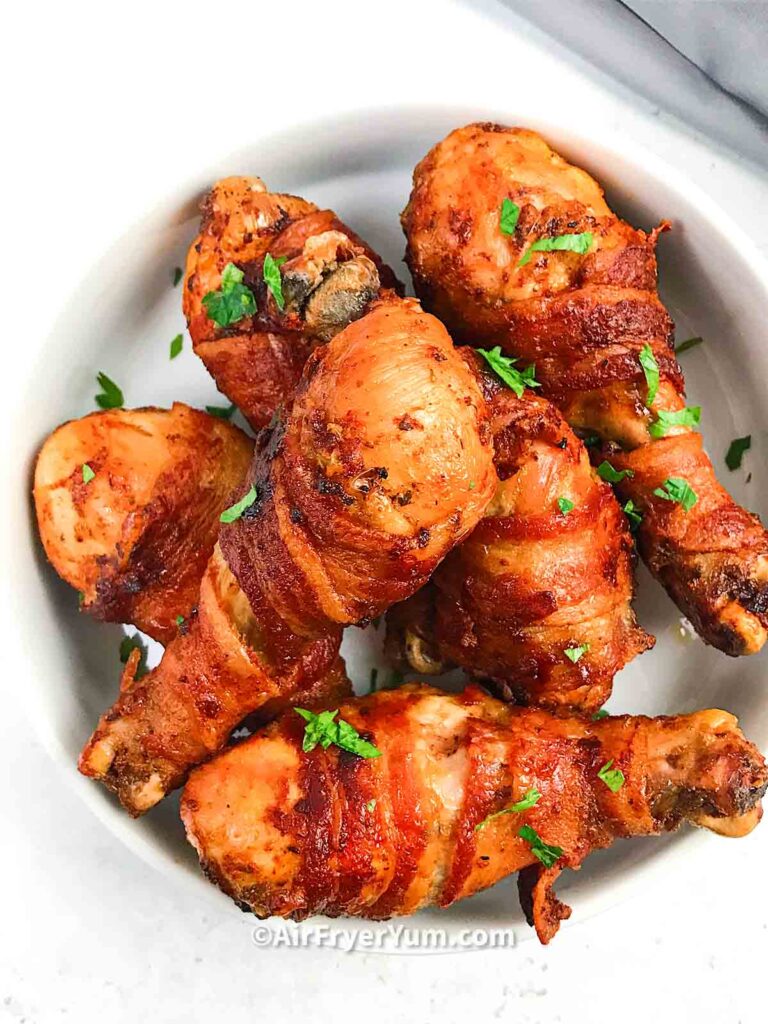 Can you put frozen chicken in an air fryer?
Yes you can. This collection of Air fried chicken recipes include some chicken that has been cooked from frozen.
For people like me who often than not forget to pull out chicken from the freezer. Here's some good news. You can cook chicken from frozen in the air fryer.
If you usually forget to pull out frozen chicken here is a little tip. Clean out your chicken before freezing. Do things like cutting excess skin and removal of excess fat from chicken.
Then freeze in a single layer on a parchment paper lined baking sheet for 4 hours then transfer frozen chicken into ziplock bags and freeze for up to 3 months.
You can also season before freezing. This way the chicken is all clean and seasoned. Then go ahead and bake it in the air fryer till cooked through with an internal temp of 165°F / 74°C.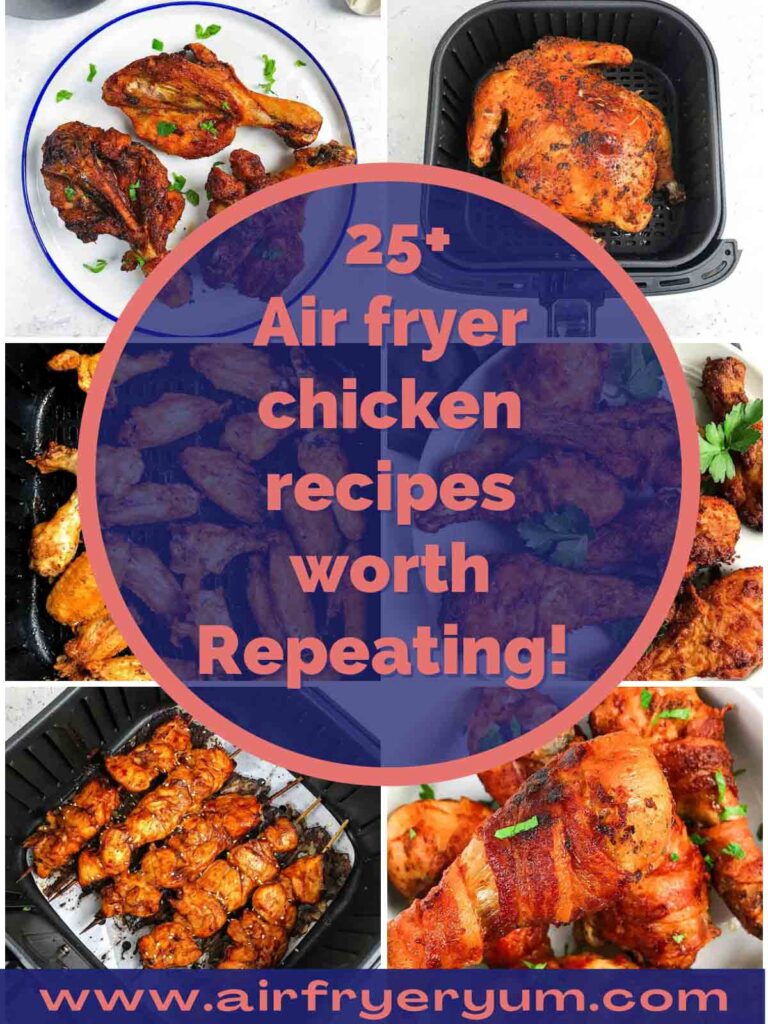 Tips
If you are big on meats, invest in an instant read thermometer as soon as you can. It's worth it.
Flip chicken ½ way through or up to 3 times depending on the size of the chicken being air fried
Use perforated parchment paper for easier clean up.
The FDA recommendation for internal temp of fully cooked chicken is a baseline guide. You can cook your chicken up to 185°F / 85°C if you need to.
FAQs
What is the best temperature to cook chicken in the air fryer?
Chicken would cook any where from 350°F / 74°C to 400°F / 200°C. However bear in mind that the lower the temperature, the longer time it will take to cook. If you are looking for nice and crispy skin, the higher the temperature the better.
Can you air fry boiled chicken?
Yes you can. Sometimes people the crispy skin got from baking, frying or grilling chicken. Since that can't be achieved with just boiling, you find that you would either need to pan fry, grill or bake / broil. That's the part the air fryer plays when it comes to boiled chicken.
Do you have to thaw chicken before air frying?
Chicken can be cooked from frozen. No need to thaw.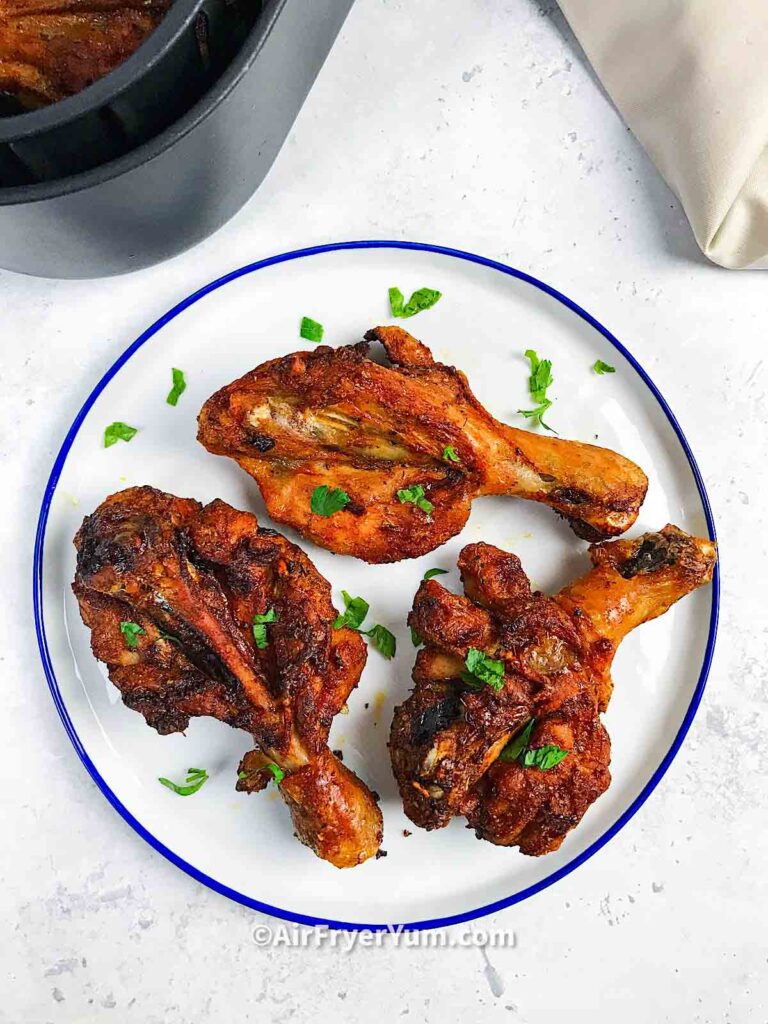 Our Best Air fryer Chicken recipes
Finally to the juice of this blog post. Below you would find a varied collection of air fryer chicken recipes. Everyone's interest is covered below including vegan.
Most are completely keto so no worries about getting kicked out of ketosis. Please look through and let us know your favorites. We couldn't pick one
Chicken recipes with no breading
Chicken breasts and Chicken thighs
Chicken drumsticks and chicken leg quarters
Whole Chicken recipes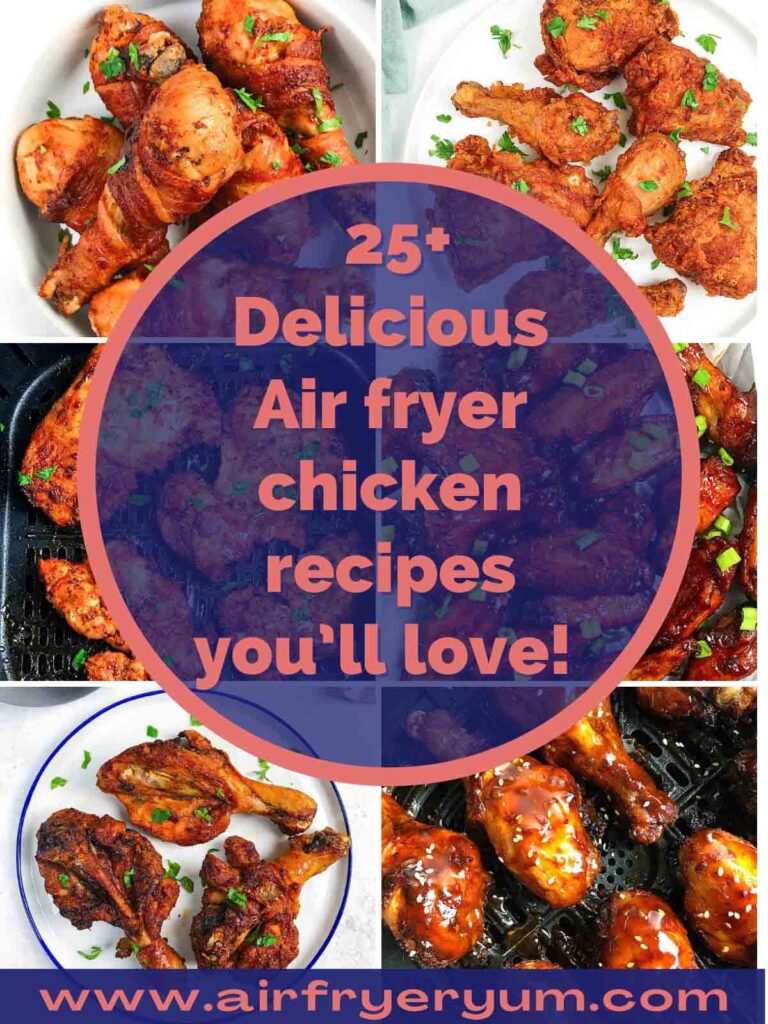 Chicken wings and appetizers
Bacon wrapped chicken

Breaded Chicken recipes
Chicken Sausages
Vegan Chicken Recipes
More Recipe Round-up Posts
Did you find this recipe collection helpful? Leave me a comment about it or any recipe idea you would love Air fryer 'yummed' and don't forget to share with family and friends.
Happy Air frying!
---
Love it? Pin it!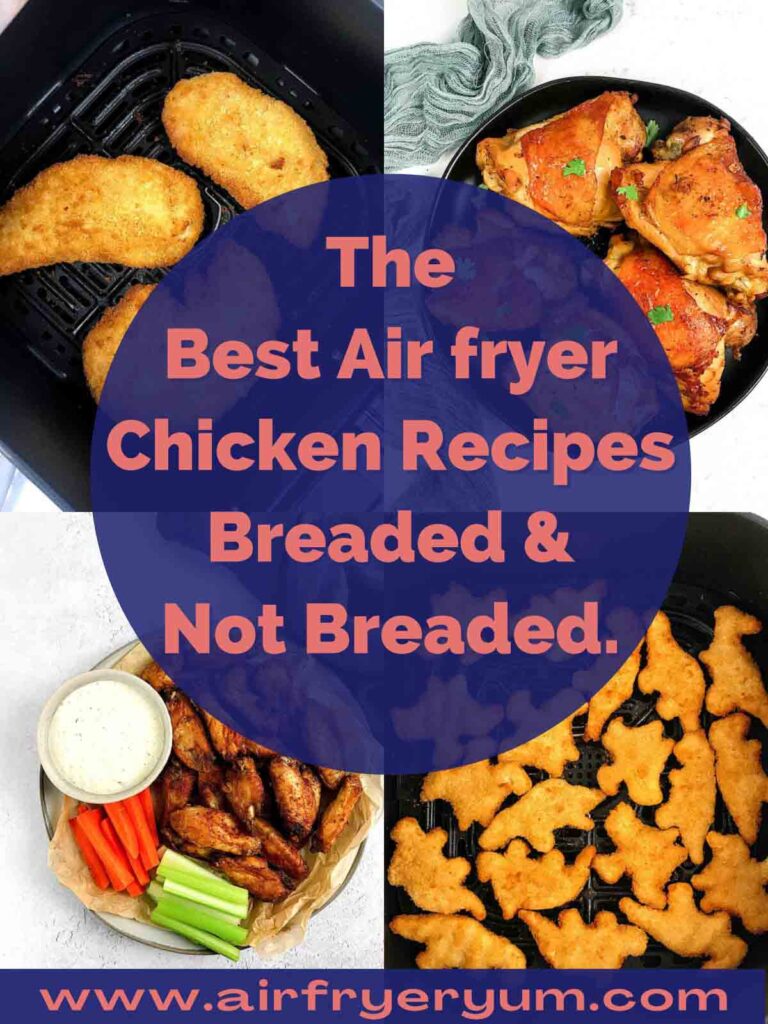 Looking for more air fryer recipes? Sign up for our yummy newsletterand Follow along on Facebook, Instagram, Pinterest and Tiktok for updates. Remember to Subscribe to my YouTube Channel for weekly videos.
Loving your air fryer much? Join other Air Fryer Buddies in our exclusive free Easy Air Fryer Recipes Group on Facebook!
New to the world of Air frying? We've got you covered. Check out our helpful >>> Air fryer Resources!