Love Roast chicken? This easy air fryer Christmas Chicken Recipe will be your new best friend. It's quick and flavorful with tender juicy meat. It's perfect for all occasions including Thanksgiving and Easter celebrations.
This moist chicken with crispy skin can be served with Potatoes, Rice or vegetables. Any side dish will compliment this chicken recipe just like our air fryer marinated whole chicken recipe.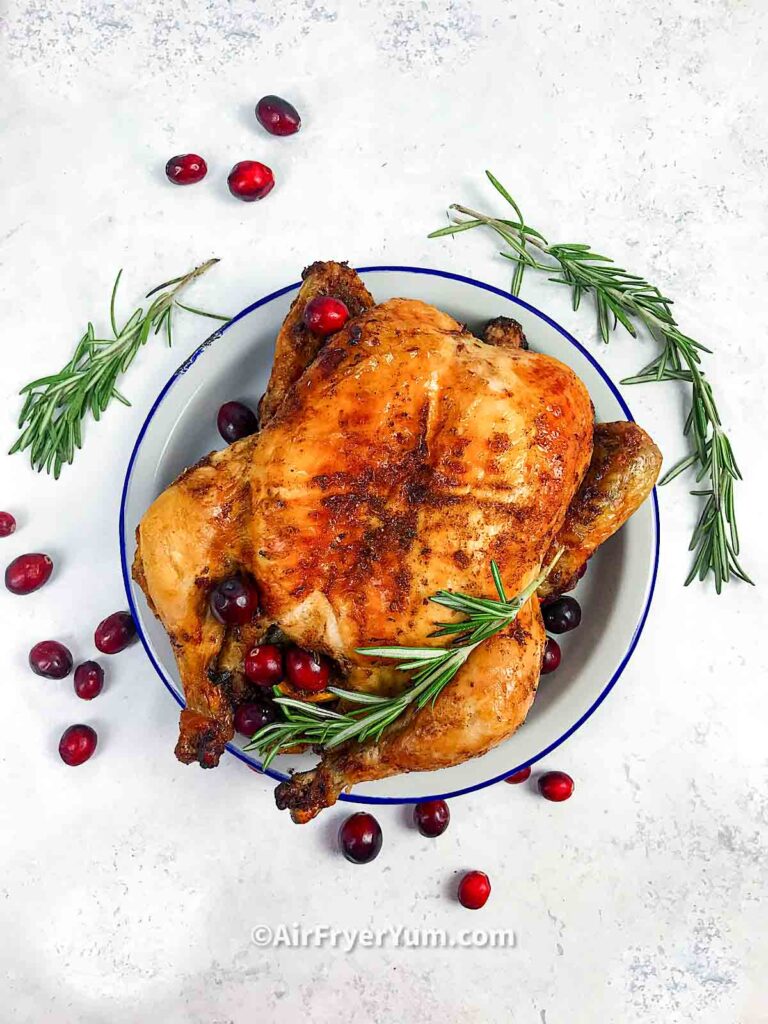 What is Christmas chicken?
Christmas Chicken is simply chicken cooked to during the holidays to celebrate Christmas. This article is about the recipe and not the light up Christmas chicken used as a holiday decoration or ornament.
Just like Turkey is used during thanksgiving for some reason Chicken is the bird of choice during Christmas and any part of the bird can be used.
Did you know making Christmas Chicken roast in the air fryer saves you time when compared to making it in the oven. You'll have your roast ready in less than an hour and you'll be munching down some for dinner in less time.
In the next section we'll share a few more reasons to make Christmas Chicken in the air fryer.
Related: Air fryer Holiday recipes, Christmas ham in the air fryer, Air fried boiled whole chicken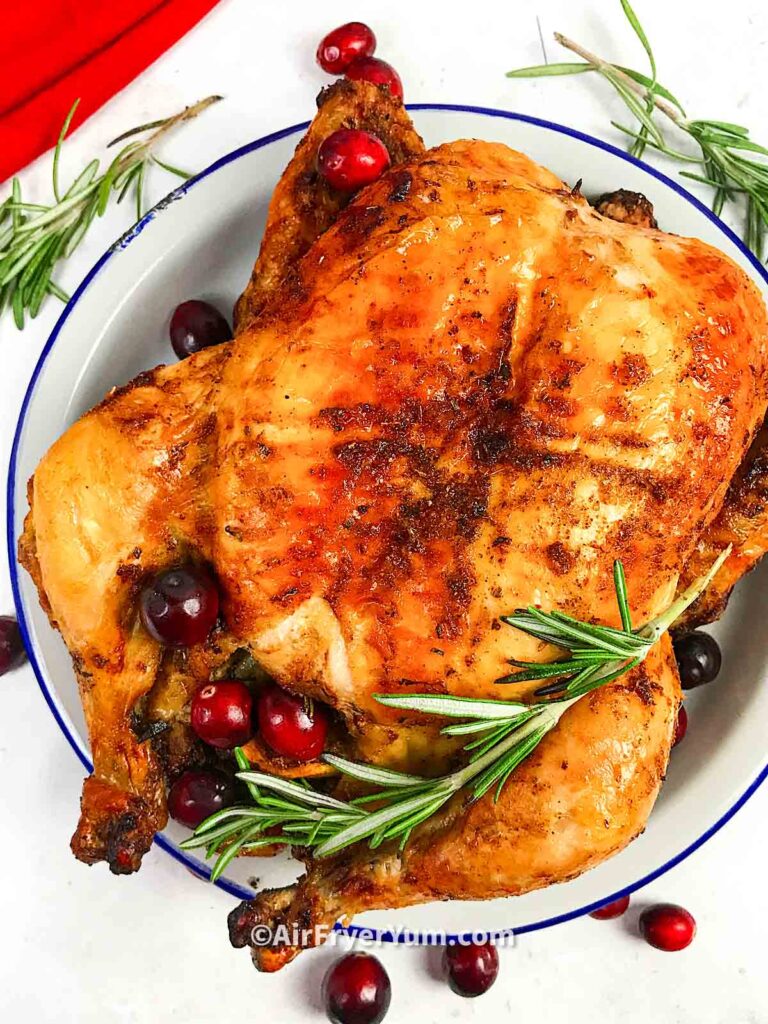 Why you'll love Christmas Chicken in the Air fryer.
Convenience: using the air fryer to make your Christmas roast chicken will help free up the oven to cook more food.
Dietary: This is a moist and delicious low carb and Keto friendly recipe the whole family can enjoy without needing to make a separate meal.
Accessibility: Recipe uses Pantry staples no fancy ingredients.
Versatility: This recipe isn't limited to only whole chicken. You can make Christmas chicken with chicken breasts, thighs, chicken leg quarters and drumsticks. I particularly love that it can served with some slow cooker cranberry sauce. No one says cranberry sauce is only for Thanksgiving turkey!
Join our Air fryer Recipe group on Facebook!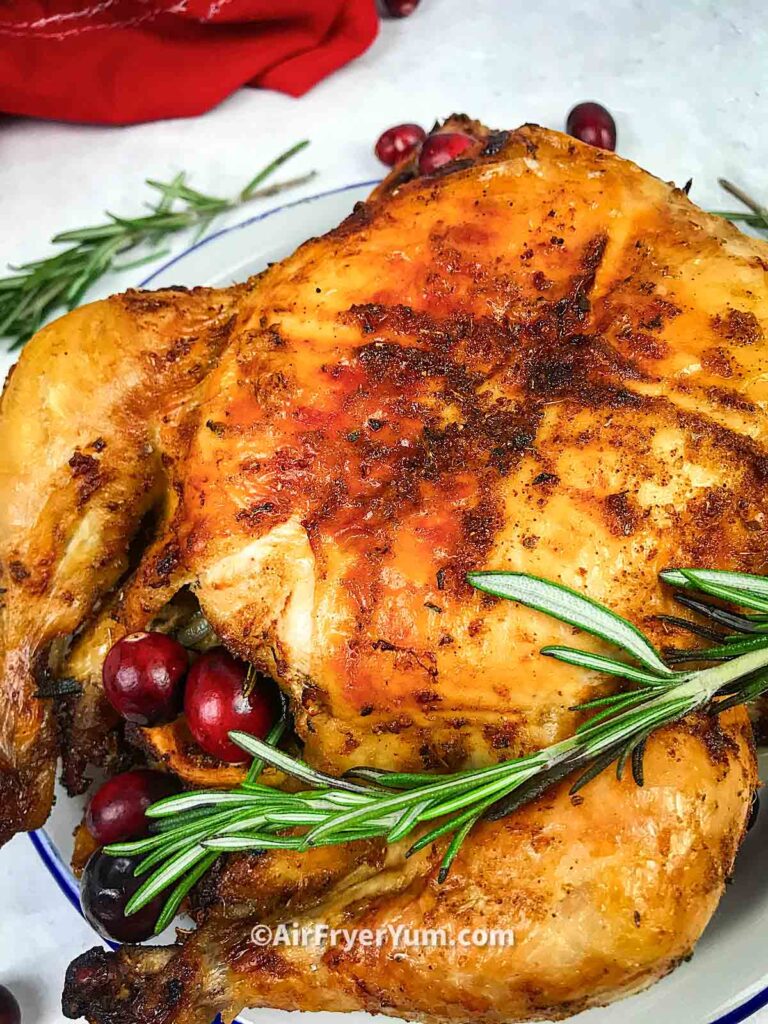 Ingredients needed to make the best roast chicken for Christmas
Whole chicken
Oil
Butter
Chicken seasoning blend which includes Paprika, Salt, Oregano, Parsley, White pepper, Garlic powder, Onion powder, Dry rosemary.
Fresh Rosemary
Orange or Lemon
Small Onion
Substitutions
You can substitute the Oregano, Parsley and dry rosemary with 2 teaspoons of Italian seasoning.
Recommend tools: Perforated Parchment paper, Kitchen tongs (preferably one with a paddle tip to help flip the whole chicken)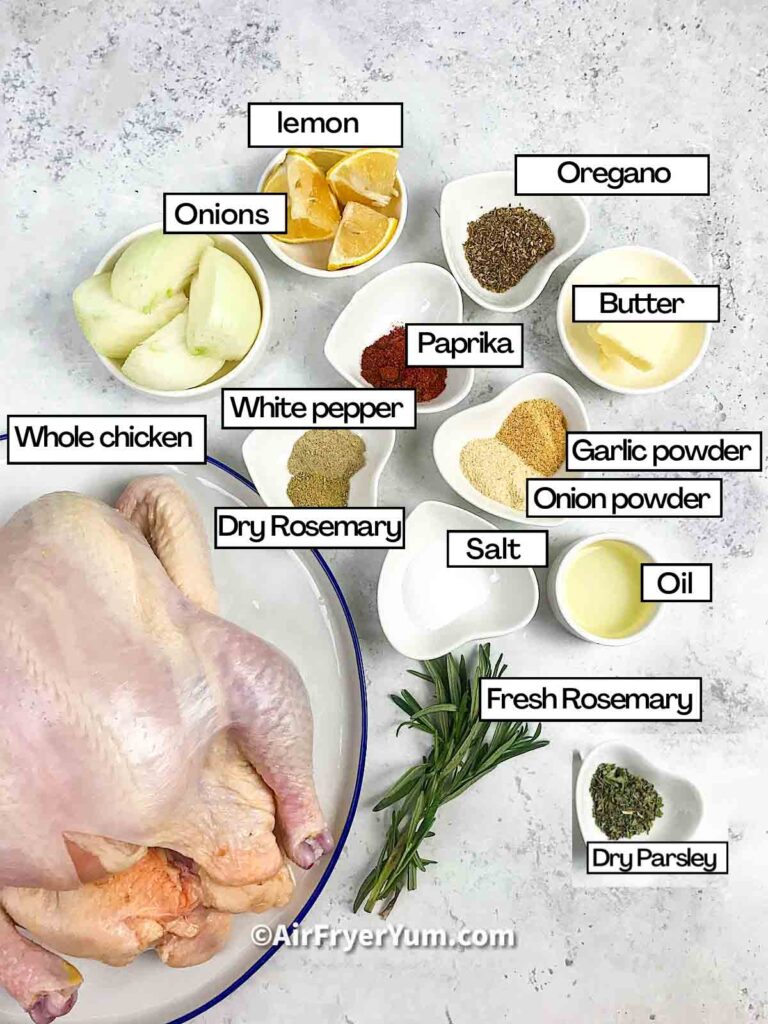 How long to cook a whole chicken in air fryer?
This will depend on the size of the chicken and the wattage of the air fryer. Overall, It usually takes anywhere from 55 to 60 mins to cook a whole chicken in the air fryer without preheat. I have tried tested this in my Cosori 5.8qt, and Gourmia Air 6qt and my instant pot.
If you have other air fryers like the Ninja it should be about the same. The important thing is to ensure that the internal temp is at least 165°F /74°C.
How to make this juicy Air fryer Christmas chicken recipe.
This is an overview of the recipe with step by step photos. Scroll down to the end of this post for a printable recipe card with the amount of ingredients and full recipe instructions.
Prep the chicken: Remove giblets from cavity, pat chicken dry. Mix seasoning with melted butter and oil then Rub seasoning paste generously outside and inside the bird. Put onions, Rosemary sprig and cut orange (or lemon) into the cavity.
Let it marinate: Let the chicken marinate for 30 mins to 1 hour.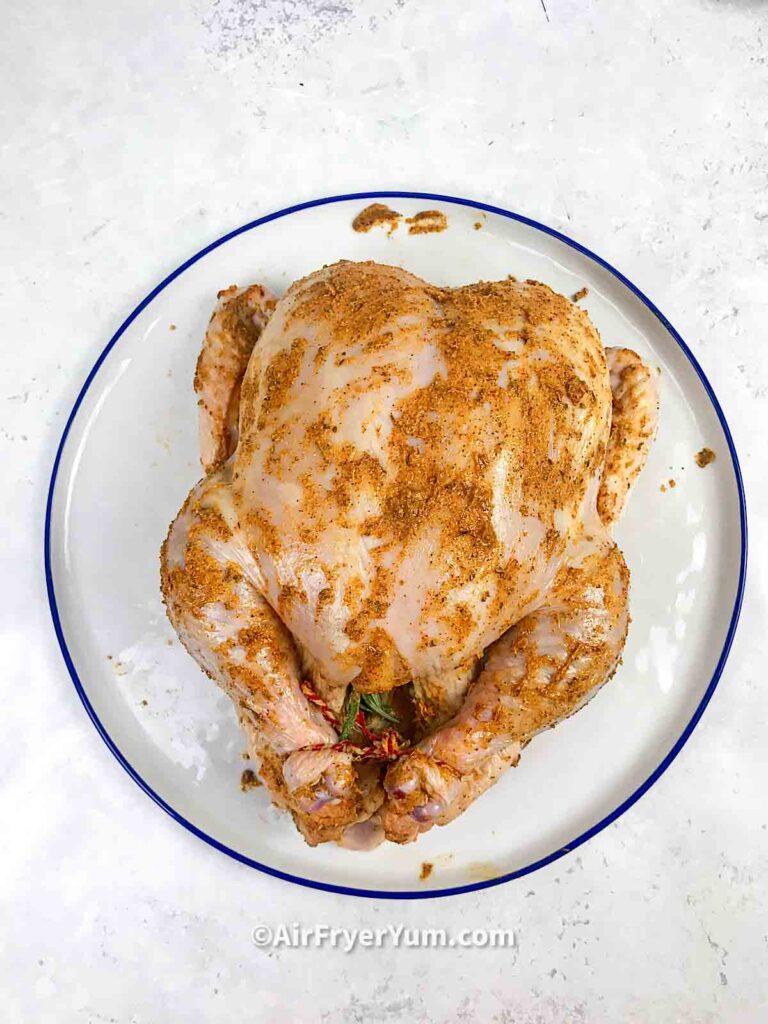 Air fry: Place chicken in the air fryer basket breast side down and set the temperature to 360°F / 180°C and air fryer for 40 mins flip over and air fry for another 15 to 20 mins until the internal temp reads at least 165°F / 74°C that's the FDA recommended internal temperature.
I like to cook mine up to 185°F / 85°C especially for the thighs and leg quarters and it does dry out. This is a personal preference, the most important thing is that it reaches the recommended internal temp of 165°F / 74°C
Let it rest: Place chicken on a serving plate and cover with foil and let it rest for 5 mins ti redistribute the juices. Garnish and serve with your favorite holiday side dishes.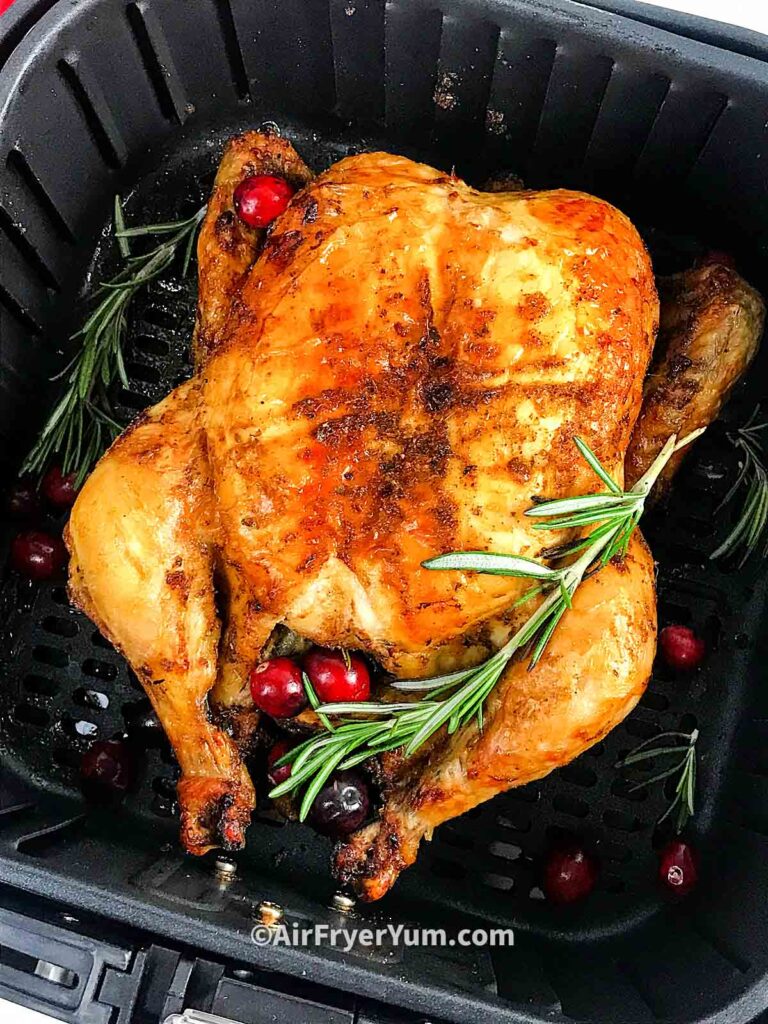 Make it in the oven
Preheat the oven to 400°F / 200°C / Gas mark 6
Place seasoned chicken breast side up on a baking sheet and bake for 1 hour 15 mins or until internal temperature reads 165°F / 74°C.
Bring chicken out of the oven and tent with foil. Let it rest for 10 mins before serving.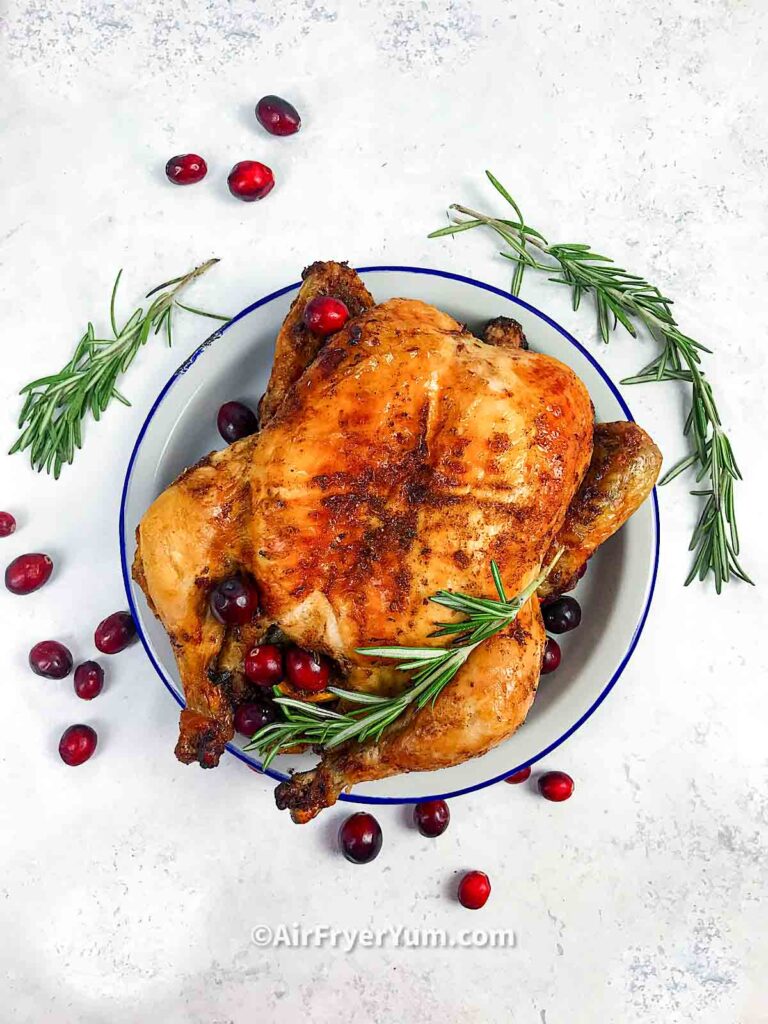 How to store and reheat
Let whole chicken cool completely before wrapping and storing in an air tight container. Cooked chicken should be stored in the top shelf of the refrigerator away from raw meat for 3 to 4 days. If you intend to store for longer, it is recommended that you freeze and it can keep in the freezer for up to a month.
Leftover chicken can be shredded and stored in the refrigerator to be used in salads and sandwiches and can be added into soups and pot pie fillings. The leftover portions after carving bones included can be used to make chicken broth.
Reheating
Reheating whole chicken is like reheating store bought rotisserie chicken. It can be reheated in the air fryer or microwave. To reheat in the air fryer place chicken in the air fryer and set temp to 350°F / 177°C and air fry got 6 to 8 mins or until heated through. Remember to flip half way through.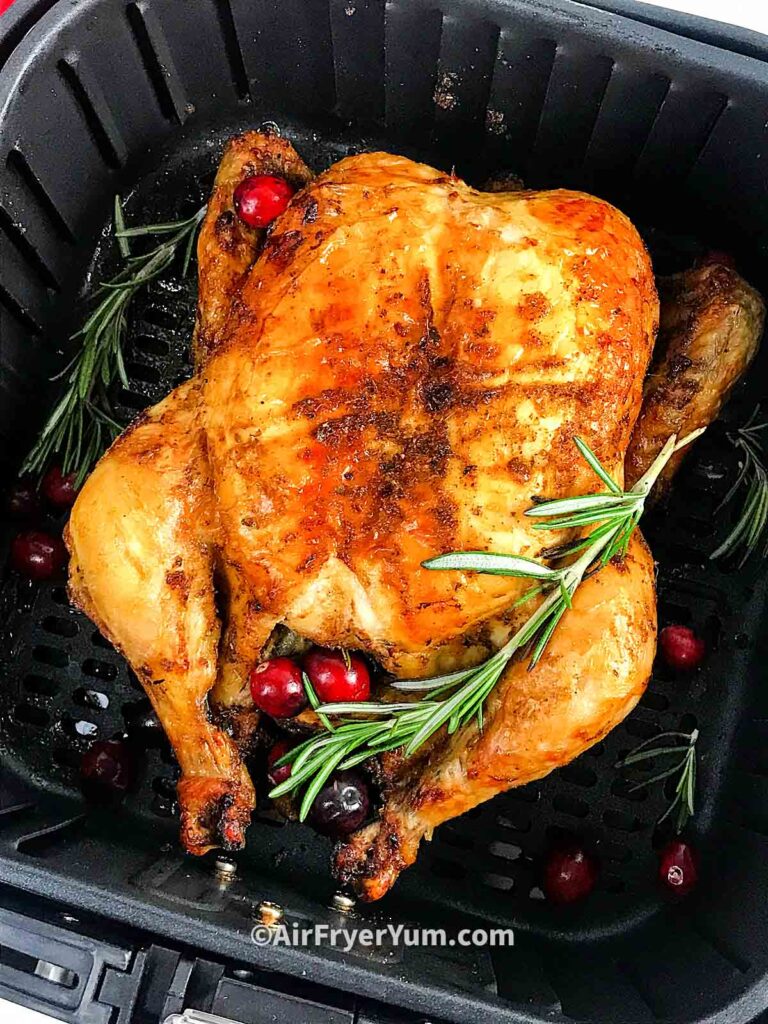 What to serve with Christmas chicken
Christmas roast can be served with a variety of sides. Below are some of our favorites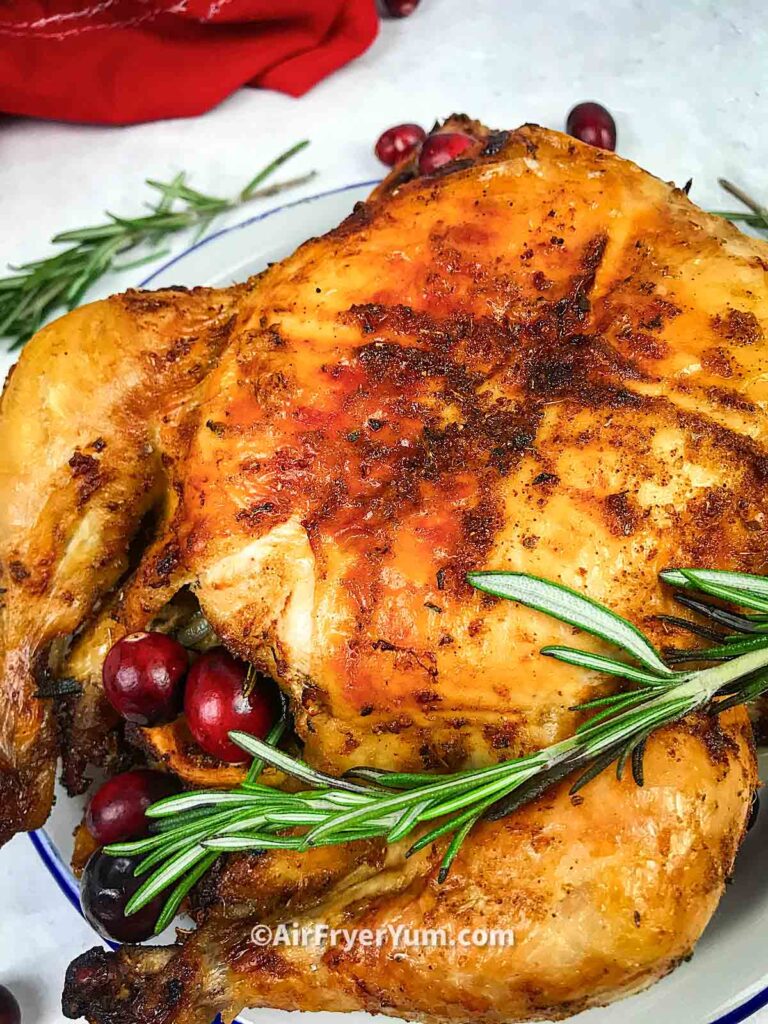 Tips
Remove the chicken from the fridge and let it warm up a bit for about 20 mins before seasoning.
No need to preheat the air fryer. The air fryer heats up pretty fast.
Flipping the chicken over helps it cook evenly. Instead of flipping at 40 mins like I suggested, you can also flip the chicken over half way through the cooking time say at 30 mins When it's fully cooked, you can add a few more minutes and flip it over a couple more times if you want super crispy skin.
You can use the tongs to flip the bird by putting one lip of the tong inside the bird and the other on the outside. Then hold firmly and flip.
An instant read digital meat thermometer is your best friend when cooking meats and this recipe is no different. Insert the prob of the thermometer in the thickest part between the breast and the thighs. The liquid should run clear and temperature to read at least 165°F / 74°C to be considered fully cooked and safe to eat.
To save time, Christmas chicken can be made on Christmas Eve and stored in the refrigerator to be used the next day. Simply reheat using the method mentioned in the reheating section above.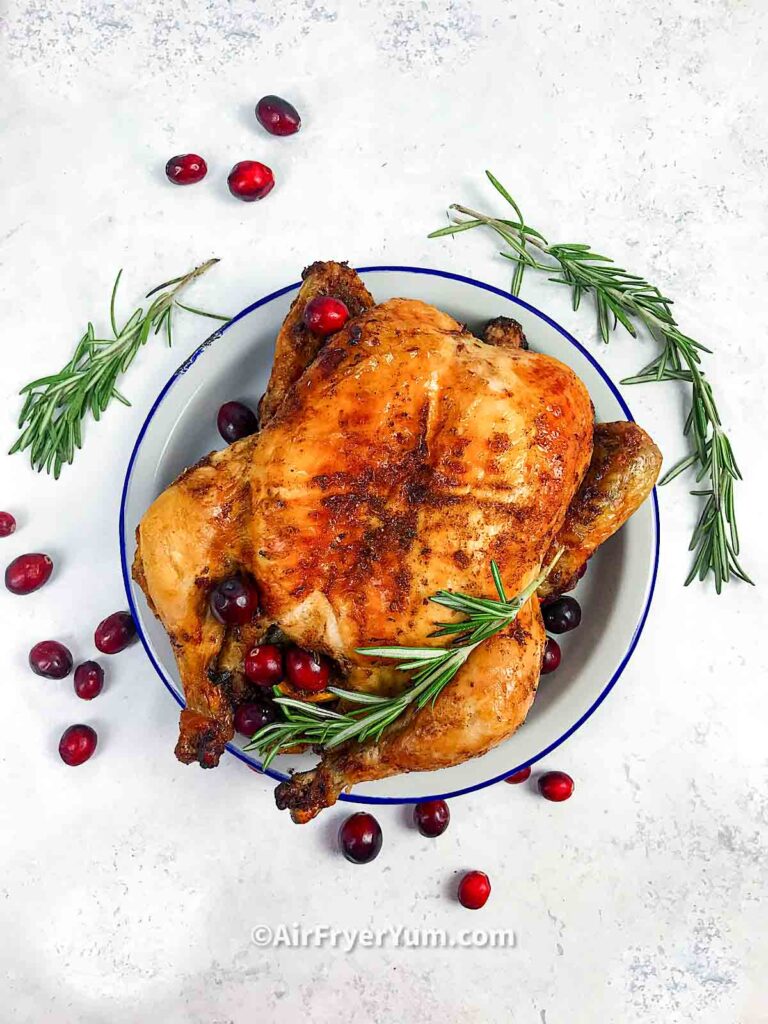 FAQs
Here you'll find answers to common questions about this recipe. If your question isn't answered, please leave us a comment below and we'll gladly answer them.
Can you put raw chicken in the air fryer?
Yes you can put raw chicken in that air fryer and it will get cooked to a tender juicy perfection.
What is the best size of air fryer for a whole chicken?
The best size to cook a whole bird of 3.5lbs to 4.5 lbs would be a 5.8qt to 10qt air fryer.
How long does a whole roasted chicken last in the fridge?
A whole roasted chicken should last up to 4 days in the top shelve of the refrigerator. If storing for longer than 4 days, it's best to freeze it. It can be frozen for up to a month.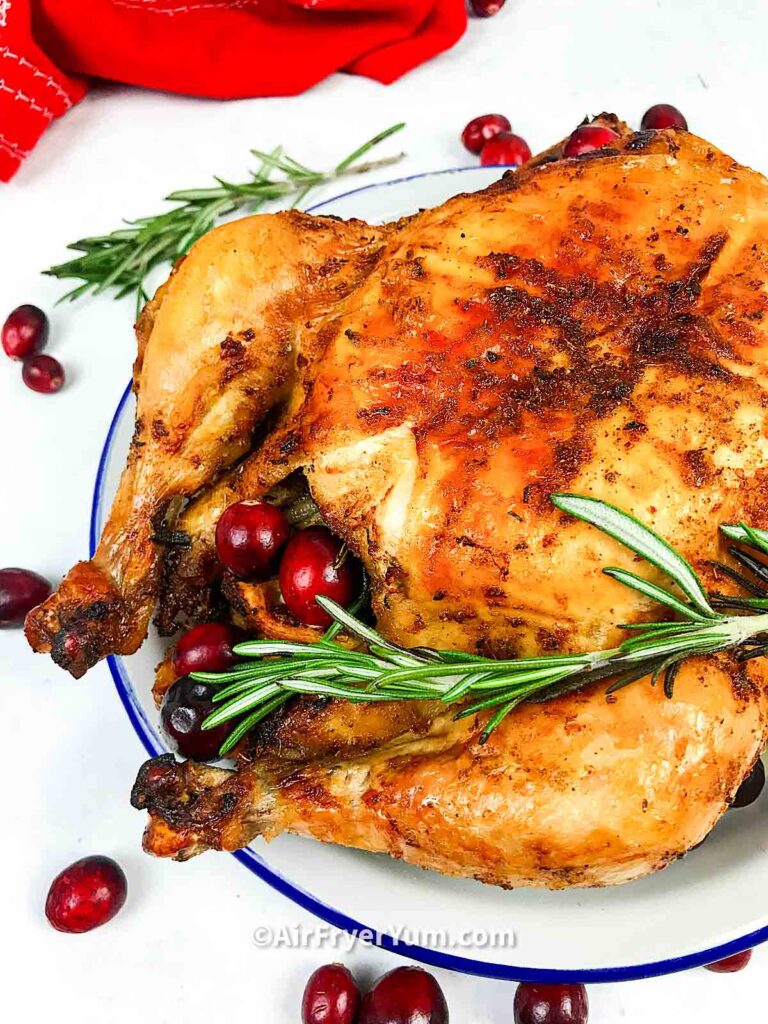 More Christmas chicken recipes to try.
Did you find this recipe helpful? Leave me a comment about it or any recipe idea you would love Air fryer 'yummed' and don't forget to share with family and friends.
Happy Air frying!
Love it? Pin it!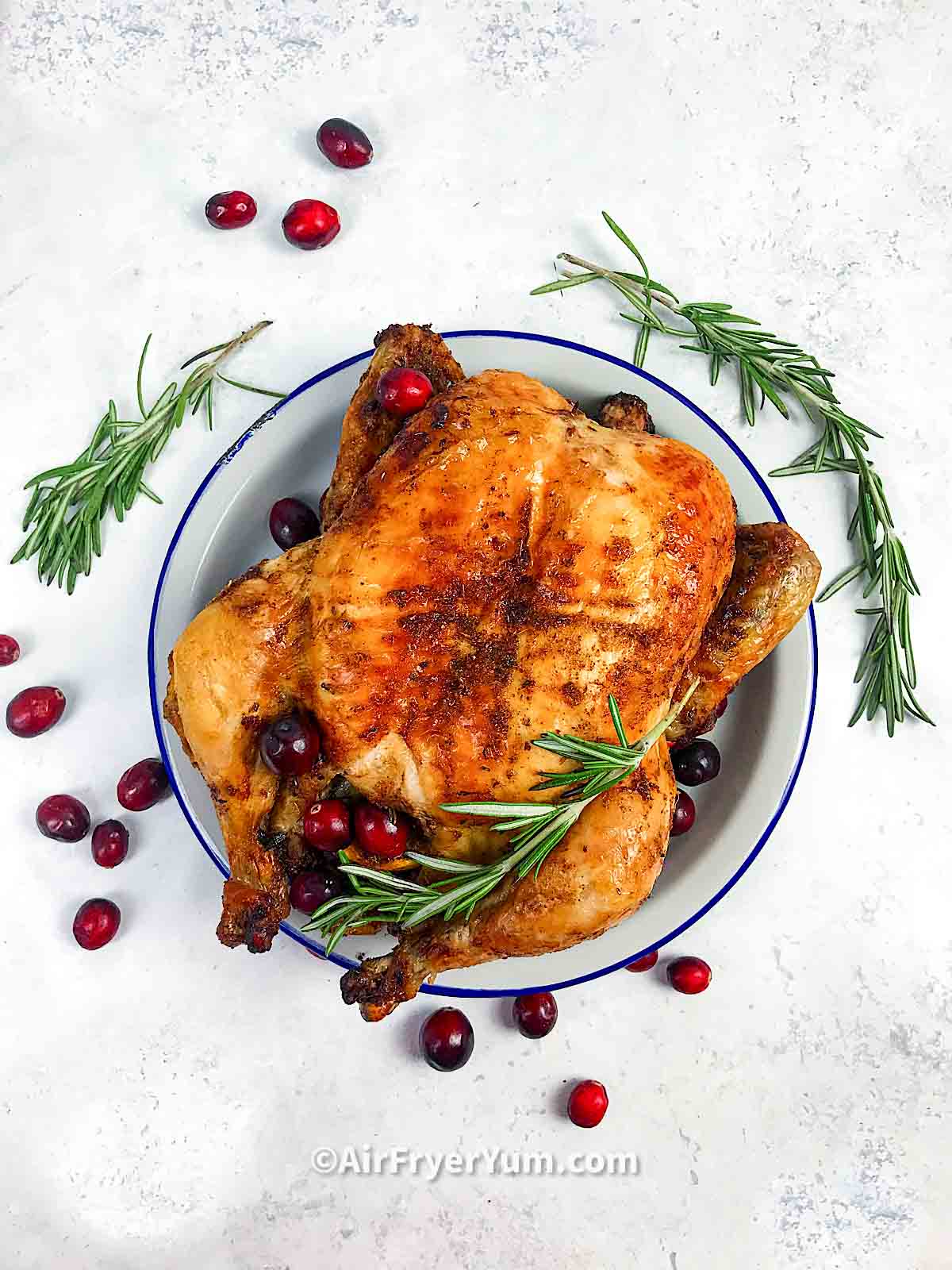 Looking for more air fryer recipes? Sign up for our yummy newsletter and Follow along on Facebook, Instagram, Pinterest and Tiktok for updates. Remember to Subscribe to my YouTube Channel for weekly videos.
Loving your air fryer much? Join other Air Fryer Buddies in our exclusive free Easy Air Fryer Recipes Group on Facebook!
New to the world of Air frying? We've got you covered. Check out our helpful >>> Air fryer Resources!
Shop all air fryers and air fryer accessories at our Amazon store.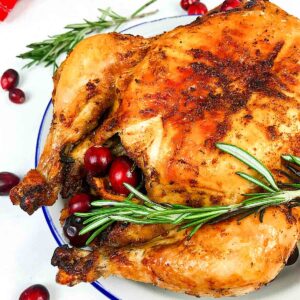 Air fryer Christmas chicken recipe
Love Roast chicken? This easy air fryer Christmas Chicken Recipe will be your new best friend. It's quick and flavorful with tender juicy meat. Perfect for all occasions including Thanksgiving and Easter celebrations
Equipment
Gourmia air fryer / Cosori air fryer

Kitchen tongs

Silicon brush
Ingredients
1

(3.5lbs / 4lbs)

whole chicken

(giblets removed)

1

Tablespoon

olive oil

2

Tablespoons

butter

room temperature

1

teaspoon

garlic powder

1

teaspoon

onion powder

1

teaspoon

oregano

½

teaspoon

rosemary

1

teaspoon

Parsley

(substitute with basil)

1

teaspoon

salt

or more to taste

½

teaspoon

white pepper

1

teaspoon

paprika
For chicken cavity
1

small onion

quartered

2

Sprigs

fresh Rosemary

½

orange or lemon
Instructions
Prep the chicken:
Pat Chicken dry, mix oil and butter, salt and spice blend to form marinade.
Marinate the chicken:
Brush marinade all over chicken and inside the cavity of the chicken. Let chicken marinade for 30 mins to an hour.
Fill the chicken cavity:
When it's time to cook, get chicken out and stuff the cavity with onions, fresh Rosemary and orange or lemon wedges. Tie the legs with a string if you like.
Air fry:
Place whole chicken in air fryer breast side down and air fry at 360°F / 180°C for 40 mins then flip over and cook for another 15 mins or until internal temperature reads 165°F / 74°C on an instant read meat thermometer.
Serve:
Transfer cooked chicken to a plate, cover with foil and let it rest for 5 mins before carving and serving
Nutrition
Calories:
44
kcal
Carbohydrates:
1
g
Protein:
0.2
g
Fat:
5
g
Saturated Fat:
2
g
Polyunsaturated Fat:
0.3
g
Monounsaturated Fat:
2
g
Trans Fat:
0.1
g
Cholesterol:
8
mg
Sodium:
314
mg
Potassium:
13
mg
Fiber:
0.2
g
Sugar:
0.1
g
Vitamin A:
113
IU
Vitamin C:
1
mg
Calcium:
7
mg
Iron:
0.2
mg
Nutrition Disclaimer
Nutritional information is an estimate and may change based on products used. Please read our Nutrition disclaimer page.
Subscribe to my YouTube Channel
Subscribe to Air Fryer Yum on YouTube for more detailed videos! Remember to click the bell icon to get notified when I upload new videos.
Save this Recipe for later!
Follow @AirFryerYum on Pinterest!