Air fryer fruits are some of our favorites to make in the air fryer. I love that these air fryer fruit recipes are super easy to make and are so versatile as to how you use them.
From air fryer pineapples, to air fryer peaches, avocados, air fryer strawberries, grape fruits water melon and everything else in between. The air fryer is the best way to enjoy grilled fruits without the grill and if you haven't tried bacon wrapped fruits, read along and pick some.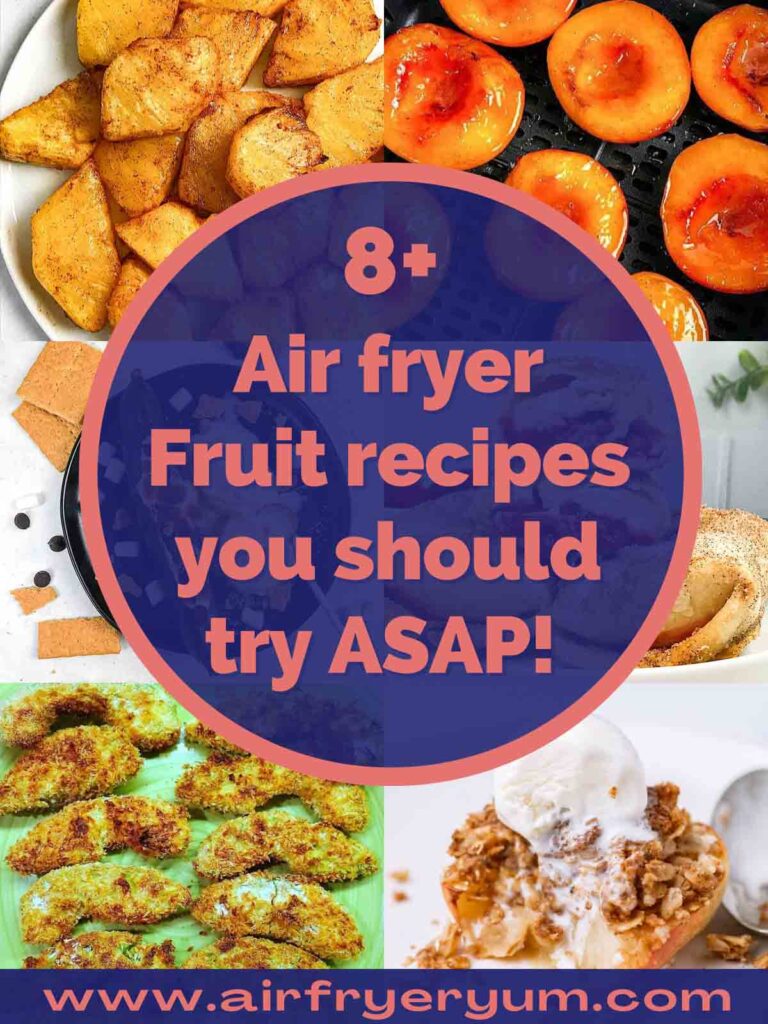 Can you cook fruits in the air fryer
Yes, you can cook fruits in an air fryer. It is a great way to quickly and easily prepare healthy and delicious snacks or desserts.
Fruits like apples, bananas, and pears can be sliced and lightly coated with cinnamon or sugar before being air fried for a few minutes until they are golden brown and caramelized.
Air frying fruits can help to enhance their natural sweetness and flavor and using the air fryer saves time when compared with the oven or grill.
Related: Air fryer bacon wrapped appetizers, Air fryer desserts,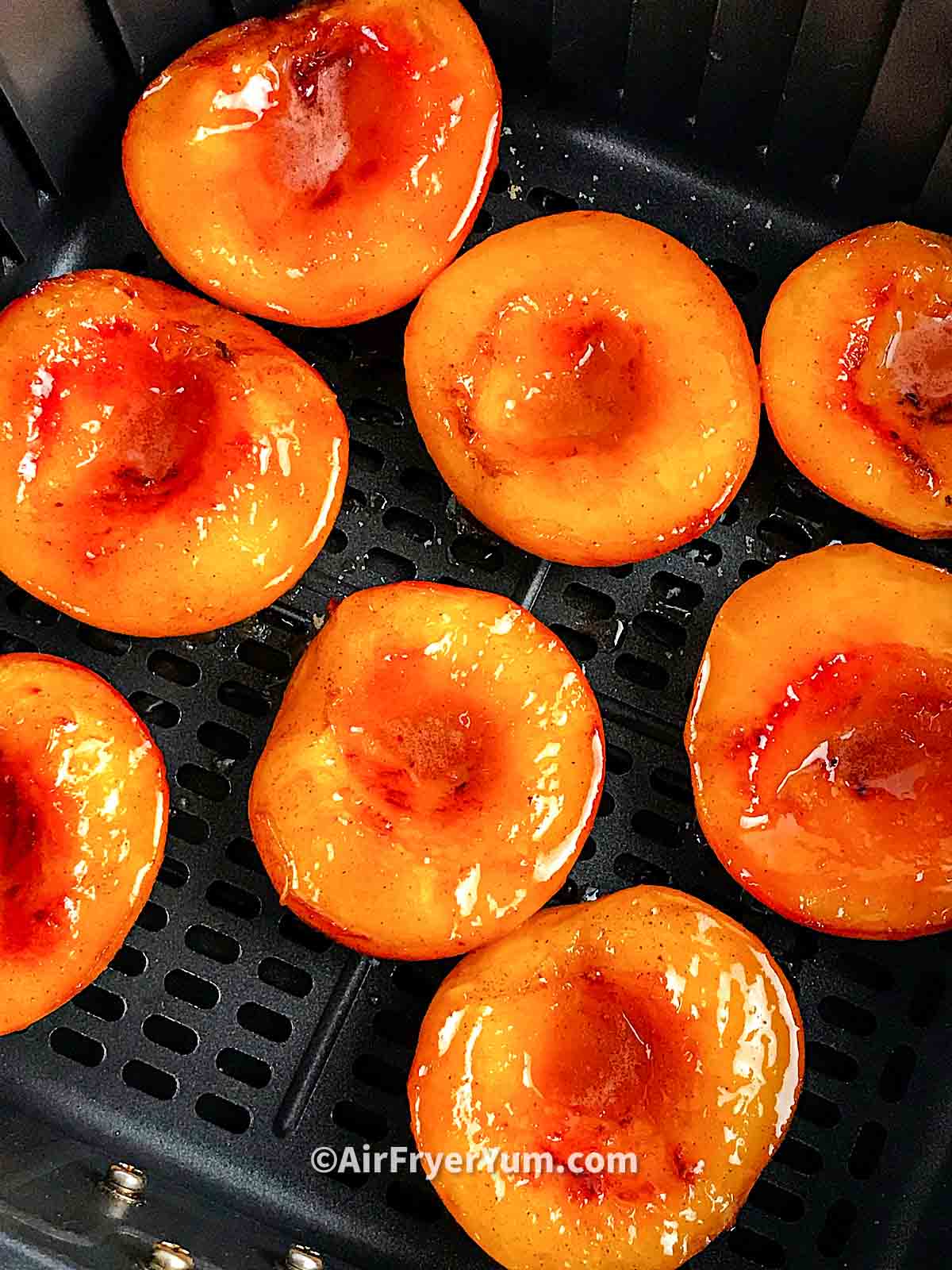 Join our Air fryer recipes group on Facebook!
Best Air fryer fruit recipes
Air fryer Peaches (Air fryer grilled peaches)
If you love air fried fruits, then you'll love this delectable summer time dessert! Air fryer peaches are super easy to make and tastes as good as grilled peaches. 
Get this recipe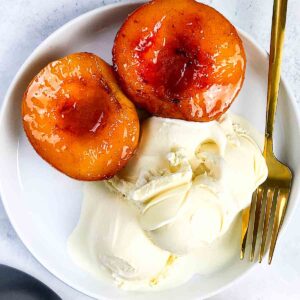 Air fryer pineapple (Grilled pineapple in air fryer)
Are you wondering if you can make grilled pineapple in air fryer? Good news, Air fryer pineapple is the perfect fruit recipe to make in the air fryer. It turns out warm, sweet and oh so delicious. A scoop of vanilla ice cream on these chunks make a world of difference and literally takes this dessert to a whole new level of yum!
Get this recipe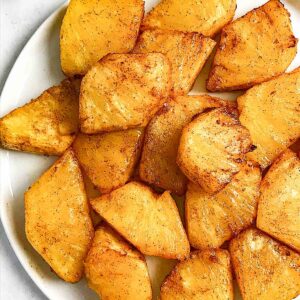 Air fryer bacon wrapped pineapple (bites and rings)
Here's something sweet to wrap bacon around. Air fryer Bacon wrapped pineapple bites are delicious sweet and salty appetizers that's will having you reaching out for more.
Get this recipe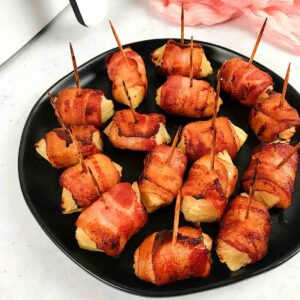 Air fryer Banana boats (Campfire banana s'mores)
Banana boats are nice and warm decadent campfire desserts that are fun to make. These Air fryer banana s'mores  are super easy and delicious. Toasty marshmallows and melty chocolate topped with vanilla ice cream is what beautiful summer dreams are made of.
Get this recipe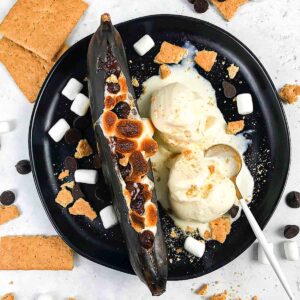 Air fryer cheesecake chimichangas
Making desserts in the air fryer is one of my favorite things to do. A bite into one of these gooey air fryer cheesecake chimichangas is all you need to try out this easy and delectable dessert in your air fryer. With just 5 ingredients you can make these in less than 10 mins.
Get this recipe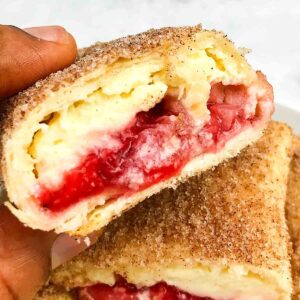 Why these air fried fruit recipes are so good.
Air frying fruits creates a crispy texture on the outside while leaving the inside soft and juicy. This can add a satisfying crunch to your snack or dessert.
This method enhances the natural sweetness and flavor of fruits. The hot air circulating around the fruit caramelizes the natural sugars and intensifies their flavor. Resulting in a sweeter and more flavorful snack or dessert.
Air fryer fruits are versatile and can be enjoyed in many different ways. They can be eaten as a snack, added to oatmeal or yogurt bowls, used as toppings for pancakes or waffles, or even used in baking recipes. The possibilities are endless, making air fryer fruits a fun and creative ingredient to cook with.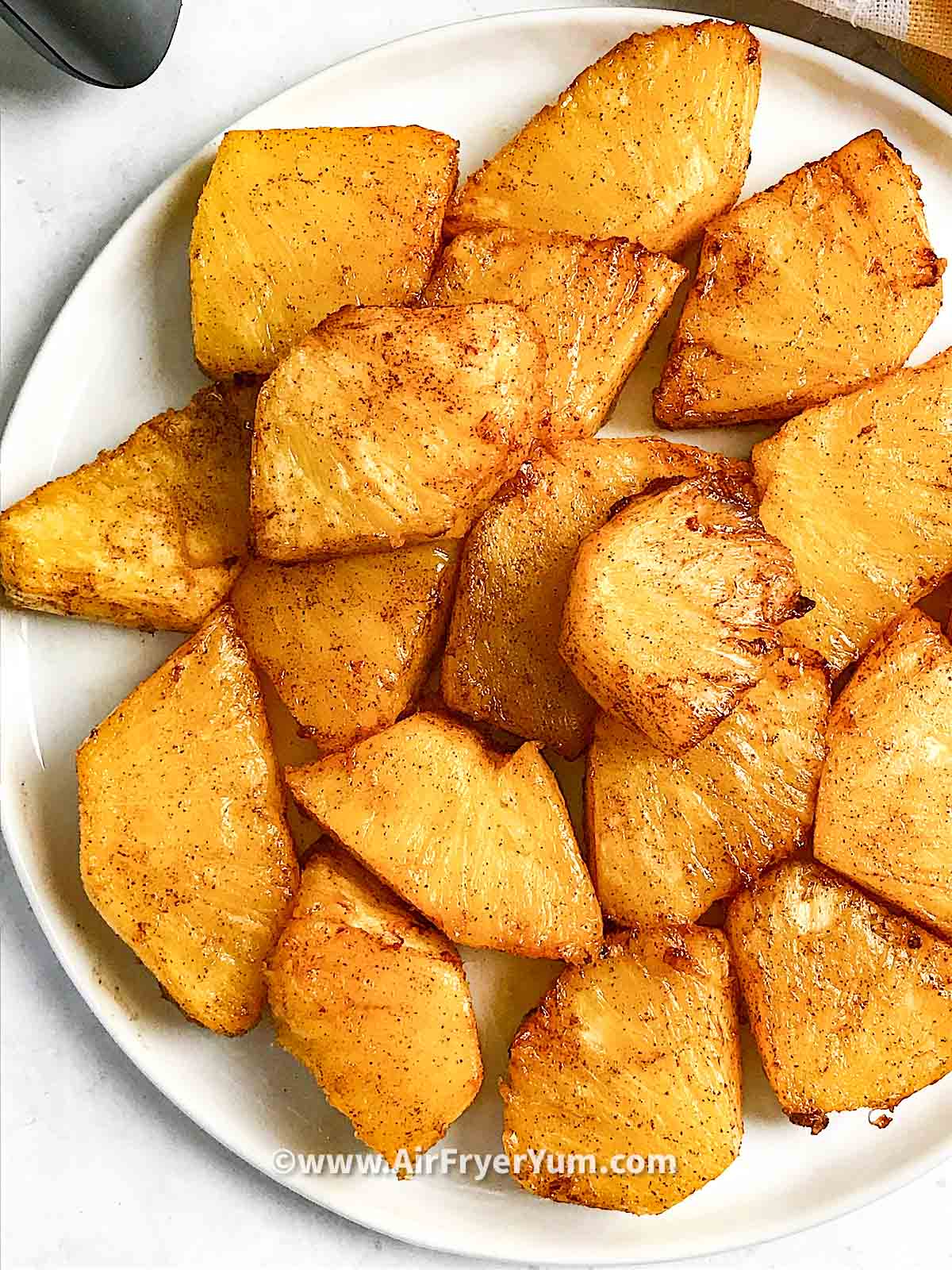 How to make fruits in air fryer
You will need to click through to each individual recipe above to get the full recipes of each fruit.
Generally to cook fruits in the air fryer, simply cut the fruits into even sizes then season with your choice of seasoning usually cinnamon and brown sugar then air fry at 380°at (190°C) for up to 10 mins.
More time may be needed depending on the type of fruit and how caramelized you want it to be. So adjust cooking times accordingly
What to serve with air fried fruits
Air fried fruits can be enjoyed as a snack, added to oatmeal or yogurt bowls, used as toppings for pancakes or waffles, or even used in baking recipes. It can also be enjoyed with vanilla ice cream or any other ice cream flavor you love.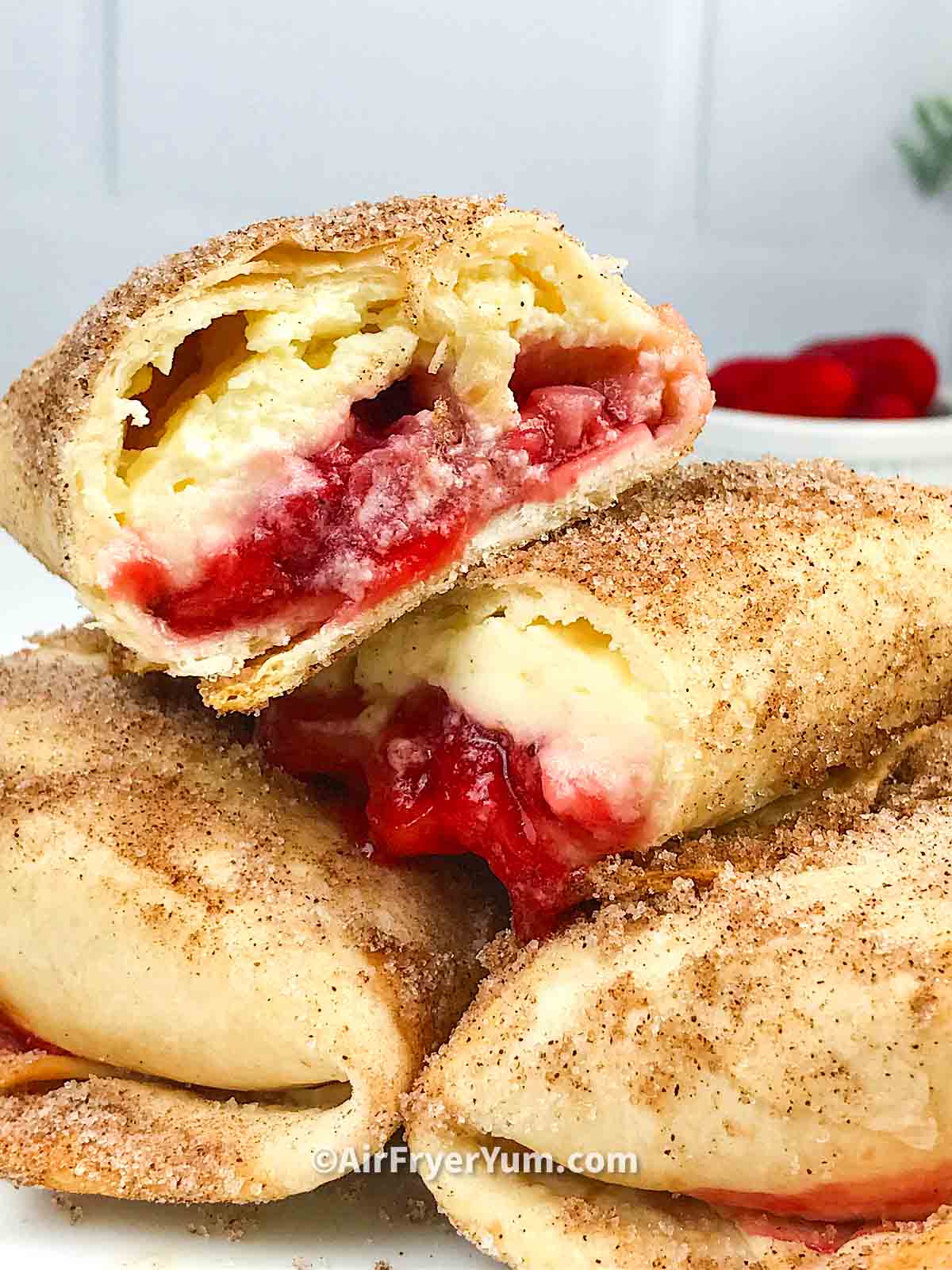 How to store and reheat
Allow the air fried fruits to cool down completely before storing them. Place them in an airtight container or ziplock bag and store them in the refrigerator for up to up to 3 days depending on the type of fruit.
To reheat air fried fruits, preheat the air fryer to 350°F (180°C). Place the fruits in the air fryer basket and heat them for 2-3 minutes, or until they are warmed through and crispy on the outside.
Alternatively, you can reheat the fruits in the microwave. Place them in a microwave-safe dish and heat them on high for 30-60 seconds, or until they are warmed through.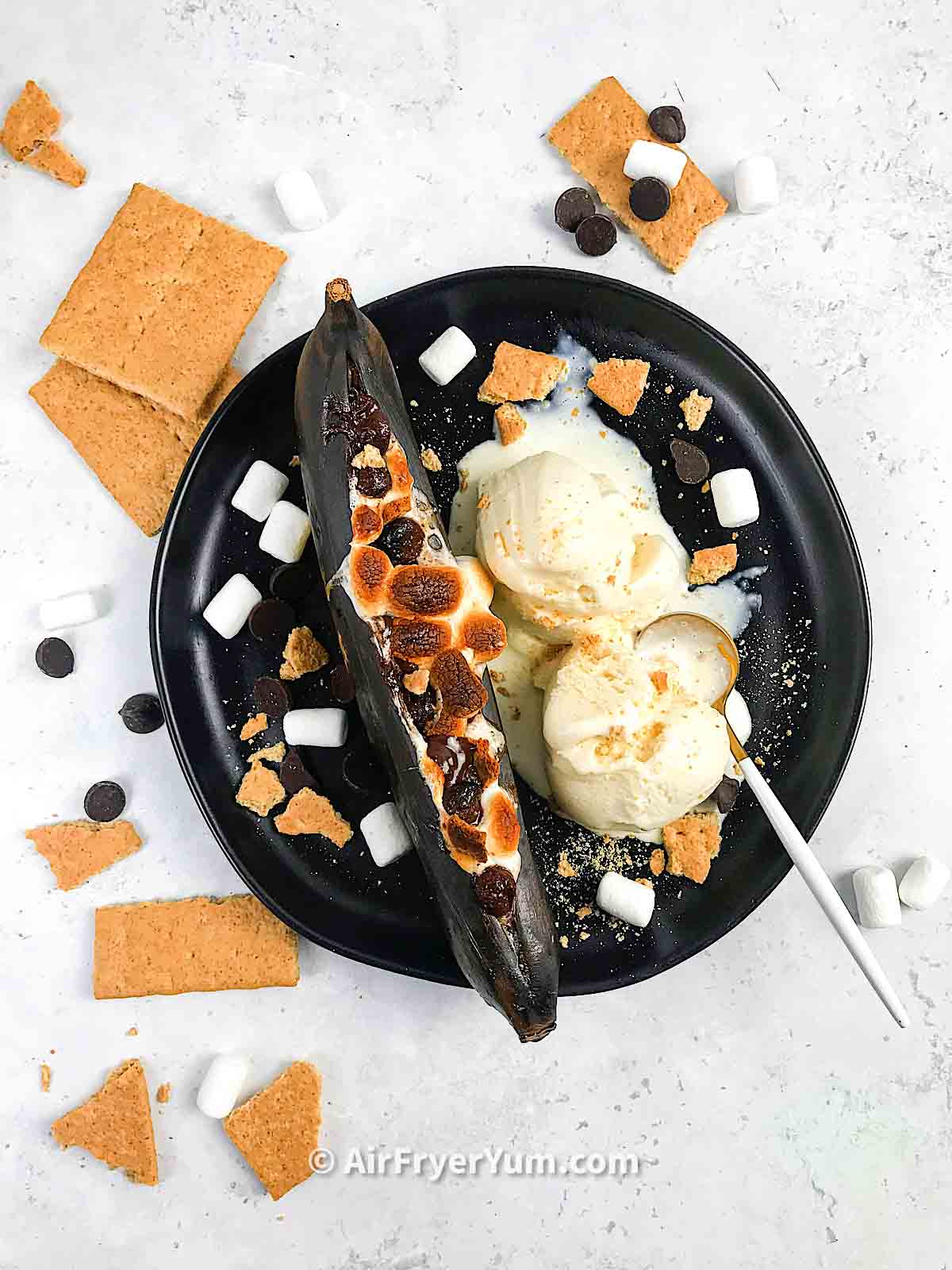 Air frying Tips
Cut the fruits into evenly sized pieces to ensure that they cook evenly and are all done at the same time.
Don't overcrowd the air fryer basket, make sure there's enough space between the fruits in the air fryer basket so that they can cook evenly and get crispy.
While it's not necessary to use oil when air frying fruits, a light coating of oil or cooking spray can help to prevent sticking and promote even browning.
To ensure even cooking, flip or shake the fruits halfway through cooking to ensure that all sides are cooked evenly.
Adjust temperature and time according to the fruit because different fruits may require different cooking temperatures and times, so adjust accordingly based on the fruit and desired level of doneness.
Fruits are super hot straight out of the air fryer Let the fruits cool for a few minutes before eating to allow them to firm up and become even more crispy and to avoid burns.
FAQs
Here you'll find answers to common questions about this recipe. If your question isn't answered, please leave us a comment below and we'll gladly answer them.
What type of fruits can be air fried
Many types of fruits can be air fried, including apples, bananas, pears, peaches, mangoes, strawberries, and more.
Do I need oil when air frying fruits?
You don't necessarily need to add oil when air frying fruits because the hot air circulating around the fruit is enough to cook it and create a crispy texture. However adding some coconut oil or butter enhances taste and can improve texture.
Can I use frozen fruits too?
Yes, you can use frozen fruits for air frying. However, you may need to adjust the cooking time and temperature accordingly.
What is the best seasoning for air fryer fruits?
Yon can season air fried fruits with a variety of spices and seasonings, such as cinnamon, nutmeg, ginger, or honey, to enhance their natural flavor.
If you try this recipe, show it off on Instagram! Be sure to Follow and Tag @Airfryeryumblog on Instagram and use the hashtag #airfryeryumblog so we can see your recreations!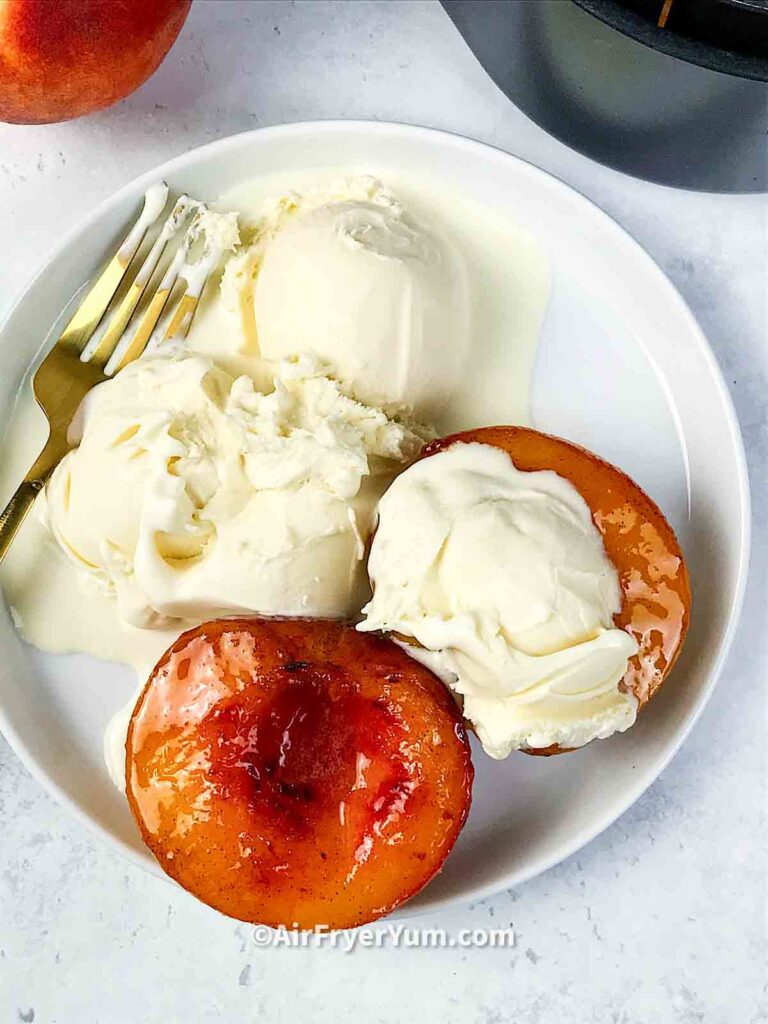 Common Tools used for air fryer fruits
The links below may contain affiliate links. As an Amazon associate and affiliate to other merchants, this website may earn from qualifying purchases. Please read full disclosure here
Did you find this recipe helpful? Leave me a comment about it or any recipe idea you would love Air fryer 'yummed' and don't forget to share with family and friends.
Happy Air frying!
Love it? Pin it! Then follow Air Fryer Yum on Pinterest for more deliciousness!
Looking for more air fryer recipes? Sign up for our yummy newsletter and Follow along on Facebook, Instagram, Pinterest and Tiktok for updates. Remember to Subscribe to my YouTube Channel for weekly videos.
Loving your air fryer much? Join other Air Fryer Buddies in our exclusive free Easy Air Fryer Recipes Group on Facebook!
New to the world of Air frying? We've got you covered. Check out our helpful >>> Air fryer Resources!
Shop all air fryers and air fryer accessories at our Amazon store.
Air Fryer Yum's Pro Tip! Air fryer temperatures may vary depending on size, make and model. When making a recipe for the first time, start with less time, check for doneness then add more time as needed.
Did you make this air fryer recipe? Awesome! Please rate it by clicking the stars ⭐️⭐️⭐️⭐️⭐️ when you leave a comment below. If you loved it please share the link to this recipe with family and friends and in you favorite Facebook group.